New Age Islam News Bureau
18 Feb 2015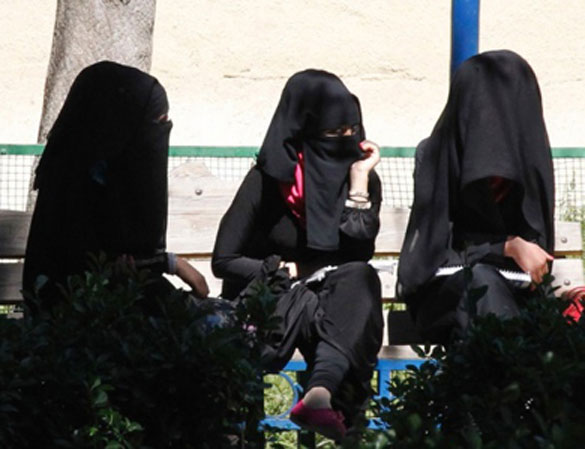 Veiled women sit on a bench in Raqqa in March last year. Women are now instructed to wear double-layered veils, loose abayas and gloves. Photograph: Reuters
------------
• The World's Craziest Anti-Women Laws
• Zunera Ishaq Does a Disservice to Women Forced To Wear the Veil
• Islamic State Orders Women to Wear Double Veil and Gloves
• Malawi Bans Child Marriage, Lifts Minimum Age To 18
• Ipswich Woman Charged Over Muslim Hate Attacks Online
• Four Courageous Women Who Are Making a Difference
• After Lobbying Push, Drugmaker Resubmits Women's Sex Pill
• South Asian Community Shocked At Sexual Assault Charges against Elgin Imam
• Kerala Girl a Step Away From Ticket to Mars
• Italian Headmaster Bans 'Provocative' Muslim Headscarves in Schools
Compiled by New Age Islam News Bureau
URL: https://newageislam.com/islam-women-feminism/thousands-iraqi-women-trafficked-sexual/d/101582
----------
Islamic State orders women to wear double veil and gloves
18 Feb, 2015
Women living under Islamic State's control in Iraq and Syria are facing increasingly harsh restrictions on movement and dress, which are rigorously enforced by religious police and are leading to resentment and despair among moderate Muslims.
Residents of Mosul, Raqqa and Deir el-Zour said women are forced to be accompanied by a male guardian, known as a mahram, at all times, and are compelled to wear double-layered veils, loose abayas and gloves.
Their testimonies follow the publication this month of a "manifesto" to clarify the "realities of life and the hallowed existence of women in the Islamic State". It said that girls could be married from the age of nine, and that women should only leave the house in exceptional circumstances and should remain "hidden and veiled".
Sama Maher (20), a resident of Raqqa who has been detained several times by religious police, known as Hisbah, for violating Islamic State rules, said: "It is prohibited for a woman in Raqqa or Deir el-Zour to move anywhere outside without a mahram, a male guardian. It is a big problem as I do not have any, we are only five sisters."
Islamic State has closed universities in areas under its control, she added. "I had to quit my university studies in Aleppo because I'm not allowed to cross the checkpoints without a mahram and leave the city by myself like before."
Male guardians are subject to punishment if women are not complying with the prescribed dress code. In Mosul, the group published a charter within weeks of taking taking control of the city, restricting women's movements and imposing dress requirements. Women were instructed to wear a Saudi-style black veil of two layers to conceal their eyes and a loose robe designed by Islamic State after it said some abayas revealed body outlines.
Many women initially objected to the order but complied when they realised they could be beaten, humiliated and fined, and their husbands might be punished. Men are now forcing their wives and daughters to stay at home to avoid confrontations with Hisbah, which issues orders via the internet or by posting written statements at shops warning against violations of Islamic rules in the city.
"They forced women of all ages to wear a veil, even though the majority of the women in Mosul wear a hijab," paediatrician Maha Saleh (36), said. "The Hisbah would hit a woman on her head with a stick if she was not wearing a veil.
"At the beginning, some female doctors refused to wear veils and went on a strike by staying at home. Hisbah took ambulances and went to their houses and brought them by force to the hospital. One of my colleagues was alone in her clinic in the hospital and thought it was all right to strip off her veil. All of a sudden, two Hisbah broke in her room and reproached her for not wearing the veil and warned her not to do that again."
In Raqqa, the Islamic State "capital" in Syria, women were initially ordered to wear a black abaya covering the entire body. Soon after, a command to wear a veil was issued, then a third ordered a shield on top of the abaya. Women are also instructed to wear only black, including gloves and shoes. Islamic State subsequently ordered women to hide their eyes, requiring a a double-layered veil.
Mosul resident Sabah Nadiem said: "I went once with my wife to one of the old souqs to do some shopping, and after a short while I lost her among the crowd. The problem was that all the women were wearing veils and it was hard to know who was my wife. I was utterly scared to make a mistake and go for the wrong woman. It would be a disaster to fall into Hisbah hands. I could not even use my mobile as the network was down."
Mr Nadiem said he called out his wife's name loudly in the souq until she heard him and they were reunited.
Children are not exempt from strict dress codes. When schools opened in Mosul last October, Samar Hadi, a mother of five, sent her two daughters - Hala, six, and Tiba, seven, - to school without a hijab, as she had the year before.
"After two days, the headmistress told them that they all have to wear the hijab when they come to school. So I made them wear the hijab. Then an Isis order came to stipulate that only girls in 4th, 5th and 6th class in primary school have to wear hijab, not 1st and 2nd classes."
In Deir el-Zour in Syria, the rules for female pupils and students appear to be stricter. "Little girls in primary schools have to wear an abaya until the 4th class, when they have to wear a veil too," said Sali Issam (15), a secondary school student. "Though all the teachers in girls' schools are female, neither students nor teachers are allowed to lift the veil of their faces inside the classroom."
Many families stopped sending their children to school after recent air strikes by the Syrian regime army, she added. "Families are scared of Hisbah and Assad's warplanes."
Women in labour in maternity hospitals in Mosul are forced to comply with dress codes. "When I was in labour, I went to the hospital wearing a veil though it was too hot. Isis Hisbah were at the front door of the hospital. I saw some women in labour who seemed to be in a panic and did not have time to wear a veil. I was shocked to see that they were denied access to the hospital unless they put veils on their faces," said Ms Saleh.
Women over the age of 45 are exempted from the order to wear the veil, but often find themselves in difficulty. On a routine trip to Mosul University where she teaches, Ms Saleh shared a taxi with an older woman who was not wearing a veil. "The taxi driver turned to the woman and said: 'Why are not you wearing a veil?' She told him that Isis said the veil was imposed on women who are less than 45. The driver answered: 'I'm afraid if I have you in my car, Isis Hisbah will stop me at a checkpoint and fine me.'"
Buses are also stopped for passengers to be checked. If a woman is found without required dress or mahram, all passengers are forced to disembark and the bus is refused permission to proceed. "If Hisbah spot a woman without a mahram in a bus, the whole bus is evacuated and sent back because the driver accepted her," said Ms Maher.
http://www.irishtimes.com/news/world/middle-east/islamic-state-orders-women-to-wear-double-veil-and-gloves-1.2107165
-----------
Malawi Bans Child Marriage, Lifts Minimum Age to 18
18 Feb, 2015
London — Malawi has passed a law banning child marriage, raising the minimum age to 18 in a country where half of girls end up as child brides.
Women rights campaigners hailed the move as "a great day for Malawian girls" and said the law would help boost development in one of the world's poorest countries.
But they warned Malawi would not end child marriage without concerted efforts to tackle poverty and end harmful traditional practices like early sexual initiations.
"This law is extremely crucial because child marriage is a big, big problem in our country," said parliamentarian Jessie Kabwila who helped push for the new legislation.
"The country will for the first time clearly articulate that we are saying 'No' to child marriage."
Malawi has one of the world's highest rates of child marriage. Half of girls wed before their 18th birthday and nearly one in eight is married by 15.
Early marriage not only deprives girls of education and opportunities, but also increases the risk of death or serious childbirth injuries if they have babies before their bodies are ready. Child brides are also at greater risk of domestic and sexual violence.
"This law is very important because of the number of girls who drop out of school because they are going to get married, and because of the high numbers of girls who are dying when they are giving birth," Kabwila told Thomson Reuters Foundation in a phone interview.
"We cannot talk about development if we have child marriage. Women's empowerment is a crucial player in development and women cannot be empowered if they are not educated."
EARLY SEXUAL INITIATIONS
She said parliament had voted unanimously last Thursday for the Marriage, Divorce and Family Relations Bill which the president is due to sign into law within three weeks.
Child marriage is deeply entrenched in Malawi's society partly because of a belief that a girl should marry as early as possible to maximise her fertility.
Girls are currently allowed to marry at 16, or 15 with parental consent. But many marry much younger.
Brussels Mughogho, Malawi country director of development charity EveryChild, said poverty pushed some families to marry off young daughters in exchange for a dowry payment or so that they had one less mouth to feed.
Mughogho said it was also vital to work with traditional leaders to end early sexual initiations which fuel child marriage.
In parts of Malawi, when a girl reaches puberty she may receive a night-time visit from an older man - known as "a hyena" - who has sex with girls to prepare them for marriage.
"There are so many driving factors behind child marriage," Mughogho said. "This is a very important step that we've taken, but child marriage will never end with legal instruments alone."
http://allafrica.com/stories/201502170444.html
-------------
Kerala girl a step away from ticket to Mars
Srinivas Laxman,TNN
18 Feb, 2015
MUMBAI: Kerala girl Shradha Prasad's dream of settling down on Mars is inching towards reality, with the 19-year-old from Palakkad qualifying for the final round of selection for the "once-in-a-lifetime opportunity".
Her parents' only child, this mechanical engineering student is also the lone candidate based in India to be selected by Netherland-based Mars-One for the fourth round of the astronaut selection process, the organization announced on Monday.
Three other Indians have been selected, of which two are based in the US and one in Dubai.
Speaking to TOI, Shradha, a student of Coimbatore's Amrita University said, "I am keen on settling down on Mars as I have a passion for space sciences and technology. This apart, I also enjoy taking risks and doing something adventurous. The one-way trip to Mars combines the two."
Asked if she was confident of making it into the 24-member crew that will be selected to go to Mars, she replied: "After my success in the third round, my confidence has strengthened. I came to know on February 13 that I had passed. I was ecstatic. But we were not allowed to disclose it.
"It will be tough leaving my family, friends and all my near and dear ones. Yes, I agree it will not be that easy. But, let me not forget that it will be an once-in-a-lifetime opportunity."
Asked how her parents view the possibility of their only child permanently settling down on Mars, she said: "They think I am crazy. But, I am known for doing eccentric stuff. So, they are not surprised."
Out of 202,586 applicants, 100 qualified for the third round. Of these, 24 will be chosen by Mars-One for the mission. Among the organization's advisors are two Indians — K R Sridhara Murthi, former head of Antrix Corporation, Isro's commercial arm, and aerospace expert Gautam Hariharan.
Mars-One is a non-profit organization based in the Netherlands. It aims to establish a permanent human settlement on Mars by offering a one-way trip to those selected. The current plan envisages crews of four departing every two years beginning 2024. The first unmanned flight is slated for lift-off in 2018.
According to Mars-One, 50 men and 50 women passed the second round. The candidates came from across the world — 39 from the Americas, 31 from Europe, 16 from Asia, seven from Africa and seven from Oceania.
http://timesofindia.indiatimes.com/india/Kerala-girl-a-step-away-from-ticket-to-Mars/articleshow/46269531.cms
-----------
Four courageous women who are making a difference
18 Feb, 2015
THEY ARE four women who do brave things in terrifying places: their own countries. They were in the United States recently for a colloquium, sponsored by Cambridge's Institute for Inclusive Security, focusing on how to bring women more effectively into peace processes in some of the world's most intractable conflicts.
"Women will compromise where men will not,'' says Swanee Hunt, chair of the institute. "Women will stop conflicts sooner than men will, if only they can gain a place at the negotiating table.''
The Globe sat down with each of the women individually to learn their stories.
Esther Ibanga
IT'S ONE THING to preach love thy neighbor. It's another thing to join arms with her and march into the jeering maw of raw religious hatred.
Esther Ibanga, who presides over a congregation in the Nigerian city of Jos, is among the few Christian pastors to make open cause with Muslim peace-seekers. She's founder of Women Without Walls, a group that brings together women from the bitterly divided faiths to seek practical ways to curb the escalating violence that has claimed tens of thousands of lives.
Jos lies at Nigeria's flashpoint "middle belt,'' where the largely Islamic north meets the Christian south.
"The world joined hands to deplore the killings of [17] people in Paris,'' says Ibanga. "What does the world have to say about the killings of many thousands by Boko Haram?''
Boko Haram is a murderous Islamic insurrectionist movement based in northeastern Nigeria but extending a deadly hand south. The group claimed responsibility for last month's sacking of the town of Baga, an attack that left scores dead and destroyed many businesses and homes.
"Whatever must be done to bring peace, we must do for ourselves," Ibanga says. "I believe women are the key. Women understand peace comes through persuasion, patience, and compromise. But we must be brave enough to assert our strengths."
Fourteen years ago, Ibanga quit a prestigious job with the Central Bank of Nigeria to found a new church in turbulent Plateau State. Jos Christian Missions International church has a congregation of only 200, but has hurled itself body and soul into a risky campaign for peace.
"We might be killed [by either side] for refusing to hate,'' she says.
Fatuma Abdulkadir Adan
KILLINGS ALONG TRIBAL and religious rifts in Kenya's unruly north are the stuff of day-to-day life: partly the work of international Islamic radical groups like al-Shabaab, partly the work of shabby ethnic militias more interested in pillage than piety.
"It's a region where it's far easier for youths to get an AK-47 [assault rifle] than an education,'' says activist Fatuma Abdulkadir Adan. Trained in law, a promoter of compromise, and a passionate fan of soccer, Adan, 36, has combined all three in an uphill struggle for women's rights and drawing children to peace processes in the Marsabit district, site of a notorious 2005 massacre. She jokes darkly that she was born to the work: Her parents hail from the two antagonistic clans in the butchery.
"The blood in my veins doesn't fight,'' Adan says. "So why shouldn't people learn what my blood knows by nature?''
She's founder of the Horn of Africa Development Initiative, an organization that partly seeks to nurture peace on the playing field. Her love of soccer — which she was not allowed to play as a girl in a deeply traditional society — gave her the idea to engage children in sports as an alternative to rock throwing. For boys, it would be a way of channeling aggression and living by rules. For girls, it was a chance to assert oneself and win a place in a culture that doesn't put much value on females.
In 2008, Adan started the first girls' soccer club in the district, generating social shock even though the 13-year-old players wore uniforms — designed after consulting Muslim clerics — with long loose trousers and sleeves, as well as customary head-garb.
It took only a few weeks for local gunmen to weigh in.
Seven players from the team were kidnapped from the soccer field and spirited away to bush villages. "They were taken by angry men — beaten, raped, forced into marriages,'' says Adan. "It was meant to teach that girls should never expect the same [rights] as boys. I was very scared. But not so scared I could accept such a lesson."
Instead, she went on a relentless two-year quest to locate the girls. She was able to retrieve three and get them back in school. She located two others, but was unable to persuade them to defy their new husbands. As for the remaining two, relatives frustrated Adan's effort to reach them. She learned only that they are alive and pregnant in forced marriages.
Adan wasn't dissuaded from her dream of girls' soccer. Today 10 schools in Marsabit district boast 36 all-girl teams. They get occasional taunts, but the militias have backed off.
She has helped shape boys teams, too, sometimes with ethnic rivals playing on opposing sides. The trick, she says, is discouraging boys from turning a game into ersatz warfare.
"Players received red cards as penalties for repeated offenses,'' she says. "But we soon realized that the boys took pride in penalties, trying to win more 'prize' cards by bloodying heads or breaking bones.''
So she devised a system that awards "peace'' points to sportsmanship and decent behavior, as well as to scoring kicks.
"Boys who play peacefully may grow into men who accept that peace can be normal,'' Adan says. "And girls who can compete in a game may grow into women willing to take a stand in their own lives.''
Lubna
LUBNA PREFERS to go by a nickname because her real name already appears on too many worrisome lists — the ones kept by Syrian internal security agencies, for example. The development worker, in her 30s, makes twice-a-month forays into her war-ravaged native land carrying simple medical supplies for displaced families — bandages, swabs, antibiotic ointment.
That's not a crime, exactly, but crime in conflict zones is a fluid concept. Two years ago, Lubna was grabbed by operatives of President Bashar Assad's feared intelligence branch, she says. They were riled by her gauze and salves.
"You may be helping people we want to kill,'' they told her.
This was near the city of Homs, then site of a ferocious seige. They brought her to a giant concrete building, yanked a blindfold over her eyes, and manhandled her into an underground labyrinth.
"The halls seemed endless. Until we came to a small room and I was tied to a chair. There was an overpowering smell of acid. Then the beatings began — fists, feet, pieces of wood.''
Her nose was smashed, the bone around her left eye broken. Through the edge of the blindfold, she caught a tiny glimpse of one of her captors.
"Some shirt buttons. So ordinary. I felt sorry for what this man had allowed himself to become.''
Her torturers wanted the identities of others smuggling supplies.
"I tried to give up names only of those I knew to be dead.''
Lubna works for a small aid group that focuses on internally displaced persons in Syria's civil war, a struggle that pits the Assad regime against a hodgepodge of militias, most menacingly the self-proclaimed jihadists of the Islamic State. Some 200,000 people have died in the fighting and many millions made homeless.
Her group's core mission is organizing women to work for peace, even if only by such humble acts as persuading a son or husband to refuse to take up arms to join the conflict.
Nuzhat Sadiq
A PAKISTANI WOMAN two years ago planted the nation's flag atop Mount Everest. And Pakistan women jockey combat jets in the Islamic Republic's Air Force. A woman has served twice as prime minister of Pakistan, versus zero women ever to run on a major party ticket for the White House.
Pakistani women often wear hijab, or modest religious head-garb. But plenty wear scarves that proclaim style at least as boldly as devotion. And Pakistani female police officers wear cocky caps like any proper copper.
Pakistani women belong to an elite anti-terrorist commando unit. But, yes, a Pakistani woman ranks among the world's most notorious Islamic terrorists: Aaifa Siddiqui, a MIT- and Brandeis-educated neuroscientist from Karachi, is serving an 86-year sentence in US prison for plotting to kill Americans.
So please, says a Pakistani senator and Girl Guide leader Nuzhat Sadiq, let's have a little nuance when we talk about women in her beleaguered native land, which is home at once to female brain surgeons and Taliban thugs who think it a sacred duty to blow out the brains of little girls for going to school.
"My country is in highly difficult times, it's true. But anything you start to say about Islam and women is contradicted by another thing equally true about Islam and women,'' says the 59-year-old head of the women's wing of the Pakistan Muslim League, a political party.
Social reality in Pakistan means Sadiq felt obliged to back a measure to protect young women from the hideous crime of "acid attack," in which victims are disfigured by hurled chemicals for sullying Islamic "honor,'' perhaps by flirting with a boy or perhaps by beating boys in arithmetic.
But it may say even more about the status of women that Sadiq is a prominent and forthright public figure, not a fringe feminist.
"Women in Pakistan are already quite strong,'' Sadiq says. "We just need to become stronger and more outspoken in pursuit of peace."
Islamic fundamentalism is on a sharp rise in Pakistan, especially in its hinterlands but also in its teeming cities. Sadiq sees cause for alarm when some mullahs pointedly refuse to speak out against terror attacks.
"No person of God should support, even by silence, killings in a school,'' says Sadiq, a reference to the ghastly slaughter of 148 pupils and teachers in December at a private school in Peshawar. The Pakistani Taliban takes prideful credit for the attack, and a few prominent preachers have refused to condemn either the anti-Western Taliban or the massacre.
"It's a horrifying thing for my country. Unspeakable,'' says Sadiq of the attack. "But we also learned that the [female] principal was killed for refusing to leave her pupils.''
Pakistani officials say the principal, Tahira Qazi, died trying to save students. A tragic tale, but hardly one of a meek, downtrodden woman.
Pakistan is also the home of Malala Yousafzai, the 17-year-old Nobel Prize laureate shot in the head in 2012 by Taliban gunmen enraged by her campaign supporting education for girls. Smart young women are prized students in Pakistan's universities, but in Malala's remote Swat Valley, Muslim radicals have sought bans on even primary schooling for girls.
And yet everywhere across Pakistan, the plucky Girl Guides persevere.
Pakistan's equivalent of the Girl Scouts is a thriving organization of more than 100,000 girls who pitch tents, learn first aid, and tutor younger students.
Sadiq says her single greatest honor is to have been elected last year as National Commissioner of Pakistan's Girl Guides.
"This is girls learning to become the next generation of leaders,'' she says. "So how can we say, with girls such as these, there's no room for great optimism?"
https://www.bostonglobe.com/opinion/2015/02/16/four-brave-women-who-are-making-difference/obTxMWWVy0HVGBVmIOTRuK/story.html
-----------
Al Qaeda terrorist used women's names as code words in bomb plot
18 Feb, 2015
Accused Al Qaeda terrorist Abid Naseer's so-called girlfriend "Nadia" was the bomb.
There really wasn't any such woman, a federal prosecutor told jurors Tuesday, rather "Nadia" was a code word for how he was going to blow up a shopping center in England.
"The defendant used women's names to describe bombs," said Assistant Brooklyn U.S. Attorney Celia Cohen in an opening statement. "What he meant was which bomb."
Naseer, 28, is charged with participating in an international plot to carry out terrorist attacks in New York City, Manchester, England and Copenhagen, Denmark which were all approved by Al Qaeda kingpin Osama Bin Laden.
On April 3, 2009, Naseer emailed his Al Qaeda handler named Sohaib that he was ready to "marry" Nadia, and wished Sohaib could be there to enjoy the "party" according to the prosecutor. The terms "marriage" and "wedding" were also codes for the attacks.
A separate Al Qaeda cell that had trained at the same terror camp in Pakistan as Naseer, and shared the handler, were tasked with carrying out a suicide bombing on a crowded Manhattan subway train.
A third cell was going to attack a newspaper office in Copenhagen in retaliation for publishing a cartoon likeness of the Islamic Prophet Muhammad.
"You will see the similarities between the plots," Cohen said. "There were all part of an Al Qaeda conspiracy…The defendant's terrorism plot went all the way to Osama Bin Laden."
Prosecutors plan to show the jury a letter — seized from Bin Laden's lair in Pakistan by Navy SEALS when they killed him — which explains the rationale behind the plots was "to attack the infidels in their homeland," Cohen said.
With U.S. Attorney General nominee Loretta Lynch present in the courtroom, Naseer gave his own opening statement in which he referred to himself in the third-person as "the defendant."
Naseer denied the messages were coded.
"It is normal practice to have email addresses with female names to chat with other females online and play pranks on his friends by pretending to be a female," Naseer said.
He insisted that the women are not fictitious and that he was searching online for a wife in the United Kingdom.
Before the jury entered the courtroom, Nasser briefly complained to Federal Judge Raymond Dearie about being patted down by a female jail guard Monday at the Metropolitan Detention Center.
Naseer will have his work cut out for him cross-examining the government's first witness, Najibullah Zazi, who pleaded guilty to participating in the subway bombing plot.
jmarzulli@nydailynews.com
http://www.nydailynews.com/news/crime/al-qaeda-terrorist-women-names-code-words-plot-article-1.2118476
-----------
After lobbying push, drugmaker resubmits women's sex pill
18 Feb, 2015
WASHINGTON: The makers of a twice-rejected pill designed to boost sexual desire in women are hoping a yearlong lobbying push by politicians, women's groups and consumer advocates will move their much-debated drug onto the market.
The ongoing saga of Sprout Pharmaceutical's female libido drug illustrates the complicated politics and unresolved science surrounding women's sexuality.
For decades, drugmakers have tried unsuccessfully to develop a female equivalent to Viagra, the blockbuster drug that treats men's erectile dysfunction drug by increasing blood flow. But disorders of women's sexual desire have proven resistant to drugs that act on blood flow, hormones and other simple biological functions.
Supporters of Sprout's drug say women's sexual disorders have been overlooked for too long by regulators at the Food and Drug Administration. But critics argue that women's sexuality is too complex to be addressed by a single pill.
Sprout's drug flibanserin is the first attempt to increase libido by acting on brain chemicals linked to appetite and mood. But the Food and Drug Administration has already twice rejected the drug because of lackluster effectiveness and side effects including fatigue, dizziness and nausea.
In an effort to break the regulatory logjam, groups sponsored by Sprout and other drugmakers have begun publicizing the lack of a "female Viagra" as a women's rights issue.
"Women deserve equal treatment when it comes to sex," states an online petition to the FDA organized by one such group, Even the Score, which garnered almost 25,000 supporters. The group's corporate backers include Sprout Pharmaceuticals, Palatin Technologies and Trimel Pharmaceuticals — all companies developing drugs to treat female sexual disorders. A spokeswoman for Blue Engine Media, the public relations group for Even the Score, declined to disclose how much of the group's funding comes from companies. The group's nonprofit supporters include the Women's Health Foundation, the Institute for Sexual Medicine and other organizations.
Drugmakers frequently cite a 1999 survey in the Journal of the American Medical Association that found 43 percent of U.S. women had some type of sexual dysfunction.
Sprout said Tuesday it is refiling its application for flibanserin, adding new information requested by the FDA about how the pill affects driving ability. FDA scientists requested that data after their most recent rejection of the drug, in part, due to results showing nearly 10 percent of women in company trials reported sleepiness as a side effect.
The FDA first rejected flibanserin in 2010 after a panel of expert advisers unanimously voted against the drug, saying its benefits did not outweigh its risks. The drug's initial developer, Boehringer Ingelheim, abandoned work on the drug in 2011 and sold it to Sprout, a startup headed by a husband-and-wife team from Raleigh, North Carolina.
Sprout resubmitted the drug with additional effectiveness and safety data, but the FDA again rejected the drug in October 2013. After Sprout filed a formal dispute over the decision, FDA regulators requested the driving study and other details on the drug's interactions with other medications.
As Sprout gathered that data, the company also enlisted support from influential allies in Washington and beyond. Last January four members of Congress, including Rep. Debbie Wasserman Schultz, D-Florida, sent a letter to the FDA, urging a careful reassessment of the drug and lamenting the lack of drug options for low female libido.
"There are 24 approved medical treatments for male sexual dysfunction and not one single treatment yet approved for the most common form of female sexual dysfunction," states the letter, which was also signed by Rep. Louise Slaughter, D-New York, and two other Democratic congresswomen.
The talking point about the imbalance of drugs for men versus women was picked up by a coalition of seven women's and consumer health groups who met with the FDA early last year.
"We see this not only as an important unmet women's health issue, but an inflection point for the agency to ensure that similar standards are applied for drug approvals in conditions uniquely affecting women," states a follow-up letter to the agency from leaders of the National Organization for Women, the National Consumers League and four other groups.
Then last October the FDA held a two-day meeting at its headquarters to get public input on the problem of female sexual dysfunction and the challenge of developing treatments.
If approved, flibanserin would be labeled for premenopausal women with hypoactive sexual desire disorder, described as a lack of sexual appetite that causes emotional distress. Because so many factors affect female sexual appetite, there are a number of other possible causes doctors must rule out before diagnosing the condition, including relationship problems, hormone disorders, depression and mood issues caused by other drugs like sleeping aids and pain medications.
http://www.kansascity.com/living/health-fitness/article10510679.html#storylink=cpy
-----------
The World's Craziest Anti-Women Laws
18 Feb, 2015
Women's advocacy group Equality Now calls out 44 governments for their laws against women.
Where in the world can a man abduct a woman, marry her, and immediately become impossible to prosecute? That would be Lebanon and Malta. Where can't a married woman get divorced without her husband's permission? Try Israel. In Russia, women are still forbidden from "hard, dangerous and/or unhealthy trades."
All these laws are still on the books despite the fact that 20 years ago, at the 1995 World Conference on Women, 189 countries signed on to a plan that would incorporate greater gender equality in their penal codes by revoking any discriminatory laws.
Women's advocacy group Equality Now has launched a campaign against 44 governments for their discriminatory laws. The report, "Ending Sex Discrimination in the Law," was released on Friday with the intention of launching a worldwide petition campaign and accompanied by the hashtag #UnSexyLaws.
There's a sliver of light shining on the deep, dark depths of law books and penal codes. The organization has been releasing similar reports since 1999, and so far made serious strides: more than half of the laws it condemned since 1999 have since been repealed or amended, from Bangladesh to Lesotho.
Still, here we are, in 2015, and these horrendous laws—an abominable selection of which are listed below—are still on the books.
Where Married Women Can Be Raped
India has been struggling to address its sexual assault problem the global outcry over a brutal gang rape and death of young student made headlines across the world in 2012. But a year later, the country added this clause into legislation—"Sexual intercourse or sexual acts by a man with his own wife, the wife not being under fifteen years of age, is not rape." The country has effectively legalized marital rape.
A similar law remains on the books in Singapore, where marital rape is acceptable so long as the girl is over 13 years old. In the Bahamas, rape is also not considered if there is a marriage and the girl is at least 14 years old.
Where You Can Freely Abduct a Woman
In Malta and Lebanon, crimes are literally erased once the offender marries the victim. For instance, in Malta, if a kidnapper "after abducting a person, shall marry such person, he shall not be liable to prosecution," the law says. If the marriage occurs after a trial and conviction, the abductor's sentence will immediately be wiped. Similarly, in Lebanon, crimes including rape and kidnapping, will be halted at the time of marriage. If there's divorce within five years of a felony crime, the prosecution or penalty can resume.
Similar abominable laws were overthrown in Costa Rica, Ethiopia, Guatemala, Peru and Uruguay, in the past decade.
It's Legal for Women to Be Beaten
In Nigeria, violence "by a husband for the purpose of correcting his wife" is considered lawful. Violence is similarly allowed if a parent or schoolmaster is punishing a child, or a "master for the purpose of correcting his servant."
Where It's Illegal for Women to Do Labor
In China, women can't "work down the pit of mines," or do difficult physical labor, or, specifically, "other work that female workers should avoid." Similar laws are repeated in books across the globe—making for a totally geographically diverse triangle. In Madagascar, women cannot be employed at night in an "industrial establishment" unless it's the family
business. And Russian lawmakers decided that "labor of females on hard, dangerous and/or unhealthy trades...is forbidden." This sweeping statement covers 456 different types of work, including driving trains, carpenting, frontline firefighting, and sailing.
Where Women Can't Drive
In Saudi Arabia, a 1990 Fatwa argues that "women's driving of automobiles" is prohibited, due to it being "a source of undeniable vices," such as men and women privately meeting and women removing their veils. Though this isn't an official entry into the law books, it's illegal for women to be given a driver's license in the first place. In December, two women were detained and then referred to trial in terrorism court for trying to drive over the border. Last week, a Saudi historian went on television to defend the ban, arguing that women who drive in the U.S. and Europe "don't care if they are raped on the roadside, but we do."
Where Men Chose a Woman's Work
In the Democratic Republic of Congo, a "wife is obliged to live with her husband and follow him wherever he sees fit to reside." She also cannot appear in civil court or "sell or undertake commitments" without her husband's go-ahead. If the husband agrees but later changes his mind, he can revoke that privilege. This makes it almost impossible for a woman to open her own business, or do any above-the-table dealings independently.
In Guinea, a similar law applies to women seeking a separate profession from her husband, which is illegal if he objects.
In Yemen, a 1992 act allows that a wife "must obey him and refrain from disobedience, and perform her work around the conjugal home." She's barred from even leaving the home without expressed permission. When she does go outside it must be for "a mutually agreed job that does not conflict with Islamic law. A legitimate excuse would be for the woman to take care of her frail parents if she is the only one available to care for either or both of them." This law also allows for marital rape.
And Sudanese law stipulates that a husband has the right:
"(a) to be taken care of and amicably obeyed; and
(b) to have the wife preserve herself and his property."
Where Sisters Don't Inherit As Much As Brothers
Tunisian women are only given half an inherited estate, according to the country's law, and two daughters are allowed two-thirds of what was willed. But if there's a brother thrown into the mix, the ratio gets dramatically skewed. "Where there are any sons, the male inherits twice as much as the female," the law reads. In the United Arab Emirates, the law is almost exactly the same, with men granted double what women are allowed.
Where a Cheating Wife Can Be Killed
Egyptian law proclaims that "Whoever surprises his wife in the act of adultery and kills her on the spot together with her adulterer-partner shall be punished with detention," rather than the typically ascribed 20 years of hard labor for murder. In Syria, where atrocities against women are many in the midst of civil war, it's long been legal for a man to murder. Before 2009, a man who killed his wife, sister, daughter or mother when catching her in an "illegitimate sexual act" was exempt from punishment. That changed in 2009, and again in 2011, to stipulate a minimum sentence of five years in prison, but no more than seven.
Where a Woman Can't Get Divorced
In Israel, where marriages and divorces between Jewish citizens are under rabbinical law, women have a lesser right to leave their husbands than men do their wives. When this inequality was challenged in the Rabbinical High Court in 1995, the judges decided not to force a husband to grant his wife a divorce after six years of separation. Citing ancient Jewish law that states definitively that it can be granted "if the husband wants to divorce her," the court ruled that: "that the matter depends only on what he wants, and we should therefore grant his appeal." A judge on that case noted that it would be preferable to be a slave than a wife under Jewish law. What's more—women are not allowed to serve in these courts. Only in 2013 were they even allowed to sit on the committee that appoints rabbinic judges.
The ancient technicalities of the laws can lead to such complex traps as experienced by a woman in Jerusalem who is unable to marry her partner of 10 years because Jewish law stipulates a separation ceremony must be carried out to release her from her dead husband—and her father-in-law refused to perform the ritual. In September, the city's Rabbinical Court denied her request to remarry.
A world away, in Mali, a woman has strict guidelines for remarriage after divorce: a divorcee can only find a new husband after waiting of three months, and a widow cannot remarry before four months and 10 days after her husband's death. If the widow is pregnant she must wait until giving birth.
Where a Woman's Testimony Doesn't Count
The right of a witness to testify in a court of law seems indisputable. But in Iran, testimony must be provided by two male witnesses in a standard case. For cases where the punishment is severe, "testimony of two just men and four just women shall be sufficient." In most sections of the legislation, there must be at least double the number of female witnesses as male. In Iran, it's also illegal for women to go out in public without proper dress, and violation of this means a sentence of imprisonment or a fine.
Where Women Can't Get Children Citizenship
A child born out of wedlock to an American father and foreign mother has a trying process to gain US citizenship, with requirements including a written promise by the father to provide financial support, and a longer residency requirement than mother's. This makes it much harder for foreign women to acquire U.S. citizenship for their children. If the child is over age 18 when attempting to gain citizenship, it will only be granted if the mother already became naturalized.
This law was upheld by the Supreme Court in 1998, and in Justice Ruth Bader Ginsburg's dissent, she wrote: "The law at issue might have made custody or support the relevant criterion. Instead, it treats mothers one way, fathers another, shaping government policy to fit and reinforce the stereotype or historic pattern."
http://www.thedailybeast.com/articles/2015/02/16/the-world-s-craziest-anti-women-laws.html
-----------
South Asian community shocked at sexual assault charges against Elgin imam
18 Feb, 2015
When Mohammed Abdullah Saleem speaks, many observant Muslims in Chicago's South Asian community listen and obey.
The conservative Muslim scholar opposes men and women shaking hands. He maintains strict gender separation during prayers at the mosque. He also upholds khulwa, the Islamic teaching that men and women cannot be alone together in a secluded space.
When allegations surfaced last fall that he assaulted a now 23-year-old former employee of the Institute of Islamic Education, a boarding school he founded in Elgin, the community couldn't fathom such hypocrisy.
"This person has been a religious leader and scholar and adviser to many people," said Mohammed Kaiseruddin, chairman of the Council of Islamic Organizations of Greater Chicago. "For a person like that to be alleged to have done things like that, it was a big shock for everybody."
On Tuesday, two days after turning himself into Elgin police, Saleem was charged with one count of criminal sexual abuse of a woman. She and three other women also filed a lawsuit accusing him of sexual assault and battery. The other women say they were minors when the abuse took place. Saleem was also charged with aggravated battery.
Saleem's attorney Thomas Glasgow said his client, a U.S. citizen, returned from India to cooperate with law enforcement. "He denies the allegations and continues to be in good spirits," Glasgow said. "He's very confident in the fact that he's done nothing wrong."
Despite traditional public silence on such issues, a new generation of Chicago's South Asian Muslims willing to tackle taboo topics, challenge religious authority and seek the truth in a court of law — even if it means airing the community's dirty laundry — has brought the allegations into the public square. In recent months, lawyers, therapists, and scholars encouraged alleged victims to share their stories. Muslim leaders also have led an effort for about a dozen schools in the Chicago area, including the Institute of Islamic Education, to craft policies that protect children.
"The community has spent millions of dollars to build up the institution," said Kaiseruddin, who said a delegation met with the institute's administrators after the allegations surfaced. "The community has a right to protect the institution. We strongly emphasized that they should conduct an independent investigation and find out what went wrong and ... establish good policies against abuse. Come clean was what our message to them was."
According to the lawsuit filed Tuesday and Cook County prosecutors, Saleem's 23-year-old accuser began working as an office manager at the conservative Islamic boarding school in September 2013. Later that fall, Saleem began to drop by her office, locking the door behind him and asking her to remove the veil over her nose and mouth in his presence, the suit said.
During those visits, the suit said, he caressed her cheek and gave unsolicited hugs, massages and kisses. In April 2014, the woman said she tried to resist Saleem's advances, but he forced her to sit on his lap and fondled her, the suit said. She said she quit her job two days later. The clothes she wore during that encounter, prosecutors said, later tested positive for semen. Police took a swab from Saleem's mouth but had yet to test its DNA.
"Me and my family were going to keep quiet about it. We just thought it happened to us," she said in an interview with the Tribune. "In my culture, if anything happens to an unmarried girl, whether it's her fault or not, there's a big scarlet letter on her. We were going to keep it to ourselves."
But as time went by, she still wanted an apology. A social worker referred her to Imam Omer Muzaffar, a Muslim chaplain at Loyola University Chicago, who reportedly agreed to mediate a conversation between Saleem and her family. The woman said Saleem signed a handwritten apology, but the note, which is included in the suit, lacks any specifics. Muzaffar declined to be interviewed.
Despite the private mediation, word began to spread and more women came forward with allegations of abuse. Nadiah Mohajir, executive director of Heart Women and Girls, a sexual health advocacy organization for Muslim women, said a Facebook and blog post by Muzaffar reaching out to potential victims triggered a coordinated effort to galvanize those victims and bring the allegations to light.
"We did think the situation was bigger than the initial victim and that was quickly confirmed within 48 hours," Mohajir said.
"There's a lot of silence around these taboo topics," she added. " Nobody wants to expose it. This is such a revered person."
That taboo treatment of sexuality is especially true in the more orthodox circles of the South Asian community that looked to Saleem for guidance. Saleem was part of an initial wave of Muslim immigrants from India and Pakistan who settled in the Chicago area in the 1970s and 1980s. Unlike many other Chicago imams in the Sunni tradition, he had formal training and hailed from the Deobandi school of thought, a fundamentalist movement based in India. While the boarding school he founded for students in fifth through 12th grades offers secular courses for children whose families want a more sheltered environment, it primarily trains students to memorize the Quran.
As a resident scholar at the Muslim Community Center on Chicago's Northwest Side in the 1980s, he tutored boys and girls simply learning to read the holy book. According to the lawsuit, that's when his pattern of abuse began.
A 45-year-old mother of two said in a Tribune interview that she was molested by Saleem in 1982 when he taught her to read the Quran. She said she convinced her mother to tutor her instead but didn't tell her why until she reached her mid-30s.
"I thought Allah would take care of it when it happened," she said. "Allah wanted it to come up in this life. He wanted me to have some type of resolution where I could find some peace and put this to end and help other people."
The Institute of Islamic Education also has been named in the lawsuit. Plaintiff's lawyer Steven Denny said its faculty and administrators should be held accountable for failing to protect employees and students from abuse. Another woman in her 20s, who alleged abuse in the past 15 years, said when she told a female teacher at the school that Saleem had abused her, the complaint was brushed off as being simply the behavior of an "old man and old people do things like that, so just forget it," the suit said.
The lawsuit also includes a male plaintiff who said he was 11 when a male staff member, not Saleem, abused him late at night at the boarding school. In the complaint, he describes climbing through the ceiling tiles of a locked office to use the only available phone to call his parents. His mother removed him from the school the next day and told school administrators why, the suit said, but nothing was done.
As a condition of Saleem's release on $250,000 bond, the judge ordered him to have no contact with the victim or anyone under 18. He surrendered his passport, and his next court date is March 10.
Activists understand that Islamic extremists have already placed Muslims under intense scrutiny. Negative publicity, they know, only angers those who want to burnish Islam's reputation. But they say it was a verse in the Quran that inspired them to seek accountability for everyone involved.
"It's a verse that calls upon everyone to stand up for justice, even if it's against oneself," Mohajir said. "It's a very American thing to stand up for justice. It's our American obligation. It's our Islamic obligation. These problems are not specific to one community. Sexual violence is cross-cultural, as is terrorism. It doesn't discriminate."
"No community is perfect," she added. "We shouldn't let that fear paralyze us."
http://www.chicagotribune.com/news/local/breaking/chi-chicago-muslim-religious-leader-faces-sexualabuse-charge-20150217-story.html#page=2
-----------
Thousands of Iraqi women trafficked into sexual slavery - Minority Rights Group
18 Feb, 2015
LONDON - Up to 10,000 women and girls in Iraq have been abducted or trafficked for sexual slavery, prostitution or ransom, rights groups said on Wednesday, as they called for the Iraqi government to crack down on crimes against women.
Campaigners estimate some 14,000 women have been killed since the US-led invasion of 2003, and many women and girls - including children as young as four - have been raped in that time.
Some women have been so traumatized that they have committed suicide, according to a report by Minority Rights Group International and the Ceasefire Centre for Civilian Rights.
The authors say trafficking in Iraq has "mushroomed" in recent years and that the militant Sunni group Islamic State (ISIS) has become a major actor in the buying and selling of girls.
Mass displacement, economic desperation and the breakdown of law and order have created a ripe environment for traffickers.
Displaced women are particularly vulnerable, as are those who have fled domestic violence or forced marriages.
Some traffickers look for runaway girls in public places such as markets, the report says. Others operate in prisons by posting bail for jailed women and forcing them into prostitution to pay back their debt.
Women trafficked across Iraq end up in Baghdad or northern Iraqi cities or are sent to Syria, Jordan or the United Arab Emirates.
A common trafficking method is for a man to marry his victim through a temporary (mut'a) marriage. Once they reach their destination he divorces her, forces her into prostitution and returns to Iraq to repeat the process.
SOLD LIKE CHICKENS
Outside Iraq, women are sold for up to $20,000. Inside Iraq men may pay $200-$500 for a night with a virgin, according to an Iraqi rights group. In some cases girls have been forced to undergo hymen reconstruction surgery so they can be re-trafficked as virgins.
The report says Islamic State, which controls a swathe of Iraq and Syria, has also carried out abductions as a means of controlling populations, spreading fear and procuring wives for fighters.
ISIS captured at least 3,000 women and girls in Iraq in 2014 alone, many of them from the Yazidi minority when ISIS fighters swept through the northern Sinjar region, the authors say.
"ISIS has introduced and legitimized the practice of sexual slavery on an unprecedented scale," the report adds.
Kidnapped women who managed to talk to rights activists in secret by phone in August said ISIS fighters were raping women on a daily basis. Some even begged for airstrikes on their locations to end their suffering.
One Yazidi girl told activists she was taken to Syria with 350 other girls where they were displayed and sold in the streets "as if in a chicken market".
Militants raped them repeatedly at night. Any girl who tried to commit suicide or escape was tortured with electrical cables, the report said. Many were sold to fighters from Syria, Saudi Arabia, Qatar, Chechnya or Afghanistan.
Miriam Puttick, Civilian Rights Officer at Minority Rights Group, called on the Iraqi government and the Kurdistan regional government to step up efforts to secure the release of kidnapped women.
"ISIS is not the first group to be involved in abducting and trafficking women. Women have been disappearing off the streets of Iraq by the hundred ever since the start of the conflict," she added.
"The silence of the Iraqi and Kurdish authorities on this issue must end."
The report also highlights horrific sexual violence, but says there are no figures for rape because strong taboos prevent women from reporting sexual crimes.
In one case a soldier raped a four-year-old before beating her to death with a brick. In another, a five-year-old was gang-raped and strangled with a shoelace.
The authors say the report is the first time anyone has calculated the number of women who have died in the 12 years of conflict.
Women have not only been killed in bombings, shelling and air attacks, but also singled out as targets, they say. Both Sunni and Shi'ite militias have carried out mass extra-judicial executions of women for perceived transgressions of moral codes.
The report calls for Iraq to implement legislation to combat human trafficking, toughen up laws against sexual violence and investigate crimes against women, including those committed by police, security forces and militias.
http://news.asiaone.com/news/world/iraqi-women-trafficked-sexual-slavery?page=0%2C1#sthash.DpUzRqiU.dpuf
-----------
Zunera Ishaq does a disservice to women forced to wear the veil
18 Feb, 2015
Zunera Ishaq, the Pakistani woman who won't back down on her right to wear the niqab in her citizenship ceremony, is proving to be a feisty spokesperson for her side of the debate. In an interview with the National Post, she has framed herself as someone merely wishing to follow her faith, and depicts the government's position forbidding face cover during the swearing-in part of the ceremony as "a personal attack on me and Muslim women like me." An equally feisty Prime Minister Harper, speaking for the government, forthrightly declares that hiding one's identity at such a time is "offensive" and "not how we do things here." Whose feist will win the day?
I believe Ms Ishaq when she says she wears the niqab by choice, but she admits that other girls and women are forced to wear it by their families. So we are not getting a balanced public picture. The sophisticated, empowered niqab-wearers like Ms Ishaq have their public say, boasting about their empowerment to the media. The ones who are forced to wear it would never dream of complaining to the media – if they were allowed to, a fanciful notion. If one were brave enough to do so, I suspect we would see a more muted version of the support Ms Ishaq is finding amongst "progressive" and libertarian pundits.
Although we have been over this ground many times before, I must once again protest the superficiality of the arguments I hear in favour of the niqab.
The "religious faith" argument simply does not hold water. The niqab is worn in some devoutly Muslim regions and not in others. Some Islamic countries ban the niqab in voting, others do not. Virtually all Islamic scholars have noted that Sharia does not demand face cover, and that it is usually a regional custom or a diktat by a country's rulers. Even if it were a religious demand, there are some religious demands that are incompatible with democratic principles of social reciprocity, and this is one of them.
Freedoms are not absolute in any domain. Ms Ishaq quite disingenuously suggests she is speaking for others' "distinguishing cultural practices," pointing to the Sikh turban as the possible next area of restriction. But we already "did" the turban during the debate over whether Sikh RCMP members would be allowed to wear them, and that debate is over. In any case, a turban does not cover the face. It's all about the face.
Which renders completely irrelevant any attempt to parallel the niqab with the wimple of a nun, or the wigs and long skirts that Orthodox Jewish women wear. I personally find it sad that young girls in the Orthodox community wear full body coverage at all times; when I see them on hot summer days, with their brothers gamboling about in shorts and short-sleeved shirts, I feel very sorry for them. But I would never demand the government proscribe body coverage. Is it not clear that there is a world of difference between body coverage and face coverage?
Then there is Natasha Bakht, a law professor at the University of Ottawa, who compares the niqab to western women wearing bikinis and getting cosmetic surgery, as though the niqab were an aesthetic or a fashion choice. Seriously, Ms Bakht? Is there anywhere in the world where women are forced to wear bikinis or get nose jobs and are whipped or have acid thrown in their face if they refuse? Please. Such an argument is an insult to the intelligence.
But Ms Bakht's specious parallel has the virtue that it can be turned against its perpetrator. If a woman were to turn up at her citizenship swearing-in ceremony in a bikini, would she be allowed to? I think not. And rightly so. Bikinis on a beach are one thing – in a solemn ceremony quite another. Indecency swings both ways. Face cover is also indecent in certain situations, such as the swearing-in of a woman to citizenship in a democratic country based on, amongst other principles, gender equality. (I consider the niqab indecent in all getting and giving of government services. If the federal government would pass a law requiring the face be uncovered in these areas, as Quebec soon will, Canadians would approve en masse.)
Perhaps Ms Ishaq might give some thought to the reality that thousands upon thousands of Pakistani people wish to become citizens of Canada, but one does not see Canadians flocking to Pakistan to live. There are reasons for that. One of those reasons is that women here are equal to men, and nobody can tell a woman here that she must cover her face. One might think that Ms Ishaq would wish to honour that right, on behalf of her sisters who are forced to wear the niqab, by taking hers off for the five minutes it will take to accept the gift of great value our government wishes to confer on her.
http://news.nationalpost.com/2015/02/17/barbara-kay-zunera-ishaq-does-a-disservice-to-women-forced-to-wear-the-veil/
-----------
Italian headmaster bans 'provocative' Muslim headscarves in schools
18 Feb, 2015
An Italian headmaster has banned female Muslim students from wearing headscarves, claiming they constitute a "provocation".
Aldo Duri, the headmaster of a school in the north-eastern Italian town Cervignano del Friuli, said that the measure, which applies in six colleges in the Friuli-Venezia Giulia region, had been made to promote the values of "tolerance, respect and equality".
"Ostentation and exhibition, especially if imposed, of exterior signs of a religious confession can be taken as provocation and spark reactions of ostracism, disparagement or rejection," said Duri in a statement published on the college websites, reports Gazzetta del Sud.
"For example, the handkerchief or scarf that covers the hair and sometimes part of the face of Muslim girls. They are free to use it outside school, but not in class."
In a recent incident, an Egyptian pupil was allegedly admitted to hospital for seven days after being attacked by a fellow pupil following an argument in class, reports Messaggero Veneto.
Duri said that atrocities committed by Islamic State (Isis) and the recent Paris terror attacks had heightened anti-Muslim feeling in the college, which has a large number of pupils of Arab origin.
"Since jihadists from Isis have unleashed, with the brutality of their attacks, a 'total war' against the West, Shiites, all kinds of 'infidels', including moderate Sunnis, pursuing the crazy idea to restore an Islamic caliphate, anti-Muslim and anti-Arab sentiments have spread among our students," he said.
He also called for legislation banning all religious symbols from schools, including the crucifix of the country's Roman Catholic majority.
Muslims make up Italy's second largest religious group, with 1.7 million living in the country.
However, the religion lacks official recognition, meaning that Islamic groups cannot benefit from a law allowing Italians to donate part of their income to religious organisations.
The anti-immigration Lega Nord party has introduced a bill outlawing the construction of new mosques in the Lombardy region in northern Italy, and in the wake of the Paris terror attacks Massimo Bitonci, the Lega Nord mayor of Padua, said that no more construction permits would be granted to mosques in the city.
http://www.ibtimes.co.uk/italian-headmaster-bans-provocative-muslim-headscarves-schools-1488356
-----------
Ipswich woman charged over Muslim hate attacks online
Human rights activist Mariam Veiszadeh has become accustomed to her share of religious vilification as a Muslim Australian woman who proudly wears her hijab daily.
But the 30-year-old, who arrived in Australia at the age of seven after fleeing her native Afghanistan with her family, says nothing could have prepared her for the level of vitriol hurled her way in the past six weeks.
Late last year, Ms Veiszadeh, a Canberra-based lawyer, publicly railed against a Cairns Woolworths store selling a singlet adorned with the Australian flag and the words, "love it or leave".
Ms Veiszadeh took to Twitter to object to what she perceived to be the bigoted message the singlet carried. Three months later, the unashamedly anti-Islam group the Australian Defence League pounced.
Cropping the words from the picture of the singlet, the organisation posted her tweet to its Facebook page, insinuating to its nearly 5000 followers that Ms Veiszadeh's objection was to the flag itself.
It opened the floodgates to a torrent of online abuse.
Among the worst offenders to attack Ms Veiszadeh was allegedly a 22-year-old Ipswich woman, who was this week charged by Queensland Police with using a carriage service to menace, harass or cause offence.
She is due to appear in Ipswich Magistrates Court to face the charge on March 11.
Although Ms Veiszadeh's Facebook page was privacy-protected, the Ipswich woman allegedly found a post from 2012 that allowed non-friends to comment.
Then she allegedly unleashed.
Two religious-fuelled attacks made in the 22-year-old's name, riddled with expletives, referred to Ms Veiszadeh as a whore, a prostitute and a rag-head and urged her to return to her "sand dune country".
Screenshots of the alleged attack on Ms Veiszadeh were widely circulated on social media to widespread public condemnation.
Ms Veiszadeh said the Ipswich woman's stream of abuse was just one facet of that hurled her way via her social media accounts.
"I get abused generally all the time, you just kind of think this comes with the territory," she said.
"But the fact these all came through roughly at the same time with the same viciousness, it made me look further.
"The Australian Defence League had mischievously posted a tweet suggesting I was against the Australian flag being worn as a t-shirt, they did not post the entire tweet, so out of context, I felt they were using me to incite hatred of Muslims and that's what triggered all this abuse."
Ms Veiszadeh has long been a campaigner for tolerance of Muslim women sporting the hijab, saying attacks fuelled by religious vilification often increase following terrorist events that have an Islamist link.
However, she said the widespread social media phenomenon #illridewithyou, that garnered global momentum in the wake of last year's Sydney siege, indicated the vast majority of Australians were tolerant people.
However, she said in the intolerant, the flames of bigotry were fanned, threatening ongoing social cohesion.
"This person was happy to abuse me, using her real identity, which more than holds her accountable," Ms Veiszadeh alleged of the Ipswich woman.
"She's incredibly young, which means this attitude is going to carry through.
"It's really a disturbing reflection on the views some people in society hold.
"I hold the Australian Defence League accountable because they are the ones inciting hatred, and that's incredibly dangerous, these incidents are not innocent incidents that can be ignored. They are dangerous incidents for social cohesion."
Since the attacks began, Ms Veiszadeh said her health has deteriorated rapidly. She suffered vertigo and anxiety as she battled through the process of having the offenders charged.
Despite the small relief this week's charging of the Ipswich woman brought, along with the expected charging of a New South Wales man who issued her with death threats, Ms Veiszadeh the law as it stood did not have enough power to punish for religious vilification.
The 22-year-old Ipswich woman has been charged with using the internet to harass or menace but not with specifically with religious or racial abuse.
Ms Veiszadeh also plans to pursue the case further, both civilly and with a complaint lodged with the human right commission.
"It's certainly possible she will be slapped with a fine and go back to everyday life," she said.
"We can't be delusional, the flames of bigotry are being fanned by some politicians and media commentary.
"It's incredibly distressing people dismiss your concerns like somehow it's justified because my people of my religion are committing atrocities overseas.
"I will take this as far as I can take it because it's not just about me, it's about setting a precedent."
The Australian Defence League, which describes itself as a human rights organisation on its Facebook page, did not respond to Fairfax Media's requests for comment.
http://www.brisbanetimes.com.au/queensland/ipswich-woman-charged-over-muslim-hate-attacks-online-20150217-13hamf.html
--------
URL: https://newageislam.com/islam-women-feminism/thousands-iraqi-women-trafficked-sexual/d/101582