New Age Islam News Bureau
9 Sept 2017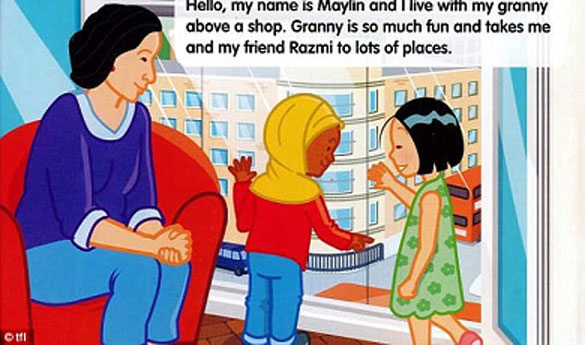 Photo: Transport for London last month axed images of a four-year-old Muslim girl used in its £2million campaign for schools and nurseries (pictured)
-----
• Women at margins of Indonesian society study Islam
• Women do not receive equal opportunities in sports, says journalist
• Sons and daughters of Saudi mothers married to non-Saudi fathers
• Iran: Women teachers hold another protest
• Girl among three die in different incidents
• Police to probe woman threatening council officer with steering lock
• Women in Politics: Barely visible
• German woman on trial in Turkey over failed coup: media
• To Muslim Women: 'I Love You Dearly, Regardless Of What Stage Of Islam You Operate In'
• Two women, caught in the vortex of Syria's police state
• Yemeni Women Rise to Challenge of Helping Others During Wartime
• Canadian Muslim site advocates for female circumcision
Compiled by New Age Islam News Bureau
URL: https://www.newageislam.com/islam-women-feminism/thousands-british-schools-approve-muslim/d/112482
--------
Thousands Of British Schools Approve Muslim Hijab As Uniform
September 6, 2017
by David Nussman
LONDON (ChurchMilitant.com) - The hijab, a traditional Islamic headscarf worn by women, is shockingly common in British primary schools.
The U.K.-based Sunday Times surveyed 800 primary schools in England, and discovered that 18 percent of schools allow for the hijab in their uniforms and dress codes.
The Sunday Times reported on the survey this week. If the schools sampled are at all indicative of the country as a whole, the report claims, it is likely that "[t]housands of state primary schools are allowing girls as young as five to wear the Muslim religious headscarf."
Last month, the depiction of a hijab-wearing girl in a children's book provoked outrage in Britain. The educational book was produced by Transport for London, and included a young girl of African descent wearing a hijab. One prominent critic of the book blasted it, saying, "You are sexualizing a four-year-old girl."
The hijab is typically not worn until puberty. Many fear that pre-pubescent girls wearing hijabs is a sign of the sexual objectification of these young children, while others argue that the girls just want to imitate their hijab-wearing mothers, and are preparing themselves for adulthood.
The concern about sexual objectification is not without basis. Child brides are common in certain Muslim cultures, where it is sometimes legal and even normalized for a middle-aged man to marry a pre-teen girl. The founder of Islam, Mohammed, himself had a young bride named Aisha. The girl's exact age is disputed; but some Islamic sources say that Aisha was as young as seven when Mohammed married her, and as young as ten when he began exploiting her.
The Times report included comments on its survey from Amina Lone, a Muslim and former Labour candidate for parliament. Lone expressed disdain at the notion of young girls wearing hijabs. "In an Islamic context," Lone argued, "the hijab is commonly understood as being for females after they reach the age of puberty."
Lone presented herself as speaking for the Islamic community as a whole; but some argue that sexually exploitative behavior is more common among Muslim immigrants to Europe than it is among Europe's population at large. Rape gangs and pedophilia circles, often peopled by Muslims, have been a major problem in some parts of Great Britain. Some feel that Leftist politicians refuse to acknowledge this for fear of being called "Islamophobic."
churchmilitant.com/news/article/british-schools-welcome-hijab
--------
Women at margins of Indonesian society study Islam
09.09.2017
In a quiet city famed for its ancient temples, a group of women pray at a religious boarding school formed in the wake of a deadly earthquake that ravaged the area more than a decade ago.
Al-Fatah boarding school was founded after the Bantul quake left more than 5,700 people dead in 2006.
However, the students at the school in Yogyakarta, a university town in the southern part of Central Java, are different from those at the many other Islamic schools dotted across Indonesia -- they were born as men but live as women.
The 42 women who study at Al-Fatah are under the charge of Shinta Ratri, the school's 55-year-old director.
She was among those transgender women who came together after the 2006 earthquake to offer prayers for the victims of the disaster.
The meetings became more regular, with lectures from preachers and Quran classes, and two years later the school was established as a place to study Islam and worship.
The school's guests came to be able to pray and study free of the awkward gaze of fellow worshippers.
"When worshiping in the mosque with many people, there is a sense of discomfort," Ratri said.
Anadolu Agency visited the school during the festival of Eid al-Adha as the students prepared two sheep to be sacrificed and shared among the local community.
Study Islam
Also visiting at the same time were a group of university students, human rights activists and locals who gathered at the school to mark the day of sacrifice.
Ratri said those women living at the school were united in their desire to study Islam and worship freely.
Unlike other Islamic schools, known as pesantren in Indonesia, many of the students are middle-aged by the time they come to study.
"The majority of transvestites only graduated from junior high school because, at that age, they started to leave their families," Ratri, who wears a traditional headscarf, said.
Most transgender people in Indonesia face alienation from their families and difficulty in finding work, forcing many to seek employment on the margins of society despite Java's relatively relaxed attitudes to transgender women, known as "waria" in Indonesia.
"Some of them come here at over 40 years old because at this age they feel the need to get closer to God," Ratri said. "Some of them are suffering from severe diseases like HIV/AIDS."
Unable to find mainstream jobs, many waria are forced to work in the sex industry. Four of the students at Al-Fatah work as prostitutes although others have secured positions as hairdressers, masseuses and shop staff.
Ratri said the school does not pressure students to give up their illicit jobs "but over time, they realize and started looking for better jobs".
Yuni Shara's story is typical of many at the school in the historic district of Kotagede.
Hardliners
Now aged 50, she was thrown out by her family at the age of 29 after finalizing her decision to live as a woman full-time.
She worked as a street singer before coming to the school. She now works as a human rights activist.
"I used to be the subject of jokes when praying at the mosque but now I am relieved to be able to worship freely," she told Anadolu Agency. "We want to be accepted by society. At least let us worship quietly."
She added: "We are guided by four preachers, two of them women. I record what my tutor says -- that we should be good listeners, loving to others, not get tired of studying and keep learning."
As well as praying together and studying the Quran, students also discuss the particular challenges facing them as transgender women. The school also arranges job training, medical check-ups and offers services such as free hairstyling.
Fellow student Inul, who like many Indonesians uses just one name, said her last two years at the school had helped her become a better person.
"After joining Al-Fatah, I am more able to control myself [and know] that I should behave better," she said.
Despite some support from the government and mainstream Islamic groups, the school faces opposition from hardliners.
In February last year, one group stormed the school, forcing it to close for four months.
Close to God
"They are provoked by the issue that we make heresies," Ratri said. "But we are fools. How could we make a new religious teaching?"
She praised a decree passed by President Joko Widodo in July aimed at tackling hardline groups in the world's largest Muslim-majority country.
"The hardliners will rethink if they want to make trouble," Ratri said.
As part of their activities in the local community, the school has organized trips to university campuses to spread a broader understanding of transgender identity.
"When people have accepted us, then our lives will be better, both in terms of education and work," Ratri explained.
Arif Nuh Safri, a scholar at Sunan Kalijaga State Islamic University who preaches at the school, said everyone deserved the opportunity to worship and study Islam freely.
"Transgender [people], although often mocked and considered inappropriate to praying, also have a desire to be close to God," he said.
Safri said transgender women faced tremendous pressure from their families and society, which could be alleviated through worship. "In that distress, religion can give peace, but how can they be calm if they have trouble worshiping?" he asked.
"When the family can accept them, then their education and spirituality will be better."
aa.com.tr/en/asia-pacific/women-at-margins-of-indonesian-society-study-islam/905024
--------
Women do not receive equal opportunities in sports, says journalist
September 9, 2017
THE number of female sports journalists today may only be a handful but the field has advanced a long way since Razan Baker started covering sports in Saudi Arabia early on in 2005.
Baker felt alone in a new and uncharted territory as several obstacles stood in her way in the beginning. "It was challenging to participate in a field dominated by men," she says, recalling a number of championship matches she had to sneak in to watch behind the scenes. At other times she would watch the games on television and contact the players afterward for interviews.
Five years working as a reporter and travelling with the national team to cover international matches gradually made her more comfortable in the field. "The players are respectful and responsive as they're used to interacting with female journalists abroad," she explains.
The public opinion toward women and sports shows otherwise at times. "There is low awareness, in general, when it comes to recognizing the importance of sports and acknowledging athletes and professionals working in the field," she says.
"In addition, females in Saudi Arabia are not receiving equal chances in participating in sports."
The lack of opportunities for physical education in Saudi Arabia and her passion for sports led Baker to pursue a PhD in sports studies at Brunel University, London, to examine the relationship between Saudi youth and physical activity participation.
Her research findings reveal a lack of social structure that promotes a healthy, active lifestyle for citizens in Saudi Arabia as well as a gender bias.
Social media has played a significant role in influencing youth to participate in physical activity that aimed to counter the theory that self-motivation was the main driver of people's participation, Baker reveals in her study.
Hashtags on Twitter, one of the most used social media platforms in Saudi Arabia, showed a change of tone in public discourse between 2010 and 2015 towards women in sports. "The majority of citizens voiced intolerance and harsh criticism," says Baker. "Many had the belief that sports were only for men."
The negative rhetoric peaked in 2011 but toned down in the following years.
One strong factor influencing this positive change is social media, in which Saudis heavily consume. Young people are highly influenced by friends and social media networks, explains Baker.
"Their exposure to content and new trends broke some of the social barriers and decreased the gender gap. More and more girls are challenging themselves to try different sports that were usually exclusive for boys."
Women have started to seek training abroad or even locally and set up home gyms and professional group activities. "They are personal efforts but it's pulling more women to adopt active lifestyles," notes Baker.
"Social media has a positive effect on youth," she adds. "It's opening their eyes to more information and building bridges between them and professionals and decision-makers. This two-way communication didn't exist before."
The Saudi Vision 2030 is another factor that has pressured social barriers to fall.
There remains a segment of society in which families don't allow their daughters to join health clubs or participate in sports activities due to reasons such as extremism, chauvinism, and low awareness about health.
Obesity rates in the Gulf countries are among the highest in the world: 9.3 percent of school children and more than 33 percent of women in Saudi Arabia are obese, a local daily reported.
A top-down approach from the government is needed to initiate stronger change, believes Baker. "The Vision 2030 highlights sports as an important pillar and focuses on both men and women to be active citizens. It's important that decision-makers have decided to support this more," she says, adding that all government bodies in health, sports and education need to work together to build a systematic plan to raise awareness and guide the youth.
While parents play a crucial role at home in young people's active lifestyle decisions, online networks remain significantly influential. "Private institutions are becoming very active online and public institutions are following the trend although at a slower pace," says Baker.
The study shows that officials and facilitators are still failing to effectively reach youth and encourage them to participate in physical activity.
"Various policies need to be reviewed if the public institutions want to reach more youth and benefit the community, especially females who make up more than half of the population," says Baker. "The way to develop these policies is to communicate with them through online networks and provide them with more facilities, venues and services that are suitable for both genders."
saudigazette.com.sa/article/516784/SAUDI-ARABIA/Women-do-not-receive-equal-opportunities-in-sports-says-journalist
--------
Sons and daughters of Saudi mothers married to non-Saudi fathers
Suhaila Zain Al-Abideen
CITIZENSHIP is something that is based on the place where a person lives and belongs to. From a sociological perspective, it is a social relationship between an individual and a state wherein the individual pledges allegiance to the state in exchange for protection. These definitions clearly show that both male and female citizens are treated the same and there is no form of discrimination.
However, Saudi men who are married to non-Saudi women seem to be discriminated against as far as the law is concerned. The same thing applies to Saudi women who are married to non-Saudi men. The children of these Saudis are also discriminated against. The sons and daughters of Saudi men who are married to non-Saudi women are regarded as Saudi citizens, regardless of whether they were born inside or outside the country.
On the other hand, the sons and daughters of a Saudi woman who is married to a non-Saudi man are treated differently. The sons get Saudi citizenship when they turn 18 and after having met certain conditions while the daughters do not unless they marry Saudis. In 2012, the laws were amended to give both sons and daughters of Saudi women the right to become Saudi citizens if they met seven requirements.
One of the requirements proved to be difficult to meet. This was the requirement for the Saudi mother to prove that her paternal grandfather was or is Saudi. We all know that Saudi IDs were introduced in 1942, meaning the Saudi mother whose paternal grandfather passed away before 1942 would never be able to meet the above requirement. In fact, even those who have met all of the seven requirements have still not been granted Saudi citizenship. The same is true for the sons and daughters who gave up their father's nationality to get the same nationality of their mother as per Article 8 of the Citizenship Law. They have not been given citizenship since 2005.
If we look at the new laws stipulating that the sons and daughters of Saudi mothers should be treated as Saudis as long as their mothers are alive, we find some flagrant violations in daily life scenarios. Those sons and daughters will not be employed in the public sector nor will they be allowed to go on a scholarship to study abroad. Moreover, the scholarship of a Saudi man will be canceled if he marries a non-Saudi woman, even if her mother is Saudi.
The sons and daughters of Saudi mothers cannot represent their mothers before government agencies and are banned from 31 jobs that are restricted to Saudi citizens. They do not get social insurance nor do they get the same salary a Saudi would get if employed in the private sector. They usually get paid less than Saudis. They also do not get pensions.
The son or daughter of a Saudi woman who is married to a non-Saudi man will also not enjoy the same residence status after their mother passes away. The section in the residence permit that mentions "son/daughter of a Saudi woman" will be changed. All the privileges they enjoyed when their mother was alive, such as free education and medical care, come to an end. Those sons and daughters are then treated as if they were expatriate workers recruited from overseas.
They have to find a Saudi sponsor and pay the fees imposed on expatriate workers. They are unable to own property they inherited from their mother; in fact, the property will be sold in an auction and the money will be divided among them. This happens even though there are laws that allow non-Saudis to own property after 10 percent is deducted and handed to the Ministry of Finance.
In sharp contrast, the non-Saudi woman whose Saudi husband passed away will be treated as a citizen. It seems that the Saudi woman loses her citizenship status when she passes away. Why do we discriminate between the sons and daughters of Saudi mothers who are married to non-Saudis and the sons and daughters of non-Saudi mothers who are married to Saudis? This type of discrimination violates Article 8 of the Basic Law of Governance which states: "Governance in the Kingdom of Saudi Arabia shall be based on justice, Shoura (consultation), and equality in accordance with the Islamic Shariah."
Article 9 of the Saudi Citizenship Law stipulates that a foreign person who has been living in the Kingdom for 10 years and who does a profession that is in demand in the Kingdom shall have the right to be Saudi and shall have the right to apply for Saudi citizenship for his wife and children. The Saudi woman who is married to a non-Saudi man does not have the same right even if she does a profession that is in demand in the Kingdom.
Granting citizenship is a strict sovereign right. However, Saudi women who are married to non-Saudis should be given the right to grant citizenship to their sons and daughters just like Saudi men who are married to non-Saudi women.
On the basis of Article 9 of the Basic Law of Governance ("The family is the nucleus of Saudi society...") and Article 10 of the same law ("The state shall put great attention to strengthen the bonds which hold the family together and to preserve its Arab and Islamic values. It is keen on taking good care of all family members and creating proper conditions to help them in developing their skills and abilities"), I implore and entreat Crown Prince Muhammad Bin Salman to grant Saudi citizenship to the sons and daughters of Saudi mothers who are married to non-Saudis. Those sons and daughters can contribute to the success of the Transformation Program and Vision 2030. They should be given special residence permits, which distinguish them from others and their occupations should be written on their residence permits.
saudigazette.com.sa/article/516777/Opinion/Local-Viewpoint/Saudi-mothers
--------
Iran: Women teachers hold another protest
08 September 2017
Women teachers held a protest rally in front of the Governor's Office in Kermanshah, western Iran, on September 5, 2017, demanding to be officially employed by the Education Department.
Despite years of service and experience, the teachers have not been officially hired yet and their employment status is still undetermined.
One of the protesters said, "I have ten years of experience; I'm just demanding the implementation of the law so that I could be recruited by the Education Department. I don't think asking for employment is too big of a demand." (The state-run ILNA news agency - September 6, 2017)
women.ncr-iran.org/iran-women-news/4276-iran-women-teachers-hold-another-protest
--------
Girl among three die in different incidents
September 09, 2017
KASUR-Three persons including a girl died in different incidents of suicide and road accidents here the other day.
According to police, Kinzah Bibi of Old Lorry Adda committed suicide by taking wheat-preservative pills over domestic issue. In another incident, Amjad alias Bagga of Kot Akbar, Sarai Mughal ended life by shooting himself in head after an argument with elder brother, Ahmed.
On the other hand, two persons were killed in separately occurred road accidents. Mehmood Ahmed of Balloki was on the way back home on a motorbike. As he reached Balloki Road, a motorbike collided with his bike head-on. Resultantly, he was killed on the spot while the other motorcyclist of Sarai Mughal was injured critical.
SEVEN INJURED
A man was shot at and injured by rivals in Hinjran Kalan. Khalid was on the way on a vehicle when his rivals opened fire on him. He sustained injures while the police are investigating.
On the other hand, six persons including two women were injured after a van overturned near Kasur New Bus Terminal. The injured including Abdullah, Haroon, Nusrat Bibi and Naseem were shifted to Kasur DHQ Hospital by Rescue 1122.
nation.com.pk/national/09-Sep-2017/girl-among-three-die-in-different-incidents
--------
Police to probe woman threatening council officer with steering lock
September 9, 2017
PETALING JAYA: The incident where a woman wielding a steering lock and screaming angrily at a municipal council officer, which went viral in a video on social media, will be investigated by police.
Serdang police chief ACP Megat Mohamad Aminuddin Megat Alias said the woman would be investigated under Section 506 of the Penal Code for criminal intimidation, reported the New Straits Times.
He said the incident took place when a Subang Jaya Municipal Council (MPSJ) officer was about to tow a woman's vehicle which was parked in a lot reserved for the disabled at Jalan Puteri ¼, Bandar Puteri Puchong at 1pm.
He said the woman confronted the officer wielding a steering lock and shouted at the officer who explained to her calmly that she had parked in a wrong spot.
The woman angrily retorted that she had nowhere else to park and that she was buying food for her disabled husband.
When asked for an OKU card, the woman, however, failed to produce the card.
Megat said despite the explanation, the woman continued with her angry tirade while waving the steering lock at the officer.
"The car was towed to an MPSJ depot in Puchong. At 2.45pm, the woman's husband went to the depot and paid the fine," he said.
He said the woman's husband also apologised for his wife's unruly behaviour.
Megat said the MPSJ officer had lodged a report over the incident.
freemalaysiatoday.com/category/nation/2017/09/09/police-to-probe-woman-threatening-council-officer-with-steering-lock/
--------
Women in Politics: Barely visible
September 09, 2017
Some parties consider it achievable, some need more time to do so and there are many others who consider it a distant goal.
The Representation of the People Order (RPO) stipulates that each political party must have 33 percent women in their committees by 2020 to ensure wider participation of women in politics.
This target was set in 2008, when the law was amended to incorporate this provision.
The deadline ends in about three years, but women's participation in major political parties' central and grassroots committees is barely visible.
For instance, the ruling Awami League has only four women in its 17-strong Presidium Committee, a top policymaking body, while its archrival BNP's 19-member Standing Committee, its highest policymaking body, has only one woman -- the party chairperson.
There are only two women in AL's 40-member Advisory Council. The BNP has six women in its 73-strong advisory body.
Not a single of the eight AL organising secretaries is woman. The BNP has two out of the 10 in similar posts. One out of the four AL joint general secretaries is woman but there is no woman joint secretary general in the BNP (the party has eight such posts).
AL's 78-odd Central Working Committee has only 15 women members while BNP's 502-member National Executive Committee has 65.
This dismal picture was revealed after 33 out of the 40 registered political parties recently updated the Election Commission about the status of women representation in their parties.
On June 13, the EC sent letters to all the registered political parties, asking them to inform the Commission by July 10 about their progress in achieving the target -- 33 percent women representation by 2020.
The EC later extended the deadline to August 4, by which time 33 parties responded, explaining their current status and future plan in this regard.
The RPO, originally formulated in 1972, is the law that regulates political parties and electoral conducts.
Asked to comment on the progress, Chief Election Commissioner KM Nurul Huda said, "We have got response from some parties. We will evaluate the progress after we get response from all the parties."
The EC prepared a report based on the response it received so far.
The report shows the AL has 19 percent women in its central committee against 13 percent women in BNP's national executive committee.
However, both the parties claimed to the EC that they had 15 percent women representation in different tiers.
Given the current status, it will be very difficult, if not impossible, for the parties to meet the target within the 2020 deadline.
In its response to the EC, Jatiya Party, the main opposition party in parliament, said women were less interested to be involved in active politics. So it is not possible to ensure 33 percent women in any level by any political party, including the JP.
Most of the parties, however, did not mention the progress they made so far.
Almost all the religion-based parties demanded extension of the deadline, saying women were not yet interested in active politics.
Left-leaning political parties also failed to show any good progress. For example, Jatiya Samajtantrik Dal (JSD) has 11.99 percent female members in its central committee and 8 percent to 10 percent in its district committees.
Bangladesher Samyabadi Dal, Bangladesher Samajtantrik Dal (BSD) and Bangladesh Biplobi Workers Party did not mention their progress.
The JSD demanded that the EC push the deadline to 2030.
Bangladesh Biplobi Workers Party said although it was difficult to ensure 33 percent women in all tiers considering the socio-economic reality of the country, it was trying to achieve that.
Bangladesh Nationalist Front (BNF) said party's standing committee already had 33 percent women and it would ensure the same in all its tiers by the timeframe.
Bangladesh Sangskritik Muktijot (BSM) said its central committee was divided in three parts -- one part has 51 percent women and another part has 30 percent and yet another part has 20 percent women.
Both BNF and BSM got registration during the army-backed caretaker government tenure.
Progressive Democratic Party (PDP), which made headlines during the last caretaker government quite often, claimed it already had 33 percent women in its central committee.
Bangladesh Muslim League proposed that the Commission extend the deadline by 10 years and reduce the 33 percent quota to 15 percent as women were still reluctant to take part in active politics.
Islami Oikya Jote (IOJ) has one percent female member in the central committee. The party said it was trying to achieve the target though it was difficult for Islamic parties to do so.
Bangladesh Khelafat Andolan said it was difficult to include women in active politics.
Generally, educated, veiled and pious women avoid active politics, the party wrote in its response, and requested the EC to relax the law.
Bangladesh Islami Front said they could ensure one percent women in all tiers.
Contacted, rights activist Sultana Kamal said wider participation of women would bring about a positive change in politics and help create a balanced society.
If these 33 percent women rise to leadership position through a "proper process," and not just by random selection, it will encourage democratic practice within the parties as well as other women to join politics, she said.
But it should not be only about the number; rather it should be about the process through which they make it to the top, she noted.
Asked about the poor progress, AL Joint General Secretary Mahbubul Alam Hanif said his party was trying to meet the legal obligation.
"It is very difficult in Bangladesh. In our conservative society, many people don't like woman leadership or woman's precipitation in active politics. Besides, it is not possible to ensure women's representation if woman leadership is not created in grassroots level," he said.
"We will try our best. Let's see what we can do before 2020."
Both the AL and the BNP held their last councils in October and March last year respectively. By 2020, they are supposed to hold their next councils, where leaders of various committees are elected and selected.
BNP Senior Joint Secretary General Ruhul Kabir Rizvi said, "A good number of women have already been included in our central committee. We think it won't be difficult for us to achieve the target by the timeframe."
In the past, women were reluctant to join politics, but the situation in the BNP is different now, he said. "Students, housewives and service holders are joining politics and the competition among women is really impressive."
thedailystar.net/frontpage/women-politics-barely-visible-1459513
--------
German woman on trial in Turkey over failed coup: media
9 September 2017
BERLIN: A 49-year-old German woman is standing trial in a Turkish court accused of having links to the alleged mastermind of last year's failed coup, German media reported Friday.
The accused, who has not been named, faces several years in jail if found guilty of belonging to the movement of US-based cleric Fethullah Gulen, which has been branded a terror organization by Ankara, the reports said.
At the trial in the southern city of Karaman, prosecutors accused her not only of membership of the group, which Turkey calls FETO, but said she led one of its local women's organizations.
Gulen, an Islamic preacher who lives in exile in the US state of Pennsylvania, denies any link to the botched putsch in July 2016.
The prosecutors said they have electronic proof of the woman's alleged actions against the Turkish state that were uncovered during raids at her apartment in Turkey.
The Turkish-born woman, who became a German national about 15 years ago, was arrested in August 2016, becoming the first German citizen to be detained after the attempted overthrow of President Recep Tayyip Erdogan.
She was granted conditional release in September but not allowed to leave Turkey.
But her case is far lower in profile than that of Deniz Yucel, a correspondent for the Die Welt daily newspaper, whose arrest in February on terror charges sparked outrage in Germany.
German journalist Mesale Tolu has been held on similar charges since May, while human rights activist Peter Steudtner was arrested in a July raid.
At least 10 Germans are currently detained in Turkey for political reasons, according to the German Foreign Ministry.
arabnews.com/node/1158131/world
--------
To Muslim Women: 'I Love You Dearly, Regardless Of What Stage Of Islam You Operate In'
09/08/2017
by Suraiya Ali
To Muslim women,
Islam is a religion of women. I will speak these words until my heart stops. Islam is a religion of women. Our prophet who was delivered the revelation may have been a man but his first and truest disciple was his wife. She was a woman of stature, endurance, patience and poise. And to reiterate what has already been said, she was a woman. With female hands was the first iftar made; with female hands was the first wudu done.
All the sanctified souls Rasulullah saw on his night journey were of women- We would have no Adam, John, Jesus, Joseph, Idries, Aaron, Moses, or Abraham without Eve, Elizabeth, Mary, Rachel, Barkanah, Jochebed, and Amathlaah. Even in the prophet's family, although it was Hazrat Ali who went down in sajdah before the sword of his enemy and his son Hazrat Hussien who was massacred at Karbala – it was Hazrati Zainab, Rasulullah's granddaughter, who was tasked to carry the weight of the carnage back to the believers, and subsequently, to the rest of time. It is Bivi Fatima, The Prophet's daughter, who is said to come to the aid of the needy and the helpless. In her black chador do foreignness and aliment reside.
Islam lives in our wombs. The Shahada lives in our wombs. Salat lives in our wombs. Sawm lives in our wombs. Zakat lives in our wombs. Hajj lives in our wombs.
You have no Islam without women. It is on a woman's back does Islam find its alter.
Islam is birthed by women. Islam is kept alive by women. Islam, in its submission and in its excellence, dies if its womenkind are not protected.
During the month of Ramadan in Muslim year 1438, women were not protected. Seventeen-year-old Nabra Hassanen was beaten to death while on her way to Qiyam prayer recently in her North Virgina hometown. Regardless of the fact that her death has not been ruled a direct hate crime—it comes at a time where Muslim women specifically face the brunt of Islamophobia, direct or indirect, both in this country and abroad.
Nabra stood as a pinnacle of what it means to be Muslim, to be a young woman, and to be a black American. She wore a head scarf and Islamic robes. She had chosen such symbols of devotion at a commendably young age. And whether her awful death was an outcome of that choice, we may never know for sure. But she does represent the fact that for veiled Muslim women, their existence is one that is often objectified into being purely a threat, and their lives are endangered at any given moment because of this. For black Muslims, this is only heightened by the racism already rampant in this nation. For Muslim women in general, it showcases that head scarf or not, Quranic name or not, pigmented skin or not, there is a real danger in existing as Muslim.
To Nabra I want to say that since your passing I have meditated on your name. It has become my zikr. I remember you. When the strength in my fast wanes, I remember you were not able to complete yours- I find strength in your name. In prayer for strength I call on many names; Muhammad, Hazrat Ali, Hazrat Hussein— but I do not forget yours, for it always comes next. You are a martyr of our times; who went out to pray and was faced with violence. As someone who has felt the physical end of Islamophobia – who has faced boys chasing her in elementary school hallways to pin her in bathroom stalls in order to berate and shame her, who has dealt with physical violence at the hands of other POC's on middle school playgrounds and suburban back allies.
As someone who has felt the physical hands of hatred on her—Nabra I am sorry. I am sorry. I am sorry. I am sorry we could not protect you. And now, just like Hazrati Zainab, Bivi Fatima, and the rest of Muslim womankind, may you go down in history as being the definition of a devotee. Islamic history has a problem with remembering the women who represent it, but we will not forget you. May you rest in power sweet child. May you forever rest in power.
To Muslim women, I love you dearly. Regardless of what stage of Islam you operate in, regardless of how Muslim you feel—know you are valid and that I love you. You who birth Islam also face its largest burden—criticized, objectified, victimized both within the religion and without. Know that you carry the power that Zainab used to rally the believers in tragedy. Know that you carry the virtue of Bivi Khadijah's first salat. Know that you carry the utter grace of Bivi Fatima and her devotion. Islam is not a religion of current parted mosques and patriarchal judgments. It is a religion of women. It belongs to you. It always has and it always will.
To those who do not value us—I will repeat what I started this piece with: Islam is a religion of women. I will speak these words until my heart stops. Islam is a religion of women. On a woman's breath does Submission rest. Without us, you would not have the faith you try to use against us. I promise, you will fail time and time again to do so. Islam belongs to us. This will never change.
huffingtonpost.com/entry/to-muslim-women-i-love-you-dearly-regardless-of_us_59b2b751e4b0d0c16bb52c19
--------
Two women, caught in the vortex of Syria's police state
By Rayyan Al-Shawaf
September 8, 2017
On assignment for Harper's magazine in 2007, Deborah Campbell was looking for someone to assist her with research for an article about Iraqi refugees in Syria. What she needed was an insider, someone who could make "journalism possible where the outsider cannot go alone." This person, known as a fixer, would help set up interviews, interpret, and offer "context and background."
Campbell quickly settled on a woman named Ahlam. Not only did she speak English fluently and have a sterling reputation among the foreign journalists, nongovernmental organizations and U.N. bodies she had worked with in the past, but this mother of two was a refugee from Iraq and lived in a Damascus neighborhood teeming with other Iraqi refugees. Her knowledge of the subject was deep, and firsthand. Yet in Syria, a police state that demands docility on the part of its citizens and foreign residents, Ahlam's work as a fixer (illegal, owing to her status as a foreigner) made her a target. Given that Ahlam serves as the focus of a book titled "A Disappearance in Damascus: Friendship and Survival in the Shadow of War," the reader has more than an inkling of what will befall her.
Although occasionally marred by Campbell's awe-struck view of her biographical subject, "A Disappearance" relates an unsettling true story with journalistic adroitness and novelistic flair. And there is plenty to admire about Ahlam (intelligence, pluck, resilience, nonsectarian dedication to helping Iraqis). "Like army commanders, sea captains and wilderness explorers, Ahlam's stubborn fearlessness made those around her feel fearless too," Campbell writes. Because of Campbell's style of immersive journalism, the reader comes to know the author's fixer-turned-friend intimately.
Ahlam is frank about her predicament. "I've figured out I'm being watched here in Damascus," she tells Campbell early on. She wonders if this marks the return of her tormentors in Iraq, from which she fled after being kidnapped — and released — by al-Qaeda. (She had worked for the Americans, dispensing financial compensation to Iraqi families who had lost a member to the war.) But it turns out that Syrian intelligence is the culprit, in particular an agent who goes by the handle "Abu Yusuf."
Ahlam's role as a fixer and her efforts to aid Iraqi refugees have aroused suspicion; a regime inclined toward totalitarianism will try to control everything, even relations between individuals. At one point, Abu Yusuf demonstrates flexibility, granting Ahlam permission to operate an unofficial school for Iraqi refugee children out of her apartment, but he may soon want something in return. And then (in mid-2008) Ahlam is suddenly arrested and held incommunicado.
When, through her contacts, an increasingly distraught Campbell discovers the charges leveled against her friend, some are so outlandish that she does not know what to make of them. Is the regime so paranoid as to believe that, alongside working with foreign journalists, Ahlam is engaged in gunrunning and people-smuggling? Or does it want to obscure the real reason for her arrest? "Had she simply been accused of working for media, or being too bold in advocating for refugees," remarks a discerning Campbell, "it would look like political repression."
The author powerfully conveys Ahlam's plight behind bars, injecting stark brutality into a story hitherto characterized by uncertainty and angst, and ushering the reader into a terrifying hidden dimension: Abu Yusuf "walked over to the chair where the guards had set [Ahlam] down and began kicking her feet, hitting her arms. . . . He slapped her so hard that she was knocked from her chair." Through such disturbing episodes, the book sheds light on Syria's ruling Baath regime, helmed by the dictator Bashar al-Assad.
The wretchedness and trauma of Iraqi refugees languishing in Syria enrobe "A Disappearance" with an aura of melancholy. Moreover, the knowledge that, because of a looming civil war, millions of Syrians are fated to suffer similar displacement and attendant misery will surely trigger dread on the part of an empathic reader.
Yet at least one very troubling aspect of this (still unfolding) saga might elude detection in "A Disappearance," as it comes twinned with a heartening development: About five months after her arrest, Ahlam regains her freedom. (This is how the author learns of, among other outrages, the aforementioned beatings her friend endured while incarcerated.) In the book's final chapters, Campbell details the circumstances of Ahlam's release from prison in late 2008, her immediate relocation with her children to Chicago (where her husband moves a couple of years later), and their starting anew. A happy ending, right?
Only in part. Not because Ahlam struggles to acclimate to life in the United States; that's something you'd expect, given the culture clash at play. The wormwood we must chew on is that, for Ahlam, it takes America to put the "happy" in happy ending, and that, for even the most imperiled Iraqis and Syrians, Uncle Sam does so only grudgingly — more so now, during President Trump's administration.
There are no happy endings in Syria and Iraq. Nor will there be any for some time. Meanwhile, chances that at-risk Syrian and Iraqi families will experience such a desperately sought denouement in the Statue of Liberty's once-capacious protective shadow, the way Ahlam's has, diminish by the day.
washingtonpost.com/outlook/two-women-caught-in-the-vortex-of-syrias-police-state/2017/09/08/210f31a6-8110-11e7-902a-2a9f2d808496_story.html?utm_term=.1ed7cda1c25e
--------
Yemeni Women Rise to Challenge of Helping Others During Wartime
Sep. 8, 2017
ADEN, YEMEN – Since the start of the latest Yemen conflict in 2015, women's daily lives have been deeply impacted – among other difficulties, those who have been widowed struggle to provide for their families and it's harder for pregnant women to access maternal care. However, many women have also risen to the challenge of helping those suffering around them, notably by starting NGOs or providing emergency medical aid.
"The government is busy with war, so we don't have any other choice but to help people," Heba Abi Zein Aidarous, a 34-year-old lawyer and lecturer at Aden University, told News Deeply.
Abi Zein Aidarous first decided to become a lawyer because she "wanted to help people get justice for the bad things that happened in their lives," she said. But the courts have not functioned in Aden since 2015, when the Houthi rebels took the city, and even after they were forced out. So she decided to look for alternative ways to help others.
She did that through the local NGO Sawasya ("Equal") which she founded in 2013, after civil uprisings began escalating into tribal conflicts. The organization has three main goals: reporting human-rights violations; distributing food aid to families in and around Aden who lost their breadwinners to the war; and more recently, giving out small solar energy systems to people unable to afford generators. (Today, there is little or no electricity in most of the country.)
"During the Houthis' invasion of Aden [for four months in 2015], even if most women couldn't help outside their houses, they still managed to gather money and cook [for the poor], while others volunteered as nurses in health centers," Abi Zein Aidarous said. "My brothers and I were crossing lines of fire to provide help to people in need."
In June 2017, the independent international NGO Saferworld, together with the Center for Applied Research in Partnership with the Orient and the Yemen Polling Center, released a report analyzing how the conflict in Yemen affects the lives of the country's women. It highlighted the growing role of women in war efforts or peace building, such as first aid, child protection and psycho-social support.
"Women are not passive spectators of the conflict unfolding in Yemen but are actively involved: from contributing to the war effort and combat, to protecting their families, to leading humanitarian relief efforts or reducing tensions and promoting cohesion within their communities," said the report. "Regardless of whether women's efforts are promoting or attenuating conflict, they are playing a significant role, alongside men, in shaping their country's trajectory,"
For some women, that means putting their medical backgrounds to work in health centers or with international organizations, such as Medecins Sans Frontieres (MSF).
"Due to the war, more women came to work with us," said Malak Shaher, field communications manager for MSF. "A hospital that MSF manages in Taiz is directed toward women and children, and in Yemen women can only be treated by [other women], so 90 percent of our staff is female there. It is also easier for women to move around the country because they are considered harmless creatures. A lot of our doctors are women who are [internally] displaced; some left their families in order to work in a different area."
One Yemeni doctor on MSF's staff, Marwa Aljunaid, went from working in private practice in Ad Dhale district to joining the coordination team in Sana'a for MSF Holland. She is currently traveling between projects in the south and the north of the country, providing technical support and medical management.
"My family is a bit worried whenever I cross the frontlines," she said.
Through her job, Aljunaid sees how the war has affected her fellow citizens, especially women.
"Women have been under great pressure since the beginning of the war. Many families have lost their fathers because of the fighting, so women have taken on the role of mother and father, and ensuring the well-being of their families," she said.
"Women who work face difficulties to go to their workplaces, which may be far from their home or behind frontlines. And pregnant women are struggling to reach hospitals to seek needed medical care, either because their homes are far away from the nearest hospital or because the roads are blocked due to intense fighting or airstrikes."
But in Yemen's conservative society, war is not the only problem women face, said gender activist Rasha Jarhum.
"Before the war, the situation for women was [already] not ideal," said Jarhum, who manages a network called MENA1325 and helps NGOs led by local women in Yemen. Women in the country have long been disempowered and vulnerable, she said, a situation that the war has only exacerbated.
"The constitution was changed [in 1990] and … the national laws changed to emphasize guardianship rules, where a woman needs to ask a family male guardian's permission to do basic things. Forms of violence against women [have long] included forced and early marriages, deprivation of inheritance, sexual and physical violence and street harassment."
When Yemen joined the "Arab spring" in 2011, its women took to the streets to try to improve their lives as citizens and as females. "Women were active in the national dialogue that took place in the transitional period between 2012 and 2014, making up nearly 30 percent of participants," said Jarhum.
The outcomes of the dialogue included recommendations to reinstate equality between men and women; to allocate a 30 percent quota for women in all forms of decision-making; and to amend and draft laws in order to protect women.
The war broke out before any of these recommendations could be adopted. However, that does not mean that all hope is lost, said Jarhum.
"Women are not only victims [in this war], as they also play a leading role in peace building and humanitarian relief," she said. Despite the challenges of war, Jarhum hopes that women's experiences during this time might give them grounds to fight for their rights once the war is over.
Abi Zein Aidarous is also optimistic that the women of Yemen will emerge from the war with a determination to make themselves heard. "War has strengthened women; it has made them more independent and able to speak up. I don't think they will ever accept anything less than being fully part of the future politics of Yemen and being changemakers in society."
newsdeeply.com/womenandgirls/articles/2017/09/08/yemeni-women-rise-to-challenge-of-helping-others-during-wartime
--------
Canadian Muslim site advocates for female circumcision
8 September, 2017
How Misogynists and Feminists are feeding upon each other to denigrate an Islamic practice that brings untold benefits to women (Asiff Hussein -Muslims in Calgary website)
The article first appeared quietly on an Islamic website in Calgary Alberta, in July, but is now attracting greater attention.
The opinion piece on the "Muslims in Calgary" website opens with a large banner saying male and female circumcision has immense scientific and medical benefits,
Author Asiff Hussein also blames Jews and the western media for distortions about female circumcision.
"Much has been written about it even by Western Doctors but these studies have been conveniently overlooked to conform to Islamophobic sentiments expressed by a largely Jewish controlled media". Asiff Hussein
The author then goes on to explain that under sharia law, only the "prepuce" or small skin covering the clitoris is required and that removal of the clitoris or any or all of the labia is against sharia.
It is widely known however that female circumcision often involves removal of the clitoris and sometimes the labia, including sewing of the folds together.
It is widely accepted female circumcision of any degree is classed as "female genital mutilation" or FGM.
Author AsifF Hussein then says that there is a "strong body of evidence " that female circumcision i.e. in his article -removing only the clitoral hood – is "beneficial to women, not detrimental".
However, all reports and studies from the World Health Organization clearly state that FGM in any form has no health benefits.
All WHO documents state clearly that it is a violation of women's rights, and children's rights, and that it results in a variety of long lasting psychological and physical complications and harm.
Hussein also says that Jews (and western society) condemn Islamic female circumcision because they do not practice it, but do practice, along with Muslims, male circumcision.
However, both the Canadian and American Paediatric Societies do not recommend male circumcision, unless specifically indicated for medical reasons. The Royal Australasian College of Physicians also says routine male circumcision is not warranted. The British Medical Association states that there is wide acceptance that male circumcision has medical and surgical risks and should be done only when "demonstrably in the best interests of the child".
In it's own policy statement The Society of Obstetricians and Gynaecologists of Canada (SOGC) advises its members that the practice is a federal criminal offence. The Society also indicates that if members find that a female child has undergone FGM or they suspect the child may be at risk of undergoing the practice, they must report it to child protection
rcinet.ca/en/2017/09/08/canadian-muslim-site-advocates-for-female-circumcision/
URL: https://www.newageislam.com/islam-women-feminism/thousands-british-schools-approve-muslim/d/112482
New Age Islam, Islam Online, Islamic Website, African Muslim News, Arab World News, South Asia News, Indian Muslim News, World Muslim News, Women in Islam, Islamic Feminism, Arab Women, Women In Arab, Islamophobia in America, Muslim Women in West, Islam Women and Feminism