New Age Islam News Bureau
18 October 2020
• Thousands Marched To Protest Trump's Supreme Court Pick at Washington Women's March
• Oman's First Lady Makes Debut Appearance on Omani Women's Day
• A Group of Activists Protest Imprisonment Of Egyptian TikTok Women
• Bangladesh: Age Old Traditional Artisanship Is Being Carried Forward By Female Artisans
• Trump Continues Bizarre Appeals to Suburban Women As He Campaigns In Covid Hotspots
Compiled by New Age Islam News Bureau
URL: https://www.newageislam.com/islam-women-feminism/thousands-marched-protest-trumps-supreme/d/123183
------
Thousands Marched To Protest Trump's Supreme Court Pick At Washington Women's March
By: Reuters
October 18, 2020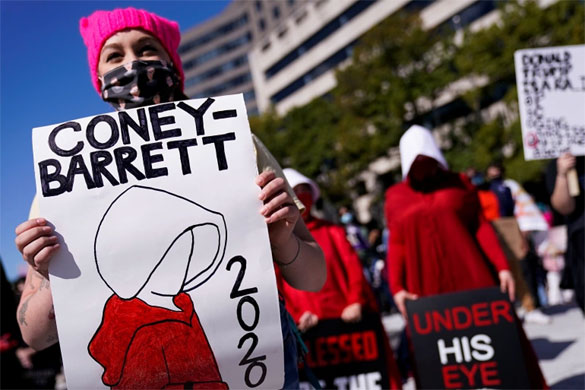 Women's rights advocates say they fear Amy Coney Barrett, US President Donald Trump's Supreme Court nominee, will restrict abortion access in the US [Erin Scott/Reuters]
-----
Thousands marched to the U.S. Supreme Court in Washington on Saturday to commemorate the late Justice Ruth Bader Ginsburg and protest President Donald Trump's rush to push through Amy Coney Barrett as her replacement.
The U.S. Senate Judiciary Committee has scheduled an Oct. 22 vote on the nomination of Barrett, a conservative appellate judge, over objections from Democrats that the confirmation process comes too close to the Nov. 3 presidential election.
More than 26 million Americans have already cast their ballots for who they want to sit in the White House for the next four years, Trump or his Democratic rival Joe Biden.
Demonstrators at the Women's March said they were angry that Republicans appear ready to confirm Barrett's nomination so close to Election Day after refusing to move forward Merrick Garland, the pick of former President Barack Obama, a Democrat, more than six months ahead of the 2016 election.
"The fact of the matter is that we are powerful and they are afraid," said Sonja Spoo, the director of the reproductive rights campaigns at UltraViolet, a feminist advocacy group, one of the speakers at the protest. "They are on the ropes and they know it and we are about to give the knock-out punch."
Ginsburg, a liberal champion of women's rights, died on Sept. 18.
Prudence Sullivan, 49, from Lake in the Hills, Illinois, near Chicago, and her sister Kelli Padgett, 47, from Jacksonville, Florida, flew in to join what they described as an energizing and empowering event.
"We've had losses from COVID and we've clashed with family members over racism, Black Lives Matter," Sullivan said. "So this is something where I can put my money where my mouth is."
Sullivan said she and her husband, an IT expert, were looking at options for moving overseas if Trump was reelected.
The protesters marched through downtown Washington to the Supreme Court steps. Hundreds of marches and demonstrations were planned at city halls, parks and monuments across the country.
In confirmation hearings this week, Barrett side-stepped questions about presidential powers, abortion, climate change, voting rights and Obamacare, saying she could not answer because cases involving these matters could come before the court.
https://indianexpress.com/article/world/thousands-protest-trumps-supreme-court-pick-at-washington-womens-march-6767136/
---------
Oman's First Lady Makes Debut Appearance on Omani Women's Day
ARAB NEWS
October 17, 2020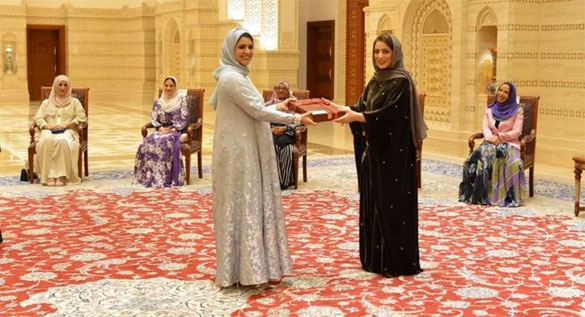 Dr. Fatima Mohammed Al-Ajmi receives her medal from Ahad bint Abdullah bin Hamad Al-Busaidiyah. (Supplied)
-----
LONDON: Oman's first lady made her first appearance on Saturday when she bestowed royal awards to a number of women on the country's women's day.
Ahad bint Abdullah bin Hamad Al-Busaidiyah hosted a ceremony at the Seeb Palace during which she awarded the Royal Commendation Medal to several women.
Among the recipients of the award was the Omani Ministry of Health's Undersecretary for Administrative, Financial, and Planning Affairs Dr. Fatima Mohammed Al-Ajmi.
https://www.arabnews.com/node/1750261/middle-east
---------
A Group of Activists Protest Imprisonment Of Egyptian TikTok Women
By Brittany Henriques
October 17, 2020
A group of activists gathered in downtown Montreal on Saturday to demonstrate against the imprisonment of nine Egyptian women for videos they posted online.
The women, who have been jailed since April 2020, were arrested for posting videos to the platform TikTok of themselves dancing and singing along to songs.
"I cant believe this is happening," said organizer Dalia Tawfik who was among the demonstrators asking for the release of the nine women. "I can't believe that we're in 2020 and that we have to fight to able to post things that we want to post (online)."
"I was really shocked. This is not a matter for the courts," said Ehab Lotayef, member of the Egyptian Canadian Coalition for Democracy.
Five of the nine girls have already been sentenced with fines and two years in jail for violating family values.
Haneen Hossam, Mawada Al-Adham's and three others who assisted them with their social media have been charged with inciting debauchery and immorality, according to Al-Jazeera news network.
"They have fines up to US $19,000 each. They have to pay (that) on top of the sentence," said Tawfik.
Protesters said these women have been stripped of their freedom and basic human rights.
"The government doesn't want any free expression on any level," said Lotayef. "They don't want people to speak (on platforms) that they can't control."
"We are here because we have privileges, we have rights, we have freedom of speech — where I can be here today, I can protest," said Tawfik. "I can say this is not right — lets do something about it, whereas these women don't have that. They don't have that voice."
Some say the government is afraid its people will start to use social media platforms like TikTok to speak out against it.
"Today maybe they're only talking about dancing or dresses or fashion, but in the future one of them or more might talk about social or political issues," said Lotayef. "And that's what freaks them out."
Lotayef says Egypt controls all forms of art, but when it comes to social media, they have little to no power. Instead, he says, they insight fear in people that if they follow in these young women's footsteps, they too could be imprisoned.
Many demonstrators feel the arrests were misogynistic and targeted towards controlling women.
"Imagine that you live in a country where a man can hold a woman's future in the palm of his hands," said demonstrator and lawyer Marlene Tawfik.
Marlene, a Canadian-born woman of Egyptian descent, says she feels a sense of guilt when looking at her freedom and privileges.
"Women are being jailed for doing things that we here in Canada are allowed to do," she said. "I've never been to Egypt and that's a conscious decision. I don't feel its safe there."
According to some, it's even hypocritical of the Egyptian government to claim the videos go 'against family morals.'
"The hypocrisy of it all is what really gets to you," said Lotayef. "When you're Egyptian, when you know the society and know how many belly dancing videos are out there…"
Montrealers at the protest are asking Canada to take a stronger stance when it comes to the issues in Egypt.
"Egypt is being treated so delicately by the Canadian government," said Lotayef. "(We) ask the Canadian government to take strong positions, like they take strong positions regarding Belarus or Ukraine."
"I feel like no change can happen without a fight and we're tired of being silent," Marlene Tawfik said.
https://globalnews.ca/news/7403681/montreal-egyptian-tik-tok/
----------
Bangladesh: Age Old Traditional Artisanship Is Being Carried Forward By Female Artisans
October 17th, 2020
Syed Zakir Hossain
The country's age old traditional artisanship is being carried forward to the postmodern world thanks to these Bangladeshi women. Millenia old techniques, craft, and skill are passed down from generation to generation for centuries over. A few women are making Shitol pati, a mat made from bamboo fibre in Sirajganj. Some women are weaving carpets from wool in Rangpur, called Shatranji. Nakshi katha, fans, baskets are also produced by these women. These items have great value and recognition at home and abroad and support these women and their families in rural Bangladesh
https://www.dhakatribune.com/image-gallery/2020/10/17/female-artisans-of-bangladesh
---------
Trump continues bizarre appeals to suburban women as he campaigns in Covid hotspots
by Maeve Reston
18-10-2020
(CNN)If President Donald Trump loses his reelection bid in November, it will be in part because of his fundamental misunderstanding of the beliefs of "suburban women," whom he has tried to win back with a series of bizarre and racist appeals that seem more targeted to a stereotype from the 1950s and 1960s than the American women who actually live in those areas today.
Many of the female voters who have abandoned Trump recoil from his divisive language and disapprove of both his handling of race relations and the pandemic. But he has tried to convince them to support him through a campaign of fear and xenophobia, with claims about the Democratic agenda that plunge deep into the realm of the ridiculous and would be believed only by the most naïve, low-information voters.
His speech Saturday night in Michigan exemplified those political miscalculations when it comes to women he has referred to as the "suburban housewives of America" as he tried to create fear about crime from immigrants and argued that Joe Biden will upend life in the suburbs by putting public housing projects in the middle of leafy neighborhoods -- a reference to an Obama-era housing regulation aimed at ending segregation.
"Would you like a nice low-income housing project next to your suburban beautiful ranch style house? Generally speaking, no," Trump said in Muskegon. "I saved your suburbs -- women -- suburban women, you're supposed to love Trump," he said.
The President went on to make the ludicrous claim that Biden and Democrats want to overwhelm Michigan neighborhoods with refugees from Syria, Somalia and Yemen, and "poorly vetted migrants from jihadist regions."
Continuing his long-standing pattern of mocking women he perceives as opponents in sexist or misogynistic language — a tactic that does not go over well with women in either party — Trump attacked Democratic Michigan Gov. Gretchen Whitmer during the same rally, along with his 2016 opponent Hillary Clinton, and NBC's Savannah Guthrie, who moderated his Thursday night town hall.
Trump accused Whitmer, whom he has previously called "a dictator," of unnecessarily locking down her state as she fought the pandemic. That led his crowd to break into a chant of "Lock her up!" a little more than a week after federal authorities revealed a plot by extremists to kidnap Whitmer and overthrow the government.
Rather than condemning the derailed plot — which led to terrorism, conspiracy and weapons charges against more than a dozen men — or discouraging that kind of divisive language, Trump essentially endorsed the cheer with his authoritarian rhetoric about jailing his political opponents by adding Clinton and the Biden family into the mix.
He complained that Whitmer said publicly that his refusal to denounce White supremacists, extremists and hate groups has emboldened activists like those who allegedly planned the foiled attack against her.
"I guess they said she was threatened, right?" Trump said, seeming to doubt the specifics of the case and underplaying the violence it could have entailed. "She was threatened, and she blamed me — she blamed me, and our people were the ones that worked with her people, so let's see what happens."
Whitmer immediately responded on Twitter: "This is exactly the rhetoric that has put me, my family, and other government officials' lives in danger while we try to save the lives of our fellow Americans. It needs to stop." Her staff echoed that plea. "Every single time the President does this at a rally, the violent rhetoric towards her immediately escalates on social media. It has to stop. It just has to," her deputy digital director wrote on Twitter.
On Friday at a campaign event in Detroit, Biden condemned Trump for refusing to denounce White supremacist groups at the first debate and for criticizing Whitmer after the kidnapping plot was revealed.
"What the hell's the matter with this guy?" Biden said. "Attacking Governor Whitmer on the same day this plot was exposed. It's despicable."
At his rallies Friday night and Saturday, Trump also attacked Guthrie as angry and overly emotional during the NBC town hall.
"Her face -- the anger, the craziness," he said, describing how he viewed the dynamic during a speech to his supporters Friday night. As he doubled down on the trope of the hysterical woman, he added that he told Guthrie to "Take it easy. Relax."
Later in Janesville, Wisconsin, Saturday night, the President tried to undermine the credentials of the next female debate moderator, NBC News White House Correspondent Kristen Welker, by claiming that he'd known her "for a long time" and that "she is very unfair." The final presidential debate, which Welker will moderate, is on Thursday in Nashville, Tennessee.
It remains unclear if the President simply does not understand how those attacks on women could backfire at a time when millions of female voters are deciding whether to give him a second chance, or whether he simply can't resist engaging in those tactics because they rev up his crowds. Biden was up by 25 points among women voters in an average of the last five live interview polls, according to an analysis by CNN's Harry Enten. In the final pre-election polls in 2016, Hillary Clinton only had a 13-point edge among likely female voters.
"The fake news keep saying that suburban women don't like me because I don't sound nice," the President said. "I don't have time to be nice. I got a lot of work to do for you."
But his remarks have gone far beyond the limits of acceptable political discourse: he has referred to Democratic vice presidential nominee Kamala Harris as "a monster" and recently said of Clinton, "the glass ceiling broke her."
While returning to some of his old lines from the summer about how the radical left plans "to erase American history, purge American values and destroy the American way of life," Trump tried to revive the debate Saturday night over removing monuments that glorify American historical figures who were slave owners.
"This election will decide whether we preserve our magnificent heritage or whether we let far left radicals wipe it all away," he said. "They constantly smear America as a racist country. ... America is the most magnificent, most virtuous nation that has ever existed."
At one point, he described his joy in watching law enforcement authorities move in on crowds to prevent violence in Minneapolis after the protests against racial injustice.
"I don't know, there's something about that — when you watch everybody getting pushed around — there's something very beautiful about it. I don't care what I'm doing. Not politically correct ... But you people get it."
Trump campaigned in Wisconsin and Michigan on Saturday while scarcely mentioning the coronavirus pandemic, despite the fact that cases are rising in a majority of states across the country.
Michigan's case count on Friday was the state's highest number of positive test results reported in one day, according to the state's Department of Health and Human Services.
Wisconsin also reported a new record high number of cases on Friday, according to data from Johns Hopkins University. The state's positivity rate was at 23.91% as of Saturday morning, according to the COVID Tracking project.
On Friday, US Surgeon General Jerome Adams said Wisconsin is one of the Covid-19 "red" states that federal officials are watching closely.
"Your positivity rates are over 10% and going in the wrong direction. Cases are in the red, going in the wrong direction," Adams said during a news conference in Wisconsin Friday. "It is critical that we actually understand where this virus is circulating so that we could get cases under control and reverse positivity."
Without laying out any specifics, Trump claimed Saturday that his plan "will crush the virus" and said his teams are working toward a safe vaccine and a "very rapid recovery."
He acknowledged at one point that some states are currently seeing spikes, but then downplayed those increases in cases as part of a typical pattern for the virus.
Trump said there had been a recent spike or surge in cases in states like Arizona and Florida, but then insisted that it went back down.
"You've got to open up," he said in Wisconsin. "You've got to get your place going."
https://edition.cnn.com/2020/10/18/politics/donald-trump-women-gretchen-whitmer/index.html
----------
URL: https://www.newageislam.com/islam-women-feminism/thousands-marched-protest-trumps-supreme/d/123183
New Age Islam, Islam Online, Islamic Website, African Muslim News, Arab World News, South Asia News, Indian Muslim News, World Muslim News, Women in Islam, Islamic Feminism, Arab Women, Women In Arab, Islamophobia in America, Muslim Women in West, Islam Women and Feminism