New Age Islam News Bureau
22 Aug 2017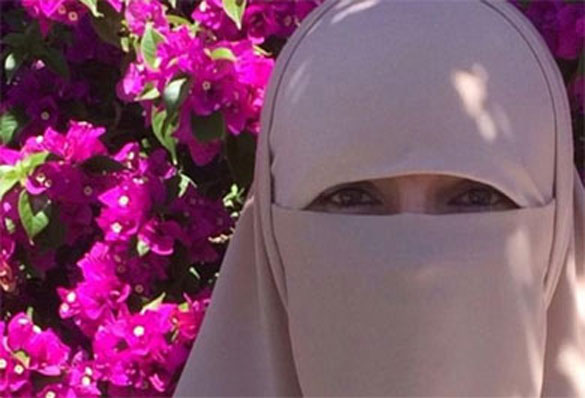 Umm Jamaal ud-Din says it is sinful for women to pluck their eyebrows in the eyes of Allah
-----
• No To Easing Polygamy, Pakatan's Women Wing Tells Kedah
• Women in Small Muslim Sect Say They Have Had FGM in Canada
• Love Rules: Woman in Burqa, Hiding From Mother, Creates Scare at Delhi Airport
• Bangladeshi Women Fight for Gender Equality
• Shah Bano Case: A Milestone in Muslim Women's Fight for Justice
• Saudi Man Divorces Wife for 'Walking Ahead'
• Female Saudi Biker Hopes to Break Vicious Cycle
• Women Sports Need Same Gender Coaches, Trainers to Excel
• Born In Amritsar Jail, 11-Year-Old Girl May Soon Go Home To Pakistan
• Iran Holds First Women in Science Award
• UN Report Urges Justice for Iraqi Women, Girls Abused By IS
Compiled by New Age Islam News Bureau
URL: https://www.newageislam.com/islam-women-feminism/this-muslim-woman-teacher-says/d/112288
--------
This Muslim Woman Teacher Says 'Plucking Eyebrows' Is Haram
2017-08-21 12:09
By Leyal Khalife
Just when you thought Muslim women were joining forces to fight the patriarchy by changing the conversation, one Muslim preacher brings down the group average.
Umm Jamaal ud-Din, a Muslim convert teacher, released a two-hour long YouTube video on Aug. 20, where she talks about the concept of Tawheed (oneness of Allah in Islam) and the flawed execution by many Muslims today.
In it, she touches tackles various topics including female grooming practices that are considered 'haram' in Islam, including eyebrow plucking.
"You're still falling into a major sin whatever you like to call it yourself," she says, as she goes over various acts of wrongdoings.
"You can say as many things that Allah makes haram, like plucking the eyebrows," she says, explaining that whether girls call it 'cleaning or plucking' it's still considered a sinful act.
"What do the girls say? 'I'm just cleaning, I'm not plucking ... I'm cleaning.' That sounds great, doesn't it? Clean shaven. Sounds great ... but its haram," she says.
Who is Umm Jamaal ud-Din?
Umm Jamaal ud-Din is a Saudi-trained teacher at the Islamic College of Australia who converted to Islam 28 years ago, according to The Daily Mail.
Her claim that eyebrow plucking is 'haram' is based on a fundamentalist interpretation of the Hadith, which is prevalent among many schools of thought in the Muslim world.
Following an article that was published in the Daily Mail, an Australian based Muslim women's organization, which provides "emotional and financial support to women from all cultural backgrounds" came to her defense.
Responding to the backlash, 'Sisters United' called the media a 'bunch of clowns' in a Facebook post.
In April, Sheikh Mohamad Doar delivered a speech (more like preached) to a room of teenage girls in Sydney, where he warned of curses that would befall them if they were to pluck their eyebrows or remove body hair.
"You are not allowed the remove the hair of the eyebrow, it's a major sin," the preacher said.
"The lady who plucks her eyebrows and the one who gets them plucked, they're both cursed by Allah."
In April, the Australian branch of the radical Islamic political organization Hizb ut-Tahrir was put under the spotlight after sharing a video in which two women demonstrate how Muslim men can beat their wives.
The two attempt to interpret a controversial Quranic verse, and explain the "right way" in which men can beat their wives. Soon after the video began making the rounds online, the group was accused of promoting domestic violence and making light of the plight of abuse victims.
After severe backlash, Hizb ut-Tahrir's Facebook page shared a statement acknowledging the negative impact the video has incurred on the image of Islam, especially with the rise of Islamophobia in non-Muslim communities.
http://stepfeed.com/this-muslim-woman-teacher-says-plucking-eyebrows-is-haram-2940
--------
No to easing polygamy, Pakatan's women wing tells Kedah
August 22, 2017
KUALA LUMPUR, Aug 22 — Pakatan Harapan's women wing has voiced objection to Kedah's proposals to make it easier to legalise Muslims' polygamous marriages.
Zuraida Kamaruddin said the Opposition pact's women unit that she heads does not reject Islamic laws which allow Muslims to be in polygamous marriages, but said the first wife's consent is necessary to protect her and her children's rights to receive financial support and have their welfare taken care of.
"In this issue, although the consent of the first wife is not mandatory, but the consent is an important pre-condition to ensure harmony in the family institution," she was quoted saying by local daily Sinar Harian.
"The first wife should be called to the Shariah court for her testimony to be taken on the polygamous husband's eligibility so that the concept of justice mentioned in the al-Quran's surah An-Nisa verse three can be carried out," she added.
Zuraida said there should be new laws to ensure that Muslim men who wish to be in polygamous marriages have the financial capability and capacity for fairness to marry more than one wife.
Commenting on Kedah's plans, Zuraida reportedly said there were other methods that could be used to ensure polygamous marriages are registered without jeopardising the rights of women.
Local daily The Star had last week reported that the Kedah state government would let first wives know when their Muslim husbands take on another wife abroad, but said their consent will not be a requirement for the legalisation of the subsequent marriage.
Last week, Kedah Religion, Tourism, Heritage and Works Committee chairman, Datuk Mohd Rawi Abdul Hamid was reported saying that the state may impose a minimal fine of between RM300 to RM400 instead of the current RM3,000 sum for those who failed to register their cross-border marriages locally.
He had said the proposed reduced fine was not to encourage Muslims to cross the border to marry, but to ensure that they would immediately register their marriage here when they return and to ultimately secure the rights of the subsequent wives and children.
He said failure to register such cross-border marriages with the local Islamic authority would result in the children being denied citizenship and face problems accessing education and public healthcare, while the wives will not be entitled to claim for their rights when the husband dies or they divorce.
Local daily New Straits Times also reported Mohd Rawi as saying that children of these non-legalised cross-border marriages usually "suffer the most" as their parents cannot apply for birth certificates as the marriage is not recognised here without registration with the local Islamic authorities.
In April 2016, the Kedah state legislative assembly was told that 10,915 children with illegitimate status were recorded by the Kedah National Registration Department from 2010 to 2015, with the majority being born due to rape and improper marriage arrangement cases where Kedah couples cross the border to marry in Thailand.
http://www.themalaymailonline.com/malaysia/article/no-to-easing-polygamy-pakatans-women-wing-tells-kedah#a2Azz4WtM6ymtI6i.97
--------
Women in small Muslim sect say they have had FGM in Canada
By MICHELE HENRY
JAYME POISSON
Aug. 21, 2017
Women from a small Muslim sect called the Dawoodi Bohras have reported that female genital mutilation has been performed on them in Canada, a study given to the federal government reveals.
The first research of its kind to probe the practice within this tightly knit South Asian community, the study found that 80 per cent of Bohra women surveyed have undergone FGM and two of the study's 18 Canadian participants said it happened within Canada's borders.
In Canada, FGM was added to the Criminal Code under aggravated assault in 1997. The study does not provide additional information on the two cases it uncovered.
Most commonly associated with communities in sub-Saharan Africa, FGM is also practised among members of this Muslim sect who trace their roots to Yemen in the 11th century and who migrated to Gujarat, India, in the 1500s.
Authored by Sahiyo, an organization of anti-FGM activists and members of the Dawoodi Bohra community, the study was completed in February. Preliminary results went to officials from Canada's Foreign Affairs Department in June 2016. The federal government says it is looking into the issue.
The researcher's findings show that more than 80 per cent of the 385 Dawoodi Bohra women surveyed — including all 18 Canadian participants — want the practice to end and would not do it to their daughters.
Female genital mutilation, also known as female genital cutting or female circumcision, is a procedure that intentionally alters or causes injury to external female organs. It can be inflicted on girls as young as 1 and varies in severity from partial removal of the clitoris to excising the clitoris and labia and stitching up the walls of the vulva to leave only a tiny opening.
Khatna is the South Asian term for genital cutting and, according to the study, the sect's practice of removing a woman's clitoris is done for reasons including "religious purposes," to curb sexual arousal, for cleanliness and to maintain customs and traditions.
The Dawoodi Bohras have recently made FGM-related headlines. A Detroit emergency room doctor charged in April with alleged performing of FGM on 100 young girls is a Dawoodi Bohra. The doctor, Jumana Nagarwala, is in jail awaiting trial. In 2016, a Dawoodi Bohra priest in Sydney, Australia, was convicted for his role in performing FGM.
"The findings (of the study) demonstrate that FGC (female genital cutting) is deeply rooted in the community's culture," the authors write. Sahiyo means "friends" in Gujarati.
"Understanding the complex social norms and cultural values systems that shape the meaning and significance of the practice within this community is critical work of anti-FGC advocates."
For this story, the Star also spoke with three local Dawoodi Bohra women who described what it's like to undergo khatna in their native countries of India and Kenya at the hands of "practitioners," not doctors, in non-medical environments such as kitchens, with unsterile razors.
A continuing Star investigation has revealed that Canadian girls have been taken overseas to have the procedure and that thousands more could be at risk of being sent abroad to be subjected to FGM.
Practitioners who perform FGM are "almost certainly entering Canada" to engage in the practice, says an internal report from Canada Border Services Agency, as reported by Global News in July.
FGM is a cultural practice dating back hundreds of years, and organizations including the United Nations say that although it is often perceived as being connected to some Islamic groups, it also occurs in other religious communities, including Christians, Ethiopian Jews and certain traditional African religions.
In Ontario, some women have asked their doctors to reverse the most severe type of FGM. Provincial records show that in the past seven years, Ontario has performed 308 "repairs of infibulations," a surgery that creates a vaginal opening where it has been sewn mostly shut. There are currently no known procedures in Canada that replace tissue.
Canada has recently given $350,000 to a small Quebec organization to fight FGM in at-risk communities, but critics say little has been done to understand the problem's scope and that Canada is lagging far behind other developed countries in prevention. Experts say there is a lack of support services available for women living with the physical and psychological effects of FGM, regardless of when and where it happened to them.
An email exchange between federal Foreign Affairs officials in Canada and India discussing the report said it will be "helpful" as the government is "in the midst of examining how Canada can engage on this file internationally. One government lawyer, the emails state, is "looking at the domestic implications of this practice."
Considered progressive in some areas, Dawoodi Bohras have a "high level of education and wealth," according to the federal emails, and the community has "political and cultural influence that exceeds its size." The emails — correspondence between government officials over the past two years — were released to the Star through an access to information request. They reference cases the government is aware of in which Canadian girls have undergone or are alleged to have undergone cutting abroad, in addition to the report about the Dawoodi Bohras.
The emails say officials learned from the report how over the past two decades there has been a regression of gender equality in the Dawoodi Bohra community worldwide and there is "significant hidden violence against women." There are roughly 20,000 to 40,000 Dawoodi Bohras in Canada, according to the federal emails.
Titled "Understanding Female Genital Cutting in the Dawoodi Bohra Community," the Sahiyo study surveyed 385 Dawoodi Bohra women across the globe, including women in Canada, the U.S., Australia and the United Kingdom, in an attempt to shed light where "little or no data" exists. It aims to inform policy makers and health professionals in order to "end the practice," the study said, that has left most of its participants with emotional scars — anger, haunting memories and frustration in their sexual lives.
"I feel robbed and cheated of my sexuality," one respondent told the study's researchers.
Shaheeda Tavawalla-Kirtane, Sahiyo's Canadian co-founder, who works in India to raise awareness about FGM, said she has been tweeting to Canadian ministers because Canada should be aware this "crime" is happening on its soil. The Sahiyo study suggests creating a hotline for at-risk girls and education about FGM for front-line workers, such as teachers.
Some of the study's participants reported that, typically at the age of 7, they were told they were having the procedure to remove a "worm" and that khatna was part of the religion.
The religious justification for this practice may come from passages in the Da'aim al-Islam, a sacred Islamic text that informs the tenets and traditions of the Dawoodi Bohras. According to The Pillars of Islam, a respected translation of the text, cutting will lead to "greater purity."
Though most study participants said they do not want the practice to continue, breaking the cycle is a challenge because women are afraid of the backlash they'll face if they don't keep up with the social norm, Tavawalla-Kirtane said.
Worldwide, there are an estimated 1.5 to two million Dawoodi Bohras, living mainly on the west coast of Gujarat and Maharashtra states in India, and in Pakistan.
The sect's India-based spiritual leader, referred to as the Sayedna, enjoys centralized power and access to the properties and assets of his communities around the world, the federal emails state.
As Dawoodi Bohras settled in the GTA, the Sayedna in the early 1990s notably tried — but failed — to incorporate himself in Canada as a "corporation sole," a company of one person. The designation may have given the Sayedna decision-making power over the resources, land and money, of the Dawoodi Bohra communities in Canada.
A local member of the Bohra community, writing to a Canadian senator about the issue at the time, said the Canadian Dawoodi Bohras had questionable practices, including "actively enforcing" female genital cutting. The writer alleged that "a lady with medical background or qualifications visits Ontario regularly to conduct these procedures on little girls of the community."
In April 2016, a sermon leaked to the media shows the current Sayedna talking about khatna and, according to the federal documents, reportedly saying: "The act has to happen. If it is a man (male circumcision), then it is right, it can be openly done, but if it is a woman then it must be done discreetly, but then the act has to be done."
Two months later, as described in the federal emails, the Sayedna released a further statement saying that "male and female circumcision … are religious rites that have been practiced by Dawoodi Bohras throughout history" and religious texts, "written over a thousand years ago, specify the requirements for both males and females as acts of religious purity." But he noted that Bohras must abide "by the laws of the countries in which they reside."
Faizan Ali, a member of the Mississauga congregation who said he is overseeing the construction of the community's new 50,000-square-foot mosque, said local Dawoodi Bohras don't practise FGM in Canada because it is against the law.
As far as he knows, khatna is not practised in the GTA, he said, but "if someone is going at their own discretion, obviously we cannot control it."
Ali said he does not agree with pushing the practice on a child. But if an adult woman who is 18 or older consents, he said, it is "fine."
Unlike in other cultures that celebrate FGM, throwing parties and lavishing money and gifts onto young girls as part of the procedure, the Dawoodi Bohra practice has traditionally been done clandestinely, said Dilshad Tavawalla, a lawyer and anti-FGM activist in Toronto whose daughter is the Sahiyo co-founder.
Tavawalla, who underwent the procedure in Mumbai when she was 7, calls it "a women's secret" even though today it is being "medicalized" and sometimes done overseas by health professionals in clinics and hospitals.
Women who openly oppose the practice are perceived as attacking the community and culture, Tavawalla said, and could face consequences such as being socially ostracized. Friends and family members cut ties — a fate that feels catastrophic in this small, loyal and closely knit religious sect, sources have told the Star.
The three Dawoodi Bohra women who spoke to the Star underwent FGM overseas before coming to Canada.
They were all about 7 years old when their mothers took them to a "cutter," an older woman operating in a non-medical environment, such as a kitchen. The women were told to remove their underwear before the cutter swiped a razor at their clitorises.
Two of the women the Star spoke with said they tried to run when they realized what was happening but they were held down, their legs forcefully spread by female elders.
Luby Fidaali was 7 years old when her mother kept her home from school one morning and took her to someone she believed was a healer — an elderly woman who said prayers over her sore tummy from time to time when she was not feeling well.
But when she got to the cutter's house, Fidaali was told to sit on a small kitchen stool like those traditionally used to knead chapatis, she said, and was instructed to pull her legs apart.
She glanced at the fire burning in a charcoal stove in the corner and didn't see the cutter take out a razor blade. "Even when I think about it, it hurts," she said recently, telling the story for only the second time in her life. She was instructed to sit near the stove and "take in the heat to help the healing."
Fidaali's mother told her never to speak about her experience to anyone, including her father and siblings. She doesn't begrudge her mother, she said, because she was simply "following societal norms in order to stay in the community."
Fidaali's family was excommunicated several years later for challenging the Sayedna's orders, and since, she said, she feels emboldened to speak out against an "oppressive clergy."
"The clergy is very powerful and can intimidate their followers into all kinds of acts for fear of social boycott," she said.
Clarification — August 21, 2017: The headline on this article has been changed from a previous version that described the Dawoodi Bohras as a sect of Ismaili Muslims. While the Bohras were part of the Ismailis, they split many centuries ago, according to Syed Soharwardy, founder and chairman of The Islamic Supreme Council of Canada. "Now they are separate and don't consider each other as part of them," he said.
https://www.thestar.com/news/fgm/2017/08/21/women-in-ismaili-muslim-sect-said-they-had-fgm-in-canada.html
--------
Love Rules: Woman in Burqa, Hiding From Mother, Creates Scare at Delhi Airport
Aug 22, 2017
A young woman "eloping" with boyfriend and her mother hot on their heels created a security scare at the Delhi airport on August 15.
The drama unfolded when an alert security officer noticed a non-Muslim name on the boarding card of a Burqa-clad woman during the security check.
The mismatch caused an alarm as the Indira Gandhi International Airport was on high alert in view of the Independence Day. The officer quickly alerted her seniors about the "suspicious" woman.
A team of Delhi Police rushed in and whisked away the "suspect" to a nearby police station even before the Central Industrial Security Force (CISF), which guards airports, could grill her.
"She was put on suspicious passenger category…. This happened at 6pm. But before we could proceed, a police team took her and the male passenger travelling with her to the police station," a CISF official told Hindustan Times on Monday.
What police found during the questioning was a desperate bid by a young couple to escape the young woman's mother, dead set against their relationship.
The woman was travelling to Bangkok with her boyfriend. She hid behind the Burqa to throw her mother off their trail, who came all the way to the airport looking for her.
Before she reached the airport, the mother even called police and complained that her minor daughter was being lured away by a boy and they were travelling to Bangkok by a SpiceJet flight.
http://www.hindustantimes.com/delhi-news/burqa-clad-non-muslim-woman-raises-security-alarm-in-delhi-airport/story-CZn4xRV4LpxzUotUGXL7xH.html
--------
Bangladeshi Women Fight for Gender Equality
22/08/2017
Dhaka: When one thinks of Bangladesh, its political leadership naturally comes to mind as the leaders of the country's major parties are women, including the prime minister, the opposition leader and the speaker of the national parliament.
When it comes to gender equality in daily life, the reality is still different, but many women in Bangladesh are breaking barriers by taking traditionally male jobs – once unthinkable. Take the case of six rural women working in a refueling station in the port city of Narayanganj near the capital Dhaka, a job that entails a degree of personal risk.
Happy Akhter of Magura, Lippi Akhter of Moulvibazar and Rikta of Patuakhali districts are among the six women employees of the refueling station, set up by Saiful Islam, a former police officer, in 2001.
"It's important to utilise the potential of everyone, including women. And the well-off section of society should come up to support them," Islam told the Narayanganj correspondent of UNB, a national news agency.
Lippi Akhter added, "My satisfaction is that I can support my family — two daughters and one son — with what I get from this job. I'm not at all worried about myself but I want my children to be educated."
Asked about their security as they are dealing with male motorists, Lippi said, "We're safe here as our owner is an ex-police officer. We appreciate his concern about us. He has also made arrangements for our accommodation."
Taking such a job, where the women have to deal with transport workers, is a matter of great courage as violence against women is widespread.
In the district where these women are working, a 15-year-old girl was raped a by a group of transport workers in a moving truck on the night of August 2nd. Police arrested the driver hours after the incident. During a preliminary investigation, he confessed to committing the crime with the other men.
In a press statement, Naripokkho, a women's rights body, said, "The society is being affected due to the repeated incidents of violence against women and children. We're aggrieved and concerned in such a situation.
"Some 280 women and children fell victims to rape from January to June this year," Naripokkho said referring to a report of Ain o Shalish Kendro, a human rights body. It said 39 more were the victims of attempted rape during the period, while 16 were killed after rape, and five committed suicide after rape.
Citing police data, Naripokkho said 1,914 rape cases were filed and 1,109 rape incidents took place between April and June, indicating 12 rape incidents every day.
As elsewhere in the world, women account for almost half of Bangladesh's total population. Today, the country's total population is 1.65 million, including 49.40% women, according to the Bangladesh Election Commission.
However, a 2015 World Bank report said women in Bangladesh account for only 27% of the total labour force. Nepal has the highest female labour participation rate of 80%. "The labour market [in Bangladesh] remains divided along gender lines and progress towards gender equality seems to have stalled," the World Bank said.
According to a 2014 study by Centre for Policy Dialogue (CPD), a civil society think tank of Bangladesh, "…the contribution of women to the national income has continued to remain insignificant when compared to men because of the under-representation of their contribution to the national income accounts."
Worldwide, women account for about one-third of the workforce in the unorganised sector. But the International Labour Organization says in Bangladesh, only 3.25% of employed women are working in the public sector and 8.25% in the private sector. The remaining 89.5% are employed in the informal sector with varying and often unpredictable earning patterns – or as it so often happens, work without any payment at all.
Non-recognition of women's unpaid activity, the CPD study says, also leads to undervaluation of their economic contribution.
The situation is slowly changing as the government takes on various projects with support from international partners. To give women's empowerment a boost, particularly in the country's impoverished north, the Local Government Engineering Department (LGED) of Bangladesh in collaboration with International Fund for Agricultural Development (IFAD) has launched a project on Climate Resilient Community Development project with a greater focus on gender parity.
The six-year project will be implemented in six districts, Gaibandha, Kurigram, Rangpur, Nilphamari, Lalmonirhat, and Jamalpur, which are known as poverty pockets.
The project seeks to achieve at least 33% of women in the overall labour market, and 15% in construction-related areas with relevant actions like subsidised courses for women, inclusion of informal sectors and incentives to employers to employ females, functional literacy, and skill development training.
The project follows a gender sensitive design, noting that 10% of households in the project areas are headed by women, and most of these households are extremely poor.
As it does always, IFAD is promoting the active participation of the Labour Contracting Society. The Coastal Climate Resilient Infrastructure Project (CCRIP) is one of them.
CCRIP project director A.K.M. Lutfur Rahman said poverty alleviation, education, irrigation, agriculture, women's empowerment and tree planting are the social aspects of the project apart from its engineering aspects, and women are participating.
The project is expected to contribute to the construction of gender sensitive infrastructure that meets the needs of both women and men. In line with national development policies and IFAD's Gender Equality and Women's Empowerment Policy, the goal is to empower women and men to ensure equal access to project benefits.
As security concerns prevail due to the growing violence against women, professor Sharmind Neelormi of the Department of Economics of Jahangir Nagar University in Bangladesh stressed the importance of ensuring a gender-friendly working environment in the project areas, in addition to revisiting the wage rate.
Professor Sharmind came up with the suggestions on August 1st last in Dhaka while presenting the findings of a study she conducted with support from LGED and IFAD.
Talking to IPS, MB Akther, programme director and interim country director of OXFAM Bangladesh, said women's empowerment is a continuous process. A woman needs five to six years of multidimensional supports, he said. She also needs help in building market linkages for income-generating activities.
Akther said providing capital resources to women is not the only solution. They should also know how to invest resources for generating income and for that they need trainings, raising knowledge and cooperation to build market linkages.
"ICT, particularly the operation of mobile phones, is also an effective tool for women to search job markets or market prices for a product," he said, adding that he is aware of the IFAD projects.
Talking about women's contributions to both the household economy and the national one, Dr Qazi Kholiquzzaman Ahmad, chairman of Palli Karma-Sahayak Foundation, a public-sector apex development body, told IPS in October last year that women's contributions come from their participation both in formal and informal sectors, and even those, who work outside home in formal or informal sectors, also take care of household chores.
"If women's household-level activities and their works in informal sectors are economically evaluated and added to the national income, Bangladesh may already be a middle-income country," he added.
https://thewire.in/169646/bangladeshi-women-fight-gender-equality/
--------
Shah Bano Case: A Milestone in Muslim Women's Fight For Justice
August 22, 2017
New Delhi: The 'Shah Bano case' was a landmark in the Muslim women's fight for justice. It seen as one of the most controversial maintenance suits in India, as a 60-year-old mother for five from Indore knocked the doors of the court asking for alimony from her husband who had divorced her in 1978.
The Supreme Court ruled in favour of granting Shah Bano maintenance from her ex-husband under Section 125 of the Criminal Procedure Code, with an upper limit of Rs. 500 per month.
However, this judgement was reversed due to pressure from Islamic orthodoxy and caused the Congress government to pass the Muslim Women (Protection of Rights on Divorce) Act, 1986, which diluted the judgement marked by the Supreme Court and gave a Muslim woman the right to maintenance for the period of 90 days or iddat after the divorce.
The reponsibilty of maintenance is later shifted to her relatives or in case the woman has no means to support herself, a magistrate can order the state WAKF board to provide sustainable support to the woman and any dependent children.
The case remains a ground-breaking one in personal law.
http://www.newsnation.in/india-news/shah-bano-case-a-milestone-in-muslim-women-fight-for-justice-article-180108.html
--------
Saudi Man Divorces Wife For 'Walking Ahead'
August 21, 2017
DUBAI: A Saudi man has divorced his wife for walking ahead of him despite repeated warnings, a media report said today. Saudis are becoming increasingly alarmed over the rate of divorces in the kingdom for trivial reasons as growing calls are emerging to provide married couples, especially newlyweds, with counselling services.
The man, who was not identified, gave his wife repeated warnings to keep a step behind him, but she kept walking ahead of him after which, he divorced her, The Gulf News quoted the Saudi daily Al Watan as saying.
In another case, a Saudi man divorced his wife after she forgot to put the sheep head -- "the most important part of the dinner" -- on the main dish presented by her husband as he hosted his friends for dinner, the report said.
The woman said that after the guests left, her angry husband accused her of embarrassing him by forgetting to present the most important part of the dinner to his guests.
In another case, a husband divorced his wife during their honeymoon for wearing foot bangles.
Humood Al Shimmari, an official who conducts marriages, said that there has been a spurt in divorce cases in the last two years.
He said that while there are many reasons including evolving views towards traditions and social norms, modern technology was the key culprit.
Lateefa Hamid, a social consultant in Saudi Arabia, said: "Families should educate their young men and women and encourage them to engage in psychological, social and religious awareness and education programmes that will protect future spouses from family problems".
http://www.ndtv.com/world-news/saudi-man-divorces-wife-for-walking-ahead-despite-warnings-1740218
--------
Female Saudi Biker Hopes to Break Vicious Cycle
Aug 22, 2017
The Saudi port city of Jeddah, on the Red Sea, is the kind of place from which social revolutions erupt. Not the kind that topple regimes, change constitutions, or establish liberal governments offering equal rights to women. But what young Saudis can do in Jeddah is more than they are allowed to do in cities like Riyadh or Mecca.
The latest demonstration of female daring took place there last week, when a group of young Saudi women took to the streets on bicycles, dressed in long robes and hijabs (with bike helmets on top). They even uploaded pictures of themselves to the internet. The group's leader, Nadima Abu El-Einein, announced her intention to found a professional group and register it with the local Cyclists' Association, where membership is limited to men only.
Abu El-Einein actually founded her group about 18 months ago, but limited its activities to quiet alleys, in order to avoid stoking public outrage. While Saudi law doesn't forbid women from cycling, society is stronger than the law.
Initial reactions weren't particularly encouraging. But Abu El-Einein spread her innovative idea online and women recently started joining from other Saudi cities. It seems the new craze is gaining momentum and that men in the kingdom will have to come to terms with it – despite conservative religious scholars going crazy and trying to stop what they see as an abomination.
In 2012, Saudi filmmaker Haifaa al-Mansour made the award-winning movie "Wadjda," about the titular 10-year-old girl who dreams of owning her own bike. She participates in a Koran recitation contest at her school, diligently learning texts that previously hadn't interested her, in the hope of winning enough money to buy a bike. She also saves up money by selling hand-braided bracelets to her classmates and taking money for setting up a forbidden liaison between a boy and one of her girlfriends. SPOILER: Wadjda wins the contest, but when she announces her intention to use the prize money to buy a bike, the school donates her prize money to Palestine instead, leaving the girl totally stunned. However, it turns out she doesn't actually need the prize money because her mother, who supported her all along, surprises her by buying her the bike.
"Wadjda" likely influenced young Saudi girls. Likewise the artist Marina Jaber – who began cycling through the streets of Baghdad late last year. She said in an interview with the Alhurra TV network that people insulted and cursed her during her rides, and one time even tried to push her off her bike as she was cycling. But she was not deterred; Jaber continues to ride her red bike.
Unlike her Saudi sisters, she wears jeans and no headscarf. "I saw over time that the male criticism waned, and I realized that the repeated use of the bicycle was an effective weapon," Jaber noted.
But like Abu El-Einein, she had to contend with another controversy last month when a picture of a Saudi woman named Khulood, walking around a historical site wearing a miniskirt and no head covering, went viral on social media. The religious police were called in. The public erupted. But ultimately she was not indicted, since she claimed she was a model wearing the clothes for a photo shoot. A model? In Saudi Arabia? It seems that even in this area the last word has yet to be written.
Still, it's worth noting the Saudi Education Ministry's decision to include sport lessons for females, starting in the coming school year. The decision, originally made in 2014, has yet to be implemented. Sports halls for women are set to be built next year and the construction of a municipal sports center for women in the city of Ta'if – which will include a shopping complex – is to commence in coming months.
It seems these initiatives were awaiting the appointment of Princess Reema Bint Bandar Bin Sultan, deputy head of the Saudi sports authority for women. Her father is Prince Bandar bin Sultan, who served as Saudi ambassador to the United States from 1983 to 2005, and later served as secretary-general of the National Security Council. King Salman fired him in 2015 (as well as others who served under King Abdullah). However, Reema forged her own flourishing career. She was CEO of luxury retailer Alfa International and made the Forbes list of the 200 most powerful Arab women in 2014 (at #31). She is also a member of the TEDx Council, as well as part of Uber's public policy advisory group. She is extremely active in social issues. She founded a nonprofit for developing professional human resources in the kingdom and launched a campaign to raise women's awareness of breast cancer.
It seems that the bold biker Nadima Abu El-Einein will have someone to watch her back when she wants to establish her professional team, since Princess Reema is the one who founded the Saudi women's professional basketball team.
http://www.haaretz.com/middle-east-news/.premium-1.808192
--------
Women sports need same gender coaches, trainers to excel
August 22, 2017
LAHORE - Pakistan's international hockey player Rabia Qadir and squash player Maria Toor Pakai have urged national sports federations to increase the number of female coaches and trainers, as it will help increase the participation of girls in sports.
The two sports women exchanged their views about the work need to be done for the promotion of sports in the youth especially girls. Rabia said: "In our society, parents hesitate in sending their girls to get training from male trainers, which is the main hurdle in the promotion of female sports in Pakistan."
Rabia, who is also an emerging leader of Global Sports Mentoring Program (GSMP) and founder of Galaxy Sports Academy, briefed Maria about the work she is doing for the underprivileged girls under the project 'Empower Women Through Sports' and also discussed future plan to provide better opportunities to the youth of Pakistan in the field of sports.
Both sports star agreed on one point that if they want to promote women sports, they have to train female coaches in big numbers from top to bottom, so that parents may have less reservations in sending their daughters to play sports.
Renowned Pakistani squash player and a member of International Olympic Committee (IOC) women sports commission Maria Toor Pakai urged parents to give equal opportunities and support to their daughters for choosing the sport of their choice.
Maria said she was planning to establish a sports fund for the needy children, who have potential to become sports star but don't have resources. For this purpose, she will seek government help as well as get private donations. Rabia agrees with the idea and offered her full support in raising the funds.
Maria praised the work of Galaxy Sports Academy (GSA) under the supervision of Rabia Qadir, who herself represent Pakistan in the field of hockey. Both the celebrities decided to keep close contact so that they may help female players of the country.
Maria also accepted an invitation from Rabia to become a member of advisory board of her academy. At this occasion, Rabia also presented a T-Shirt of her academy as a souvenir to Maria.
http://nation.com.pk/sports/22-Aug-2017/women-sports-need-same-gender-coaches-trainers-to-excel
--------
Born in Amritsar jail, 11-year-old girl may soon go home to Pakistan
by KAMALDEEP SINGH BRAR
August 22, 2017
ON MAY 8, 2006, Fatima Bibi and Mumtaz, who are sisters and Pakistani nationals, were arrested on charges of drug trafficking from Attari railway station. A court subsequently convicted and sentenced them to 10 years in jail. Fatima was pregnant at the time of her arrest and gave birth to a baby girl in Amritsar jail and named her Hena. Now 11, she has lived in jail with her mother all these years.
However, there is hope that Hena may soon go to her home country — Pakistan — for the first time, along with her mother and maternal aunt. Although a local court had offered to make arrangements for sending the girl to Pakistan after her birth, her mother was firm that she wanted to keep Hena with her.
Fauzia Manzoor, counseller, Pakistan High Commission in India, visited Amritsar central jail Monday to confirm the nationality of the trio as part of routine procedure before release of such prisoners. Officials of the Union Ministry of Home Affairs (MHA) and women rights activist and lawyer Navjot Kaur Chabba also accompanied Manzoor.
Chabba told The Indian Express that the dispute over the nationality of Hena had been resolved and Pakistan would arrange for her entry into the country. "Fauzia Manzoor made it clear that Hena would be treated as a Pakistan citizen. She will go to Pakistan along with her mother and aunt," said Chabba. She said, "Hena goes to a government senior secondary school near central jail. She is now a student of Class VII."
"Pakistan will give new passports to Fatima Bibi and Mumtaj. In Hena's case, they will provide a passport to her to enter Pakistan for the first time," said Chabba. Batala-based NGO Sarbat Da Bhala had paid Rs 4 lakh (Rs 2 lakh each) fine in April this year as part of sentence to start the procedure for the release of the trio.
Recently, the Centre cleared the file related to their release and issued a no-objection certificate. Now, an NOC from the home department of Punjab government is awaited. Fatima Bibi belongs to Gujranwala and her sister, who is unmarried, is from Sikandarabad in Pakistan. They were arrested with 400 gm smack from the Samjhauta Express train at Attari railway station in 2006.
http://indianexpress.com/article/cities/chandigarh/born-in-amritsar-jail-11-year-old-girl-may-soon-go-home-to-pakistan-4807731/
--------
Iran holds first Women in Science Award
August 21, 2017
Moreover, the women who played an active role in the establishment of knowledge-based organizations, scientific associations, theorization chairs, university disciplines and scientific journals were honored, IRNA reported.
In the fields of medical sciences Azam Iraji-Raad, Afsaneh Safavi, and Zahra Bathayee were ranked first to third respectively.
Mahrokh Shayesteh and Zahra Ranjbar held the second position in technical and engineering section while no women were placed at the first and the third places.
In the field of agriculture, Ziba Jamzad, Zahra Imamjome, and Fatemeh Sefidkan were respectively ranked first to third.
Meanwhile, Shamsosadat Zahedi and Majijeh Ghahroodi-Tali were placed at first and second places in humanities.
The category honoring young scientist women has been named after Maryam Mirzakhani, a prominent Iranian mathematician who died on July 15.
http://www.tehrantimes.com/news/416123/Iran-holds-first-Women-in-Science-Award
--------
UN report urges justice for Iraqi women, girls abused by IS
August 22, 2017
GENEVA — A new United Nations report urges Iraq's government to do more to help thousands of women and girls who faced rape, sexual abuse and other violations by the Islamic State group.
The report by the U.N. rights office and the U.N. mission in Iraq makes recommendations about ways to improve justice, increase accountability and allow for reparations for victims as IS's territorial control has been dwindling.
Although the report released Tuesday notes some successes, it says Iraq's criminal justice system "largely fails" to adequately protect abused women and girls subjected to sexual and other violence.
The report also urges authorities to avoid recording information on a child's birth certificate about the father that could lead to discrimination or possible violence, such as among children of fathers who fought for IS.
Copyright 2017 The Associated Press. All rights reserved. This material may not be published, broadcast, rewritten or redistributed.
https://www.washingtonpost.com/world/middle_east/un-report-urges-justice-for-iraqi-women-girls-abused-by-is/2017/08/22/7986c9fc-870a-11e7-96a7-d178cf3524eb_story.html?utm_term=.0e126d5f2000
--------
URL: https://www.newageislam.com/islam-women-feminism/this-muslim-woman-teacher-says/d/112288
New Age Islam, Islam Online, Islamic Website, African Muslim News, Arab World News, South Asia News, Indian Muslim News, World Muslim News, Women in Islam, Islamic Feminism, Arab Women, Women In Arab, Islamophobia in America, Muslim Women in West, Islam Women and Feminism