New Age Islam News Bureau
5 Jul 2018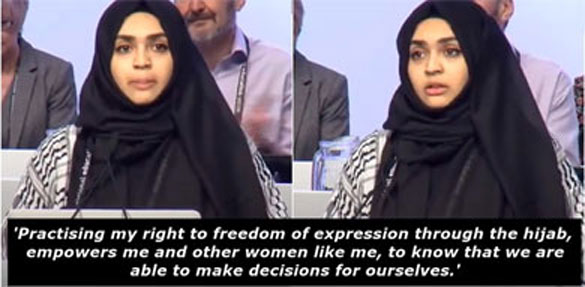 Muslim Woman Assaulted In Belgium, Her Hijab and Shirt Pulled Off
Muslim Female Doctor Humiliated In Racial Attack on Dublin Bus
-----
• Soon, All-Women Rescue Teams At Dubai Beaches
• Islamist-Backed Candidate Becomes First Woman Mayor of Tunis
• Hindu Woman Challenging Stereotypes in Election-Bound Pakistan
• Saudi Woman's Car Set On Fire near Makkah after Driving Ban Lifted
• Fatima Farag, First Arab Woman to Join WAN-IFRA's Board
• Meet the First Indian Woman to Get Saudi Driving License
• UN in Iraq sees greater role for women in political process
• 5 Women Detained Over Gulen Links In Turkey's Manisa
Compiled by New Age Islam News Bureau
URL: https://www.newageislam.com/islam-women-feminism/this-muslim-teachers-powerful-speech/d/115740
--------
This Muslim Teacher's Powerful Speech on Why She Chose to Wear Hijab Is Going Viral
July 5, 2018
A Muslim teacher's powerful stand against OFSTED's (Office for Standards in Education, Children's Services and Skills) ban on Muslim women wearing hijab has gone viral. Speaking at the NEU-NUT Section Annual Conference 2018, Latifa Abouchakra referred to terms like 'muscular liberalism' used by certain sections of media and politicians. She defined this as just another term for Islamophobia and racism. While mainstream media has often shown and reported many incidents of how the hijab or being under a veil is often used as a tool of oppression against Muslim or South Asian women, Abouchakra emphasises that she chose to wear the hijab as an article of her faith and none was entitled to take away her right to exercise her freedom of choice.
"My faith has given me the right to choose 1400 years before the universal declaration of human rights told me I could. A fun fact for you conference, my dad didn't want me to wear the hijab, I chose to, those of faith should have the right to choose their articles of faiths. Practising my right to freedom of expression through the hijab, empowers me and other women like me, to know that we are able to make decisions for ourselves." said the first time speaker at the conference.
Comments of Amanda Spielman, the chief of OFSTED, came under scanner and heavy backlash after she raised concerns over Muslims girls as young as five wearing the headscarf, while she was lobbying over dress codes in primary schools. She has been accused of pressuring schools into banning hijab worn by young girls by National Education Union in the UK.
https://indianexpress.com/article/trending/trending-globally/muslim-teacher-on-wearing-hijab-speech-viral-5246573/
--------
Muslim woman assaulted in Belgium, her hijab and shirt pulled off
Jul 5, 2018
A Muslim woman, whose name has not been made public, was brutally assaulted in what appears to be a hate crime carried out by two racist men in Anderlues town near Brussels on Monday, Belgian media reported.
The 19-year-old woman was walking alone in an alley around 2100 GMT (11 pm local) when two unnamed assailants stood in her way, according to Belgium's official news agency Belga.
The men took off her headscarf and tore apart her shirt, exposing her upper body.
As she tried to escape, the two men hurled racial slurs at the victim, calling her a "filthy Arab" before knocking her to the ground.
Then, the attackers used a sharp object to cut her body, including her torso, stomach and legs, in the shape of a cross, the Belga said.
The men fled after the incident.
The police is yet to reveal details about the health condition of the woman.
The local police have launched an investigation into the attack.
A call for calm
Philippe Tison, the Mayor of Anderlues, condemned the attack on Wednesday, two days after the attack that, according to him, took place in "a municipality that has achieved its model of living together."
"I was shocked to learn that a racist attack against one of our fellow citizens was occurred in Anderlues," Tison, the mayor, said on his Facebook account.
"It is a despicable act that saddens all of us ... We can not tolerate our fellow citizens are becoming victims of racist aggression," he said.
Rise on the attacks against Muslims in Europe
With the rise of far-right political parties, European countries have witnessed a sharp increase in racist and Islamophobic attacks due to their anti-Muslim and anti-migrant policies.
According to the European Islamophobia Report 2017, prepared by the Ankara-based Foundation for Political, Economic and Social Research, SETA, a rising wave of Islamophobia has taken hold in Europe.
The report revealed 908 crimes, ranging from verbal and physical attacks to murder attempts, targeting Muslims in Germany, as well as 664 in Poland, 364 in the Netherlands, 256 in Austria, 121 in France, 56 in Denmark and 36 in Belgium.
The mosques across Europe have endured dozens of attacks over the past year as attackers attempted to arson them with Molotov cocktails or spray-painted terror symbols or racist slurs on the walls.
Germany takes the lead in hate crimes against mosques, as over 30 of them, were targeted in such attacks in the first three months of this year - double the figure in the same period last year.
https://www.trtworld.com/europe/muslim-woman-assaulted-in-belgium-her-hijab-and-shirt-pulled-off-18667
--------
Muslim Female Doctor Humiliated In Racial Attack on Dublin Bus
Jul 5, 2018
A Muslim doctor living in Dublin has spoken of the insults and harassment she suffers for wearing a hijab. She was speaking after the release of a report warning that hate crime remains under-reported in Ireland.
The "Lifecycle of Hate Crime" report from the Irish Council for Civil Liberties, released on Wednesday, found that hate crime was "not part of the language of the Irish criminal justice process" and the State had a responsibility to "send a clear message to society that hate crime is not tolerated".
Minister for Justice Charlie Flanagan described the findings of the report as "not acceptable" and said its recommendations would be "urgently" examined by his department.
Amna*, a doctor from South Asia who has been living in Ireland for nearly three years, said racial hatred was "spreading like wildfire" and "requires immediate attention".
Verbal harassment
Writing a post on Reddit, Amna described how on Saturday night, while travelling from Dublin city centre to Kilmainham on a Dublin Bus, she was verbally harassed by a female passenger for wearing a hijab. She wrote that a middle aged woman who was "heavily intoxicated" repeatedly asked where she came from, before calling her a "refugee" and asking "why are in you in this country"? She said the woman continued swearing at her, even when she took out her phone and began filming the incident. Eventually, she said, a male passenger offered to swap seats so Amna could move away from the woman.
In Ireland, Amna said she finds that women who wear a head scarf are either considered to be refugees or "someone who deserves an insult in the name of religion".
When she first arrived in Dublin and was searching for an apartment she said some landlords told her she should "live with her own community", while one landlord refused to let her enter the house because he said she might have a gun in her handbag. More recently she said that upon completing an examination, the adjudicator approached her and said she should return home to work as a doctor rather than remaining in Ireland.
"Why should I face this professional and social discrimination time and time again? Is it because I have opted to adhere to my religious beliefs which teach me to spread love, treat all with respect, do no harm, hear no evil, not to judge others, to be selfless, to be honest, to be non-judgmental towards all?
"Disrespecting others, just for the sake of your personal satisfaction, isn't acceptable behaviour in any culture or religion. Condescending behaviour, insulting others publicly just because people feel they have the given right to do so is totally unacceptable."
Scared
According to Amna, many Muslim women in this country feel too scared to contact the Garda or report racial abuse. "I think we've become desensitised to it," she told The Irish Times. "People make comments as we walk by so often that we've been told to brush it off. But we need to stop brushing it off. We can't accept it."
Amna said she often turns to the advice of American TV star Ellen DeGeneres for guidance when faced with discrimination and racial abuse. "When I start to lose faith in kindness due to inappropriate behaviour, I pray and I binge watch her to put my mind at ease. For me it's a constant reminder, as she rightly says, to 'please be kind to one another'."
https://www.irishtimes.com/news/crime-and-law/muslim-female-doctor-humiliated-in-racial-attack-on-dublin-bus-1.3553991
--------
Soon, All-Women Rescue Teams At Dubai Beaches
July 5, 2018
All-women rescue teams will soon be introduced at Dubai beaches for the first time, the police announced on Wednesday. Currently, 12 women are being trained to respond to emergencies, with the police planning to increase the number to 18 by the end of the year.
This was revealed during a Press conference held to announce the launch of a beach safety campaign by the police's General Department for Community Happiness in cooperation with the Dubai Municipality.
Major-General Ahmed Mohammed bin Thani Harib, Director of the General Department of Airport Security and Entries, said Dubai beaches attract a large number of visitors and tourists annually. "The two-month campaign will see multiple government entities come together to reduce all kinds of negative practices, including crime," he said.
The idea is to not only prevent drowning cases, but to also fight cases like theft and harassment of beach-goers.
Brigadier-General Abdul Qader Mohammed Al Bannai, Director of the Port Police Station, said six people drowned in the first six months of this year.
Brigadier-General Ahmed Thani bin Ghalaita, Director-General of the Dubai Police Stations Authority, said the aim is to reduce the number of drowning cases to zero this summer. "300 people were rescued from drowning in the first half of this year," he said. Of these, majority were aged between 25 and 55 years.
Another top official said work is underway to launch the first set of marine ambulances. He revealed that eight points have been specified at which these ambulances will be stationed.
Alia Abdul Rahim Al Harmoudi, Director of Environment Department at the Dubai Municipality, said the civic body has in place nine rescue stations. "Through our electronic platforms, beach-goers can check the condition of the seas and other relevant details."
https://www.khaleejtimes.com/nation/dubai/soon-all-women-rescue-teams-at-dubai-beaches
--------
Islamist-Backed Candidate Becomes First Woman Mayor of Tunis
Jul. 03, 2018
TUNIS: Islamist-backed candidate Souad Abderrahim defeated a city official who served under ousted despot Zine el Abidine Ben Ali Tuesday to become the first woman mayor of the Tunisian capital.
"I dedicate this victory to all Tunisian women," Abderrahim said. "My first task will be to improve the face of Tunis."
Deteriorating waste disposal services have blighted the capital since Ben Ali's 2011 overthrow in the first of that year's Arab Spring uprisings.
The 53-year-old manager of a pharmaceutical firm, has risen to the fore as one of the new faces of veteran Islamist party Ennahdha as it seeks to modernise its image.
Although she is a member of the party's politburo, she stood as an independent in the May 6 municipal election, in which she headed the Ennahdha list.
With 21 seats out of 60, the list emerged as the largest on the city council but well short of a majority.
Municipal elections in Tunisia were marked by low turnout by a public facing ongoing economic hardship and frustrated with political elites.
Across the country independent lists took the highest number of seats, winning 32.9 percent nationwide.
Abderrahim was elected mayor in a second round of voting by councillors which was boycotted by left-wing and centrist parties who refused to support the candidates of either of the main parties.
She defeated Kamel Idir, candidate of the Nidaa Tounes party of President Beji Caid Essebsi, by 26 votes to 22.
An activist during her university years, Abderrahim sat within the Ennahdha bloc of a new constituent assembly between 2011 and 2014.
During that time she caused controversy for her criticism of single mothers, before disappearing from the political scene until the May municipal elections.
The new mayor rejected the "Islamist" label, asserting she wanted to work with all parties.
"We have chosen transparency as a slogan," Abderrahim said.
The Ennahdha party in 2016 acknowledged the separation of religion and politics, describing itself as "democratic Muslim".
As municipal councils are being formed across Tunisia, observers say the proportion of female mayors could be relatively high.
According to the country's electoral commission (ISIE), women made up 47 percent of those elected in the recent local polls.
http://www.dailystar.com.lb/News/Middle-East/2018/Jul-03/455248-islamist-backed-candidate-becomes-first-woman-mayor-of-tunis.ashx
--------
Hindu Woman Challenging Stereotypes in Election-Bound Pakistan
4 July 2018
In Muslim majority Pakistan, a 31-year-old Hindu woman has emerged as a beacon of hope not only for minorities but also for women, who make 52 percent of the country's 220 million population.
Sunita Parmar has taken a difficult yet risky decision of contesting general elections being held on July 25, 2018 and is confident of challenging stereotypes in the process.
Hailing from Tharparker's Hindu Meghwar community, Sunita has made history as the first Hindu woman to contest provincial assembly election. She is contesting from Tharparkar district (constituency number PS56) in Pakistan's southern Sindh province as an independent candidate.
Unveiling her agenda before local pressmen last week, in her native town of Islamkot, Sunita vowed to improve standards of education for women and poor health facilities in Thar. "I will try to improve standards of education for women and health facilities in Tharparkar," she said.
"Please note, previous governments did nothing for the people of this area. Even in 21st century, we lack basic health facilities and proper educational institutes for women," Sunita told journalists.
Sunita has been something of a rebel. Despite hardships and pressure from society (to stop studying), she did her Masters in Education. "I believe in girl's education. This is the only way to make women stronger and prosper," she said.
Hindus in Pakistan
According to 2017 census, Tharpakar district in Southern Pakistan comprises nearly 600,000 Hindus out of the total 1.6 million people living in the area.
This is also the place with the highest number of Hindus living in Pakistan. The Hindu community has always played decisive role in elections in Tharparkar.
Sunita is contesting from a constituency, which has always been dominated by feudal lords and agriculturists and battled incessant pressure from them to not contest. The 35-year-old, however, refused to bow down to the political pressure.
"Gone are the days when women were supposed to be weaker and inferior. I am confident of winning the election," Sunita said. Backed by her family, relatives and the community, Sunita is breaking several social and political barriers.
"This is 21st century and we are even ready to fight the lion," a confident and well-educated Sunita Parmar told Al Arabiya English over the phone.
More of her kind
In march this year, Krishna Kumari Kolhi from Pakistan's Sindh become the first-ever Hindu Dalit woman Senator in the Muslim-majority country.
Kolhi, 39, from Thar is a member of Pakistan People's Party (PPP), on of main political parties in Pakistan. She won the election for the reserved seat for women from Sindh province. Her election was a major milestone for women and minority rights in Pakistan.
Hailing from a family of a poor peasant, Jugno Kolhi, in February 1979, Kolhi and her family members spent nearly three years in a private jail owned by the landlord of Kunri of Umerkot district. She was a grade 3 student when she was held captive.
"Women like Sunita and Krishna are real face of Pakistan. I'm sure they will contribute to make Pakistan prosper," Zareen Gul, a women right activist told Arabiya English.
In Pakistan, political parties normally refrain from giving party tickets to minorities. However, minorities do make their presence felt on reserved seats. Currently, there are 10 reserved seats in the National Assembly for minorities.
A religious minority can fight an election for any other seat but these seats are allocated to political parties based on proportional representation, meaning that the largest party gets the largest number of seats, and so on.
A religious minority does not have to be directly elected to hold one of these seats and are assigned a seat after the party selects them. The same procedure is followed for seats reserved for minorities in four provincial assemblies of Pakistan.
https://english.alarabiya.net/en/features/2018/07/04/Hindu-woman-challenging-stereotypes-in-election-bound-Pakistan.html
--------
Saudi Woman's Car Set On Fire near Makkah after Driving Ban Lifted
Jul 5, 2018
RIYADH: Saudi police are hunting for arsonists who torched a woman's car, only a week after the kingdom lifted a decades-long ban on female motorists.
Salma al Sherif, a 31-year-old cashier based near the holy city of Makkah, told local media that her car had been deliberately set alight this week by men "opposed to women drivers".
"The incident is being investigated by security officials," Makkah police said in a statement released late Tuesday by local authorities. "We are searching for the culprits."
On June 24, women celebrated taking the wheel for the first time in decades as the kingdom overturned the world's only ban on female drivers.
For decades, the country justified the ban saying that allowing female motorists would promote gender mixing and promiscuity.
Sherif said she faced abuse from men in her neighbourhood soon after she began driving in a bid to ease her financial pressures.
"Half of my salary of 4,000 riyals ($1,067) was spent on a driver to take me to my workplace and drive my elderly parents," Sherif told the pro-government daily Okaz.
"But from the first day of driving I was subjected to insults from men."
Sherif received an outpouring of support from Saudis on social media, with many posting pictures of her burning vehicle and denouncing the attack as a "terrorist act".
Local reports did not say whether her car was insured.
Authorities have sought to show the driving reform had religious approval, with the kingdom's top clerical council emphasising the lifting of the ban was in line with Islamic values.
But many are still wary of a backlash from hardliners, amid a torrent of sexist comments against women drivers on social media.
Many women say they are staying off the streets, testing reactions in a society torn between conservatism and a modernisation drive launched by Crown Prince Mohammed bin Salman.
Some 120,000 women have applied for driving licences, according to an interior ministry spokesperson, but it remains unclear how many have been issued.
For now, the women taking to the roads appear mainly to be those who have swapped foreign licences for Saudi ones.
https://nation.com.pk/04-Jul-2018/saudi-womans-car-set-on-fire-near-makkah-after-driving-ban-lifted
--------
Fatima Farag, First Arab Woman to Join WAN-IFRA's Board
Jul. 4, 2018
CAIRO – 4 July 2018: The World Association of Newspapers and News Publishers (WAN-IFRA) announced Wednesday appointing Fatima Farag, founder and director of Welad El-Balad Media Services LTD., to the association's board of directors and executive committee.
By winning a vote that took place in June 2018, Farag became the first Arab woman to ever join WAN-IFRA's board of directors and the executive committee.
Melanie Walker, director of media development and WAN-IFRA's Women in News program, said Farag was chosen due to her excellence in the Women in News program, which she leads in the MENA region; Farag communicated with media outlets all over the region in order to amend the gap between the two genders in leadership.
"It was an honor to work closely with Fatima Farag over the past two years on the Women in News program, thanks to her vast expertise in the media field in Egypt and her solid ethics that create valuable visions; she adds a great variety to WAN-IFRA board of directors," Walker added.
It is pertinent to mention that Wan-Ifra announced winners of the International Color Quality Club 2018–2020 contest (ICQC) on Wednesday.
"By their successful participation in the competition, the companies have demonstrated that they can supply printing in outstanding quality and offer readers and advertisers high-quality products," said Manfred Werfel, deputy CEO of Wan-Ifra.
"The Color Quality Club is more than a technical printing competition, as it offers participating companies the additional possibility to benchmark their printing quality against recognized international standards and improve it," he added.
Welad El-Balad Media Services LTD., is a company dedicated to community media development and media excellence in Egypt.
Farag was also the founding chief editor of the English Edition of Al Masry Al Youm. Before 2009, she divided her professional time between the newsroom and journalism training and education.
She was Assistant Chief Editor, responsible for the features and life-style sections and senior staff reporter at Al-Ahram Weekly, before which she worked for the Regional Bureau of the Washington Post.
As an educator she has held the position of Training Consultant for the Heikal Foundation for Arab Journalism and has also consulted and trained for various organizations including the European Union, the British Council, Free Voice and the Bibliotheca Alexandrina.
Farag began her career specializing in development issues with the United Nations Development Program (UNDP), and as a reporter and newspaper editor she has dedicated much of her work to the coverage of social issues.
She is a graduate of the American University in Cairo, from which she also received a Masters degree in political science.
https://www.egypttoday.com/Article/1/53360/Fatima-Farag-first-Arab-woman-to-join-WAN-IFRA-s
--------
Meet the First Indian Woman to Get Saudi Driving License
July 5, 2018
She hails Kerala and is working as a nurse in Dammam for the last nine years.
On June 24, Saudi Arabia witnessed women drivers zooming past on the Kingdom's roads after the historic decision to allow women to drive. Several women in Saudi Arabia were issued driving licences after taking required driving tests. And, one of them was Saramma Thomas.
Saramma received her driving licence on June 28 and became the first Indian woman to get official permit to drive in Saudi Arabia.
Saramma hails from Pathanamthitta in Indian state of Kerala and is working as a nurse at Jubail King Abdulaziz naval base military hospital at Dammam for the last nine years.
"I hope this becomes an inspiration for more women to drive here in Saudi. Many women called to tell me they felt motivated after watching me drive," Saramma quoted as saying in the New Minute.
On September 2, 2017, Custodian of the Two Holy Mosques, King Salman bin Abdulaziz of Saudi Arabia, issued the royal proclamation allowing women to drive after persistent demands from various quarters in this regard.
Saudi Arabia now has five centres dedicated to train women to drive where trainers are Saudi women who obtained their driving licences from abroad. Women in the country can now drive vehicles carrying lady teachers, women's taxis, and school buses of girl's schools. They can even operate car rental services.
https://www.khaleejtimes.com/region/saudi-arabia/meet-the-first-indian-woman-to-get-saudi-driving-license
--------
UN in Iraq sees greater role for women in political process
Jul 5, 2018
ERBIL, Kurdistan Region — The United Nations Assistance Mission for Iraq hopes more women will hold ministerial and high-level posts in the new government.
"I hope that a substantial number of incoming female Members of Parliament will be appointed to key roles in parliamentary committees and to seats on the Council of Ministers," stated Deputy Special Representative of the Secretary General Alice Walpole on Wednesday.
She launched the #WhyNot (#Shakobeha) campaign at an event in Babil province on Tuesday.
Iraq has a 25-percent quota system for women running in elections, but this figure is not represented in high-level posts among ministers, the judiciary, and other institutions.
"Now that the elections are over, the #WhyNot campaign will continue…...there remains a great deal to do to ensure that Iraq benefits fully from the skills, experience and knowledge that women can bring to political life," added Walpole.
Iraq held a parliamentary election on May 12. Results of the election are disputed and have not been finalized.
In the run-up to the election, women candidates were targeted by smear campaigns across the country. Some rejected the idea that they were running just to fill the parties' quota requirement.
On June 14, the Iraqi government agreed with UNAMI that women should be involved at all levels of society, in accordance with the organization's mandate.
"It also instructs UNAMI to promote women's equal access to executive roles in key areas such as national reconciliation, security sector reform, elections and socio-economic development," added Warpole.
http://www.rudaw.net/english/middleeast/iraq/05072018
--------
5 Women Detained Over Gulen Links In Turkey's Manisa
Jul 5, 2018
At least 5 women were detained over their suspected ties to the Gülen movement in a Manisa-based investigation, media reported on Wednesday.
The public prosecutor's office in Manisa's Turgutlu district issued detention warrants for 5 women on accusation that they were involved in the movement's alleged sisterhood network.
Some of the detainees are also accused of having used ByLock, a mobile app Turkish prosecutors believe to be a top communication tool among Gulenists.
Turkish government blames the Gulen movement for the failed coup attempt on July 15, 2016 while the latter denies involvement.
More than 160,000 people have passed through police custody, of which 90,000 were remanded in prison pending trial over Gulen links since the summer of 2016.
https://turkeypurge.com/5-women-detained-over-gulen-links-in-turkeys-manisa
--------
URL: https://www.newageislam.com/islam-women-feminism/this-muslim-teachers-powerful-speech/d/115740
New Age Islam, Islam Online, Islamic Website, African Muslim News, Arab World News, South Asia News, Indian Muslim News, World Muslim News, Women in Islam, Islamic Feminism, Arab Women, Women In Arab, Islamophobia in America, Muslim Women in West, Islam Women and Feminism