New Age Islam News Bureau
26 Apr 2016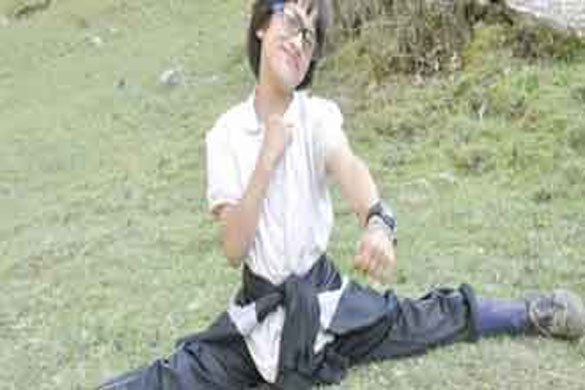 Photo: Seven-year-old Tajamul Islam has won gold in the sub-junior category in the National Kickboxing Championship.
---------
• ISIS, Hijabs and Prayer: Week of Islam Celebration, Education Begins
• Veiled Muslim Women to Attend 27th Asian Weightlifting Champs in Tashkent
• Muslims Are Depriving Woman of Her Rights Given By Islam
• ISIS Pays Its Troops More If They Have Sex Slaves
• Isma: Feminism Making Women Forget Their Place as Homemakers
• Najat Belkacem's Journey from Shepherd Girl to First Muslim Woman Education Minister Of France!
Compiled by New Age Islam News Bureau
URL: https://www.newageislam.com/islam-women-feminism/new-age-islam-news-bureau/this-little-kashmiri-girl-making-indians-proud/d/107112
--------
This Little Kashmiri Girl Is Making Indians Proud
April 25, 2016
Srinagar: Seven-year-old Tajamul Islam has won gold in the sub-junior category in the National Kickboxing Championship. With that win, she earned a selection to represent India in the World Championships to be held in Andria. She will be the first ever Kashmiri girl to do so. Tajamul hails from Tarkpora, an obscure village in North Kashmir's Bandipora district, as reported IndiaTimes.
Tajamul comes from the Bandipora district in Kashmir where her father, Ghulam Mohammad Lone, is a driver for a construction company and does just enough to make ends meet. However, there is no lack of encouragement from his side as he sends Tajamul and her two sisters and two brothers to learn martial arts in a local academy.
Faisal Ali Dar, who runs the academy, was impressed with Tajamul's skills instantly. "I spotted Tajamul from the distance. Dar says, she wasn't yet completely conversant with the rules of the game but she had the speed. I found her instinctively aggressive."
Tajamul the youngest gold medalist in the J&K Wushu Championships and qualified for the National Wushu Championships in Haridwar last month. This, after she defeated her opponent last year at the National Kickboxing Championships in Delhi and became the first girl from the Valley in her age group to win a gold medal in the tournament.
"Tajamul has shown ultimate fortitude considering her tender age but her success is the combined efforts of her parents, who supported her in every possible way, her teachers at Goodwill school, who worked really hard to polish her raw talent and most of all the senior Vice-president kick-boxing Federation of India, Mr. Ghulam Nabi Tantray, who encouraged Tajamul to show her talent even after some age related issues surfaced," Dar is quoted as saying by the Kashmir Observer.
"I saw something amazingly different in her when she won the gold medal in Delhi and I was fully determined to remove any obstacle coming her way. I believe that she will set new milestones of success," Tantray said.
The best fighter of the state, Tajamul's story is inspiring a lot of girls to break barriers and achieve their dreams. "Our village is very backward but I, along with other kids like me, are going to take it to new heights," she said.
She is definitely a champion and on her way to making India proud.
siasat.com/news/meet-7-year-old-tajamul-islam-first-kashmiri-girl-represent-india-world-kickboxing-championships-949992/
--
ISIS, Hijabs and Prayer: Week Of Islam Celebration, Education Begins
Tue Apr 26 2016
The so-called Islamic State is neither a state nor Islamic.
"It's a deviant group of gangsters driven by anger and hatred and a thirst for power," Jameel Chaudhry told a packed Lutheran church basement of mostly non-Muslims on Monday evening.
Leaders of that "ragtag" band define who the faithful are, said Chaudhry, a Muslim and an ethnic Indian from North Africa.
"If you don't pledge allegiance, if you don't follow ISIS, you're not a Muslim. You can't call yourself a Muslim," he said. "And if they don't call you Muslim, it's OK for them to kill you."
Chaudhry, the longtime campus architect for the University of Montana, was emcee and one of four presenters at Saint Paul Lutheran Church in the first of four events during "Celebrate Islam Week" in Missoula.
Sponsored by the Jeannette Rankin Peace Center and presented by SALAM, the Arabic word for peace and an acronym for Standing Alongside America's Muslims, the dinner program drew a capacity crowd to a room with a maximum occupancy of 125.
After a greeting from Mayor John Engen, a proclamation from SALAM declaring Celebrate Islam Week was read that decried the "alarming escalation of national and local incidents and rhetoric directed against people of the Muslim faith" and celebrated Missoula's long history of embracing diversity and dignity for all "by statute and practice."
No dissension was voiced from the crowd. One protester held a sign outside the church on Brooks Street and was joined by a few others as the evening went on.
Wurri Kusumastuti, a graduate teaching assistant at UM from Indonesia, explained why she and other Muslim women wear hijabs, traditional veils that cover their heads and indicate a standard of modesty.
The most important time to wear a hijab is during prayer, the effervescent Kusumastuti explained. And Muslims pray five times a day.
"I was born Muslim and, I don't know, I just got used to it," she said of the veil. "By using this kind of attire, when it's time to pray, I just pray."
***
In the 1980s, hijabs were banned in Indonesia and students who protested the act were arrested. Some disappeared, Kusumastuti said. From 1982 to 1998, any religious movement in her country was considered a betrayal by the government.
Slowly the shackles have come off, to a point where today in Indonesia there's a growing market for hajibs.
"They are very big business," said Kusumastuti. "They're not a symbol of oppression. In Indonesia they're symbols of freedom."
Technical problems with a short video initially marred the presentation of Hanan Omar, a UM graduate student from Saudi Arabia. Eventually they were straightened out and through music and poetic narration, the video portrayed what she called the "real meaning" of the Islamic phrase Allahu Akbar -- literally "God is the greatest."
Its meaning has been demeaned by videos "of sick, twisted minds screaming it before explosions," the narrator said.
But in fact it's known and celebrated by millions of Muslims who gather and speak it with "one voice, one love and no hate."
"We say it in every occasion and in every way," – at prayer, when one is startled by beauty or frightened by disasters or scared and weak or "joyful and at our peak," the narrator said.
"Don't allow terrorists to contaminate a peaceful religion and a phrase that is so great. When you hear it let it show its true colors, let it resonate, that Allahu Akbar is about love and trust from 1.6 billion Muslims to the creator of our faith."
Julian Adler, a UM student in philosophy and political science, studied in Morocco and said he bugged his professor there with questions about religion until he was given a life-altering book on the histories of the world's religions. Adler compared the similar philosophical developments of Christianity and Islam.
"Like all other religions they shared basic philosophical ideas with each other that still resonate with us today," he said. "Both churches have had histories of both enlightenment and repression."
Celebrate Islam Week continues on Wednesday in the Hellgate High School Auditorium with the showing of most of the movie "The Muslims Are Coming" based on Muslim comedians' routines, as well as a TED talk by Dalia Mogahed called "What Do You Think When You Look at Me?"
On Thursday UM professor Samir Bitar will be keynote speaker at the Urey Lecture Hall on the UM campus, and Kusumastuti and Chaudhry will take part in a panel discussion afterward.
The week's events culminate on Saturday when Har Shalom on South Russell Street hosts Dances of Universal Peace. No musical or dance experience is required. All three events begin at 7 p.m.
missoulian.com/news/local/isis-hijabs-and-prayer-week-of-islam-celebration-education-begins/article_ce3f4bf8-2c68-58e4-a309-f77d5bf76111.html
--
Veiled Muslim Women to attend 27th Asian Weightlifting Champs in Tashkent
April 26, 2016
AhlulBayt News Agency - Several Muslim women who are wearing hijab are attending the 27th Asian Weightlifting Championship, it was reported on Tuesday.
Before the beginning of the competitions, the International Weightlifting Federation agreed the Muslim women to wear special sporty hijab during the championship in Tashkent.
Some 101 women power lifters from 21 countries including Bangladesh, China, Hong Kong, India, Indonesia, Iraq, Jordan, Japan, Kyrgyzstan, South Korea, Mongolia, North Korea, Syria, Thailand, Turkmenistan, China Taipei, UAE, Uzbekistan and Vietnam are attending the event.
Woman athletes from Indonesia, Iraq, UAE and Jordan are wearing sporty hijab during the competition.
Opened in Tashkent on April 24, the championship wraps up on April 30.
en.abna24.com/service/centeral-asia-subcontinent/archive/2016/04/26/750026/story.html
--
Muslims are depriving woman of her Rights given by Islam
April 26, 2016
A Seminar addressed by Janab Mohammed Moinuddin and Dr. Aleem Khan Falaki organized by Socio-Reforms Society on 20th April, 2016 at Shadab Hall, Jeddah.
Addressing a large gathering of gents and ladies, Janab Mohammed Moinuddin, Chairman Sadae Haq Sharayee Council, Hyderabad said that it is an uphill task for a woman to get separation from the husband while, in the name of Islamic Rights, the man enjoys the freedom to divorce her within a minute. This is injustice but pitifully it is supported by the religious establishments. He started his speech with an answerless question: "In a non-Muslim country, If a husband tortures a wife and deprives her of all her Human Rights as well as Women's Rights, what is the way for her to get rid of him? It takes months and years in agony as Qazi is unable to issue the separation, the husband hangs her in revenge, and the Judiciary takes a long course of time until she loses her age and assets to get relief. Even if she gets the separation on the order of the Judge, who is a non-Muslim in most of the cases, it is not valid from the Shariya point of view as the courts issue the order of "Dissolution of Marriage". It is neither "Talaq" nor "Khula".
Moinuddin stunned the audience by describing several flaws in the family laws pertaining to the Muslim Personal Law which sometimes make mockery of Shariyat. He said there are hundreds of women hanging due to the difference of opinion among the scholars on Talaq's issue of in one sitting or in three sittings. He said there is no Jamaat or Aalim who can help those destitute women whose husbands neither turn up nor pay any maintenance. These women cannot afford even the bus or taxi fare to go to the court but the Muslim Institutions who claim to council these cases charge sum of 2 to 3 thousand Rupee. The poor women do arrange this amount but in vein as they have to follow up continuously until they get the final answer from the institution that "Your husband is not coming to sign the separation, so you have to go the court". He pointed out that Islam gives the Rights to a Qazi to hold the Nikah as well as Talaq or Khula but in the present system a Qazi does not have any Rights. He is merely a Nikah reader on the occasion of a marriage. He said that there are several articles in the Mohammedin Law, written by an Englishman Mr. Dinshaw Fardunji Mulla, which is often referred to judge the Muslim's cases, are against the Shariya. For example, he said, The Restitution of Conjugal Rights is a Hindu concept. This is applied on every Family court and applied on Muslim women too. This is injustice and against Islamic Rights of a woman. In Hindu law, a woman cannot live separate from the husband unless her husband gives consent but it is different in Islam. The woman cannot be forced to live with him if she does not want. But the law of the country forces her to live with him. Unfortunately, the lawyers who pursue the case of the husbands are Muslims.
He said that the present Muslim scholars as well as Jamaats are conducting huge gatherings, spending millions of Rupee on the seminars but they are least bothered about the field work. A Sharayi Council is needed in every city. There are already existing in some cities but they do not wield any power. They are helpless if husband or wife do not accept their judgment and go to the court.
He mentioned how the Sharayi council which he founded ten years ago is operating. He said the Council's first priority is to gather the couple and let them talk directly in front of a Qazi. If the husband does not appear, the Council sends three requests monthly and make sure that he receives it. If he still avoids coming to the Council, the Qazi takes a decision and collectively with other scholars of the Councils. In most of the cases, the women live with freedom but sometimes someone or other husband gets tempted and quarrels with the Council later. He also complained that although this work was most important and sensitive but leading Madarsas and Scholars of the city are reluctant to cooperate. Instead, they give reverse Fatwas against the Council and try to weaken a progressive method of solving the conflicts between the wives and husbands.
Dr. Aleem Khan Falaki, President Socio Reforms Society and convener said in his concluding speech that in the case of separation from the husband, the Muslim women are inflicted upon the same tyrannies which used to be in old Christian and Hindu societies. As a result of Feminism, which was nothing but a voice to liberate woman from the religious shackles, has erupted like volcano and possessed the minds of every woman of the world. The religion says a woman cannot get separation unless the husband dies, or proclaims Talaq by himself, or if collects a ransom to release her or disappears for a certain period. This is not justice. Islam gives the Right to a woman to get separated equal to the Man. She is not an animal or slave to be held for years hanging with no future.
He quoted from V.T. Rajshekar's booklet "Why the Brahmin is against the Muslim Personal Law" that " the day a Hindu woman will come to know about the Rights given to a woman in Islam, she will not remain in Hinduism for a single day". Mr. Falaki said that Islam had elevated the women by giving her every kind of Woman Rights and Human Rights, but the present Muslim society has marginalized her totally.
He suggested that since the counseling is foremost important Sunnat which is unfortunately barred from the Madarsa syllabus must be started in every Madarsa, locality and city. Everyone is obliged to mediate In the conflicts as this act is far more important than many other worships.
He said that Socio Reforms Society is striving hard to eradicate the dowry system which is one of the main causes of increasing divorces and strained relations. Besides this, the involvement of in-laws in the life of the couples is also a cause of strained relations.
The session ended upon the question & answers and suggestions from the audience. Many notable personalities of the city attended the session. Among them were Engr. Khalid and Abdul Razzaq of Deccan NRI Forum, Shamim Kausar of KTT, Mohammed Ali Koya and Md. Ashraf of Indian Fraternity Forum, Engr. Sayeeduddin Indian Enigineers Forum.
siasat.com/news/muslims-depriving-woman-rights-given-islam-951270/
--
ISIS pays its troops more if they have sex slaves
Tuesday, April 26, 2016
Rank-and-file Islamic State militants get paid about $50 per month, but also receive extra money for wives, children, sex slaves and the children of their sex slaves, according to newly disclosed documents.
On top of their base pay, the individual militants receive an additional $50 for each wife, $35 each for their wives' children, $50 for each sex slave and $35 for each of their sex slaves' children, according to the Islamic State group's administrative documents recently published by the Combating Terrorism Center based at West Point, New York.
For example, the documents include pay data for one soldier who was receiving $360 per month based on having two wives and six children.
The documents were reportedly left behind in Syria's Hasaka province after American-backed Syrian rebels seized control of the area earlier this year. The documents were provided to the report's author, Aymenn Jawad al-Tamimi, by a Syrian Kurdish journalist and published online. They were published by the CTC, which is affiliated with the U.S. Military Academy.
The report notes "there is still a degree of uncertainty as to the exact scales of salaries among Islamic State members and fighters, and how they may vary, if at all, by rank and region."
The documents belie claims on social media that the Islamic State group, also known as ISIS or ISIL, pays up to $800 per month for foreign fighters.
The documents show evidence that ISIS is under financial strain as U.S airstrikes in recent months have targeted both its cash storage depots and its fleet of oil tankers that provide an important source of revenue.
In December ISIS leaders called for a crackdown on unauthorized use of government vehicles.
"The brothers' use of transport and vehicles belonging to [Islamic State authorities] outside of operation times, which is causing an unjustified waste in the Bayt Mal al-Muslimeen [financial treasury], reaching the point of forbidden excess," one document said, according to the report.
"It has therefore been decided to direct all brothers not to use vehicles affiliated with [the Islamic State authorities] in case of personal needs except by permission from one's emir, and in the event of contravention, an inquiry will be held — by God's permission — with those who infringe on the regulation," according to the report.
militarytimes.com/story/military/pentagon/2016/04/25/isis-offers-extra-pay-troops-sex-slaves-reports-say/83500730/
--
Isma: Feminism making women forget their place as homemakers
Tuesday, April 26, 2016
SHAH ALAM, April 26 — Feminism does not belong in Malaysia as it is causing women to neglect their husbands and children, choosing instead to work and socialise, Islamist group Ikatan Muslimin Malaysia (Isma) said today.
It's president Abdullah Zaik Abd Rahman said that while Muslim women are allowed to work, they should still prioritise the household before anything else.
"I believe that Asian women, especially Muslim women who still hold on to the principles, know that the main priority of the woman is at home," he said during his keynote address at the Isma Women's forum today.
"That (feminism) has a negative impact if it's not filtered by culture or religion.
"The function of women, even though they can enter all career fields, they cannot prioritise it more than their basic roles because if this is to continue then there will be an extraordinary void in our family institutions where the children that need the love and attention of their mothers," he added during a press conference, also noting that while feminism is appropriate in the West, it was not appropriate in Malaysia.
He explained that one of the most pivotal roles of women was maintaining a household and raising successful children, something that many are no longer seeing as a priority due to feminism.
"(Women) have a specific responsibility to educate their children. But the situation now needs to be re-examined as the lifestyle of women today are wholly influenced by feminism.
"(Women working) will create an emptiness in (children) that is very extreme for the next generation. And they will try to fill the void with other things that may happen irresponsibly and may affect the development of their character," he said.
He added that feminism has also given women too much "space" and in turn robbed men of theirs as there no longer are gender-specific careers.
"Unlike before, when some fields are done by men and cannot be done by women, today women can enter all fields; in fact some women are considered more competent. Women can enter all fields and this constricts the space for men to function and there are no longer fields specially for men or specially for women," he said.
He suggested that women instead only be allowed to work for half a day so that they can return to their families and prioritise the household.
"If we reduce their workday to 6 hours or half day but same salary we can save the family institutions," he said.
themalaymailonline.com/malaysia/article/isma-feminism-making-women-forget-their-place-as-homemakers
--
Najat Belkacem's journey from shepherd girl to first Muslim woman education minister of France!
Tuesday, April 26, 2016
"Nothing can stop you from achieving your dreams, if you set your mind and put all your efforts towards achieving it," and to prove that we have the very charming, unstoppable, woman of substance, Najat Belkacem.
By now, you must have heard her name several times, but there are still many things that you must know about this first Muslim woman, and the youngest person ever to become the French Minister of Education.
The very passionate Najat Belkacem, silently reminds us that although dreams and aspirations can be hard to achieve in tough circumstances, but with great determination, possibilities have no limitations.
From a shepherd girl to the French Education Minister, Belkacem is a living example that keeping faith in our children and investing in them in a right way, like in proper education can be rewarding. The France's Minister of Education and Research, Najat Belkacem is an inspiration to millions who have had poor childhoods but wish to succeed immensely in their careers and life.
Here are some facts about Najat Belkacem you must know to get some real inspiration for the rest of your lives.
1. Born in Nador (a small village in the countryside of Morrocco) in 1977, her father was a construction worker in France. Later, he took his family to France with him and that's when Najat shifted to the suburbs of Amiens in 1982.
2. After studying hard for years, Najat graduated from the Paris Institute of Political Studies in 2002. Soon after, she joined the Socialist Party and began her fight for citizens' rights, against discrimination, and housing for all.
3. With seven siblings, she developed interest in politics from a very tender age. She got married to Boris Vallaud in August 2005, and also became an adviser to the Socialist Party in the same year.
4. Soon, her handwork paid off and she was chosen as a council woman in Rhone Alpines and stayed in office till 2008. She was later designated as the Council General of the Rhone department. By then, she had strongly set her foothold in politics.
4. However, a major turn in her life came when she was elected as Minister of Women's Rights and spokeswoman for the government under president Hollande, in 2012.
5. Finally, in 2014, Najat was elected as the Minister of Education.
The journey wasn't easy, but she had no plans to quit either. She decimated every obstacle that came her way and emerged as a winner.
Th fact that Najat herded sheep in her childhood, had an unsound financial status, and came from a different ethnic background and religion, were always easy targets for regressive, sexist and racist remarks. Even now, conservative politicians attack her for her dressing style, call her slurs, objectify her, but she continues to fight as she has never learned to give up.
The historical achievements by an immigrant Muslim woman belonging to a poor Moroccan village, is proof that there are no limits to what one can achieve. It is all about setting your heart in a particular direction, and work to achieve it with diligence.
Merinews salutes Najat Belkacem for her great achievements in life and wishes her further success. Notably, she calls herself as a "non-practicing Muslim."
merinews.com/article/najat-belkacems-journey-from-shepherd-girl-to-first-muslim-woman-education-minister-of-france/15915665.shtml
URL: https://www.newageislam.com/islam-women-feminism/new-age-islam-news-bureau/this-little-kashmiri-girl-making-indians-proud/d/107112
New Age Islam, Islam Online, Islamic Website, African Muslim News, Arab World News, South Asia News, Indian Muslim News, World Muslim News, Womens in Islam, Islamic Feminism, Arab Women, Womens In Arab, Islamphobia in America, Muslim Women in West, Islam Women and Feminism