New Age Islam News Bureau
8 March 2015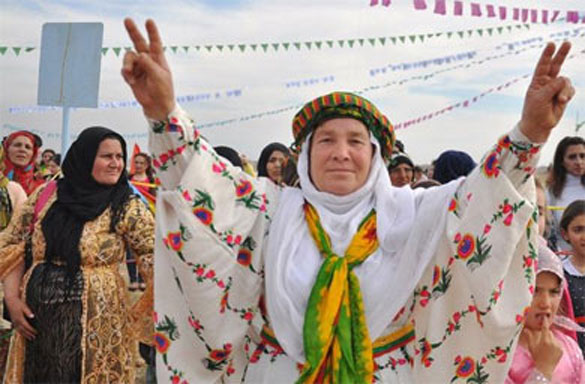 A Kurdish woman in Syria flashes the victory sign during International Women's Day celebrations in the northeastern city of Qamishli, March 7, 2015. (AFP/File)
----------
• This International Women's Day, Separate Islam and Culture When It Comes to Rights
• An Inspirational Message from India's Only Woman Muslim Pilot
• International Women's Day: Muslim Women Must Press for Their Rights
• In Saudi Arabia, 2,139 Abuse Cases Filed In One Year
• Foreign Women Get Soccer Stadium Nod in Iran
• Female ISIS Recruiter Arrested At Barcelona Airport
• 'Nothing Will Stop Us': Afghan Women Cycling Team Pushes Past Roadblocks
• Speakers pay rich tribute to inspiring women on International Women's Day in Pakistan
• Families of Syria-Bound UK Schoolgirls Criticise Police
• Families Must Teach Males to Respect Women
• Women's Day Rally Participants Remind Indonesian House to Protect Domestic Workers
• On Women's Day, Indonesian Workers Demand Longer Maternity Leave
• Moroccan Women Gear Up For Rally to Demand Equality
• Palestinian, Israeli Protest Marks Women's Day
• The War with Israel's Toll on Gazan Women
• Metamorphosis – Women Who Transformed Their Lives
Compiled by New Age Islam News Bureau
URL: https://www.newageislam.com/islam,-women-and-feminism/new-age-islam-news-bureau/this-international-women's-day,-separate-islam-and-culture-when-it-comes-to-rights/d/101858
-------
This International Women's Day, Separate Islam and Culture When It Comes to Rights
March 8th, 2015
Why is the Middle East plagued with crimes against women? Is Islam the main cause or is it perhaps a deeply rooted misogynistic culture that is to blame?
As the world marks International Women's Day, there is a big focus on the Arab world and in particular, how the mistreatment of Muslim women is aligned with Islam.
Whether it's the harrowing accounts of Yazidi sex slaves being taken by Daesh, or the long list of atrocities committed against women by the extremist group, one thing is for sure; linking Islam to the ill-treatment of women across the region appears to be the common factor.
Since the 9/11 attacks, anti-Muslim sentiment has been increasing with Islamophobia on the rise in the West. Far-right pundits such as American blogger Pamela Gellar use manipulative tactics to distort Islam as a violent faith, often likening Muslim women as "oppressed" by a sexist religion through misinformation.
Every day the media reports on atrocious crimes against women and violations of women's rights across the Middle East. Whether it be rumours of Hamas in the Gaza Strip forcing women to wear the Hijab or the late Saudi King Abudullah's daughters speaking out about their 13-year imprisonment, Islam is at the forefront of these headlines.
What the media often forgets is that it is crucial to differentiate between religion and culture. This is difficult for many because the two are so closely intertwined. However, more often than not culture contradicts religion, especially in the way women are perceived and treated in the Middle East.
Early Islam upheld women's rights during a time when none existed. Prophet Muhammed abolished the customary act of burying female newborns alive when Islam came into force. Women had the right to inherit property and education for girls became a duty.
Centuries later, the Taliban in Afghanistan banned women from attending school, while in Iran, a rape victim can be stoned to death for "adultery".
How did Middle Eastern culture stray so far from its Islamic roots to deny women their right to education and intellectual empowerment? Sabria Jawhar, a Saudi Arabian journalist and columnist, believes that "if all women were given the rights the Quran guarantees us, and not be supplanted by tribal customs, then the issue of whether Saudi women have equal rights would be reduced".
Perhaps Arab culture has deviated from its Islamic roots due to friction caused by modernization. Through globalization, Western culture has been exported to every corner of the world, influencing every facet of culture, business, and entertainment. Is the only way for conservative Muslims to counteract these changes through aggressive resistance?
Radical Muslim feminist Mona Eltahawy is a good example. The Egyptian journalist was sexually assaulted and injured by riot police while covering the 2011 uprisings, highlighting the country's poor record when it comes to the protection of women.
Eltahawy was both empowering and inspiring when she famously called for a sexual revolution in the Middle East, shortly after her ordeal.
"For some people religion becomes their only form of expression and opposition and it can take a very violent turn," she told The Independent during a recent interview. "This is not a majority of people who identify as Muslim. We are showing you can still belong to this religion; you can still be a Muslim and find other ways of expressing your divisions that do not involve this horrific level of violence."
International Women's Day is the chance to reflect upon the direction in which our society is evolving, female first. The Middle East has every right to resist foreign influences on local culture; but rather than becoming increasingly aggressive and oppressive towards women, ladies and gentlemen of the Arab majority region should draw on the roots of Islam to ensure a more peaceful and fair society, possibly with an emerging female vanguard.
http://www.albawaba.com/news/ininternational-women%E2%80%99s-day,-separate-islam-and-culture-when-it-comes-to-rights-665940
-----------
An Inspirational Message from India's Only Woman Muslim Pilot
Mar 08, 2015
"People initially think I'm Christian and then gawk when I tell them my full name," laughs Saarah Hameed Ahmed (25) the Bengaluru girl who is the only known Muslim among the 600-odd women pilots employed in the Indian aviation sector. "I just love the look on people's faces when they discover I am Muslim."
People's reaction to her choice of profession is a constant source of entertainment for Saarah. Many want to know how a girl can handle a machine that's many times her size, she says as she cracks up again. "Poor things; they don't know that my fingers are all I need to fly," she says twiddling her thumbs.
Of course, the reactions are not always amusing or sensitive. Saarah says she too has had to face the brunt of Islamophobia that gripped the world post 9/11. But each time she has managed to win people over with a combination of humour and tact, she says.
However, Saarah's first battles were fought at home and within the community. She says that she still faces taunts from people who believe a girl's only job is to get married and produce children.
"Initially none of us encouraged her. In our community girls don't usually take up professions where they have to stay away from home and live in hotels without an escort," confesses her father Hameed Hussain Ahmed, a professional photographer. When Saarah showed no signs of relenting, he spoke to his friend Atif Fareed, who is a senior pilot in the US.
"Fareed told me that I should consider myself lucky because most Muslim girls don't even dream of flying. If he hadn't convinced me, I might have made the blunder of killing Saarah's dreams," he says.
In 2007, when she was just 18, Saarah enrolled with a flying school in the US. "Those days most Muslim students were being denied US Visas. When she got the Visa without any trouble I saw it as a final message from God," says the deeply religious Ahmed.
Saarah's mother, Naseema Ahmed, says she never had any doubts about sending her to the US. Her proudest moment, she says, was when a group of Muslim girls surrounded Saarah at a wedding and started asking her for tips to become a pilot.
Saarah has other dreams too. "I really want to get married and have children," she says. But finding the right man is proving to be tough. "I don't understand people who just look at my photo and want to get their sons married to me. Don't they want to know what I have studied or where I work?"
Many of her suitors have either wanted her to quit her job or move cities. "My father has shooed away people asking them to get their sons to quit his job and move cities," Saarah says letting out another blast of laughter.
She also has a Women's Day message for Muslim girls like herself: "Don't fret over what the community thinks of you. And don't let them kill your dreams." And what is she planning on women's day? "Fly, of course! My airline [Spicejet] is very keen that I fly on Women's Day."
Waiting in the wings
Ayesha Aziz, 18, is another aspiring pilot. A native of Baramulla, Kashmir, she has already obtained a basic flying licence.
Fatima Salva Syeda, 26, is a licenced commercial pilot. But she has to qualify additional training before she can be a professional pilot.
http://www.hindustantimes.com/india-news/dont-let-them-kill-your-dreams-says-india-only-woman-muslim-pilot/article1-1323961.aspx
-----------
International Women's Day: Muslim Women Must Press for Their Rights
March 08, 2015
When her parents asked her to wear a "Burqa" (veil) while attending classes at the Jamia Millia Islamia in Delhi, Rubina refused to comply with the demand. She was barred from going to the university and sat at home washing dishes. Barely 16, Safia, a brilliant Class 10 student, was on the warpath against her parents who had fixed her marriage with a man almost triple her age. Safia, who aspired to be a doctor, had no option but to discontinue her studies despite being a topper in her school. International Women's Day: Indian women blame patriarchy, men and submissiveness for their lack of voice
Fauzia, a graduate from Delhi University's upmarket Lady Shri Ram College, joined a computer programming course. Her parents asked her to marry not the boy of her choice and she committed suicide. These three examples are just the tip of the iceberg as abject illiteracy for various reasons among Muslim women lies at the root of the endemic backwardness of the community at large. After the debilitating trauma of the sub-continent's vivisection, Muslims struck to the traditional forms of education in a futile bid to retain the very vitals of their religion, drawing flak from religion as well as secular world. That's why we don't have many Fatima Biwis, Najma Heptullahs, Shabana Azmis and – well, the list is too small!
Even in the new millennium, the haplessness of Indian Muslim women continues at the same rate. In most of the rustic areas and even in the urban settlements the rate of literacy among Muslim women is as low as 90 per cent. Muslim women in India are also handicapped owing to the dictates of Muslim Personal Law that is not scriptural in nature and the conservative ulema have further complicated the issues by interpreting them in a very orthodox manner. The inherent weakness of neglecting one half of the community has, over the years, taken its toll on the Muslim community. Today, there are only a few girls in the community who are educated ones. Muslim girls' lot is reduced to that of a prisoner without parole according to Fehmida Riyaz, a globally acclaimed Pakistani poetess.
One has heard Muslim men casting the decree of talaq on matters like the favourite dish, the colour of the suit worn by women or simply sharing the responsibility to look after a small child. Talaq-e-Bidat is the one that is ordained in one sitting. Talaq-e-Sharia is the one that aims at spacing the entire process over a period of three months so that frayed tempers on both the sides are cooled down resulting in the rejuvenation of matrimonial link again. It is Talaq-e-Bidat that has been the real culprit behind breaking of many families.
Prophet Mohammed abhorred divorce. Even a Muslim woman can seek divorce from her husband, but nevertheless, such cases are far and few. If her husband refuses to grant her divorce, she can go to a law court and obtain a decree in her favour. This may seem to place her at a disadvantage in comparison to her husband, and it may be asserted that this implies the inequality of rights, as between husband and wife.
The bane of Muslim women is that time and again, they are dragged in one controversy or another. Be it the debate of Muslim women to be allowed to pray inside the mosques or the Shah Bano imbroglio or the case of the young Ameenas being "exported" to the Arab Sheikhs, the politicians as well as the clerics try to eke out political mileage out of it. No one is worried about their dwindling literacy figures and the problem of their uplift. The Muslim fundamentalists throughout the world and more prominently in Muslim dominated states are trying to make Muslim women faceless and nameless.
Quite interestingly, rights of women in Islam are umpteen as we see in the notable reforms effected out by Prophet Mohammed, who restricted unlimited plurality in the matter of wives, discouraged divorce, forbade female infanticide and disposal of widows as part of the deceased man's possessions. Moreover, he established a law of inheritance for women, secured to wives the right to mehr (dower), enjoined kind treatment towards female slaves and at the same time promised religious favours as a reward to those who helped to support widows and orphans.
The Prophet abhorred the announcement of divorce. It is the Muslim men who are not following their prophet's dictates. It is high time that Islamic laws were interpreted and understood in the right perspective and progressive order to do away with discrimination based on distinction by the present day ulema. Prophet Mohammed made no distinction between men and women when it came to their rights.
http://www.india.com/news/world/international-womens-day-muslim-women-must-press-for-their-rights-309115/
-----------
In Saudi Arabia, 2,139 abuse cases filed in one year
8 March 2015
The Violence and Abuse Protection Unit at the Saudi Ministry of Health recorded 2,139 cases of violence and abuse in the past year.
The report revealed 848 of the cases involved victims aged 30 to 60. It showed 1,246 of the cases involved abuse against spouses while 538 involved children.
A total of 1,330 cases involved physical abuse while 263 involved sexual assault.
The statistics also show that Eastern Province Health Affairs recorded 466 cases, Jeddah Health Affairs recorded 359 and Taif Health Affairs recorded 319.
The ministry's director of social medical services and supervisor of the unit, Turki Al-Malki, said violence and abuse rates were increasing in the country.
"There are many services and programs available to raise awareness of the issue and deal with it in a professional manner," Al-Malki said.
"We train our staff through the National Family Safety program and we are currently working on an e-portal for victims of abuse and violence."
He added the portal is under the Ministry of Health and open to victims of crime and anyone interested in working in the field of family consultation and childcare.
http://english.alarabiya.net/en/perspective/features/2015/03/08/In-Saudi-Arabia-2-139-abuse-cases-filed-in-one-year.html
-----------
Foreign Women Get Soccer Stadium Nod In Iran
8 March 2015
Foreign women may be allowed to attend football matches in Iran, a top official said on Sunday,
"Foreign women are permitted to attend the football competitions," President of Iran Football Federation Ali Kaffashian said.
"We are committed to providing high-quality facilities at the right time to host the 2019 Asian Cup," he added.
The announcement comes only one day after FIFA President Sepp Blatter had described the exclusion of women from stadiums an "intolerable situation."
However the official said that the ban on female nationals watching live games seems set to remain.
Blatter had called on Tehran to "open the nation's football stadiums to women."
"A collective stadium ban still applies to women in Iran, despite the existence of a thriving women's football organisation. This cannot continue," he wrote in FIFA's weekly magazine.
FIFA President Sepp Blatter. (Reuters)
Access to football stadiums has been forbidden for women since the Islamic revolution in 1979, on the official basis that the ruling protects them from obscene behaviour among male fans.
The ban on women was expected to damage Iran's chance to host the 2019 Asian Cup.
Meanwhile, Ali Kafashian, president of Iran's Football Federation, told Isna news agency that the Asian Football Confederation has "requested certain facilities that we have agreed to supply".
"We have problems regarding the presence of women in stadiums, but in relation to foreigners, we are looking at how to solve the problems," he said.
http://english.alarabiya.net/en/sports/2015/03/08/Foreign-females-may-attend-football-matches-in-Iran-.html
-----------
Female ISIS Recruiter Arrested At Barcelona Airport
8 March 2015
A Moroccan woman was arrested at a Spanish airport Saturday on suspicion of recruiting European and North African women to join the Islamic State of Iraq and Syria (ISIS), authorities said.
The suspect, named as Samira Yerou, was sent to Spain by Turkish authorities after they caught her trying to illegally enter Syria, Spain's interior ministry said. Spain had issued an international arrest warrant for the woman.
Spanish authorities, who believe Yerou was seeking to meet up with ISIS, took her into custody after she flew into Barcelona-El Prat Airport.
Yerou "could have played an important role in recruiting and sending of women sympathisers of the terrorist group in Europe and Morocco," the ministry said.
She was with her three-year-old son when trying to get into Syria. The boy's father filed a complaint when Yerou and the child disappeared from the Spanish city of Rubi, which is near Barcelona, in December.
"The child is in perfect health and has been reunited with his father," the ministry said.
Like many European countries, Spain is battling against the radicalization of young people seeking to join up with IS in Syria and Iraq and it has dismantled several recruitment networks in recent months.
Spanish authorities believe about 100 Spaniards have joined Islamist militants in Iraq and Syria, a relatively low figure when compared with the number of French, British and German nationals who have sought to fight with the group.
Overall, about 550 young women have joined IS, according to an estimate from London-based think tank the Institute for Strategic Dialogue.
http://english.alarabiya.net/en/News/world/2015/03/08/Female-ISIS-recruiter-arrested-at-Barcelona-airport.html
-----------
'Nothing Will Stop Us': Afghan Women Cycling Team Pushes Past Roadblocks
March 8th, 2015
KABUL: Malika Yousufi lined her bike up alongside her teammates on a lonely road outside the Afghan capital, getting ready for her weekly training ride away from the disapproving stares of Kabul.
Yousufi is part of Afghanistan's Women's National Cycling Team, a group that has been breaking new ground for women's sports in Afghanistan and pushing the boundaries of what is — and is not — acceptable for young women in the conservative country.
Under the Taliban in the 1990s, women in Afghanistan were excluded from public life, banned from going to school or stepping outside their home without a male family member.
Women's rights have made gains since the hardline group's ouster in 2001, but observers worry that progress is at risk as violence against women persists and women remain under-represented in politics.
"We are resolved to keep our commitments to women and we will protect and reinforce our achievements," President Ashraf Ghani's office said in a statement released after the president made a speech ahead of International Women's Day on March 8.
While Afghanistan's national men's cricket and football teams have enjoyed the spotlight, women's sports have made more halting progress, with athletes facing family pressure and patchy public support. Last year, the women's cricket team was quietly dissolved amid Taliban threats and a shortage of players.
The women's cycling team is pushing ahead, despite not having been paid for several months, a problem for many Afghan athletes.
Also read: Bicycle a new metaphor of freedom for Afghan women
To clock the distances needed for training, team members pile their bikes in cars and drive outside the capital, where their uniform of loose-fitting tops and long pants won't draw stares.
During the ride, the coach leads the pack in a car.
"The coach is like a shield for us," Yousufi said. "If he wasn't there, we couldn't ride."
Even so, drivers sometimes shout profanities at the riders, and their team captain grapples with a back injury from a crash after a man on a motorbike reached out to grab her.
Abdul Sadiq Sadiqi, the coach and president of the Afghan Cycling Federation, is not overly concerned.
These are people who don't let their children go to school," Sadiqi said.
More than 40 women train with the group, and the core team has competed in several international competitions.
On a recent morning, team members leaned into the curves in the road, whizzing past a checkpoint where a group of soldiers watched them pass.
Yousufi said she was determined to become the first Afghan woman to compete in the Tour de France, a cycling race dominated by men since its first event in 1903.
"Nothing will stop us," she said.
http://www.dawn.com/news/1167991/nothing-will-stop-us-afghan-women-cycling-team-pushes-past-roadblocks
-----------
Speakers Pay Rich Tribute to Inspiring Women on International Women's Day In Pakistan
March 08, 2015
ISLAMABAD/RAWALPINDI: Rawalpindi Arts Council in collaboration with Rawalpindi City District Government arranged a seminar to mark International Women's Day here on Saturday to pay rich tributes to the inspiring women of our society.
Senator Najma Hameed, MNA Tahira Aurangzeb, Dr Jamal Nasir , Senior Leader of PML(N), MPA Seema Jillani and MPA Lubna Pirzada were guests of honor while EDO (CD) Asad, DO Special Education, Naheed Manzoor, DO Social Welfare, Nusrat Najeeb, Naz and Resident Director, Waqar Ahmed were also present on the occasion.
Famous poetess Farkhanda Shamim anchored the seminar and also talked about the history of International Women's Day. Dr Jamal Nasir said that said the Punjab government was striving hard to provide equal opportunities to women for their employment and promotion.
Addressing the seminar, Senator Najma Hameed said that "We need to change attitude and behavior of the society if we want to excel." MNA Tahira Aurangzeb said that women of our society are precious asset of our society and also highlighted the various steps taken up by the government of Punjab towards women empowerment. MPA Seema Jillani said that Islam gives respectable status and rights to the women which were not awarded before. MPA Lubna Pirzada said that women are working in every field successfully contributing to the prosperity of the country. Naheed Manzoor said that Rawalpindi Arts Council has always encouraged activities that contribute positively towards the betterment of women in society.
Renowned human rights activist and scholar Senator Rozina Alam Khan, Samina Imtiaz Gul, Romana Bashir and others also addressed at the seminar and highlighted feminine issues. They paid tributes to women who played critical role during creation of Pakistan and afterwards and urged the younger generation to get inspiration from them.
Interfaith League against poverty also celebrates the International Women's Day, with participation of women from all faiths.
Interfaith League Against Poverty celebrated the International Women's Day by inviting women from all walks of life, belonging to the Christian, Hindu, Baha'i and Muslim faiths. Those women who are making use of their skills to fight against all odds and earn their living or are making the most of their talents were invited to display their products at the event while competitions among students of local universities and arts' institutes included painting and photography and revolved around the UN theme for 2015, "Make it Happen". Celebration of the International Women's Day was aimed at highlighting the important part that women are playing in different sectors across the globe, especially Pakistan.
Guest speakers at the event included I-LAP Chairman, Sajid Ishaq, parliamentarian, Nafeesa Khattak, US embassy, political officer, Stephanie Woodard, and Gender Equality Advisor, Hadia Nusrat, Justice Waheed Siddiqui, humanitarian community at UNOCHA and representatives from UN.
She congratulated the winning participants and praised the efforts of all those who participated in the competitions. She said that the work of the students presented a good perception of tolerance and showed that the youth of Pakistan comprehends its importance.
The event hosted people from all walks of life including, diplomats, politicians, civil society representatives, students, academia and representatives from the print media. The participating universities and institutions included Rawalpindi Institute of Arts and Design (RIAD), Islamabad College of Management & Design – ICMD, COMSATS University and Fatima Jinnah Women University. Handmade items were displayed by skilled workers of Gosha-e-Mashal, Behbud and SUNGI; members of Islamabad Women Chamber of Commerce and Industry (IWCCI), students of RIAD and Poonum Javaid.
I-LAP chairman welcomed the guests and the participants and congratulated the winning students. Applauding the role of women he said that they have a great contribution towards nation building however even today women are not being given their due rights in our society. Their right to education, marriage, decision making for reproduction, property rights and employment are still being ignored. He said that the women population in Pakistan is 52% and more than half the country is still unaware of their rights. He said that the need of the hour is to educate women on their rights as well as their obligations in order to develop a healthy society. He said that the government should have special job quota for women in the government and public sector to enhance women participation in all fields of life.
I-LAP Executive Director, Nazia Ansari, while speaking on the occasion said that special days are celebrated for those whom we ignore, forget or disregard the whole year round. Women's Day is one such day when once a year the whole world focuses their attention to the many endeavors of women and what they have achieved no matter how small it may be. Every woman is special; every woman has dreams and these dreams may be of happiness, of a loving life partner, a comfortable life, but most of all every woman dreams of being respected and appreciated. She said that it is high time that Pakistan government should start giving equal rights to women.
http://www.dailytimes.com.pk/islamabad/08-Mar-2015/speakers-pay-rich-tribute-to-inspiring-women-on-international-women-s-day
-----------
Family of British Girls Who Fled For Syria Criticise Police
March 08, 2015
LONDON - The families of three schoolgirls who ran away from their homes in London to Syria have voiced anger at police, saying they did not warn them the teenagers risked being radicalised.
School friends Kadiza Sultana, 16, and 15-year-olds Shamima Begum and Amira Abase left their homes and flew to Istanbul, from where they are believed to have joined Islamic State (IS) group jihadists in Syria.
All three were spoken to in December by police investigating the disappearance of another friend who went to Syria.
But their families say they were in the dark about this after the girls hid a courtesy letter that police had given them to pass on to their parents, in which they asked for permission to speak to the teenagers.
The relatives say police should have given the letter directly to the families and that, had they been aware of the situation, they could have taken action.
Amira's father Abase Hussein told ITV television Friday that he could have prevented his daughter from travelling if he had been aware. 'We would have stopped them,' he said. 'We would have discussed it and taken away their passports from them. This wouldn't have happened.' Kadiza's sister Halima Khanom added: 'We wouldn't have been here today doing this if we'd got that letter and known what was going on.'
Scotland Yard insists there was no indication at the time that the girls would follow their friend to Syria. 'There was nothing to suggest at the time that the girls themselves were at risk and indeed their disappearance has come as a great surprise, not least to their own families,' it said in a statement. 'We continue to liaise with the school and local education authority in connection with this ongoing investigation.'
http://nation.com.pk/international/08-Mar-2015/family-of-girls-who-fled-for-syria-criticise-police
-----------
Families Must Teach Males to Respect Women
March 8th, 2015
People have to get out of the existing patriarchal social structure and change their mindset for ensuring women's empowerment, said discussants at a seminar.
Besides, males must pay due respect to women in their families as well as in the society and this is how violence against women can be stopped, they viewed.
They were speaking at the seminar titled "Empowering Women, Empowering Humanity: Picture It" organised by the National Human Rights Commission (NHRC) at The Daily Star Centre in the capital yesterday.
The seminar was held on the occasion of International Women's Day-2015 to be celebrated across the world today (March 8).
Speaking as chief guest, eminent rights activist Sultana Kamal said women are still deprived of their rights and respects even though they are playing a significant role in the country's economic progress.
Males will have to be sensitised to the rights of women, she viewed.
Manusher Jonno Foundation Executive Director Shaheen Anam said women are not safe even at home. So, the practice of paying respect to women should be initiated in the family.
NHRC Honorary Member Nirupa Dewan said coordinated efforts from both males and females are crucial for protecting women's rights.
Bangladesh Mahila Parishad Acting General Secretary Rakhi Das Purkayastha said political use of religion and rise of fundamentalism are the challenges for women empowerment.
NHRC Chairman Mizanur Rahman and its Full Time Member Kazi Reazul Hoque spoke at the event which was attended by around a dozen of rights activists.
http://www.thedailystar.net/city/families-must-teach-males-to-respect-women-68332
-----------
Women's Day Rally Participants Remind Indonesian House to Protect Domestic Workers
March 08 2015
Some 600 women staged a long march in observance of International Women's Day on Sunday while calling on the House of Representatives to pass a bill on the protection of domestic workers.
Coalition of Diverse Indonesia coordinator Nani Zulminarni said that the bill lacked attention from lawmakers.
"We feel that the House is not paying enough attention to [the deliberation of] the bill," she told kompas.com during the long march along Jl. Sudirman and the Hotel Indonesia traffic circle, saying that similar rallies were staged simultaneously in other provinces nationwide.
Rally participants also demand decent wages for domestic workers. (+++++)
http://www.thejakartapost.com/news/2015/03/08/womens-day-rally-participants-remind-house-protect-domestic-workers.html
-----------
On Women's Day, Indonesian Workers Demand Longer Maternity Leave
Mar 08, 2015
Jakarta. As they celebrated International Women's Day, Indonesian female labourers on Sunday demanded longer maternity leave and better access to menstrual leave.
The women staged a rally in the centre of Jakarta — quiet on its weekly car-free morning — urging the government to immediately ratify the International Labour Organization's convention on maternity protection, under which female workers are entitled to 14 weeks of maternity leave instead of 12 weeks as currently applied in Indonesia.
"A three-month maternity leave is not enough for female labourers to take care of their newborns because babies need to be breastfed exclusively [for a longer period]," Indah Saptorini, the project coordinator of the All Global Union movement for women, said during the rally on Sunday.
The protesters, comprised of female labourers from 11 federations of worker unions, also demanded an end to the controversial practice of company representatives performing a physical check before menstrual leave is granted.
"The labourers feel that taking menstrual leave is difficult because there's a certain procedure they need to go through, and as a result many opt not to use their right to menstrual leave," Indah explained.
The protesting women said they wanted the Ministry of Manpower and Transmigration, the Ministry of Women's Empowerment and Child Protection and the Ministry of Health to issue a joint regulation for better maternity and menstrual leave procedures.
http://thejakartaglobe.beritasatu.com/news/jakarta/womens-day-workers-demand-longer-maternity-leave/
-----------
Moroccan Women Gear Up For Rally to Demand Equality
8 March 2015
A coalition of NGOs and political parties in Morocco is gearing up for nationwide rallies on Sunday to press for gender equality and the fight against discrimination.
The Coalition of Equality and Democracy released a promotional video for the planned rallies with the slogan: "hand in hand we defend equality and democracy."
The video featured both women and men of various age groups, including leading activists and public figures, speaking in Arabic and Tamazight – the country's two official languages- and urging strong street turnout on March 8.
"I am coming out on March 8 for dignity, for justice, for equality and for the inclusion of the Moroccan woman in the building of society," said one woman in the video.
Leading Moroccan intellectual and public figure Ahmad Assid also appeared in the video saying: 'The rally of March 8 is a rally to lift discrimination against women and for equality between all the Moroccan people. It is a rally that says no to violence against women and no to raping minor girls in the name of marriage," he said.
"It's been three years that Moroccans approved the 1011 constitution that establishes parity between men and women, but until now we have not been able to apply this ... and this is why i will take part in the March 8 rally," said another woman in the video.
The government unveiled last week a draft law to established a specialized "authority to ensure parity between men and woman" as laid out in the constitution. The draft law could be put to vote in the parliament next week and if passed it would be a major win for women's rights activists in the country.
Article 19 of the Moroccan constitution says: "Men and women have equal civil, political, economic, social, cultural and environmental rights."
"The state shall work towards the establishment of parity between men and women. Therefore, it has assigned a specialized authority to ensure parity between men and women and fight against all forms of discrimination."
Speaking to Al Arabiya News Channel this week, Bassima al-Hakkaoui, minister of solidarity, women, family and social development, described the draft law as "victory for Moroccan women."
She the draft law has been the subject of intensive debate within the government and the civil society, leading up to the appointment of a scientific committee that studied proposal made by non-government groups.
The committee also consulted with the National Council of Human Rights and the Venice Commission of the Council of Europe during the preparation of the draft law, the minister said.
But Atifa Timjerdine, president of the Rabat branch of the Democratic Association for Moroccan Women, says the proposed authority does not meet the demands of the Moroccan women movement.
"We've waited for the authority to combat all forms of discrimination, finally there is a draft law that does not meet our demand to make this authority independent with the ability to protect [victims], monitor public policies and make recommendations," Timjerdine told Al Arabiya News.
"The authority is made up of 14 members, appointed by the prime minister and their powers are not what we have expected of an independent mechanism that meets the Paris Principles on national institutions," She added.
She said the government was dragging foot on bringing to light a law criminalizing violence against women.
"A committee was formed to study the draft law, but it has not given us the findings. So there is a freeze on all projects that are related to equality."
http://english.alarabiya.net/en/News/middle-east/2015/03/08/Moroccan-women-gear-up-for-rally-demand-equality-.html
-----------
Palestinian, Israeli Protest Marks Women's Day
8 March 2015
Over a thousand Palestinian and Israeli women gathered on Saturday at 11am at either sides of Qalandia checkpoint separating Jerusalem and Ramallah to protest the Israeli occupation of the West Bank and Gaza on Saturday, the eve of International Women's Day.
Palestinian women demonstrating on the West Bank side of the checkpoint, numbering about 1000, were met with teargas, with at least 10 having been injured and rushed for medical treatment.
The joint Israeli-Palestinian demonstration on the Jerusalem side of Qalandia checkpoint remained relatively calm.
"International Women's Day is a day of resistance against oppression. What more than the occupation is discriminating against Palestinian women? What more than the occupation is arresting our young men and women? We make up 51% of the population and we have a voice and a role to play," said Nabila Espanioly, candidate on the Joint List, an alliance of Arab parties formed ahead of the 2015 Israeli Knesset elections.
Although the protestors made several attempts to meet midway, Israeli authorities forbade them from doing so.
Hailing from Jerusalem, Nazareth, Acre-Haifa, Tel Aviv and the Galilee, as well as various towns across the West Bank, they chanted for equal rights for women on both sides and an end to the oppression, discrimination and the siege on Gaza.
"The reality of this violence and racism is a process of dehumanization; we are becoming indifferent to the suffering of the other and it is horrific. We must stand in solidarity with our Palestinian sisters," said Israeli activist and organizer Edna Zaretsky-Poledano.
Israel has been illegally occupying the West Bank, Gaza Strip and East Jerusalem since the 1967 Six-Day War.
International Women's Day has been celebrated annually on March 8 since 1975, after the United Nations designated it as such.
http://english.alarabiya.net/en/perspective/features/2015/03/08/Palestinian-Israeli-women-protest-occupation-to-mark-International-Women-s-Day.html
-----------
The War with Israel's Toll on Gazan Women
March 8th, 2015
Last year's Israeli onslaught on the Gaza Strip has led to the displacement of 34,697 Palestinian women, while 791 others lost their spouses, a Palestinian NGO said.
"Israel committed war crimes against Gazan women," Al-Mezan Centre for Human Rights said in a statement marking International Women's Day.
"According to the monitoring and documentation operations carried out by the center, last summer's Israeli war on the strip has left 293 women dead," the NGO said.
"Moreover, 34,697 women have been displaced after their homes were destroyed, while Israeli forces razed 2,604 other homes owned by women," the NGO added.
The centre added that "791 Gazan women have lost their husbands because of the war, and 600 others suffered abortions."
Women in Gaza are living under dire conditions due to the Israeli blockade on the strip, which has been imposed since 2007, coupled with destruction caused by the 51-day onslaught on the strip last year, which left over 2,000 dead and thousands injured, the NGO noted.
The centre urged international rights group to support Gazan women and protect them against the continuous Israeli violations they're forced to endure.
International Women's Day is celebrated on March 8 of every year, showcasing the achievements of women in social, political and economic fields all over the world.
http://www.albawaba.com/editorchoice/war-israel%E2%80%99s-toll-gazan-women-665948
-----------
Metamorphosis – Women Who Transformed Their Lives
SHIZA MALIK
March 8th , 2015
Maha Ahmed Qureshi was a 20-year-old student at NUST Business School when she was diagnosed with lymphoma, a cancer of the lymph nodes. She was treated with eight rounds of chemotherapy in 2012. Next year, her cancer relapsed and she had to go through another six rounds of chemotherapy. Maha continued her studies throughout her treatment and graduated in the summer of 2013.
After her graduation, her doctors fearing another relapse suggested a stem cell transplant from the US.
"At first, I out rightly refused the transplant fearing long-term damage to my mental and physical health, I feared being physically unattractive once again. Take it from someone who had to shave her head twice, it's not easy to see yourself in the mirror everyday when chemotherapy destroys every living cell in your body," she said
Eventually, she realized she wanted to live for her family, who had stood by her through her ordeal. "I understood I was never meant to live a normal life. My milestones would not be like those of my Facebook friends-first job, engagements, marriages, children," she said.
She finally agreed to the treatment and today, at 23, she is a survivor. She works as a marketing executive at an advertising agency, working long hours each day. "For me, every day is a milestone. A day to be celebrated," she said.
On International Women's Day, Dawn tells the stories of four ordinary women who have persevered against all odds and triumphed
Falaknaz Asfandyar is the wife of late Asfandyar Amirzeb, a vocal opponent of the Taliban in Swat Valley. In 2007, when the Fazlullah's forces began terrorising the people of the valley, they turned to Asfandayar, a prince whose family had ruled the valley for 100 years. Aware of the risks, Falaknaz stood by him as he campaigned for a seat in the general elections of 2007.
On December 28, 2007 he was assassinated by the Taliban, in a roadside remote-controlled bomb. Their youngest daughter was only seven at the time.
Since then Falaknaz has been working for the people of Swat. She helped collect funds for the IDPs who left their homes in the military operations against Taliban. During the floods in 2010, she again collected funds for distribution of food packages among those affected.
Later, she was personally involved in relocating over 300 families. She is a courageous advocate for women's rights in the valley and an active member of Women without Borders -SAVE (Sisters against Violent Extremism). "The biggest hurdle for women today is our legal system, whether it is inheritance, domestic disputes or divorce. The system should give them speedy justice," she said.
Nosheen Ghafoor was 14-years-old when her father died. Her family was left without a source of income and she realised she had to leave school and find a job. She found work at a beauty salon in Dhoke Paracha, Rawalpindi. There, she earned Rs4000 a month, which became her family's lifeline. Nosheen worked hard as she trained on the job, learning hairdressing and makeup.
Today, at 19 she works at one of Islamabad's leading saloons. Her income is helping put her younger sisters through school. "Inside the parlour, we feel safe. It's a woman's world. But outside these walls, the world isn't very kind to girls. I wish people wouldn't make us feel unsafe with the way they look at us," she said.
Naseem Akhtar was born in a village near Jhelum. Her father was a staunch believer in women's education. He helped his wife complete primary school education at home. There was no school for girls in the village, so Naseem's father also taught his daughters at home and convinced the boy's primary school to let them sit for exams.
Later, he moved the family to Lahore so that the children could attend colleges. Naseem's younger sister was among the first batch of women doctors to graduate from Fatimah Jinnah Medical College. Naseem completed her Bachelors and worked as a teacher before she was married to a young army captain.
For a few years, she lived with her in-laws in their village. There she homeschooled her sisters-in-law and helped them finish primary school. In 1971, her husband became a prisoner of war and she was forced to leave East Pakistan with her four children. A few months later, her youngest daughter was born. "For many months, I did not know if my husband was alive. But I had to be strong for my children. I focused on ensuring their education is not interrupted," she said.
Today, at 84, she is a mother, a grandmother and a great grandmother. Her children are doctors and engineers and her grandson just finished his PhD. "One educated woman can change the destiny of a whole village," she says.
http://www.dawn.com/news/1168170/metamorphosis-women-who-transformed-their-lives
-----------
URL: https://www.newageislam.com/islam,-women-and-feminism/new-age-islam-news-bureau/this-international-women's-day,-separate-islam-and-culture-when-it-comes-to-rights/d/101858