New Age Islam News Bureau
11 Oct 2012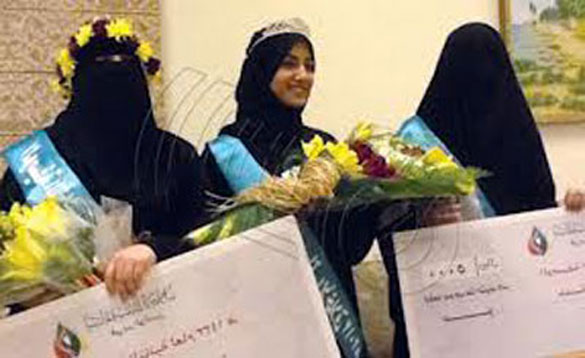 • Europe's First Hijab-Wearing Mayor to Take Office in Bosnia
• Women Primary Victims of Violence in Northern Mali, Says UN Rights Official
• Shooting Of Malala, Teen Activist Prompts Pakistani Outcry against Militant Groups
• Marriage Loses its Sparkle in Kuwait
• Rise in Child Marriages Malaysia, Worrying
• Malaysia: Islam's Inroads in Land Of Voodoo and Christianity
• Denying Girls School Entrenches Poverty: Report
• Arab Film Festival: Private Sun sheds light on being a Palestinian woman
• The Attack on Malala and the Forensics of Negotiation
• Millions Pray For Pakistani Girl Injured By Taliban
• Swat attack on Malala: War of words in Senate over policy about militancy
• Bahraini journalist to receive Syracuse University free speech award
• Dera Bugti wani case: Girls, tribal elders be produced, SC rules
Compiled by New Age Islam News Bureau
Photo: Third Annual 'Miss Congeniality' Beauty Pageant Held in Saudi Arabia
URL: https://www.newageislam.com/islam,-women-and-feminism/new-age-islam-news-bureau/third-annual-'miss-congeniality'-beauty-pageant-held-in-saudi-arabia/d/8949
----------
Third Annual 'Miss Congeniality' Beauty Pageant Held in Saudi Arabia
10 October 2012
A beauty pageant in Saudi Arabia? Yes!... with actual women participating, a panel of judges a winner and two runners-up.
Welcome to the third annual Saudi "Miss Congeniality" contest, whereby the winning lady isn't crowned based on looks, measurements or physical beauty; but on her "ethics".
This year, the pageant took place under the theme "my ethics, my identity" as the event took place on Monday at the grand King Abdullah Ballroom in the Eastern province of Qatif.
The winner, Maram Zaki al-Saif, a was chosen as the new Saudi "Queen of Ethics" after her notable piety apparently had a mesmerising affect on the panel.
In addition to the title, Saif handed in an award worth approximately ten thousand Saudi Riyals (2,6666 USD), according to local daily newspaper, Sharq.
The queen – who hails from the Saudi island of Tarout - was among the top five finalists who made it through the competition that initially had 285 contestants, all between the ages of 16-24.
At the same competition, Fatema Abdel Jaleel Al Abad, 17, from the Saudi region of Al-Ahsa was crowned first runner-up whilst Fatema Saeed Al Baik, 23, from Al Qatif was the second runner-up.
In addition to a contestant's ethics and good behaviour, the competition's executive director Khadra'a Al Mubarak said the electoral criteria focused on the participant's charisma and theatrical performance, in addition to herself confidence and literacy, reported Sharq newspaper.
The queen of ethics had to answer two main questions, initially directed to all five finalists. The questions were: What will the title add to you if you were qualified? What will you add to the title in return?
Al Saif said winning will encourage her to achieve her ambitions and goals, along with inspiring her compatriots to believe in their ability to form a change in the society as a whole. The queen also noted that she aims to establish a vocational rehabilitation project for people with special needs that would help them find suitable job opportunities.
The inauguration event was attended by several women, celebrities and media figures, alongside the contestants' mothers.
http://english.alarabiya.net/articles/2012/10/10/242959.html
----------
Europe's First Hijab-Wearing Mayor to Take Office in Bosnia
By Rusmir Smajilhodzic
VISOKO, Bosnia-Hercegovina — A new woman mayor in Bosnia who is the first in her country and the continent to wear the hijab headscarf, said Tuesday her election was "a model for Europe and Islam."
"This is a great victory of democracy. My fellow citizens showed a great open spirit because they elected me first as a woman but also as a woman who wears a veil," respecting Islam, said Amra Babic, elected Sunday in the town of Visoko.
"This is a model for Europe but even beyond, for the East and the West which meet here in Bosnia," she told AFP at the local branch of her party, still plastered with her campaign posters.
Babic, 43, who regularly wears the hijab, won 30 percent of the votes in the mayoral race in Visoko, a town of some 40,000 people near the capital of Sarajevo.
Two days after the vote, Babic, wearing a scarf covering her hair, ears and neck, was busy receiving by telephone congratulations for her victory. Others were coming in to bring her bouquets of flowers.
"Islam is very clear regarding the woman. It reserves for her a place in the public life and all those who interpret it correct know that this is the way it is," said Babic, who belongs to Bosnia's main Muslin party, the Party of Democratic Action (SDA).
However, she is confident that the place for her country is "among modern European states."
"I believe that my headscarf should not be a hindrance.... Europe will understand that it has to do with people who respect their own identity, but who are tolerant enough to respect the rights of others," she said.
Babic, a mother of three and an economist, served as finance minister in the central canton of Zenica prior to running for mayor.
Muslims are the biggest religious group in Bosnia, making up some 40 percent of its 3.8 million population. Orthodox Christian Bosnian Serbs account for 31 percent while the traditionally Roman Catholic Croats represent 10 percent.
Bosnian Muslims are Sunni Hanafi and mostly supporters of a moderate Islam, introduced in the Balkans in the 15th century by the Ottomans.
The hijab was banned under communism when Bosnia was part of the federal Yugoslavia from 1945 until the early 1990s. A number of Muslims in Bosnian nowadays wear the hijab, although most women do not cover their heads.
"I will never abuse politics for religion. If I have the strength to protect my own rights, I will find the strength to protect the rights of others," she said.
Having lost her husband in the 1992-1995 inter-ethnic war in Bosnia, Babic has for years led an association of families of Muslim fighters killed in the conflict.
"I put on the veil after my husband's death," she recalls, adding that the religion had helped her to overcome the loss.
"My religion tells me that everything that happens is God's will. It helped me to concentrate my energy and survive. My sons are my greatest motivation," she said.
Copyright © 2012 AFP. All rights reserved.
----------
Women primary victims of violence in northern Mali, says UN rights official
9 October 2012
Concluding a four-day visit to Mali, a top United Nations human rights official today cited ongoing abuses in the northern part of the country, and highlighted the plight of women, whose rights have been particularly restricted.
"Women are the primary victims of the current crisis and have been disproportionately affected by the situation in the north," Assistant Secretary-General for Human Rights Ivan Šimonovic said in a news release. "Their human rights to employment, education and access to basic social services have been seriously curtailed."
Fighting between Government forces and Tuareg rebels broke out in northern Mali in January. The instability and insecurity resulting from the renewed clashes, as well as the proliferation of armed groups in the region, drought and political instability in the wake of a military coup d'état in March, have led over 250,000 Malians to flee to neighbouring countries, with 174,000 Malians estimated to be internally displaced.
Mr. Šimonovic said Islamic groups are now in control following power shifts since the March coup. One displaced woman he interviewed in the northern town of Mopti said she could no longer return to her hometown of Gao, where she had been a merchant, because women under the strict application of Islamic Sharia law cannot work.
But "most disturbing," according to the news release, were reports that Islamist groups were compiling lists of women who have had children out of wedlock, or who were unmarried and pregnant. "This could indicate that these women are at imminent risk of being subjected to cruel and inhuman[e] punishment," Mr. Šimonovic said.
He said that, at the beginning of the conflict, there were reports of summary executions of members of the military, rapes, looting, forced displacement and forced child recruitment with the advance of the Tuareg rebel group Azawad National Liberation Movement, known by the French acronym MNLA.
"These were appalling violations of human rights," said Mr. Šimonovic. "But they were largely ad hoc in nature."
Since Islamic groups such as Ansar Dine, the Movement for Oneness and Jihad in West Africa (MOJWA), and Al-Qaeda in the Islamic Maghreb (AQIM) had taken control, the region was witnessing human rights abuses of a "different character," he noted.
"Civil and political rights are being severely restricted as a result of the imposition of a strict interpretation of Sharia law, and systemic cruel and inhuman[e] punishments are being implemented, including executions, mutilations and stonings," Mr. Šimonovic said.
The Office of the High Commissioner for Human Rights (OHCHR) says children have been deprived of their rights to education in the north because many teachers had fled, leading to the closure of schools. More ominously, extreme poverty, lack of employment and education is "making it easy for young people to fall prey to armed extreme Islamist groups, who continue to lure youth and children to join their cause."
In a "particularly grave" case, one witness told Mr. Šimonovic of three children who were reportedly maimed while being trained on how to use improvised explosive devices.
In the Government-controlled south, Mr. Šimonovic pointed to reports of continuing torture and inhumane prison conditions. He noted that at least 30 participants of an April counter-coup remained in detention, and many had allegedly not had charges brought against them. Also, the whereabouts of 20 soldiers involved in the counter-coup had yet to be confirmed.
"It is essential that the authorities investigate these cases of disappearances in accordance with international human rights standards," said Mr. Šimonovic, who received assurances from Mali's Minister of Justice that thorough investigations would be promptly completed.
"Current violations are to a great degree symptoms of the chronic disrespect for human rights that already existed in Mali in the past," Mr. Šimonovic said. "There is a need to address these root causes, including widespread corruption, mismanagement of public funds, inequality between the elite and general population, and nepotism, amongst others."
Mr. Šimonovic emphasized the need for investigations into the recent human rights violations in both the north and the south, and said it was essential the perpetrators be held to account as a precondition for reconciliation and social cohesion.
He noted that any UN support to Malian security forces "must" conform to the UN's Human Rights Due Diligence Policy, which prohibits the UN from supporting security forces involved in grave human rights violations.
To advance women's human rights and empower them, it was essential that measures be taken to promote their participation in public life. Mr. Šimonovic said he was encouraged by the Prime Minister's recognition that women have an important role to play in building peace and reconciliation as well as the economic prosperity of the country.
"One concrete way would be to introduce a 30 per cent quota for women in Parliament ahead of the next legislative elections," Mr. Šimonovic said, adding that OHCHR was ready to support the Malian authorities in this regard, including through appointing a Human Rights Adviser to the UN Country Team in the capital, Bamako.
http://www.un.org/apps/news/story.asp?NewsID=43239&Cr=+mali+&Cr1=#.UHaDU2_MgXw
----------
Shooting Of Malala, Teen Activist Prompts Pakistani Outcry against Militant Groups
RICHARD LEIBY, THE WASHINGTON POST
11 OCTOBER 2012
ISLAMABAD — In a country where militant attacks occur almost daily, the Taliban's attempted assassination of a 14-year-old education rights activist in north-western Pakistan united Pakistanis from across social divides Wednesday in a remarkable and rare display of collective outrage against extremism.
The shooting Tuesday of Malala Yousafzai, who remains in critical condition in a Peshawar military hospital, brought condemnation from conservative clerics, secular politicians, the military and media figures at a time when Pakistanis had seemed almost numb to rising extremism.
More than 3,000 people died last year in extremist attacks here, but images of the bandaged, unconscious teenager prompted a national debate about the corrosive impact of Talibanization.
"The world image of Pakistan is, to put it mildly, not very good," said Ijaz Khattak, a professor at the University of Peshawar who knows Yousafzai and her father, an educator and peace activist in Swat. "Society is seen as increasingly sympathetic to these terrorists. What this incident can prove to be is a catalyst, because the outrage can turn the tide against the religious fundamentalism.
Full report at:
http://www.independent.co.uk/news/world/asia/shooting-of-female-teen-activist-prompts-pakistani-outcry-against-militant-groups-8206524.html
----------
Marriage Loses its Sparkle in Kuwait
Sylvia Westall
October 11, 2012
Kuwait. In a luxury hotel suite, away from prying eyes, twenty Kuwaiti female guests at a traditional wedding party segregated by the sexes watch the men via a video link.
The women snap pictures of the festivities on their cell phones and swap stories about how they met their husbands and their views on marriage. The contrasts between young and old in the conversation expose a shift in society that has the government worried.
"The most important thing now is getting a university degree," said Noora al-Jaber, 28, who married seven years ago.
"The woman should get a good certificate and the man a steady income. Only then can they think about marriage," she said, as the women sipped fruit juice from champagne flutes.
The role of the family is extremely important in Kuwait, where large clans forge blood ties that are essential not only socially but also in politics and business.
Full report at:
http://www.thejakartaglobe.com/international/marriage-loses-its-sparkle-in-kuwait/549567
----------
Rise in Child Marriages Malaysia, Worrying
By S. INDRAMALAR
newsdesk@thestar.com.my
11 OCTOBER 2012
PETALING JAYA: The incidence of child marriages is on the rise, judging by statistics compiled from various sources.
In Kedah alone, statistics from the state Islamic Religious Department show a 35% increase in marriage applications involving under aged individuals between 2008 and 2010.
The department received 75 marriage applications from under aged individuals in 2008, 99 in 2009 and 101 in 2010. Of the total, 90% involved girls under 16.
One of the reasons cited by parents for consenting to their under aged daughters to marry was that the girls were "too wild" and beyond their control.
They felt that getting them married would be the best solution. Another was for economic relief.
Full report at:
http://thestar.com.my/news/story.asp?file=/2012/10/11/nation/12156615&sec=nation
----------
Malaysia: Islam's Inroads in Land Of Voodoo and Christianity
Trenton Daniel
October 11 2012
School teacher Darlene Derosier lost her home in the 2010 earthquake that devastated her country. Her husband died a month later after suffering what she said was emotional trauma from the quake. She and her two daughters now live in tents outside the capital of Port-au-Prince, surrounded by thousands of others made homeless and desperate by the disaster.
What's helped pull her through all the grief, she said, has been her faith, but not of the Catholic, Protestant or even Voodoo variety that have predominated in this island country. Instead, she's converted to a new religion here, Islam, and built a small neighbourhood mosque out of cinderblocks and plywood, where some 60 Muslims pray daily.
Islam has won a growing number of followers in this impoverished country, especially after the catastrophe two years ago that killed some 300,000 people and left millions more homeless. A capital where church attendance is so prevalent that the streets echo with Christian hymns on Sundays now has at least five mosques, a Muslim parliament member and a nightly local television program devoted to Islam.
Full report at:
http://www.thejakartapost.com/news/2012/10/11/islams-inroads-land-voodoo-and-christianity.html
----------
Denying Girls School Entrenches Poverty: Report
11 October 2012
NEW YORK: Millions of girls worldwide are not going to school, an education gap that condemns them to lives of hardship and entrenches broader extreme poverty, a new report said Thursday.
The report, "Because I am a Girl: The State of the World's Girls 2012," was released in New York by Plan International on the United Nation's first International Day of the Girl.
"The estimated 75 million girls missing from classrooms across the world is a major violation of rights and a huge waste of young potential," the child poverty alleviation group said in launching the report.
A total of one in three girls is denied education, but Plan's report focuses especially on the 39 million girls aged between 11 and 15, right on the cusp of becoming young women, who are out of school.
Full report at:
http://dawn.com/2012/10/11/denying-girls-school-entrenches-poverty-report/
----------
Arab Film Festival: Private Sun sheds light on being a Palestinian woman
By Hana Baba
October 9, 2012
This weekend marks the Arab Film Festival in the San Francisco Bay Area, with 40 films showing this year from all over the Arab world.
The Palestinian short film Private Sun deals with the ironic reality of being Vitamin D deficient in a sun-drenched country like Palestine. It's increasingly a problem among the country's women, many of whom cover their bodies in public.
The film follows the story of the quiet Mariam, who lives in a poor Bethlehem neighborhood with her husband, their son, and her sister in law. When she's diagnosed with a bone disease, her doctor prescribes sunbathing – not the easiest thing to do in a conservative society like hers. She sneaks out to the balcony or the roof, surreptitiously raising her dress sleeves and her skirt. But she's frequently interrupted by a nosy neighbor, her mean sister in law, or Israeli warplanes. San Francisco-based filmmaker Rami Alayan directed the film, and joined KALW's Hana Baba in the studio.
Full report at:
http://kalw.org/post/arab-film-festival-private-sun-sheds-light-being-palestinian-woman
----------
The attack on Malala and the forensics of negotiation
By Sami Shah
October 9, 2012
The attempted murder of a young girl in Swat is not such a simple thing. It goes beyond the base forensics of the event. We are, after all, more than meat and ballistics. We must take into account the thoughts and feelings of the victim. Of the murderer. Of those who witnessed the crime or were connected to it. It is only then that we can hope to construct a thorough examination of the reality of the event, even if it is built on largely subjective foundations.
The facts are these, as of this writing: Malala Yousufzai, a young girl who bravely chronicled her struggles to get the education that is her basic human right - during the height of the Taliban's occupation of Swat – was shot at by Taliban gunmen. The Taliban have accepted responsibility for this attack, even giving a laundry list of justifications for targeting a child. While I write this, she is still in the hospital and I don't know if she will live.
Full report at:
http://tribune.com.pk/story/449212/the-attack-on-malala-and-the-forensics-of-negotiation/
----------
Millions pray for Pakistani girl injured by Taliban
10 October 2012
Millions of people prayed for the early recovery of child peace campaigner Malala Yousafzai, who a leading Pakistani daily said was
'With millions of people praying for her life and early recovery, the way she was living in the once militants infested Swat valley without any proper security measures speaks of how we treat our heroes,' said an article in the Dawn Wednesday, a day after Malala was shot at when she was on her way home from school.
Describing her as 'the progressive face of Pakistan in general and Swat valley in particular', it said that she is today 'fighting the most arduous battle of her life'.
The 14-year-old girl, Pakistan's first National Peace Award winner, was shot and seriously injured by gunmen in the country's Khyber Pakhtunkhwa province Tuesday. The Taliban has accepted responsibility.
Full report at:
http://www.khaleejtimes.com/kt-article-display-
----------
Swat attack on Malala: War of words in Senate over policy about militancy
Amir Wasim
ISLAMABAD, Oct 10: Political rivals in the Senate on Wednesday used the debate on the terrorist attack on Swat girl Malala Yousufzai to blame one another's policies about militancy.
Though, all the senators belonging to major political parties were unanimous in condemning the dastardly attack, a clear divide was visible in the house between those supporting the ongoing war on terror and those opposing it.
Senator Mushahidullah Khan of the opposition Pakistan Muslim League-N (PML-N) joined the religious-minded senators in declaring that the war on terror was not in the country's interests and that it had been imposed on Pakistan by the US.
On the other hand, the PPP senators said that those who believed that it was not Pakistan's war were "living in the fool's paradise".
Full report at:
http://dawn.com/2012/10/11/swat-attack-on-malala-war-of-words-in-senate-over-policy-about-militancy/
----------
Bahraini journalist to receive Syracuse University free speech award
October 09, 2012,
Syracuse, NY – A journalist who has kept up her criticism of the government in Bahrain despite having her home attacked by pro-government forces will receive the 2012 Tully Award for Freedom of Speech.
Lamees Dhaif, an independent journalist and human rights activist, will receive the award from the S.I. Newhouse School of Public Communications on Oct. 15. The award is given to a journalist who has faced a significant threat to free speech.
The ceremony will be at 7 p.m. in the Joyce Hergenhan Auditorium in Newhouse 3. Dhaif will visit classes and meet with students while on campus.
The public event is free. For more information, call Audrey Burian at 443-1930 or aaburian@syr.edu.
Full report at:
http://www.syracuse.com/news/index.ssf/2012/10/bahraini_journalist_to_receive.html
----------
Dera Bugti wani case: Girls, tribal elders be produced, SC rules
11 October 2012
QUETTA: The Supreme Court on Thursday ruled that the girls and the tribal elders involved in the Dera Bugti wani incident be presented before it and the case be thoroughly investigated, DawnNews reported.
The court issued the ruling during the hearing in the suo motu notice of a jirga which was reportedly held in Dera Bugti district's Bakar area and had decided that 13 girls be married under the custom of 'wani' to resolve a feud between two groups of the Masuri tribe.
A three-judge bench comprising the chief justice, Justice Khilji Arif Hussain and Justice Jawwad S. Khawaja was heard the case at the apex court's Quetta registry.
Earlier during the hearing, Justice Khawaja remarked that until all those involved in the incident did not appear before the bench, the matter would not resolve.
Full report at:
http://dawn.com/2012/10/11/sc-resumes-hearing-in-dera-bugti-wani-case/
----------
URL: https://www.newageislam.com/islam,-women-and-feminism/new-age-islam-news-bureau/third-annual-'miss-congeniality'-beauty-pageant-held-in-saudi-arabia/d/8949