New Age Islam News Bureau
27 Jul 2013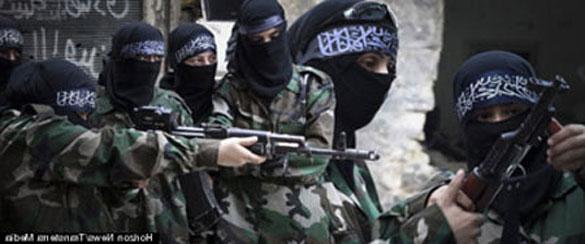 Photo: Syria's Female Rebels
----------
• Pakistan's Burqa Avenger Superhero Battling For Girls' Education
• Bosnia Muslims Condemn Hard-line Foes of Shorts
• Egyptian woman gives birth at pro-army rally, names her baby Sisi
• Satellite Channel for Women Launched In Saudi Arabia
• "Al Mouminin Aisha", Female Islamist Aleppo Brigade Fighting Assad's Forces
• AMU Withdraws Diktat Banning Jeans, Eating Out For Hostel Girls
• North East Girls Become Middle-East Ambassadors for Durham
• Fake Degree: PTI Ayla Malik Ineligible to Contest By-Elections
• Ramadan Crowds In Balad Fascinated By Female 'Kibdah' Chef
• Religious Department May Reconsider 'Ban' On Muslim Women in Malaysia Pageant
• Israel Economist Shows Arab Women Want Day Care
• 'Arab Women in Sport' Exhibition Opens In Manchester
Compiled by New Age Islam News Bureau
URL: https://newageislam.com/islam-women-feminism/they-emptied-acid-bottle-throat,/d/12786
----------
They emptied an acid bottle in my throat, says survivor Sabina Khatun
Orin Basu
July 26, 2013
Like any other 18-year-old, I was bubbly and full of zest for life. Every morning, I used to look forward to seeing my friends at school and my boyfriend after the classes got over.
Love is a beautiful feeling, and it nourished my life. Maybe that's why it hurt so badly when, on June 23 last year, his family disfigured me with acid while he did nothing to protect me. The liquid ate into my flesh, but his inaction — despite the avowed love — seared my soul.
Isha Mondal (26) and I had been in a relationship for the past three years. Isha is a second-year student at Fakir Chand College in Diamond Harbour and belongs to our neighbouring village Kamarpole Dighipara.
On the ill-fated day, like any other day, I met him after school. Suddenly, he was struck by this whimsicality to marry me right away. Initially, I was taken aback by his insistence but ultimately relented. Truth be told, I wanted to spend the rest of my life with him anyway.
Isha took me home around 9:30 pm to meet his parents. Right from the beginning, I could sense that his parents did not like me. They curtly asked me why I was visiting them so late at night. I plainly told them that their son had brought me to meet them to discuss our marriage.
At this, Isha's parents told me to get out of his life but I tried to reason with them that we loved each other and wanted to get married.
Isha's infuriated parents and brothers, Insan and Iqbal, then started beating me up. I tried to fight back and save myself.
Hearing the commotion, some neighbours rushed to their house. They enquired from Isha's family who I was and what an unknown girl like me was doing at their house so late at night.
It was almost 10:00 pm by then. Isha's father Iliyas told the neighbours that it was a family matter and they would settle it themselves.
The neighbours then left, telling Iliyas not to hit me and advising him to send me back to my parents. But Iliyas convinced them that there was no problem and that I would spend the night with Isha's mother.
But the torture increased manifold after the neighbours went away. Isha's mother was now openly exhorting her husband and sons to kill me.
I was already bleeding at the mouth from the beatings received at their hands.
Suddenly, Insan and Iqbal pinned me down to a chair and Iliyas fetched a bottle of acid. Insan was keeping my hands down and Iqbal held my cheeks, forcing me to open my mouth.
Iliyas then emptied the acid bottle in my throat and forced his hand inside my mouth, compelling me to swallow the burning liquid.
All this while, Isha just stood watching and did not utter a single word in my defence. I was left to fend for myself in the face of assault by the three men.
I started vomiting and soon fell unconscious.
Fearing that I might die, Isha's family dumped me at the Diamond Harbour sub-divisional hospital.
The following morning, I was referred to the Chittaranjan Cancer Hospital at Hazra in Kolkata. I had suffered 20% burns on my face, arms, chest and other parts of the body.
My family and I registered an FIR against Iliyas, Insan and Iqbal. But police picked up only Insan and kept him in the lock-up for a couple of days, after which he was bailed out.
The Alipore court repeatedly struck down the anticipatory bail applications of the other two accused, but they ultimately managed to secure anticipatory bail from a magistrate on a holiday.
My father filed a counter case in court, pleading for the cancellation of their bail. He also requested a speedy trial and punishment for the guilty. The case is still pending in court.
Throughout this trauma, the Association for Protection of Democratic Rights helped us with legal counselling and also took up the matter with the West Bengal women's commission and police.
But our grievances have not been redressed to date.
In fact, Isha's family started threatening us that they would pick me up on my way to school, pour acid into my eyes and burn me.
They even boasted that the police would not be able to do anything to them.
Iliyas, who runs a chit fund at Behala in Kolkata, is a powerful and influential figure in the locality since he is the supporter of a national political party. He is quite wealthy too.
Due to the clear and present danger, I had to quit the Mohanpur High School and my education. In fact, I am afraid to step out of my house even for errands.
Now, I only go out when it is absolutely necessary, and that too accompanied by my father. My family fears that my sisters might also be harmed by Isha's family members.
I have six siblings, including four sisters. Our family is mainly into agriculture, though my father Shahjahan Fakir is a well-known worker for the ruling party.
I am still unable to eat solid food due to the burns in my throat. I survive only on cold milk, Horlicks and over-boiled rice. Though my face has now partially recovered from the burns, I still have black patches on my arms, chest and belly.
During the past year, I have been sitting at home.
I spend my time reading books, watching daily soaps on television and doing household chores. Very rarely do I listen to music or watch movies. I also read the Quran regularly and perform other religious rituals at home.
It's the Ramzan month and I am observing roza. I pray to God five times a day, asking him to punish the brutes who spoilt my life.
http://www.hindustantimes.com/India-news/StopAcidAttacks/They-emptied-an-acid-bottle-in-my-throat-says-survivor-Sabina-Khatun/Article1-1098923.aspx
-----------
Pakistan's Burqa Avenger Superhero Battling For Girls' Education
27 July 2013
Islamabad: Wonder Woman and Supergirl now have a Pakistani counterpart in the pantheon of female superheroes - one who shows a lot less skin.
Meet Burka Avenger: a mild-mannered teacher with secret martial arts skills who uses a flowing black burqa to hide her identity as she fights local thugs seeking to shut down the girls' school where she works.
Sadly, it's a battle Pakistanis are all too familiar with in the real world.
The Taliban have blown up hundreds of schools and attacked activists in Pakistan's northwest because they oppose girls' education. The militants sparked worldwide condemnation last fall when they shot Malala Yousafzai, a 15-year-old schoolgirl activist, in the head in an unsuccessful attempt to kill her.
Action in the "Burka Avenger" cartoon series, which is scheduled to start running on Geo TV in early August, is much more lighthearted. The bungling bad guys evoke more laughter than fear and are no match for the Burka Avenger, undoubtedly the first South Asian ninja who wields books and pens as weapons.
The Urdu language show is the brainchild of one of Pakistan's biggest pop stars, Aaron Haroon Rashid - known to many as simply Haroon - who conceived of it as a way to emphasize the importance of girls' education and teach children other lessons, such as protecting the environment and not discriminating against others. This last point is critical in a country where Islamist militants wage repeated attacks on religious minorities.
"Each one of our episodes is centered around a moral, which sends out strong social messages to kids," Rashid told The Associated Press in his first interview about the show. "But it is cloaked in pure entertainment, laughter, action and adventure."
The decision to clothe the superhero in a black burqa, a full-length robe commonly worn by conservative Islamic women in Pakistan and Afghanistan - could raise eyebrows because some people view the outfit as a sign of oppression. The Taliban forced women to wear burqas when they took control of Afghanistan in the 1990s.
The version worn by the Burka Avenger shows only her eyes and fingers - though it has a sleeker, more ninjalike look than the bulky robes of an actual burqa.
Rashid, who is certainly no radical Islamist, said he used a burqa to give a local feel to the show, which is billed as the first animated series ever produced in Pakistan.
"It's not a sign of oppression. She is using the burqa to hide her identity like other superheroes," said Rashid. "Since she is a woman, we could have dressed her up like Catwoman or Wonder Woman, but that probably wouldn't have worked in Pakistan."
The series is set in Halwapur, a fictional town nestled in the soaring mountains and verdant valleys of northern Pakistan. The Burka Avenger's true identity is Jiya, whose adopted father, Kabbadi Jan, taught her the karate moves she uses to defeat her enemies. When not garbed as her alter ego, Jiya does not wear a burqa, or even a less conservative headscarf over her hair.
The main bad guys are Vadero Pajero, a balding, corrupt politician who wears a dollar sign-shaped gold medallion around his neck, and Baba Bandook, an evil magician with a bushy black beard and mustache who is meant to resemble a Taliban commander.
Caught in the middle are the show's main child characters: Ashu and her twin brother Immu and their best friend Mooli, who loves nothing more than munching on radishes in the company of his pet goat, Golu.
In the first episode, Pajero wants to shut down the girls' school in Halwapur so he can pocket the money that a charity gave him to run it. He finds a willing accomplice in Bandook, whose beliefs echo those of the Taliban and many other men in conservative, Islamic Pakistan.
"What business do women have with education?" says Bandook. "They should stay at home, washing, scrubbing and cleaning, toiling in the kitchen."
Bandook padlocks the gate of the school and orders the crowd of young girls outside to leave. Ashu steps forward to resist and delivers a defiant speech about the importance of girls' education - perhaps marking her as a future activist.
"The girls of today are the mothers of tomorrow," says Ashu. "If the mothers are not educated, then future generations will also remain illiterate."
Bandook is unmoved, but the Burka Avenger appears and fights off the magician's henchmen with martial arts moves reminiscent of the movie The Matrix. Using his magical powers, Bandook disappears in a puff of smoke. The Burka Avenger hurls a flying pen that breaks open the padlock on the school's gate as the children cheer.
The show, which is slickly animated using high-powered computer graphics, does a good job of mixing scenes that will entertain children with those that even adults will find laugh-out-loud funny.
In one episode, Bandook builds a robot to take over the world's major cities, including London, New York and Paris. As he outlines his dastardly plan with a deep, evil laugh, one of his minions butts in and says, "But how will we get visas to go to all those places?" - a reference to how difficult it can be for Pakistanis to travel, given their country's reputation.
A group of orphans who were provided an early screening of the first episode at an orphanage on the outskirts of Islamabad laughed and cheered as the Burka Avenger vanquished her enemies.
Ten year-old Samia Naeem said she liked the crusading heroine "because she saved kids' lives, she motivated them for education and school."
Rashid, the pop star, funded much of the program himself, but also had help from an outside donor who preferred not to be credited.
He leveraged his musical background in the process. Each of the 13 episodes completed so far contains songs written and performed by him and other major Pakistani rock stars, such as Ali Azmat and Ali Zafar. Rashid is producing an album of 10 songs and music videos that will be broadcast alongside the show. He has also created a Burka Avenger iPhone game and a fully interactive website that will accompany the show's launch.
In one of the music videos, Rashid and local rap star Adil Omar sing in praise of the Burka Avenger, while standing in front of a pair of colorfully decorated Pakistani trucks festooned with bright lights.
"Don't mess with the lady in black, when she's on the attack," they sing.
http://www.ndtv.com/article/world/pakistan-s-burka-avenger-superhero-battling-for-girls-education-397406
----------
Bosnia Muslims Condemn Hard-line Foes of Shorts
July 27, 2013
By Elvira M. Jukic
Amir Karic said the Islamic Community condemned a reported verbal attack on girls wearing skimpy summer clothes, after a newspaper said that a hard-line Wahhabi Muslim insulted two girls in Sarajevo for wearing shorts.
An official of the Bosnian Islamic Community, Amir Karic, said his institution condemned verbal attacks on two teenage girls this week in Sarajevo by a member of the Wahhabi movement, who reportedly insulted them for wearing shorts during Ramadan.
"We condemn any kind of violence towards anyone, because everyone has the right to make their own choice," Karic said. "At the same time, we cannot be expected to take responsibility for the behaviour of one individual in the street."
Slobodna Bosna said that two 17-year-old girls were insulted on Monday by a man who shouted from a passing car that their outfits were inappropriate.
The weekly newspaper said the man warned the girls that it was the holy month of Ramadan, when they should be fasting, not strolling around in shorts.
The journalist, Almir Panjeta, says he drew angry comments from readers for writing about the topic while on social networks he faced open threats.
"I was accused of spoiling the image of Sarajevo, of giving too much significance to the case, while many even accused me of making the story up," Panjeta told Balkan Insight.
"The 'Sharia police' does not formally exist here, but we can see some of their activity and it is nothing new, as other girls contacted me after this article saying they had the same experience," Panjeta added.
The so-called Sharia police is a colloquial expression used to refer to members of the Wahhabi movement who preach randomly to people on the street about their behaviour.
http://www.eurasiareview.com/26072013-bosnia-muslims-condemn-hardline-foes-of-shorts/
----------
Egyptian woman gives birth at pro-army rally, names her baby Sisi
July 27, 2013
An Egyptian woman gave birth while taking part in a pro-Army rally in central Cairo and named her baby "Sisi" after Army chief General Abdel Fattah al-Sisi General, independent news newspaper al-Masry al-Youm reported on its website.
Thousands of Egyptians demonstrated in Cairo's iconic square and around the Ittihadya presidential palace in response to a call from General Sisi for Egyptians to show their support for a security clampdown on "terrorism."
Thousands of rival demonstrators supporting ousted President Mohammad Mursi also held rallies in Cairo and in other cities.
The pro-army rally in Cairo was marked by jubilance, with army helicopters buzzing low overhead.
In Alexandria violence broke out when the two camps clashed causing the death of at least five people. Police intervened and broke up protesters using tear gas.
http://english.alarabiya.net/en/News/middle-east/2013/07/27/Egyptian-woman-gives-birth-at-pro-army-rally-names-her-baby-Sisi.html
------------
Satellite Channel for Women Launched In Saudi Arabia
27 July 2013
Saudi women have many expectations from the first Saudi women's satellite channel, according to Riyaz bin Kamal Najam, president of the General Authority for Audio and Visual Media.
The channel was formally launched Thursday.
Najam said that they are expecting the channel will be good medium to showcase Saudi culture and traditions with wide range of topics including intellectual, scientific, cultural, political, social, psychological, economic, technical, administrative, educational, medical and other areas related to women's lives.
"I am very pleased that I am part of such an initiative of a satellite channel for Saudi women," Najam said. "This probably will be the basis to establish a channel that will help in removing some stereotypes about Saudi women, and will serve the women's sector in the best way according to our traditions and culture."
The channel will serve as a platform for Saudi women to showcase their talent and capabilities but also help clear misconceptions about Arab women. Sheikh Yusuf bin Awad Al-Ahmadi said the channel will bring the attention of the world toward the problems of women in general and Saudi women in particular.
The channel will help present the true image of a Muslim women and at the same time help them in education, culture and social responsibilities, Al-Ahmadi said.
"The objective of the channel is to highlight the skills, traditions, culture, education, Islamic thought and problems facing Arab women in general and Saudi women in particular," Al-Ahmadi said. "The channel will fully conform to Islamic law and help raise awareness levels among women.
Saud A. Al Sheikh, general manager at the Ministry of Culture and Information Makkah Branch, said: "I am very happy to be part of the launching ceremony of the first women's satellite channel in Jeddah."
"We are in need of such channel for women and their related issues to discuss and find solutions, a channel with entertainment, education, culture and women's issues," he said.
The channel will also project a positive image of the country. The channel will hire experts and professionals to ensure that the best is brought out of Saudi women.
Businesswoman Aisha Natto said she expects the channel to focus on jobs, education and social problems. "We want the channel to focus on the problems facing working women in the society locally," Natto said. "We want to listen to the voice of local women and their issues and problems related to Saudi women and their obstacles, and their solutions."
Nila Attar, an economic consultant and social activist, said she expects the channel will reach an international audience and be watched worldwide, and will give the right view and image of Saudi women and cover all the sectors of society related to women.
http://www.arabnews.com/news/459341
----------
"Al Mouminin Aisha", Female Islamist Aleppo Brigade Fighting Assad's Forces
27 July 2013
Their faces covered by black masks, bodies clad in thick camouflage and tightly holding their Kalashnikovs, it is only the eyes that reveal these young Syrian fighters are women.
In the Salahaldin neighborhood of Aleppo, young women are taking to the streets as one of the few full female fighting units, calling themselves the "Al Mouminin Aisha", named after the wife of the Prophet Mohammed.
The women, many of whom are teenagers or mothers of young children, fight under the banner of the Al-Tawhid Brigade, a 13-strong unit of the Free Syria Army in Syria's largest city.
One is a 17-year-old former high school senior student, wearing enormous reflective sunglasses across her mask, to shield her eyes.
They are fierce Islamists, with their leader saying her aim is for an Islamic caliphate state.
There are roughly 5,000 Syrian women involved in either fighting or military logistics for the rebels, according to the Syrian Observatory for Human Rights, a Britain-based monitoring group aligned with the opposition.
The head of this Aleppo unit, Um Mohammed, is a mother of four children and the wife of a Free Syrian Army soldier also fighting in Salahaldin neighbourhood.
She decided to take protection into her own hands and pick up a rifle in hopes of defending her neighborhood from regime attacks and crimes against women such as rape that have been on a rise since fighting began.
Um Mohammed set strict criteria for accepting new members in the female unit; any new member should be a female Muslim rebel from Aleppo who fulfills her prayers and all other religious duties and has a good reputation.
The trainer, Abu Deeb, said that the "La Ilaha illa allah" headband on each of the women's foreheads is a symbol of the fighters' commitment to Islam but Mohammed admitted she had encountered a great deal of criticism from other Islamist units of the Free Syria Army, as a female fighter.
The United Nation's secretary-general Ban Ki-moon said on Thursday that the death toll in Syria's civil war now stands at more than 100,000, up from nearly 93,000 just over a month ago.
Calling on the Syrian government and opposition to halt the violence in the two-and-a-half year civil war, the secretary-general said its was "imperative to have a peace conference in Geneva as soon as possible."
"There is no military solution to Syria," US Secretary of State John Kerry told reporters after a meeting with Ki-moon. "There is only a political solution, and that will require leadership in order to bring people to the table."
The United States and Russia are trying to convene an international conference in Geneva, along with the United Nations, to try to agree on a transitional government based on a plan adopted in that city a year ago.
http://www.huffingtonpost.co.uk/2013/07/26/syria-female-fighters_n_3658205.html
----------
AMU withdraws diktat banning jeans, eating out for hostel girls
Nadim Asrar
July 27, 2013
Aligarh: The Aligarh Muslim University (AMU) administration has withdrawn its order, issued earlier this week, that asked the students residing in one of its women's hostels to wear "proper and decent-looking dresses, i.e. salwar kameez with dupatta, both in or outside the hostel".
The order, signed by the Provost of Abdullah Hall for Girls, also asked the women to keep only one mobile phone and avoid eating out by making sure they enter the details of their movement in a register kept outside the hostels.
Any violation of the "norms" may invite disciplinary action, including a fine of Rs. 500, the order said.
The notice was slammed by a section of the university teachers earlier today. Ayesha Munira told NDTV, "Girls are only allowed to go out on Sundays. There should be uniform rules for girls and boys. The apprehension within the AMU community that boys may be distracted if girls go out is reprehensible."
The women's college administration defended the diktat by suggesting the presence of male workers within the hostel premises. History professor Chandni Bi asked why shouldn't they be replaced with female workers. "A hostel is like home for girls. How will they feel homely there?" she asked.
In another controversial order issued in April this year, AMU's Vice-Chancellor Lt Gen (retd) Zameeruddin Shah had, in an open letter, instructed male students to wear sherwanis if they wanted to meet him.
http://www.ndtv.com/article/india/aligarh-muslim-university-withdraws-diktat-banning-jeans-eating-out-for-hostel-girls-397671
----------
North East girls become Middle-East ambassadors for Durham
27 July 2013
Two pupils from Park View Community School in Chester-le-Street were invited to the International Arab Youth Congress in Jordan
Two teenagers enjoyed a trip of a lifetime after they were invited to the International Arab Youth Congress in Jordan.
Alex Batey and Rebecca Wareham, pupils at Park View Community School in Chester-le-Street, joined 1,500 other 12- to 14-year-olds from around the world at the week-long event in Amman.
The congress began in style with the 13-year-olds meeting Princess Iman Bint Al Hussein at the opening ceremony, held at the Palace of Culture.
The pupils enjoyed seminars, displays, creative arts workshops and group discussions exploring attitudes to emigration, peace and conflict. The girls also experienced local events and archaeological and cultural sites.
Alongside visits to Petra and meeting the local Household Cavalry, there was time to see a horse show, a demonstration of martial arts and spend time with a Jordanian family.
The girls took posters and information from Visit County Durham to promote the county and show everyone where they were from.
Alex said: "It was an experience like no other. I've met so many different people and found out that they're completely different to me and yet, at the same time, we're exactly alike.
"Janine, a girl I met there, was Muslim, so had different beliefs. She's amazing when it comes to languages and she lives a very different lifestyle to me. However, the things we liked, the places we wanted to go, even our personalities were almost exactly the same.
"It doesn't matter what country you're from or what has happened in your past, some people may judge you for it and maybe even taunt you for it, but there will always be people out there who will be your friend and stick up for you."
She said: "My favourite thing was going to one of the Jordanians' houses, because I felt very privileged to be invited into the family's household, treated with such care and welcomed so warmly."
The trip came about after a special invitation was extended to Durham County Council's International Relations Office as a result of four years' work in conjunction with the British Council's Connecting Classrooms programme, linking schools in Durham and Jordan.
Park View teacher Laura Cariss said: "We not only got to experience completely different cultures, but in a unique way through the use of creative arts, which completely broke down the language barrier between the pupils.
"It was great to see how schoolchildren from across the world had such similar goals and dreams despite the difference in their backgrounds."
http://www.thejournal.co.uk/news/north-east-news/county-durham-teenagers-take-part-5325062
----------
Fake degree: PTI Ayla Malik ineligible to contest by-elections
July 27, 2013
RAWALPINDI: Lahore High Court's election tribunal bench in Rawalpindi declared Pakistan Tehreek-e-Insaf candidate Ayla Malik ineligible to contest by-elections due to a fake degree, Express News reported on Saturday.
Ayla was to be fielded as a PTI candidate for by-election from NA-71 after party chairman Imran Khan vacated the seat, keeping his Rawalpindi seat.
The Board of Intermediate and Secondary Education (BISE), Rawalpindi, had declared her intermediate certificate 'bogus' on July 20 that carries the roll number of a male candidate named Imdad Hussain, who too had failed.
A probe was conducted after a Pakistan Muslim League-Nawaz (PMLN) petitioner and candidate Obaidullah Shadikhel brought Malik's credentials to the court's notice.
Similarly, PTI MNA Ghulam Sarwar Khan's party membership was suspended after being found with a fake degree.
http://tribune.com.pk/story/582675/fake-degree-pti-ayla-malik-ineligible-to-contest-by-elections/
----------
Ramadan crowds in Balad fascinated by female 'kibdah' chef
Ibrahim Shihab
27 July 2013
JEDDAH — A traditional Kibdah (fried liver) stall run by a woman in her 30s in Jeddah's historic Al-Balad district is drawing huge crowds of shoppers.
The woman, identified by her initials M.A., prepares the dish for her customers during Ramadan nights. She managed to get a permit from the Jeddah municipality allowing her to work as a female chef. She completed a training course and learned the art of cooking.
She knows when food is rotten and her clients do not have to worry about food poisoning, said M.A.
The woman said she considers herself to be doing decent work, which has contributed to meeting her family expenses. She said she makes SR1,500 in profits every night.
M.A. believes that society supports working women.
Three laborers work under her supervision. Their task is to fetch the orders to the tables, organize them and bring the meals to the customers.
Meanwhile, she herself purchases the ingredients of her dish and cooks for her customers.
The woman obtained an area of 16 square meters for a rent of SR1,500 a month. There she set up a small stall along with tables and chairs where her customers would sit and eat kibdah.
She works side by side with ambitious young Saudis, working to prepare the dish which is popular among tourists and shoppers during the holy month. The courtyard is crowded with people enjoying the Ramadan atmosphere.
http://www.saudigazette.com.sa/index.cfm?method=home.regcon&contentid=20130727174933
-----------
Religious Department May Reconsider 'Ban' On Muslim Women in Malaysia Pageant
27 July 2013
Four Muslim beauty queens may be called back to participate in the Miss Malaysia World 2013 pageant as the Federal Territories Islamic Religious Department (Jawi) is reviewing the matter.
The four pageant finalists were earlier dropped from the competition after criticisms from Islamic leaders that their participation was 'sinful'.
However, Jawi director Datuk Che Mat Ali yesterday confirmed that he had met with the organiser of the pageant - Datuk Anna Lim - to discuss the possibility of the girls being allowed to compete.
"I have not made a decision yet, but I will be announcing the decision sometime next week," The Star quoted Che Mat as saying.
Lim also said that the four may be recalled to participae in the pageant, pending a decision by Che Mat.
"The meeting was fruitful and announcement may be made by early next week.
Lim went on to say that the Miss World finals this year would take place in neighbouring Indonesia, where Muslim contestants were allowed to compete in the pageant but will be wearing sarong instead of bikinis.
http://www.malaysia-chronicle.com/index.php?option=com_k2&view=item&id=135561:jawi-may-reconsider-ban-on-muslim-women-in-miss-malaysia-pageant&Itemid=2#ixzz2aHOBEFq5
----------
Israel Economist Shows Arab Women Want Day Care
27 July 2013
Cultural concerns don't necessarily stop Israel's Arab women from working, the lack of affordable day care does. Longer maternity leave for Austrian women might keep them in the labor force longer. And girls in areas of India with more sex-selection abortions are less likely to be malnourished.
These are some of the discoveries by Argentina-born economist Analia Schlosser of Tel Aviv University, whose research has been cited by the Bank of Israel, the World Bank and the Organization for Economic Cooperation and Development.
Israel extended its free day-care program more widely after a policy debate that included Schlosser's work, and a group lobbying for mixed-gender classes used her studies to show their benefits. Schlosser, who often chooses topics related to women or gender, says she went into economics rather than mathematics because she wanted to be involved in practical policy questions.
"At the end of the day, women are more interested in things connected to this world, less theoretical things," said Schlosser, 38. "I try to find a causal effect. This is one of the things that links all my research."
Schlosser, who spent a year at the Massachusetts Institute of Technology and two years at Princeton University, is a rarity in Israel. Only two of the 19 faculty members in her economics department are women. At Hebrew University of Jerusalem, only one of 26 is female. The comparable rate in the U.S. is 20 percent.
Girls, Boys
Schlosser's work on gender separation in schools produced new information for public policy makers in the U.K. and the U.S. and led to other studies, said co-author Victor Lavy of Hebrew University, who hired Schlosser as a research assistant when she was an undergraduate.
"All of her work touches upon important questions of public policy," Lavy said. "I see her among the leading economists in Israel doing empirical work, very careful empirical work." Lavy helped arrange for Schlosser's year in Cambridge, Massachusetts, at MIT as a doctoral student, and her two years at Princeton in New Jersey as a post-doc.
The 2011 article concluded that a higher proportion of girls in classes improves academic outcomes for both boys and girls and lowers disruption, violence and teacher fatigue. It was used by Ne'emanei Torah Va'Avodah, an Israeli group dedicated to fostering "tolerance and openness in Orthodoxy," in lobbying against the trend of increasing gender separation in Israel's state religious elementary-school classes.
'Serious' Research
"I've cited this study in lectures and in parlor meetings," said Shmuel Shattach, executive director of the Tel Aviv-based group. "It's a very serious piece of research."
One of the main reasons women are rare in Israeli economics departments may be that to get a job, economists need to travel to the U.S. to do their doctorate or post-doctoral work. Partners and children can make that more difficult, according to Schlosser.
"Most of the action is there," said the economist, who herself became a mother for the first time last year.
"Sometimes you feel more lonely, because there aren't very many women around," said Schlosser, who keeps a Princeton coffee cup in her office and a whiteboard adorned by mathematical equations scrawled in green marker. "When you go out to dinner, it's all men and you. I didn't have a female role model to follow. I do see younger women asking me for advice, and I think it's nice."
Schlosser says the degree of care she tries to take in her research -- using several methodologies and trying to be self-critical -- may be gender-related.
Too Cautious?
"Women are much more careful," Schlosser said. "When they want to say something, they want to be 200 percent sure. So they recheck from all different angles, to make sure that what they see in the data is what it is."
She doesn't intend that necessarily to be a criticism of men. In fact, it could be that women are sometimes too cautious, she said: They tend to take longer to publish, which also could be a result of family obligations. The end result can be a slowdown in their careers.
So far, gender hasn't hindered Schlosser, who in 2010 was chosen to be a member of the Young Scholars Forum of the prestigious Israel Academy of Sciences and Humanities.
Born in Buenos Aires, Schlosser, whose mother is a psychologist and whose father worked in the software industry before becoming a school principal, studied in Jewish schools. She first became interested in economics in high school.
'More Useful'
"I liked math a lot, but I wanted something connected to the real world," she said. "So the connection between math and more applied things is what got my attention. I didn't want to study pure math; I wanted something more useful."
After briefly attending a public university in Argentina -- where the overcrowded system meant students could take only three courses a semester and withdraw only three books from the library at one time -- Schlosser decided to move to Israel, where her sister lived.
Residual fear of police and mistrust of the government also may have played a part in her decision to leave, she said. While she is too young to remember her homeland's junta, in which human-rights organization say as many as 30,000 people disappeared and thousands of others were kidnapped and tortured, some of her parents' friends were among those who vanished.
In Israel, Schlosser studied economics and statistics at Hebrew University, eventually becoming a research assistant to Lavy and to Joshua Angrist. They later became her Ph.D. advisers and both encouraged her to go on to a graduate degree and, later, to go into academia.
Empirical Work
"She is one of the best applied micro economists in Israel," said Angrist, who now teaches at MIT. "She's a very good empiricist. Her work is very careful and in the end, very convincing."
It was her work with Lavy and Angrist, whom she calls her mentors, that gave Schlosser the appetite to become a scholar. "It was the first time I saw what research is," said Schlosser, whose other research also was done with co-authors. "I saw how professors live, the fact that you can study all the time, learn new things, do research on whatever you're interested in."
As a Ph.D. student in 2005, Schlosser became interested in Israeli-Arab women, the group with the lowest labor participation in the country by far. Only about 20 percent work, compared with more than 70 percent of Jewish women, according to the International Monetary Fund.
Preschool Enrollment
"I saw children's enrollment in preschool was pretty low, and I asked why and I was told there was no market for that," Schlosser said. "I tried to think whether having those institutions would help them, whether standard economic models would work for everyone."
By studying the gradual implementation in several towns of a law providing free child care from age three, Schlosser found that expanding this resource raised labor participation. The Bank of Israel and the OECD used the study to advocate making child care more widely available. After mass social protests in the summer of 2011 over the rising cost of living and the financial difficulties faced by the middle class, the government extended the program to the entire country.
In a 2011 article, Schlosser researched the effect of changes in Austrian government benefits on mothers' post-birth careers. When maximum parental leave was extended from one year to two years, mothers did take longer to return to work. She found, though, there was no detrimental effect on their employment or wages five years later.
Sex Selection
In a study on India, she focused on the impact of sex-selective abortion. The results showed that an increase in the practice of prenatal sex selection across regions is associated with a reduction in the prevalence of girls' malnutrition.
Girls who are born "because they are wanted are being treated better," Schlosser said. Her policy recommendation is that the government provide economic incentives for families with girls, which some regions already are doing.
Schlosser's most-cited work was co-written with Lavy and Angrist and was part of her doctoral thesis. They studied the effect of large families on the educational and economic attainment of children; in a sense, whether there is a tradeoff between quantity and quality.
Using data on Israeli families, Schlosser found no evidence that size had negative consequences on an individual's educational attainment, labor-force participation or wages. The only difference was that girls from larger families tended to marry sooner.
Less Sleep
Since the birth of her son in November, Schlosser is having her own experience balancing family and work. She's learning to live with less sleep and has temporarily cut out her favorite leisure activities: running on the beach and yoga. She is reading a book in Hebrew called "Broom and Other Stories" by Leonid Pekarovsky, a Russian immigrant with an art degree who works in Israel as a guard in a parking lot.
While Schlosser is at work, a nanny cares for her son. Her parents, who moved to Israel last year, also help a lot with the baby, she said.
"I see how tired I am and how demanding motherhood is, even if I have a supportive partner and the most ideal conditions I can think of," said Schlosser, noting that she is fortunate to have earned tenure before her baby was born. "It's not that it's impossible, but things slow down a lot. I have started to say no to a few things."
No Travel
Motherhood also has stopped her from traveling this year, something she says is very important in terms of looking for scientific collaboration, attending conferences and presenting papers. For fathers, the situation is not the same, says Schlosser, who has chosen to breastfeed her baby.
"You can't go against biology," she said. "There are small biological differences, which actually make a big difference."
Her husband, a brain researcher at Ben Gurion University of the Negev's medical school, holds both an M.D. and Ph.D. and is also an academic.
"It's not like regular work that you can come home and disconnect," Schlosser said. "You have to think about work 24 hours a day."
Schlosser says she still would encourage younger women economists who are interested to go into academia.
"You can find a way to do it," she said. "You can find a balance."
To contact the reporter on this story: Alisa Odenheimer in Jerusalem at aodenheimer@bloomberg.net
http://www.bloomberg.com/news/2013-07-24/israel-economist-shows-arab-women-want-day-care.html
----------
'Arab Women in Sport' exhibition opens in Manchester
27 July 2013
A new exhibition illustrating Arab women's love of sport has opened at the National Football Museum in Manchester.
Commissioned by Qatar Museums Authority, Hey'Ya: Arab Women in Sport, which runs from July 26 – October 13 it is an exhibition by the internationally renowned photographer Brigitte Lacombe and documentary maker Marian Lacombe.
Hey'Ya, the title of the exhibition, is Arabic for Let's Go reflecting the athletes' energy and enthusiasm.
The exhibition features a series of large-scale photographs of Arab sportswomen, from beginners to Olympians, from 20 different Arab countries, shown alongside videos by Marian Lacombe.
The exhibition was conceived by Qatar Museums Authority to encourage more Arab girls to participate in sports and comes to Manchester as part of the Qatar UK 2013 Year of Culture celebrations.
The Year is a programme of cultural exchanges and events in Qatar and the UK coordinated by the British Council and Qatar Museums Authority which aims to forge new and support existing partnerships between the two countries in the arts, education, sport and science, while promoting an awareness and appreciation of each country's culture, achievements and heritage.
The project was shot over a period of seven month starting in December 2011 when the Arab Games were held in Doha. With the support of the Qatar Olympic and Sports Museum, Brigitte and Marian Lacombe were able to set up their own outdoor studio, working side by side, capturing the athletes practicing different sports ranging from Tae Kwon Do to swimming and equestrian.
Amongst them were a number of Qatari girls, one of them Nada Mohamed Wafa, the first Qatari female swimmer to compete in the Olympic Games.
Nada said "I am proud to be featured in this amazing exhibition. I enjoyed learning about UK culture last year when I competed in the London 2012 Olympic Games. I am excited that the exhibition is travelling to Manchester as part of Qatar UK 2013 Year of Culture; I hope people of the UK enjoy learning about my country's culture as much as I did learning about theirs."
Kevin Moore, Director of the National Football Museum, said: "We wanted to bring something different to Manchester, a truly global sports city.
"The National Football Museum is committed to raising awareness of the key role that women play in developing football and other sports, both now and historically and is committed to breaking down cultural and gender stereotypes.
"This exhibition is part of a programme to display the works of the world's best photographers and artists and is a continuation of the NFM's collaborations with cultural institutions, such as the Qatar Museum Authority, from all round the world."
http://www.asianimage.co.uk/news/10575369._Arab_Women_in_Sport__exhibition_opens_in_Manchester/
----------
URL: https://newageislam.com/islam-women-feminism/they-emptied-acid-bottle-throat,/d/12786