New Age Islam News Bureau
20 Jun 2015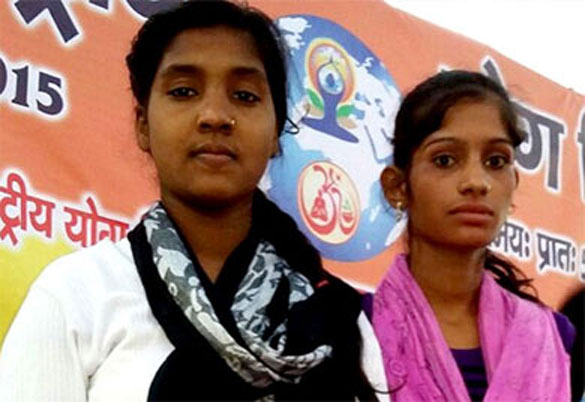 Reshma Khatoon and Bismillah Khatoon want to give yoga lessons to Prime Minister Narendra Modi and President Pranab Mukherjee. (HT Photo)
-------------
• Missing Bradford Sisters: Mother 'Didn't Want Children to Grow Up In UK'
• Muslim Gymnast Criticised For 'Revealing' Costume As She Wins Double-Gold
• Anger as Iran Bars Women from US Volleyball Game
• More UK Muslim Women Needed To Combat Extremism, Say Activists
• African Muslim Leader Advocates Law Forbidding Sex before Marriage
• 150 ISIS Sex Slaves Commit Suicide, Some Fed to Dogs
• Saudi Women Blazing Trail Of Success
• Saudi Women Use Social Media to Market Cooking Skills
• Situation for Women Points to Worsening Challenges for All Iranians
• UN Creates International Day for Ending Rape in War
• UK To Give £16m More to 'Ethiopian Spice Girls'
• Two Teenage Central Missouri Girls Spend Time in Prayer, Fasting During Islam's Holy Month
Compiled by New Age Islam News Bureau
URL: https://newageislam.com/islam-women-feminism/two-indian-muslim-girls-teach/d/103588
---------
These Two Indian Muslim Girls Will Teach Yoga to BJP President, Want to Train PM Modi Too
15 June, 2015
Now that two young Muslim "yoga gurus" are set to have BJP chief Amit Shah and, possibly a slew of Union ministers, twisting and turning to their command, they are aiming higher for their next pupil.
Reshma Khatoon and Bismillah Khatoon, both teenage yoga experts, say they now want to give lessons to Prime Minister Narendra Modi and President Pranab Mukherjee.
They made the headlines after being chosen to impart yoga lessons to Shah and others at Moinul Haque stadium in Patna on the occasion of International Yoga Day on June 21.
The Muslim girls' close bond with yoga has come to the notice of the Union government, which has been making the point there is no reason why yoga should be anathema to religious minorities.
The girls from Lal Saraiya village of West Champaran are hoping that teaching yoga to the BJP chief will be their first step in a long journey.
"Next, I want to give yoga lessons to Prime minister Narendra Modi," Reshma, at 16 the elder of the girls, told Hindustan Times from Bettiah, the headquarters of West Champaran district located 150 km northwest of Patna.
Fourteen-year-old Bismillah's pupil of choice would be President Pranab Mukherjee. "He lives in a big palace in Delhi. I will feel very happy to go there and teach him yoga. It will improve his health," said the Class 10 student.
The two girls were in the midst of a programme at Maharaja Stadium in Bettiah, preparing for Yoga Day, and sounded excited about going to Patna for main event on Sunday.
"I will begin with Surya Namaskar, teach Pranayam and then move on to other yogic Asanas," said Reshma about her plans to impart the basics of yoga to the BJP chief.
Reshma has been practicing yoga since 2012 after being inspired by her parents, while Bismillah has been doing it since 2010. Bismillah said she was just nine years old when she started.
"I want to teach 10 Asanas (to Amit Shah)," said the younger but more experienced girl.
The families of the two girls live in a colony for Bengali refugees who migrated to West Champaran from the erstwhile East Pakistan during the war of 1971 that led to the creation of Bangladesh.
"We call the colony yoga village as all the 1,500-odd families residing there know yoga, thanks to the effort of one man, Ashok Sarkar, who also lives there," said Krishna Mohan Prasad, the head of the West Champaran unit of the Divya Yoga Mandir run by Ramdev's Patanjali Yogpeeth.
"It is Sarkar who taught yoga to Reshma and Bismillah, who come from the only two Muslim families in the Bengali settlement," Prasad said.
It is "Sarkar sir" who will accompany the two girls to Patna.
"Both girls are highly skilled in yoga and have represented India at international competitions and camps, including those in Australia and South Africa. Yoga doesn't differentiate between human beings on the basis of religion," said Ajit Kumar, in-charge of Patanjali Yogpeeth in Bihar and Jharkhand.
Kumar said more than 20,000 people are expected attend the yoga event in Patna on Sunday and around 8,000 will be present in the Moinul Haque stadium.
http://www.hindustantimes.com/india-news/after-amit-shah-these-muslim-girls-from-bihar-want-to-teach-yoga-to-pm-modi/article1-1360823.aspx
----------
Missing Bradford sisters: Mother 'didn't want children to grow up in UK'
15 June, 2015
One of three sisters believed to have taken their children to Syria "didn't want her daughters to grow up in England", a friend of hers has said.
The woman, who asked not to be named, told the BBC Zohra Dawood "didn't like the UK" and thought England was becoming "more like America".
Ms Dawood and her sisters Khadija and Sugra, all from Bradford, went missing along with their nine children.
Earlier an Islamic State (IS) smuggler said they had now reached Syria.
Prime Minister David Cameron, speaking at a security conference in Slovakia, warned of the dangers posed by those who "quietly condone" Islamic State militants' extremist ideology.
The friend of Zohra Dawood, who wanted to remain anonymous because she said she feared for her life, said the mother told her: "I don't want my children living in this society."
The friend added: "She says she wants to live in Saudi Arabia because she didn't like the UK."
'Happy children'
Asked if she challenged Zohra over her views, the friend said: "No because by then Zohra completely ignored us. She didn't talk to anyone. I don't know what she was thinking."
The friend also appealed for the return of the children.
"Why has she taken them into a war zone? They were perfectly happy children. We're all worried for the children," she said.
The women's brother is understood to be fighting with extremists in Syria. When asked who convinced Zohra to go to Syria, the friend said: "I think her brother - and she convinced her sisters to do the same to help their brother out."
The friend also said she was "shocked" to hear Sugra's son Ibrahim Iqbal, 14, say: "I'm going to Syria to fight."
The sisters and their children went missing after travelling to Saudi Arabia for a religious pilgrimage on 28 May.
Instead of flying home as their families expected, the group went missing and apparently flew to Turkey.
On Tuesday, two of their husbands made an emotional appeal for them to return.
But the IS smuggler told BBC Middle East correspondent Paul Wood they then split into two groups to cross the border into Syria.
He said the first group went early on Wednesday and the second on Thursday.
The information fits with the news that Zohra sent a message to her family that she was inside Syria - but did not say exactly where.
It is believed the group missed a previous flight to Saudi Arabia in March after being questioned by security officials.
The North East Counter Terrorism Unit said it was "continuing to make extensive enquiries" in order to try to bring the women and children home.
Prayers were said for the family at their local mosque in Bradford on Friday.
In his speech earlier, Mr Cameron highlighted the role families and communities can play in countering radicalisation.
He said there were some members of the Muslim community who "don't go as far as advocating violence" but who "buy into some of these prejudices" of Islamist extremist ideology.
Mr Cameron said this "paves the way for young people to turn simmering prejudice into murderous intent".
Every armed group in Syria has its own network of smugglers - and the so-called Islamic State is no different.
They move people - and sometimes cash and weapons - across the border for profit and for the cause.
Like all smugglers, IS uses a network of safe houses along the border, though the area of border open to them has been shrinking as they lose territory to a Kurdish military advance, backed by US airstrikes.
The Turkish security forces occasionally shoot, and kill, people crossing the border illegally, but most crossings are uneventful with many smugglers coming to "an arrangement" with the Turkish border guards.
Once inside Islamic State territory, however, the women and their children will not be allowed to leave.
I spoke to an activist who runs a secret network trying to get disenchanted jihadis out of the so-called caliphate.
He told me some 400 had been killed trying to leave - and that 200 women were under house arrest.
http://www.bbc.com/news/uk-33201176
----------
Muslim gymnast criticised for 'revealing' costume as she wins double-gold
15 June, 2015
For wearing a leotard at the Southeast Asia games, Farah Ann Abdul Hadi has come under fire where she won a total of six medals
Hadi, 21, a Muslim gymnast has been criticised by religious leaders for wearing a leotard which is 'revealing' at the Southeast Asian Games where she won a double gold.
Hadi represented Malaysia at the Southeast Asian Games where she won a total of six medals including two golds.
She was castigated by social media and leaders for showing her "aurat" – an Islamic word referring to thighs and genitalia.
Cleric Harussani Zakaria informed one local paper: "Gymnastics is not for Muslim women. It is clear that exposing one's aurat and the shape of one's body is forbidden in Islam."
"If Muslim women want to participate in gymnastics, they have to find outfits which cover the aurat and this, in turn, might not be suitable for the sport."
He also stated that during playing football, Muslim men wear shorts that cover their knees, and Muslim women should make similar concessions too.
Head of the female win of the National Muslim Youth Association, Roszida Kamaruddin added: "Women should not be stopped from sports, but they must prioritise the Islamic codes in sports."
"Furthermore, there are many Muslim female athletes who succeed even by covering their aurat."
By writing messages of support, thousands of her fans have defended her on social media.
A Facebook page supporting her has received 18,000 likes, user Nooraini Yasin wrote: "Well done Farah Ann Abdul Hadi! You are someone Malaysia and all Malaysians should be proud of.
"You trained hard and show great dedication and discipline and have shown that with hard work one can achieve great heights no matter your gender. Be brave be strong."
Malaysian Ray Lai, added: "We Malaysians are proud of you. Ignore those narrow minded creatures who lambasted you over your sport attire.
"The fact that they can't appreciate sport excellence and your well-deserved honour shows there's something wrong with those self-centred people who act as moral police."
Khairy Jamaluddin, Malaysia's minister for youth and sports also defended her.
He tweeted: "In gymnastics Farah wowed the judges and brought home gold. In her deeds only the almighty judges her. Not you. Leave our athletes alone."
In a press conference in Singapore, he said: "I think this whole incident also smacks sexism. Nobody has complained about… kinky Speedos, or Sazali (Samad) wearing tight shorts when he flexes his muscles but when it comes to gymnasts, suddenly it's a big problem."
Hadi thanked her fans on Twitter for defending her, saying: "Thanks so much for all the support. I appreciate it so much. Love you all."
She wrote: "Empty cans make the most noise" – which has since been re-tweeted almost 5,000 times.
http://tribune.com.pk/story/906260/muslim-gymnast-criticised-for-revealing-costume-as-she-wins-double-gold/
----------
Anger as Iran bars women from US volleyball game
15 June, 2015
Activists in Iran are angry that women were barred from watching a volleyball game against the US, despite earlier indications they could attend.
There had been reports Iran's sporting federation would permit a limited number of women to watch Friday's game, which Iran won 3-0.
But opposition from the country's hardline conservatives appears to have led the federation to backtrack.
The Islamic country traditionally bars women from male sporting events.
However, in recent months the relatively moderate government of President Hassan Rouhani appeared willing to bow to pressure from activists and international sporting bodies and ease restrictions.
Shahindokht Molaverdi, Iran's vice president for women and family affairs, told reporters last week that a limited number of women - mainly players' family members - would be allowed to attend the volleyball game against the US.
And earlier this week, the International Volleyball Federation (FIVB) said it had been assured by Iran that women would be allowed to join spectators for the tie at Tehran's Azadi (Freedom) Sports Complex.
But activists' fears were realised on Friday night when women were prevented from watching the game. Female journalists were also denied entry, according to Iran's semi-official ISNA news agency.
The decision led to a protest on social media, with thousands tweeting using the hashtag #LetWomenGoToStadium.
'Prostitutes in stadiums'
There were reports of heavy security around the arena. Protests had been discussed on social media - a Facebook page called "Women's Revolution" invited people to demonstrate outside the stadium.
Religious hardliners had reacted angrily to the apparent softening of restrictions.
Ansar-e Hezbollah, a religious vigilante group, issued a statement earlier this week likening female spectators to prostitutes and calling on its supporters to prevent them from entering the stadium.
"We are taking a stand against legalising the presence of prostitutes… in stadiums," the group said in a flyer distributed in Tehran. "This Friday there will be blood," it added.
Senior Islamic clerics and officials also denounced the proposals. "We didn't rise up in an Islamic Revolution for the right of women to enter sports stadiums," said Ayatollah Mohammad Ali Alavi Gorgani.
Women's presence at sporting events has become something of a lightning rod for tensions between Iran's religious hardliners and its more progressive elements.
The issue made international headlines in June 2014 when a group of women protested by entering the Azadi stadium to watch a volleyball game between Iran and Italy.
They were arrested and one of them, British-Iranian Ghoncheh Ghavami, was held in jail for five months.
http://www.bbc.com/news/world-middle-east-33205360
----------
More UK Muslim women needed to combat extremism, say activists
15 June, 2015
Not enough Muslim women are involved in counter-extremism operations in the UK, say activists, a problem which could be leading to more women and teenage girls deciding to travel to Syria to join extremist groups.
This week a UK family, comprising three sisters and nine children from Bradford, crossed the border into Syria without their husbands' knowledge, the latest in a string of women who have travelled to join extremist groups such as Isis as non-combatant supporters, often marrying fighters.
Activists say that there are not enough women working to counter extremism in the Muslim community, while social media accounts of female Isis supporters work to recruit disaffected women in the UK and around Europe.
Fiyaz Mughal, founder and director of Faith Matters, a not for profit organisation which works to counter extremism, estimates that there is just one Muslim woman working as part of the government's anti-extremism Prevent programme at the Home Office at a senior operational level, out of an overall staff of around 30-40, although Newsweek was unable to confirm this figure. The Home Office said they do not discuss the identities of people involved in the programme. "Beyond that, at a civil society level, women working in this arena are grossly under-represented," says Mughal.
Kalsoom Bashir, the co-director of Inspire, an organisation which works with Muslim women to tackle extremism, says that the idea of grown women taking their children into war zones is "shocking" but that there is "no doubt" that more Muslim women and teenage girls will attempt to make the journey, due to growing grassroots sympathy for extremist ideologies.
She adds that counter-extremism operations would be improved if more Muslim women were involved, but admits the work she does is very difficult. She says that both she and her colleagues have been branded as being "native informants" and "Quilliam whores" by representatives from local mosques - despite Inspire having no formal ties to the counter-extremism think tank the Quilliam Foundation.
Mughal highlights the challenge for the government programme: "The reality is that many Muslim women may feel frightened about the impact of working with Prevent, seeing as it is disliked and distrusted in many Muslim communities," he says. "Even if they were interested in working in counter-extremism, they might be scared they would lose friends, or frightened they would be shunned by their communities."
Today, Prime Minister David Cameron highlighted the role families and communities must play in countering radicalisation while speaking at a security conference in Slovakia. He warned of the dangers posed by those who "quietly condone" the extremist ideology of groups like Islamic State.
Bashir broadly agrees, and says that part of the problem is community imams. "They're not radicalising young people, but the fertile breeding ground is there, because they are disseminating a very intolerant interpretation of faith that does not emphasise being a part of this country," she argues.
In response to Cameron's speech today the Muslim Council of Britain released a statement from its secretary general Dr Shuja Shafi, in which he said that it's wrong to place the responsibility for extremism entirely on the Muslim population of Britain.
"We are in no doubt that there are many shortcomings in Muslim civil society, which like wider society, is struggling to challenge the terrorist narrative that is potent outside the mosque and in the margins of the internet," he wrote. "But to suggest that Muslim communities have led young people to extremism or gives credence to extremist ideology is erroneous, wrong and counterproductive."
http://europe.newsweek.com/more-muslim-women-needed-combat-extremism-say-activists-329009
----------
African Muslim Leader Advocates Law Forbidding Sex before Marriage
15 June, 2015
A Muslim leader has called for a Legislative Instrument (LI) to forbid sex before marriage, especially among adolescent girls.
Alhaji Mustapha Kalafara, an Imam, noted that early and forced marriages were rife in Zongo communities, because Muslims believed that was the best way to control acts of immorality among teenage girls.
He was contributing to an open forum at a durbar to mark this year's AU Day of the African Child at New Dormaa in the Sunyani Municipality, organized by the Brong-Ahafo Regional office of the Department of Children under the Ministry of Gender, Children and Social Protection.
The AU Day of the African Child was instituted by the then Organization of the African Unity (OAU) now the African Union (AU). In 1991 and falls on June 16 every year in memory of the gallant children who were killed during the Soweto uprising.
The theme for the 2015 celebration is: "Ending Child Marriages in Ghana Through the Strengthening of Family Structures."
Alhaji Kalafara, the Deputy Chief Imam at New Dormaa, a Muslim dominated community, observed that though Christianity and Islam were against sexual promiscuity, the situation was becoming alarming, and therefore drastic measures must be taken to bring it under control.
He said until a law was enacted to restrain boys and girls from engaging in early sexual intercourse, efforts to control early and forced marriages in the country would not be successful.
"We cannot sit unconcerned and look at our girls engaging in all forms of immoral behavior and uncontrolled sexual practices, which Islam strongly speak against", Alhaji Kalafara stated.
The Reverend Appiah Kubi, a Principal Investigator at the Brong-Ahafo Regional Office of the Commission on Human Rights and Administrative Justice (CHRAJ), noted that Ghana was among the leading countries that practised forced and early marriages.
He said according to statistics, forced and early marriages contributed about 29.1 percent of Ghanaian marriages or ordinance, Islam and traditional.
Rev Kubi explained that the 1992 constitution superseded all the three marriages, warning that the law would not spare any culprit of forced and early marriages.
Assistant Superintendent of Police (ASP) Setina Aboagye, the Deputy Brong-Ahafo Regional Coordinator of the Domestic Violence and Victims Support Unit (DOVVSU) of the Police, said the unit recorded nine cases of forced and early marriages in 2014.
She emphasized that poverty, religion and tradition could not be yardsticks to endorse early and forced marriages, and warned perpetrators to stop the practice as those who would be caught would be prosecuted.
Mr George Yaw Ankomah, the Brong-Ahafo Regional Director of the Department of Children, regretted that though it had devastating effects on girls, efforts in controlling early and forced marriages were being thwarted by some outmoded traditional and religious practices.
He said research had showed that victims of early and forced marriages went through all forms of violence which resulted in psychological, emotional and mental traumas.
Mr Ankomah appealed to all stakeholders to support and collaborate effectively with the department to end the practice.
http://www.ghanaweb.com/GhanaHomePage/religion/Muslim-leader-advocates-law-forbidding-sex-before-marriage-363505
----------
150 ISIS Sex Slaves Commit Suicide, Some Fed to Dogs
15 June, 2015
At least 150 Yazidi women and girls killed themselves after they were forced to become Islamic State sex slaves, according to a woman working with some of the survivors who managed to escape.
In one of the most comprehensive accounts of the effects of Islamic State brutality, details emerged of the ordeals faced by hundreds of Yazidi women, very often after their male relatives were butchered by Islamic State members.
Irifan Mahdi, who is trying to help the women rehabilitate into some semblance of normative society spoke of the horrors in an interview with the Sputnik news organization's Arabic website.
She told the story of Jilan Barjess-Naif, 17, "a beautiful green-eyed girl, with rare blonde hair, who slashed her own wrists in a public bathhouse near Mosul, northern Iraq, which is under Islamic State control."
She was separated from the less attractive girls and singled out for special rape treatment before being put up for sale in a sex market.
After she committed suicide, Islamic State members threw her body from the bathhouse into the nearest garbage dumpster.
Jilan's sister, Jihan, committed suicide a few days after being captured and transferred, along with other girls, to A-Raqqa, the Islamic State's capital, in order to be sold at a slave market.
Their pregnant mother, also captured, gave birth to a child in a cave. She was freed recently and returned home "as a mad woman" after the suicides of her daughters.
As if all of this was not enough, Islamic State executed six of Jilan and Jihan's siblings and their father and arrested 20 other members of the family. The whereabouts of some are still unknown.
The fate of the Barjess-Naif family from Qar-Aziz in the Sinjar region of Iraq is by no means unique, according to Majid.
Mahdi said she knows of 150 Yazidis who committed suicide and believes the real figure is considerably higher.
"They preferred to die than to live in brutal sexual slavery and violence by organization members," she said.
"The bodies of some who committed suicide were thrown to the dogs," said Yazidi nurse Amal Hasou, who works in an IDP (internally displaced people) camp.
Hasou said Islamic State members even told the girls that if one commits suicide her body would be thrown into the garbage and served as a meal for dogs.
Most of the girls cut their wrists or used the Hijabs they had been forced to wear to hang themselves. Some threw themselves to their deaths from the vehicles used to transport them.
http://www.aina.org/news/20150619190049.htm
----------
Saudi women blazing trail of success
15 June, 2015
Saudi women have, in recent years, come to hold top leadership positions inside and outside the country and won the right to vote and run in municipal council elections.
They have also played a major role in making important decisions in several sectors within ministries, universities and other government institutions.
Due to these changes, members of society have changed the way they view women after seeing the role played by women in keeping the wheel of development in the country spinning.
As a result, many people have called for giving women more top leadership positions so they can play a greater role in the development of the country, Al-Riyadh daily reports on the changing role of Saudi women in the Kingdom.
Samar Al-Saggaf, director of medical programs and cultural attaché at the Saudi Embassy in Washington, said in order for women to be innovative and create a trail for others to follow, they should prioritize their tasks.
"Women should put their studies and family first and work later. When their children become self-dependent, work should be the priority.
A successful woman is one who makes success a habit, not a hobby," Al-Saqaf said. She emphasized the role husbands, sons, brothers and fathers can play, as moral support from the family is essential for any woman to succeed.
Personal traits
Hana Al-Zuhair, deputy secretary-general of Prince Sultan Bin Abdulaziz Women's Development Fund, said a female leader should have a strong personality and identify her weaknesses and strengths. "Women have a knack for managing their time effectively. They are natural multi-taskers," Al-Zuhair said.
She agreed that a successful woman is usually supported by her family. Her success would not have been accomplished had it not been for her family's support.
She stressed the importance of having a dogged determination, persistence and perseverance to succeed. As a woman, she believes that men can sometimes feel jealous of their wives' success and such jealousy can affect women negatively and prevent them from forging ahead in their careers.
"Nevertheless, most women, especially those who have leadership skills, pull through difficult times and emerge triumphant."
Al-Zuhair criticized men who are jealous of their successful wives, saying it is shame on men to think that just because their wives hold leadership positions, they will try to control them.
"This is an unacceptable exaggeration on men's part. I urge women holding such positions to find a way to strike a balance between furthering their careers and taking care of their husbands and children," she added.
Reactions
Mishal Al-Ghamdi, a government official, urged men to support and encourage their wives in their careers. Al-Ghamdi is married to a businesswoman who has excelled at her career but at the same time has not forgotten her responsibilities toward her family.
Yasser Al-Amoudi, another employee, disagreed with Al-Ghamdi and said he does not want to get married to a woman who holds a leading position in the public or private sector because he does not want to come home after a long day of work to listen to his wife complain about the problems she faced at her workplace.
"I'm against giving leading positions to women because I don't think women are cut out for such positions. Don't get me wrong; I'm not saying women cannot be leaders, I just think most of them don't have it in them to be leaders," Al-Amoudi said.
Mutual respect
Kawthar Al-Bugami, another employee, said her husband has been her No. 1 fan and supporter and even helped her achieve success at her job.
He also helps her take care of their children at home and urged her to complete her master's degree. "Why would a husband be jealous of his wife's success when her success means his success? They're one and on the same boat.
The most important thing for a working wife is to strike a balance between work and family," she said.
http://www.saudigazette.com.sa/index.cfm?method=home.regcon&contentid=20150620247801
----------
Saudi women use social media to market cooking skills
15 June, 2015
MANY Saudi women use the popular micro-blogging site Twitter and photo-sharing site Instagram as an easy and inexpensive way to market their homemade dishes to potential clients.
These social media "cooks" have discovered a way to give people access to healthier, homemade food at a fraction of the cost they would pay in a restaurant.
Al-Riyadh daily reports on the increasing number of home-based businesses that rely on social media to market their products.
Although the food is prepared at home and customers do not know whether or not hygiene standards were followed, many people are still willing to take the risk and buy the food they just liked on Instagram.
Traditional dishes
Laila Ahmad, known as Umm Rima to her customers, said she has been making and selling homemade food for the past two years.
Her husband encouraged her to do it and she started selling food to her friends and neighbors. Once she signed up for a Twitter account last year, her sales jumped.
She takes orders online and has her driver deliver them to her customers, earning a cool SR5,000 a month in the process.
Laila said she has many customers and knows how to cater to each of their tastes. "Some prefer traditional dishes while others like desserts.
I have accounts on all social media websites including Twitter and people just send me their personalized requests and I make what they want," she said.
Home kitchen
Umm Fahad, an expert in rice and barbequed meat/chicken dishes, also started out selling her dishes to family members and neighbors.
When her daughter suggested she start a Twitter account, her customer base increased and she earns enough money to provide for herself.
After retiring from her teaching job, Umm Abdullah took up cooking to earn some extra cash on the side. Her children helped promote her food online and her impressive kitchen is well-stocked and equipped to handle the large orders she receives. Most of her customers order food for social events.
E-business
Modi Al-Shammary, associate professor in the Social Studies Department, King Saud University, said e-commerce is becoming increasingly popular in the Kingdom and many people have taken to social media to promote their products/services.
"Most female cooks have good skills and some of them have become well-known in their respective cities because of their talents.
They can take and deliver orders quicker than restaurants and can offer a homemade taste that most restaurants cannot," Al-Shammary said.
Many women said they prefer to run home-based businesses because they don't have to apply for official licenses, pay rent or salaries to staff.
And the prospect of marking their products without paying for advertising is an added bonus but many say such businesses need to be regulated to protect consumers.
"The Consumer Protection Agency (CPA) and the Saudi Food and Drugs Authority (SFDA) should regulate home-based businesses to ensure compliance with local laws and define proper e-business regulations, which will help women run their business legally," Al-Shammary said while adding CPA inspectors should be allowed to enter and inspect home kitchens where food is prepared.
http://www.saudigazette.com.sa/index.cfm?method=home.regcon&contentid=20150620247802
----------
Situation for Women Points to Worsening Challenges for All Iranians
By INU staff
15 June, 2015
INU - In our coverage yesterday of the launch of an official matchmaking website in the Islamic Republic of Iran, we pointed out that this attempt to promote speedy marriage and traditional families is of a piece with a broader effort by Iran's leaders to crack down on the rights of women and to reassert conservative clerical control over the structure of Iranian society.
We referred, for instance, to the growth in efforts to enforce the imposed veiling of women, as by empowering civilian militias to accost women considered to be wearing "bad hejab." On Wednesday, IranWire reported on an instance of the continued pressure toward such measures. The site pointed out that Ayatollah Jafar Sobhani, one of the highest ranking clerics in the Iranian religious centre of Qom, had encouraged security forces and others to "act beyond the law" for the sake of enforcing "good hejab."
The crackdown on women's rights has also included efforts to more strictly segregate the genders in public life and to discourage virtually all relations between unmarried men and women. A particularly noteworthy example of this emerged on Wednesday when the International Campaign for Human Rights in Iran reported that Atena Faraghdani, who was recently sentenced to 12 years and nine months in prison for drawing a cartoon critical of Iranian legislators, is now being charged along with her lawyer, Mohammad Moghimi, for "non-adultery illegitimate relations" because they shook hands when the attorney came to visit his client.
The International Campaign goes on to provide two alternative explanations for the initial case against Farghdani, who was charged with "assembly and collusion against national security," "propaganda against the state," and "insulting the Supreme Leader, the President, Members of the Parliament, and the interrogating prison agents." Specifically, the activist organization indicates that that case may have been motivated either by the broader crackdown on political and social media activities, or by Faraghdani's supposedly relations with the widely persecuted Baha'i religious minority.
In either case, the latest charges against her can only be explained in terms of growing strictness about gender relations, even if she herself is being targeted for reasons other than her gender. Similarly, an article published Wednesday by HyperAllergic points to the simultaneous pressures against women and against free artistic expression in Iran. It summarizes the documentary film No Land's Song by Iranian filmmaker Ayat Najafi, which recently won the Human Rights Watch Film Festival's Nestor Almendros Award.
The film follows an effort to stage an all-female vocal performance in Iran, and it anticipates the current situation in which there is tremendous pushback against a public female presence and also against such supposedly Western social influences as musical performance. The concert in No Land's Song eventually did go forward, but the article quotes the filmmaker and the movie's central figure as saying that since then it has become steadily more difficult for Iranian artists to live and work in their own country.
The same is certainly true of Iranian journalists – a fact that the website JournalismIsNotACrime.me, which launched last week, is trying to expose. Site founder Maziar Bahari appeared on PBS Newshour to discuss the launch, where he pointed out that about 50 journalists are currently imprisoned in Iran for doing their jobs, and that neither the Rouhani administration nor the judiciary is willing to acknowledge this well-publicized situation.
On the other hand, the Iran Human Rights website suggests that publicity for this and other human rights abuses in the Islamic Republic is insufficient, and that the lack of international outcry is making the situation worse. It points out that a total of 206 executions have been carried out in Iran in the month of June alone. This equates to approximately one execution every two hours, though in fact they are usually carried out en masse, as was done on Tuesday when 25 inmates were hanged in the morning in a single prison.
http://irannewsupdate.com/news/human-rights/2202-situation-for-women-points-to-worsening-challenges-for-all-iranians.html
----------
UN Creates International Day for Ending Rape in War
15 June, 2015
UNITED NATIONS: The UN General Assembly adopted a resolution to decide that International Day for the Elimination of Sexual Violence in Conflict will be observed on June 19 each year in a bid to boost the global fight against the horrors faced by women and girls in zones of conflict worldwide.
"This international day is a victory for all the survivors who stay too often silent," Leila Zerrougui, the UN special representative for children and armed conflict, said at a plenary meeting of the 193-member General Assembly.
The new General Assembly resolution was co-sponsored by 113 countries to create the International Day, which now will be observed annually to raise awareness of the need to end conflict- related sexual violence and urge the international community to stand in solidarity with the survivors of sexual violence around the world.
The new initiative, moreover, comes amid an uptick in reports from areas controlled by militant groups aligned with the Islamic State of Iraq and the Levant (ISIL) of brutal acts of sexual violence against women and girls.
Just last year, ISIL affiliate Boko Haram abducted some 276 girls from their school in Chibok, located in Nigeria's restive north-eastern Borno state, as the militant group ramped up brutal attacks targeting the West African country's children.
"Now on the 19th of June every year, we will have a new opportunity to remind everyone about their engagement to end this scourge and to hold the perpetrators accountable," Zerrougui said. "This is a day for all of us."
"This resolution is an engagement from all member states that commit to fight against sexual violence in conflict," she said.
For his part, Sam Kutesa, the president of the General Assembly, expressed his support for the resolution.
"Rape as a weapon of war must be stopped. We must ensure that the perpetrators of these crimes, and their superiors who condone them, are held accountable," Kutesa said.
Maria Cristina Perceval, the permanent representative of Argentina to the United Nations, told the General Assembly that sexual violence is a crime against humanity.
"This form of extreme violence is exercised in particular against women, girls and boys," Perceval said. "We should not overlook what is a clear violation of human dignity."
Zainab Bangura, the UN special representative on sexual violence in conflict, said that the day should pay homage to survivors.
"This special day is also creating a moment to mention and pay homage to the thousands of survivors of sexual violence, including women, girls, men and boys who despite the grievous harm suffered have shown extreme determination, resolve and unflinching courage to speak out," Bangura said.
The date June 19 commemorates the breakthrough adoption in 2008 of UN Security Council resolution 1820, which recognized sexual violence as a threat to global peace and security, requiring an operational security, justice and service response. It further recognized that rape and other forms of sexual violence can constitute war crimes, crimes against humanity and/or constitutive acts of genocide.
The most recent annual UN report Conflict-Related Sexual Violence described disturbing trends in sexual violence against adolescent girls, including incidents of rape, sexual slavery and forced marriage in countries including the Central African Republic, Iraq, Somalia, South Sudan, Sudan and Syria.
The report said that 2014 "was marked by harrowing accounts of rape, sexual slavery and forced marriage being used by extremist groups, including as a tactic of terror.
http://www.malaysiandigest.com/frontpage/29-4-tile/558490-un-creates-international-day-for-ending-rape-in-war.html
----------
UK To Give £16m More to 'Ethiopian Spice Girls'
15 June, 2015
Britain is set to give an extra £16m to a foreign aid to a project that funded Ethiopia's version of the Spice Girls, despite warnings that it will be a waste of money.
The Department for International Development (DfID) is due to announce a 'second phase' of funding for the Girl Hub project – designed to "empower" girls in Africa – despite calls from the Independent Commission on Aid Impact group to halt the payment unless it is proven to be working.
The project has already provided at least £4m to the Ethiopian girl group Yegna, helping them fund a radio soap opera and series of videos aimed at young African girls.
However, the Independent Commission has released a highly critical report claiming that DfID "does not have sufficient independent evidence on the effectiveness of Girl Hub".
The project has failed in northern Nigeria due to Islamist violence and "entrenched gender norms" and there is little more than "patchy" evidence it has had any effect in Ethiopia and Rwanda.
Jonathan Isaby of the TaxPayers' Alliance told the Daily Mail: "Taxpayers will be astounded that bureaucrats are insisting on pushing ahead with spending such dramatic amounts of money abroad on projects of questionable worth."
A spokesman for the project said: "Since our launch in 2010 we have reached millions of girls, boys and adults living in poverty with innovative social and behaviour change communications.
"For example, 84 per cent of girls listening to Yegna, Girl Hub's Ethiopian radio drama and talk-show, report that it has helped them become more confident, while 76 per cent report it has inspired them to continue their education."
http://www.breitbart.com/london/2015/06/19/uk-to-give-16m-more-to-ethiopian-spice-girls/
----------
Two Teenage Central Missouri Girls Spend Time in Prayer, Fasting During Islam's Holy Month
15 June, 2015
Teenagers Hanna Abdutkhaleq and Humera Lodhi sat cross-legged Friday on the floor of a room in the northwest corner of the Islamic Centre of Central Missouri reading the Quran. Lodhi recited the Arabic verses of the book and then Abdutkhaleq read the equivalent English translation.
The pair visited the Centre on Friday for its daily Ramadan Quran Circle, a special gathering for women to read and discuss the Quran after the Dhuhr, or noon prayer.
During Ramadan, Muslims fast from sunrise to sunset each day and spend extra time in prayer to worship God and recharge their spirit. Ramadan started Wednesday evening this year and will end with Eid al-Fitr on July 17, according to Fiqh Council of North America's statement on Ramadan and Shawwal.
"It's special. A whole community are together and worship God," Abdutkhaleq, 17, said. Abdutkhaleq, who will be a senior at Rock Bridge High School, said she feels spiritually cleaner during Ramadan.
Abdutkhaleq has already spent two days fasting. In addition to fasting during Ramadan, Muslims refrain also from using foul language, watching television and releasing bad tempers.
Lodhi, 17, who graduated from Rock Bridge High School in May, said she grows more spiritually as a person during the holy month.
The girls also said they love the bond Ramadan builds in the community, such as during special prayer activities and dinners the Center organizes.
Gamal Dirar, who owns a local taxi business, said people bring food and eat together at the break of the fast each day, which is known as the Iftar.
Lodhi and Abdutkhaleq agreed that Ramadan is their favorite month of the year.
http://www.columbiamissourian.com/news/local/two-teenagers-spend-time-in-prayer-fasting-during-islam-s/article_9ba87e06-16e4-11e5-a491-03ee1b62a342.html
----------
URL:
After Day of the African Child: Girls threatened by early marriage, but more boys falling behind in school
15 June, 2015
In parts of Malawi, when a girl reaches puberty, she may receive a night-time visit from an older man – known as a "hyena."
THE Day of the African Child was celebrated on Monday June 16, commemorating the school protests of Soweto Uprising in 1976, which marked a turning point in South Africa's struggle against apartheid.
This year's theme centred on ending child marriage in Africa. Looking at the day after the celebratory dust has settled is always sobering.
Although many African countries have laws against child marriage, many others don't. Of the top ten countries with the highest rates of child marriage, seven are in Africa. These are Niger (75%), Chad (72%), Guinea (63%), Mali (55%), Mozambique (52%), Malawi (50%), Madagascar, Sierra Leone and Burkina Faso (all 48%).
Malawi, for example, enacted a law that banned child marriage for the first time in February this year, increasing the legal age of marriage from 15 to 18.
More than half of Malawian girls are married off as children, sometimes from the age of nine.
Shockingly, in parts of Malawi, when a girl reaches puberty, she may receive a night-time visit from an older man – known as a "hyena" – who has sex with girls to "prepare them for marriage", a report from advocacy group Equality Now indicates.
While the official minimum age of marriage in Cameroon is 18 years, a girl child in some places in Cameroon can be betrothed when she's still in the womb or as early as two. Girls betrothed this way are handed over for marriage as early as nine with impunity.
And in countries like Tanzania and Mali, the legal age for marriage of girls is younger than that of boys (15/16 years compared to 18 years for boys).
Boys lose
But although it looks as though the odds are stacked against the girl child in Africa, new research suggests that boys are falling behind at school and dropping out altogether at a rate faster than girls – though it is a largely invisible phenomenon, unlike girls who leave school for "visible" reasons like pregnancy and marriage.
Advocacy group Twaweza today launched the Uwezo learning assessment in Kenya, which measures numeracy and literacy among primary school pupils, as well as other indicators of educational quality such as school attendance.
The results show that girls attend school more regularly than boys in Kenya, especially in upper primary.
This is a counter-intuitive finding, as upper primary (where pupils are aged between 10 and 14) is the time when girls begin to experience numerous threats to their education, including female genital cutting, and early marriage.
It is also the time when girls begin their periods, and some studies indicate that around 66% of girls in Africa know nothing about menstruation until they start their menses, and 1 in 10 school-age African girls do not attend school during menstruation, according to data from Unicef.
In another survey conducted by FAWE in Uganda, 61% indicated missing school during menstruation and in Ethiopia 51% of girls miss between one and four days of school per month because of menses and 39% reported reduced performance.
In Kenya, 86% and 53% of girls in Garissa and Nairobi respectively miss a day or more of school every two months, but despite all these challenges that beset girls and threaten to terminate their education, Uwezo's findings show they still manage to attend school more regularly than boys.
Strange selection
It could be that the adversity acts as a kind of selection mechanism – some girls do drop out, but those who remain are the ones who are committed to their education and are determined to make it no matter what.
But perhaps there are economic and social forces that work to lure boys out of school – for one, boys are simply more mobile than girls. They are largely allowed to go out on their own, and often have looser curfew restrictions.
Data fromTanzania's Demographic and Housing Survey shows that out of the country's 26 regions, girls have a higher net school attendance rate than boys do in 17 regions, and the highest disparity is in areas that offer boys informal jobs with low barriers of entry.
The biggest gap is in Zanzibar North, where 93% of primary school girls attend school regularly, compared to 74% of boys – many of whom are lured by the quick, easy money of the tourist circuit, working as beach boys and tour guides.
When it comes to educational attainment, however, there is only a small gap between boys and girls in numeracy and literacy as assessed by the Uwezo study, but again, girls perform slightly better.
Still, it should worry governments, parents and teachers that the educational competence is so low across the board. By grade 3, all children should be able to do grade 2 level work.
But just 3 in 10 children in the third grade are able to do second grade work, suggesting that children are going to school but are actually not learning.
Poor scores
Even more worryingly, by the end of primary school, 10% of grade eight pupils are still not able to do grade two level reading and arithmetic.
But the good news is that there is lower teacher absenteeism than in previous surveys, this time round 88% of teachers were in class at the time of assessment.
To turn around the poor learning outcomes requires greater accountability from headteachers, teachers, parents and learners, the researchers say, but perhaps their most radical recommendation is that of shifting focus from exams to foundational skills.
This will require giving incentives to turn round the image of lower primary teachers – as it turns out, the grade to which a teacher is assigned is often entirely at the discretion of the head teacher, who will sometimes assign the lower grades to lazy or incompetent teachers, or even as a punishment for some infraction.
Uwezo radically suggests that the more qualified and motivated a teacher is, the lower their assigned grade should be, which is where the real learning happens.
"With a strong foundation at lower primary level, it will become unnecessary to 'drill' learners and device new cheating tactics at the terminal exams."
http://mgafrica.com/article/2015-06-16-day-of-the-african-child-girls-threatened-by-early-marriage-but-more-boys-falling-behind-in-school/
----------
URL:
https://newageislam.com/islam-women-feminism/two-indian-muslim-girls-teach/d/103588