New Age Islam News Bureau
24 Apr 2020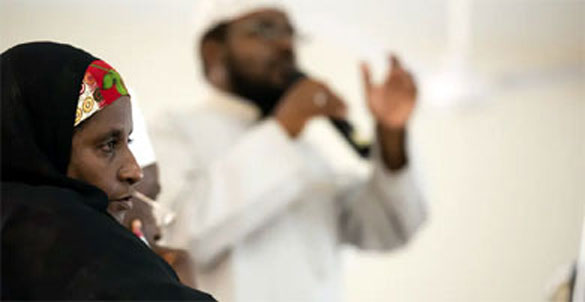 An Imam addresses a Kenyan Muslim Youth Alliance meeting flanked by community leaders. (Photo by Neil Thomas/Corbis via Getty Images)
------
• There Is an Emerging Clique of Female Preachers in Kenya Through Muslim Radio Stations
• Women in Muslim Countries Prepare For 'Least, Most' Ramadan
• Violence Against Women and Girls: The Case of Saudi Arabia
• Supporting Egyptian women against Covid-19
• As Incomes Dry Up, Women In Selangor Are New Face Of Poverty Due To MCO, Says Think Tank
• Kareena Kapoor, Sonam Kapoor Extend Ramadan Greetings to All Muslims
• Women 'Playing Key Role in The Battle Against Coronavirus Pandemic': Women 20 Chair
• The Peres CentreFor Peace: Meet the Four Women Leading the Way to Peace
• Domestic Violence in Lebanon Spikes Under Lockdown
• Iran Urged to Release Female Political Prisoners During COVID Outbreak
• Displaced, Stateless Women and Girls at Greater Risk During Pandemic, UNHCR Says
Compiled ByNew Age Islam News Bureau
URL; https://www.newageislam.com/islam-women-feminism/there-emerging-clique-female-preachers/d/121662
-------
There Is an Emerging Clique of Female Preachers in Kenya Through Muslim Radio Stations
April 23, 2020
Ramadan is a period during which Muslims across the world are deeply immersed in worship and are particularly attuned to exhortations by religious scholars.
In Kenya, Islamic public sermonising has traditionally been the domain of male clerics. However, according to my recent study, there is an emerging clique of female preachers engaging in this form of public participation through Muslim radio stations.
What explains this development? First, due to media liberalisation in the 1990s, numerous local FM radio stations were allowed to operate. These include those inclined to religious content. Second, this process of democratisation promoted a pluralism that embraced female articulations of religious doctrines and texts.
Whether espoused in a Salafi-Wahabi or Sufi framework, the emerging group of female preachers is using their advanced religious knowledge to deliver sermons through the radio stations.
My study sought to examine this phenomenon, given that radio religious sermons are easily accessible to people lacking strong literacy and religious training. This has the potential of being the most attractive religious commodity to consume.
The study also explored the controversial status of the female voice as a medium of transmitting religious knowledge to the Muslim public. Here, I was interested in interrogating the role of the female voice as a means of expression and debates over authoritative public speech. The data led me to conclude that in spite of the limitations imposed by some conservative Islamic religious scholars, new forms of female religious authorities represent a significant development among Kenyan Muslims.
Though the Kenyan Muslim communities are generally biased towards women, there is increased public presence of women in radio programmes as a religious authority. This has raised their social reputation in society.
Female Islamic authority in Kenya is restricted by the traditional gender customs also evident in other Muslim societies. Notwithstanding their level of Islamic knowledge, the general instructional role of women is restricted to the traditional Qur'anic school to teach to read and memorise the Qur'an. This explains why, historically, Muslim women were denied opportunities to pursue higher Islamic learning beyond the "essential" basics.
Even reputable early Muslim scholars in Kenya, like Sheikh Al-Amin Ali Mazrui and Sheikh Sayyid Ali Badawi did not make efforts to recruit and encourage women to advance their knowledge in Islamic education. What could have attributed to this scenario?
Historically, the male members of the society have occupied all the institutions of Islamic authority. These range from caliph, scholar, mufti, kadhi, Sufi Sheikh and mosque preacher. The male religious scholars regarded women to be unfit to qualify for these public positions because of their supposed ability to distract the attention of the males in their company.
These conservative restrictions led AzaraMudira, a leading female scholar who sought to feminise Islamic education in Kenya, to establish an advanced Islamic theological school for Muslim women in Kenya in 1987. Established in Nairobi, its mission is
A few female preachers in Kenya have made their mark. One illustrious contemporary example is that of NafisaKhitamy Badawi, who emerged as one of the highly respected female religious authorities in Kenya (and maybe the East African region).
Despite their advanced education, Muslim women are not mandated to speak in public. They must also not engage in a public disputation of religious matters. However, this notion is being put into question with the appearance of female preachers who offer lectures – mawaidha in Kiswahili – to the Muslim public in coastal Kenya.
Regardless of their exceptional position as female preachers, these women are confronted with the challenge of justifying their activities. They have to convince the male religious scholars that they are knowledgeable. They also have to plead the case that – in spite of being women – their voice is deep and less feminine. And not soft and seductive.
This is because female preachers are confronted with the prevailing belief that classifies their voices as nakedness (aura). One of the female preachers argued that,
"For me being at the radio station is similar to being behind a curtain, a strategy that Aisha used to conceal herself while addressing her male students."
According to Islamic history, Aisha – the wife of Prophet Muhammad – was very knowledgeable on Islamic matters. Several companions of Prophet Muhammad went to her to seek religious knowledge, but behind a curtain. In equating a radio station to a curtain, the female preachers emphasized that it is
Female preachers in coastal Kenya are compelled to talk with a "manly" voice in order for them to be accepted and provided with a platform to articulate issues concerning their faith. As a result, the female preachers can only exist with the consent of the male religious authorities in the Muslim communities.
But female preachers are reluctant to challenge the existing behavioural norms. This out of fear of losing the preaching platforms availed to them at the Muslim radio stations. Their adherence to the "acceptable" religious and social norms guarantees their participation in the Muslim public sphere.
https://theconversation.com/womens-stories-of-breaking-the-mould-as-muslim-preachers-in-kenya-136689
--------
Women in Muslim countries prepare for 'least, most' Ramadan
April 23, 2020
Beth Murphy
(RNS) — Some 1.8 billion people, nearly one-quarter of the world's population, will spend this week preparing for the holiest month of the year. Beth Murphy, a filmmaker/journalist and executive producer at The GroundTruth Project, spoke with three Muslim women living in conflict zones, asking them to reflect on how their situations have forced them to adapt and what the coronavirus crisis means for their approach to Ramadan this year.
Razhan Sabah Hassan stood in line outside Shahid Ali Wali Hospital in Sulaymaniya, in northern Iraq, exchanging nervous glances with other doctors, patients and visitors, waiting to be disinfected.
When it was her turn, Hassan walked through the gate, lifted her arms and closed her eyes as a security guard approached holding a small tank in one hand and a spraying wand in the other and doused her with ethanol from the neck down.
"I am so stressed and nervous about contracting the coronavirus and transmitting it to my family members," said Hassan, thinking about her mom, dad, brother and two sisters at home.
Razhan Sabah Hassan gets ready to head into the coronavirus testing lab at Shahid Ali Wali Hospital in northern Iraq. Courtesy photo
A clinical microbiologist, Hassan works in a lab on the ground floor of the hospital, analyzing about 200 coronavirus test samples a day. Above her, in beds on the second floor, are the patients she's already deemed positive. (Though Iraq has reported many fewer cases than its hot-zone neighbor, Iran, it is suspected that the official count of 1,600 cases severely underestimates the actual number).
With every confirmation of another coronavirus case, she is reminded of childhood lessons about Ramadan — Islam's holiest month, which begins this week, in which observant Muslims fast from sunup to sunset.
"My parents taught me that Ramadan is not only about depriving yourself of food and drink," she said. "It's most important to have mercy, compassion and patience — things I need in abundance right now."
Often referred to as the "month of mercy," Ramadan is defined by a deep spirituality, a time when Muslims reflect on their lives, refocus their priorities and seek to nourish their relationship with God through prayer and sacrifice.
Hassan was born in Halabja, an hour's drive south and east from Sulaymaniya. She was 2 years old in 1988 when then-President Saddam Hussein, in a conscience-defying attack, dropped chemical weapons on her community, killing more than 5,000 people — mostly women and children.
"After the Halabja chemical attack, we became refugees in Iran and stayed there for several years. Those Ramadans were very hard for us because we were away from our country."
While that experience stands as a testimony to man's inhumanity to man, the COVID-19 crisis, she said, is proving to be an opportunity to witness some of the best in humanity.
Aziza Begham stood watch in the kitchen in Kabul, Afghanistan, as her older sister, Hanifa, made gulabjaman, a fried dough ball that dripped with rose syrup. It's Aziza's favorite Ramadan dessert and she wanted to make sure her sister got it just right. A trial run two days earlier hadn't gone so well. "Too much flour," Aziza said, laughing.
Most years during Ramadan, Begham has hosted nightly feasts at home with family and friends and attended special evening prayers at the mosque. With mosques shuttered against the spread of coronavirus, she's unsure whether praying from home will give her the same jolt of spiritual adrenaline that large Ramadan services deliver.
"Going to pray at the mosque during Ramadan gives me mental peace, spiritual peace," she said. "It is the best feeling in the world."
While officials in neighboring Pakistan are bending to pressure from religious leaders, who say the spiritual benefits of having masses of people gather for Ramadan prayer outweigh the risks, in Afghanistan, where the disease has killed nearly 40 people by official counts, clerics have sent a unified message: Stay home.
The nationwide lockdown means the girls school where Begham has taught for the past decade is closed. A self-described homebody, she is enjoying her time with family and takes the dire warnings from the Ministry of Public Health to heart: Without strict containment measures, projections show that as many as 25 million Afghans will be infected with coronavirus, and 110,000 will die — more than the total number of civilians killed by war since 2002.
As Taliban insurgents have expanded their hold on the rural parts of the country in the past seven years, the economy has worsened. Today, more than half the population lives on less than a dollar a day.
"The lockdown is so hard for the poorest of the poor," she said. "Like my neighbor … he needs to go out every day to earn a little bit of money — like 75 cents. But the rules are really strict and because he can't go out, he has nothing."
The charity and generosity that characterize Ramadan got an early start this year, Begham said, because of the pandemic. With no formal social welfare system in the country, the most vulnerable depend on the selflessness of others — a reality that hasn't always jibed with the self-preservation needed in such a volatile society.
"Because just walking outside can feel like life or death, I wondered if kindness was gone. But I get so emotional now seeing what is happening."
Begham scrolled through her Facebook feed, detailing other acts of kindness being documented across the country. Tailors making thousands of masks and distributing them to the poor and homeless. Landlords waiving rents on shops and homes until the crisis is over. Wedding hall owners offering to transform their cavernous rooms into hospitals.
"What we're taught," Begham said, "is that Ramadan is the time to make positive changes in your life and keep them going beyond the 30 days … for the rest of the year, the rest of your life. I feel like it's happening already and that somehow this is the least and most Ramadan ever."
When Naila Azam Alsaqqa first heard about the novel coronavirus, she was terrified. Living in the Gaza Strip, one of the most densely packed places on the planet, she implored her husband and three children repeatedly to wash their hands and began making homeopathic remedies — mixing lemon, ginger and cinnamon — to ward off sickness.
For Alsaqqa, and the roughly 2 million Palestinians living under siege in Gaza, the idea of lockdown was nothing new. They've lived under an Israeli blockade, designed to stop the flow of weapons and other support for extremists, since 2007. The potential for senseless death during Ramadan was also nothing new. Last year, Israeli bombings left hundreds of families homeless at the start of the holy month. In 2014, too, Ramadan was defined by rocket attacks and airstrikes.
Palestinian girls attend Eid al-Fitr prayers, marking the end of the holy fasting month of Ramadan, in Nuseirat refugee camp, central Gaza Strip, on June 5, 2019. (AP Photo/Khalil Hamra)
"During that time," Alsaqqa said, "when we would break our fast, we'd hear the missiles landing and know that whole families were being killed."
Still, no matter how painful things were in the past, she could always count on spending time with family and friends. That's why, she said, "this Ramadan isn't like any other."
She recalled years when children gathered to light traditional lamps and big beach picnics were held along the Mediterranean Sea after the sun had set. Not being able to do these things fills her with a sense of loss. But perhaps, she said, there is also an opportunity.
Naila Azam Alsaqqa prepared a plate of Mtabal and wrote 'pray' on it. "I made it during Ramadan last year because my girls were getting behind on praying," she says. "I put the word 'pray' on it because they really love Mtabal, and I wanted to encourage them to pray."
As this global crisis magnifies social, political and economic inequalities, it gives societies — and families — a chance to do things differently. Better. What if when coronavirus ends, she mused, life doesn't go back to "normal"? What if there's another possibility?
Her questions echo what optimists the world over are thinking about what can be gained by this extraordinary moment in history — especially for the most vulnerable and disenfranchised.
"I believe that after all the husbands who are stuck at home during coronavirus see how hard women work and what we deal with psychologically, there will be more appreciation for women and the work we do at home. They'll be able to see with their own eyes how hard it is."
In this way, she said, coronavirus reveals one of Ramadan's most important lessons: "God takes some things, but he gives us other things."
https://religionnews.com/2020/04/23/women-in-muslim-countries-prepare-for-least-most-ramadan/
-------
Violence Against Women and Girls: The Case of Saudi Arabia
04/24/2020
You must also register via this Zoom link in order to receive your individualized link for the actual event – if you only register via Eventbrite, you will NOT receive the confirmation email from Zoom with instructions and the actual webcast link to watch the event.
This talk will explore violence against women and girls (VAWG) in Saudi Arabia as a case study to understand the interconnectedness of violence with gender inequality and women's limited representation in power and decision-making. VAWG will be explored in the context of Saudi Arabia, while drawing parallels with neighboring countries and the Arab region as a whole. In particular, a focus on patriarchal relations, honor-related cultural norms, and social and economic policies will be presented in relation to violence perpetration and prevention. Also explored will be how the COVID-19 pandemic impacts VAWG. Finally, an overview of culturally tailored prevention strategies will be discussed.
Speaker: HalaAldosari is a Saudi scholar and activist whose work focuses on women's rights in Arab societies, violence against women, and the "guardianship" system in Saudi Arabia. She joined the MIT Center for International Studies (CIS) as its 2019-2020 Robert E Wilhelm Fellow.
Discussant: Rothna Begum is senior researcher for the Women's Rights Division of Human Rights Watch. Prior to joining HRW, Rothna worked for Amnesty International researching human rights in the Middle East and North Africa region.
https://themedialine.org/mideast-streets/violence-against-women-and-girls-the-case-of-saudi-arabia/
--------
Supporting Egyptian women against Covid-19
16 Apr 2020
The United Nations Entity for Gender Equality and the Empowerment of Women (UN Women) recently commended the National Council for Women (NCW) for its efforts to ensure that a gender perspective is adopted in Egypt's coronavirus response plan.
The NCW established the women's policy tracker on responsive policies and programmes during the Covid-19 pandemic to monitor policies and procedures responsive to the needs of Egyptian women in light of the efforts made to reduce the spread of the virus.
UN Women issued a press release expressing its appreciation of the Egyptian government as well as the NCW's efforts to ensure that the Covid-19 response was effective for everyone, including women and girls.
Notably, the government's stimulus package provides more incentives for sectors that have high female labour force participation, such as tourism and agriculture; increases payments to women community leaders in rural areas; and increases the number of households in the Takaful and Karama (Solidarity and Dignity) social protection programmes with an additional 100,000 households.
Over 80 per cent of recipients of the Takaful programme are women, and includes clients of the microfinance sector in the Central Bank of Egypt which decided to delay loan instalments. Women constitute over 70 per cent of microfinance clients.
UN Women said it appreciated the gender-sensitive approach taken by the government of Egypt in its response to the coronavirus and will continue to support national efforts to carry out additional measures in line with its responsibilities, which include advancing women's rights during such difficult times.
The government has taken several measures to contain the effects of Covid-19 on the economy. President Abdel-Fattah Al-Sisi, during a meeting held on 22 March marking Egyptian Women's Day, issued a set of economic and social protection decrees to support and protect society, recognising the role and status of Egyptian women and the importance of continuing to support them during this current phase.
In March, a decree was issued by the prime minister to lower office density in the public sector by reducing the number of employees. The decree included protections such as granting pregnant employees and working mothers whose children are under 12 exceptional leave throughout the decree's implementation period. In line with this decision, the NCW said that should there be complaints from female workers in the public sector who face any challenges with respect to the prime minister's decision, they should be reported on the organisation's hotline.  
Maya Morsy, the NCW president, pointed out that the first policy Note issued by the Women Policy Tracker covering 14 March to 6 April aimed at monitoring policies and measures adopted by the government to fulfill women's needs. "The government's efforts are based on President Al-Sisi's directives regarding the importance of mustering efforts by government institutions and bodies to deal decisively and effectively with the crisis," Morsy said.
The government, according to Morsy, was also taking into consideration the importance of mainstreaming and integrating women in decision-making processes and implementing programmes in order to ensure their protection from social, economic and psychological repercussions of the virus. The NCW, she said, will work with government authorities to support the development and implementation of mitigation and response policies to ensure the protection of women.
According to the policy note, the virus has seriously affected women's engagement in economic activities especially in the informal sector. In Egypt, 40.9 per cent of female non-agricultural employment is in informal employment and 33.9 per cent of females work in vulnerable jobs. Egyptian women also represent 70 per cent of the paid care sector workforce, mainly as teachers, health and social workers.
In addition to including an analysis of the status quo, the NCW policy note also presented a number of proposed response measures, whether immediate or mid-term, to concerned ministries and government institutions regarding issues related to health, education and social protection. The policy Note further tackles violence against women, leadership and representation in decision making during crisis management, and the impact on economic opportunities.
Morsy stressed that the NCW will continue tracking and monitoring policies and programmes that respond to the needs of women during this crisis.
http://english.ahram.org.eg/NewsContent/50/1201/367288/AlAhram-Weekly/Egypt/Supporting%C2%A0Egyptian-women-against-Covid.aspx
--------
As incomes dry up, women in Selangor are new face of poverty due to MCO, says think tank
24 Apr 2020
KUALA LUMPUR, April 24 — Women who were previously coping well on their own are now the new face of poverty in Selangor as their income levels and ability to care for their families have been hard hit by the movement control order (MCO) and the Covid-19 outbreak, Selangor-based think tank Institut Wanita Berdaya Selangor, or Selangor Women's Empowerment Institute (IWB), has said.
IWB arrived at this conclusion based on its recent survey of women living in Selangor and how the MCO had impacted their lives and livelihood, further saying that cash needs to be distributed directly to them to help them cope.
"In the context of Selangor, as per the findings of this study, women are the most affected group due to the MCO and they are a group that before this were able to care for their family without any assistance, but after the MCO was implemented, they face difficulties and loss of income source or business.
"The state government should be ready to translate the existence of this 'new face of poverty' by drafting policies targeted towards this new group," the think tank said in the findings of its survey released yesterday.
According to the online survey of 442 women in Selangor from March 24 to March 28 which was during the first round of the MCO, IWB said 84 per cent, or the majority of its respondents, are in the B40 or low-income household category earning less than RM6,275 per month, including 40 per cent earning between RM989 to RM3,000 each month and also 16 per cent below the poverty line of RM989 each month.
Out of the 442 women polled, 26 per cent rely partly on daily wages such as baking biscuits, catering services, doing work that can be done from home such as folding boxes, sewing, washing clothes, transport services for children to and from school.
IWB noted that 31 per cent of women polled were students and housewives, while the remaining 69 per cent reported their occupational status including those who now work from home during the MCO at 31 per cent, 11 per cent who were put on unpaid leave, 9 per cent who were forced to close their business and 1 per cent who had their job contracts terminated due to the MCO.
IWB said that 25 per cent of the women polled experienced income loss, further noting that this occurred more frequently for women with bigger families, or women with lower monthly household income and that partly rely on daily wages or women breadwinners.
But women from the M40 or middle-income category in the survey were also affected financially by the MCO, with 7 per cent of them given unpaid leave or forced to close their businesses, while 12 per cent lost their source of household income, the think tank said.
https://www.malaymail.com/news/malaysia/2020/04/24/as-incomes-dry-up-women-in-selangor-are-new-face-of-poverty-due-to-mco-says/1859795
--------
Kareena Kapoor, Sonam Kapoor extend Ramadan greetings to all Muslims
April 24, 2020
Bollywood stars Kareena Kapoor Khan and Sonam Kapoor have extended Ramadan greetings to all the Muslims across the world.
The Good Newwz actress turned to Instagram and shared a dazzling picture wherein she could be seen wearing traditional outfit and extended wishes to the Muslims.
She wrote, "Wishing Ramadhan al Mubarak to all my Muslim Friends!! Happy Fasting."
Sonam Kapoor also took to photo-video sharing platform and extended Ramadan greetings.
The Neerja actress shared a beautiful monochrome photo of hers donning a traditional outfit with her head covered.
She wrote, "Ramadan Kareem my brothers and sisters. Ramzan Mubarak."
https://www.thenews.com.pk/latest/649189-kareena-kapoor-sonam-kapoor-extend-ramadan-greetings-to-all-muslims
-----
Women 'playing key role in the battle against coronavirus pandemic': Women 20 chair
NOOR NUGALI
April 24, 2020
RIYADH: Women are on the frontline in the battle against the coronavirus, says Dr.Thoraya Obaid, chair of Women 20, an official G20 engagement group.
"It is important that G20 leaders explicitly discuss and recognize the role women are playing in fighting the pandemic, and the impact the fight has on them as health care system users," Obaid told Arab News on Thursday.
"Policies and public health efforts need to address the gendered impacts of disease outbreaks. Experts find that pandemics make existing gender inequalities for women and girls worse and can impact their treatment and care."
She said that women made up a disproportionate percentage of workers in sectors and roles most impacted by economic downturns and which afforded less social protection.
"Women are a vital part of the health care infrastructure battling the COVID-19 pandemic head-on. Women comprise almost 7 out of 10 health and social care workers. Given their predominant roles as caregivers within families and as frontline health care workers, women are more likely to be exposed to the virus," she said.
Obaid highlighted 10 responses to the COVID-19 pandemic. The first must be the inclusion of women in national and global COVID-19 outbreak preparedness, response policy and operational spaces.
In addition, there must be women's representation at community-level decision-making and as contributors to identifying local trends and responsive policies. She also outlined the necessary actions to be taken, as agreed on by the W20 members.
Such other crucial responses included developing economic-financial stimulus packages and forms of protection that included emergency child care provisions to encourage the division of care or roles and tasks between parents.
Employers must be encouraged to implement measures that recognized the role of women as carers for sick, disabled and elderly family members, and ensure that they were not penalized for undertaking the carer's responsibilities, she said.
Economic security must be provided for women small business owners. This must include tax exemptions, suspension of mortgages, plus loans for freelancing women workers and entrepreneurs.
In addition, protection for workers in the informal sector must include expanding safety nets through leave entitlements and support payments. The use of ICT support for men and women to work from home must be accelerated and provided free of charge to the digitally excluded.
There needed to be collection, reporting and analyzing of data on the gendered impact of pandemic response policies, Obaid said. Account must be taken of the different types of vulnerabilities women faced due to discrimination based on age, race, ethnicity, religion, disabilities and health conditions.
In addition, the gendered implications of quarantine must be acknowledged in service provision by recognizing men's and women's different physical, cultural, security and sanitary needs. Protection and assistance from gender-based violence must be increased and this should include hotlines and monitoring.
"As governments and leaders, G20 members must make sure that the measures they put in place now to curb the pandemic do not roll back the gains made concerning women's equality."
"On the contrary, leaders have an opportunity to develop policy responses to the pandemic that build a foundation for realizing gender-equitable economic opportunities and contributing to the elimination of gender inequalities."
"Once the pandemic is under control, G20 leaders must return to the urgent agenda of tackling the systemic changes needed to promote gender parity and ensure women's equal participation in the economy," she said.
https://www.arabnews.com/node/1664076/saudi-arabia
--------
Domestic violence in Lebanon spikes under lockdown
Apr 23, 2020
BEIRUT — Aya, a pseudonym for a married Lebanese woman in her mid-20s with a little daughter, told Al-Monitor, "Ever since quarantine began, my body has been bruised. Is this the body of a woman leading a normal life? My husband beats me for the silliest reasons, sometimes for not cleaning the house well or for being on the phone too long."
She explained, "He beat me even before the coronavirus broke out, but not as much as now. As he is not working at the moment and his patience is running out, as he claims, I have become his punching bag!"
Aya went on, "I thought a lot about separation, but I have no place to go. I even contemplated committing suicide, but who would take care of my daughter? I left my husband's place once and went to my parents' house a year ago. My mother told me that him beating me was better than being a drunkard or cheating on me! Sadly, this is how our society thinks."
Aya is one of many women and girls who face domestic abuse in Lebanon from their husbands, fathers or family members. Domestic violence has surged since the Lebanese government imposed a mandatory quarantine to limit the coronavirus outbreak in the country.
Domestic violence affects not only women but also children, and it ranges from verbal and psychological to physical and even sexual abuse. Recent reports indicate that the surge in domestic violence under lockdown is not limited to Lebanon, but part of a wide global trend.
On April 4, a woman was stabbed in Bar Elias in the Bekaa, and her family accused the husband of abusing her. The woman remains in the hospital. Another man beat his five-year-old daughter to death in Tripoli in north Lebanon.
A source from the Internal Security Forces told Al-Monitor that calls to the domestic violence hotline increased by 110% in March 2020, with 97 complaints compared to 44 in March 2019. The source said, "Complaints were on the rise as of the beginning of 2020, the same time as the quarantine, and perhaps due to the difficult living conditions."
Lebanon broke out in mass protests in October last year over deteriorating economic and financial conditions in the country. But the protests have largely stopped because of the lockdown imposed by the government to stem the spread of the virus.
The same source noted, "Complaints vary in their level of danger. Some women call asking for shelter and they are advised to go to local organizations specialized in fighting violence against women. Others ask for guidance on filing a complaint. In some cases, they ask for security assistance to leave the house, in which case a military car is sent to aid them. Some women tell us there is imminent danger to their lives, and we raid the house in that case. We deal with each situation on a case-by-case basis."
Many complaints have been lodged with organizations that deal with violence against women, but many women dare not speak out for fear of their aggressors.
The National Commission for Lebanese Women was established in 1998 with the goal of achieving gender equality. With the cooperation of the Internal Security Forces, the commission launched a national campaign in early April to encourage women to report domestic violence, whether they experience or witness it.
The non-governmental Abaad organization, established in 2011 to fight for gender equality, called on people to stand on their balconies April 16 and hang sheets with the number of the domestic violence hotline to show solidarity and reassure battered women that help is available. The campaign was dubbed #LockDownNotLockUp.
Abaad director GhidaAnani told Al-Monitor, "With quarantine and lockdown, domestic violence has increased. We received 25% more complaints during March compared to previous months. Domestic violence complaints have doubled, reaching 500 as of early 2020, compared to 270 complaints during the same time period of 2019."
Anani noted that during the lockdown, women tend to seek three things from the organization: advice and psychological support, financial support and shelter at an average of four to six requests per week. Abaad provides baskets of supplies for women who take advantage of the organization's services.
She noted, "The government must add the domestic violence issue to its emergency plan on the [coronavirus] situation. This should be on its list of priorities. Abused women, for instance, should be exempt from the cost of health and psychological treatment, and they should have a national rescue plan. The accommodation capacity of shelters should also be boosted, as there are only six shelters now, and three of them are Abaad's."
One woman who called Abaad said her husband abused her verbally and physically. She said, "I don't sleep at all. I am stressed and terrified. He has become angrier during the lockdown. I tried to leave, but I have no place to go to. Each day, he shouts and screams, barely provides food, and he might hurt [my son and me]."
Kafa, a non-governmental organization established in 2005 to fight gender discrimination, expressed concern in a March report that domestic violence could increase in the coming weeks if the lockdown is extended and the economic situation continues to deteriorate.
Lawyer Lina Zgheib told Al-Monitor, "The 2014 domestic violence law that the Lebanese Parliament passed in 2014 promotes the rights of women and their safety and equality between men and women. However, it has a loophole in that it gives a limited definition of domestic violence and does not fully protect women. For instance, it does not criminalize or mention marital rape."
Clinical psychologist Nabil Khoury told Al-Monitor, "A harmonious couple can face the difficulties and obstacles of life, including the coronavirus and economic crises. If the couple isn't culturally and intellectually harmonious and the two people have to remain under one roof due to the lockdown, many problems arise."
https://www.al-monitor.com/pulse/originals/2020/04/lebanon-domestic-violence-abuse-lockdown-coronavirus.html
--------
Iran urged to release female political prisoners during COVID outbreak
APRIL 24, 2020
Human rights groups, together with the Vice President of the European Parliament, have called on Iran to release its female prisoners of conscience over concerns that the women are at high risk during the coronavirus outbreak.
Together, 20 human rights organisations, along with Vice-President Heidi Hautala have co-signed a letter calling on the Iranian regime to release 50 female prisoners from a number of prisons around the country, where they are being kept in unsanitary conditions.
"In February," the signatories wrote, "the UN released a report documenting how the unsanitary and overcrowded prison conditions in Iran were already causing the spread of other infectious diseases. By the beginning of March, COVID-19 was added to the list."
The continued: "At that point, the women's ward in Evin Prison, where a large number of the female prisoners of conscience are detained in cramped and unsanitary spaces, had already run out of medical and cleaning supplies. These prisoners of conscience are confined to a room with 18 women and sleep on triple bunk beds with little space in between. They are at an even greater risk than the general prison population, as their wellbeing is already often compromised by torture, denial of medical treatment, other ill-treatment and their own hunger strikes."
Tens of thousands of "low level" prisoners have already been released by the Iranian government due to concerns that COVID-19 could spread through the prison system. However, so far the authorities have refused to release political prisoners, of which there are hundreds in Iran's prisons.
"This is no judicial oversight. It is part of a policy that looks to further punish political prisoners by keeping them in dangerous prison conditions," the letters signatories have written.
The women listed include women are human rights defenders, lawyers, educators, writers, artists, and environmentalists, who the signatories say "have been sentenced to some of the harshest prison sentences in Iran's history." Both Iranian and duel citizens are included on their list of requested releases.
That list includes Nasrin Sotoudeh, a leading human rights lawyer who has been referred to as Iran's Nelson Mandela. Last year Sotoudeh, 56, was sentenced to 38 years in prison and 148 lashes for defending women's rights, and representing children sentenced to be executed, journalists, and political prisoners.
"Nasrin Sotoudeh has sacrificed herself for Iran's most vulnerable her entire life, until becoming the most vulnerable herself," said former Justice Minister and Chair of the Raoul Wallenberg Centre for Human Rights (RWCHR), Irwin Cotler, quoting Nobel Peace Prize Laureate, Shirin Ebadi, Nasrin's Iranian lawyer who was forced into exile.
"While statistics show that women leaders are more successful at containing the virus internationally, Iran is condemning their own to virtual death sentences," said Yonah Diamond, an international human rights lawyer with the RWCHR.
Other names on the list include 60-year-old FaribaAdelkhah, a French-Iranian anthropologist and academic specialising in Iranian studies, and 32-year-old AtenaDaemi, an Iranian civil rights, childrens' rights and human rights activist who was charged with distributing anti-death penalty leaflets and criticising Iran's execution record on social media.
https://www.jpost.com/middle-east/iran-urged-to-release-female-political-prisoners-during-covid-outbreak-625750
--------
Displaced, Stateless Women and Girls at Greater Risk During Pandemic, UNHCR Says
April 20, 2020
As COVID-19 is taking lives and effecting communities around the world, displaced and stateless women and girls are at heightened risk of gender-based violence, the United Nations High Commissioner for Refugees (UNHCR) said on Monday.
"We need to pay urgent attention to the protection of refugee, displaced and stateless women and girls at the time of this pandemic. They are among those most at-risk. Doors should not be left open for abusers and no help spared for women surviving abuse and violence," the UNHCR Assistant High Commissioner for Protection Gillian Triggs said.
Lockdowns and quarantines imposed to control the spread of COVID-19 have led to worsening socio-economic conditions due to restricted movement and closure of services, Triggs said, adding that under such circumstances women and girls "may be forced into survival sex or child marriages by their families."
The UN Refugee Agency is calling on governments to ensure that the "rising risks of violence" for refugee women are considered with priority in their action plans to deal with the coronavirus pandemic.
The agency is also coordinating sectoral humanitarian interventions to mitigate the risks of sexual and gender-based violence, including but not limited to the emergency health response.
https://www.voanews.com/covid-19-pandemic/displaced-stateless-women-and-girls-greater-risk-during-pandemic-unhcr-says
--------
URL: https://www.newageislam.com/islam-women-feminism/there-emerging-clique-female-preachers/d/121662
New Age Islam, Islam Online, Islamic Website, African Muslim News, Arab World News, South Asia News, Indian Muslim News, World Muslim News, Women in Islam, Islamic Feminism, Arab Women, Women In Arab, Islamophobia in America, Muslim Women in West, Islam Women and Feminism