New Age Islam News Bureau
7 Apr 2014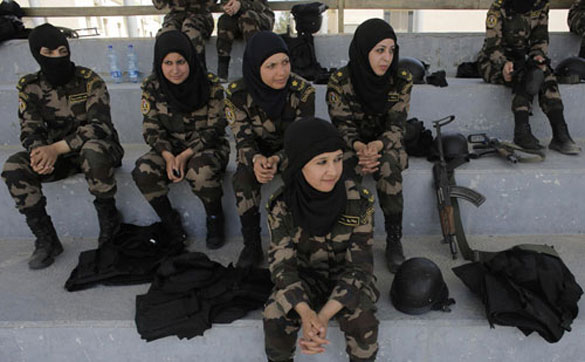 Female members of the Palestinian presidential guard watch a training session in the West Bank city of Jericho April 6, 2014 (Reuters)
-----------
• Court Arrests Woman Carrying Explosive in Istanbul
• Pakistan Court Orders Investigation of Actress over Sex Tape
• Women Defy Taliban: Voters Say Saturday Is 'Women's Day' For Them
• FNC to Debate Extra Housing Allowance For Emirati Men with Multiple Wives
• Labour Of Love: Lessons in Inspiration from Women Entrepreneurs
• FOKASA Seeks Full Benefits for Female Indian Cleaners
• Iran's Budget Setback for Women's Issues
• First Women Joining Palestinian Commando Unit
• Rights of Working Saudi Women
• Three-Month Wait for Women Wanting To Work from Home
Compiled by New Age Islam News Bureau
URL: https://newageislam.com/islam-women-feminism/the-women's-majlis-smart-dressing/d/66443
-----------
The Women's Majlis: Smart Dressing Is Still Important
April 7, 2014
Dressing properly is a never-ending issue; I can't understand why some people aren't able to dress right for the right occasion. They have to understand that dressing to go to the gym isn't like dressing to go to work; dressing to go swimming is not like dressing for going out.
When I'm at home, I can be relaxed in my Pyjamas or wear any of my favourite dresses, but when I come to work, I dress modestly and cover up with my Abaya. There are people who don't understand that there's an outfit for every occasion – and by occasion, I don't just mean to go to a party or to go to work; I mean in every event that is happening in our lives.
Fashion is out there, it was made for everyone, it was prepared to help us dress the right way, and fashion consultants were created to help those who lack the experience in dressing the right way according to the occasion and their body shape.
One day I came to work and saw one of my colleagues dressed in an outfit that looked very much like a sloppy pair of Pyjamas. I thought it was strange. I mean, if you want to dress comfortably, you don't have to wear your Pyjamas to work. We have a gazillion fashion outlets that provide multiple options for ready wear made from different comfortable fabrics.
It's nice to be confident in your own skin. I love it when I see people both satisfied and confident with themselves – everyone should be. But at the same time, everyone should be careful when it comes to how they dress in public, because it creates a certain image. This image generates a perception in people's minds about who you are.
You are what you wear and what you wear is what we see. I could write a thousand words about this subject, but whether you believe it or not, it's a fact.
Look at Sheikh Abdullah bin Zayed: when he speaks in public and when he travels to foreign countries, he will dress in his fitted niche suit. He doesn't wear his shorts and his comfortable, soft T-shirt, because he's the Minister of Foreign Affairs of the UAE and he must look polished and prominent to gain respect from others.
I know we aren't all ministers, let alone the Minister of Foreign Affairs, so why should we care? But, ultimately, Sheikh Abdullah is just a regular guy and it's the way that you present yourself to others that makes you appear more or less important.
By loving and respecting yourself and dressing better, others will also love and respect you more. Look at the positive side, look at yourself; your moments to shine will be more complete with the perfect outfit.
http://www.thenational.ae/lifestyle/the-womens-majlis-smart-dressing-is-still-important#ixzz2yC0JKyvt
-----------
Court arrests woman carrying explosive in Istanbul
April 7, 2014
A woman allegedly captured with a remote control explosive in her bag in Istanbul's Kağıthane district was arrested by an Istanbul court on April 7.
B.E., 25, an alleged member of the outlawed Revolutionary People's Liberation Party/Front (DHKP/C), was captured by police near a police station in Kağıthane on April 5.
The police noticed a woman acting suspiciously near Sadabat Polis Station on April 5, but when they attempted to approach her, she fled and boarded a taxi. Police stopped the vehicle and captured the woman before allegedly discovering explosives and a remote-control device in her bag.
The DHKP/C has increased its activities in recent years, staging a suicide attack on the U.S. Embassy in Ankara on Feb. 1, 2013, along with a night-time rocket attack on ruling party buildings in Ankara later that year.
http://www.hurriyetdailynews.com/court-arrests-woman-carrying-explosive-in-istanbul.aspx?pageID=238&nID=64642&NewsCatID=509
-----------
Pakistan court orders investigation of actress over sex tape
April 7, 2014
A Pakistani court on Monday ordered police to investigate whether to bring obscenity charges against a popular film actress allegedly involved in a sex tape controversy in the conservative Islamic country.
Starlet Irtiza Rubab, known by her stage-name "Meera", has stated that a video purporting to show her and husband Naveed Pervaiz having intercourse was fabricated.
The clip, which was released in January, went viral among Pakistani Internet users.
Shabbir Ahmed, an office worker in the eastern city of Lahore, took the matter to court in February -- saying she should be charged with "spreading obscenity and adultery".
The couple have not attended any of the case's 10 hearings so far.
Judge Safdar Ali Bhatti in his order on Monday said: "As per law, the petitioner along with the application should go to the police station and the police station should take action in accordance with the law."
Meera's lawyer Ahmed Faheem Bhatti said he would try to overturn Monday's ruling in the high court.
"My client has all along been denying that she was in the video and she has stated that it was a fake video," the lawyer told AFP.
Meera, whose hits include "Nazar", has been one of the Pakistani film industry's leading actresses since the 1990s.
The industry peaked during the 1950s and 1960s but declined following the advent of the VCR and the Islamisation policies of military ruler General Zia ul Haq during the 1980s.
http://english.ahram.org.eg/NewsContent/2/9/98477/World/International/Pakistan-court-orders-investigation-of-actress-ove.aspx
-----------
Women defy Taliban: Voters say Saturday is 'Women's Day' for them
April 7, 2014
JALALABAD: Lines of blue burqas marked Saturday's Afghan elections as women turned out in large numbers to vote in several cities – unthinkable under the Taliban, who would not allow women to work or study, let alone cast their ballot.
In the eastern city of Jalalabad, three women posed for photographers outside a school turned into a polling station for the first round of the presidential election. Each held a baby in one hand and with the other proudly showed her index finger, stained purple to show she has voted.
Nearby, 20-year-old Ayesha wore a look of unwavering determination as she went to cast her first-ever vote, ignoring the threat to attack the polls from Taliban insurgents, ever-present in this part of Afghanistan.
"I am eligible to vote and even if there were suicide attacks by the Taliban, I would have not cared about it," she said. "We have to vote to show the enemies we are not afraid of them. We should give our enemies a jaw-breaking answer by casting our ballot."
Shabnam, also in her 20s, who like many Afghans uses only one name, shared her defiance.
"Today is women's day for us and it is our day, I have come here with lots of excitement to come and cast my ballots to choose our next leader," Shabnam said.
In Jalalabad and the surrounding area, women formed long queues even before polls opened — a sign of a changing society, increasingly aware of the importance of elections.
The deputy head of the UN mission in Afghanistan, Nicholas Haysom, pointed to encouraging numbers such as the 300 women standing in provincial council elections.
"When I left home, my wife and daughter told me they were also interested to cast their ballots for the election, and I did not oppose them," one male voter in Jalalabad told AFP.
But, according to local officials, female voters were much fewer in number in rural areas, where the Taliban have more influence.
http://tribune.com.pk/story/691936/women-defy-taliban-voters-say-saturday-is-womens-day-for-them/
-----------
FNC to Debate Extra Housing Allowance For Emirati Men with Multiple Wives
April 7, 2014
ABU DHABI // The FNC this week will debate whether housing allowances should be increased for Emirati men who have more than one wife.
FNC member Ahmad Al Amash (RAK) has suggested to the government advisory body that husbands with multiple wives were suffering financially.
"The salaries ladder has allocated 40 per cent housing allowance for single employees and 60 per cent for the married ones," he said. "But the 60 per cent is fixed and does not increase if he remarries.
"This increases the family burden on the employee if he becomes the financial provider of two families instead of one."
He said this hampered the objective of the UAE's rulers to establish a comfortable life for all Emiratis.
"So in order for happiness to be achieved as per the efforts of the leadership, we are requesting the ministry amends the laws to achieve that goal."
The issue will be put to the Education Minister, Humaid Al Qattami, who is also head of the Federal Human Resources Authority.
Another question that will be raised tomorrow is the general policy of the Islamic Affairs Authority.
"It will be a comprehensive talk about the authority's procedures," said Mr Al Amash. "There are four points of discussion regarding the issues the authority is concerned with.
"It will be under the umbrella that the country's religion is Islam and the whole world is a part of the UAE since every nationality exists here."
The authority oversees a range of religious affairs, including managing mosques, issuing Fatwas, and organising Haj and Umrah pilgrimages to Mecca. It also prints and distributes copies of the Quran and other religious supplements, supervises Quranic recitation centres and trains imams and preachers.
Another question, raised by member Rashad Bukhash (Dubai), concerns the role of international organisations and societies in the country.
He said general welfare societies in various fields such as medicine, engineering and history had offices elsewhere in the world.
"Yet none of them have branches inside the country," he said in his question to the Minister of FNC Affairs, Dr Anwar Gargash.
He related this to the fact that there was no law that organises the work of international organisations inside the UAE.
Meanwhile, Salem Al Ameri (Abu Dhabi) has asked Mohammed Al Gergawi, the Minister of Cabinet Affairs, about ways of encouraging more volunteer work.
He argued that participating in volunteer work during free time was a good opportunity to serve the country and to gain valuable experience.
He suggested an umbrella organisation to oversee volunteer work, and more media focus on encouraging Emiratis to take up volunteer work.
Federal and local departments should also pay more attention to volunteer work, he added.
Another FNC member, Dr Sheikha Al Owais, asked the Social Affairs Minister, Mariam Al Roumi, what committees have been formed to provide better services for the disabled.
hdajani@thenational.ae
http://www.thenational.ae/uae/government/fnc-to-debate-extra-housing-allowance-for-emirati-men-with-multiple-wives#ixzz2yC04AbvB
-----------
Labour of love: Lessons in inspiration from women entrepreneurs
April 7, 2014
ISLAMABAD: After a series of unfortunate circumstances seven years ago, Shehla Altaf decided to pursue her passion, and make a living out of it in the process. Setting up her Henna art products stall at the Minerva exhibition on Saturday morning, Altaf became one among the sixteen home-based entrepreneurs who were showcasing their products for the very first time.
Each stall had a story to tell. For young female entrepreneurs who had been marketing their products online, it was the perfect opportunity to step out of their homes and interact with their clientele, a personal first for many.
Exhibitors were asked to share their stories- what inspired them to start their business and what they gained out of it. Previously, Altaf used to facilitate her father at his shop selling plastic furniture. Unfortunately, the shop was located on Murree Road in Rawalpindi, and was demolished in 2003 when all shops located by the roadside were removed. A year later, she lost her father and started assisting her mother at the local salon as a Henna artist to make ends meet.
Soon after, she decided to put her skill to good use by applying the technique to products, making for unique artwork. Four years ago, she gathered the courage to launch these products on social media, and the overwhelming response gave her the confidence to take her business seriously.
The mother of a two-year-old son now runs a successful business, and plans to launch her brand on an international scale. "At the time of inception, the business was excellent. But I slowly came to realize that the online market is competitive. Yet, I am still surviving," she said with a smile.
Hina Qamar, selling handmade paper items under the brand name Mad-Ozziee, had displayed her products neatly. A high-school teacher from Wah Cantt, she had put products on sale for which the requisite tools are not available in Pakistan. Her passion to make intricate items out of paper inspired her to learn techniques from the internet.
While wanting to master the art, she participated in an online competition in which she won a tool kit that helps in making these products. She then got craftsmen in Pakistan to make a replica of the tools, which she sells, while also teaching the technique to students.
Standing primly by a stall displaying knitted items, Areesha Imtiaz said that techniques such as cross stitching were not appreciated as much anymore. Even so, by using the pattern in an innovative manner, she managed to garner a clientele for herself.
Another commendable entrepreneur was Sabeen Siddiqui, who left her corporate job to launch her own clothing line by the name 'Dhanak Rung', which turned out to be a more lucrative career option than the former.
Similarly, Sehrish Ali was formerly an accountant but opted for her own business, a line of hand-made quirky accessories and gifts under the brand 'Style and Footstep'. She runs a successful online business which allows the clients to personalize the items of their choice for purchase.
Among the plethora of items being exhibited were embroidered clothes, jewellery, hand-made accessories, bags, lamps and customized T-shirts.
Sana Khalid, the CEO of Minerva- social youth enterprise network, said that many women working from home were not confident about their products. Such an exhibition was aimed to make such participants step out of their comfort zones and glean lessons from fellow displayers by observing how other home-based businesses were using creative techniques to market their products.
"People working from home do not usually interact. In this exhibition, sales are secondary, and learning from this exposure is the substantive gain they will go home with," said Khalid.
"Many people complain about the quality of home-based products, but with this initiative we want to share their stories so people can learn more about the context from which these products are really coming from," added Khalid. "People need to see what's happening behind the scene."
The exhibition culminated with a concert showcasing performances by local bands.
http://tribune.com.pk/story/691911/labour-of-love-lessons-in-inspiration-from-women-entrepreneurs/
-----------
FOKASA Seeks Full Benefits For Female Indian Cleaners
April 7, 2014
The Federation of Kerala Associations in Saudi Arabia (FOKASA) said on Sunday that Indian Embassy representatives had advised Indian women cleaners to leave the Kingdom if they demanded their rights to benefits from the company they were contracted to.
The women cleaners were contracted to a cleaning company in Riyadh and had not been paid for 9 months.
"The embassy representatives threatened the workers saying they would be stranded in the Kingdom if they demanded their benefits from the company. Instead they advised them to take whatever the company offered them and leave the country at the earliest," the federation said.
FOKASA alleged that the embassy representatives also forced the workers to sign a document that they had received their dues and were fully satisfied with the embassy's services. "The representatives asked the workers to sign such an undertaking even before distributing their meager salaries," they said.
The workers were contracted with a salary of SR800 for 12 hours a day and end of service benefits (ESB). However, the company only paid them for 8 months without the ESB, according to FOKASA.
The federation requested the Ministry of Overseas Indian Affairs to instruct the Indian Embassy to force the company to pay its workers their full dues. The federation further said that the representatives had forcibly taken the workers' mobile numbers and copied their incoming and outgoing calls. They even threatened the workers from calling anyone including the Minister for Overseas Indian Affairs whom they had called earlier and explained their plight.
The embassy representatives told the workers on Wednesday night to pack up and vacate their accommodation in preparation for their flight to India from Riyadh, "but they were unable to travel to Riyadh because their travel documents could not be processed," the Indian organization said.
However, when Arab News contacted the embassy officials they refused to comment or give any statement on the human rights issue and also requested to discontinue with the publication of the news item.
On the other hand, the Indian Embassy issued a statement last month that the embassy is in constant touch with the workers, the company's top management and Saudi authorities and that it will continue to follow up on the case on a priority basis.
Earlier, Arab News reported that the women, who work for a cleaning company and were contracted to clean a hospital, refused to return to work until they were paid. However, they have been assured that they will be paid on time in the future.
http://www.arabnews.com/news/551771
-----------
Iran's budget setback for women's issues
April 7, 2014
"A curtailed dream" is the nickname given to the highly publicized amendment omitted from the Iranian new year's budget act. The amendment would have offered health insurance to homemakers without a job outside the house. It initially passed the Majles (Iranian parliament), but was entirely omitted due to multiple budgetary concerns expressed by the Guardian Council.
The amendment was proposed by women's activists, publicized by women's lobbyists and unanimously agreed upon by the government and members of the women's Majles faction. Another section of the proposal would have provided health insurance to a minimum of 200,000 households headed by women, who have never been considered for insurance and health benefits.
Prior to its omission from the new year's budget plan, the budget dedicated to women belonging to this seemingly forgotten group within Iranian society was reduced by 85%. Yet, questions, concerns and disagreements continued to grow and the entire amendment was discarded just before the final steps were taken to finalize the budget for the year 1393.
Some conservatives say the proposal was a thoughtful plan cooked up by Mahmoud Ahmadinejad's administration and misrepresented by the Hassan Rouhani administration, which failed to present the plan in a convincing fashion while paying close attention to important details, including properly identifying sources of the finances intended for such health insurance plans. That is, according to this group, how the amendment ended up in the trash.
Most moderates and pro-Rouhani women's affairs activists, on the other hand, say that the Guardian Council's micromanagement of the plan and nitpicking by some Majles members were the nails to the amendment's coffin. Also, the source for the women's health insurance budget was all but unidentified.
"Regardless of different approaches, the outcome remains the same," Farzaneh, a 55-year-old housewife, told Al-Monitor. "The reality is that I have to grind my teeth and live my worst nightmare, which is to keep living with a man whom I strongly dislike. I have no choice. I was so hopeful that this dream would come true, and I would be able to find a job, even a low-paying one, and get myself out of this misery. But it's just not happening. It's impossible," she said.
Maryam Mojtahedzadeh, head of the Presidential Bureau of Women and Family Affairs, described the fate of the budget plans geared toward women's health benefits as "a sad failure."
On a similar note, Iran's Majles has rejected the administration's proposal to dedicate 1% of the government's budget to women's affairs. In an interview with the Iranian Students News Agency (ISNA), Parvin Hedayati, a women's affairs deputy of the Rouhani administration, said that efforts aimed at convincing the Majles to approve a mandate for dedicating at least 1% of the government's annual budget to programs benefiting women were unsuccessful. Hedayati added that the government's preference had been that members of parliament, particularly members of the women's faction, would adhere to this proposal and be proactive in convincing their colleagues to support such a mandate. She also said, "But, overall, we consider the approval positive."
The Majles has approved the bill to allow all governmental organizations to spend up to 1% of their budget in the Iranian new year on women-related programs. A mandate, however, is not being implemented. Thus, organizations are free to determine the amount they plan to spend on such programs, which must not exceed the limit of 1% of their annual budget.
Article 230 of the Fifth Development Program initially designated for women's rights and benefits received an amendment inserted by the Majles, broadening the spectrum of eligible projects to be inclusive of youth programs, thus leaving less for women.
On the other hand, Fatemeh Rahbar, head of the Majles' women's faction, has described the faction's efforts as plenty and fruitful. In an interview with the Iranian Labor News Agency (ILNA), Rahbar named one of the most significant instances of these efforts: submitting the proposal to extend maternity leave to nine months for government workers.
Rahbar, a representative of the people of Tehran in the Majles, added that the budget specified for women has remained unchanged compared with last year, but that there may be some modifications planned within different organizations as to which area they would plan to spend more or less on. Despite the overall positive conclusion of the head of the women's faction, Rahbar clarified that no change in the budget equals less money for maneuvering, and expressed concern over the fact that due to inflation, seminaries for women would practically be receiving at least 4.5% less than what they received last year.
The budget assigned to women and youth affairs includes investment in encouraging political participation, mostly aimed at attracting more female and young prospective voters ahead of future elections.
Noushin, an active feminist residing in southern Iran, told Al-Monitor that a large group of Iranian women are deeply disappointed in the way the government and their representatives in the Majles approach and take action — or inaction, rather, she added — toward more than half of Iran's population. Nousin said in a telephone interview, "The fashion in which both the administration and the Majles approach women's affairs is a familiar repetition of implementing and strengthening patriarchy in society. "Combined with Islamic laws," she added, "women are — by and large — slighted, as they have been for over three decades."
http://www.al-monitor.com/pulse/originals/2014/04/iran-women-budget-healt-insurance-homemaker-cuts.html#ixzz2yBto83IU
-----------
First women joining Palestinian commando unit
April 7, 2014
Palestinian women in combat fatigues and headscarves rappelled down a six-story tower, fired assault rifles at imaginary terrorists and in a drill straight out of the movies bundled a would-be VIP into a car and sped off after a shooting.
The 22 future commandos are trailblazers in a still largely male-dominated society, set to become the first female members of the Presidential Guards, a Palestinian elite force of 2,600 men. Their inclusion is the result of gradual changes in the West Bank in recent years.
Some gender barriers have fallen, with a few women assuming posts as mayors, judges and Cabinet ministers or starting their own businesses. At the same time, unemployment is on the rise, and families are more open to women entering non-traditional jobs if it means another paycheck.
Women make up just 3 percent of 30,000 members of the Palestinian police and other security agencies in the West Bank, but there's a push to recruit more, said Brig. Rashideh Mughrabi, in charge of gender issues in the National Security Forces.
The female Presidential Guards recruits were picked from last year's graduating class of Independence University, a four-year security academy in Jericho that trains future officers.
For graduate Kurum Saad, the appeal was immediate. As a female officer, her traditional role would have been in administration, but she wanted adventure.
"I didn't want to sit in an office," the 23 year old said. "Since I was a little girl, I loved shooting and sports."
On Sunday, Saad and the others in her group put on black combat boots, camouflage uniforms and pulled black ski masks over the headscarves to show journalists what they'd learned in their special training.
Several women, including non-swimmers, were asked to jump into a pool as a show of courage. They dove in in full uniform, including boots, and one had to be pulled out by a lifeguard.
Six women, including Saad, rappelled down the six-story tower in pairs. Saad said she excels at sharp shooting but for months was terrified of heights. She said that during training in Jordan with local commandos, she overcame her fear. Sunday, she swiftly made her way down, smiling as she touched ground.
Saad said she relishes her role of opening doors for other women. Her father is proud of her and her little sister is eager to join the Guards, she said.
All but two of the female Guards, including Saad, wore black headscarves, reflecting a growing trend among Palestinian women to cover their hair because of tradition, Muslim religious observance or social pressure.
As the women performed their drills at the walled Presidential Guards training complex in Jericho - having been called back from a break for the occasion - hundreds of young men waited in line outside in the brutal desert sun.
They had responded to ads announcing the Guards wanted recruits, but faced a tough selection process, with only a few dozen of the tallest and fittest being chosen.
The Presidential Guards were established under the late Yasser Arafat, the globe-trotting Palestinian leader. Arafat spent most of his life in exile but returned to the Palestinian territories in 1994, as part of interim peace deals with Israel, and set up a self-rule government.
Under Arafat's often-chaotic rule, various security branches grew in size, with often overlapping or competing assignments. After Arafat's death in 2004, the U.S. and Europe stepped in, training and equipping some of the units as part of an attempt to rein in vigilantes and militants.
Under Arafat's successor, President Mahmoud Abbas, the Guards are engaged in personal protection, including of visiting dignitaries, but are also trained for anti-terrorism missions.
For now, the female Guards are only being drawn from the West Bank. In the Gaza Strip, which is not under Abbas' control and is ruled by the Islamic militant Hamas, about 400 women serve in the 16,000-strong security forces. They have undergone some training, including in martial arts, but work mostly in administrative jobs, including as border control officers and an anti-drug unit.
The West Bank, Gaza Strip and east Jerusalem were captured by Israel in 1967 and are sought by the Palestinians for a future state.
The Palestinian security force training was meant to help prepare the people for statehood, yet independence remains elusive, with the latest U.S.-led mediation mission appearing to be on the verge of collapse.
Some of the new female Guards say they believe they are serving their homeland, but in the short term there's also the draw of travel and adventure. On Sunday, they filled out European visa applications for a training session in Italy.
Meanwhile, Italian and French trainers are to come to Jericho to teach them stunt driving and more personal protection skills.
The women are to start work at Abbas' compound in the West Bank city of Ramallah in the summer. They'll live in separate quarters from those of the men, but their work will be the same: personal protection, especially if there are female dignitaries or wives of male visitors.
Rami Sammar, 23, one of their male colleagues, said he's watched the women train and is impressed. "The way I see them, they are performing no less than us, the guys," he said.
http://english.alarabiya.net/en/perspective/features/2014/04/07/First-women-joining-Palestinian-commando-unit.html
-----------
Rights of Working Saudi Women
April 7, 2014
The findings of a survey on working women were presented in a research paper at a recently-concluded forum discussing the rights and duties on Working Saudi women. About 60 percent of those who responded to the survey said the salaries of female government employees are sufficient to support their families. Around 47 percent of respondents said men deserve jobs more than women while 41 percent said career has a negative impact on a woman's married life.
Some 36 percent of participants said a woman's job leads to gender-mixing, which is against the teachings of Islam. It was revealed in the survey that 43 percent of respondents believe that jobs in education and charity sectors are the most suitable jobs for women. Interestingly, the study showed that an overwhelming majority of respondents believe that the most basic job for a woman is taking care of her family.
The findings of the study, published by Al-Eqtisadiah newspaper, shed light on the general perceptions of society on women's work and rights. The forum, which coincided with International Women's Day on March 8, put forward some interesting recommendations: It is ideal if women do not stay at home and draw monthly salaries, men should help counter rising unemployment rates by not rushing to apply for jobs; education is the best sector for women to work in; and women should stay away from public life so they can avoid gender-mixing.
These recommendations are not very different from the demands raised in a petition titled "Demands of Women in the Kingdom," which was presented to the Shoura Council a few weeks ago. The petition summarized a number of demands and these included encouraging women to work from home, teach other women of the same nationality and not force them to go out of the Kingdom under the King Abdullah Foreign Scholarship Program.
According to Ministry of Labor statistics, there are more than one million jobless Saudis and the unemployment rate among women stands at 35 percent with the majority of unemployed women holding university degrees. Saudi women find it difficult to land jobs that suit their qualifications and their efforts to seek gainful employment are further hampered by strict customs and traditions followed by some families. All of this means Saudi women's employment options are largely restricted to the education sector as most job seekers want to be employed in this sector. The gap between graduates in the educational stream and the demand of the job market remains high, and this is regarded as one of the reasons for rising unemployment among women.
Women's unemployment is a social, economic and security issue so increasing involvement of women in the employment sector will serve the interests of the nation. When we deal with the issue of working women and their rights, we have to speak about a change in the prevailing culture in which women are being kept separated from public life.
We must demand the creation of an attractive working environment for women in various sectors in addition to education, health and the banking sectors. We have to talk about allowing maternity leave to protect a woman's right as a mother and a working woman. There should be daycare centers where the children of working women can be looked after at reasonable rates during their working hours in both the public and private sectors.
When we speak about the rights of working women, we have to raise a strong demand to enact stringent laws to criminalize sexual harassment at the workplace.
When we speak about supporting working women and their rights, we have to ensure means of transportation for them between their home and workplace. It is purely a woman's choice to work or not and if she chooses to work, she should be provided with all the means and facilities to perform her duties and enjoy her rights at the workplace.
http://www.saudigazette.com.sa/index.cfm?method=home.regcon&contentid=20140407201094
-----------
Three-month wait for women wanting to work from home
April 7, 2014
JEDDAH — The Human Resources Development Fund (HRDF) is planning to implement a project that will allow women to work from home within three months.
The head of the fund, Ibrahim Al-Meaiqel, told Al-Madinah daily that temporary permits will be provided to women to work from home and different support bodies will participate in the project.
An electronic gateway will be set up to provide comprehensive information and data on working from home, he said.
He noted this huge and important project would be the cornerstone of support for all women working at home until a final agreement is reached with other concerned bodies on how to regulate this sector.
Al-Meaiqel pointed out that one of the obstacles facing women who want to work from home is obtaining the necessary permits and support.
He explained that concerned ministries are aware of the importance of this project and final solutions would be enacted to deal with any problems facing the project.
"Negotiations are under way with a specialized company to set up an electronic gate that will include all necessary information, data and regulations for women working from home," he said.
He pointed out that more specialized bodies should participate in this project to embrace these women and their businesses and provide them with the support and expertise required.
A World Bank report estimates women account for 40 percent of the world population and 70 percent of poor people, of whom half are unemployed.
A report on development in the Arab world shows that more than 50 percent of women are unemployed and many countries, including the Kingdom, have encouraged work from home projects to deal with this problem.
A recent study also shows that 66 percent of women would prefer to work from home if they had the opportunity.
Working from home has become an international trend and around 2 million people work from home in Britain, 20 million in the US, half a million in Canada, and 13.5 million in Japan.
Many work-from-home businesses later developed into small establishments, employing 84 percent of the workforce in Japan and contributing around 52 percent to the industrial production of the country.
In the US and Europe, small establishments employ about 70 percent of the workforce, while Italy has around 2.5 million such businesses.
Studies have shown that working from home will save women around 40 percent of their income.
http://www.saudigazette.com.sa/index.cfm?method=home.regcon&contentid=20140407201080
-----------
URL: https://newageislam.com/islam-women-feminism/the-women's-majlis-smart-dressing/d/66443