New Age Islam News Bureau
29 Nov 2014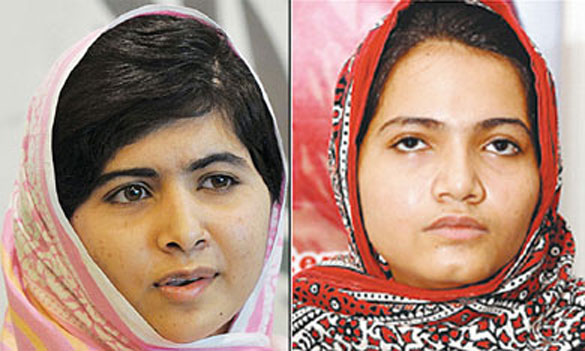 Rights activist Malala Yousafzai and Kainat Soomro
------------
• Bristol Gang Groomed Teen Girls as Young as 13
• Sunni Conference in Mumbai Calls for Saving, Empowering Girls
• Malala Invites Kainat to Nobel Award Ceremony
• Rescue Might Be Too Late For Kidnapped Yazidi Women
• ISIS reportedly abducting, enslaving Syrian women: UN
• 'Stop All Forms of Violence against Women', Liberia's Gender Minister
• Egypt: Trial Shows Need To Combat FGM, Says HRW
• Aussie Doctor's Hijab Fights Racism
• Telangana NGOs Push For Faltering 'Shaadi Mubarak' Scheme
Compiled by New Age Islam News Bureau
URL: https://newageislam.com/islam-women-feminism/the-women-al-aqsa-compound/d/100256
-----------
The women of al-Aqsa: the compound's self-appointed guardians
Nov 29, 2014
JERUSALEM: It's a wet Monday morning, and about twenty women are gathered under the stone arches of al-Aqsa mosque, clustered on plastic chairs and carpets as they shelter from the torrential rain flooding the courtyard. They talk together and read out loud, as they bend over religious books. Before long they are joined by more women, who are all holding prayer mats and have come to huddle for shelter from the storm.
These women, aged from their early twenties to over seventy, come to Jerusalem's most important Islamic site, the third holiest in the religion, every day. Under the arches of the mosque, or in the shady courtyards of the golden Dome of the Rock, they pray, meet and learn together. Older students, many of whom cannot read or write, are schooled in reading the Quran, while younger women consider more complex questions of religion, and learn the history of the mosque and the holy city.
But this isn't the sole reason the group visits al-Aqsa. The women are known as the 'Murabitat' the steadfast, who have come here to defend the holy site from Israeli incursions and deepening control. They say they are keeping watch against groups of right-wing and religious Israelis who frequently tour the al-Aqsa complex and on occasion attempted to pray at al-Aqsa - which is known as Temple Mount to Jews and regarded as Judaism's holiest site.
When a group of Israeli Jews pass by the mosque, escorted by police, the Murabitat women cry "Allahu Akbar" - God is Great - to remind the visitors that despite growing escalations and infringements, the compound is still in Muslim hands.
"We say 'Allahu Akbar' whenever anything bad happens to us, when we are threatened by the Israelis or hurt by the soldiers," Latifa Abdullatif, 24, told Middle East Eye.
"I live in the Old City, and I used to come here just for the prayers at night time. But when I saw the settlers come every day, and saw how much they want to be here, that they want to have the Dome of the Rock destroyed, I realised that I have the right to come and that therefore I should come. [I come] to make a point: we will not leave this place, this place is ours, and we won't go anywhere."
Abdullatif's conviction is shared by many Palestinians, who believe the status quo at al-Aqsa is gravely threatened. Officially, Jewish Israelis are currently allowed to visit the compound, which is administered by the Islamic Waqf, but not pray in it. In recent years and months, however, right-wingers have been challenging that arrangement with increasing force and frequency. By regularly visiting the compound Jewish settlers, including prominent names in the Knesset, say they're asserting their religious rights to pray in Judaism's holiest place.
Palestinians though, believe the groups are looking to take over the site entirely - a fear corroborated by organisations like the Temple Mount Movement, which explicitly states that the "pagan shrines" of al-Aqsa and the Dome of the Rock must be destroyed and replaced with a third Jewish temple. It's this that's fuelling much of the recent tension surrounding al-Aqsa, and many confrontations between the women of the mosque and police.
"Imagine if you are not allowed to go and pray at the church, it would be so hurtful, it would make you angry," says Ayda Sidawil, 53, as she looks over the gardens of the compound, to the blue walls of the Dome of the Rock in the distance. Nearby, a group of soldiers shelter under a tree.
"I don't care if my home was destroyed, or if they took my money. The Aqsa mosque is a red line. If they take al-Aqsa, the rest of Jerusalem won't be okay either," Sidawil adds.
One of the most iconic images to come out of the increasing turmoil surrounding right-wing visits to Haram al-Sharif, has been that of men barred from the mosque praying in the street, the rows of duplicated backs bowed in collective worship and protest. But this is only part of the story. The women who come to the mosque every day have also been arrested, beaten and banned from the mosque grounds. Yet, they continue to return and insist that they are prepared to continue to pay a heavy price just to be close to al-Aqsa.
New reports of women being arrested at the compound, or hurt by security forces, emerge every week; Abdullatif says she was detained for two hours earlier this month, interrogated, and threatened with expulsion from the mosque. Other women also say they've been repeatedly prevented from entering the mosque compound - an issue highlighted by Knesset Member, Haneen Zoabi – and film footage showing women being chased by police officers and being refused entry at its gates.
Police spokesperson Micky Rosenfeld denied that arrests had been made, or that a ban on women was ever imposed.
"Over the last few weeks there have been some disturbances on Temple Mount," he told MEE.
"Women walk around on the Temple Mount, preventing tourists and other non-Muslims walking around on Temple Mount. Women sometimes shout 'Allahu Akbar' at visitors and police have responded to that."
Tensions on both sides are high. Last month, Israeli Knesset Member, Moalem Rafaeli told the Jerusalem Post that he was pushed by a Palestinian woman as she attempted to visit al-Aqsa compound.
The women at the mosque, however, say violations continue and blame the authorities for the various flare ups.
Sidawil explains that she was recently beaten by security forces. She shows a photograph of her jilbab - a loose-fitting dress worn by Muslim women - which she says was ripped by soldiers during the incident.
Zoya Badawni, 67, is another woman who says she was roughed up, this time by settlers. She now wears a bandage around her wrist that was broken during the confrontation – a scar that Badawni insists is still hurting her.
Sidawil recalls that: "last Wednesday, it was a very bad day.
"Four women were arrested, they were beaten as well. Why do they do this? Is it because we want to pray? Is it because we want to say 'Allahu Akbar?' Or because we are women? We are just women, we have nothing, and they are soldiers with weapons."
Despite these challenges, however, the group says that they only grow more convinced of the need to stay at defend the mosque. Despite her injuries, Badawni is one of many that travel to al-Aqsa from inside Israel – areas like Jaffa, Acre or the Galilee – almost daily.
As women, the Murabitat believe they have an especially crucial role: Jerusalemite men, they say, are at greater risk of arrest in the exposed and heavily policed courtyard of al-Aqsa, and they feel women are less likely to be detained, or to lose control and resort to violence.
Indeed, the fact that the Mubaritat are struggling together as women is central to their approach, and many of the group think the struggle at al-Aqsa has challenged and transformed ideas about traditional roles. The movement, participants say, is something that's evolved markedly in the last four or five years as the political imperative has encouraged those involved to challenge conservative ideas about gender.
"Before women didn't really come to the mosque so much," says Abdullatif, who's one of the youngest members of the group.
"But since the conflict became more difficult, more extraordinary, they became free of these thoughts that the women should stay at home, that she shouldn't say anything, shouldn't raise her voice.
"It's only the culture that makes people think these traditional things, because it's certainly not based on religion," Abdellatif continues. "Since coming to the mosque and doing these things, the women have got more open minded. They've understood that they should come, that they can travel, and that they can say what they're thinking."
For many of the women here, the al-Aqsa complex is the central point not just in Jerusalem, but also their lives. It's the centre of community in the city that most have been visiting since they were children. But it's more than that, too. The Mubaritat say that as long as al-Aqsa stays, so does Palestine. Their conviction to defend it has compelled them to challenge threats of violence, arrests and restrictions.
"I was arrested two weeks ago, and they took me for six hours and asked me questions. They said, if you go back to Al Aqsa you will be banned, we will put you in prison," Abdullatif says. "The next day, I came back."
"We know it deeply inside that we are putting ourselves at risk, but we have no other way. What do we have to express ourselves? None of us would love to be arrested, none of us would like to be beaten. But it's the only way," she adds.
http://www.middleeasteye.net/news/women-al-aqsa-meet-murabitats-2039073489#sthash.FPLpgfH9.dpuf
-------------
Bristol Gang Groomed Teen Girls as Young as 13
Nov 29, 2014
FOURTEEN Somali men have been convicted of running a sex ring that involved the abuse, rape and prostitution of teenage British girls; it can be reported for the first time.
Victims as young as 13 were preyed upon, sexually abused and passed around the men's friends for money in Bristol.
Several of the girls were groomed to the extent they believed abuse was part of loving relationships they were having with the defendants.
Some were persuaded to have sex with their 'boyfriend's' friends as it was Somali "culture and tradition" and "men always have sex with each other's girlfriends". The victims, described as "vulnerable" due to their age and circumstances, were paid as little as £30 or given drugs, alcohol and gifts to perform sex acts on older men.
In one dreadful night, one 13-year-old girl was raped four times by three different men, having been trafficked across the city to a Premier Inn by one of her abusers. The Bristol case comes after allegations, convictions and resignations over organised child abuse and exploitation across English towns and cities including Rotherham, Rochdale, Oxford and Telford.
Serious case reviews are now underway to try to understand how the girls became victims.
A total of 14 were convicted of charges including rape, sexual activity with a child, facilitating child prostitution, trafficking, paying for the sexual services of a child and drug offences.
Defendants were tried in two separate trials at Bristol Crown Court this year, with eight jailed for between 18 months and 13 years following the first this summer. The remaining seven, convicted by a jury yesterday following 32 hours and 17 minutes of deliberations, will be sentenced tomorrow.
http://www.independent.ie/world-news/europe/bristol-gang-groomed-teen-girls-as-young-as-13-for-sex-30781107.html
----------
Sunni Conference in Mumbai Calls for Saving, Empowering Girls
Mohammed Wajihuddin,TNN | Nov 29, 2014
MUMBAI: Senior clerics and Islamic scholars on Friday called for ending atrocities on women, saving the girl child and empowering daughters with knowledge. Addressing an exclusive gathering of many thousand women, some of them bused from far-off Mumbra and Bhiwandi, at the Azad Maidan, on the first day of 24th three-day (Nov 28-30) annual Ijtema (congregation) of Sunni Dawat-e-Islami, a worldwide movement of Sunni Muslims, the scholars lashed out at the tendency to prefere sons over daughters.
"Female foeticide is becoming a menace. Those who kill daughters in mothers' womb are committing a grave sin and will be punished hereafter," warned Maulana Shakir Noorie, SDI's president. He regretted that the birth of daughters in many homes is almost mourned while a son's birth is celebrated. "Daughters are not inferior to sons in any way and don't consider daughters liabilities. Like the sons, daughters are also God's blessings," he added. Noorie reminded the crowd of the treatment Prophet Muhammad accorded to his daughters, especially the youngest one Hazrat Fatima. He stressed the need to empower the girls with knowledge. "I don't tell you against buying expensive things. But prefer enriching your daughters with knowledge before you buy them expensive clothes, mobile phones and start worrying about their marriage," Noorie added.
In the question-answer session senior scholar Mufti Nizamuddin said parents while they are alive must give equal share to sons and daughters in their wealth. "But in the parent's inheritance property the sons' share is double than the daughters' because the latter get share in their husbands' property too," he explained. He also said talaq (divorce) is permissible but only when mediation for reconciliation between husband and wife fails. "Talaq should not be used as a threat to keep women in subjugation. It is an option to get out of an oppressive matrimonial discord," he said.
Maulana Rizwan Khan, SDI's vice-president, said that one of sessions in the next two days will be devoted to expose the negative impact of technology. Apart from police security, the organizers had engaged over 1000 male and nearly 300 women volunteers at the venue.
http://timesofindia.indiatimes.com/city/mumbai/Sunni-conference-calls-for-saving-empowering-girls/articleshow/45314534.cms
----------
Malala invites Kainat to Nobel award ceremony
Nov 29, 2014
KARACHI: Rights activist Malala Yousafzai has invited rape survivor Kainat Soomro with her father to the Nobel Peace Prize award ceremony scheduled to be held on Dec 10 in Oslo, Norway.
Speaking to Dawn over phone, Kainat said she was surprised to receive a call from Malala, who encouraged her to continue to pursue her studies. "Apart from that she asked me to come to Oslo when the prize distribution ceremony takes place," Kainat added.
She quoted Malala as saying that she would be honoured to have her there.
On receiving the invitation on Oct 18, she said she informed Malala that her family could not bear the travel expenses.
She said the child activist also promised to give all logistics support to them. Subsequently, her flight was booked for Dec 8, she said, adding that she would be back by Dec 13.
Now 21 years old, Kainat was allegedly gang-raped in Mehar taluqa of Dadu district in 2007.
Undeterred by circumstances, she went ahead to pursue the case against the alleged perpetrators, proceedings of which continued till date without achieving any result, according to her. "It'll be eight years in January 2015, since I took up this case. While I pursued the case, one of my brothers was killed and his case was forcefully shut down by some powerful elements who didn't want me to go ahead," she said, adding that they were working towards reopening the case with the help of their counsel.
Her family moved to Karachi eight years back and since then haven't gone back.
Her father, Ghulam Nabi Soomro, was beside himself with happiness when asked about their upcoming trip to Oslo. "It is a great honour for my entire family to be invited by Malala Yousafzai. She could have taken any name and the organisers would have arranged for them to be there. Rather than taking any big names, she asked for my daughter, which is a moment of pride for us," he said.
Speaking about the phone call and the ensuing conversation with the rights activist, Kainat's father said: "She appreciated the bravery shown by my daughter in pursuing her case. My daughter's strength amazes me too. By pursuing the case I, as a father, want to make sure that what happened to my daughter doesn't happen to anyone else."
Seventeen-year-old Malala Yousafzai will be receiving the award alongside Kailash Satyarthi, Indian child rights campaigner, at a ceremony to be held in Oslo City Hall on Dec 10, the death anniversary of Alfred Nobel.
http://www.dawn.com/news/1147618/malala-invites-kainat-to-nobel-award-ceremony
--------
Rescue might be too late for kidnapped Yazidi women
Nov 29, 2014
The last chance to rescue thousands of Yazidi girls and women who were kidnapped and enslaved by the Islamic State is slipping away, say advocates working to free them from captivity in Iraq and Syria.
"They were in some areas where it may have been possible to rescue them," says Murad Ismael of the U.S.-based Sinjar Crisis Management Team, which monitors the fate of the kidnapped Yazidis. "But now the trend for (the jihadists) is to continually move them around."
That's chilling news for the hostages, whose main hope of escape is from rescuers tracking their locations. But Ismael said, "We have lost track of about 1,200 women and girls. We know from people who were there that they have been held in several towns, some of them in Sinjar."
The Sinjar region of Iraqi Kurdistan was home to thousands of Yazidis attacked by the militants as they made bloody advances across northwestern Iraq. They received especially savage treatment as members of a religious minority the jihadists condemn as heretics.
The women's disappearance is a painful blow for the advocates, who have been pleading for a military operation to rescue them since August, when Islamic State militants massacred more than 400 men and boys, and drove tens of thousands of Yazidis from their homes. Now as many as 7,000 girls and women have been kidnapped, tortured, raped, forcibly married and sold as slaves, some of them taken to militant strongholds in Syria.
"We've talked to sympathetic people in Washington but we've heard no promises," said Matthew Barber, an expert in Yazidi history and culture. "We feel beaten down and frustrated. We don't know what to do next. These people have been abandoned."
On Thursday, the militants blocked mobile phones in Iraq's second-largest city, Mosul, where a number of the kidnapped girls and women are being held. The Islamic State seized the city in June and took control of its services and infrastructure.
Since the attacks on the Yazidis began, at least 100 women and girls have managed to escape or been rescued through an underground railroad of supporters. That is now ending, along with hope of rescue for the traumatized female prisoners, many of whom have seen family members killed.
"We could have freed large numbers from a site where they were being held together," says Barber. "Now they're being moved and dispersed. The time has come and gone."
The Kurdish peshmerga, who have fended off the jihadists with the help of U.S. and allied air strikes, have shown little interest in mounting such an operation, said Ismael. The Iraqi army is in a state of disarray. And although some Washington officials are "passionate" about rescuing the Yazidis, the U.S. has made no commitments to put boots on the ground.
"The air strikes have been useful to some extent, but they can only contain (the militants.)" said Ismael. "It will be impossible to clear them out of the areas where they are holding the girls and women unless (troops) can take the territory and hold it. There seems to be no strategy."
However, he said, the strikes have caused enough losses to spark inner conflicts as the Islamic State strong-arms reluctant Sunni tribesmen to fill the gaps. "They are forcing them into the ranks and imprisoning anyone they suspect was in the (Shiite-dominated Iraqi) government. A couple of days ago they put 70 people in prison from one of the tribes. A lot of anger is building up, although they still have supporters."
Meanwhile, he said, groups allied with the Islamic State are fighting among themselves.
"We've been told that there were clashes around (the northern Iraqi town) Kocho, where some of the women were being held."
The family of one militant agreed to ransom some of the women, Ismael said, but they were attacked by leaders of another group who discovered the deal. "They ambushed the family, who fired back and killed a leader in charge of Kocho. One of the people who took the ransom was also killed."
For girls who fail to escape, say the advocates, the outlook is ominous. They were "taken to other locations to be used sexually by jihadist fighters."
http://www.thestar.com/news/world/2014/11/28/rescue_might_be_too_late_for_kidnapped_yazidi_women.html
----------
ISIS reportedly abducting, enslaving Syrian women: UN
Nov 29, 2014
The Islamic State of Iraq and Syria (ISIS) is committing war crimes against women in areas under its control in Syria, including sexual enslavement and stoning, the UN said last week.
Syrians told Khabar that ISIS gunmen abducted women in several areas under its control and in some cases forced underage girls to marry them.
Twenty females vanished from al-Raqqa province during the battles in which ISIS seized control of the area, said local schoolteacher Mohammed al-Hallaq.
One girl who recently escaped ISIS's grip told her relatives about the horrors she suffered , he said.
She said she and other girls were imprisoned and treated as "spoils of war" in which ISIS gave its fighters the right to do with them whatever they saw fit, al-Hallaq said.
"There are forms of indirect enslavement in which (ISIS) engages, whereby they pressure parents in areas under their control to give their young daughters to them in marriage," he said.
"In most cases, parents yield to the pressure to avoid the harassment to which they might otherwise be subjected, including corporal punishment such as flogging and amputations after charges are fabricated against them."
There have been at least 50 such cases of marriage in the al-Raqa region alone, al-Hallaq said, adding there were also cases of gunmen marrying widows with children, after which both mothers and children were moved to unknown locations.
"Many families have opted to flee Syria permanently and abandon their homes and land to save their daughters from the clutches of this group," he said.
Often, girls are forced to hide in their homes and are not permitted to attend school or even step into the street out of fear they could fall into the hands of ISIS, al-Hallaq added.
Crimes against humanity
Mohammed al-Abdullah, a Syrian journalist who resides in Cairo, said numerous reports confirmed ISIS's crimes against women, particularly Yazidis.
The UN's Commission of Inquiry on Syria issued a report condemning ISIS's "crimes against humanity" – including amputations, beheadings and the capture and enslavement of women – against Yazidis and citizens in Aleppo and al-Raqa.
Al-Abdullah mentioned videos that appear to show ISIS gunmen discussing enslaved women and arguing about their sale.
The purpose behind such videos, he said, is to "lure fighters into joining the group" as ISIS and other groups use women as sexual enticement for recruits. The recordings also aim to "intimidate and terrorise" people in areas not yet under ISIS control, he said.
Distortion of Islam
Sheikh Maaz Abdul Karim, a preacher at al-Omar mosque in Aleppo who moved to Cairo, said such practices are "non-existent in Islam".
"Such things were prevalent only in the al-Jahiliyya era, before Islamic teachings came and gradually rid people of them," he said. "This terrorist gang (ISIS) has not hesitated to distort Islam with lies and acts which it carries out under the cover of religion and distorted interpretations, with no sharia justification.
"There are no Qur'anic texts nor confirmed hadiths that stipulate the legitimacy of (this practice), neither in peacetime nor in a time of war, contrary to what (ISIS) gunmen claim."
http://khabarsouthasia.com/en_GB/articles/apwi/articles/features/2014/11/29/feature-01
----------
'Stop All Forms of Violence against Women', Liberia's Gender Minister
Nov 29, 2014
Monrovia — Liberia's Minister of Gender, Children and Social Protection, Julia Duncan Cassell has alarmed that in the wake of the Ebola epidemic which is an emergency health and development issue, women and children are still being violated.
"Different forms of violence ranging from sexual violence, domestic violence, child abuse and harmful traditional practices are still being perpetrated against women and children," the minister said Thursday at the launch of the 16 Days Activism recently in Monrovia, with the Global Theme for this year's 16 Days of Activism, "Call to Action- Intersection between Violence against Women and Health!"
The national theme for this year is "For the Health of Women and the Nation; Take Action to End Ebola and All Forms of Violence against Women!" The minister told the gathering that rape has been and is still an issue in Liberia but revealed that since the Ebola out Break, there have been more rape cases and other violence against women reported.
According to the Ministry of Gender, Children and Social Protection GBV statistics, January to September 2014, a total of 942 cases were reported. Of this number, 450 were rape cases," Says Minister Cassell. The Minister averred that domestic violence which includes persistent non - support as well as abandonment and spousal battering accounted for 467 cases. 25 cases where harmful traditional practices as well as other forms of violence. She said 401 of the 450 reported rape cases were perpetrated against children between the ages of 0-17 years.
"Between July and September, 80% of these survivors were denied access to medical services due to the health workers fear of contracting the Ebola virus. Two children ages 10 and 13died as a result of rape during this period." Minister Cassell said this year's 16 Days Campaign reiterates the call to action to prevent violence against women as well as highlights the health implications, including increased women's vulnerability to HIV and the need for women to have better access to health services especially in the wake of the Ebola outbreak in Liberia.
Minister Cassell added that the Ebola Virus Disease has greatly affected the health of women in Liberia and there is a need for concerted efforts of everyone to ensure the preventive measures are followed and appropriate measures are put in place to adequately respond to the virus.
"In order to create an enabling environment where women and girls can live healthy lives, free from all forms of violence, there is a need to demand not just good intentions, but well - coordinated and funded strategies by the Government, civil society, communities and international bodies. There is a need to move away from talk and take action."
Mary George, a physically-challenged resident on Gurley Street offered her interpretation of the day she says is crucial to women in Liberia. "I understand the sixteen days of activism, to mean old men who are in the habit of marrying small, small girls that are old enough to be their children, is not good."
George called on the government to take steps mostly against the Muslim men who are in the habit of marrying small girls because it is their tradition. "They must know that we have laws that say they must not do it, so they should be arrested when it happens". He lamented the fact that many parents marry their small daughters to fifty year old men or above because the men have money or property, which it is not good.
Asked whether she would give her daughter to a wealthy older man to marry, she quickly answered: "God forbid, I will never allow my daughter to marry an old man because of money. It will be better for me to hustle on the street for me and my child to eat instead of giving her to one old fifty year or sixty five year old man because of money. Therefore, I am advising my friends who are always giving their small children to old men to marry because of money to stop, because the child is your future."
http://allafrica.com/stories/201411281288.html
----------
Egypt: Trial Shows Need To Combat Female Genital Mutilation, Says HRW
Nov 29, 2014
Egyptian authorities need to take clear action to end the practice of female genital mutilation (FGM) following the country's first trial on the crime ending in acquittals, according to Human Rights Watch.
A trial this month in Egypt centered on the death of a 13-year-old girl in 2013. The doctor who cut the girl and the girl's father who took her to the doctor were acquitted on November 20. The case highlights the need for serious steps by authorities to end FGM including implementation of the law and a national strategy to raise awareness of the harms of FGM. The public prosecution recently filed an appeal against the acquittal.
"Female genital mutilation is banned in Egypt but the practice continues possibly because there is a lack of investigations, prosecutions, and convictions," said Rothna Begum, researcher on women's rights in the Middle East and North Africa for Human Rights Watch.
FGM involves the partial or total removal of the external female genitalia for non-medical purposes. It interferes with the natural functioning of the body and has no known health benefits. The practice may lead to a variety of immediate and long-term health consequences, including severe pain, shock, infection, complications during childbirth affecting both the mother and the child being born, as well as long-term gynecological problems.
On June 6, 2013, 13-year-old Sohair al-Batea died following an FGM procedure after she had an allergic reaction to penicillin. Dr. Raslan Fadl Hallawa acknowledged performing the procedure, but claimed it was for medical purposes and not FGM. He and Sohair al-Batea's father came under investigation. The public prosecutor initiated criminal proceedings in March 2014 charging the doctor with manslaughter for causing the girl's death by negligence, running a medical facility that does not meet medical requirements to treat patients, endangering the girl's life, and committing the practice of female genital mutilation. The prosecutor charged her father with endangering her life and forcing her to undergo FGM.
Since the law banning FGM was amended in 2008, this single case of prosecution has resulted in a trial. Activists have reported that lack of prosecutions are due to local officials considering FGM to be a private family issue rather than dealing with the crime of FGM itself.
Egyptian authorities need to take steps to ensure effective implementation of the law criminalizing the harmful procedure by ensuring that there is adequate investigation and prosecution of those who carry out the FGM procedure, Human Rights Watch said. The government needs to initiate a national strategy to end FGM by raising awareness of the mental and physical harm it does, and of the law banning it.
"This case was an important test of Egypt's legislation criminalizing female genital mutilation," Begum said. "It is clearly not enough to just put a law on the statute books; it must be enforced."
According to the memorandum of the public prosecutor on the case dated March 10, 2014, as available on Shorouk news website, the evidence included a testimony from health inspector Ahmed Mosa, which described that the girl's genitalia was cut and that she died from shock or circulatory failure. An initial post-mortem forensic report found that the doctor had not tested her for hypersensitivity to the penicillin that was used in the procedure which led to her death. An additional report from an expert committee headed by a senior forensic doctor stated that they could not confirm whether this was a FGM procedure or another medical procedure, as the doctor has claimed. The memorandum also includes investigation notes such as the father's testimony. He initially said he took his daughter for the FGM procedure, but then changed his testimony to claim she was experiencing abdominal pain. The public prosecutor concluded from the reports and its investigation that the procedure carried out was female genital mutilation.
The initial charge of manslaughter by negligence was settled out of court, with the doctor paying the family 5,001 Egyptian pounds (around US$700). On November 20, 2014, the minor offenses court in Agga, in Dakahlia governorate north east of Cairo, found the two men not guilty on the remaining charges. Human Rights Watch was not able to obtain the full verdict including the reasoning behind the acquittal.
According to a lawyer from the Women's Center for Guidance and Legal Awareness, the public prosecutor filed an appeal with the minor offenses appeal court in Mansoura, capital of the Dakahlia governorate.
In 2008, after the death of an 11-year-old girl following a FGM procedure, the Child Rights Law No. 126 amended the Penal Code to provide that anyone who causes injury through performing female genital mutilation can be sentenced to imprisonment for three months to two years, or fined between 1000-5000 Egyptian pounds (approximately US$700). The Sohair al-Batea case was the first case to go to trial on charges relating to female genital mutilation.
"Egypt may have a law on the books, but the lack of meaningful prosecutions or any convictions for such a widespread problem sends a message that it is okay to carry out FGM," said Rothna Begum. "The authorities must send a clear message to the police, prosecution and the courts on investigating and prosecuting those who perform FGM."
Female genital mutilation is a widespread practice in Egypt. A 2008 demographic and health survey found that 91 percent of girls and women aged 15-49 years had undergone FGM. The study also suggested that the practice may be on the decline, with rates among women under age 25 at around 80 percent, compared with women aged 25-49, among whom between 94 and 96 percent were subject to female genital mutilation.
In 2007, the Grand Mufti of Egypt, who is the highest Islamic authority, issued a fatwa (religious edict) that FGM was forbidden in Islam. However, some clerics continue to openly advocate the practice. The 2008 survey found that just under half of all women aged 15-49 believed that FGM was a religious requirement and just over half felt that the practice should continue. Whatever the reasons cited, FGM is an act of violence that is irreversible and without medical justification, and which has a lasting negative impact on girls' and women's physical, mental, and sexual health.
"Despite some signs that FGM might be decreasing, it still remains a widespread problem," Begum said. "If Egypt wants to show it is serious about ending FGM, it must put in place a national strategy in addition to its law, with the inclusion of religious and community leaders, healthcare professionals, teachers, and civil society to raise awareness on the harms of FGM."
The national strategy should include support for victims of FGM including medical and psychosocial assistance and it should establish official mechanisms to monitor the progress of eradication efforts.
Egypt is required under international human rights treaties to hold private actors accountable for violence against women, including FGM. As recently as November 4, 2014, the UN Committee on the Rights of the Child and the UN Committee on the Elimination of All Forms of Discrimination against Women (CEDAW), which monitor implementation of children's rights and women's rights treaties that Egypt has ratified, issued a joint recommendation calling on states to eliminate harmful practices and formulate holistic strategies to end FGM.
http://www.eurasiareview.com/28112014-egypt-trial-shows-need-combat-female-genital-mutilation-says-hrw/
----------
Aussie Doctor's Hijab Fights Racism
Nov 29, 2014
CAIRO – Though many Muslim women might turn to removing their hijab over fears of falling victims to Islamophobic attacks, a Muslim doctor in Rockhampton in Australia's Queensland decided to don the Islamic headscarf to stop her religion from being hijacked.
"I wanted to identify with Muslims," Dr Gul-E-Rana told Daily Mercury on Friday, November 28.
"I always wanted to do it, but you need that conviction to do something."
A year ago, Dr Gul was not wearing hijab.
This has changed after the increase of Islamophobic attacks on Muslims after the rise of militant attacks committed in the name of Islam abroad, mainly by the so-called Islamic State (ISIL).
Hearing another Muslim woman speak about the hijab and identity further cemented Dr Gul's decision to start wearing the traditional headscarf.
Seeing her hijab as reflecting her Islam proudly, the Muslim doctor felt anxious about the ripples it might cause in her workplace.
She said the biggest worry was whether patients would still trust and respect her.
"It was just very natural," she said, speaking about her first day in hijab.
"I think when you make the decisions that are right for you, you just have that positive thing about you and everything just works.
"You cannot get rid of your identity anyway, so you should own it.
"I never faced any of the hatred."
Un-Islamic
Dr Gul said she was "very passionate" about Islam and believed it to be "100% peaceful", but understood people feared the religion after reading about crimes.
"When this is splattered across the media ... naturally you're going to be afraid of us," she said.
"For us it's frustrating because we are Muslims. No religion tells you to do bad stuff.
"What are these people reading, what are these people doing? To us it is completely untrue," she added.
Others, who took time to learn about Islam and understand most Muslims, did not agree with extremist behavior.
"We want to explain to people," Dr Gul said.
"It's not something which is exclusive to us. We're all just people and we need to understand each other."
Muslims, who have been in Australia for more than 200 years, make up 1.7 percent of its 20-million population.
In post 9/11-era, Australian Muslims have been haunted with suspicion and have had their patriotism questioned.
The anti-Muslim sentiments further increased following recent anti-terror raids, deemed the biggest in Australian history, in which 15 people were arrested from north-western Sydney.
http://www.onislam.net/english/news/asia-pacific/480211-aussie-doctors-hijab-fights-racism.html
----------
Telangana NGOs Push For Faltering 'Shaadi Mubarak' Scheme
TNN | Nov 29, 2014
HYDERABAD: Prominent voluntary organisations have now stepped in to augment the government's efforts to spread awareness about the Shaadi Mubarak scheme. The government finds itself racing against time - to reach 20,000 beneficiaries across the 10 districts of Telangana in just under four months. And adding to the worries of the government is the fact that most Muslims do not arrange weddings in the Islamic month of Muharram, and the current month of Safar.
The Shaadi Mubarak scheme, which was officially launched on October 2, is aimed at providing a financial assistance of Rs 51,000 to girls from the minority community before a wedding. The budget allocation is Rs 100 crore and the funds will lapse at the end of the financial year on March 31 in 2015.
Admitting that the commissionerate for minorities' welfare (CFMW), the disbursing agency, was ill-equipped in terms of manpower to disseminate information, officials welcomed the move of these non government organisations.
To take the scheme forward, the Hyderabad Zakat and Charitable Trust (HZCT) in Begumpet, in the presence of the CFMW commissioner MJ Akbar, recently extended its support by appointing 40 inspectors. These inspectors, apart from creating awareness, will travel across districts to verify the credentials of applicants. They have also been given two-wheelers to facilitate their travel. HZCT officials said that around Rs 33 Lakh has been earmarked for this project.
The Millat Fund, a philanthropic concern of the Siasat Daily too has started a helpline. All queries pertaining to the scheme will be answered. According to Siasat Daily managing editor Zaheeruddin Ali Khan, assistance will be extended to applicants for filling forms and uploading them online.
"Since the scheme is meant for those who are unable to afford a marriage, it is natural that such people are from the weaker sections of society and are uneducated. They need all the help they can get. For instance, it is likely that they will be charged anything between Rs 50 to Rs 200 for filling forms online. We are not charging them anything here," Khan said. The "well meaning" scheme is an attempt to distance the community from dowry and dubious marriages which have been reported in the recent times, he added.
When contacted, CFMW commissioner M J Akbar said: "It is true that we are short staffed. We are welcoming all genuine voluntary groups. The scheme is intended to help members of the minority community and we are doing our best to reach the target."
The scheme was launched amid much fanfare by the Telangana government earlier this month, brining in hope to hundreds of poor families.
http://timesofindia.indiatimes.com/city/hyderabad/NGOs-push-for-faltering-Shaadi-Mubarak-scheme/articleshow/45314769.cms
----------
URL: https://newageislam.com/islam-women-feminism/the-women-al-aqsa-compound/d/100256