New Age Islam News Bureau
25 Oct 2014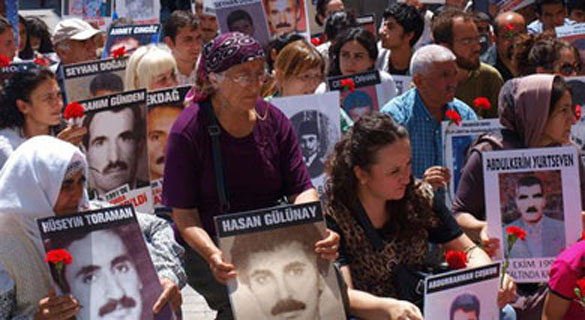 Photo: Saturday Turkey Mothers Meet for 500th Time In Hope Of Finding Lost Loved Ones
----------
• South Sudan's Women Suggest Intimacy Strike to End the War
• Boko Haram Frees Abducted Women, Girls Rumoured Married Off to Insurgents
• Malala Seeks To Come Pakistan, Join Politics
• U.S. Girls' Journey to Join Islamic State Shows Travel Flaws
• Colorado Girls Urged Friends to Pray For Them As They Headed To Syria
• Meet Syrian Girl, the internet sensation dismissed as a Kim Kardashian wannabe
• Work-From-Home Opportunities Offered To Abha, Saudi Arab, Women
• Saturday Turkey Mothers Meet for 500th Time In Hope Of Finding Lost Loved Ones
• WA Muslims Hold Open Day at Mosque as Women Wearing Hijab Bear Brunt of Tensions
• 350,000 school-aged Syrian children in Turkey, just half receiving education
Compiled by New Age Islam News Bureau
URL: https://www.newageislam.com/islam,-women-and-feminism/new-age-islam-news-bureau/the-woman-who-murdered-her-alleged-rapist-has-been-executed-in-iran/d/99727
------------
The woman who murdered her alleged rapist has been executed in Iran
25 Oct, 2014
The Iranian woman charged with the murder of man who allegedly attempted to rape her has been executed, according to her mother.
Reyhaneh Jabbari, 26, was arrested in 2007 for the killing of Morteza Abdolali Sarbandi, a former employee of Iran's Ministry of Intelligence who she said tried to sexually abuse her.
She was first sentenced to death by a Tehran court in 2009 and her execution verdict was upheld by Iran's Supreme Court. Ms Jabbari's case drew international outcry and sparked a petition urging her release, which gained hundreds of thousands of signatures and her execution was postponed several times.
Despite the campaign, Mabbari's mother Shole Pakravan told BBC Persia that she was hanged in a Tehran prison on Saturday.
Last last night Amnesty International Middle East and North Africa Deputy Director Hassiba Hadj Sahraoui has called on Iran to order a re-trial.
http://i100.independent.co.uk/article/the-woman-who-murdered-her-alleged-rapist-has-been-executed-in-iran--g1LxaZoqIe
-----------
South Sudan's women suggest intimacy strike to end the war
25 Oct, 2014
JUBA: A group of South Sudanese women peace activists has suggested that men in the civil war-torn country be denied sex until they stop fighting.
The suggestion emerged after around 90 women, including several members of South Sudan's Parliament, met in the capital Juba this week to come up with ideas on how "to advance the cause of peace, healing and reconciliation."
A key suggestion was to "mobilize all women in South Sudan to deny their husbands conjugal rights until they ensure that peace returns," organizers said in a statement Thursday.
Other proposals included finding ways to meet the wives of President Salva Kiir and his arch-rival, rebel Chief Riek Machar, to "ask them to join the search for peace and reconciliation by impressing upon their husbands to stop the war."
Civilians have been massacred, patients murdered in hospitals and people killed while sheltering in churches.
Almost 100,000 people are sheltering in squalid UN peacekeeping bases fearing they will be killed if they leave.
Tobias Atari Okori, from the government-backed South Sudan Peace and Reconciliation Commission, acknowledged that the idea highlighted that people were desperate for the war to end.
"People are experiencing great suffering, and it is the women, children and the aged who are suffering the worst," he told AFP.
The UN special envoy on sexual violence Zainab Bangura said this month the levels of rape are the worst she had ever seen.
http://www.arabnews.com/middle-east/news/649276
-----------
Boko Haram Frees Abducted Women, Girls Rumoured Married Off to Insurgents
25 Oct, 2014
Yola--The Boko Haram insurgents, who reportedly abducted about 50 women and girls from two border villages between Adamawa and Borno states have freed the women among their captives.
This was disclosed in an interview by villagers, who spoke on the issue with newsmen on the telephone from their hide-outs.
They however, said that the exact number of those released could not be ascertained, but that no fewer than 45 girls were still being detained.
According to the villagers, the women and girls were abducted from Waga Mangoro which was between Gwoza in Borno and Madagali in Adamawa states.
Relatives of some of the abducted women who were later released by the insurgents also, told newsmen in Yola that some of the girls have been turned to cooks while others were married off immediately to some of the insurgents.
A relative to the one of the women who spoke on the condition of anonymity said; "Initially, the insurgents captured 80 girls and women whom they later loaded into their vans and zoomed off into the bushes.
Later in the night, the insurgents separated the elderly women from the girls and released the women, who are now languishing in the forest because they could not relocate the towns because they were razed down by the insurgents.
"We are confused that hours after the so called cease fire agreement between the Federal Government and Boko Haram insurgents, our girls are still being abducted by the insurgents.
"We are at a loss about government's insincerity on the whole issue and we urge them to rescue our daughters without further delay as we are ready to die searching for our missing ones."
http://allafrica.com/stories/201410240496.html
-----------
Malala Seeks To Come Pakistan, Join Politics
25 Oct, 2014
ISLAMABAD – Nobel Peace prize winner 17-year-old Malala Yousafzai urged Pakistan and India to spend on education of children while putting aside their differences.
In an interview to state broadcaster PTV along with her father and mother in United Kingdom, she again invited Prime Ministers Nawaz Sharif and Indian Prime Minister Narendra Modi to attend the award ceremony of Nobel Peace Prize to be held in December.
Malala said that she would spend her share of the $1.1 million prize money on projects for education in Pakistan. She said that focus should be on the education of girls and she has gained enough experience to continue to advocate and urge people to invest in education.
"We have to work together as 57 million children are still out of school in Pakistan. My dream is that every Pakistani child should get good quality education," she said. She said that she was not expecting to win Nobel Peace Prize.
"I was in my chemistry class and I was not that much concerned, then the teacher came and told me that I have won the Nobel Peace Prize. All teachers and students gathered in the assembly and I nervously made a little speech before them," she recalled.
Malala Yousafzai said one of her projects from the prize money will be to set up a high quality school in Pakistan. "When I started working for education, my first project was a school for working children in Swat," she said while telling about Malala Fund set up by her.
She said that the aim of Malala Fund is that children in Pakistan get education facilities. Her Malala Fund is also supporting 25 orphan kids for lifetime in a project run by an organisation in Khyber Pakhtunkhwa. Malala emphasised that her goal was to convince everybody to invest in education and in her meetings with global leaders like President Barack Obama and Queen Elizabeth; she persuaded them to invest and focus on education.
To a question, she said always told the reality about the situation in Swat and many times pointed out that Taliban were responsible for stopping girls from going to school. "Its true that I live abroad but my heart and mind are in Pakistan. When I opened my eyes for the first time in UK, I was in Birmingham hospital and then my parents came and gradually we settled down in Pakistan," To a question about her stay in United Kingdom, Malala said.
"I have special kind of feeling of love for Pakistan. Here in UK there is a lot of cold but in Swat we enjoyed four seasons." Malala said her soul is in Swat and she is hopeful to go back to Pakistan and join politics. "My vision is to create awareness and resolve problems of the people. I want to start politics at local level and then move to the national and international level after gaining experience."
Malala advised all political parties to work for the progress and prosperity of Pakistan. "We should work collectively. We have to be united and aim of political parties should be to provide basic facilities like food and education to the people," she remarked. Malala said her efforts have a favourable impact on the education sector in Khyber Pakhtunkhwa.
"International community wants to focus on education in a sustainable manner due to my efforts," she said. Malala's father Ziauddin Yousafzai congratulated Pakistani nation for winning the Nobel Prize and said he always told school going girls in Swat to pursue their dreams.
To a question about criticism against them, he said, "Our arrival in United Kingdom was an incident and our recognition by the international community was because of special circumstances." He requested people not to blindly follow those who have biased opinion against them.
"There are reasons for doubts of people as there is a gulf between Pakistan and the West and the United States," he said. Malala's mother Taur Pakai said for her every girl is like Malala and should be supported. She said that she missed Pakistan and they were living in England for the sake of Malala. "Our life revolves around Malala," she added.
http://www.dailytimes.com.pk/national/24-Oct-2014/malala-seeks-to-come-pakistan-join-politics
-----------
U.S. girls' journey to join Islamic State shows travel flaws
25 Oct, 2014
PARIS—The teenage sisters told their father they were staying home sick from their suburban Denver school. Instead, they took $2,000 and their passports and headed off for Syria with a 16-year-old friend. They made it as far as Germany before border guards detained them for questioning.
The fact that adolescent girls could make their way across the Atlantic might come as a surprise to many parents, but a patchwork of laws and rules governing international air travel in many cases makes it easy for teenagers to travel with nobody's permission but their own.
Airlines have a range of rules governing minors' travel: Many major carriers including United Airlines and Scandinavian airline SAS place no restrictions on children over 12, while others let even young minors travel as long as they are accompanied by someone over 16. Yet others, including American Airlines, require a parent to accompany travellers under the age of 15 to the gate, while those 15 and over face no restrictions.
Countries have a separate set of laws that is no less haphazard, from a Russian requirement for notarized parental permission to the U.S. system where adolescents with valid passports are free to come and go.
In Spain, both parents must fill out a permission form at a police station before a minor can travel alone. In Germany, where the American teens were stopped, border guards are required to verify that minors have parental permission to travel.
And in France, which is Europe's single largest source of would-be jihadis, parental authorization had to be received by city hall — until January 2013.
That's when a small administrative change took effect suspending the requirement for parental approval. The government said it would streamline unnecessary bureaucracy and officials remarked that few runaways went abroad, and even fewer stayed there.
Fast-forward 22 months, and nearly every week new reports emerge of French adolescents leaving for Syria. Teenagers from France can travel within the European Union with a valid ID; outside the EU, they need only a passport.
Under French law, parents can have their children flagged if they fear they will leave the country to join extremists. But for many of those who have left, their families had no warning.
Lawyer Agnes Dufetel-Cordier represents a teenage boy from Toulouse who left in January to join the Al-Qaeda-linked al-Nusra Front, before coming back to his family to face criminal charges. She said the teen — now 16 — gave no sign he was about to bolt for Syria, and his departure came as a shock to his parents. He was not stopped at the airport in Marseille, nor on arrival in Turkey or crossing into Syria.
"If you reverse the regulation that lets them travel without their parents' permission, you will see right away that minors are no longer leaving," Dufetel-Cordier said. "Today in France, in the case of most minors who go to Syria, the families have absolutely no idea ahead of time."
At age 17, Sahra Ali Mehenni went so far as to ask her mother to get her a passport, saying she wanted her paperwork in order before she reached adulthood. When she left for Syria on March 11, departing from the Marseille airport just as the teen boy did, she took her burgundy-bound passport and nobody stopped her before she boarded the flight to Istanbul.
"If I go out and I run a red light, they're going to get me right away," said her father, Kamel. "But these minors are going to Istanbul — and if they're going to Istanbul, it's to go to Syria. They know it. You can't say they don't know it. And no one stops it."
The same concerns apply in the United States, where parental permission is required to obtain a passport — but none is needed for travel.
The teens who flew to Germany were stopped because their parents, part of suburban Denver's tight-knit East African community, reported them missing quickly, and American authorities contacted German authorities before they landed.
"Kudos to those family members in Colorado," said Omar Jamal, CEO of American Friends of Somalia. "Time is of the essence. They did the right thing."
http://www.thestar.com/news/world/2014/10/23/us_girls_journey_to_join_islamic_state_shows_travel_flaws.html
-----------
Colorado girls urged friends to pray for them as they headed to Syria
25 Oct, 2014
Three Arapahoe County teen girls urged friends on social media to pray for them as they set off on an overseas trip apparently aimed at joining Islamic State militants.
The Denver Post on Thursday reviewed dozens of tweets by the girls, by at least one of their fathers, and by several supporters and detractors. The accounts of the three girls and the father have been deleted, but The Post retrieved cached messages sent from their accounts.
"Please if you read this tell me where you are? We are so worried about you #Isis #raqqa #Colorado," the father of one of the girls tweeted at his daughter on Saturday.
Raqqa is a city in Syria that is considered the capital of the Islamic State militants.
The girls tweeted about Islam in the days leading up to their trip, which began Friday.
"I started to notice the people I called 'friends' weren't my true friends," one of the girls tweeted.
Authorities believe the three teens — two sisters, 15 and 17 years old, of Somali descent and another, 16 years old, of Sudan — likely were recruited online to travel to Germany, apparently on their way to join the Islamic State, school officials said Wednesday.
The girls' parents reported them missing on Friday night, hours after they failed to show up at school or return home from the library. One of the families said the girls took $2,000 and fled with their passports.
The girls were then stopped by German police at an airport in Frankfurt, Germany, before being sent back to their parents in Denver. German authorities say they were alerted to the girls' arrival by U.S. officials.
The Cherry Creek School District, where the girls attend high school, said the teens tweeted with fellow students about their trip, which first alerted school officials to the teens' whereabouts.
"Students came in on Monday morning and reported the tweets to us," said Tustin Amole, a Cherry Creek School District spokeswoman. "They said they were going to Germany and try to go to Turkey. Some of the students (on Twitter) told them it was a bad idea; others said good luck."
Amole also said authorities believe the teenagers likely were recruited online.
"Our understanding, our belief is that they were recruited online," Amole said. "That's our belief based on information we have from various sources, including investigators. ... That's my understanding of what likely happened."
In a tweet sent hours before she was reported missing, one of the girls said: "Please please please make (prayer) for me wherever you are. I truly need it, may Allah bless you all."
"Please make (prayer) for us three," one of the other girls tweeted. "It's extremely urgent!"
Those holding Twitter accounts in the United Kingdom and east Africa offered words of support via Twitter, calling for blessings. Some of the girls' tweets were retweeted dozens of times.
Others projected disgust and worry. One man tweeted: "All three of you scum can enjoy prison."
The Post is withholding the Twitter handles, names and the high school of the three girls after school and law enforcement officials expressed concerns about the teens' safety. The Twitter handle of one girl was first obtained by 7News.
Undercover federal agents have used social media to infiltrate and identify potentially radicalized U.S. citizens, and officials have said that social media is a powerful recruitment tool for militants.
Federal officials continued their silence on the situation surrounding the girls on Thursday. The Colorado U.S. Attorney's Office said "it's a matter under review that cannot be commented on."
"Not only is the FBI and all levels of law enforcement very much engaged to ensure that young people don't get over in harm's way in Syria with ISIS or any other terrorist organization, but also I will say to the credit of the Arab and Muslim community here in Colorado there is a very real level of attention given to this issue," John Walsh, Colorado's U.S. Attorney, said during an unrelated news conference on Thursday.
"That is a community that understands and is horrified as anyone else with the prospect of young people being enticed by terrorist organizations to go over there and potentially lose their lives and freedom overseas."
Walsh said he's "met with community leaders over the years many, many times, and they are loyal and highly concerned citizens who want to make sure the right things happen for their children and families just like any American."
Attempts to reach the girls and their families have been unsuccessful, although a family spokesman said the girls are in good condition. Voice mails left on a cellphone of one of the girl's fathers were not returned on Thursday.
A U.S. official told The Associated Press that the girls were headed to Turkey en route to Syria and that investigators are reviewing evidence, including the girls' computers.
The news of the three teens follows revelations that a 19-year-old Arvada woman was taken into custody as she tried to board a flight en route to Syria to fight alongside militants.
Shannon Maureen Conley pleaded guilty to a charge of providing material support to al-Qaeda and affiliates, including the Islamic State.
She is scheduled to be sentenced Jan. 23.
http://www.denverpost.com/news/ci_26784744/colorado-girls-urged-friends-pray-them-they-headed
-----------
Meet Syrian Girl, the internet sensation dismissed as a Kim Kardashian wannabe
25 Oct, 2014
She has been labelled everything from a government spy to a pro-Bashar al-Assad mouthpiece to a Kim Kardashian wannabe.
But Syrian-Australian blogger Maram Susli, who goes by Mimi Al Laham or 'Syrian Girl', says she is just a patriot 'dedicated to the truth'.
The 27-year-old, who lives in Australia, has a large and like-minded following on social media.
Her YouTube channel has received more than 2.5 million views, where she posts videos such as 'Exposed: The "Assad backs Al-Qaeda" Myth' and 'If Syria Disarms Chemical Weapons We Lose The War'.
Born in Damascus in 1987 to what she describes as a middle class, professional family of the majority Muslim sect, Ms Susli moved to Australia when she was a child.
'My mother was a big fan of the series Neighbours during the early 90s and was convinced Australia would be just like it,' she said.
Ms Susli says she speaks out on social media because she is dismayed by watching her birth country being destroyed. She is critical of Syrian rebels, ISIS and the United States. She wants to see Syria's 'army strong' and its 'borders solid'.
'People are dying, and I have a duty as a human being and as someone of Syrian origin to expose the truth about why,' Ms Susli said.
'A duty to give a voice to those Syrians who have not been heard, who have rejected the instability caused by the US support of the extremist rebels.'
But along with her loyal followers come her many detractors who say she is a fame-hungry conspiracy theorist.
Some of her more controversial assertions include that 9/11 was an 'inside job', that Ebola could be a US biological weapon and that chemical weapons are Syria's 'only hope'.
She says she was recently accused by one commentator of doing what she does because aspires to have 'Kim Kardashian fame'.
'Highly offensive when I do what I do because I'm watching the country of my birth destroyed before my eyes.'
Ms Susli believes that many don't take her seriously simply because she's a female talking about politics.
'You have to fight tooth and nail for respect and legitimacy that would have comes naturally if you were a middle-aged man in a suit and tie,' she said.
'But far worse are journalists who, because they disagree with my point of view, attack me with misogyny rather than argue against me with facts.
'They would rather abuse me with accusations of plastic surgery than discuss the content of what I'm saying.'
She is often described as being 'pro-Assad' – a label she rejects.
'One doesn't need to be pro-government to support their military against an external terror threat,' she said.
Ms Susli is currently studying a postgraduate degree in Australia after completing a science degree with a double major in biophysics and chemistry.
But she dedicates a large amount of time to blogging about her country of origin, which she has visited many times while living in Australia over the past two decades.
'Politics has been my passion even before the war in Syria, so it's logical that when war began in the country of my birth, which I visit often and where my extend family reside, I'd be even more passionate,' she said.
'When people I know have died, when others have had their lives turned upside down, when it's my family that I couldn't go back to say goodbye to on their death beds, how would I not become emotional about that?'
http://www.dailymail.co.uk/news/article-2801099/meet-syrian-girl-internet-sensation-dismissed-middle-eastern-kim-kardashian-fearlessly-posts-views-isis-al-assad-conflict-destroying-homeland.html#ixzz3H94SOT9M
-----------
Work-From-Home Opportunities Offered To Abha, Saudi Arab, Women
25 Oct, 2014
More than100 job-seeking Saudi women have registered their names at the Abha Chamber of Commerce and Industry to enroll in the "work-from-home" program provided by the chamber, in cooperation with Unilever and Bab Rizq Jameel.
Nawal Bafaqih, assistant director of communication at Unilever, introduced the program at the Abdullah Abu Malha Hall at the chamber, introducing current success stories of marketing job opportunities for women who worked from home in Asir. The event was attended by more than 200 women.
The associated programs seek to empower women by offering them the skills to work from home, in order to acquire increased morale, self-respect, pride, work efficiency and financial independence by working as sales representatives and beauticians.
Bafaqih stressed that Saudi women are aware that job availability is an issue in the Kingdom, compelling them to find nontraditional jobs. She added that working from home, or remote working, is one of the most successful types of employment for Saudi women today.
It is expected that the program will be implemented in several regions of the Kingdom, including Madinah, Jeddah, Makkah, Jazan and, for the first time, in Abha. Bafaqih noted that the program seeks to reach a total of 5,000 trainees in Abha.
Elaborating on the extent of acceptance in Saudi society for women to participate in the work force, she said: "Saudi women are still not convinced that working from home is feasible. But seeing examples of success will give credit to the program, and convince them that it is a workable concept and a good solution to female unemployment."
http://www.arabnews.com/saudi-arabia/news/649326
-----------
Saturday Turkey Mothers meet for 500th time in hope of finding lost loved ones
25 Oct, 2014
The mothers of people who have disappeared at the hands of the state in recent decades, known as the "Saturday Mothers," will meet for the 500th time today since their first gathering in the mid-1990s. The landmark meeting comes amid calls for solidarity from the Scholars for Peace initiative.
The initiative, group together over 150 scholars from 50 universities, published a statement in solidarity with the Saturday Mothers and called for attendance at the rally.
The statement said the mothers would meet for the 500th time today, noting that the individuals responsible for the disappearances had yet to be investigated despite the passage of decades.
"Neither past administrations nor the current one have investigated or punished the individuals responsible for the loss of hundreds of people. As if this weren't enough, some of those responsible have even made advancements and received promotions in their 'careers,'" read the statement.
"Even though the public knows who is responsible, and even though some of the perpetrators have confessed, these crimes against humanity continue to go unpunished," it added.
The Saturday Mothers, who since the mid-1990s have gathered every Saturday in front of Galatasaray High School on Istanbul's central İstiklal Avenue, carry posters of missing family members who have disappeared after being detained by security forces, or who have died in unsolved murders, especially in the dark days of the 1990s.
Every week, two or three relatives read a message or a poem for their loved ones, while anybody who wishes can take part in the demonstrations by holding a picture of one of the missing people.
The Scholars for Peace said they would continue to follow the cause of the Saturday Mothers and tell their stories in classes to their students.
The scholars also called on other colleagues "to stand on the side of those who have suffered the wrath of the state, starting with the Saturday Mothers."
The mothers received the fifth International Hrant Dink Award on Sept. 15, 2013, which is named in honor of assassinated Turkish-Armenian journalist Hrant Dink.
http://www.hurriyetdailynews.com/saturday-mothers-meet-for-500th-time-in-hope-of-finding-lost-loved-ones-.aspx?pageID=238&nID=73436&NewsCatID=339
------------
WA Muslims Hold Open Day at Mosque as Women Wearing Hijab Bear Brunt of Tensions
25 Oct, 2014
Women who wear Hijabs are bearing the brunt of community tensions about Islam, according to Muslim Youth WA.
The group's vice president Ali Chaudhry also said opinions were inflamed when Perth man and Islamic preacher Junaid Thorne's comments were reported in the media.
He welcomed reports Mr Thorne was preparing to leave the state for Sydney.
Mr Chaudhry is one of the organisers of events at the Masjid Ibrahim mosque, in Southern River, as part of the inaugural national mosque open day.
He hoped it would help break down misconceptions about Islam and foster greater understanding.
"If anybody in general does have fears about the faith, they have an opportunity to come and ask Muslims directly," Mr Chaudhry said.
He thought events in the Middle East, such as the ongoing conflict in Syria and Iraq, had skewed some people's ideas of what Islam is about.
"People may get the impression that this is what the faith is about, when 99.9 per cent of Muslims are just like everybody else," he said.
However, some comments by Mr Thorne made the task of calming tensions "more difficult for the majority of most Muslims", Mr Chaudhry said.
Mr Chaudhry said it would make the job easier if he left WA.
"Because each time he may have a comment to make it goes across all the papers, all the news and so so, and that does inflame certain opinions and some people then unleash it onto innocent Muslim women, because they wear the Hijab and are easily identifiable," he said.
Mr Thorne returned to Perth from Saudi Arabia in July last year.
He had gone into hiding there after his passport was confiscated when he protested against the detention of his brother Shayden Thorne, who had been convicted of terrorism-related offences.
On October 6, a photo was posted on the personal Facebook page of Mohammed Junaid Thorne, showing Mr Thorne and a group of other people giving the one-finger salute of terrorist group Islamic State.
Mr Thorne has previously been investigated by federal authorities over alleged support for Islamic State.
But he has denied supporting the organisation and stated he did not "incite terrorism, or encourage unjustified acts of violence".
Mr Thorne was contacted for comment.
http://www.abc.net.au/news/2014-10-25/mosque-open-day-in-southern-river/5841458
------------
350,000 school-aged Syrian children in Turkey, just half receiving education
25 Oct, 2014
The number of school-aged children out of the 1.7 million Syrian refugees in Turkey is now more than 350,000, new figures have shown, demonstrating the size of Turkey's ongoing refugee burden.
However, only around 140,000 of these children are able to receive an education, with the remaining 200,000 unable to enroll in school. Syrian refugee teachers have been instructing the 140,000, who are being provided education, according to the Syrian national curriculum.
As of September, Turkey had received only 25 percent of the funding it requested as part of the 2014 Syria Regional Refugee Response Plan (RRP6). RRP6, coordinated by the United Nations, brought together more than 155 donors to help Syrian refugees and the local communities hosting them in Turkey, Egypt, Jordan, Lebanon and Iraq.
However, the hundreds of thousands of school-aged refugees herald the potential humanitarian impacts of the absence of a viable solution to the Syrian crisis, which shows no signs of slowing.
Of those Syrian citizens who are under temporary protection, 250,000 are living in camps set up by Turkey's disaster agency, the Disaster and Emergency Management Directorate (AFAD). In those camps, formal education is given for children from pre-school age to Grade 12.
Among them, 7,500 are pre-school age, 35,000 are attending primary school, 20,000 are in middle school and 10,000 are enrolled in high school.
The Education Ministry has been coordinating with both AFAD and the Interior Ministry's Directorate General for Migration Management in all of its planning and activities regarding Syrian and Iraqi citizens who have come to Turkey as part of huge recent refugee influxes. The ministry, meanwhile, released a circular in September that removed bureaucratic obstacles to the registration of child refugees at schools operating under its authority.
Turkish officials hope to create opportunities to ensure that an additional 100,000 refugee children receive schooling later this year.
At schools operating under the Education Ministry's authority around the country, there are currently 5,000 refugee students in primary schools, 3,000 in middle schools and 1,000 in high schools. These numbers, however, are expected to increase this year, with officials estimating that the total figure will jump from 9,000 to 30,000.
Within the framework of the same circular, the ministry has been setting up temporary education centers that have been allocated solely for Syrian refugees. Currently, there are more than 90 temporary education centers that are serving around 70,000 children.
During the 2013-2014 school year, around 1,800 Syrians attended universities in Turkey, while this number is expected to rise to 4,000 for 2014-2015, with the Directorate of Overseas Turks under the Prime Ministry (YTB) planning to deliver scholarships to around 1,000 Syrian students.
Meanwhile, UNICEF and Turkish officials have been coordinating efforts to train volunteer Syrian teachers at refugee camps, providing instruction to 3,500 teachers so far.
http://www.hurriyetdailynews.com/350000-school-aged-syrian-children-in-turkey-just-half-receiving-education.aspx?pageID=238&nID=73456&NewsCatID=341
------------
URL: https://www.newageislam.com/islam,-women-and-feminism/new-age-islam-news-bureau/the-woman-who-murdered-her-alleged-rapist-has-been-executed-in-iran/d/99727