New Age Islam News Bureau
13 Dec 2019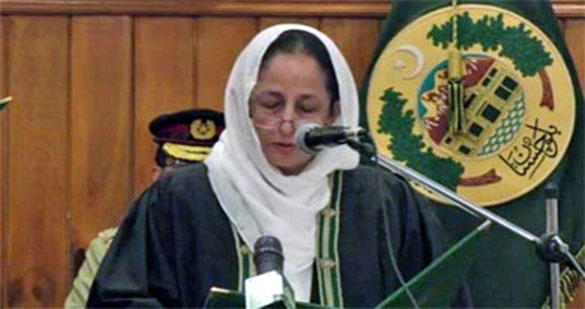 Islamabad High Court's 1st female judge sworn in
-----
• The US Air Force Gave Her A Choice: Your Baby Or Your Job
• IHC's First Female Judge Lubna Saleem Pervaiz Sworn In
• Modern Game Changers: Dr Maha Al Mozaini, Overcoming Cultural Taboo In HIV Research
• India: Supreme Court Says Sabarimala Temple Tradition Age-Old, Declines Women's Plea
• 'A Mini United Nations': The Cooking Co-Operatives Helping Refugee Women Find Work
• UK Woman Accused Of Making Up Gang Rape Must Spend Christmas In Cyprus
• Spain in Drive to Get Women into Special Forces
• Stanley Johnson Criticised For Comments on Female Fighter Pilots and Burqas
• Racist Attacks Muslim Mother for 'Infiltrating' Christmas Festival in A Hijab, In Gilmer, Texas
Compiled By New Age Islam News Bureau
URL: https://www.newageislam.com/islam-women-feminism/the-air-force-gave-her/d/120516
------
The US air force gave her a choice: your baby or your job
Fri 13 Dec 2019
Jessica Glenza
As a new culture war rages around abortion, scholars believe a 1970s case taken up by Ruth Bader Ginsburg shows the lengths the US government has gone to in the past to control women's sexuality
It was the spring of 1970 and war was rampant in south-east Asia. Capt Susan Struck of the US air force was serving in Vietnam as a nurse.
She had asked to be sent.
Tell us: have you had to decide between pregnancy and your US military career?
She was the only female service member on base, 25 years old, sweet-faced and string-bean skinny. One day, she recalls, she was walking down a dirt road, when she had a dizzy spell, and sat down. "I just knew I was pregnant," said Struck. "And I said – 'Shit'."
Air force rules then were as clear as they were coercive: face immediate discharge unless the pregnancy was terminated. Keep your job or keep the pregnancy.
So Struck went to bed resolute: she would take early R&R to terminate the pregnancy, probably in Japan. "The sooner the better," she figured.
"But that night I had a dream," recalled Struck, now aged 75, speaking in a joint interview with the Guardian and WNYC in the city of Sierra Vista, Arizona, some 50 years later.
https://www.theguardian.com/world/2019/dec/13/us-air-force-pregnancy-susan-struck-abortion-motherhood-america
------


IHC's First Female Judge Lubna Saleem Pervaiz Sworn In
December 13, 2019
Islamabad High Court's (IHC) first female judge Lubna Saleem Pervaiz was officially sworn in at a ceremony on Friday, reported Radio Pakistan.
She took her oath alongside judges Fiaz Anjum Jadran and Ghulam Azam Qambrani. The oath was administered by IHC Chief Justice Athar Minallah.
She was previously working as deputy general at the Sindh High Court.
The judges have been appointed to IHC by the president for a year, according to a notification from the Ministry of Law and Justice.
Under Article 175-A of the Constitution, the initial appointment of an additional judge in the high court is made for one year. After this term expires, the Judicial Commission of Pakistan (JCP) considers the judges for a permanent position, and the Parliamentary Committee on Judges Appointment then considers the JCP's recommendations.
On Nov 21, the JCP recommended Pervaiz, Jandran and Qambrani as additional judges, and the nominations were unanimously confirmed by the parliamentary committee on Dec 4.
Previously, there were only four judges in the IHC, compared to seven sanctioned posts. They included Chief Justice Athar Minallah, Senior Puisne Judge Aamer Farooq, Justice Mohsin Akhtar Kayani and Justice Miangul Hassan Aurangzeb.
https://www.dawn.com/news/1522050/ihcs-first-female-judge-lubna-saleem-pervaiz-sworn-in
------
Modern game changers: Dr Maha Al Mozaini, overcoming cultural taboo in HIV research
Shreeja Ravindranathan
Dec 9, 2019
Think trailblazing scientists and Isaac Newton, Albert Einstein and Stephen Hawking spring to mind immediately. How often does Polish-French scientist Marie Curie make that list? The sad truth is, rarely. It's this narrative the L'Oreal-Unesco For Women in Science programme is trying to change since 1998. 'The initiative has supported over 3,200 women, rewarded 107 laureates (three have since won Nobel Prizes), granted fellowships in 118 countries till date,' says Remi Chadapaux, managing director of L'Oreal Middle East. The Middle East Fellowship, now in its sixth year, has been putting female Arab scientists on the global map.
This article is part of series where we speak to three current fellows (announced in November) and three past ones of the Middle East Fellowship.
This Harvard Medical School-trained researcher who was raised in the US left her cushy, established life in Boston to return home to Saudi Arabia in 2013.
She then launched an immunocompromised host research programme (ICH) at King Faisal's Hospital that initially targeted studying how to help recipients of organ transplants (who take drugs to suppress immunity so that their body will accept the new organ) fight infections. The programme also studied hereditary diseases that weakened the immune system, such as Lupus or Multiple Sclerosis. She then extended the programme's purview to a notorious immunodeficiency virus – HIV.
'I returned because I wanted to start something in Saudi. I'd learned, got all the skills and even then it meant starting from scratch and facing obstacles,' she says.
The obstacles came thick and fast. To start with, there was a lack of existing HIV research in the GCC – even the WHO website has no official numbers of HIV carriers or other data. This meant that Dr Al Mozaini had to start a database from scratch documenting patients who visited the HIV clinic at King Faisal Hospital for treatment.
'The lack of research was a shame because how would you understand how to combat the virus in our region when we have different genetic backgrounds and environmental factors from the West? We might even have a different strain of the virus so vaccines being developed abroad might not work for us,' she explains.
While she held the fort on the research end of things, collecting data from patients, she found herself struggling with funding for two years. 'I got support for research on transplant patients but not HIV because it's considered a taboo topic. But winning the L'Oreal-Unesco fellowship in 2015 changed everything. People paid attention to a Unesco-funded HIV research and suddenly weren't afraid to talk about HIV and AIDS,' Dr Mozaini recollects.
She counts the positive media impact as one of her major accomplishments.
Overall, commendable accomplishments have been manifold for Dr Al Mozaini's ICH programme: her research has made it to a number of publications and received patents within just four to five years of being established. She also got a non-profit organisation for women living with HIV approved last November after a five-year struggle to register it. Recently, she enlisted medical students as volunteers and conducted a widespread survey in Saudi to assess the general population's knowledge and awareness of HIV.
Based on the findings, she's is now devising an awareness programme to dispel misconceptions, such as that sharing utensils spreads HIV.
'We want to increase awareness to reduce new infections as well as target stigma and discrimination because HIV carriers live better lives than diabetic patients if given proper care and medication,' she tells me.
'It's a problem, we're a ticking bomb. And we're the only region that tests people for HIV in marriage, employment and education.'
Her non-profit aims to save female carriers of HIV from stigma – most are inadvertent victims who've contracted the virus through heterosexual contact with their husbands. Meeting some of them was heart-breaking, recalls Dr Al Mozaini: 'A young girl aged 19 had contracted it as a foetus from her mum and couldn't go to college because of her condition. An HIV positive widow had to take care of her kids without a job. These stories piled up and someone needed to do something,' she recounts.
Doing what no one before them has done characterises the women in Dr Mozaini's family, who are a microcosm of what Saudi women are capable of. Her oldest daughter is the first female Saudi electrical engineer who works out in the field for a reputed oil company; her second daughter is a biotech major and the third is on her way to becoming a psychiatrist.
Has she decoded the holy grail of parenting – raising a successful child? The proud mother laughs, saying she's done nothing but expose them to a variety of topics in play and learning – from Lego and electric toys to museum trips and books, without sidelining anything because of a gender bias.
Dr Al Mozaini also extends her trailblazing mentoring to other young women in STEM through informal mentoring. 'We don't have a [mentoring] network established for female scientists in the region yet and this is what I advocate for. 'Science is a really hard profession that comes with a lot of disappointments and frustrations. It's constant, you can't go home and switch off, so the right advice helps.'
In the absence of such networks, she values the opportunity of being a jury member at this year's fellowship to discover talented Saudi women who are go-getters. 'It's amazing. We were never under the spotlight, but now we have so many opportunities our leadership is providing as part of vision 2030.
'Saudi women are in for a bright future, so watch out world.'
https://fridaymagazine.ae/life-culture/people-profiles/modern-game-changers-dr-maha-al-mozaini-overcoming-cultural-taboo-in-hiv-research-1.2305648
------
India: Supreme Court says Sabarimala temple tradition age-old, declines women's plea
December 13, 2019
New Delhi: The Supreme Court Friday declined to pass an order on a plea by two women - Bindu and Fathima - to allow them entry into the Sabarimala temple.
A bench headed by Chief Justice S. A. Bobde and comprising Justices Surya Kant and B.R. Gavai said: "We will endeavour to constitute a seven-judge bench at the earliest, and these matters would be taken up after the decision of this bench.
"Every woman who wants to go, must go. But, the situation in the country becomes explosive, we don't want any violence. There is a judgement, but it is not the last word on the issue", said the Chief Justice.
In September 2018, the apex court in a verdict allowed the women of all age groups to enter the Sabarimala temple. In November 2019, a five-judge bench headed by then Chief Justice Ranjan Gogoi referred the matter to a larger bench to examine the matter and also clubbed the issues on the entry of women in the religious places of other religions.
"The issue there is a judgement, there is equally no doubt issue for larger bench to look into it. Situation today has been there for thousands of years, but no order today", said the Chief Justice.
Senior advocate Indira Jaising, representing Bindu, contended before the court: "We are all here to avoid violence, this country based on the foundation of non-violence, we do not encourage violence.
"My client is a Dalit and Hindu woman, and she had entered the temple, as she is a believer", said Jaising citing November 2018 judgement, which has not been stayed yet. The Chief Justice replied: "The judgement is not the final word."
The Chief Justice said that the judgement is in petitoner's favour and this is not a situation where somebody's private rights are involved and also nobody's right to life taken away either.
"It is very emotive issue, let the matter go to the larger bench", said the Chief Justice reiterating that the court is exercising its discretion to not pass the order on Friday in petitioner's favour.
"We are telling this after considering the impact of the case", said the Chief Justice. "We are passing no order, if they (temple authorities) happily welcome you to the temple, then we have no difficulty", added Chief Justice.
The Chief Justice said that he will endeavour to constitute the larger bench at the earliest and also list the review petition before this bench.
The court observed that Bindu will continue to get security until further orders.
https://gulfnews.com/world/asia/india/india-supreme-court-says-sabarimala-temple-tradition-age-old-declines-womens-plea-1.1576231954888
------
'A mini United Nations': the cooking co-operatives helping refugee women find work
Food is at the heart of Majeda Khoury's story. Imprisoned in Syria for feeding displaced people, she later came to the UK and became a chef at Migrateful, a social enterprise that organises cookery classes run by refugees. It was a vital stepping stone: today she runs her own catering company – The Syrian Sunflower.
Khoury is not alone: across the world, refugee and migrant women are finding employment and empowerment through cooking, as a growing number of businesses seek to use their culinary skills to help generate income and connect them with new communities.
"Such interventions can play an important role in lifting refugees out of poverty, by creating opportunities that they wouldn't have had access to otherwise," says Nazila Vali, deputy team lead at Business Call to Action, which works to accelerate progress towards the sustainable development goals, in part by helping their members "better articulate and increase their social impact".
But such support also makes business sense: Vali points to research that shows refugee populations generate economic opportunities. "The inaccurate perception of refugees being a drain on resources needs to change," she says.
From New York to London, Beirut to Glasgow, a growing number of entrepreneurs are getting the message. Here's a taste of the trend:
Mu'ooz, Brisbane
Nestled in Brisbane's West End, this unassuming restaurant has had a big impact on hundreds of lives. Since 2008, more than 230 African refugees, mostly from Eritrea and Ethiopia, have come through Mu'ooz for training and employment, staying for an average of eight to 12 months, and almost all going on into jobs or to set up their own businesses.
Saba Abraham, a former Eritrean freedom fighter, is the figure behind it. Arriving as a refugee in Australia in the 1990s, she was astonished by the support she received, but nonetheless fell into a deep depression. "No matter how positive the welcome, the language and culture and system barriers always affect you," she says.
To help others break that isolation, she started doing small-scale catering with a group of refugees. The point was simply to cook together and connect, but in year two they made $27,000 profit, says Abraham, and decided it was a viable business. The result was Mu'ooz.
Many of the women who have passed through the business were brought up only to work in the home, with little education, and have been traumatised by war, says Abraham. But at Mu'ooz they gain vital confidence, and leave a legacy of delicious food: a goat recipe introduced by a former employee from the Congo remains one of Mu'ooz's most popular dishes.
Migrateful, London
Jess Thompson got the idea for Migrateful while teaching English to refugee women: "We went around the room asking about skills and they all said they loved to cook and would love to teach people to cook."
Thompson had just returned to the UK from work at refugee camps in Morocco and Dunkirk, and was looking for a way to continue to support refugees in London. After trying out a class at home with an Iranian woman and a bunch of friends, she decided this was it. In the two years since, Migrateful chefs have given 376 classes to more than 3,700 customers.
Before they start teaching, the chefs go through a training programme that covers everything from storytelling to class structure. The idea is not just to help them meet immediate needs (they are paid an average of £65, with expenses for travel and ingredients, for a 2.5-hour class) but also forge a path for the future. Five Migrateful alumni, including Majeda Khouri, have gone on to launch their own businesses.
Migrateful is already expanding out of London, with some classes running in Tunbridge Wells and a chef training programme launching in Bristol. "It's a simple model," says Thompson. "It's easy to replicate."
Flavours of Hope, Vancouver
Trixie Ling had lived in four countries by the time she was 10. Through all the changes, she found that one thing enabled her to find her feet: "Food was what helped introduce me to new people and to feel like I fitted in."
It's a lesson she has taken into adulthood. Last year, Ling – whose family ultimately settled in Canada – founded Flavours of Hope. It's a social enterprise that organises pop-up dinners at which immigrant women share their food and stories; it also sells condiments at markets around Vancouver. In fact, its Venezuelan salsa has proven so popular, says Ling, that local grocery stores have started asking to stock it.
Like others in this space, Flavours of Hope is pushing back against industry norms by paying women a living wage. And if decent pay can help to empower them, says Ling, so too can the act of cooking itself: "This is the message that we need to give to refugees. But I think we also need to receive. And with cooking, the women are the ones in power. When they're cooking, they know what they're doing, they're making this delicious food and they can represent themselves and their stories."
Yalla Trappan, Malmö
For nine years, Yalla Trappan has been creating catering, tailoring and cleaning jobs for immigrant women in the Swedish city of Malmö. This worker-owned co-operative, which has its own restaurant plus sewing workshops in Ikea and H&M, started off with six members and now boasts 37, all of whom have a share of the business and an equal say in how it's managed.
Chair and founder Christina Merker-Siesjö explains how she developed a methodology for building up women's self-esteem – "the Yalla Trappan way" – by combining half a day of language and cultural training with half a day of practical work. The 37 owners all went through this process and now train hundreds of job seekers the same way. The benefits, says Merker-Siesjö, stretch to better health and democratic participation: many of the women had never voted until they joined Yalla Trappan.
She calls the co-operative, whose participants come from 17 different countries, a "mini United Nations". "We focus on what we have in common and not what divides us. We have Yalla Trappan in common, and we are struggling for Yalla Trappan's best because we own it, we rule it. And actually we have never had any conflict because of different religions or clothes or skin. What we pick up, of course, is knowledge about making fantastic food."
https://www.theguardian.com/business-call-to-action-partnerzone/2019/oct/15/a-mini-united-nations-the-cooking-co-operatives-helping-refugee-women-find-work
------
UK woman accused of making up gang rape must spend Christmas in Cyprus
Helena Smith
Thu 12 Dec 2019
A British teenager accused of fabricating claims she was gang-raped in Cyprus by 12 Israeli tourists has been told she will have to spend Christmas on the island before a verdict is reached.
The ongoing ordeal for the 19-year-old was further prolonged on Thursday when a court in Paralimni said the final judgement would be reached on 30 December – almost six months after the alleged incident occurred.
The Briton, who spent a month in Nicosia general prison before being moved to various safe houses, has been forced to surrender her passport on the grounds she might flee the island.
The adjournment was announced after her legal team had tabled 32 pages of written arguments as to why the student should not be found guilty of fomenting public mischief, the offence of which she now stands charged.
Her lawyers expressed surprise that a case that has sent shockwaves through Cyprus, Israel and Britain, should be further prolonged.
The four-strong legal team had anticipated the judge would return his verdict before Cypriot courts close for the Christmas recess on December 20.
In a statement Michael Polak, a barrister with Justice Abroad, the legal aid group assisting the girl, said: "The evidence in this case remains strongly in the teenager's favour in regards to her account being correct as to what occurred that night … we were particularly surprised that it will take two and a half weeks for the court to deliver its verdict … Since reporting the rape she has spent a month in prison and six months where she has been unable to leave Cyprus."
The Briton, who will only be named if found culpable of the crime, reported the assault in July telling police she was gang raped in the seaside resort of Ayia Napa by 12 Israelis aged between 15 and 22. The accused were immediately rounded up and remanded in custody.
In graphic testimony before the court she said the alleged incident took place while she was having consensual sex with one of the group.
But the teenager retracted the assertion less than a month after making the claim, in a poorly written confession that her lawyers have since argued she was coerced into signing by Cypriot police.
Turning from victim to suspect overnight, she was arrested on charges of giving a false statement "over an imaginary offence". The alleged assailants were allowed to fly home. Cyprus's economy depends on tourism and the former British colony has earned a reputation as a magnet for young holidaymakers in recent years.
https://www.theguardian.com/world/2019/dec/12/uk-teenager-accused-of-faking-gang-claims-forced-to-stay-in-cyprus
------
Spain in drive to get women into special forces
Defence Minister Margarita Robles says the UN has called for more women to help resolve conflicts worldwide.
Arabic-speaking women are among those sought for UN- or Nato-led missions in conflict areas, such as Iraq or Libya.
Ms Robles was visiting the army's command for special operations, where some women have joined elite units.
At the command centre (MOE) in Rabasa, near Alicante on Thursday, the minister watched a mock assault on a terrorist compound with the aim of seizing intelligence - the kind of raid conducted often against insurgents in Afghanistan and Iraq.
Ms Robles said the MOE had to be combat-ready not only in terms of military robotics and other advanced technology, but also "by understanding the terrorists' social and cultural domain".
Some jobs are reserved for women, such as searching women at checkpoints.
In conservative, patriarchal societies it can be easier for women to glean intelligence from local women, who may be kept away from foreign men.
Visiting the MOE in April, Ms Robles said "we want to make a significant bid to involve more women in these missions - this is a priority".
In 1999 Spain opened up most military jobs to women and the proportion of women in its armed forces is now 12.7% - above the Nato average of 11.1%.
The defence minister says Spain still needs to recruit many more women; currently there are nearly 15,300.
Jesús Núñez, a Spanish expert on international conflicts, told the BBC "the need for special units is increasing".
"The MOE is combining all the special operations capabilities, as they realise more capabilities are needed in asymmetric wars."
He said there was a clear need for women in certain roles, for cultural reasons. "In some Muslim countries, for example, it's difficult to get information from women if you're a man."
He heads Madrid-based conflict research institute IECAH, which advises the UN and the Spanish government.
Currently the MOE has a staff of about 1,000, but only about a dozen are women, Spanish daily ABC reports.
In the Spanish military proportionately more women than men are in non-combat roles and on average they are lower-ranking.
But in July Patricia Ortega became the first woman general in Spain's armed forces.
There have been other milestones for women in the Spanish armed forces.
In 2005 Lt Esther Yáñez became the first female captain of a warship - the patrol boat Laya. And in 2006 Rosa María García-Malea became Spain's first woman fighter pilot; later she joined the Patrulla Águila aerobatic team.
Mr Núñez said the drive to recruit women to the Spanish military had been "very successful" so far.
In Nato, Hungary comes top for women in the armed forces (19.3%), followed by Slovenia (16.5%) and the US (16.2%), according to Nato data for 2017.
Spain is behind France, but ahead of Germany, the UK and the Netherlands.
Spanish units have served with Nato partners in Bosnia-Herzegovina, Kosovo, Iraq, Afghanistan and the Horn of Africa.
Mr Núñez said women had a key role to play in smoothing relations with civilians in conflict areas.
"If you are leading a unit in a village you need contact with the villagers, you need to create trust, and women provide another channel to facilitate the mission," he said.
In April the United Nations Secretary-General, Antonio Guterres, said it was vital for women to play a greater role in peacekeeping operations.
He said that "within troop contingents they lower incidences of sexual exploitation and abuse; yield greater reporting of sexual and gender-based violence; and can access local women's networks".
https://www.bbc.com/news/world-europe-50756817
------
Stanley Johnson criticised for comments on female fighter pilots and Burqas
13 December 2019
Stanley Johnson has been accused of "talking complete rubbish" for suggesting female fighter pilots should not wear Burqas.
The 79-year-old father of Prime Minister Boris Johnson appeared on Channel 4's Alternative Election Night programme on a panel also including comedian Nish Kumar and TV judge Robert Rinder.
During the show Johnson, whose son is expected to command a significant Commons majority following Thursday's vote, discussed the burka.
The Prime Minister has previously attracted criticism for comparing veiled Muslim women to letter boxes and bank robbers.
Speaking on Channel 4, the senior Johnson said: "If I was a female fighter jet pilot, I would expect someone to say 'don't wear a burka'."
Johnson was immediately heckled by the audience while Kumar placed his head in his hands and said: "What are you talking about man?"
A flustered Rinder said: "We'd expect them to be qualified. That's the only thing that matters."
He added: "That's disgraceful."
Johnson replied: "Have you ever flown a plane?" The author and former politician then asked if there are "certain circumstances," including court, where people are required to show their face.
"I might be totally wrong," he said. Rinder replied: "You're talking complete rubbish."
Kumar, in disbelief, said: "What is going on here?"
Earlier Johnson, who was a contestant on I'm A Celebrity… Get Me Out Of Here! in 2017, said he was "very, very pleased with the exit polls" indicating there would be a Conservative majority.
Speaking of his son, he said: "I've got to say, all this stuff about him being a right-wing populist, that's not the child I knew, he was pro-European.
"Of course he was pro-European. Okay folks, why do you think he is called Alexander Boris de Pfeffel Johnson? Because he's got about four streaks of Europeanism in his pedigree.
"It is in his DNA, that is a man who is as European as you can think of. What this government is going to do is rebuild a bridge to Europe that is going to be so strong it can never be blown down."
https://www.itv.com/news/2019-12-13/stanley-johnson-criticised-for-comments-on-female-fighter-pilots-and-Burqas/
------
Racist Attacks Muslim Mother for 'Infiltrating' Christmas Festival in A Hijab, In Gilmer, Texas
Jimmy McCloskey
Thursday 12 Dec 2019
Ruwan Alkam was snapped after taking her three year-old son Musa to enjoy the Yulefest in Gilmer, Texas, last week.
Her photo was shared on Facebook by a local restaurateur, with the caption: 'Look what showed up in Gilmer. 'At the Yulefest. We have been infiltrated.' Alkam says she was 'devastated' when a friend saw the post and forwarded it to her – but has also been inundated with support by other locals appalled by how she has been treated. Alkam was snapped and trolled while attending the Yulefest event in Gilmer, Texas, pictured Writing on Facebook, she said: 'I'm just a mom trying to do my best like everyone else is. 'I never thought my presence alone would be this offensive to someone. 'I am active in my community. I donate, volunteer, and I've made some amazing friends who have never let me feel alienated. 'I never felt like an outcast until today. Six bodies retrieved from island after New Zealand volcano eruption 'I don't feel safe in my town anymore; I feel one day someone will just snap and attack me. I want better for my kids; I don't want to live in fear anymore.' The mother told KHOU: 'I was just shocked that somebody would go out of their way to take a photo of me, without my consent, and then post a really nasty comment along with it… I mean, you know, sometimes people would make like snide remarks or just dirty looks or any and stuff like that, but no one has like been blatantly racist to me at all.' Despite the upset, Alkam now says she has been bolstered by the wave of support shown by locals who she says have rushed to 'stand by her side.' Yulefest chairman Brandy Ferrer was among those appalled by Alkam's treatment. She said: 'We want everybody here. 'We don't care about race or religion or nationality. 'And we wanted everybody to be able to enjoy it.' Business owner Ferrer and several associates banded together to buy gifts for Alkam and her family to try and show that they are welcome at the event, and in their town. She said: 'We wanted to band together to show this family and everyone that we want you here, and this is not our viewpoint. This is not how we feel. 'We want people to feel comfortable here. We want you to come and enjoy our community.' The businesswoman who made the post has since deleted her account, and has not made any comment. Share this article via facebookShare this article via twitter
https://metro.co.uk/2019/12/12/racist-attacks-muslim-mother-infiltrating-christmas-festival-hijab-11840111/?ito=newsnow-feed
------
URL: https://www.newageislam.com/islam-women-feminism/the-air-force-gave-her/d/120516
New Age Islam, Islam Online, Islamic Website, African Muslim News, Arab World News, South Asia News, Indian Muslim News, World Muslim News, Women in Islam, Islamic Feminism, Arab Women, Women In Arab, Islamophobia in America, Muslim Women in West, Islam Women and Feminism