New Age Islam News Bureau
4 Jul 2018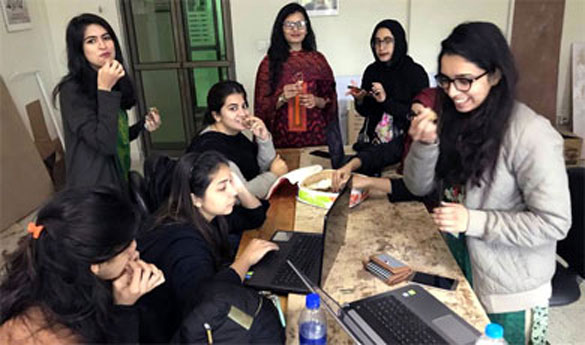 Pakistan's first all-female team gathers in a room at National University of Science and Technology (NUST) in Islamabad to brainstorm design and manufacturing the Formula car. (Photo courtesy: Facebook page of Auj - Formula Student)
------
• 'Some Fear Crashes Will Go Up In Saudi with Women at Wheel'
• ST Woman Married to A Muslim Can't Contest Polls on Caste: Bombay HC
• Malaysian Man Ready to Face Legal Action for Marrying 11-Year-Old Girl
• Woman from Moderate Islamic Party Elected Mayor of Tunis
• Pakistan's First Women-Team Builds Formula Car to Race in International Student Competition
• Women to Pay Less for Auto Insurance in Saudi Arabia
• Thousands of Palestinian Women Rally on Gaza-Israel Border
• Saudi Woman's Car Torched In Suspected Hate Crime
• UAE Women Start With 'One Dream One Team' Motto
Compiled by New Age Islam News Bureau
URL: https://www.newageislam.com/islam-women-feminism/the-uk-first-female-sharia/d/115729
--------
The UK's First Female Sharia Judge: 'I Am Championing Women's Rights'
04/07/2018
She's a lone figure in a world dominated by men, but Britain's first female Sharia court judge isn't daunted by the task ahead of her.
Instead, Dr Amra Bone believes her trailblazing path will inspire other women to follow. The former headteacher and university chaplain sits on the panel of judges at the Sharia Council at Birmingham's Central Mosque – one of Europe's biggest.
Its her job to rule on Islamic divorce hearings – a role traditionally reserved for bearded elders who have spent their lives studying the Quran.
Not that Dr Bone is any less qualified than her male counterparts. The 45-year-old was invited to join the panel because of her unrivalled expertise in the complex field of Islamic jurisprudence.
"My specialisms include Quranic exegesis and ethics with an emphasis on Sharia and gender," says Dr Bone, who graduated from Birmingham University where she also completed her MA and PhD.
"I was born in Birmingham and attended school and college in the city.
"I've always been involved in my local community and I and spent five years as a leader at a girls youth club, particularly working with Muslim girls.
"That got me started in championing women's rights within my community and eventually lead to me being appointed Sharia judge 13 years ago."
She soon became one of the country's most respected Sharia judges. "As far as I know I'm still the only female Sharia Court judge in the UK but I'm really hopeful that will soon change," she says.
"I've generally had a good reaction from within the wider Muslim community and I can share a lot of positive experiences with women who might want to follow my path."
Muslim Arbitration Tribunals, known as Sharia courts, have existed in the United Kingdom since 1996, when the Arbitration Act started to allow for different religious laws to be applied in cases such as divorce.
Based on the Quran and the Sunnah, the two main Islamic texts that deal with how Muslims should lead their lives, Sharia covers everything from diet and hygiene to bigger issues such as crime and relationships.
It is estimated that there are as many as 85 Sharia courts in Britain mainly issuing rulings in divorce hearings when the couple have had only an Islamic marriage, rather than a legally registered civil ceremony.
Though allowed by the Arbitration Act, the courts' rulings are not recognised by the UK legal system. But the scholars' judgements carry the required moral and cultural weight to grant a divorce before God, according to Sharia law.
Ayesha Khan, a 42-year-old mother from Birmingham who was granted a divorce by the Sharia Court in Birmingham, said: "If I went to an English court, my ex-husband and wider family would not have accepted its rulings because we did not have an English civil ceremony.
"But no-one in my community can say anything if the decision has been made by a Sharia court because that's our ultimate authority."
For many devout Muslims in the UK there exists two parallel marriage systems, which has grown in recent years as younger Muslims below 30 become more religious, Dr Bone says.
She firmly believes that Sharia courts can empower Muslim women and provide a vital service.
"If they have not had a registered marriage and only an Islamic one then they have no redress if things go wrong apart from a Sharia Court. What are they supposed to do and turn to?"
In British Sharia courts, 90% of the petitioners are female and almost all cases involve divorce.
According to the Home Office, there are about 100,000 British Muslim couples who are not legally married, since they have only undergone an Islamic wedding, or nikah, and failed to register their marriages civilly.
Dr Bone stresses there is no compulsion for women to use the voluntary service offered by the councils and for any financial or custody issues, her council automatically refers women to the civil courts.
She added: "In Islam women are not treated as dependent, but as equal, so we treat them equally."
https://www.huffingtonpost.co.uk/entry/the-uks-first-female-sharia-judge-i-am-championing-womens-rights_uk_5b3b98d7e4b09e4a8b27dd91?utm_hp_ref=uk-news
--------
'Some Fear Crashes Will Go Up In Saudi with Women at Wheel'
Jaikrishnan Nair
Jul 4, 2018
KOTTAYAM: One of the first Indian women to get a driving licence after Saudi Arabia recently lifted a ban on women drivers says many in the Gulf country are apprehensive that it might lead to more car crashes. But Telma Jose believes such fears are unfounded. The Kottayam woman feels the step to allow women drivers is empowering and gives a feeling of independence.
"These are initial days and women have just started driving in Saudi Arabia. People are apprehensive as they feel there will be more accidents," said Jose.
A 46-year-old Keralite who had moved to Saudi Arabia three years ago became one of the first few Indian women to obtain a driving licence after the Saudi kingdom lifted its decades-old ban on women drivers.
For Jose, driving is not just a passion but a symbol of freedom. So, when the kingdom issued a notice to grant licence to women from June 24, Telma did not think twice. She joined the queue for her right to drive on June 26, cleared the test and was issued a licence by noon that day.
Telma worked at Norfolk and Norwich university hospitals before joining King Faisal Specialist Hospital and Research Centre in Riyadh as a nursing administrator in 2015. In England, she used to drive her own car to work, PTA meetings, shopping and for visiting her friends. So, when she came to Saudi, one of her biggest regrets was she couldn't get behind the wheel of a vehicle. "In Saudi I felt tied down as I had to depend on taxi every time," she said.
Her British license helped her in her application as she did not have to write the theory exam and only had to submit a medical certificate with her online application followed by a test drive to obtain a license, which will be valid for the next five years.
However, Telma still cherishes driving through the streets in England. "England roads are sa- fer when compared to India and Saudi Arabia. The drivers are disciplined, follow traffic rules and signals. In Saudi, speeding is common and a lot of accidents occur daily. We have to be extra careful," said Telma, who is on a 45-day vacation in Kerala with her family and is currently at her native village Koratty in Kottayam.
https://timesofindia.indiatimes.com/world/middle-east/some-fear-crashes-will-go-up-in-saudi-with-women-at-wheel/articleshow/64848615.cms
--------
ST Woman Married to A Muslim Can't Contest Polls on Caste: Bombay HC
Vaibhav Ganjapure
Jul 3, 2018
Nagpur: In a jolt to Gond Scheduled Tribe (ST) woman, the Nagpur bench of Bombay high court disallowed her from contesting the Panchayat Elections from the reserved seat, due to her marriage with a Muslim man.
While quashing election officer's decision to accept her nomination, the HC ruled that the burden was on the woman to show that even after marriage, she isn't following the Islam rituals, but continues to be a Gond ST.
Her candidature is challenged by her rival Manoj Sidam, who demanded to quash election officer's decision to accept Shaheda Tabassum Tayar Mugal's nomination form to contest the Panchayat Samiti (PS) resident's election as a ST candidate from Kurkheda sub-division in Gadchiroli. Through counsel Ankita Shah, he pointed out that the respondent filed nomination in her paternal name of Sharda Deorao Uike, as the seat was reserved for ST category.
According to the petitioner, the woman originally belonged to ST category and embraced Islam after marriage. So, she ceased to belong to ST and ineligible to contest the election.
"In our view, she failed to discharge burden of following ST rituals despite marrying in other religion. In the facts of the case and considering the proposition laid down in the Supreme Court judgment, it's held that the woman is not eligible to contest election as a ST candidate," a division bench comprising justices Bhushan Dharmadhikari and Zaka Haq said.
Before marriage, respondent was originally known as 'Sharda Uike' and had a certificate from ST Certificate Scrutiny Committee in Gadchiroli division of March 26, 2010, of being a Gond ST. After marriage with Tayar Mugal on April 9, 2010, she changed the named to 'Shahida Tabassum' by following prescribed procedure and also submitted an affidavit on April 13, 2015, stating that she had become a Muslim.
The petitioner pointed out that she even contested for Kurkheda Nagar Panchayat polls for members and won on November 6, 2015, from the general category. After victory, she even waived of the benefits available to ST candidate by filing an affidavit.
Opposing his contentions, the woman argued that though she changed her name on affidavit, she doesn't lose affinity with Gond ST. "The social status of person is determined on the basis of birth and doesn't change on marriage," she said.
Citing a SC's full bench verdict in Rajendra Shrivastava's case, she stated when a woman born in a SC/ST family marries to a person belonging to a forward caste, her caste by birth doesn't change by virtue of the marriage. "It's laid down that the person born as a SC/ST member has to suffer from disadvantages, disabilities and indignities, only by virtue of belonging to a particular caste which he/she acquires involuntarily on birth. Sufferings of such a person by virtue of the caste aren't wiped out by marriage with a person belonging to a forward caste, she said.
https://timesofindia.indiatimes.com/city/nagpur/st-woman-married-to-a-muslim-cant-contest-polls-on-caste-hc/articleshow/64841730.cms
--------
Malaysian Man Ready to Face Legal Action for Marrying 11-Year-Old Girl
03 Jul 2018
GUA MUSANG, Kelantan: Che Mohd Karim, who reportedly married an 11-year-old girl, has said he is ready to face legal action.
Mohd Karim, 41, said he had given full cooperation to the authorities involved in the investigations into the marriage.
However, he said he would not divorce her and was ready to wait for another five years, when his wife reaches the age of 16, before they live together. Sixteen is the minimum legal age for girls to marry in Malaysia.
"I don't feel guilty because we were married with blessings from her father," he told reporters on Tuesday (Jul 3).
Deputy Prime Minister Dr Wan Azizah Wan Ismail previously said that the man is being investigated for sexual grooming.
Dr Wan Azizah, who is also Minister of Women, Family and Community Development, said the government views the couple as unmarried for as long as no evidence is presented.
Kelantan Syariah chief prosecutor Zaini Sulaiman was also reported as saying that the rubber dealer could be charged with polygamy under the Islamic Family Law Enactment 2002 for marrying the underage girl without the consent from the court and permission from his two other wives.
Meanwhile, Narathiwat Islamic religious council president Safei Cheklah said the couple were married by a religious leader in the province.
However, Safei said the marriage was performed without permission from the council.
Both the girl's parents are said to be Thai citizens.
Shafei added that the marriage was not wrong in terms of syariah law, but constituted an offence according to Malaysian civil law.
Despite not staying together, Mohd Karim promised to take care of his third wife as well as his two other wives and six children.
"Even though my third wife is currently living with her parents, I will bear the expenses including giving her religious education," he said.
Meanwhile, the Malaysian Islamic Party (PAS) has urged the non-Muslim community not to blame Islam for the marriage.
PAS deputy president Tuan Ibrahim described the matter as an isolated case that could take place in any other part of the world.
"It's not about Islam, but individual," he told reporters.
https://www.channelnewsasia.com/news/asia/malaysian-man-ready-to-face-legal-action-for-marrying-11-year-10495572
--------
Woman from Moderate Islamic Party Elected Mayor of Tunis
July 3, 2018
TUNIS, Tunisia (AP) — A woman from Tunisia's moderate Islamic party was elected on Tuesday as mayor of the capital city, Tunis, the first time a woman holds the post.
Souad Abderrahim, a 54-year-old pharmacist of the Ennahdha party, won the post in the second round of voting by the municipal council. She defeated her top rival, Kamel Idir, of the party Nida Tounes, founded by the Tunisian president.
Abderrahim, a former lawmaker and militant for women's rights, doesn't wear a veil. She was the only winner so far among a half-dozen women from the Ennahdha party who competed for mayoral posts in the region around Tunis.
Tunisia's municipal elections were held May 6, but newly-elected municipal councils are only now voting for mayors.
In 2016, Ennahdha declared that it was separating politics from religion, stepping away from the notion of political Islam typically embodied by Islamic parties.
Abderrahim said in an interview with The Associated Press during campaigning that cleaning up the capital and planting trees would be her first priority.
She also said that the female candidates put forth by her party constitute a "message aimed at reassuring the women of my country" that advances made by women in the North African nation would not be compromised by her party.
Tunisia has been the most advanced among Arab nations regarding women's rights since gaining independence from France in 1956, with its first president Habib Bourguiba enshrining some principles of equality of men and women in the constitution.
Presidential and parliamentary elections are set for 2019.
https://www.seattletimes.com/nation-world/apxwoman-from-moderate-islamic-party-elected-mayor-of-tunis/
--------
Pakistan's First Women-Team Builds Formula Car to Race in International Student Competition
July 03, 2018
ISLAMABAD: Pakistan's first all-girl team from National University of Science and Technology (NUST) has developed a Formula car and are all set to represent the country in the International Formula Student competition in England this month.
"It was a challenging job, but we completed our Formula car in just five months," Harim Akhtar, one of the 13 who designed and built the car, told Arab News.
She said they submitted their plans to the Formula Student competition in December last year for approval . "We were among the lucky applicants to get our case approved," she said.
Akhtar said they not only designed the car, but built it from scratch using local parts, including the engine, for the prototype, enabling them to keep costs down to $4,929.
"We made some of its parts ourselves in the university workshop," she said, "using lathe machines and welding some parts. It was a challenge, but we did it."
One of the hardest bits was persuading their parents to allow them to stay at the university garage and workshop until late at night. "Our parents were not used to allowing us stay out late, and sometimes it was difficult to convince them," she said.
Akhtar said when they first visited auto spare parts dealers in a Rawalpindi market some were shocked at first. "They were not used to dealing with female customers. Some even advised us to stay at home as this job was only meant for boys," she said.
Formula Student —Europe's most established educational engineering competition — is backed by high profile engineers and global industries. It aims to develop innovative and enterprising young engineers from around the world and encourage more people to start a career in engineering.
Each year hundreds of competitors take on the challenge of producing a prototype single-seat racing car for sprint racing or autocross. The finished vehicle is presented to a manufacturing firm for technical evaluation.
The NUST team's car can go from 0-100 kilometers per hour in just 4.5 seconds and has 90 horsepower engine.
The team will compete against 30 other teams from around the world.
Farzana Bari, a human rights activist and former head of the gender studies department at Islamabad's Quaid-i-Azam University, said manufacturing the car by an all-female team demonstrated female empowerment in the society.
"In our urban centers opportunities for women are expanding and it is encouraging to see they are excelling in every field of life," she told Arab News.
"The NUST team is an inspiration to other women too," she said. "This shows women are challenging stereotypes in all fields of life."
The competition will take place on July 11-15 at Silverstone, the British home of motor racing in Northamptonshire, England.
Talking about the team's future plans, Harim Akhtar said that they would produce a formula car each year to improve its design and manufacture. "We hope to learn a lot of new technical skills from the competition and will try to achieve perfection in our next model," she said.
http://www.arabnews.com/node/1332776/lifestyle
--------
Women to Pay Less for Auto Insurance in Saudi Arabia
July 02, 2018
JEDDAH: The move to allow women to drive in Saudi Arabia is expected to give impetus to the economy in several sectors from car sales to insurance.
Despite competitive pressure on car insurance companies to lower their prices and credit conditions in the Saudi market, it is expected that the Saudi index will rise 1.8 percent through wide gains in insurance, banking and petrochemicals now that women are allowed to drive.
In some countries, prices differ from men to women for car insurance services. However, here are some examples of how car insurance companies will deal with women driving.
An insurance company in Saudi Arabia offered a 15 percent discount for women. The offer is valid until July 24.
Samer Mohammed, a customer services worker at the company, told Arab News: "Women's insurance documents will include a roadside assistance service to assist women in the event of an emergency.
"This service is provided as an additional service for women and it is not available for men. If a case is complicated the employee will take the car to one of our centers to make sure everything goes smoothly."
Sara Al-Moaibed, a customer service employee at another insurance firm, said there will be no changes in prices for women. "Prices for men and women will be the same."
In fact, insurance companies are also planning to hire women and plans are afoot to develop a special section for female employees, according to sources in the insurance sector.
Women driving will have the greatest impact in improving and reducing traffic accidents because of the nature of women and their keenness to follow traffic laws and regulations.
Statistically, women are safer drivers, which means they are also less likely to file a claim than men. Therefore, they will generally pay less for car insurance.
http://www.arabnews.com/node/1332216/saudi-arabia
--------
Thousands of Palestinian Women Rally on Gaza-Israel Border
July 03, 2018
GAZA CITY: Thousands of Palestinian women demonstrated Tuesday along the fence that separates the Gaza Strip from Israel, their first mass mobilization since protests erupted on the border three months ago.
Since the end of March, Gazans have been demonstrating along the heavily guarded frontier in protest at Israel's decade-long blockade of the territory and in support of the Palestinians' right to return to lands they fled or were driven from during the war surrounding the creation of Israel in 1948.
On Tuesday, women arrived in buses from across the enclave, many accompanied by their children, AFP correspondents said.
They moved in groups to within 50 meters (yards) of the fence that divides the Gaza Strip from Israeli territory, they reported.
Seventeen people were wounded by Israeli gunfire, Gaza's health ministry spokesman Ashraf Al-Qodra told AFP.
"I came to finish the march that my daughter had started," Rim Abu Irmana said, waving a picture of her 15-year-old daughter, Wasal, who was killed by Israeli gunfire on May 14.
"These demonstrations are peaceful. We are only defending our land and our rights," added the 43-year-old, holding the hand of her young son.
Since the protests and clashes broke out along the Gaza border on March 30, at least 138 Palestinians have been killed by Israeli fire.
The majority were involved in protests and clashes but others were seeking to breach or damage the border fence.
No Israelis have been killed.
The demonstrations peaked when at least 62 Palestinians were killed as thousands approached the border fence in protest at the US decision to move its embassy to Israel from Tel Aviv to the disputed city of Jerusalem on May 14.
Israel insists the whole of Jerusalem is its "eternal indivisible capital" but the Palestinians claim the eastern sector, which Israel occupied in the Six-Day War of 1967 and later annexed, as the capital of their future state.
http://www.arabnews.com/node/1332971/middle-east
--------
Saudi Woman's Car Torched In Suspected Hate Crime
Naser Al Wasmi
July 4, 2018
A women's car in Mecca was deliberately set on fire in a suspected hate crime less than two weeks after Saudi Arabia lifted a decades-long ban on women driving.
Police said they are in pursuit of the arsonists, having extinguished the fire on Tuesday morning.
Dr Aati bin Atiya, a police spokesman in Mecca, said an investigation was under way.
Although not confirmed, it is widely believed that the perpetrator set fire to the car to express disapproval with women driving in Saudi Arabia.
A video posted on Twitter showed the car burned out and a woman, purportedly the owner of the car, saying: "May God deal with them."
Many Saudis took to Twitter to express support for the woman. The incident took place in Al Sammad, a town an hour away from Mecca by car.
"If the act was done because the owner of the car was a woman, then it is a terrorist act, under a terrorist crime and should be dealt with accordingly," Nayef Al Mansi, a lawyer in Jeddah, said in a tweet.
Public sentiment within the kingdom has been of overwhelming support of the royal decree to allow women to drive, with many citing economic development and social liberties among the benefits.
"Every Saudi Arabian I spoke to has been happy, we are incredibly happy for our sisters, mothers, wives, women to be able to take this step forward," said Ahmed Omran, a Saudi banker.
Okaz, a daily newspaper in Saudi, interviewed the owner of the car, Salwa Sharif, who said she was distraught after being subjected to the attack on the first day that she drove.
Saudi conservatives who are against the Royal Decree have expressed their discontent, but doing so publicly would be considered criticism against the state and carry a hefty punishment.
"God help us, I don't know why this is the change they want, I am afraid of what will happen," said AK, a Saudi Uber driver who spoke to The National on condition of anonymity.
Critics of ending the female driving ban say it is one of many measures that have limited the power of the kingdom's morality police under Crown Prince Mohammed bin Salman.
https://www.thenational.ae/world/gcc/saudi-woman-s-car-torched-in-suspected-hate-crime-1.746988
--------
UAE Women Start With 'One Dream One Team' Motto
July 3, 2018
Dubai. UAE women's team are gearing up for the ICC Women's World T20 Qualifier 2018 in the Netherlands commencing from July 7 to 14 with the motto: "One dream, One team."
Skipper Humaira Tasneem on arrival in Netherlands said: "Our number one goal is to qualify for the ICC World T20. So our motto is 'One dream, One team.' If we play as a team and go according to our plans and strategies whilst also being tactical, then we are pretty much on target."
UAE along with Thailand had qualified from the Asian region to play in this qualifier. "We want to earn the right to qualify for the World Cup and play against teams like Australia, India and New Zealand," she added.
UAE team had undergone intense training under coach Murali Sockalingam, who believes that the team has the ability to make an impact at the international stage. "It is for the first time that the UAE team is on the world stage against opposition like Bangladesh and the Netherlands [in the league] who already have international experience. Playing them is the toughest challenge but our objective is to play the World T20 in the West Indies by winning the Qualifiers," remarked Sockalingam, who was one of UAE consistent scorers in domestic cricket before turning a coach.
UAE is made up of players who have been performing consistently and have the talent to take on the best like allrounder Esha Oza, Nisha Ali and former Sri Lanka captain Chamani Senevirathne.
The cold conditions in Netherlands will be a challenge for the team. Nisha had hogged the limelight in the six matches at the Asia Qualifier with 12 wickets that included tournament-best figures of five for seven against Thailand.
"Keeping ourselves injury-free is very important. There have been times where we have lost important players because of injuries. We want to make sure that we go into the league matches with our full strength and give our absolute all in the matches. This way we can be one of the top teams in our pool," remarked Tasneem.
https://gulfnews.com/sport/uae/cricket/uae-women-start-with-one-dream-one-team-motto-1.2246097
--------
URL: https://www.newageislam.com/islam-women-feminism/the-uk-first-female-sharia/d/115729
New Age Islam, Islam Online, Islamic Website, African Muslim News, Arab World News, South Asia News, Indian Muslim News, World Muslim News, Women in Islam, Islamic Feminism, Arab Women, Women In Arab, Islamophobia in America, Muslim Women in West, Islam Women and Feminism