New Age Islam News Bureau
17 Feb 2016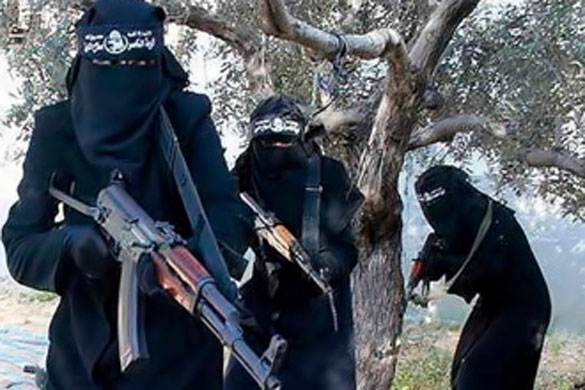 Photo: Feared: Al Khansaa brigade rule by terror
---------
• See the Women Who Flee the UK to Join ISIS
• Nigerian Shiite Women Protest Continued Detention of Leader
• North Pole Expedition Searching For Arab Women to Join Team
• New TV Show Crowns Ordinary Arab Women as 'The Queen' Of Their Community
• Canada's Missing or Killed Indigenous Women Number 'Higher'
Compiled by New Age Islam News Bureau
URL:
https://newageislam.com/islam-women-feminism/the-subversive-women-nigeria-self/d/106378
-----------
The Subversive Women of Nigeria Who Self-Publish Novels Amid Jihadist War
February 17, 2016
The 30 million Hausa of northern Nigeria have a history going back more than a 1,000 years. Theirs is a rich and vibrant culture, but also a patriarchal one. And in recent years, the region has been terrorized by the brutality of jihadist militant group Boko Haram. It is not, in short, a place you'd expect a literary movement of Muslim women to flourish, especially one that sells pulpy novels in the very marketplaces targeted by jihadists.
These women write sultry romances, scandalous family dramas and other stories. Some are universal—the classic Cinderella tale of a poor woman marrying a rich man—but others are more socially risqué, like the story of a divorced woman romantically involved with a virgin man. Whatever the plot, these stories frequently denounce child marriage, sex trafficking, and slavery in all its forms. They are often handwritten, transcribed onto a computer, self-published and sold in markets throughout the Sahel region of Africa. The women who write them brave censorship and become leaders of their community, working within the bounds of society even as they shape it.
They are not what I thought feminism looked like, but then I had to change my idea of what feminism looked like. Glenna Gordon
"I didn't expect to meet such powerful women in a place where everything I had heard about was men and the patriarchy," says photographer Glenna Gordon. Her photos, compiled in the book Diagram of the Heart, spotlight the women writing these littattafan soyayya ("books of love") and other stories in the Hausa language. Meeting them was, she says, life-changing. "[They are] not what I thought feminism looked like, but then I had to change my idea of what feminism looked like," she says.
The genre, often called Kano market literature, emerged in the late 1980s in Kano, northern Nigeria's commercial center. One of its earliest breakout writers was Balaraba Ramat Yakubu, whose traumatic early love life inspired her writing. Yakabu was married and divorced twice by the time she was 15, and turned to writing. Her first book, 1987's Young at Heart, is a searing critique of polygamy told through the moral depravity of a man who cycles through one unhappy wife after another. Her most famous book, Sin Is a Puppy That Follows You Home, published in 1990, tells the story of a woman whose adulterous husband takes a prostitute as his second wife. It was made into a film in 1998 and in 2012 it became the first Hausa novel by a woman to be translated to English.
The most popular stories are written by women, but men write Kano market literature as well. Such stories resonate because they explore life from the perspective of ordinary Hausa, says Carmen McCain, a Hausa scholar who translated the excerpts of various stories that appear in Gordon's book. "[Yakabu] was part of a revolutionary movement of young people writing stories about issues and concerns they saw daily, and often about things that had happened in their own lives," she says. "They were popular because they spoke to the daily lives of their audiences and often became seen as people who could advise others."
The women fearlessly raise pressing societal issues while promoting literacy among women, says Abdalla Uba Adama, a Kano literature scholar at Bayero University in Kano. "[They] empower Hausa women and girls to read in a language they can understand and connect with," he says.
At first, writers like Yakabu wrote their stories longhand, then paid typists to transcribe them. That changed as Internet cafes and business centers provided easy access to computers. The writers live throughout the cities and villages of northern Nigeria, but the books typically find their way to printers in Kano. The authors often hire local artists to design the cover, and pay the printer to produce a few thousand stapled copies. Sometimes they sell the rights to the printer, who decorates the books with colorful covers showing Bollywood or Kannywood actresses Photoshopped into traditional Hausa clothing. Shopkeepers sell them in Kano's Sabon Gari market for about a dollar a piece alongside everything from tomatoes to tires.
The books are popular, but that doesn't make writing them any easier. In the 1990s, many viewed the authors with distain because they often presented love outside of arranged marriages, which could encourage premarital sex. That led to the creation, in 2001, of a censorship board to ensure the stories did not break taboos. In 2007, the government burned many littattafan soyayya, and the censorship board grew more onerous. Noted author Sa'adatu Baba Ahmed says censors insisted she remove a scene in which a husband wipes away his wife's tears. "How can this be?" she says. "The husband's responsibility is to console his wife, to sympathize with her. How can your own husband allow you to scream and shout in front of him and he has no right to console her?"
Despite the government's best efforts, the popularity of littattafan soyayya only grew. These days, the government generally leaves writers alone. The books provide the authors with a decent living—the most popular making between $600 and $1,200 per novel—raising their stature at home and within the community. Local universities often invite authors to speak, and their work is the subject of dissertations. "Wherever I go, people respect me, they show their love to me," Ahmed says.
Gordon has spent a decade documenting Africa and discovered Kano market literature in late 2012. She was traveling to photograph a mass wedding in northern Nigeria for her project Nigeria Ever After when her friend and Hausa scholar McCain recommended she read Sin Is a Puppy That Follows You Home. "I was instantly interested and wanted to learn more," she says.
She visited Kano in early 2013. McCain provided phone numbers for a few women, and one contact led to another. The project started with portraits made with a medium format Bronica, but Gordon eventually decided to capture the women more candidly with a 35mm camera or an iPhone. She made six trips to Kano and elsewhere in just two years, photographing the world these women inhabit. "I tried to use the novels as a guide," she says. "I wanted to seek out some of the scenes they described, to make images that echoed their aesthetics, and to focus on the spaces where women live their lives."
She formed close relationships with women like Kano novelist Rabi Talle, who she photographed throughout the project. They would spend hours together in Talle's house chatting and sipping juice. In one image Talle chats on one of several phone lines she keeps to talk with suitors, family members, and readers seeking love advice. Another catches Talle smiling at the man who would become her husband as he stops by with fruit from the market. Another shows her cupping her pregnant belly, her face illuminated by the cool light of a window. "Sometimes [Rabi] would get tired of [the camera] and sigh deeply, and I knew that was my cue to put [it] down," Gordon says. "But for the most part, she liked having her picture taken and was very open."
They call me a feminist. They call me a womanist. I do not know which one I am. All I want is that any woman get her rights. Balaraba Ramat Yakubu
The photographs depict a world as textured and complex as that within the littattafan soyayya. Some illuminate cultural traditions and scenes foreign to many westerners—a dowry exchange at a wedding, men surrounded by multiple wives, the morality police settling a family dispute. Others capture the rich inner lives of the writers. In one photo, Hadiza Sani Garba bends over a small notebook composing a novel by hand, a red floral bedspread laid out beneath her like a carpet. The intimacy of the moment is wonderfully moving.
But the portraits of the authors are equally compelling—particularly of Yakabu. She stands beneath an archway in a baby blue hijab speckled with orange and yellow leaves. Her eyes are bright and her smile resplendent, her face flanked by images of herself at a younger age hanging behind her. It's tempting to call her a feminist, but Yakabu chuckles at that term. "They call me a feminist. They call me a womanist. I do not know which one I am," she says. "All I want is that any woman get her rights."
Women like Yakabu challenged Gordon's idea of what it meant to be a Muslim woman in northern Nigeria. They may not have all the same freedoms and opportunities of women in the west, but still hold a measure of power. They fall in love, build friendships, and raise families. They are influencing their culture, and speaking out against inequality and injustice. "I loved how wrong I was about northern Nigeria," Gordon says. "There was this big blank spot in my knowledge before I went, and the vague outlines I had were filled in in a way that was totally different than anything I expected."
wired.com/2016/02/glenna-gordon-diagram-heart/
--------
See The Women Who Flee the UK to Join ISIS
17 Feb 2016
On this day last year three schoolgirls from east London boarded a flight to Istanbul during their half-term break.
Unknown to her families, Amira Abase, Shamima Begum, both then aged 15, and Kadiza Sultana, 16, had fled the UK to start a new life in Syria under the sickening regime of ISIS.
Since then, an estimated 40 women have fled the safety of the UK to join the murderous ranks of Da'esh - where brutal executions, poverty, and violent death are a day-to-day reality.
According to security services, about 600 British Muslims have joined IS in Syria – and about 60 of them are young women.
Girls are being sold a new life fighting for freedom and for Allah.
But instead they are controlled, have to spend most of their time at home and are forced to wear two black gowns to hide their body shape as well as black gloves and black veils.
After marrying IS fighters, many of the girls are reportedly beaten and abused by their husbands.
Dozens more British girls and women fled to Syria in 2015 - a rise of 30 per cent on the previous year.
Counter-terror cops said they were "deeply concerned" by the figures as many women were unaware that they will probably never be able to return home.
These are just some of the jihadi brides who abandoned Britain for the Caliphate.
British Jihadi bride Aqsa Mahmood wrote a suitcase checklist for schoolgirls wanting to join Islamic State fanatics.
The 21-year-old left her family home in Glasgow to start a new life with the terrorist group
The former private schoolgirl said: "Bring good quality undergarments, bras and underwear.
"You'll also want to bring clothes for both summer and winter that you can maybe wear around your husband as well, maybe things that aren't so appropriate around sisters, for example short dresses."
Mahmood, who left Scotland in November 2013, informed her family of her plan as she stood at the border of Turkey waiting to enter Syria.
The ex-Glasgow University student hasbeen added to a United Nations list which subjects her to a global asset freeze and travel ban.
She has been accused of being one of the main recruiters of females for the terror group, using social networks such as Twitter, Tumblr and encrypted app Surespot to lure them.
It's thought Mahmood is a leader in an all-female militia who patrol the streets of IS stronghold Raqqa.
They are armed with automatic weapons and monitor the behaviour of women, punishing them if they behave in a way that is considered un-Islamic.
In the past, she has urged Muslim men and women unable to fight in Syria to commit terrorist atrocities at home instead.
She's also praised the murder of Fusilier Lee Rigby in London, the Boston Marathon bombing and the shooting of soldiers in Texas.
Last September her parents Muzaffar, 51, and Khalida, 43, made an emotional plea for her to return .
They revealed how she'd turned into a "bedroom radical" and accused her of betraying the family.
Twins Salma and Zahra Halane are believed to have fled to the strife-hit region from their Manchester home in July 2014 aged jus 17 after being radicalised online by their brother Ahmed.
Zahra urged family members to sign up as "future mujaheddin", or holy warriors, it was claimed.
"We might seem evil to you, but we will all be happy in jannah (the afterlife)," she added.
The pair have reportedly become key recruiters for the terror group.
They are said to be embarking on an online grooming campaign which promises young girls a "brave and strong husband".
Messages from the sisters are usually sent over Twitter and Instagram, according to a report from the Institute for Strategic Dialogue.
They claim girls will be protected from sexual objectification by the extremist organisation's version of Sharia law.
Read more: Boy, 16, whose jihadi brothers died in Syria banned from leaving Britain to 'protect him from himself'
Ahmed Halane, from Manchester, went to Somalia in September 2013, where he is thought to have joined the terrorist group al-Shabaab.
He is currently in Copenhagen, banned from returning to the UK.
The girls are reported to have become even more extreme in their views since their militant husbands were killed during fighting .
Experts said ISIS brides are under pressure to revel in their status as widows , while Dabiq, the official ISIS magazine, states girls should not to return to their countries of origin after being widowed.
Zahera Tariq, 33, was detained in Turkey in September along with her sons Muhammad, 12, Amaar, 11, Aadid, four and daughter Safiyyah, nine.
The Metropolitan Police's Counter Terrorism Command (SO15) placed her under arrest on suspicion of child abduction after she disembarked from a flight from Istanbul at Luton Airport.
Her four children - who were earlier this week reported to be "safe and well" - were taken into police protection.
The woman and four children were reported missing from their home in Walthamstow, north east London the week before.
They were believed to have flown from London City Airport to Amsterdam on August 25.
Detectives later found the family had been captured on CCTV at London City Airport before boarding the flight to the Netherlands.
Zahera was born in Waltham Forest before being brought up nearby by her parents Mohammed, 63, and Zahida, 55.
She has lived at her modest terrace home, next to a number of football pitches, with husband Yasair since 2004.
Two of the three east London schoolgirls who fled to Syria to join Islamic State have married men approved by sadistic terror chiefs, it has been revealed.
In February Shamima Begum, 15, Amira Abase, 15 and Kadiza Sultana, 16, disappeared from their Bethnal Green homes and flew to Turkey, before crossing the border into war-torn Syria.
They were believed to have been groomed by the brutal regime over social media before making the move to become so-called "jihadi-brides".
Now two of the teenagers, who are not being identified at the request of the families, are understood to have wed after getting approval from terror leaders.
The gifted teenagers had been students at the Bethnal Green academy in east London before they plotted their move to Syria on February 17.
They went unchallenged as they took a flight from Gatwick to Turkey , which borders Syria, then crossed the border and entered ISIS-controlled land in Syria a few days later.
15-year-old Amira Abase who is feared to have travelled to Syria via Turkey with two other girls
Journey: Amira Abase who is feared to have travelled to Syria via Turkey
Tasnime Akunjee, a lawyer representing two of the girls, said they have lost contact with the teenagers
"The last message from the girls was a very short one, saying that bombs were going off fairly close and that communications were likely to be disrupted," Mr Akunjee told The Telegraph.
In March, Scotland Yard commissioner Sir Bernard Hogan-Howe said the teenagers could return home without fear of being prosecuted for terrorism, as long as no evidence emerged of them being engaged in violence.
In April Amira Abase appeared to have tweeted a picture of a takeaway feast from her new home in the heart of the murderous regime.
The picture shows a huge take-out feast, including fried chicken, flatbread, chips, pizza, kebab and a soft drink.
It was released on the Facebook page of Mosul Eye, who purports to be a blogger in Iraq, and set up the page "to communicate what's happening in Mosul to the rest of the world, minute by minute from an independent historian inside Mosul".
He opposes ISIS and remains anonymous, writing in detail in both English and Arabic about the inner-workings of the group, their execution of civilians and casualties they suffer from coalition air-strikes.
On May 2, Mosul Eye posted: "Three girls, (Foreigners - British) married to ISIL militants, reported missing, and ISIL (another name for ISIS) announced to all its check points to search for them.
In February ISIS released a video showing 'Jihadi Junior' - the young son of a British-born jihadi bride - executing four men by detonating a car with them inside.
Last month little Isa Dare was seen in a film released by the terror group, saying: "We will kill kuffar (non-believers) out there."
His 24-year-old mother Grace - who renamed herself Khadijah after leaving home in Deptford, South East London with Isa - travelled to the Middle East and and later married a Swedish IS fighter in 2012.
The little boy stands next to a masked Jihadi - who also appears to be British - who says: " David Cameron , you sent your spies to Syria and and when you authorised your men, thousands of miles away to push a button to kill our brothers who lived in the west.
Victim: Isa Dare in the harrowing video
"So today we're going to kill your spies, the same way they helped you kill our brothers.
"So prepare your army and gather your nations for we too are preparing our army for our meeting lies at Dabiq (another name for Islamic State's 'Caliphate')."
The four 'spies' are then seen sitting in the car before the youngster, who is far too young to understand the sickening gravity of what he is doing, presses the detonator.
The four men are killed in the explosion. Afterwards the youngster poses triumphantly next to the smouldering wreckage and shouts "Allahu Akhbar" (God is great).
An Arabic subtitle in the video describes little Isa as: "One of the sons of the martyrs who were targeted by Coalition airstrikes."
This appears to be a reference to the Swedish fighter Abu Bakr, who was married to Isa's mother and killed in 2014.
The fugitive wife of killed Birmingham terrorist Junaid Hussain has threatened new attacks on US military targets.
Former punk rocker Sally Jones , 45, also vowed to sneak back into Britain.
The Muslim convert has remained at large after the death of terror recruiter Hussain in a US drone attack in August.
She left the UK for Syria in 2013 to fight for ISIS - but was allegedly sighted in Birmingham just days before her husband was killed, amid reports linking her to a plot to attack VJ celebrations.
The mother-of-two appeared use her latest Twitter message to write: "I'm gonna come back & expose some more of your military America & I'm gonna prove to you how social media will be your downfall."
Al-Khanssaa Brigade
Taking aim: Al-Khanssaa Brigade - the all-women fighters of Islamic State
The message was signed off with one of the ISIS widow's Islamic pseudonyms: "Umm Hussain."
Since abandoning Britain for a life of jihad, Jones has become a vocal ISIS propagandist, using social media to spread her message of terror.
She is often banned from platforms like Twitter, but simply returns with a slightly different user name to spout the same violent rhetoric.
Hussain, 21, originally from Kings Heath, died during a US bombing campaign against ISIS.
He tweeted under the alias Abu Hussain al-Britani and escaped to Syria two years ago while on police bail.
The Prime Minister later said the terrorist and two other Brits fighting for ISIS were killed in "an act of self-defence" after planning attacks in the UK.
Samantha Lewthwaite AKA "The White Widow"
The British mother of four is one of the Western world's most wanted terrorism suspects.
Known as the "white widow" Lewthwaite , 32, of Aylesbury, Bucks, was the wife of 7/7 suicide bomber Germaine Lindsay.
Also known as Sherafiyah Lewthwaite, she is believed to have directed terror raids, suicide attacks and car bombings in Somalia and Kenya, as well as masterminding December's slaughter of 148 people, by gunmen at a university in Garissa, northern Kenya.
She has been rapidly promoted through the ranks of terror group al Shabaab after many of its leaders died in drone attacks.
She has also launched a recruitment drive of teenagers and women as suicide bombers after bribing their desperate families with as little as £300.
One London resident blew herself up at a hotel in the Somali capital Mogadishu in February killing 25.
A security chief, in the Somalian capital, frequently bombed by al Shabaab, said: "This lady sits at the right hand of the leader directing attacks."
The London University graduate was quickly recognised as intelligent and evil-minded enough by jihadi terror bosses to be trusted with the most horrific atrocities.
A senior Somali anti-terror officer says Lewthwaite is now at the right hand of al Shabaab leader Ahmad Umar and is suspected of ordering the deaths of more than 400 innocent people.
He said: "She is an evil person but a very clever operator."
She has been on the run for four years after she and British terror suspect Germaine Grant plotted to blow up tourists in Mombassa.
It is thought she has changed her appearance through weight loss, plastic surgery and hair dye, and is believed to be in hiding in Somalia.
Married? Yusra Hussien
Yusra Hussien, of Bristol, fled to Turkey in September 2014 after claiming she was going to school
Then 15, she ran off to join Islamic State after being groomed on a dating site called Jihad Matchmaker, police fear.
It is feared Yusra, from Bristol, was brainwashed into running away to get to Syria by Islamic State plotters who are trying to get wives for their men.
In February last year her friends told the BBC that the teenager contacted them on social media to confirm she was now married in Syria.
However her family denied the claims.
She will probably never return home, according to a police officer.
Detective Inspector Dickon Turner, of the South West Counter Terrorism team, spoke to pupils at her former school.
Parents plea for 15 year old daughter thought to be Syria-bound, to return
He said: "Sadly, Yusra will probably never come back, and that is the tragedy of it all.
"We want to prevent another case like Yusra. Something like that is a tragedy for her, and her family, and many others.
Tormented mum Safiya Hussien pleaded for Yusra to return.
Gifted student Yusra skipped school in Bristol and caught a coach to Heathrow Airport where she met an unnamed 17-year-old girl from Lambeth in South London, where they flew to Istanbul.
Mum Safiya, 40, told a news conference in 2014: "Yusra I am your mum ...I love you. Come back, please, please, please. We miss you – please come back.
"I love you so much. All your brothers and your sister miss you so much.
"The house is not the same since when you left."
It is feared Yusra was recruited while using her computer at the family's four-bedroom home in Easton, Bristol.
mirror.co.uk/news/uk-news/more-deadly-male-women-who-7386048
--------
Nigerian Shiite Women Protest Continued Detention of Leader
17 Feb 2016
Shiite women have staged yet another protest, demanding unconditional release of their leader after months in detention.
Over 3000 Women of the Islamic Movement known as Shiites in Nigeria have protested in the city of Kaduna, North Western Nigeria, seeking immediate release of their leader, Sheik Ibrahim El-Zakzaky.
Shaikh Ibraheem Zakzaky, his wife and many of his followers have been in detention since December 12 when they clashed with the convoy of the Nigeria Chief of Army Staff, Tukur Buratai.
While the army acknowledged killing seven of the Shiites Muslim sect, the group alleged that over 800 of its followers were killed in Zaria.
The women in their numbers matched through Kaduna metropolitan streets holding placards with inscription, "Free Zakzaky".
Spokesperson for the women, Lubabatu Alhassan, said the protest seeking for the release of their leader became necessary having spent some months in security facilities.
Lubabatu pleaded with the State Government to hand over corpses of their members killed during the clash for burial.
The women also condemned what they described as brutality meted on them by the Government and the Nigerian Army, saying that the judicial commission of inquiry setup by the Kaduna State government was a ploy to indict them.
pulse.ng/local/in-kaduna-again-shiite-women-protest-continued-detention-of-leader-id4697314.html
--------
North Pole expedition searching for Arab women to join team
17 Feb 2016
British adventurers Felicity Aston and Julie Lewis are looking for Arab women to join an expedition to the North Pole and become ambassadors for cross-cultural dialogue between Arab and European women.
The expedition will head to the North Pole in April of 2017. While the program has hundreds of applications from European women, the challenge is now to find more Arab women from Kuwait, Saudi Arabia, Jordan, Egypt, Qatar, Oman, Lebanon and the UAE to apply for a place on this adventure.
"We are looking for women from across Europe and the Middle East to form an international team to ski the last degree to the North Pole in April 2017. The core purpose of the expedition is to foster greater dialogue and understanding between women from Western and Arabian cultures. In addition, the expedition will work to inspire all women to reach beyond the expectation of others to fulfill their own ultimate life ambitions."
The Women's Euro-Arabian North Pole Expedition 2017_
In order to apply, women don't need to have any athletic background, as the selected applicants will undergo full training in Iceland this September and will also be part of an endurance and cultural connections training in Oman prior to the start of expedition. The team is looking for Arab women of diverse backgrounds and levels of experience, from adventurers to those with no prior experience with outdoor or adventurous activities.
Applicants need to have a passion for traveling to the high Arctic, an enthusiasm for forming cultural connections and the willingness to work wholeheartedly as a team in order to complete an experience of a lifetime. More importantly, Felicity and Jules are also very interested to hear from women who have a clear idea of how they will put their experience to good use when they return home.
The Women's Euro-Arabian North Pole Expedition 2017
Arab women are already pushing boundaries in business, sports and life. They are gaining regional and global recognition and are rising to the occasion when doors of opportunity are open to them. The expedition is a pioneering opportunity to further reinforce and highlight the strength and spirit of Arab women, building stronger bridges of understanding in the spirit of adventure.
Now more than ever, the world needs to nurture a deeper understanding and cooperation between the Middle East and Europe. The Women's Euro-Arabian North Pole Expedition is an ideal platform to lead the way.
Applications are open until March 31. Felicity and Jules would love to hear from more Arab Women who are willing to lead by example and be role models for the next generation of leaders in the community and society as a whole.
https://stepfeed.com/life/food-travel/north-pole-expedition-searching-for-arab-women-to-join-team/
--------
New TV Show Crowns Ordinary Arab Women As 'The Queen' Of Their Community
February 16th, 2016
If you flip randomly through TV channels, radio stations, and news sites in the hope of finding content that is unique, valuable, and heart-warming, you may just find yourself confronted by something distasteful, a tacky representation of your culture. The current state of regional media is a topic brought up every day, speculating whether it could ever change or progress.
Arabian Media Network (AMN) is an NGO that aims to create a new type of media that not only entertains but also adds meaning and opens doors for new innovations. The renowned organisation has finally announced the launch of yet another new transformational initiative that is set to change the rules of the game.
"The Queen" is a new programme that targets young women, who could become the perfect idol for the next generation to look up to. Ambassador and founder of "Arab Woman" campaign Rehab Zein El-Din is the main advocate and face of the new project, having had experience with previous initiatives to empower women.
Daily News Egypt interviewed Zein El-Din about the programme, her opinion regarding media and Arab women, as well as her hopes for a better future for all women.
Tell us about the new TV programme, The Queen:
The Queen is set to be the biggest format programme in the region. The Arab world has been depending on foreign formats for a long while now. Nonetheless, we believe that we can create our own programmes and formats; we have outstanding local creative minds.
The Queen is the first Arab format programme, developed from scratch in the Arab world. I am certain that the format will be adopted later on by other countries.
It aims to crown a queen of social responsibility. We highly believe that stars and famous icons should not solely be actors or singers but rather be proactive women working to benefit their communities and be recognised for their efforts.
The show is scheduled to air in 16 different Arab countries; each country will have an exclusive TV network, publication, and radio station with the rights to air and publish.
The entities were chosen based on the content they normally share; we wanted to collaborate with those who provide progressive and valuable quality. For example, we chose El-Nahar TV, Nile Television Network, El-Mehwar, and El-Kahera W El-Nas in Egypt since they have always provided the highest quality.
How will the programme evaluate and determine the winner?
The first phase will depend on a huge promo to raise awareness about the programme on all partnering entities. It should attract women between the ages 20 and 40 who have contributed to their society with a voluntary project or act. Each contestant should provide documentation about her project or contribution, as well as its effect on her community.
Any woman who believes that she deserves to be dubbed queen of social responsibility is allowed to contribute and send her file. Later on each country will have its own subsidiary jury that will choose three contestants to go on to the next phase.
The second phase will be in either Lebanon or Egypt, where all the qualified women will compete for the title. AMN is currently in favour of Cairo for two reasons. Firstly, Arabs love visiting Egypt and its monuments and secondly, the presence of such an event and programme will surely prove that Egypt is currently safe and stable.
The final announcements should come this week regarding the venue, episode length, schedule, as well as the jury members.
What do you aim to represent through this programme?
Our programme is independent in its content and schedule and yet we hope that our partner media entities will highlight the three girls that represent their country as well as their projects. Ideally we would love from each country to support its contestants in the way they support other media figures.
The programme's main aim is to create a different genre of celebrities that aim to build and create better futures for their communities. We will also support the winner in capitalising her project for a greater outcome. Meanwhile, we hope the winner and her initiative will inspire younger generations.
I am the founder of the "Arab Woman" campaign, which focuses on discussing women's current issues and we aim to constantly empower them and help them prosper.
Therefore, I always search for programmes that empower women and reshape any stereotypes because I believe in the power of media and its contribution to strengthen women's status in the Arab world. This programme will certainly correct the image of women portrayed in today's media.
My campaign aims to prove that the misguided characters we see in media are not an accurate representative of real women. Therefore we always try to find and showcase better examples that can truly inspire younger generations.
How would you evaluate the current status of women in media?
The current image broadcasted and circulated is shallow and pale; it simply underestimates women. Media in general – whether drama, TV series, or even commercials – has contributed to minimising women and dragging their status back to pre-historic times.
Media currently portrays women in a sexual context that is never inspiring or dignified. These mistaken stereotypes have lead to the current wave of feminism gaining more popularity, as the Arab world no longer respects or believes in its women due to the media.
Even when media entities aim to focus on women, they represent examples of either weak and harmless individuals or those who followed the least dignified methods to reach where they are.
Why are you keen to work with AMN?
AMN aims to represent a new form of media: proactive media. In addition to choosing content that reflects our Arab values and lifestyles, they also focus on women. In 2008 I worked with them to initiate the Arab Woman campaign, which highlights the main problems women face in our societies as well as suggesting solutions for them.
We also had a programme called "Drama, the White Hands" that discussed a few of the obstacles women face in a dramatic context. The programme visited several Arab countries, where we conducted in-depth research to define the main problems women face in each particular region or country.
They also produced one the biggest TV programs in the Arab region and AMN was recognised by the Guinness World Records at the time. "The Idol Woman" aimed to shine a light on inspiring and successful Arab women worldwide. We all know that one of Obama's consultants is in fact an Egyptian woman. Meanwhile, there are numerous successful women around the globe that we are not fully aware of. As the host, I travelled around the globe to meet these women. The programme was broadcast on 70 different Arab networks simultaneously.
albawaba.com/entertainment/new-tv-show-crowns-ordinary-arab-women-queen-their-community-806156
--------
Canada's Missing Or Killed Indigenous Women Number 'Higher'
17 February 2016
The number of missing or murdered indigenous women in Canada since 1980 may be as high as 4,000 - far more than previous estimates of 1,200, the federal government has said.
The minister for the status of women said there were no accurate figures because of a lack of hard data.
But Patty Hajdu said research from the Native Women's Association of Canada (NWAC) put it at more than 4,000.
A national inquiry is due to begin shortly.
Ms Hajdu and Indigenous Affairs Minister Carolyn Bennett have been speaking to survivors and relatives across Canada.
The inquiry was a key election pledge by Prime Minister Justin Trudeau during the campaign last year.
The often cited 1,200 figure came from a 2014 Royal Canadian Mounted Police report on the missing women, related to the period between 1980 and 2012.
"During those discussions, the ministers have heard from participants that they believe the number of missing and murdered indigenous women and girls is higher than 1,200," Ms Bennett said.
Trudeau with Assembly of First Nations National Chief Perry BellegardeImage copyrightAP
In December 2015, Canadian authorities charged a man in the death of one indigenous girl whose murder caused a national outcry.
Raymond Cormier, 53, was charged with second-degree murder in the death of Tina Fontaine, 15, who was found dead in 2014 in Canada's Red River.
A BBC investigation in April revealed that dozens of aboriginal women disappear each year, with many later found dead in the river.
Mr Trudeau has promised an inquiry into missing and murdered indigenous women in an appeal to First Nations chiefs.
The public inquiry would be a "top priority" of his newly-elected Liberal government, he said.
Mr Trudeau also pledged increased funding for programming and a review of laws on indigenous peoples.
Justice Minister Jody-Wilson Raybould, Ms Hajdu and Ms Bennett conducted interviews with nearly 2,000 people to start forming the government inquiry, involving survivors, families and loved ones of survivors.
The ministers wanted to "examine the causes of violence against Indigenous women and girls and leads to recommendations for concrete actions to prevent future violence", said Ms Bennett.
"Regardless of the number, the level of indigenous women and girls who have gone missing or were murdered is an ongoing national tragedy that our government is committed to addressing immediately."
bbc.com/news/world-us-canada-35590442
URL: https://newageislam.com/islam-women-feminism/the-subversive-women-nigeria-self/d/106378
New Age Islam, Islam Online, Islamic Website, African Muslim News, Arab World News, South Asia News, Indian Muslim News, World Muslim News, Womens in Islam, Islamic Feminism, Arab Women, Womens In Arab, Islamphobia in America, Muslim Women in West, Islam Women and Feminism