New Age Islam News Bureau
20 Oct 2013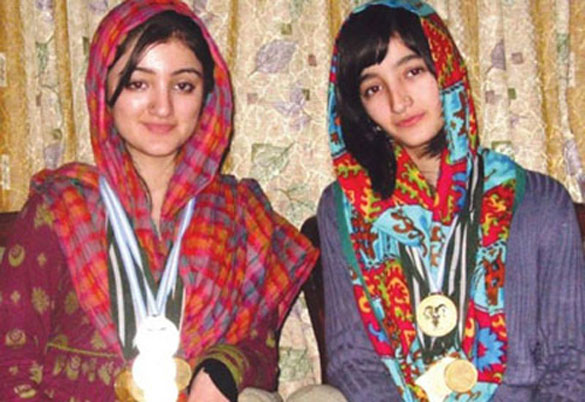 File photos of Gilgit-Baltistan sisters Amina and Ifrah Wali. PHOTO: SHABBIR MIR
---------------
• 'Female Genital Mutilation Is Pure Violence against Girls': Dirie, the Super Model
• These South African Girls Are Inspired By Malala, Even Without a Nobel Prize
• Syria Snipers Targeted Pregnant Women, Says British Surgeon
• Rihanna's Sheikh Zayed Mosque Publicity Shoot Stirs Controversy
• Women Waiting Longer To Get Married, New Abu Dhabi Statistics Show
• Gilgit-Baltistan sisters make it to Winter Olympics qualifiers of Skiing
• Malala Reunited With Pakistan Attack School Friends
• Prince Nawaf to Honour Reham For Her Fine Feat
Compiled by New Age Islam News Bureau
URL: https://newageislam.com/islam-women-feminism/the-queen-hails-malala-education/d/14058
------------
The Queen Hails Malala for Education-For-All Campaign
October 20, 2013
THE QUEEN described the campaigning work of a teenage girl who survived an assassination attempt by the Taliban, as "wonderful" when the pair met at Buckingham Palace.
Malala, 16, was shot in the head in Pakistan last October after campaigning for the right of girls to go to school without fear, in a part of the country where Islamic fundamentalists were trying to impose a strict form of Sharia.
Surgeons said she came within inches of death when the bullet grazed her brain in the school bus attack.
The schoolgirl, who was treated in Birmingham after the attack and now lives in the city, was a guest at a reception for commonwealth, youth and education hosted by the Queen and Duke of Edinburgh, and was selected as one of a handful of people to be presented to the royals.
She gave the Queen a copy of her book, I Am Malala, which the monarch accepted, adding: "That's very kind of you. Thank you very much indeed."
Malala told the Queen she was passionate about the right to an education.
Speaking to the Queen, she said of her invite to the palace: "It is not just an invitation, it is an honour for me, and I hope we all work together for the education of every child, and especially in this country as well. I have heard about many children who cannot go to school."
The Queen listened intently and nodded as Malala spoke of her aim for every child to have an education.
The teenager had a fit of giggles as the Duke then told her: "There's a thing about children going to school – they go to school because the parents don't want them in the house."
After meeting the Queen, Malala said she would not ordinarily miss a day of lessons – but made an exception on this occasion. "I had to miss school because I was meeting the Queen. It's such an honour for me to be here at Buckingham Palace. It's really an honour to meet the Queen. I also wanted to raise the issue of girls not being educated on a higher platform so that the government in each country takes action on it.
"We need to fight for education in the suffering countries and developing countries, but also here."
The teenager has addressed the United Nations and been nominated for the Nobel Peace Prize.
http://www.yorkshirepost.co.uk/news/main-topics/general-news/the-queen-hails-malala-for-education-for-all-campaign-1-6164230
---------
'Female Genital Mutilation Is Pure Violence against Girls': Dirie, the Super Model
October 20, 2013
Waris Dirie was about five years old when she was left in a makeshift shelter under a tree for several days to recover from her "operation", like all the girls in her community, she had undergone female circumcision, more accurately known as female genital mutilation (FGM). She still remembers her anger. "When they tried to convince me that God wants this, I said: 'Did my God hate me so much?' I remember telling my mother: 'If he hates me, then I don't want him.'" In the days after FGM, many girls die from blood loss or infection. Dirie says she lay there, talking to God, saying "make me stay alive. You owe me this now."
Dirie, born to a nomadic family in Somalia, describes herself as not exactly the kind of daughter dreamed of by the traditional families in her community. As a very young child, she was wilful and headstrong, constantly questioning everything. When she was about 13, her father announced that she would be married to a man in his 60s. "I knew [most married women in her community] put up with everything and anything. Any abuse, hopelessness, and I thought, was I here to be used and be abused? I knew there was so much I could do with my life, but on my terms."
Her terms have led to an extraordinary life and we meet in a London hotel room as Dirie prepares to receive a Woman of the Year award for her campaign work. Under the threat of her impending marriage, she ran away, running barefoot across the desert for days until she reached relatives in Mogadishu. From there, she managed to make it to London – an aunt was married to Somalia's ambassador to Britain – and she worked as their maid for several years. When they returned to Somalia, she stayed on, learned English and got a job at McDonald's, eventually being spotted by a photographer. By the 1990s, Dirie had become a supermodel, fronting Chanel campaigns and appeared in the James Bond film The Living Daylights.
Modelling could be fun, but ultimately wasn't fulfilling. "I thought, 'This is bullshit, fake.' I couldn't sleep one more night knowing the truth about what was happening to girls and look all …" She gives a mock smile as if posing in a fashion shoot. "I just knew that I had to tell the world that there was torture, an undercover war against women. But this is not one person's war – all of us have to do something." Now, she says, there is more awareness of FGM, but in the 1990s, "what really made me take a stand was that nobody was doing anything".
Dirie's profile had given her a voice and when she went public, in a magazine interview in 1997, about what had happened to her, and her desire to stop FGM, largely practised in communities in Africa, the Middle East and Asia, it created a great deal of attention. She was appointed a UN special ambassador; in 2002, she set up her Desert Flower Foundation to campaign against the practice.
The World Health Organisation estimates there are about 140 million women in the world who have had FGM, from removal of the clitoral hood to the whole excision of external genitalia before the vagina is sewn up, with only a small hole left for urine and menstrual blood. It usually happens before the age of 15, and in some cases is performed on babies, in the belief that the girl will grow up "clean", her "honour" intact along with her virginity as a way of preparing her for marriage; this happens to 3 million girls every year. Aside from the intense pain and risk of infection at the time, it carries lasting consequences: difficulty urinating, sex is painful and pleasure-free, and childbirth can be fatal both to the baby and the mother. Botched FGM can leave women doubly incontinent and ostracised by their communities.
In many countries, it is a crime, though one in the UK at least which has failed to lead to any prosecutions. Why does she think so little has been done to eradicate it? "Anything to do with females is considered less important," she says. The other argument she hears is that it is a "cultural" practice – tolerated on one side by people who don't want to be seen as racist if they interfere; ignored on the other side by people who are not interested because it doesn't affect them.
"If a white man or woman saw a white child that is mutilated, there would be screaming. I guarantee it would end," she says. "This is abuse against a child, so to say this is your 'thing', it's to do with your religion or race, it's all wrong. This is about child protection. I don't see anything else, and I think it's covered up by racism, and the idea that 'I don't want to get involved'. It's pure violence against girls, and it destroys the rest of their lives. And for what? For who?"
It also doesn't help that the practice is so hidden. "As long as the problem stays undercover then nothing much happens, or at least not fast enough," says Dirie. "If we put it into the open, if it's on TV and in the newspaper, if we have politicians and religious leaders talking about it and saying no, then we fight it together."
It isn't only something that happens in rural communities in Africa or Asia. This summer, the NSPCC opened its first helpline to support girls at risk of FGM in the UK – figures are difficult to come by, but one study estimates there are 66,000 women in England and Wales living with FGM, and 20,000 girls are at risk.
It happens in immigrant communities, says Dirie, "because first of all the community stick together. They bring the same behaviour, even though they live right here in London. So the child doesn't know any different but follows the rule of the parent and what they think is the right thing. We need teachers, doctors, social workers, the police – all these people have to be informed, open and talk to the community."
Last month, in Berlin, Dirie opened the first of what will be several medical centres to offer women who have endured FGM reconstructive surgery. Over the next year or so, she hopes to open other clinics in Kenya, Ethiopia, the Netherlands and Switzerland. But she says, "I don't want to put too much focus on it, because the whole point is to stop this mutilation in the first place. We don't have to have special hospitals to reconstruct a God-given thing." She would like to do other things – sing, act, be a fashion designer for women of all shapes and sizes. "But then I think I can't turn back, not now I'm almost there. You just have to keep going until one day it will come to an end."
Dirie, now 48 and living in Poland with her four children, says the emails and calls from suicidal women, and the knowledge that thousands of girls are still enduring FGM every day, still makes her angry and can be exhausting. But she is hopeful. "The world is changing, especially with technology, [people have access to] any information. I don't want little girls to be like me, to travel the world to find out that this doesn't happen [to all women] and what has happened is wrong."
http://www.theguardian.com/lifeandstyle/2013/oct/14/waris-dirie-female-genital-mutilation-fgm
---------
These South African Girls Are Inspired By Malala, Even Without a Nobel Prize
October 20, 2013
Boston — This story is part of a year-long series, School Year: Learning, Poverty, and Success in a South African Township.
Malala Yousafzai, the 16-year-old advocate for girls' education in Pakistan who was shot last year by the Taliban, was considered a front-runner for this year's Nobel Peace Prize, at least in some circles.
The Norwegian Nobel Committee announced its selection Friday morning and it wasn't Malala. (The prize went to the Organization for the Prohibition of Chemical Weapons.)
To find out how that news was received among school girls, I stopped by the Centre of Science and Technology (COSAT) — a public high school near Cape Town, South Africa, that I have been profiling this year.
I found ninth-grader Olwethu sitting outside. She is a bit of a bookworm and likes to start debates with me — often about U.S. foreign policy. I told her that Malala didn't win the prize, and I asked for her reaction.
"The Nobel Peace Prize should have gone to her because she didn't use violence," Olwethu said. "She had the courage to stand up and say, 'If you're going to hit me, hit me with whatever you've got.'"
The said Malala's story has inspired young women here in South Africa.
"She has taught a lot of women outside that you should stand up for yourself — make sure that people don't think of you as little. They should think of you as someone who's important and has a role to play in society."
Some of Olwethu's friends joined us. I thought I'd broaden the conversation, so I asked if they thought girls in South Africa are treated unequally compared to boys. They said yes.
"For example, if you go and get pregnant, your parents kick you out," Olwethu said. "But if you're a boy and you get a girl pregnant, your parents reward you for getting a girl pregnant."
I asked why.
"They think they're going to have a grandson," said Sesihle, a ninth-grader. She said that would mean continuing the family name.
I asked what the girls thought they could learn from Malala. That's when Olwethu said something that surprised me. She sees Malala as more than a champion of girls' rights.
"She believes we should let people be equal — not judge them by race, or by color, or by sex," Olwethu said.
"So you see her as a symbol of not just gender rights, but equality among all people?" I asked.
"Yes, she has the potential to be something very huge in the world," Olwethu answered. "She has the power to change a lot of people's minds."
Olwethu said Malala would continue to change people's minds — about all forms of equality — even without the Nobel Peace Prize.
http://allafrica.com/stories/201310161095.html?viewall=1
---------
Syria snipers targeted pregnant women, says British surgeon
October 20, 2013
Syrian snipers targeted pregnant women on more than one occasion, a British surgeon said Saturday after returning from a five-week stint in the conflict zone.
According to an interview with The Times newspaper David Nott, who spent five weeks volunteering at a Syrian hospital, said he treated more than half a dozen shot pregnant women on one day in a Syrian city.
He did not identify the city for security reasons but said that he regularly treated gunshot wounds that indicated that bored snipers were targeting particular parts of civilians' bodies in a bid to entertain themselves, reported Agence France-Presse.
"One day it would be shots to the groin. The next, it would only be the left chest," he told the newspaper.
"From the first patients that came in in the morning, you could almost tell what you would see for the rest of the day. It was a game."
On one day, two consecutive gunshot patients were heavily pregnant women, both of whom lost their babies.
"The women were all shot through the uterus, so that must have been where they were aiming for," he told The Times.
"I can't even begin to tell you how awful it was. Usually, civilians are caught in the crossfire. This is the first time I've ever seen anything like this. This was deliberate. It was hell beyond hell."
Nott is a prominent surgeon in the UK who counts former Prime Minister Tony Blair as an ex-patient and has volunteered as an emergency surgeon in warzones for 20 years.
He usually works as a vascular surgeon at London's Westminster and Chelsea hospital but has served in warzones in countries including Bosnia, Libya and the Democratic Republic of Congo.
http://english.alarabiya.net/en/News/middle-east/2013/10/19/Syria-snipers-targeted-pregnant-women-says-British-surgeon.html
---------
Rihanna's Sheikh Zayed Mosque publicity shoot stirs controversy
October 20, 2013
No stranger to controversy, the superstar singer Rihanna has stirred another debate from her visit to the UAE, and it is not due to her performance.
Ahead of the Abu Dhabi leg of the singer's Diamonds World Tour on Saturday at du Arena, Rihanna took in some sightseeing at the Sheikh Zayed Grand Mosque.
Photos of the Barbadian posing in an all-black outfit with a headdress in the Grand Mosque's courtyard uploaded to her Instagram account quickly attracted condemnation as well as praise on social media.
"I love Rihanna but then posing so seductively in front of the mosque is so disrespectful," wrote twitter user @NNTSHA_NAT.
Another tweeter who did not appreciate Rihanna's publicity shoot outside the mosque, which included ones of her lying down, was @Ahmedcarter who wrote, "Rihanna pics at Sheikh Zayed mosque are disrespectful to the place of worship."
@BinttAlthee added her objection: "Rihanna modelling in the Sheikh Zayed mosque is just plain wrong. Who let her in?"
The country's largest mosque is not only a centre for worship but also for tourism and attracts millions of visitors every year.
Although the mosque is open to everyone, the Sheikh Zayed Grand Mosque Center, the body in charge of the facility, asks visitors to respect the religion and place of prayer through manners as well as dress code.
This includes women wearing an abaya or traditional robe, which Rihanna was not, as well as a shayla or headscarf.
"Rihanna may look gorgeous and all but she's covering her head out of fashion not out of respect for the mosque," wrote @NAUF_z.
However many voiced their support for the photos.
"I don't see how Rihanna posing adjacent to a mosque in Abu Dhabi is disrespectful. If anything she's showing respect by supporting the hijab," wrote @mila_iggy.
Twitter user @TheDimeRamla619 also found nothing wrong with the photographs: "I have nothing against Rihanna, I mean the mosque in Abu Dhabi is a Tourist place so therefore I don't see nothing wrong."
"I totally respect Rihanna, though it's not her religion she still wear a hijab to the mosque," wrote @NurulxxNisyaa.
Although it was the latest incident for Rihanna, it is not the first time a visiting western performer has done something deemed disrespectful.
When the rapper Snoop Dogg, now called by Snoop Lion, performed at du Arena in 2011, he wore a kandora, offending many in the Arab world.
However just as in Rihanna's situation, there were also many who supported the entertainer.
tsubaihi@thenational.ae
http://www.thenational.ae/uae/tourism/20131020/rihannas-sheikh-zayed-mosque-publicity-shoot-stirs-controversy#ixzz2iGGxx2LX
---------
Women waiting longer to get married, new Abu Dhabi statistics show
October 20, 2013
ABU DHABI // Emiratis are waiting longer to wed and more are staying married, Abu Dhabi government statistics have revealed.
Local women were marrying at an average age of 23.7 in 1995 but this has steadily risen to 25.9 last year, figures released by the Statistics Centre Abu Dhabi (Scad) show.
Emirati men are also taking more time to get married. By last year they were waiting, on average, until 26.8 before tying the knot – almost two years longer than in 1995.
Delaying marriage seems to have led to a wiser choice of spouses as the rise in divorce rates has halted, experts said.
Dr Ahmad Alomosh, chairman of the sociology department at the University of Sharjah, said later marriages signified a shift in Emirati society's priorities.
"Before, there was a stronger system of family. Now there is independence as women and men form their own personalities," Dr Alomosh said.
"Marriage is no longer a priority. Education and work and other aspects in life are, even in the Arab world in general."
He said women were now educated and capable of working and earning a living, so no longer needed to marry for financial support.
"She is independent financially so she will look for marriage later, when she is ready for it, as it's no longer her first choice," Dr Alomosh said.
Dr Soad Al Oraimi, a sociologist at UAE University, said: "This is completely normal. There is no need to question this.
"Back in 1995 there were fewer jobs and focus on education was less. Some did not finish schooling or university."
Although Emirati society prefers women to marry younger, Dr Al Oraimi said the delay was of no concern. Neither was the shorter amount of time to have babies.
"She has room until she reaches 40," she said.
Other experts have voiced concerns that the delay in marriage is not a choice, rather an outcome of fewer marriages, leaving a growing number of women as spinsters.
According to the report, marriage contracts saw a slight drop, from 5,708 in 2011 to 5,570 last year.
Mosabeh Al Kitbi, a Federal National Council member from Sharjah, this year quizzed Dr Maitha Al Shamsi, Minister of State and chair of the Marriage Fund, on the issue of anousa, or spinsterhood.
Dr Al Shamsi said the rising cost of weddings and dowries was to blame for more Emirati women marrying later.
"We did a study on the relation between the cost of marriage and anousa, and found a direct link," the minister said.
The study found 78 per cent of Emiratis believed the expense of weddings and dowries led girls to delay marriage.
Meanwhile, divorce rates have dropped slightly for the first time in several years. Last year, 1,700 divorces were registered compared with 1,803 the previous year – a 5.7 per cent drop.
Although that still spells an end to one in three marriages, Dr Al Oraimi said even a slight decline was "great news".
Dr Alomosh said the divorce drop was a direct result of women marrying later in life and making better choices.
"Now the woman picks. This leads to fewer divorces," he said. "As long as the level of education is high, it is less likely for a woman to rush into marriage, and therefore a lower risk of divorce."
Dr Al Oraimi agreed. "Matters have changed 100 per cent now. Before, the woman never had an opinion, not even on the marriage details. She was young when married."
She said older women could impose their opinion on their families.
"Now, women no longer say yes to the first guy who comes and proposes. She picks. Before, only her parents picked."
osalem@thenational.ae
http://www.thenational.ae/uae/women-in-the-uae/women-waiting-longer-to-get-married-new-abu-dhabi-statistics-show#ixzz2iGH3gDtf
---------
Gilgit-Baltistan sisters make it to Winter Olympics qualifiers of Skiing
October 20, 2013
GILGIT: Pakistan's skiing champions from Gilgit-Baltistan have been selected for the qualifying rounds of the upcoming Winter Olympics – making them the first women from the country to make it to the qualifiers.
Amina Wali and Ifrah Wali will be competing for a spot in the games to be held in Sochi, Russia, next year. Amina and Ifrah had won a gold and silver medal for Pakistan in the first South Asian Winter Games held in India in 2011. They beat contestants from Sri Lanka, Nepal and India in the giant slalom.
"We are very excited about this news and hopefully we will live up to everyone's expectations," said Amina, who is an undergraduate student at the Karakoram International University. Her sister, Ifrah, is a student at the National University of Science and Technology (NUST).
"It will be a tough job to qualify in view of the limited time available before the qualifying rounds start," Amina told The Express Tribune on Saturday.
Asked what if they fail to qualify, the determined skiers said they would undergo more training and attempt to qualify for the 2018 Olympics.
She thanked the Ski Federation of Pakistan and the International Ski Federation and said the collaboration of both the organisations made the sisters' participation possible.
The qualifying rounds are likely to take place somewhere in Turkey or Lebanon during December and January.
About getting leave from their respective universities, Amina said they have been assured of their full support if they get selected.
Amina and Ifrah, the progeny of the Gushpur family – the former royal family in Ghizer district – excelled in the sport of skiing as they spent most of their childhood growing up in the snow-capped mountains of Gilgit-Baltistan.
http://tribune.com.pk/story/619938/skiing-to-victory-g-b-sisters-make-it-to-winter-olympics-qualifiers/
---------
Malala reunited with Pakistan attack school friends
October 20, 2013
LONDON — Pakistani schoolgirl Malala Yousafzai was reunited on Saturday with two friends who were injured in the Taliban attempt to kill her. Kainat Riaz and Shazia Ramzan met Malala during an event at Edinburgh University in Scotland, the first time they have seen her since the attack.
A Taliban gunman boarded the girls' school bus in Pakistan's northwestern Swat Valley in October 2012 and opened fire at Malala to punish her for championing girls' rights to education. Malala, now 16, was shot in the head while Kainat and Shazia were both wounded in the crossfire. All three girls are now living and studying in Britain. Malala received medical treatment for her injuries at a British hospital.
They were the guests of honor at the launch on Saturday of the Global Citizenship Commission, a body of leaders representing politics, religious institutions, law and philanthropy "After I was shot the terrorists thought that I would not continue the struggle for education, but not only did I not stop my campaign but now Kainat and Shazia are with me and they are also supporting me," Malala told the event.
"They are not afraid, we are not afraid and now people are supporting us and that is the greatest courage, and that is the weapon that we have got, the unity and togetherness." Malala was also presented with an honorary masters degree from the university by former British prime minister Gordon Brown, who has backed her campaign.
The event is the latest in a series to fete Malala's work. She went to Buckingham Palace on Friday to meet Queen Elizabeth II and her husband Prince Philip, while last week she met US President Barack Obama.
Malala was among the favorites to win the Nobel Peace Prize this month, but she lost out to the Organization for the Prohibition of Chemical Weapons.
http://www.saudigazette.com.sa/index.cfm?method=home.regcon&contentid=20131020184061
---------
Prince Nawaf to Honour Reham For Her Fine Feat
October 20, 2013
JEDDAH — Prince Nawaf Bin Faisal, President of Presidency of Youth Welfare, will honour Reham Al-Muharaq the first Saudi girl who climbed the highest six summits in six continents and who aspires to climb the highest summit in the seventh continent.
Dr. Khalid Al-Sulaiman, head of the technical committee at the Saudi Federation, said Prince Nawaf ordered that Reham should be honoured for her feat. "She was supposed to be honored before the Haj season, but it was deferred. Reham and her family have been invited to come to Riyadh this upcoming Saturday in order to attend the event, specifically held for her.
Reham will be presented with a plaque and a gift during the event. Reham's father said his daughter wants to prove to the world that if a human being sets his mind to do something, he will achieve it if he has determination. "The sky's the limit for my daughter. Her ambition is to climb the highest summit in the seventh continent."
http://www.saudigazette.com.sa/index.cfm?method=home.regcon&contentid=20131020184058
---------
URL: https://newageislam.com/islam-women-feminism/the-queen-hails-malala-education/d/14058