New Age Islam News Bureau
14 Nov 2018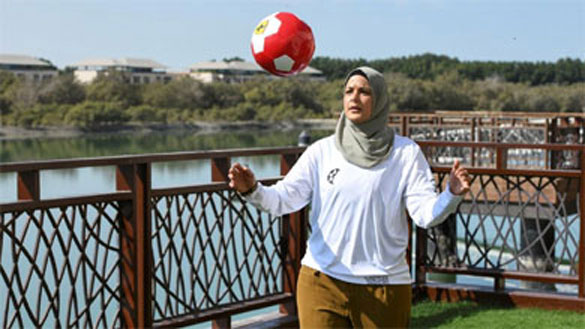 Assmaah at the Australian embassy in Abu Dhabi. Khushnum Bhandari for The National
-----
• 10-Year-Old Muslim Girl Threatened At Framingham School
• How Cities in the Arab World Can Put Women First
• Sharareh Almassi, 85th Woman Executed In Iran under Rouhani
• PPP, MMA Claim Giving Women Due Share in Poll Tickets
• Suhakam Slams Putrajaya: Female Genital Mutilation Not Malaysian Culture
• Jailed For Reporting Her Sexual Offender, Mataram Woman Cries For Help
Compiled by New Age Islam News Bureau
URL: https://www.newageislam.com/islam-women-feminism/the-muslim-woman-changing-outdated/d/116877
--------
The Muslim Woman Changing Outdated Perceptions with Football
November 12, 2018
An Arab-Australian who fought to overturn an international ban on women wearing hijabs in football says Muslim women are still fighting for their sporting talents to be recognised.
Assmaah Helal, 32, spent the past decade promoting social change through sport by working with refugees and other marginalised communities.
Speaking to The National in Abu Dhabi, where she will participate in the National Festival of Tolerance, Ms Helal said Muslim women were still too often portrayed as oppressed in the media.
"In the sports industry, what sells is this idea of 'the poor Muslim woman', the poor oppressed woman who has used sport to overcome that," she said.
"That's still happening and we are still trying to fight that and to show that's not necessarily the situation for certain women. It can be in certain contexts."
She said it was an insincere and inauthentic way of engaging with Muslim women. And it failed to show the diversity of Muslim women, who do not all wear the hijab.
Born to Egyptian parents in Australia, Ms Helal began playing football with her brothers when she was five. The children would stay up until all hours of the night watching football games.
"My parents migrated in the 1970s and, for my father, it was essential that all of his children played a sport. It didn't matter which sport that was," she said.
"When it came to the time for me to decide, he asked what I wanted to play, and I said football. That was all we were surrounded by. Egyptians and football come hand in hand."
At the time, there were no women-only teams so she played with boys. That was OK at first, but after a while she felt excluded. She was shy and did not feel like she belonged, so she tried other sports such as karate, swimming and tennis. But at the age of 12 she came back to football.
"It gave me this other level of social connectedness and inspiration and confidence," she said. "It is a team sport, as opposed to the sports I had been doing, which were very individual."
And she has played football consistently ever since, aside from two breaks for knee operations.
She initially worried that wearing a hijab could be a barrier for her, but it never was. In fact, her fellow team members were very accepting.
And playing in a hijab was cool, at first, she said.
"I thought 'I am pretty unique, I stand out and I embrace that'," she said.
"But as I got more involved in my community I started to realise that this isn't a good thing that other Muslim women aren't taking part in football. I questioned other women, 'Why aren't you playing?'"
In 2012, a trial got under way banning women wearing the hijab, over concerns it was dangerous and could lead to strangulation.
Ms Helal downplays her role in the campaign that overturned the rule, but she was a central figure, with Moya Dodd of the Asian Football Confederation and Prince Ali bin Al Hussein of Jordan, who was the vice-president of Fifa and head of the Jordanian Football Association.
At the time, she knew she was not going to play at national or international level so it could not directly affect her ability to take part. But the issue was larger than just her.
"By banning the hijab you will be banning and excluding thousands of young women from the game that promotes itself as the world game," she said. "I wanted to make sure this campaign was for the future generations of girls."
They fought and won. And Ms Helal has been using sport to drive social change ever since.
She received grants from the Australian government for her work in the country and developed a Women's Football Leadership camp, working with girls in remote communities in Indonesia.
"Her story is one we are proud of," said Julie Shams, Australia's deputy ambassador to the UAE. "She is a prominent sportswoman, she is using sport for social change in culturally diverse communities and she is giving back to the community."
Ms Helal was invited by the embassy to participate in the National Festival of Tolerance. At the weekend, she held a football skills clinic at Umm Al Emarat Park.
She said: "I probably consider myself as someone who is a role model for young women and young people and opening doors for them. I wouldn't necessarily want someone to be like me, as such.
"I want them to see me and say, if she has been able to pursue a passion of hers and she has overcome challenges and she has practised her core values, I want to be able to find my journey and path the same way she did."
https://www.thenational.ae/uae/watch-the-muslim-woman-changing-outdated-perceptions-with-football-1.790632
--------
10-Year-Old Muslim Girl Threatened At Framingham School
Nov 14, 2018
The family a 10-year-old Muslim girl who has received threatening letters in school says they just want the person responsible to come forward, so they can turn this into a learning experience.
They're also asking that the school district does what it can to make sure she's safe at school.
"It's pretty disgusting," said Jamaal Siddiqui, who is the girl's uncle. "Threatening a child for no apparent reason."
The girl, who is a fifth-grade student at Hemenway Elementary School, is being targeted for being Muslim, he said.
It all started with a hateful message, Siddiqui said.
"Last week on Friday my niece received a letter that was left for her in her cubby saying, 'You are a terrorist' with her last name," he said.
But then on Tuesday, it escalated.
"When she came back to the classroom, there was a letter stating "I will kill you" and her name," he said.
He said that after the first note, a letter was sent to parents asking them to talk with their children.
Students were asked to be supportive and wrote "kind" letters to the girl, offering words of encouragement, he said.
But after the second note, police were called and a full investigation began.
"We are told that the detective investigating is going through each student's backpack to see if there is anything that could be dangerous that could harm anyone in the school," Siddiqui said.
Nothing dangerous was found, but they still don't know who wrote the note.
"It could be anybody but they have to take measures because we don't want any incident to occur that could harm anybody," the girl's uncle said.
In a second letter to parents, the principal said they're taking the incident seriously and, "This is a stressful time for our community; it is of the utmost importance that our students are, and feel, safe and respected at school."
The girl has the full support of her family, he said.
"We are standing right by her because whoever is threatening her or saying bad things to her has other things going on in their life we don't know about," he said.
They have no plans to keep the girl from going to school.
"You can't fall for this because if you start showing that you're soft, you're going to let people who are mean (succeed). You have to stand up for yourself," Siddiqui said.
The principal said in the letter to parents that they have set up a box inside the school so that students can leave anonymous messages if they know who wrote the letters.
https://www.boston25news.com/news/10-year-old-muslim-girl-threatened-at-framingham-school/872328231
--------
How Cities in the Arab World Can Put Women First
By Lina Abirafeh
13 November 2018
One of the top priorities for the United Nations Sustainable Development Agenda is to make cities "inclusive, safe, resilient, and sustainable." City leaders can take a simple step that would go long a way toward achieving this goal: putting the needs of women and girls at the center of the urban planning process.
By 2030, the majority of the world's population will live in urban areas. And yet, while increased urbanization—and the economic access, mobility, and greater autonomy that accompanies it—will generate new opportunities for women, ensuring gender equality will also become more difficult. This concern is especially relevant to the Arab world.
In many Arab communities, urban space is, by default, male space. Men act as if they "own" the street, which is reflected in how they walk and how they treat women in public. In many Arab cities, as is true elsewhere, men are also far more likely than women to litter, reinforcing the perception that men consider public spaces to be their personal property.
The irony is that the Arab "street" has long been a stage for feminist progress. Even before Arab women raised their voices during the 2011 Arab Spring, urban spaces played host to feminist protests and served as a political barometer for the rest of society.
But urban feminism is not widely studied by city planners in the Arab world. Awareness of how public space in Arab cities is gendered is rare, and little information has been collected on how women affect—or are affected by—planning decisions. Without a deeper understanding of the socio-spatial needs of Arab women, the region's streets will remain the domain of men.
While sexual harassment is common in Arab cities, attention to gendered urban space is not only about safety. Although many women in Arab cities do risk verbal and physical abuse when they are in public, they must also contend with issues like poor sanitation, limited access to toilets and clean water, and little privacy. Marginalised groups—like migrants, ethnic and religious minorities, young girls, elderly women, and the disabled—are particularly vulnerable to discrimination.
Solutions, therefore, must consider the full range of social and cultural challenges that prevent women and girls from moving freely in urban settings. To help cities in the Arab region progress toward greater inclusivity, governments should focus on four key reforms.
For starters, city planners should cooperate with women's groups to conduct safety audits and map high-risk areas. By analysing crime data, for example, planners could determine where to focus improvements such as better lighting and additional policing. When women's organisations are involved in these types of decisions, cities become safer for women, which in turn improves their access to social, economic, cultural, and political opportunities.
Next, education systems must be reconfigured to encourage more women and girls to pursue careers in architecture, planning, and urban design. In most Arab cities, planning processes are inaccessible to much of the population; they are even less accessible to women. To change the patriarchal status quo, we must encourage more young women to enter these fields, and to design modern spaces that are sensitive to women's needs.
Third, cities need standardized methods for measuring women's rights in urban environments. One way to achieve this would be to establish scoring systems created by and for women; surveys could include questions about legal frameworks, engagement in urban planning decision-making, public transportation habits, and views on housing, recreation, and safety.
Finally, urban planners must rethink how they fill public spaces. Consider, for example, historic statues; in many cities, only men are lionised in bronze. Why not women? If gender equality was a criterion in commissioning public art, young women and men would grow up knowing that their city was a place where everyone is honored, protected, and respected.
Urban planning is never gender-neutral, and leaders in Arab cities, in particular, must work hard to account for all residents' views and desires. For women and girls, requirements include safe streets, well-maintained public facilities, and gender-specific amenities—such as nursing rooms for mothers. In a truly safe city, everyone's rights are considered, everyone can access public spaces, and everyone is involved in the planning process.
If planners consistently applied such principles to their work, the Arab city would naturally become a catalyst for female empowerment. And when cities become engines of opportunity for women, everyone benefits.
https://www.eco-business.com/opinion/how-cities-in-the-arab-world-can-put-women-first/
--------
Sharareh Almassi, 85th Woman Executed In Iran under Rouhani
13 November 2018
A young woman by the name of Sharareh Almassi was hanged on Tuesday, November 13, 2018, in the Central Prison of Sanandaj after five years of imprisonment.
Sharareh Almassi, 27, was arrested and jailed for five years for killing her husband, Kaveh Gholam Veissi in a family fight.
A group of civil and human rights activists and campaigners against the death penalty gathered outside the Central Prison of Sanandaj since 4 a.m. to prevent execution of Sharareh Almassi. Their efforts, however, did not manage to stop the execution.
Sharareh Almassi is the 85th woman who is executed under Hassan Rouhani, the mullahs' president.
Last month, another young woman, Zeinab Sekaanvand was also hanged in the Central Prison of Urmia.
The UN High Commissioner for Human Rights Michelle Bachelet issued a statement on October 5, 2018, condemning the execution of Zeinab Sekaanvand, in which she stressed that the UN Human Rights Office opposes the use of the death penalty in all circumstances, as no judiciary in any part of the world is mistake-free.
The death penalty violates the most fundamental human rights, the right to life and the right to freedom from torture and cruel, inhuman and degrading punishment. The death penalty is also considered discriminatory as it is often used against the most vulnerable in society, including the poor, ethnic and religious minorities, and people with mental disabilities.
Execution is a tool which helps the mullahs' regime hold its grab on power. Over 3,600 people have been executed over the past five years under Hassan Rouhani. In the same period, 85 women have been executed.
Iran is the world's leading per capita executioner. It also holds the record in the execution of women and minors. Among the reasons that lead to the execution of women are early forced marriages, being deprived of the right to divorce, domestic violence against women, and poverty.
https://women.ncr-iran.org/iran-women-news/5564-sharareh-almassi-85th-woman-executed-in-iran-under-rouhani
--------
PPP, MMA Claim Giving Women Due Share in Poll Tickets
14 Nov 2018
ISLAMABAD: The Pakistan People's Party (PPP) and Muttahida Majlis-e-Amal (MMA) on Tuesday submitted their respective replies in regard to the matter of not giving 5 per cent tickets to women to the Election Commission of Pakistan (ECP), whereas Pakistan Muslim League-Nawaz (PML-N) failed to submit a reply due to the absence of its lawyer.
Showing annoyance over PML-N's failure to submit a reply, a two-member bench of the ECP said that there was something suspicious about the party's lawyer being unavailable each time he is asked to appear before the commission. "They should hire another lawyer," said the bench.
Senior leaders of PPP Nayyar Bukhari and Farhatullah Babar appeared before the commission on behalf of their party, whereas PML-N was represented by its office secretary.
The PPP gave the justification that tickets for 19 out of 252 National Assembly (NA) seats and 24 out of 514 provincial seats were given to females, which are a total of 43 seats.
The MMA in its reply said that 33 out of 616 seats were given to women, which equals more than 5 per cent.
Nayyar Bukhari also said that the ECP has remembered to take notice now that the election is done and assemblies are functional, whereas the matter should have been highlighted long before allotting election symbols.
https://www.pakistantoday.com.pk/2018/11/13/ppp-mma-submit-reply-to-ecp-in-discrimination-case/
--------
Suhakam Slams Putrajaya: Female Genital Mutilation Not Malaysian Culture
14 Nov 2018
PETALING JAYA: The National Human Rights Commission (Suhakam) has slammed Putrajaya for making misleading statements that "female genital mutilation (FGM) is part of Malaysian culture".
"The inaccuracy of the Ministry's position in describing FGM as a Malaysia culture has the potential of damaging further Malaysia's international standing on women's rights," Suhakam chairman Tan Sri Razali Ismail said in a statement Wednesday (Nov 14).
"Suhakam is particularly disheartened with the unconvincing and misleading response poorly attempted by the representative of the Ministry of Women, Family and Community Development that FGM was not practised in Malaysia," he said.
On Nov 9 (Friday), Malaysian delegates to the Universal Periodic Review (UPR) on human rights in Geneva, Switzerland reportedly defended the practice of infant female circumcision as a "cultural obligation" in Malaysia.
"Given the apparent absence of understanding and expertise of human rights among civil servants, Suhakam hopes that Government Officers will be properly trained on human rights especially before representing the country at the Human Rights Council," he added.
However, he said Suhakam welcomed the government's intention of reviewing past UN recommendations, including acceding to all remaining international human rights treaties.
https://www.thestar.com.my/news/nation/2018/11/14/suhakam-takes-womens-ministry-to-task-over-female-circumcision-statement/
--------
Jailed For Reporting Her Sexual Offender, Mataram Woman Cries For Help
November 14, 2018
A teacher from Mataram, West Nusa Tenggara, who has been jailed for spreading a recording revealing alleged sexual harassment by her former superior, has pleaded to President Joko "Jokowi" Widodo to release her.
The Supreme Court found Baiq Nuril Maknun, a high school teacher, guilty of defaming Muslim, the former principal at the school, by spreading a recording of a reportedly sordid phone call between the two of them, overturning a lower court's not guilty verdict.
In a controversial verdict that has incriminated a victim of sexual harassment, the court ruled on Friday that the 37-year-old must serve a six-month sentence and pay a Rp 500 million (US$33,749) fine after being found guilty of violating Article 27 of the Electronic Information and Transactions (ITE) Law.
Wearing a black headscarf, Nuril sat and sobbed in front of her rented home in Mataram on Monday afternoon while a camera recorded her message to the President.
"Mr. President, I only ask for justice. Because I am the victim here. Is it my fault if I," Nuril stopped her stammering words to take a breath and wipe her tears. And then, closing her eyes tightly to prevent the tears from falling she continued, "Is it wrong for me to try and defend myself in my own way?"
Her 7-year-old son was standing near her and looked puzzled as he did not really understand what was going on.
The video was published on YouTube on Tuesday by @contactsafenet, an account managed by the Southeast Asia Freedom of Expression Network (SAFEnet).
The ITE Law has been controversial for years, as it has jailed people for expressing their opinions, thoughts and complaints on the internet and social media, accusing violators of defamation.
SAFEnet recorded that the law had imprisoned at least 381 people since it was first deliberated in 2008, 90 percent of those imprisoned had been charged with defamation while the rest with hate speech.
In Nuril's case, the recording, which had been spread in the school circle and local education agency, had caused Muslim to be removed from his job, and prompted him to report her to police. But Muslim was later promoted to a position at the local education agency.
Furkan Rudy Ermansah, a SAFEnet volunteer who recorded the video and had also been accompanying Nuril since the case emerged at the end of 2014, said he believed Nuril was a victim of sexual harassment and the tyranny of her principal, who fired her for something that was not her fault.
"We want President Jokowi and anyone with power in this country to help Nuril. She is innocent, she is the victim and yet she is the one who is being punished. Where can her family get Rp 500 million when it is already difficult for her, her husband and three children to pay for their daily needs," Rudy told The Jakarta Post on Wednesday.
Rudy said when the case came to light, Nuril not only lost her job but her husband had to resign from his to care for their three children. After the recent Lombok earthquake, which also damaged part of their home, Nuril's husband took a part time job as an ojek (motorcycle taxi) driver.
Separately, a crowdfunding campaign initiated by the Victims of UU ITE Community (PALU ITE) began on Tuesday to raise money to help Nuril pay the fines.
Muhammad Arsyad, the head of PALU ITE, said help began flooding in from across and outside the country only a day after the campaign commenced.
The link had been shared 1,654 times on Facebook, with more than Rp 24 million collected as of Wednesday morning.
http://www.thejakartapost.com/news/2018/11/14/jailed-for-reporting-her-sexual-offender-mataram-woman-cries-for-help.html
--------
URL: https://www.newageislam.com/islam-women-feminism/the-muslim-woman-changing-outdated/d/116877
New Age Islam, Islam Online, Islamic Website, African Muslim News, Arab World News, South Asia News, Indian Muslim News, World Muslim News, Women in Islam, Islamic Feminism, Arab Women, Women In Arab, Islamophobia in America, Muslim Women in West, Islam Women and Feminism