New Age Islam News Bureau
27 Sept 2019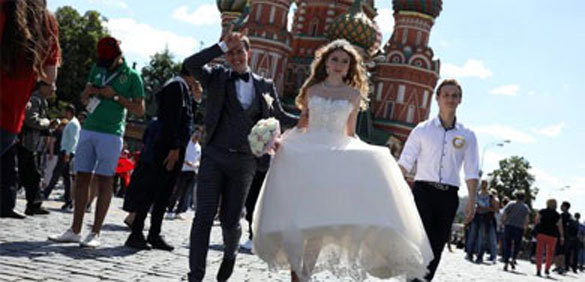 The mufti of Moscow said that polygamy would allow for fully-fledged second wives
MARIANA BAZO/REUTERS
------
• Saudi Arabia Considers Making 'Abaya' Optional For Women as It Looks To Boost Tourism
• Iran Arrests Family Of Outspoken U.S. Iranian Women's Rights Activist
• Int'l Project Launched To Empower Syrian, Turkish Women And Girls
• From Bosnia to Boko Haram, Edna O'Brien's 'Girl' Gives Voices to Women of War
• Three Female Teachers Launch Lawsuit against Quebec's Religious Symbols Ban
• Jihadi Bride Shamima Begum Begs To Come Home Saying She Was Brainwashed About Islam
• Jamal Khashoggi's Fiancée Demands That Saudi Arabia Be Held Accountable For His Murder
Compiled by New Age Islam News Bureau
URL: https://www.newageislam.com/islam-women-feminism/the-mufti-moscow-encourages-polygamy/d/119851
--------
The Mufti of Moscow, Encourages Polygamy 'To Help Women'
September 27 2019
Muslim leaders in Russia have appealed for men to be allowed to have more than one wife to stop the spread of "sinfulness and fornication".
Polygamy is illegal in Russia but Ildar Alyautdinov, the mufti of Moscow, said that allowing the custom in Muslim regions would help to tackle social problems. Polygamy is a broad term, however, also allowing women to have more than one husband. The mufti insisted that he was advocating polygyny, under which only husbands can have more than one spouse.
A state news agency reported that he said: "Legalising polygyny would guarantee women's rights."
Mr Alyautdinov attempted to back his argument by referring to statistics showing that there are 10 million more women than men in Russia. He said that there…
https://www.thetimes.co.uk/article/russian-muslim-leaders-encourage-polygamy-to-help-women-tg8m7dzh8
--------
Saudi Arabia Considers Making 'Abaya' Optional For Women as It Looks To Boost Tourism
VIVIAN NEREIM
27 September, 2019
Riyadh: Munira Al Mutairi sometimes wonders what it would be like to leave her house without covering herself in an abaya, the long cloak that Saudi women wear in public.
"It would be a kind of liberation," she said at a private residential compound in Riyadh where a group of women are smoking hookah, another taboo. "I don't want anyone to put conditions on me — that you're a woman, you have to be like this, don't show your face."
She may soon get her way. There's increasing talk that the government will soon make the abaya optional as it attempts for the first time to attract foreign tourists. An event on Friday to launch visas could announce new guidelines for proper attire in public for male and female visitors.
But this is Saudi Arabia, a conservative Islamic society where many view the covering as a religious and cultural imperative. And the very idea that some women might cast off their abayas is causing uproar as rapid social change puts old fault lines between the kingdom's so-called liberals and conservatives under unprecedented stress.
Al Mutairi admits she's not ready to follow the handful of women who have already tested the old limits by abandoning their billowing cloaks.
"My problem is the atmosphere that's around me, I'm scared of it," said the 42-year-old mother of three. "Maybe my husband would divorce me."
After decades enforcing the views of clerics who opposed music and gender mixing, the government made an about-face under Crown Prince Mohammed bin Salman, relaxing social restrictions and inviting pop stars like Mariah Carey to perform, all while stifling dissent.
The kingdom's religious police have lost most of their power, allowing women to test the limits of the dress code that officers once roamed the streets enforcing. In wealthier urban areas, it's increasingly common for women to uncover their hair, and many wear colored abayas instead of the standard black.
But the backlash that women experience when they push the boundaries dictated by their community is often fierce.
On a recent evening, Mashael Bin Jaloud ignored the sideways glances of other customers as she entered a trendy cafe in the Saudi capital dressed in wide-legged pants and an over-sized shirt. It's six months since she stopped wearing an abaya, and stares are the least of what she's faced.
Online, strangers called for her to be jailed. She's lost friends, and after appearing in a foreign media report without her abaya, she lost her job in human resources. Her chances of marrying are zero, Bin Jaloud, 34, jokes.
"A lot of people attacked me, a lot of people cast doubt on my religion and my nationality," she said in Riyadh. Still, she says, "it's a matter of choice."
In a U.S. television interview last year, Prince Mohammed said it was entirely "for women to decide what type of decent and respectful attire" they want to wear.
Yet only a small number of Saudi women have fully abandoned their abayas, and because edicts requiring "modest dress" are interpreted in a variety of ways, they risk running foul of the law.
'God is Watching'
In 2016, Saudi activist Malak Al-Shehri was arrested after posting online a photograph of herself on Riyadh's main boulevard without an abaya. In much of the country, it's unusual to see a woman without a face-covering niqab, let alone minus a cloak.
"It's our religion, and it's something we're accustomed to," said Layla Al Arfaj, a 42-year-old Riyadh resident who covers herself in black from head to toe. "It's in our blood."
Even when Al Arfaj traveled abroad and people urged her to shed her niqab — telling her no one was watching — she didn't. "God is watching," she said.
In the relatively liberal coastal enclaves of Jeddah and Khobar, more women have ditched the abaya. Raja'a Makki, a 29-year-old neurosurgery resident in Khobar, started going out without one more than four years ago.
"I've been witnessing a lot of people walking around totally fine with jeans and t-shirts," said Makki, who's half Moroccan.
Online Firestorm
In conservative corners of the kingdom, more Saudis are horrified by the idea. Reports about women shedding their abayas set off a firestorm on social media — one of the few places where conservatives can express outrage after a political crackdown shrank the space for permissible criticism. Women also face opposition within their families.
Makki's father hasn't talked to her since she stopped covering her hair. Dima, a 32-year-old software engineer who stopped wearing an abaya two years ago, said she was rejected for a job because she wasn't a "cultural fit," and was once chased by another woman trying to lecture her. She asked Bloomberg to withhold her last name so she could speak freely.
Back at the compound, as sweet-smelling smoke wafted through the air and the foreign staff were the only men in sight, Al Mutairi said that if more women started going out without abayas, she'd feel brave enough to try.
She's encouraged by some of the changes that have already swept through the kingdom.
As a period of silence for Islam's sunset prayer ended and the Riyadh cafe began blaring Arabic pop music, Bin Jaloud marveled at the scene.
"Two years ago, these songs were forbidden," she said. "We lived in an era that wasn't humane at all. It's over, and now the time's come for us to live." – Bloomberg
https://theprint.in/world/saudi-arabia-considers-making-abaya-optional-for-women-as-it-looks-to-boost-tourism/297599/
--------
Iran Arrests Family Of Outspoken U.S. Iranian Women's Rights Activist
By Zachary Keyser
September 27, 2019
An award winning dissident outspoken Iranian women's rights activists, Masih Alinejad, reported that the Islamic Republic of Ministry of Intelligence arrested her brother on Wednesday.
Alinejad currently works as a journalist, author, activist, correspondent for VOA Persian Service and contributor to other Persian outlets, according to Radio Farda.
"We have no information about my brother's whereabouts. My mother and the family members of my brother's wife are deeply worried," Alinejad said Wednesday, adding that, "They have been threatened to remain silent, or else."
More notably, Alinejad is the founder of the anti-hijab protests known as "White Wednesday" and "My Stealthy Freedom."
White Wednesdays, is a popular campaign which urges women to share pictures and videos of themselves on social media every Wednesday, wearing white headscarves or white pieces of clothing in protest of compulsory veiling; My Stealthy Freedom, encourages women from Iran to post online pictures of themselves without headscarves [to show opposition to] forced veiling.
Intelligence forces pillaged their family home, confiscated all of her brother's electronic devices, blindfolded him and then took him off to prison, according to Alinejad.
"President Rouhani talks of hope and peace at the United Nations, and yet he is terrorizing people inside the country," says Alinejad. "The Islamic Republic acts as a hostage-taker and at the same time wants to be trusted by the rest of the world. My brother was not involved in any political activity, and yet he has been detained just to put pressure on me."
In the summer of 2018, Alinejad penned a New York Times op-ed in which Iranian officials allegedly pressured her family to denounce her work on Iranian-run state media outlets - the Iranian government persuaded her sister into making some of the public denouncements against her hijab protest initiatives.
Iranian authorities have also raided the house of Alinejad's ex-husband, arresting his brother Hadi Lofti as well as his sister Leila Lofti - considering her ex-husband lives outside the Islamic republic, the other family members were arrested.
"My ex-husband has edited some of my documentaries, but his family members have no connection with me," Alinejad said.
"The state's systematic attack on activists' families reveals the inhumane tactics they use to muzzle criticism of state policies", said the executive director of the New York-based Center for Human Rights in Iran (CHRI), Hadi Ghaemi. "Targeting family members is expected from mafias, not law-abiding governments."
According to Ghaemi, this is just the start of this dissident crackdown, after tensions over state security have risen with the tide of tensions in the Middle East, between Iran, surrounding countries and western allies.
"They've expanded their campaign beyond their borders and will continue to do so for as long as countries that have leverage on Iran refuse to register their strong condemnation," he added.
Alinejad, claims this behavior reflects "terrorism," "violence" and the "taking of hostages" - and claims the Islamic Republic is a messenger of "terror" not "peace" - adding that the Republics attempts of quieting dissidents has not worked in over four decades and that it is time for the country to adopt a new approach.
https://www.jpost.com/Middle-East/Iran-arrests-family-of-outspoken-US-Iranian-womens-rights-activist-603137
--------
Int'l Project Launched To Empower Syrian, Turkish Women And Girls
27.09.2019
Empowering women is important for social development. Welcoming more than 3 million refugees from Syria following the Syrian civil war, Turkey has always placed great importance on refugee women's social and economic development as well as Turkish women and girls who have not had certain opportunities.
To empower Syrian and Turkish women living in southeastern Turkey, several international bodies came together for a project.
Funded by the Japanese government, the Strengthening the Social and Economic Stability and Resilience of Syrian Women and Girls under Temporary Protection Project, which is conducted with the collaboration of U.N. Women and the Southeastern Anatolia Project's (GAP) Regional Development Administration and the technical support of the Association for Solidarity with Asylum Seekers and Migrants (ASAM), has been introduced.
The project, which will be applied in Şanlıurfa province, aims to economically strengthen Syrian women and girls under temporary protection, to make Turkish and Syrian women live together in harmony and dialogue, and to increase the access of Syrian women to refugee protection mechanisms. Speaking at the kickoff event, Asya Varbanova, the U.N. Women Turkey country office director, stated: "Inclusion of women and girls in decision-making processes, fully taking into account their needs within humanitarian action and refugee response as well as their economic empowerment plays a key role in achieving Sustainable Development Goals."
Nearly 1,000 Syrian and Turkish women and young girls will benefit from the project. Along with the training to be given in this context, consultancy, guidance and mentorship services will be presented in the subjects of self-confidence, empowerment, gender equality, women's rights and violence against women.
With coding, computer literacy, programming and basic skills training, women of all ages will develop their digital skills while their social harmony will be supported through a Turkish-speaking club. Besides, activities at Multi-Purpose Community Centers and youth centers affiliated with the GAP, the Regional Development Administration will strengthen the bond between Turkish and Syrian women. Some works to make the services here more sensitive to gender equality will also be conducted.
Nearly 1.5 million Syrians are living in the region and 75% of this number consists of women and children. Şanlıurfa is home to more than 428,000 Syrians under temporary protection, with almost half of them estimated to be women, according to the Directorate General of Migration Management.
https://www.dailysabah.com/life/2019/09/27/intl-project-launched-to-empower-syrian-turkish-women-and-girls
--------
From Bosnia to Boko Haram, Edna O'Brien's 'Girl' Gives Voices to Women of War
Rabeea Saleem
Sep 27, 2019
In the opening scene of Edna O'Brien's latest novel, militants burst into the girls' dormitory of a school in an unspecified Nigerian town to abduct pupils and take them to a detention camp. "I was a girl once," reads the first line, "but not any more." And thus begins the most harrowing tale of survival you will read all year.
The militant Islamist group Boko Haram grabbed international headlines back in 2014 when it abducted 276 Christian schoolgirls in Chibok, Nigeria, who were then forced to convert to Islam and marry their kidnappers. The search for the victims kickstarted the global Bring Back Our Girls campaign. The outlines of this novel's plot are inspired by their real-life stories.
O'Brien, now in her eighties, was inspired to write the novel after reading a newspaper report about a girl found wandering in the Sambisa forest in Nigeria. She had escaped from the militants along with her baby but had lost her mind. O'Brien then made two exhaustive trips to the country to meet others who had escaped, hearing about their horrifying experiences.
The late Toni Morrison said the function of freedom is to free someone else. On that account, O'Brien's well-researched novel is a valiant logistic and stylistic feat.
Our protagonist, Maryam, gives a first-person account of her journey from innocent teenager to traumatised mother. The narrative alternates between hallucinatory vignettes and jolting accounts that perfectly encapsulate the shock and disbelief of a young person witnessing barbarism up close.
The victims are subjected to one horror after another in the detention camp, which – in a self-assured move by the author – are described with economy. A lesser writer would have mined every ounce of pathos from the adversity they face.
Maryam's voice is resolutely detached and ethereal. That lends her account a certain timelessness, also echoed in the book's title, since atrocities against women have been carried out since time immemorial. References to modern-day items such as mobile phones and the drones that comb the skies are all that tether this story to a particular time and place.
In a novel in which the protagonist is subjected to some of the vilest acts that could be done to a human physically and mentally, it is a testament to O'Brien's writing prowess that the book still manages to be consistently engrossing. Just when descriptions of the barbarity inch towards being gratuitous, O'Brien skilfully ratchets up the pace and flips the narrative into a dramatic survival story of an escaped abductee dealing with the aftermath of trauma.
Maryam, along with Babby, her newborn, manages to escape from the camp with her friend Buki. The powerplay of their relationship is succinctly drawn, which brings to mind Cait and Baba from O'Brien's The Country Girls trilogy.
Trenchant dissection of the universal relationship dynamics between females, whether in Ireland or Nigeria, continues to be O'Brien's forte. Maryam's sudden transition into motherhood and her ambivalent feelings towards Babby, from resentment to ferocious protectiveness, are conveyed with equal veracity. In one of the most piercing lines of the book, Maryam justifies herself to Babby by saying: "I am not old enough to be your mother."
Girl gives an unflinching and harrowing account of what might have transpired in the life of the few Chibok schoolgirls who survived Boko Haram's captivity but continued to be prisoners of their own private hell because of the trauma to which they had been subjected. Who better to write about the grim realities women endure than O'Brien, who has been fearless in her depiction of women's intimate lives since her debut in 1960. Since the 1990s, however, O'Brien's focus as a writer seems to have tilted into a more political sphere, echoed by her previous book The Little Red Chairs, which was about the atrocities of the Bosnian civil war. Girls, rumoured to be her final novel, manages to be both intensely personal and urgently timely.
The second half of the novel deals with Maryam's homecoming to her barely recognisable family. On her return to Chibok, Maryam is told by her mother that her father has died, a realisation she made after he stopped chanting the name of his missing daughter in his sleep. The ways in which the schoolgirls' kidnapping slowly eats away at their families and erodes their dynamics is portrayed with heart-rending poignance.
Back in Chibok, Maryam finds accidental celebrity and is paraded in front of the president and the nation on television as a heroine. While watching the president deliver an impassioned yet jingoistic speech, Maryam privately scoffs: "You have not been there. You cannot know what was done to us. You live by power and we by powerlessness."
How do you live on Earth after you have endured hell?
The takeaway from this empathic work of fiction is that there is no safe haven for the Chibok schoolgirls, who have escaped captivity but struggle to break free from the shackles of psychological trauma.
Girl, searing and tender in equal measure, reaffirms what the American writer Rebecca Solnit said about injustice against women: "Violence doesn't have a race, a class, a religion or a nationality, but it does have a gender."
https://www.thenational.ae/arts-culture/books/from-bosnia-to-boko-haram-edna-o-brien-s-girl-gives-voices-to-women-of-war-1.915857
--------
Three Female Teachers Launch Lawsuit against Quebec's Religious Symbols Ban
SEPTEMBER 26, 2019
Three female teachers including two Muslims and one Roman Catholic have launched another lawsuit against Quebec's restrictions on religious symbols in some public service jobs, saying the province can't use the notwithstanding clause to shield the law from its own incoherence.
A team of four lawyers backed by several Quebec community groups filed the lawsuit Thursday in Quebec Superior Court arguing the law strays into federal jurisdiction and infringes fundamental principles of equality, some of which predate Confederation or cannot be evaded through the notwithstanding clause.
"The government is laying down a framework where discrimination is not only routine but mandated, and then tries to wrap it up in a veneer of equality rights and freedom of religion," said Eric Mendelsohn, one of the lawyers representing the plaintiffs. "That is not only offensive, it's unconstitutional. You can't do that in Canada."
Earlier this year, Quebec passed Bill 21, a law that declares Quebec a secular state and forbids some public servants including police officers, prosecutors and public-school teachers from wearing religious symbols. The law, widely decried as unconstitutional by legal scholars, was passed invoking the notwithstanding clause to shield it from court challenge based on religious freedom. Another group launched the first challenge of the law in June, one day after the Quebec National Assembly passed it.
The law includes a grandfather clause to protect current teachers from getting fired, but school boards, unions, lawyers and court documents have since described more than a dozen cases where women, mostly Muslim, have had job prospects derailed or religious practices curtailed. School boards have asked some potential new teachers to remove headscarves and rejected other applicants with religious garments. Several women have turned down jobs while in four reported cases women acquiesced and removed garments. Most have chosen to stay out of the public eye.
Andréa Lauzon, the first plaintiff named in the case filed Thursday, says she is a devout Roman Catholic who wears a visible crucifix and a medallion of the Virgin Mary at all times to conform to her religious values. She says the law blocks her from being a substitute teacher while she completes her master's degree in education.
Hakima Dadouche and Bouchera Chelbi, both Muslims who wear hijab head coverings, are full-time teachers who want to change jobs, but are not allowed to accept transfers, promotions or new positions under the law. All three women are certified Quebec teachers. They all declined interview requests. A judge allowed them to omit their addresses from court fillings Thursday to protect them from harassment and reprisal.
The Quebec government, which has not responded to the suit, has defended the law saying it enshrines secularist principles and is a compromise that acts on a popular desire for limits on religious expression in Quebec's public services.
The statement of claim argues the law should fall because it invokes principles such as religious freedom, equality and the importance of lay institutions that do not discriminate based on religion, but then demands public servants enforce an anti-religious dress code. "To enforce a dress code or discipline an employee for failing to enforce it cannot be done without breaching the law's own stated principles," Mr. Mendelsohn said. "What's going on here is they are misleading people as to the character of this project."
The lawsuit also argues the law infringes on guarantees against gender discrimination. Eighty-eight per cent of preschool and primary teachers in Quebec are women, along with 61 per cent of high-school teachers. François Legault's government often argues the law treats everyone equally because it does not specify any gender or religion. "The cases coming forward are almost all Muslim women who wear a hijab. Both in purpose and in effect, the law has a disproportionate effect on women's rights to exercise freedom of religion," said Perri Ravon, the lawyer who prepared the gender-discrimination argument.
She said avoiding the words "Muslim" or "woman" in the law did not make it egalitarian. "It doesn't matter if it's neutral on its face. It's discriminatory in practice," Ms. Ravon said.
The lawsuit also says the 1982 Constitution Act and Charter of Rights and Freedoms did not cancel the religious freedom guarantees for Canada's Roman Catholic settlers enshrined in the Quebec Act of 1774. Another law in the 1800s confirmed religious freedom for Jews and another law later extended the right to everyone, said Azim Hussain, a lawyer for the plaintiffs. "That is a constitutional norm that exists to this day in the Constitution of Canada," Mr. Hussain said.
Besides, he added, fundamental freedoms like religious expression fall under federal power and are out of reach of the provinces.
If the main arguments fail, the lawsuit asks the court to declare the law a violation of religious freedom and impose symbolic damages of $500 for each plaintiff, even if a judge cannot strike down the law. Such a declaration would force Quebec governments to renew the notwithstanding clause every five years to keep the dress code in place.
"Having an impartial court tell the public there are serious breaches of the Constitution and bad discrimination going on is a valuable exercise in a free and democratic society," Mr. Mendelsohn said. "And we hope it might move people."
https://www.theglobeandmail.com/canada/article-three-teachers-file-another-lawsuit-against-quebecs-bill-21/
--------
Jihadi Bride Shamima Begum Begs To Come Home Saying She Was Brainwashed About Islam
By SIMON OSBORNE
Sep 26, 2019
Begum, who was 15 when she fled her home in east London to join ISIS within two schoolfriends in 2015, said she was suffering mental health issues following the deaths of her three babies in five months in the camps. She also complained she had no friends in Syria and has not spoken to anyone from the UK in six months.
The 19-year-old was tracked down to the sprawling Al Hawl camp, which holds more than 70,000 ISIS family members, along with her baby son Jarrah who later died.
She told the Daily Mail: "Mentally I am in a really bad way. I need therapy to deal with my grief. It is so hard. I have lost all my children.
"I have no real friends. I have lost all the friends who came with me. Now I do not have anyone."
Begum was stripped of her British citizenship by then Home Secretary Sajid Javid but has now hired a human rights lawyer and says she feels she is being punished enough for living in a warzone.
She said she regrets her past and wants to come back to the UK for a "second chance to start my life over again" after being "brainwashed" before leaving Bethnal Green for he desert.
She said: "I came here believing everything that I had been told while knowing little about the truths of my religion."
Begum told the paper she glad to be moved from Al Hawl which was effectively run by ruthless female relatives of ISIS fighters who reportedly torture and murder women and children who stand up to them.
She said: "I hate these women and what they stand for and what they believe in and that they think they can terrorise anyone who does not share their views."
She claimed earlier comments in support of the bloodthirsty terror group were only made to protect herself and her unborn son.
Begum's 27-year-old ISIS fighter husband Yago Riedijk, who is being held at a separate Kurdish-run camp in Syria, described the Londoner as "the perfect wife".
The Dutchman said: "It's the worst thing that could ever happen.
"She's just alone, heartbroken, having lost three children."
The couple's third child Jarrah died in March just three weeks after he was born.
The baby had been taken to a clinic in al-Roj camp in north-eastern Syria with suffering breathing difficulties.
A friend of Begum said "the baby turned blue and was cold" before being rushed to a clinic inside the camp.
Jarrah is understood to have been buried along with two other children who burned to death in a fire at the camp.
https://www.express.co.uk/news/world/1182885/isis-bride-shamima-begum-return-britain-bethnal-green-schoolgirl-syria
--------
Jamal Khashoggi's Fiancée Demands That Saudi Arabia Be Held Accountable For His Murder
Sept. 27, 2019
By Dan De Luce
After Saudi journalist Jamal Khashoggi vanished inside the Saudi Arabian consulate in Istanbul almost a year ago, his fiancée became a familiar figure around the world, an anxious woman in a headscarf pleading for answers about his fate.
But Khashoggi was never seen alive again. Hatice Cengiz eventually learned he had been slain inside the consulate by fellow Saudis, who had waited in ambush. The CIA and other foreign intelligence agencies concluded that Saudi Crown Prince Mohammed bin Salman ordered the killing of Khashoggi, a Washington Post columnist who had dared to openly criticize the de facto ruler of the Saudi kingdom.
With the first anniversary of the death approaching on Oct. 2, Cengiz came to New York — where heads of state gathered for the United Nations General Assembly — to demand accountability for Saudi Arabia, which she said has never had to face serious consequences over the case.
"His fellow journalists did their best that so no one could push this under the carpet," she told NBC News in an interview. "Saudi Arabia was put under massive pressure, thanks to international media coverage."
"But at the end of the day, all of these efforts did not persuade world leaders to sanction Saudi Arabia. That is so sad," she said.
"There was a lack of reaction in the E.U. and in the United States. This should have been a lesson to Saudi Arabia that they can and should also be held accountable."
Her comments came as the crown prince broke his silence and spoke for the first time about his role in the killing.
"It happened under my watch," he told PBS' "Frontline." "I get all the responsibility, because it happened under my watch."
But he said the murder was carried out without his knowledge.
Cengiz spoke to NBC News in a hotel room near the U.N. headquarters in Manhattan, where Saudi leaders this week were conferring with U.S. and other officials on tensions with Iran and the war in Yemen. President Donald Trump did not mention the Khashoggi case in his public statements.
Cengiz was joined in New York by others whose loved ones have also run afoul of the Saudi government: Lina al-Hathloul, sister of detained Saudi women's rights activist Loujain al-Hathloul, and Abdullah Alaoudh, son of imprisoned Saudi Islamic scholar Salman al-Awdah, who faces a death sentence.
Cengiz has demanded a full accounting of Khashoggi's death and the recovery of his remains.
Cengiz, who had met Khashoggi in May last year, said the international attention triggered by his killing meant she felt the full weight of her loss only months later.
"It took me a long time to enter into mourning," she said.
She said she found herself swept up in the aftermath of a "political assassination" with international implications, and her phone ringing around the clock. "I wasn't prepared for such a situation. I was just an ordinary, simple research assistant doing post-graduate studies. I couldn't mourn properly."
But finally, the tragedy sank in, she said. "After a long delay, I experienced this huge shock wave."
Cengiz, a Turkish national, said she has moved to London to distance herself from the "scene of the crime" in Istanbul, and to learn English. But she said she recognizes that there is no escaping the horror that took place.
"For the rest of my life, Jamal's murder will be an agony."
Khashoggi, who had opted to live in exile as a U.S. resident in Virginia to write freely without risk of imprisonment, disappeared after entering the Saudi consulate Oct. 2, 2018.
Saudi officials initially denied Khashoggi's death before acknowledging he was the victim of a premeditated killing. But the government has insisted the crown prince was not behind the killing and says 11 suspects are being tried in connection with the case.
A special U.N. investigator in June said in a detailed report that the crown prince should be investigated for the crime and that there is "credible evidence" that he and other senior officials are liable for the killing of Khashoggi.
The U.N. special rapporteur found that Khashoggi was "the victim of a deliberate, premeditated execution, an extrajudicial killing for which the state of Saudi Arabia is responsible under international human rights law."
Saudi officials have dismissed the U.N. report.
Trump has expressed doubts about the crown prince's role and said the U.S. needs to preserve its alliance with the Saudis, particularly because Riyadh is a major customer for American military hardware.
Cengiz said Khashoggi did not see himself as a sworn enemy of his native country, having served earlier in his life as an adviser to members of the royal family and to government officials. Instead, he intended his commentaries to be taken as constructive but not hostile criticism, she said.
His vision for Saudi Arabia was not to tear down the House of Saud, but to reform it into a constitutional monarchy with a democratically elected parliament, she said.
Members of the royal family and government officials often called him to "give him feedback" about his columns, she said. "He always had a relationship with the Saudi government and royal family."
As a result, Khashoggi did not fear for his life, even if he did take precautions not to travel to other Arab countries or agree to appointments with strangers, according to Cengiz.
"He thought no one would bother him abroad. No one warned him or threatened him," she said.
Khashoggi, however, had become increasingly concerned about the growing power of the crown prince, she said. He believed the crown prince was breaking with Saudi tradition by targeting intellectuals and journalists and taking major decisions without consulting widely beforehand, she said.
"What Jamal was hoping for was real, deep-rooted change in the country," she said, "and Jamal thought such a chance could not depend on one person only."
Saudi Arabia did not respond to a request for comment.
https://www.nbcnews.com/news/world/jamal-khashoggi-s-fianc-e-demands-saudi-arabia-be-held-n1059126
--------
URL: https://www.newageislam.com/islam-women-feminism/the-mufti-moscow-encourages-polygamy/d/119851
New Age Islam, Islam Online, Islamic Website, African Muslim News, Arab World News, South Asia News, Indian Muslim News, World Muslim News, Women in Islam, Islamic Feminism, Arab Women, Women In Arab, Islamophobia in America, Muslim Women in West, Islam Women and Feminism