New Age Islam News Bureau
16 Sept 2016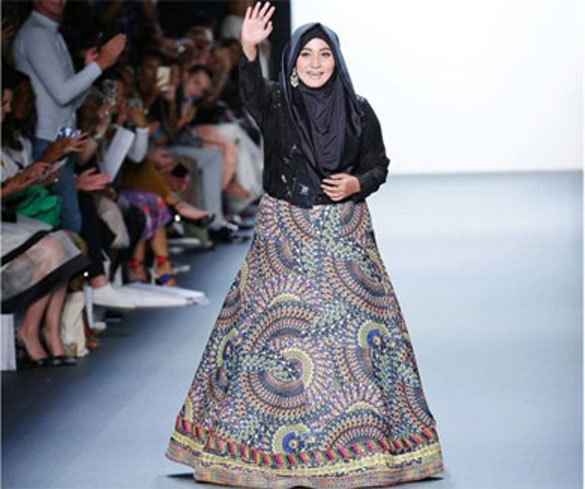 Anneisa Hasibuan only entered the world fashion scene last year
---------
• Young Woman Assaulted On Public Bus in Istanbul for Wearing Shorts
• Pakistan Woman, Boyfriend Hanged For 'Extra-Marital Affair'
• Muslim Woman Shuts Down Man Asking Her 'Why She Was Driving'
• Islamic State Arrests, Tortures Seven Women In Raqqa
• Bosnia's Niqab-Wearers Brave Insults to Show Faith
• 'The Women, Our Sisters, Went Into Action': French Women Rally To Terrorist Cause
• Tragic Teen Traumatised By ISIS Regime 'Killed Herself with Poison'
Compiled by New Age Islam News Bureau
URL: https://newageislam.com/islam-women-feminism/the-moment-hijabs-dazzled-new/d/108577
---
The Moment Hijabs Dazzled the New York Fashion Week Catwalk
16th September 2016
Muslim designer Anniesa Hasibuan's show was also one of the first by an Indonesian at the prestigious annual event.
Inspired by her hometown Jakarta, Hasibuan presented trousers, flowing tunic and gowns, in luxurious fabrics and detailed embroidery, all worn with hijabs.
A relative newcomer, 30-year-old Hasibuan received a standing ovation at the end of her show earlier this week.
"Behind the success of a show there is a great team that was strong and sturdy when it was hit by dissent," she wrote on Instagram. "And we can handle it."
Melanie Elturk, chief executive of Haute Hijab - a US brand selling hijabs and modest fashion - was at the show.
"I believe fashion is one of the outlets in which we can start that cultural shift in today's society to normalize Hijab in America so as to break down stereotypes and demystify misconceptions," she wrote on Instagram.
"Last night's show was a huge leap forward in that direction."
Islamic fashion is definitely having a moment and retailers are trying to cash in, whether its H&M releasing an ad showing a Muslim model in a hijab, Uniqlo partnering with a Muslim designer or Dolce and Gabbana releasing a line of hijabs and abaya's, aimed at wealthy Muslim consumers.
It has coincided with what is being called the "modesty movement" in fashion.
Many mainstream designers are experimenting with more covered-up clothing (the one-piece bathing suit is back on trend) and Muslim designers are getting creative with Islamic clothing.
Indonesia is seen as an innovator in the region for modern Islamic dress.
"Indonesian fashion has become more diverse and we've become more confident in taking our own culture and what we've grown up with into our influences," says Putri Soediono, a Singapore-based designer with Indonesian heritage.
Soediono thinks Hasibuan has proven that Islamic wear can be fashionable, not just the plain black Arab-style burqa that people think of, and that there is talent in Indonesia.
But although some see designers like Hasibuan as modernising the Muslim dress for the modern Muslim, there are conservative groups in Indonesia who say these clothes are "not Islamic enough".
"The essence of Muslim dress is to wear something decent, to be modest. For women they have to make sure what their wearing doesn't attract the attention of men," says Dr Eva Nisa, professor of Islamic Studies at Victoria University, who has been researching Muslim fashion in Indonesia since 2007.
"Some people think what the Muslim fashion designers produce is totally against this kind of religious doctrine [because it can be seen to attract attention]."
She says, in reaction to this, there has been a move towards the jilbab or hijab Shari'a - presented as more appropriate modern Islamic dress - since it is long and loose and doesn't show a woman's curves.
For many young Muslim women, the hijab is not a symbol or a statement, but just part of their identity - an identity they are asserting more confidently.
Hasibuan "started her career designing for Muslim women - this is what her consumers want," says Soediono.
"We just want to design for ourselves, what we like to wear."
http://www.bbc.com/news/world-asia-37381770
--
Young Woman Assaulted On Public Bus in Istanbul For Wearing Shorts
Thursday, 15 September 2016
A young woman has been verbally and physically assaulted on a public bus on the first day of the Eid al-Adha holiday for wearing short pants, private broadcaster ShowTV has reported.
The 23-year-old woman was assaulted after she got onto the bus in the Maslak neighborhood of Istanbul on Sept. 12.
An unidentified man at the back of the bus initially shouted "those who wear shorts must die," before physically attacking and kicking her in the face and shouting "you are a devil."
The attack on the bus was captured in surveillance camera footage, which also showed fellow passengers remaining unresponsive to the assault.
http://www.hurriyetdailynews.com/young-woman-assaulted-on-public-bus-in-istanbul-for-wearing-shorts-.aspx?pageID=238&nID=103947&NewsCatID=341
--
Pakistan Woman, Boyfriend Hanged For 'Extra-Marital Affair'
Thursday, 15 September 2016
A Pakistani mother-of-three and the man she was allegedly having an affair with were hanged from a tree on Thursday, with police blaming her husband, brother and father for carrying out the killings.
The grisly murders occurred in the village of Chak 56 around 55 kilometres (33 miles) northeast of the central city of Multan.
Hundreds of so-called "honor killings", in which the victim, normally a woman, is killed by a male relative or relatives for bringing shame to the family are carried out in Pakistan every year.
"A woman and her alleged boyfriend were hanged to death by the woman's father, brother and husband after the woman was caught on a date with her boyfriend in the backyard of her house," Sardar Afzal Dogar, chief of the local police station told AFP.
The victims were named as Khalida Bibi, who was in her late twenties, and Mukhtiar Muhammad, who was around 19.
He said all three suspected murderers were arrested and had confessed to their crimes, adding the woman's husband had brought the alleged affair to the attention of the others.
The incident was confirmed by other local officials at the police station. "They were beaten up before being strung up in the tree and hanged," another official said.
Pakistan's law minister in July announced that bills aimed at tackling "honor killings" and boosting rape convictions would soon be voted on by parliament, following a slew of high profile cases including the killing of racy social media starlet Qandeel Baloch by her brother.
A young British Pakistani woman, Samia Shahid, was also murdered in July, with her husband blaming her family for orchestrating the killing.
The perpetrators of honor killings often walk free because they can seek forgiveness for the crime from another family member.
The new law, which aims to do away with the clemency option, has not been made available to the public and no firm date has been set on when it will be tabled.
Observers say the government is fearful of blowback from the religious right who believe being able to forgive a murder in exchange for blood money is an essential component of Islamic law.
https://english.alarabiya.net/en/variety/2016/09/15/Pakistan-woman-boyfriend-hanged-for-extra-marital-affair-.html
--
Muslim Woman Shuts Down Man Asking Her 'Why She Was Driving'
16, September 2016
Journalist Nargess Moballeghi received a Facebook message from someone informing her that, as a Muslim woman who wears the hijab, she shouldn't be driving under 'sharia law:'
Why are you driving? Under sharia law in Saudi Arabia where Islam was born, you are not allowed to drive. The freedom you are enjoying in the West came from Christianity, NOT Islam.
Now, Moballeghi could have got angry at yet another attempt by a bigot to explain her own religion to her.
Moballeghi could have lashed out at the man but instead, she delivered the shortest, most brutal history lesson ever:
"While I understand why all the misinformation in this world has got you to this point, it's just not a valid one. Firstly, there were no cars 1400 years ago; therefore it's not really sharia law. Secondly, there are many rights to women that Islam afforded for 1400 years well before Christian countries implemented them (in very recent history); such as the right to work, and the right to a pre-nup. It's not a competition, but hey you did bring it up. Thirdly, Saudi may be where Islam was born, but the Islam it practises now is not endorsed by most Muslims (who incidentally think the no driving by women is ridiculous). In fact the current monarchy there has its roots in a tribe who rebelled against Sunni Islam (the main body of Muslims). Why haven't we done anything about it you ask? Well the Saudis are very well protected you see…and not by Muslims. The creation of the modern day Saudi Arabia and its monarchy was actually funded and propped up by the British, who explicitly wanted the Wahabi (extremist) Islam to be promoted there (for political reasons of course). and despite all their barbarity and all the protests across the world (including once a week here in London where there are protests against Saudi Arabia and Britain's relationship with them by – shock horror – Muslims!) so actually it would be great if the "Christian west" country of America and Britain would stop supporting Saudi with arms, money and diplomacy…you know all the things that have helped create those western freedoms you are chirping on about that have not come from the noble principles of Christianity at all…but from power politics that endorses the very same warped Islamic thinking that you are criticising. I hope you kept up."
http://www.pakistantoday.com.pk/2016/09/16/entertainment/muslim-woman-shuts-down-man-asking-her-why-she-was-driving/
--
Islamic State Arrests, Tortures Seven Women In Raqqa
September 16, 2016
RAQQA – Militants of the Islamic State (ISIS) arrested seven women in Syria's northeastern Raqqa province, activists reported on Thursday.
The women, who were arrested on suspicions of leaking security information about the group's movements in Raqqa to the US-led coalition, were publicly flogged by ISIS extremists.
The ISIS-led Hisba Police raided a number of houses in the Rumela district of Raqqa and arrested more than 10 civilians.
"Among the arrestees were seven women, who were flogged in front of hundreds of people in central Raqqa on Thursday evening, after the Sharia Court accused them of cooperating with the US-led coalition and rival groups," local media activist Aiman al-Issawi told ARA News.
A statement by the ISIS Sharia Court of Raqqa claimed that the arrested women have been involved in leaking security information about the Islamic State's military movements to the "crusader coalition"–in reference to the US-led coalition that has been bombing ISIS positions across Syria and Iraq for over two years.
"At least four other civilians were detained by ISIS militants, but the group has not yet revealed what their charges were," al-Issawi reported.
The extremist group has recently arrested and beheaded dozens of civilians under the pretext that they have cooperated with coalition forces against the ISIS self-declared Caliphate.
http://aranews.net/2016/09/islamic-state-arrests-tortures-seven-women-raqqa/
--
Bosnia's Niqab-Wearers Brave Insults to Show Faith
September 16, 2016
The increase in the number of women wearing face-coverings is connected to the rise in the number of Bosnian Muslims practicing a stricter Salafi interpretation of Islam. Photo: Mario Ilicic
"I was born here. I was raised here… I think of this city as my city," says M.Z., a medical doctor from the Bosnian capital who has worn the Islamic face-covering veil, the niqab, for the past 17 years.
But even in majority-Muslim Sarajevo, M.Z., who did not want her full name published, says she often faces insults while walking down the street - people call her a 'ninja' or ask why she is hiding her face - insults that sometimes cause her to decide to stay at home "because I do not want to spoil my day".
M.Z. says that her parents did not support her decision to start covering her head because they feared it would prevent her from achieving her goals in life, although they eventually accepted it.
She says she was subjected to criticism from the very beginning, and recalls being told by one of her professors: "You are a good student. I don't know why you need that thing on your head. You will never succeed in that way. Why are you making your life more difficult?"


She managed to complete her university studies and find a job as a doctor, but
says she cannot cover her face at work.


"It is simply impossible to work with a niqab. I take my niqab off in front of the Health Centre. Children become scared if they cannot see your face. I have accepted the fact that there is no other way to go," she explains.


But she argues that people who are against her wearing the niqab are effectively telling her to hide her religious identity: "Be a Muslim woman, but only in your heart. Practice your religion inside your house. Pray to God, but you should not tell everyone you do it… I thought I should show what I kept in my soul and my heart," she says.


She says however that she has noticed that when she gets a chance to introduce herself and say who she is and what she does; people change their opinion about her, irrespective of the fact that she wears a Niqab.
Clerics in Bosnia have differing opinions about whether women should cover their faces completely. Photo: Mario Ilicic
The exact number of women who wear the Islamic headscarf or veil in Bosnia and Herzegovina is not known, because no records are kept.
But the increase in the number of women wearing face-coverings in the years after the war is connected to the rise in the number of Bosnian Muslims practicing a stricter Salafi interpretation of Islam than the one that was predominant in the country before the 1992-95 conflict.
Muslim women in Bosnia and Herzegovina wear headscarves to show that they respect religious rules, but clerics in the country have differing opinions about whether they should cover their faces completely.
A.S., who also did not want her name to be published, lived in Germany during the war and did not know much about religion.
But when she returned to Sarajevo and began researching religious rules, she decided to cover her hair and face. She recalls how one woman told her in the street she was a Baba Yaga - a scary witch from Slavic folklore - while another talked her three-year-old child into throwing stones at her.
"I regularly go to the alley in order to run there. Everybody found it strange in the beginning.
They used to say: 'Look! A ninja running.' But they all greet me now," A.S. said.


Another Bosnian woman who has chosen to wear the niqab, Edina Talic, says she started to cover her face when she began learning the Koran by heart. 


Women who wear the face-covering niqab say they are often insulted or mocked on the streets of Bosnia and Herzegovina. Photo: Mario Ilicic
"The niqab is an accessory that makes me feel more dignified. When I put it on, I thought everybody was looking at me, but I felt good and I was at peace," she explains, adding that wearing it makes her feel like she has a crown on her head. 


B.S., who also wears the niqab, says she used to wear a headscarf when she was in secondary school, but then decided started to covering her face completely.
"When you realise it is your obligation to do it, you start moving in that direction. I am trying to do whatever satisfies Allah," she explains.


She says that sometimes children tell her in the street that she looks like a ninja, but she doesn't mind because they are just "curious".
Some secular Bosnians object to the overt display of religious affiliations in public, however. A scandal erupted last month after Bosnian reporter Lejla Colak compared the wearing of the burka and the niqab to the public display of sex toys.
"Religion should be intimate, just like sexuality. Keep it to yourself and the like-minded. Do not impose it on others," Colak wrote in a Facebook post that resulted in her receiving threats of murder and rape.
Sociologist Dino Abazovic suggests that the negative reactions to women wearing the niqab are a form of objection against "retraditionalisation".
Women who wear the veil are sometimes accused of only doing so because they have been paid by Saudi Arabian clerics who introduced stricter forms of Islam to Bosnia's traditionally moderate Muslims after the collapse of Yugoslavia.
But there is no evidence for this, and A.S. insists that is not true: "Whoever thinks we get paid should cover themselves with headscarves and see whether they will get money from anyone," she says.
"Some women who thought they would be paid to do it came to my place and said: 'I have started wearing a headscarf. Will I get any money for that?"
http://www.balkaninsight.com/en/article/bosnia-s-niqab-wearers-brave-insults-to-show-faith-09-16-2016-1
--
'The Women, Our Sisters, Went Into Action': French Women Rally to Terrorist Cause
September 15, 2016
(CNSNews.com) – Concerns about the recruitment of female terrorists have deepened after the arrest of four French women between the ages of 16 and 39 in connection with terror plots targeting key landmarks in the capital.
"In recent months we saw a growing number of young girls with harsh personalities who are preparing very sophisticated terrorist attacks," Paris prosecutor François Mollins said at a press conference.
"Fifty-nine women are under investigation for ties with jihadists and for planned attacks, including various minors with very disturbing profiles."
Last week a car containing five gas cylinders, three bottles of diesel and a lighted cigarette was discovered near the Notre Dame Cathedral in the heart of Paris. Two women were seen fleeing the scene, leaving the car alight.
Police quickly tracked down the owner of the car but it was the owner's daughter, Ines Madani, 19, who had borrowed it and tried to blow it up in the busy Latin Quarter, where the cathedral is located.
Police also found fingerprints in the car of a 29-year-old mother of three, Ornella Gilliman.
Mollins said Gilliman and two other women suspected of belonging to the same terror cell – Sarah Hervouët, 29, and Amel Sakaou, 39, a mother of four – had also been arrested.
"Just in the last weeks or so police have arrested several other women who were part of terrorist cells linked to [the Islamic State of Iraq and Syria (ISIS/ISIL)," he said.
Some reports suggested the women wanted to avenge the death of ISIS spokesman Mohammed al-Adnani, killed in an airstrike in Syria in late August.
Researcher Fatima Lahnait, author of a report entitled "Women suicide bombers, feminine jihad" published by the French Research Centre on Intelligence, believes women are as active in the jihad as men.
"The indoctrination is such that terrorists often prefer to die than to be arrested. In doing so, they contribute to the fight. And then the sex does not matter," she wrote. "But the fact that it is a woman will naturally multiply the impact of the action on society."
According to sociologist Agnès De Fé many French women who turned to terrorism attributed the decision to difficulties they found living as a Muslim in France as a Muslim – for instance, facing opposition to their choice to wear the niqab.
"They go to Syria to live because they are looking for a place where they would be happy to live like that," she said on French television.
De Fé said a French law adopted in 2010 forbidding women to cover their faces in public could also be a factor in female radicalization.
Matthieu Suc, author of a book about the wives of jihadists, said he was not surprised to see women becoming terrorists. "We see more and more strong, often very young [women] who want to become full participants of the jihad and to take control of their lives," he said.
Last Saturday police also arrested a 15-year-old boy in Paris, suspected of preparing a terror attack in public places. And on September 14, another teenager was arrested in Paris.
Prosecutors said he had been in contact with Rachid Kassim, a 29-year-old French jihadist fighting in Syria. The contact was made via Telegram, a free encrypted messaging app.
Mollins said all those arrested last week were in contact via Telegram with Kassim, who has been recruiting women to commit attacks in France.
"Even young teenagers were in contact with Kassim," he said.
Kassim, the child of Algerian parents, was born in Roanne, 400 kilometers south of Paris and worked as an educator for young people and was an amateur rapper.
He evidently was radicalized after a trip to Algeria in 2001 and became known for violent speeches. He left France to live in Egypt in 2012 and later joined ISIS.
A video clip showed Kassim beheading a hostage on suspicion of being a spy. In the clip he also congratulated the perpetrator of the Nice terror attack in July.
After the arrest of the four women in Paris, Kassim posted a message on Telegram: "The women, our sisters, went into action. Where are our brothers?"
"You have to understand that if these women went into action, it's because so few men are doing anything," he wrote. "Why are you waiting so long to the point the women are overtaking you in terms of honor?"
After the arrests, Prime Minister Manuel Valls said the threat of a terrorist attack remained at the highest level.
"Every day, the intelligence services, the police, gendarmes, are foiling attacks, unraveling Iraqi-Syrian networks," he said. "The threat today is at the highest and we are a target, everyone understands that."
Valls added that around 15,000 people were being watched by security services for radicalization and that some 700 French jihadists were fighting in Syria.
http://www.cnsnews.com/news/article/fay-al-benhassain/women-our-sisters-went-action-french-women-rally-terrorist-cause
--
Tragic Teen Traumatised By ISIS Regime 'Killed Herself with Poison'
15th September 2016
Tragic Natasha Kasanda, 19, was found dead in her student dorm just weeks after starting a mechanical engineering course.
The "warm and caring" teen, known as Natie, injected herself with an unknown toxic substance she bought on the web after she was "really haunted" by ISIS.
Her inquest on Wednesday at Hull Coroner's Court was told how the bright youngster tried to kill herself twice before her third attempt because she was horrified by terrorism.
Professor Paul Marks, coroner for Hull and East Yorkshire, recorded a narrative conclusion of unexplained cause of death — but was convinced Ntasha intended to end her own life.
He also blasted mental services for failing to support Natasha.
Natasha's mum Mrs Makumbi-Monk said: "One time, I remember so well, she was so upset because she watched a video of innocent children dying and it really haunted her.
"She said to me, 'The world is full of bad things. Why is it the people that don't want to die, get killed, and those that want to die, can't?'. She was talking about herself, of course."
Natasha started her course at University of Hull in September 2014, the year in which sick ISIS had swept to power in the Middle East and begun massacring innocent civilians.
Her mum added: "Natie still makes me smile because she was one of the most kind and warm you could ever have asked to meet.
"She was so caring. As a young girl, she used to get £15 a week for pocket money but she was so caring that she would donate most of that to Oxfam for children in Malawi."
http://www.dailystar.co.uk/news/latest-news/545774/ISIS-Islamic-State-Daesh-suicide-teenager-student-Hull-poison-university
--
URL: https://newageislam.com/islam-women-feminism/the-moment-hijabs-dazzled-new/d/108577
New Age Islam, Islam Online, Islamic Website, African Muslim News, Arab World News, South Asia News, Indian Muslim News, World Muslim News, Women in Islam, Islamic Feminism, Arab Women, Women In Arab, Islamophobia in America, Muslim Women in West, Islam Women and Feminism