New Age Islam News Bureau
9 Dec 2015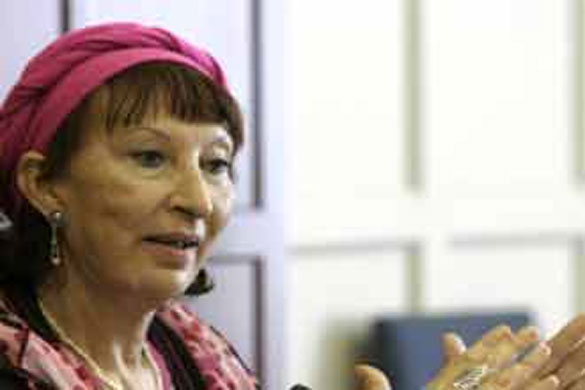 Photo: Her work is considered by many to be pioneering in the field of women's roles in Islam. (Twitter)
-------------
• Chennai rain survivors name daughter after Muslim saviour
• Plea to give Saudi women passports without consent of male guardians
• Sisters in Islam: Don't fear Islamisation
• Woman shooter of Pak origin visited India?
• Saudi court to review stoning sentence of Sri Lankan woman
• Courts endorse marriage of 46 African women to Saudis
• Man arrested in Kabul on charges of kidnapping and raping scores of girls
• 6 Afghan children die after boat sinks off Turkish coast
• Woman Who Claims to Have Been Raised as a Muslim in the Middle East Reveals What She Says Is the Truth About Islam
• Al-Huda's Toronto centre scrutinised after California attack
• Giving women their due status in society
• Rape accused remanded; lady doctor gets extension in bail
• School celebrates universal children's day
• Muslim Women Launch #JeSuisHijabi Campaign to Dispel Myths
Compiled by New Age Islam News Bureau
URL: https://newageislam.com/islam-women-feminism/the-late-islamic-feminist-fatima/d/105552
---------
The late Islamic feminist Fatima Mernissi leaves behind a lasting and profound legacy
December 7th, 2015
The renowned Moroccan feminist writer and sociologist Fatima Mernissi passed away last week in the Moroccan capital of Rabat at the age of 75, leaving behind a profound legacy which will likely last for generations to come.
She was well known for her pioneering work in Islamic feminism as well as her defending of human rights and democracy. Her most famous book, Beyond the Veil, broke boundaries in its examination of Islam from a feminist point of view.
Mernissi was born in the Moroccan city of Fes in 1940, and studied political science at Sorbonne University in Paris before earning a doctorate at Brandeis University in the US. She went on to teach in Morocco and publish more than 15 books.
Her role as an internationally recognized Islamic feminist saw a number of her writings focus on women's roles in Islam. Katherine Marshall, a senior fellow at Georgetown University and friend of Mernissi, wrote in The Huffington Post that "She was absolutely intolerant of intolerance, a staunch defender of Islam and of women's rights and roles in Islam. She accepted no contradiction between them."
In addition to her feminist writings, she did sociological work for UNESCO and the International Labor Organization, as well as the Moroccan government. She contributed to articles and publications which discussed women in Morocco and women in Islam, both historically and in a contemporary perspective.
http://www.albawaba.com/loop/late-islamic-feminist-fatima-mernissi-leaves-behind-lasting-and-profound-legacy-778086
---------
Chennai rain survivors name daughter after Muslim saviour
December 8, 2015
A Hindu couple named their newborn after a Muslim man who came to their rescue during the Chennai rain tragedy.
Chitra and Mohan, hailing from Urapakkam, which suffered one of the worst flooding in the city's southern neighbourhood, named their daughter Yunus after the MBA graduate who rescued the pregnant woman from neck-deep waters and moved her to a hospital.
The couple thanked Yunus by naming their daughter after him, with the businessman now promising to take care of his namesake's educational expenses.
Narrating the experience, Yunus said, "I hail from Nungambakkam and I realised on the night of December 2 something is not right and I thought of helping my friends in Urapakkam area, which was one of the worst-hit areas due to the heavy rainfall."
The screams of a woman in the area initially sounded like a frightened reaction to Yunus and his friends, but "later I realised she was undergoing labour pain", Yunus told PTI.
"At first, my objective was to take her and the family to a safer place and we moved her to nearby Perungalathur by boat. That 15-minute journey is unforgettable," he said.
However, he got the surprise of his life when Mohan informed him that he has named his daughter Yunus.
In a text message to Yunus, Mohan informed him of the birth of his daughter and his decision to name her after the Muslim postgraduate.
"We take pride in this," Mohan had told him.
Having himself been a victim of a disaster, Mohan has vowed to contribute 50 per cent of his salary for the needy.
Asked whether he had time to pay a visit to the child, Yunus said he was still helping those affected with his 15-member team.
"The full credit goes to the team, my friends and the fishermen from Besant Nagar beach. They were there with me always and still helping to take part in the relief efforts", he said.
"As far as the child is concerned, I will definitely pay a visit soon. Through you, I wish to inform them that the child's education fees would be fully borne by me," he said.
http://indiatoday.intoday.in/story/chennai-rains-hindu-couple-name-daughter-after-muslim-saviour/1/541625.html
---------
Plea to give Saudi women passports without consent of male guardians
Dec 9, 2015
RIYADH — The Shoura Council is planning to table a proposal for discussion on whether to allow Saudi women be issued passports without the consent of their male guardians, according to informed sources.
The Security Affairs Committee of the Shoura Council will soon put forward the proposal for discussion.
The proposal follows a move by the Civil Affairs to let divorced Saudi women and widows manage family affairs without approval from a man or a court order.
The Interior Ministry will issue family identity cards not only to men, but also to divorcees and widows, granting them powers that will include accessing records, registering children for schools and authorizing medical procedures.
Until now, women had to get permission from a divorced husband, and apply to courts if that failed, to perform any of these activities.
The Shoura Security Affairs Committee members also agreed on increasing the validity of the Saudi passport from five years to 10 years to citizens above 20 years of age.
But the members were sharply divided on increasing the issuance fees to SR600.
Some members of the committee said the fee should remain at SR300. The committee has proposed that citizens under 20 years of age will continue to be issued with a 5-year-validity passport at SR300.
Under the new amendments, the citizens will be given the option to decide the validity of their passports from a minimum of one year to a maximum of 10 years.
http://saudigazette.com.sa/saudi-arabia/plea-to-give-saudi-women-passports-without-consent-of-male-guardians/
---------
Sisters in Islam: Don't fear Islamisation
BY BOO SU-LYN
December 6, 2015
KUALA LUMPUR, Dec 6 — Malaysians, including non-Muslims, should not fear creeping Islamisation of the country as Islam is a beautiful religion, Muslim women's rights group Sisters in Islam (SIS) said today.
Despite that, the NGO claimed that Islam in Malaysia has allegedly been "hijacked" by conservatives and fundamentalists leading to fears against the spread of the religion.
"I hate it when people say we have to fear the Islamisation of Malaysia," SIS executive director Ratna Osman told a forum organised by lobby group G25 here on Islam in a constitutional democracy.
"Actually, we should not fear because Islam is so beautiful and if we Islamise Malaysia, even non-Muslims should not fear because of justice [in] maqasid shariah," she said, using the Arabic term that means "the true intentions of Shariah".
"Unfortunately, it's been hijacked by conservatives and fundamentalists to say this is Islam, this is mainstream Islam, whatever diverse opinion is un-Islamic, it's sinful, it's a Western product."
She pointed out a case of three Muslim women who were charged and fined within two weeks in 1997 in Selangor for indecent dressing after taking part in a beauty pageant, while the Shariah courts were slow in resolving divorce and maintenance cases.
"We have cases in Telenisa, [where] we give free legal advice, 12 years, the husband goes in and out of jail, she still hasn't gotten a divorce. Why are we going against the real principles of fairness and justice and equality in Islam?" she questioned.
Ratna also criticised raids by religious authorities against khalwat, or the offence of
Muslim men and women in close proximity, noting that such raids have resulted in deaths, and did not even target five-star hotels or at upper-class neighbourhoods.
"Selective prosecution on the weak and marginalised is what is not Islamic. There's nothing Islamic about it," she said.
Critics have expressed concern about the growing trend of Islamisation in Malaysia that has seen interfaith child custody tussles and arrests of Muslim transwomen for cross-dressing.
http://www.themalaymailonline.com/malaysia/article/sisters-in-islam-dont-fear-islamisation
---------
Woman shooter of Pak origin visited India?
Chidanand Rajghatta
Dec 9, 2015
WASHINGTON: US sleuths are investigating a $28,500 money transfer into the account of Pakistani-American jihadi Farook Rizwan two weeks before he and his wife Tashfeen Malik carried out the carnage in California, even as Pakistan and Saudi Arabia continued to wrangle on where the wife may have been radicalised.
Saudi authorities are insisting that Malik only visited Saudi Arabia twice and did not live there, while Pakistani officials have tried to suggest that she was radicalised by the militant Wahhabi brand of Islam because she was brought up in Saudi Arabia from a young age. On the second of the two short trips, a Saudi interior ministry spokesman said, Malik arrived on June 8, 2013, from Pakistan, and departed for India on October 6 of the same year. While it is unclear if she was merely transiting through India or visiting or meeting someone there, the two schools that Malik was associated with in Pakistan's Multan have both acknowledged her registration as a student.
Malik's Professors and classmates at the Bahauddin Zakariya University where she studied pharmacy have opened up to the western media about her presence there, despite attempts by Pakistani officials to shut them up in order to not draw attention to the sectarian swamp that the region has become. They describe a quiet, serious, and very conservative person. Also on Tuesday, a niqab clad founder of the Al Huda Insitute, a madrassa that imparts Islamic religious instruction for Muslim women, acknowledged that Malik studied there while maintaining that what she did went against the tenets of the school.
Going by the small arsenal the couple had stashed away, investigating officials believe they may have had more than one attack in mind.
http://timesofindia.indiatimes.com/india/Woman-shooter-of-Pak-origin-visited-India/articleshow/50100036.cms
---------
Saudi court to review stoning sentence of Sri Lankan woman
8 December 2015
A Saudi court has decided to reopen the case of a Sri Lankan woman who was sentenced to death by stoning for adultery, a Sri Lankan government minister has said.
Harsha de Silva, the deputy foreign minister, told parliament on Tuesday that an appeals court in Riyadh, Saudi Arabia's capital, has decided to hear the case again following pleas by Sri Lanka's foreign ministry.
"Based on the advice of the lawyers and our intervention on the matter, a decision has been reached to reopen the case," De Silva told lawmakers.
"We see this as a victory," he said, adding that the ministry will bear all the legal expenses of reopening the case and "make the fullest efforts in order to get this judgment changed".
The 45-year-old woman, who is married with two children, was working as a maid in Saudi Arabia. She was sentenced to death in August. The unmarried Sri Lankan man convicted alongside her was sentenced to 100 lashes. The foreign ministry has not revealed their identities.
Sri Lanka's foreign minister, Mangala Samaraweera, met an official from the Saudi embassy in Colombo last week and expressed Sri Lanka's concerns about the case. Samaraweera has also requested to speak to Saudi Arabia's foreign minister to seek clemency for the woman.
The Muslim Council of Sri Lanka, an umbrella organisation of Sri Lanka's minority Muslims, said it wrote to the Saudi king last week to ask him to pardon the woman and the man, noting their inferior education and poor economic situation.
http://www.theguardian.com/world/2015/dec/08/saudi-court-to-re-examine-stoning-sentence-of-sri-lankan-woman
---------
Courts endorse marriage of 46 African women to Saudis
Dec 9, 2015
JEDDAH — Civil courts in the Kingdom have endorsed 46 nuptial contracts of African women married to Saudis during the past two years. Sudanese women topped the list with 16 contracts, followed by Eritreans 12, Nigerians 9, Ethiopians 5 and two each for Malians and Chadians, a Justice Ministry official was quoted by Al-Watan daily as saying.
"The number of Saudis married to American women has declined to seven while with British women was the lowest (two) during the same period," he added.
A Justice Ministry official, meanwhile, pointed out that a new law is being enacted to punish those who violate the rules related to marriage of foreign men and women.
"The punishment will be applied on those who marry foreigners without registering it with the Saudi Embassy if the marriage took place abroad or the Civil Status Department if the marriage took place inside the Kingdom," the official said.
Lawyer Rayan Mufti, a legal consultant, said the Interior Ministry has set out a law to regulate Saudis marrying foreigners.
"At present there is no punishment for Saudis marrying foreigners without documenting it either at Saudi missions abroad or the Civil Status Department in the Kingdom," he said.
Children born to these couples will be the main victims of this violation as they will face a lot of issues in the future due to non-documentation of their parents' wedding.
He said the majority of undocumented foreign wives inside the Kingdom belonged to military officers as well as girls who are below the legal age for marriage.
Many Saudi students abroad marry foreign women without registering their wedding with Saudi missions, fearing that it would affect their foreign scholarship program. As a result they leave their wives and children in foreign countries.
"Saudis who have married foreign women without documenting it at Saudi missions abroad will be tried at the Court of Grievances and will not be allowed to bring their families to the Kingdom," Mufti said while explaining the existing law. "The resident permits of foreign husbands or wives will be canceled if the marriage had taken place inside the Kingdom," he added.
Dr. Ibrahim Mubarak Al-Juwair, a sociology professor, emphasized the importance of the couple's homogeneity for continuation of marriage.
"An individual who marries a foreign man or woman should have the ability to adjust and make sacrifices," he told the Arabic daily.
"Some Saudis will marry foreign women because of some temptations. In most cases such marriages will not last long because of various differences," Al-Juwair said.
"Many families accept such foreign marriages to realize material interests or due to other reasons without thinking about its consequences," he explained.
http://saudigazette.com.sa/saudi-arabia/courts-endorse-marriage-of-46-african-women-to-saudis/
---------
Man arrested in Kabul on charges of kidnapping and raping scores of girls
Dec 09 2015
Police in Kabul arrested a man on charges of blackmailing, kidnapping and raping of scores of girls in capital Kabul, officials said Tuesday.
The suspected has been identified as Ashraf who was on the Most Wanted List of the Afghan police during the past several months.
Head of the Criminal Investigation Department, Gen. Zahir Zahir, told reporters Ashraf was arrested by police after kidnapping a girl by repeatedly issuing threats to her.
Gen. Zahir further added that Ashraf has been involved in several criminal cases including raping the girls by blackmailing them and issuing threats through mobile phone calls.
He said police recovered numerous footages of the victims from the mobile of Ashraf after he was arrested.
Gen. Zahir also added that police seized at least 8 mobile phones from Ashraf where numerous pictures and films of the victims were discovered.
Owning a car selling shop in the city, Ashraf was also arrested in connection to the kidnapping of a girl in Kabul but was later released due to the lack of evidence.
A young Afghan man identified as Feroz set himself on fire in Pashtunistan Watt area of Kabul city, located close to the Presidential Palace, following the kidnapping of the girl.
Gen. Zahir said Ashraf the criminal case of Ashraf will be forwarded to the relevant judiciary institutions once police completes its investigation.
http://www.khaama.com/man-arrested-in-kabul-on-charges-of-kidnapping-and-raping-scores-of-girls-1782
---------
6 Afghan children die after boat sinks off Turkish coast
Dec 08 2015
At least six Afghan children have reportedly lost their lives after their boat capsized off Turkey's western coast on Tuesday.
According to reports, a small baby was also among those drowned although the authorities in Turkey have not confirmed the age of the victims.
Local media in Turkey reported that the rubber dinghy was bound for Greece when it capsized near the city of Izmir and at least eight others were rescued.
It is also not clear how many migrants were on board the boat were apparently hoping to make it to the island of Chios despite bad weather.
According to Anadolu news agency, the boat sank after wooden reinforcements used to fortify the boat came apart in the sea, causing the boat to take in water and sink.
Today's incident comes days after an Afghan journalist couple lost their 4-month-old baby after their boat capsized in Turkish coast.
There has been a steep rise in the number of Afghan asylum seekers heading towards Europe during the recent months with estimates by United Nations High Commission for Refugees (UNHCR) showing at least 146,000 Afghans have left the country during the current year.
More than 700,000 migrants have crossed into Greece this year, many fleeing conflict in Syria or Iraq with International Organization for Migration reporting at least 600 deaths his year on the so-called eastern Mediterranean sea route for migrants.
http://www.khaama.com/6-afghan-children-die-after-boat-sinks-off-in-turkish-coast-1781
---------
Woman Who Claims to Have Been Raised as a Muslim in the Middle East Reveals What She Says Is the Truth About Islam
Dec. 8, 2015
A woman who claims to have been raised in a Muslim family in the Middle East recently released a fiery Facebook video lambasting the Prophet Muhammad and imploring people to stop "sugarcoating" details surrounding the Islamic faith.
The woman pushed back against what she said were incorrect claims about Islam and uttered critical proclamations about Muhammad, calling Islam's most revered prophet a "racist," "pedophile," "adulterer" and a "liar" who "spilled plenty of blood."
"For the person that said, 'Saying all Muslims are terrorists is like saying all Italians are in the Mafia'— you're a dimwit," she said. "Italians are a race. They're a country. They come from a country."
She made this point to drive home her belief that Islam isn't a race and that it is, instead, "a religion," going on to offer her own definition of what it means to be a Muslim.
"If you believe in Muhammad and Allah, you're a muslim," she continued. "If you follow Muhammad as your ultimate role model, you're a Muslim."
Speaking specifically of the atrocities that Islamic extremists have committed, the woman seemingly charged that these acts are not restricted to radicals and are, instead, perpetuated by individuals who are "devout" in the faith.
"They're not bad Muslims. They're perfect Muslims," she said. "I have never seen more devout Muslims in my life, and I grew up as one in the Middle East by a family that was well-known to be very lenient in their religion."
She said that she's tired of people "sugarcoating" the discussion, imploring viewers who disagreed to "get over yourselves."
"The [gay] community is so concerned about baking a cake, yet people who are just accused of being gay in Muslim countries are getting thrown off of buildings," she said. "You hypocrites!"
Watch the fiery rant below:
The same video appears on a YouTube page for an individual who goes by the name Farrah Prudence.
http://www.theblaze.com/stories/2015/12/08/woman-who-claims-to-have-been-raised-as-a-muslim-in-the-middle-east-reveals-what-she-says-is-the-truth-about-islam/
---------
Al-Huda's Toronto centre scrutinised after California attack
Dec. 9, 2015
OTTAWA: A Toronto-area Islamic school with links to a seminary in Pakistan where California attacker Tashfeen Malik studied shuttered its doors Tuesday after it was reported that former students had sought to join the militant Islamic State (IS) group.
Public broadcaster CBC said four teenage girls who had taken evening and weekend seminars at the Al-Huda Elementary School in Mississauga, Ontario had traveled overseas in 2014.
But three of them were intercepted by security officials in Turkey before they could reach Syria. The eldest of the teen girls, all of Somali heritage, managed to get into the war-ravaged nation where she still resides, said the Toronto Star, citing a sibling.
The Al-Huda Elementary School said on its website it decided to close temporarily because the media report had put its 160 students at risk.
"Al-Huda Institute Canada would like to be clear that law enforcement authorities have never brought forward any allegations that four girls associated with the institute travelled to join terrorist organisations," administrator Imran Haq said in a statement.
In addition, the institute has no knowledge as to the identity of these individuals and as such, cannot confirm whether or not they were enrolled in the Institution, for how long, or any other related information.
"We are and remain committed to working with authorities on this or any other matter."
Malik, a 29-year-old Pakistani national, pledged allegiance to the militant IS group before she and her husband Syed Farook shot 14 people dead in California last week.
The Al-Huda women's seminary in Pakistan where she studied in 2013, and which has branches around the world, has condemned the massacre.
http://www.dawn.com/news/1225221/al-hudas-toronto-centre-scrutinised-after-california-attack
---------
Giving women their due status in society
December 09, 2015
Umaima Ahmed
LAHORE - Chief Minister Punjab Shehbaz Sharif has initiated a campaign under the Punjab Commission on the Status of Women (PCSW) to highlight and safeguard women rights and empowerment. Any woman facing verbal, physical harassment, domestic or property issues can get in touch with the commission by calling a toll free helpline number and lodge their complaint. The PCSW is empowered to initiate action under relevant legal clauses after verification.
To promote this cause and spread awareness, banners have been put up on the roads giving the relevant clause, actions and sections of law; the banners also have the helpline number on it. This will not only bring awareness among the masses especially women but also allow women to stand up for their rights where they are being deprived.
The Punjab Women Development Department is headed by the Secretary Dr. Aman Iman, Deputy Secretary Falak Sher Bhatti, Section Officer M. Arshad, Section Officer Nabila Shafat, and Law Officer M. Taimoor, was established on April 4, 2012 under "Punjab Women Empowerment Package 2012 (PWEP)". On International Women's Day March 8, 2012 the Punjab Government announced the setting up of this project with the basic aim to Safeguard Women Rights, and improve socio-politico-economic status of women with special focus on rural areas.
The Customer Care Representative who responded to this scribe's call on the helpline number said, "… We have devised a proper system of taking complains. We have lawyers to whom the calls are forwarded according to their cases and they assist the caller accordingly. People can then visit the lawyers if needed for follow up, as it is a safe and secure procedure. All details will be kept confident and protection will be provided to the caller. NGOs and activists are not part of this initiative at the moment."
Regarding the timings of the office and helpline call operator said, "Office is open from 9 am to 4 pm. Currently the helpline does not work on Saturdays and Sundays, nor is this a 24 hour service for now. We have had a satisfactory response from the public." In terms of promoting and bringing awareness of women rights the CSR said, "…. we will be launching more campaigns across Punjab and people can log-on to our websites, http://pcsw.punjab.gov.pk/ , http://wdd.punjab.gov.pk/to get a lot of important information. In case people want to speak to us they can call us at 0800-93372. This helpline will not only take your queries but also complaints too."
Marvi Sirmid a journalist and social activist speaking about the PCSW initiative said, "This is a very good project but it needs to be highlighted more to bring awareness to women. The project should not be restricted to Lahore only; the government should focus on rural areas."
Voicing her concern about the safety of women she said, "The government should end the trust deficit in ladies and provide them adequate (post complaint) security otherwise they will not come forward with their complaints. Presently women are not willing to go to the police or lawyers due to lack of protection. Data should be released to show how successful the project is in building trust in the ladies as they have been suffering a lot due to no protection (and male domination in society). But at no cost should the details of the complainant be given."She further said, "Women who want to live alone, in hostels or in Dar ul Amaan due to various reasons, should be provided with safe and secure environment. Ladies should be given training in craft work or in other areas to earn a respectable and independent living."
The initiative though still in its initial stages, has been receiving calls to inquire about this initiative and a number of complaints pertaining to harassment, inheritance, family matters etc., and it is heartening to know that this has had an effect on women who find this an avenue to voice and redress their grievances. It is hoped that soon this will expanded to rural areas with due publicity and involvement of local notables and opinion makes so that this become a success story to bring justice to the long oppressed female gender in Pakistan.
http://nation.com.pk/lahore/09-Dec-2015/giving-women-their-due-status-in-society
---------
Rape accused remanded; lady doctor gets extension in bail
December 09, 2015
taxila - A court has sent an accused of raping a minor girl to Adiala Jail on 14-day judicial remand.
Separately, an additional sessions judge (ASJ) yesterday extended pre-arrest bail of Dr Tallat till December 11, 2015. The lady doctor is accused of conducting abortion of the minor rape victim.
According to details, Muhammad Ashfaq, the rape accused was brought in the court of Area Magistrate Imran Shabbir Awan by a team of police. During the proceedings, the investigators told court that they had taken the accused to a hospital for medical examination and were waiting for issuance of medical report. On this, the area magistrate sent the accused Muhammad Ashfaq to Adiala Jail on 14 days of judicial remand.
Police officials booked Muhammad Ashfaq, a local PML-N leader, and a lady doctor on charges of raping his 13-year-old niece in June 2015 at gunpoint in his house at Barhama Bahter area and conducting abortion of the minor girl against receiving heavy bribe respectively.
Meanwhile, Additional and Sessions Judge Zafar Ullah Khan extended the pre-arrest bail of Dr Tallat.
The accused doctor appeared before the judge and pleaded that her lawyer was busy in some other case and could not attend the hearing. She requested the court to grant her extension which was accepted by the judge.
It may be noted that two brothers of Muhammad Ashfaq - Amir and Asif - are also languishing in Adiala Jail in the case of torturing one Ghulam Farid, a relative of the rape victim. They tortured Farid and forced him to confess that instead of Ashfaq he had raped the girl.
http://nation.com.pk/islamabad/09-Dec-2015/rape-accused-remanded-lady-doctor-gets-extension-in-bail
---------
School celebrates universal children's day
December 09, 2015
islamabad - Beaconhouse Newlands Islamabad (BNI) has celebrated Universal Children's Day within its premises with the aim of creating awareness and tolerance among its students about cultural differences among themselves and their social responsibility towards the under-privileged students.
The celebration for the event continued throughout the day and was marked by cultural activities. The purpose of this celebration was to promote international togetherness and awareness among children worldwide, according to the school administration.
The different activities included tree plantation, puppet show on personal hygiene, face painting, balloon bursting, aiming the darts and talent show. The students of all the levels along the teaching staff of the school participated in these activities. The students brought their old toys, clothes and books to donate to the under-privileged children. BNI is donating all these to an orphanage known as 'Humara Ghar'.
"We are trying to make special efforts to inform children to think about the differences between themselves and the others and their responsibility towards the underprivileged children," said a senior teacher of the school.
A senior teacher of the school also lectured the students about the concepts of tolerance and compassion associated with the Universal Children's Day.
http://nation.com.pk/islamabad/09-Dec-2015/school-celebrates-universal-children-s-day
---------
Muslim Women Launch #JeSuisHijabi Campaign to Dispel Myths
8 Dec 2015
The Ahmadiyya Muslim Women's Association introduced the #JeSuisHijabi campaign at an open house event at the Baitul Hadi mosque in Edmonton. The women, according to the Edmonton Sun, are planning to hold more events at the University of Alberta Student's Union building to invite women to try on a hijab in order to promote awareness about its significance and respect for the Muslim religion.
Nudrat Mansoor said the hijab is "more than a piece of cloth," and is an expression of her faith as well as a symbol of modesty.
Mansoor said many non-Muslims believe the hijab is a symbol of oppression, but she says it is for her a symbol of empowerment.
"We do it because we love it," she said. "We love our god, we want to follow the commandments of our god and we want to be modest and prevent society from social ills."
Mansoor added that discrimination against Muslims has increased since the radical Islamic terrorist attacks in Paris and in San Bernardino. She said she would like to promote peace and harmony.
"It's my choice to wear a hijab and I think I should be respected for that," Mansoor said.
http://www.breitbart.com/big-government/2015/12/08/muslim-women-launch-jesuishijabi-campaign-dispel-myths/
---------
URL: https://newageislam.com/islam-women-feminism/the-late-islamic-feminist-fatima/d/105552
Womens in Islam, Islamic Feminism, Arab Women, Womens In Arab, Islamphobia in America, Muslim Women in West, Islam Women and Feminism