New Age Islam News Bureau
08 November 2022
• FIA official suspended for 'harassing' Afghan woman at Torkham
• The sisterhood of Muslim women uniting football and faith in London team
• Young Muslim woman joins several progressives in the fight to turn Delaware a deeper blue
• Despite obstacles, self-sacrificing Afghan women lead way to education
• Jordanian filmmaker using virtual reality to fight Muslim stereotypes
• Ammar film festival shifts focus to Iranian women's issues
• International Women's Ice Hockey Championship – Kuwait defeats Andorra
• Rapper Drake faces backlash for song 'dissing' Moroccan women in new album 'Her Loss'
• Who's Who: Aliya Al-Sabti, general manager of the National Address Unit at Saudi Post
• Egyptian Montenegrin actress Tara Emad talks representation and dream roles
• UAE: Strategy to make Dubai pioneering model for women-friendly cities launched by Dubai Women Establishment
• 60 rural women in Sindh receive handloom training
• Ireland Women to go ahead with Pakistan tour despite attack on Imran Khan
Compiled by New Age Islam News Bureau
URL: https://newageislam.com/islam-women-feminism/kerala-journalist-movie-women-isis/d/128359
--------
The Kerala Story: Journalist seeks action against movie depicting women radicalised to join ISIS
8th November 2022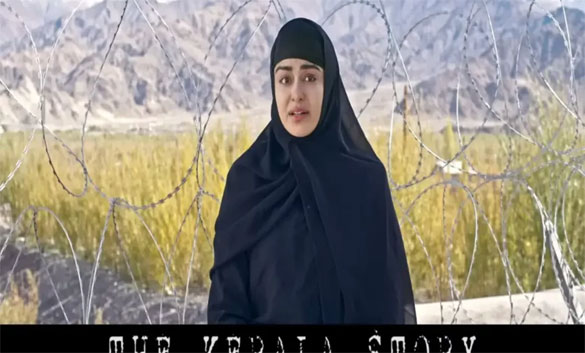 Chennai: A journalist from Tamil Nadu Aravindakshan B R has written a letter to Kerala Chief Minister PinarayiVijayan after having watched the teaser of a to-be-released movie called 'The Kerala Story'.
The journalist asked the Kerala government to call the director of the movie and investigate the veracity of the released teaser in which the character claimed that 32,000 girls from Kerala were being forcibly converted and then later joined the terrorist group ISIS.
According to Aravindakshan B R, the movie's teaser was released on November 3, 2022, on a YouTube channel called Sunshine Pictures.
"Produced by VipulAmrutlal Shah, Directed by SudiptoSen, the teaser depicts the heart-wrenching story of 32,000 women from Kerala who were radicalized to join ISIS (Islamic Iraq and Syria) terrorist groups," the letter read.
Similarly, Aravindakshan B R has also sent a complaint to Union Information and Broadcasting Minister Anurag Thakur and Secretary Apurva Chandra asking them to check the veracity of the content of it.
He also said in the letter that it is imperative on the part of the Union government to thoroughly investigate the source of information based on which the movie was produced.
The trailer, he said in the letter, narrates the story of a Muslim woman in front of an international border.
"In the character played by actress Adha Sharma, she says that she used to be ShaliniUnnikrishnan and wanted to serve people as a nurse. She says she was forcibly converted to Islam and renamed Fatima Ba, then joined ISIS and later imprisoned in Afghanistan," the letter added.
Further in the letter, he said the teaser portrayed India's Kerala as a "terrorist state" as he claimed the video claimed it was a "true story set in Kerala".
He added if the movie, which is against the unity and sovereignty of India and tarnishes the credibility of all intelligence agencies, is released in theatres or OTTs with "false information", it will have bad consequences in society.
"Therefore, I request you to call and inquire the director of the movie, SudiptoSen, on the basis of which sources this teaser was released," the journalist wrote in the letter.
(Except for the headline, this story has not been edited by Siasat staff and is published from a syndicated feed.)
Source:Siasat Daily
https://www.siasat.com/act-against-movie-makers-depicting-kerala-women-radicalised-to-join-isis-journalist-writes-to-cm-2451680/
--------
FIA official suspended for 'harassing' Afghan woman at Torkham
November 8, 2022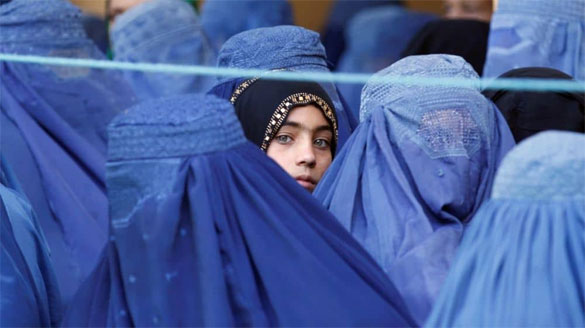 KHYBER: A head constable of Federal Investigation Agency (FIA) deployed at immigration checkpost at Torkham was suspended on Monday for harassing an Afghan woman.
An order, issued by the FIA director office in Peshawar, said that the action against the accused, Kamran Nawaz, was taken after the incident of harassment of an Afghan woman during immigration process was reported by assistant director of FIA immigration at Torkham.
The issue about the immoral act surfaced through a mobile video when an Afghan woman complained to an official of FIA. The unidentified Afghan woman was heard in the video saying that the accused repeatedly touched her body during the immigration process. The woman was seen crying while narrating her ordeal at the hands of the accused FIA sleuth.
Local human rights activists and labour union leaders a few days ago had also accused the FIA staff posted at Torkham of objectionable behaviour with Afghan women and also their involvement in human trafficking.
They had alleged that the objectionable and unlawful activities of officials were earning a bad name for the country while it could also prove detrimental for bilateral relations between Pakistan and Afghanistan.
They alleged that the FIA staff issued fake visas to Afghans after receiving huge amount from them while the same people then used Pakistan as a 'jumping board' for going European countries and the United States of America.
Shafqat Jamal, an FIA official at Torkham, denied the allegations and told Dawn that some of the people, who had levelled the allegations against the agency, were themselves involved in human trafficking and had on a number of occasions asked for illegal favour in the recent past.
Source: Dawn
https://www.dawn.com/news/1719696/fia-official-suspended-for-harassing-afghan-woman-at-torkham
--------
The sisterhood of Muslim women uniting football and faith in London team
8 November, 2022
By Hannah McKay and William Schomberg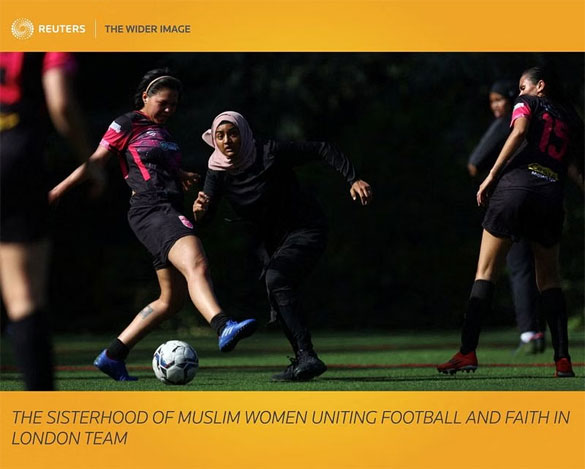 (c) Copyright Thomson Reuters 2022
------------
LONDON (Reuters) – On a soccer pitch in a central London park, Sisterhood Football Club – a Muslim women's team – is making a substitution.
"Your hijab, tuck it in. It can't get in the way," a teammate calls out as the replacement player runs on.
Despite the warmth of the afternoon, all of Sisterhood's players are clothed from head to foot in the club's all-black colours. Some wear training trousers, almost all of them have hijab head scarves and one is in a body-length abaya robe.
On the sidelines, a squad member unfurls a mat and kneels to pray while her teammates play on against a team led by Brazilian women in bright pink and blue shirts and shorts.
Founded in 2018, Sisterhood has doubled in size to almost 100 players, allowing its members to enjoy playing football without anyone querying their Muslim dress code or asking why they refrain from socialising in a pub after their games.
"It's a football club for Muslim women to come and feel free and relaxed and be able to play in their attire," Kamara Davis, 30, said.
She converted to Islam at age 17 and felt that she would never play soccer again because it seemed incompatible with the religion's traditional dress. But when she heard about Sisterhood, she jumped at the chance to join.
"Honestly, it just feels so good, it's like a release. It feels really nice when I am able to shoot the ball with power," Kamara said.
The club also offers a chance to Muslim women to enjoy a break from traditional roles that many say are expected of them.
Fatima Ali, 26, said some families struggled at first to understand why their young women members wanted to play sport. "I think a lot of people have approved of it," she said. "But it is still going to take time, it's not just a one-step process."
"Even your brothers might be like what's the point of you going all the way from west London to south east but I'll be like: 'I enjoy playing, we've got a team, this is it, we've got a match, we've got to go to do this'."
Yasmin Abdullahi, Sisterhood's Somali-British founder, recalled the surprise of many fellow female Muslim students when she told them that she was playing football for London University's Goldsmiths College whilst a student.
"They could not believe that they were seeing a girl that wears a hijab and saying that she plays football," Abdullahi, a 30 year-old professional fashion model, said.
So she set up the club as a way to reconcile the interest in playing sport among many Muslim women and their adherence to their faith. To underscore the point, Sisterhood's club badge features the image of a hijab, which was barred by soccer's world governing body FIFA on safety grounds in 2007. The ban was only relaxed in 2012, with the hijab fully permitted in 2014.
Like many of Sisterhood's players, Abdullahi is excited about the upcoming World Cup in Qatar. "What comes with the World Cup is such a beautiful experience, watching matches with your family and your friends."
But like other club members, Abdullahi drew the contrast between the funding for the England men's team compared with the national women's team which won the Women's European Championship this year for the first time.
"If they'd had equal investment and equal opportunity, where would the women be?," she asked.
UNSUPPORTIVE SCHOOL
Sisterhood runs a weekly training session and its first team competes in the Ladies Super Liga for 5- and 7-a-side teams.
Sara Taleghani said she struggled to reconcile her faith and her hopes of playing sports when she was at school in Ireland.
"I constantly had coaches trying to compromise my religion," Taleghani, who works as a social media manager for a public relations agency, said.
Teachers used to say that her head scarf posed a hazard and they insisted that she wore shorts. "I think that's the reason I stopped playing sports at school," Taleghani said.
For FaezehDeriss, 23, who recently completed a degree in child psychology, being able to wear what she wants while playing is vital.
"I've been to a couple of other football places but there weren't any girls who looked like me," she said. "Other teams I played with, they tried to make me wear shorts. I tried wearing shorts with leggings underneath but it didn't feel right."
There was no such conflict at Sisterhood. "I feel confident saying to the team that I am just going to go and pray. It's not an issue," Deriss said.
Taleghani said she was encouraged to see other Muslim women's football teams but she had a sense of regret that some players of her generation will never fulfil their potential, given how recently they were given the chance to play.
"If there had been spaces like this when we were growing up, I know a few girls who would have made it as pros," she said.
For Abdullahi, Sisterhood's founder, the most important achievement of the club is the sense of togetherness among its members many of whom have become friends.
"I think the thing that honestly brings tears to my eyes is the fact that we've actually built our little community," Abdullahi said. "The name Sisterhood FC, it's not by accident like we have literally built a sisterhood."
Source:ThePrint
https://theprint.in/sport/the-sisterhood-of-muslim-women-uniting-football-and-faith-in-london-team/1204103/
--------
Young Muslim woman joins several progressives in the fight to turn Delaware a deeper blue
Brooke Anderson
08 November, 2022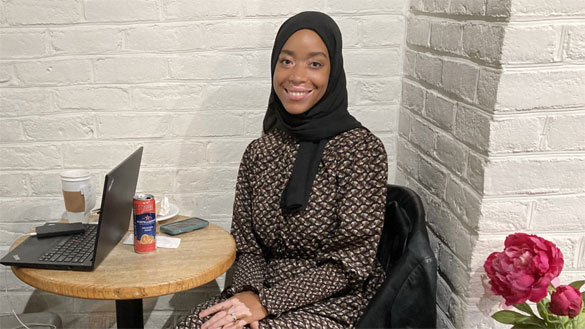 Madinah Wilson-Anton at a café in her home district in Newark, Delaware. [Brooke Anderson/TNA]
-------------
Madinah Wilson-Anton is one of several progressive in Delaware's state legislature who has ousted establishment Democratic incumbents and is now working to push through progressive policies.
As the daughter of two African-American Muslim converts in Newark, Delaware, she grew up in an international environment in a community with Muslim immigrants from different parts of the world. At an early age, Israel and Palestine were always part of the conversation.
Her diverse upbringing led to her wanting to work for the United Nations. She studied languages (Spanish, Arabic, Chinese and French), and then turned to international relations. Her interest in policy eventually led her to turn to local politics.
Her language skills would prove useful when she ended up running for office and doing grassroots campaigning.
"Language is really helpful. When someone tries to meet you where you are, it means a lot to people. It makes a difference with how you're able to start a relationship with someone," she tells The New Arab.
After completing her master's degree at University of Delaware, she worked for a state legislator, John Viola. When he talked about retiring, she saw an opening in 2020. And then when he changed his mind and decided to run again, she ended up in a tight race against her former boss, eventually winning by just 43 votes.
"It was definitely awkward," she says about running against her former boss. But once she'd decided to run, she didn't think about turning back. Seeing the process up close made her think about the movie The Wizard of Oz, when the curtain is pulled back to show a regular man.
"If it's a Republican or a Democrat, they're people just like you and me," she says. "If it can be him, it can be me. It should be the person with energy and drive."
"One thing I try to remind people of is that it's bigger than our personal relationships. It's a duty. Whoever's doing it should be doing it a hundred percent," she says.
Wilson-Anton entered that first race at the beginning of the pandemic. She describes her strategy at the time as throwing everything at the wall in terms of phone banking, holding virtual events and using social media to engage voters.
In her latest primary in September in the solidly blue District 26, she won against her Democratic opponent by a 30-point margin. She is on track to win on 8 November in the general election. And this last time around, she says her former boss was helping her Democratic primary opponent.
She says the main issue that stirred her to run for office was education inequity, something she became familiar with as a legislative staffer. She has also seen it as she goes through neighbourhoods at graduation time when the signs of different school names line the streets, a result of school lottery programmes that send students across town instead of to the local neighbourhood school.
She sees Delaware as a microcosm of the country, noting that the north is very Democratic, while the southern part is more rural with conservative values.
"Delaware is pretty cool," she says. "What's really cool about the 26th district is there's the microcosm in one. The neighbours are from all over. There's the old and the new. It's where I grew up. I'm partial to it."
"We have a lot of diversity. A lot of people are surprised at the options. We have some great Middle Eastern restaurants. We have everything in this tiny state," she says.
It's unsurprising to hear Delaware touted, not just because Wilson-Anton is a politician representing the state, but because it's often overlooked. It's a state with stunning scenery on the east coast that many people pass through en route from Washington DC to cities in the northeast, but where few stop to visit.
In fact, one can take commuter trains all the way down the coast from Boston to Washington, DC. But the chain breaks in Delaware, where infrequent buses are the state's only means of affordable public transportation.
Joe Biden, who started his national political career as one of the youngest US senators in US history at the age of 29, just one year older than Wilson-Anton is now, has arguably put the state on the map more than anyone. As senator, he was well known for his commutes between Delaware and Washington, DC. And as president, he takes regulars trips to his home in Wilmington and to speak at the university.
While studying for her master's in public policy at the University of Delaware, she joined the Biden Institute upon its establishment. There, she had brief encounters with Biden, whom she describes as down to earth and approachable. In one instance, she offered to make him coffee, but he insisted on doing it himself.
She says that as president he's more progressive than she expected, though she also understands there are limits to what he can do given the make-up of the House and Senate.
She sees the country's turn toward right-wing extremism as well as progressivism as a response to failed neoliberal policies, including her state's longtime role as an international corporate tax haven.
"A lot of neoliberals are not delivering to working class people," she says. "If that's not working, people will go to the other side. People are turning to fascism."
"A lot of people look at both parties and don't see anything different," she adds.
In Delaware, she says people are lucky to have options. In this election cycle, she is one of several progressives, all women, who has beaten a Democratic incumbent and is expected to win in a solidly blue district. She says the Working Families Party in Delaware has been instrumental in supporting promising progressives in the state.
She says she plans on staying in state politics because being part of a small state assembly allows her to have a louder voice than she would in national politics.
Emgage-Action, a Muslim American advocacy group, endorsed Wilson-Anton in her first primary and has continued to do so with each race.
"We're actually e very proud of our endorsement," Mohamed Gula, Emgage-Action advocacy director tells TNA. The group typically gives candidates a survey to fill out on their policies. Gula says she included policies in her responses they hadn't thought to ask about.
"I really love when they're grounded in their local communities," he says. "I think her future will be that, especially if she continues working as she has been. We'll be there every step of the way."
Source: The New Arab
https://english.alaraby.co.uk/news/how-muslim-woman-turning-delaware-deeper-blue
--------
Despite obstacles, self-sacrificing Afghan women lead way to education
Bilal Guler
07.11.2022
KABUL, Afghanistan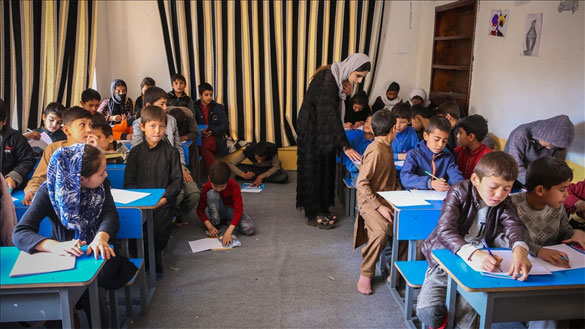 'We do not want Afghan girls to remain uneducated, forgotten and excluded from society,' says Afghan volunteer
-----------
Despite many obstacles, self-sacrificing Afghan women educators have taken it upon themselves to teach girls who are not allowed to go to school, child workers who contribute to their families' livelihoods, and illiterate women.
The Taliban, who came to power in Afghanistan in August 2021, imposed restrictions on working women and girls' education.
Though barriers preventing women and girls from receiving education at the level up to 6th grade and in universities were removed, in most of the country, girls were not allowed to return to education in public schools at the secondary and high school levels.
In many provinces of Afghanistan, volunteers are imparting education to underprivileged children in informal schools they have established with their own means.
SodabeNezend and AzitaNezend, two sisters in their 20s, are among the Afghans who willingly shouldered the responsibility to educate those children who are deprived of education.
These sisters opened the doors of the school they established in the capital Kabul to Anadolu Agency correspondent, where teachers give lessons 25 hours a week to nearly 250 students. Students are also trained in tailoring and carpet weaving here.
"The school offers courses in History, Mathematics, Persian, English, Biology, Chemistry, and Physics in accordance with the curriculum," SodabeNezend told Anadolu Agency.
"It is very clear that women are forgotten and marginalized in Afghanistan at all times. We do not want this situation to be repeated. We do not want Afghan girls to be uneducated, forgotten, and excluded from society," Sodabe said.
AzitaNezend said: "We found that most of the girls were depressed and lost motivation after the Taliban's decision to prevent them from education. By establishing such a school, we wanted to give hope to girls that one day schools will reopen," Azita noted.
Taliban returned to power in Afghanistan last year on Aug. 15 as officials of the US-backed Kabul administration fled the country and foreign forces withdrew.
Taliban's takeover followed by the disruption of international financial assistance left the worn-torn country in economic, humanitarian, and human rights crises.
Many Afghan women have demanded their rights be reinstated by taking to the streets, protesting, and organizing campaigns.
Source: Anadolu Agency
https://www.aa.com.tr/en/asia-pacific/despite-obstacles-self-sacrificing-afghan-women-lead-way-to-education/2731775
--------
Jordanian filmmaker using virtual reality to fight Muslim stereotypes
Handan Kazanci
05.11.2022
A Jordanian filmmaker and producer is fighting stereotypes about Muslims with the help of virtual reality films on Islamic history.
"We've been producers and filmmakers for over 10 years but we never thought that we will go into entertainment until we were in Disney," Samah Safi Bayazid told Anadolu Agency.
Bayazid is co-owner of LightArt Media Productions and Light Art VR, a company she describes as "for Islamic entertaining virtual reality experiences."
The idea for VR films about Islamic culture came when she and her husband were visiting the theme park. "We were having so much fun," she said.
"Why don't we have as Muslims, anything fun like this?" she wondered.
"What if we can tell our stories and our heritage? And the Islamic history in a super entertaining way, using cutting edge technology, we develop our software," she said.
Bayazid said her company has "achieved the goal of entertaining and still educating people."
The company produces films in eight languages, including Turkish, has four VR films about Islamic heritage, and is producing a fifth and sixth within the next year.
The 33-year-old was in Istanbul to attend a two-day conference hosted by the Women and Democracy Association (KADEM), an Istanbul-based women's advocacy group, together with Türkiye's Family and Social Services Ministry.
The theme of the fifth International Women and Justice Summit was "Cultural codes and women," with Anadolu Agency serving as the event's global communication partner.
"I'm here to talk about the image of women and the presentation of women in the media," Bayazid told Anadolu Agency on the sidelines of the summit.
"I've worked in this industry for over 12 years and living in the US I see how the way women, specifically Muslim women, are being represented in the media directly affects how we are being treated and this sometimes causes Islamophobia," she added.
Telling our story
Bayazid cited the importance of "telling our stories as a Muslim producer and filmmaker" and said she will be talking about the importance of telling the stories of Muslim characters.
Along with her husband Muhammad, Bayazid founded Light Art VR five years ago. "We decided that we want to produce entertainment for Muslim audiences around the world," she said.
They started producing a Virtual Reality computer-generated company to show 8k resolution films "that take you back in time 1,400 years ago, to witness the story of Islam," she said.
The director based in Washington also discussed reactions from audiences. "So, we have completed two different reactions because we have our Muslim audience and non-Muslim ones."
Muslim audiences, she said, were "screaming, laughing, crying," when they watch the company's films.
Non-Muslim audiences had similar reactions but were surprised to learn facts about Muslim culture they did not know until watching the film.
"We did our project in New York just to share our Islamic culture," she said. "They loved it and they said 'we didn't know all this information because it's very informative."
"For example, they thought that Islam is a religion of violence. They told us that before watching our VR experiences they thought that women are second-class citizens in Islam and they are controlled by men," she said.
"It's one of the reasons to educate people and to tell them about our Islamic heritage and culture, to tell our own story and on our narrative," said Bayazid. "Because we're not going let other people tell our story the way they want. It's our job to tell it the right way."
Source: Anadolu Agency
https://www.aa.com.tr/en/culture/jordanian-filmmaker-using-virtual-reality-to-fight-muslim-stereotypes/2730264
--------
Ammar film festival shifts focus to Iranian women's issues
November 7, 2022
Established by a number of Iranian revolutionary figures, the festival has been named after AmmarYasir, a close companion of the Prophet Muhammad (S).
Speaking in a press conference, the director of the Ammar Policy-Making Council, SaeidKhorshidi, said some of Iranian society's concerns and needs have been disregarded in the media.
For instance, he said, Iranian women's issues have always been ignored by the media.
"The path Iranian women have followed over the past forty years has not been discussed by the media; the Islamic Revolution's achievements in women's issues are instructive; I hope the revolutionary filmmakers would regard this subject," he stated.
The Ammar Policy-Making Council has selected Argentinean Muslim cleric Edgardo Robin to replace the former president of the festival, Nader Talebzadeh, who died in April.
Following his conversion to Shia Islam under the influence of the Islamic Revolution, Robin uses the name SoheilAsaad.
As a graduate of the Beirut Arab University in Lebanon and Al-Mustafa International University in Qom, he has been traveling across the world to promote Shia Islam.
"We are Hajji Nader's heirs; as his children, we will follow the path he chose," Asaad said at the press conference.
"The festival is unique in character, linking art, thought and media," he noted and added, "I was a stage actor when I was living in Argentina. It was vitally important for me to do everything in an artistic way. When I shifted to Islamic studies I pledged to myself to do everything based on thought."
"The Islamic Revolution should not confine its artistic and media activities only to national boundaries; this culture and lifestyle should be promoted as exemplary and a model for the world," he stated.
As a cleric, Asaad said that establishing "a Shia Hollywood" was once a concern for him and added, "Cinema is really powerful, so it's really necessary to do whatever we can."
Source: Tehran Times
https://www.tehrantimes.com/news/478441/Ammar-film-festival-shifts-focus-to-Iranian-women-s-issues
--------
International Women's Ice Hockey Championship – Kuwait defeats Andorra
November 8, 2022
KUWAIT CITY, Nov 7 : The Kuwaiti national team defeated Andorra 5-0 in its second match in the Kuwait International Women's Ice Hockey Championship, while Luxembourg beat the UAE and Colombia over Ireland.
The Kuwaiti players played very well, especially in the second and third halves, so that the women's hockey team grabbed its first three points in the championship, occupying fourth place with a goal difference from Emirates team, while Andorra remained without points in sixth and last place .
In the second match, Luxembourg won its second victory in the tournament by defeating its UAE counterpart 6-3 with six points in second place, with a goal difference from Colombia , while the UAE team remained at 3 points in third place.
In the third match, Colombia topped the championship with a goal difference after its second and outright victory over its Irish counterpart (7-3), raising its score to 6 points, Colombian players were excellent in attack and defense, while Ireland received its second defeat to settle in fifth place without points.
Source:ArabTimesOnline
http://www.arabtimesonline.com/news/international-womens-ice-hockey-championship-kuwait-defeats-andorra/
--------
Rapper Drake faces backlash for song 'dissing' Moroccan women in new album 'Her Loss'
November 8, 2022
Drake's new album "Her Loss" has caused quite an international stir, rearing heads and climbing the chart beats. However, his line on Moroccan women has triggered a fierce backlash against the self-proclaimed feminist rapper.
In collaboration with Savage 21, Toronto-born Drake released last week a 16-track album, mainly diss tracks, taking a non-subtle-shot at fellow rappers and rivals such as Ye (Kanye West), DRAM, Ice Spice, and controversially, Meghan Thee Stallion.
While the 'beef culture' is no stranger to hip-hop, several Moroccan listeners said Drake has crossed the line with his track, "Jumbotron S*** Poppin."
"Thick Moroccan b****, this my fav', I'ma go on and beat it. (…) Send a girl home, call another, dawg, I'm too slime. She ain'twanna eat it on her first day, it's haram," said the rapper in his third solo track in the newly released album.
The reference to Moroccan women was widely seen as another form of long-standing offensive stereotypes regarding the "hyper-sexualising" Moroccan women.
"This song disrespects and sexualises Moroccan women because it reinforces a long-standing stereotype, according to which Moroccan women are seen as bitches (…) and sex workers," YasminaBenslimane, a Moroccan human rights activist and founder of feminist platform politics4her, told The New Arab.
For far too long, the reputation of sex-working haunted Moroccan women in airports and politics and now apparently in art too, explained the Moroccan activist in reference to the "Mehram-gate scandal."
Earlier this year, the "Mehram-gate" scandal erupted as many young Moroccan women came together to share their stories of being denied access to Jordan, a country that does not require a visa for Moroccans because they are under 30 and they were travelling without a male companion (Mehram).
According to the International Air Transport Association (IATA), the trade association representing the world's airlines, a Moroccan woman aged between 16 and 36 needs the prior agreement of the Ministry of the Interior, except in the following cases: "She is accompanied by a husband, father or brother. She is part of an official delegation. She is the daughter of a high-ranking officer."
Jordan's embassy in Rabat said at the time, "It lacks visibility at the moment" on the sexist travelling rule that contradicts the right of movement.
Moroccan officials have not reacted to the Mahram-gate scandal until the moment.
Many Gulf countries also restrict the entry of Moroccan women under 35.
In a nutshell, Drake's usual way of charming his fan base by dissing women who "broke his heart" has taken a profound sexist, and arguably racist, meaning in this case.
Ironically, on the same album, Drake confessed in his track "on BS" that he is a "feminist," pointing to his call out against the abortion ban in the US.
However, many argue that Drake's past actions and new-brand lyrics do not line up with this assessment.
Source: The New Arab
https://english.alaraby.co.uk/news/drake-faces-backlash-dissing-moroccan-women
--------
Who's Who: Aliya Al-Sabti, general manager of the National Address Unit at Saudi Post
November 07, 2022
She oversees the national address across Saudi Arabia and improves its transformational journey as one of the pioneer women leaders in SPL.
Al-Sabti leads the transformation by enabling a contactless delivery experience and has been instrumental in launching the short address for over 7.5 million addresses with 100 percent coverage of the Kingdom.
Moreover, the NAU has built multiple strategic partnerships with map platforms such as Google to enable address accessibility and navigation. As a result, its adoption has shown remarkable growth, enhancing the delivery experience and service quality across industries.
Al-Sabti ensures improving user experience and maintaining its standards to meet customer needs regularly.
Additionally, she has worked closely with leading companies such as Aramex, Jahez and Noon to improve the end-to-end delivery experience in logistics, food delivery and e-commerce.
Before SPL, Al-Sabti worked in digital consulting as a digital transformation advisory manager at Ernst & Young Middle East. She managed several digital transformation projects for the public sector and contributed to setting up the Digital Experience Maturity Index for government services.
Before that, she worked as a data and artificial intelligence senior consultant at IBM Services Middle East. She managed mega portfolios with over SR300 million ($79.86 million) revenue and developed data and AI solutions for the telecommunication and banking industries.
Al-Sabti earned a bachelor's degree in computer science from Imam Mohammed bin Saud Islamic University in 2012. She later completed her IBM Consulting by Degrees program as a certified design thinking practitioner and a certified artificial intelligence or IBM Watson developer.
She was recognized as IBM's top performer in 2013 and 2014. Al-Sabti is the founding member of the Saudi Data Community and IBM Female Business Resources Group. She is also co-founder of the IBM Saudi Blue Leap Program.
Source: Arab News
https://www.arabnews.com/node/2195421/saudi-arabia
--------
Egyptian Montenegrin actress Tara Emad talks representation and dream roles
November 07, 2022
DUBAI: Hard work and persistence are the keys to success for Egyptian Montenegrin actress Tara Emad, who is the first Middle Eastern star to score a campaign with Chanel Beauty.
The actress, who fronted a campaign with Cartier in the past, told Arab News the opportunity is not one she takes lightly.
"It makes me feel that I have a role now. Growing up, I always wanted to see representation," she said, adding that she feels "incredibly grateful" for the chance to serve as that representation for other young women around the world. "It's rewarding, it's humbling," she said.
Having started her career at 14 as a model, the now-29-year-old has a number of films and advertorials under her belt. Born to an Egyptian father and a Montenegrin mother, Emad told Arab News that she was always fascinated by the camera as a child and was comfortable being in the spotlight.
"I felt that this is where I belong, in front of the camera. My mother noticed how much I loved being photographed and how much I loved posing in front of the camera…It was always the joke in the family that 'Tara is always camera ready', no matter what or where.
"I was fascinated by the fact that I could do roles and live other people's lives through characters and be them for a certain amount of time," she added. "It's incredibly daring. It's beautifully demanding."
Emad nabbed her first role at the age of 15, but her breakout role came at 20 when she starred alongside renowned Egyptian actor Adel Imam in the 2014 comedy show "Saheb El-Sa'ada" that aired during Ramadan.
"Given that opportunity, I was not aware…how much it was going to reflect later on in my life and how big of a step it was. I was not aware until the series was airing," she said. "It was a once-in-a-lifetime opportunity, and it has changed everything that came afterward."
Despite her stellar portfolio, the actress is yet to star in an action film.
"I would love to do action," she said. "I don't think — especially in the Arab world — we have enough roles that are written for lead women (in action movies). There might be some action sequences, but there is not a (female-led) action movie…So I would love to do that."
Source: Arab News
https://www.arabnews.com/node/2195191/lifestyle
--------
UAE: Strategy to make Dubai pioneering model for women-friendly cities launched by Dubai Women Establishment
November 08, 2022
Dubai: Dubai aims to be a pioneering model for women-friendly cities and a strategy to achieve this has been launched by the Dubai Women Establishment (DWE).
DWA has launched its new strategic plan for 2023-2027 to support women and consolidate their participation in the development process in all fields.
The plan is in line with the directives of His Highness Sheikh Mohammed bin Rashid Al Maktoum, Vice President and Prime Minister of the UAE and Ruler of Dubai who considers the human resources as a main priority. It also follows the directives of Sheikh Hamdan bin Mohammed bin Rashid Al Maktoum, Crown Prince of Dubai and Chairman of the Executive Council, to upgrade the government work system in accordance to the best international practices to enhance Dubai's competitive position, includes three strategic pillars.
The pillars include creating an enabling environment for women in the labour market, developing women leaders, and enhancing the quality of life for women in society.
Through these pillars, DWE seeks to achieve its vision of "Dubai as a pioneering model for women-friendly cities".
To achieve this, DWE plans to implement relevant projects and qualitative initiatives in cooperation with the authorities concerned in the emirate ranging from the public and private sectors, and also global partners.
The plan benefits from the unlimited support provided by the UAE's wise leadership, the supportive legislative structure and the effective policies, which reflects the Establishment's commitment to continue its support, and increasing its social and economic influence and strengthening its presence across global platforms.
Creative vision
SheikhaManalbint Mohammed bin Rashid Al Maktoum, President of Dubai Women Establishment, wife of Sheikh Mansour bin Zayed Al Nahyan, Deputy Prime Minister and Minister of the Presidential Court, said: "At a time when the UAE is preparing to embark on a new journey of prosperity, we announce the launch of the Dubai Women Establishment's 2023 – 2027 strategic plan, which incorporates a creative vision to make Dubai a pioneering model for women-friendly cities.
"The strategic goals align with the directives of Sheikh Mohammed to advance women's participation in various fields and provide them with the needed contentment. This aligns with His Highness' keenness to invest in people as the real capital to lead development and growth, especially [since] women have demonstrated their efficiency and highly contributed over the past 50 years with their dedication to the economic and social prosperity of the UAE and its global prestige."
Supportive approach
SheikhaManal pointed out that the UAE was founded on a supportive approach towards women and benefits from their capabilities as a main contributor across all development paths.
The Dubai Women Establishment was created in 2006 by a decree of Sheikh Mohammed and is an example of the unlimited support provided by the UAE's leadership to women and their active presence in various fields.
SheikhaManal affirmed that the new strategic plan aligns with the vision of the Dubai government in providing a friendly and conducive environment for women, whether they are citizens, residents or visitors, thus enhancing the competitiveness of Dubai as a city suitable for living - not only for women, but for society as a whole.
She stressed that Dubai already has many practices that make it friendly to women in terms of policies and services of all kinds.
SheikhaManal indicated that the new strategy of DWE builds on the results of the past five-year work plan, which witnessed many achievements in the field of supporting women, enhancing their participation and influence in social, economic and political life, and increasing their representation in leadership positions. In order to move forward towards developing the economy of Dubai and enhancing its competitiveness globally.
She affirmed that the new strategic plan focuses on contributing to the strengthening of supporting legislation and policies, consolidating partnerships and allowing women to influence locally and globally through their prominent economic and social role and their effective presence in international platforms such as conferences and forums. The strategy also includes performance indicators and methodologies for continuous development.
Future needs
Mona Ghanem Al Marri
Mona Ghanem Al Marri, chairperson of the Board of Directors and managing director of the Dubai Women Establishment, said that the strategic plan 2023-2027, in addition to its focus on supporting women professionally and economically and upskilling their functional and leadership capabilities, emphasizes all the elements that guarantee the quality women's lives and achieving a balance between the requirements of work and social life.
The strategy will also focus on the future opportunities in the labour market, in order to attract women to all sectors, in addition to providing consultations and building a knowledge centre for best international practices related to women empowerment.
Al Marri highlighted the components of the new strategy, highlighting that it includes specific mechanisms to implement its main objectives and themes.
The pillars
Starting with the first pillar, creating an enabling environment for women in the labour market, where it will be achieved by contributing to strengthening the legislative environment and ensuring its application to meet the future needs of women. It will also provide incentives and the mechanisms necessary to adopt and implement new ideas related to women's entrepreneurship, with a focus on identifying future opportunities and fields of work for women, and determining the skills required.
The second pillar, developing women leaders, will be achieved through continuous efforts to build and enhance leadership competencies and skills to increase women's representation and promote their participation in leadership positions that enable them to achieve their aspirations and achieve gender balance in society. Additionally, the plan incorporates implementing projects and initiatives that support the external representation of women such as in boards of directors on a global level, while also focusing on the technical skills needed for new job opportunities, keeping pace with the fourth industrial revolution.
Al Marri stated that the third strategic pillar related to enhancing the quality of women's life in society, will be achieved through several mechanisms. The foremost of this is ensuring the efficiency of implementing federal and local policies and legislation that support women, putting forward initiatives and creating practices that support work-life balance and bettering women's quality of life.
Qualitative initiatives
Shamsa Saleh, member of the Board of Directors and CEO of the Dubai Women Establishment, said that the strategic plan 2023-2027 features a number of new qualitative initiatives that will be implemented according to a timeline. They will have a significant impact in achieving the strategic pillars and objectives, and the implementation will be evaluated according to performance indicators.
She referred to a number of these initiatives, including the "Dubai's Pioneering Model for Women-Friendly Cities", where standards will be developed for this global model, and the "Dubai leadership" initiative at the level of the Dubai government, with the aim of increasing the commitment of Dubai's corporate government leadership to support women and the gender balance agenda.
She also mentioned the "Women on Global Boards" initiative in addition to the "Innovation Incubators" initiative, which includes developing and activating a framework that supports innovation, applying all creative and developmental ideas related to women and encouraging participation in them; attracting young pioneers in their field of work and highlighting them as promising talents.
The plan also includes an initiative to encourage women's participation in local and global competitive indexes, and an initiative which focuses on cultural heritage, in line with Dubai's strategy and the call of Sheikh Mohammed to preserve the Emirati cultural heritage. The initiative will focus on linking the cultural heritage to women, in addition to other initiatives that support achieving the strategic objectives of the plan.
Source: GulfNews
https://gulfnews.com/uae/uae-strategy-to-make-dubai-pioneering-model-for-women-friendly-cities-launched-by-dubai-women-establishment-1.91804093
--------
60 rural women in Sindh receive handloom training
November 06, 2022
Azeem Samar
Karachi: Sixty underprivileged rural women of Sindh have completed a four-month training to operate handlooms in order to empower them to earn their livelihood.
The handloom weaving training was organised by an alliance between ZABTech, a platform working to impart vocational training to youth, and the non-profit SZABIST Foundation named after former prime ministerZulfikar Ali Bhutto.
The graduating rural women from Larkana district received free-of-charge training, handlooms, and tablet computers with customised applications to enable them to virtually showcase their products and earn money through e-commerce.
The beneficiary women also received a stipend as their transportation charges for attending the training.
ZABTech in collaboration with the SZABIST Foundation has so far imparted vocational training to 60,000 underprivileged youths in the province to transform their lives.
Speaking at the graduation ceremony, Aseefa Bhutto Zardari, who is the youngest daughter of former prime minister Benazir Bhutto, said that vocational training of the youth through such charitable initiatives would go a long way to bring socio-economic stability in the country.
She said the SZABIST Foundation had been undertaking such welfare projects to act upon the vision of the past and current leadership of the Pakistan People's Party (PPP) including Bilawal Bhutto Zardari for youth empowerment.
She said the collaboration between the two entities would continue to launch more such charitable programmes to impart technical and vocational training to the youth of rural areas to empower them to start their careers in different fields.
She told the audience that the handloom training initiative was a pilot programme to launch similar courses for the empowerment of rural women and to help them achieve financial independence.
PPP Women Wing President, FaryalTalpur, said the manifesto of her political party stood for empowering underprivileged women to achieve distinction in different spheres of life.
She said that the rural youth of Sindh was multi-talented as upon receiving such training they would play their due part in the progress and development of Pakistan.
Source: GulfNews
https://gulfnews.com/world/asia/pakistan/60-rural-women-in-sindh-receive-handloom-training-1.91777661
--------
Ireland Women to go ahead with Pakistan tour despite attack on Imran Khan
Nov 04 2022
Lahore, Nov 4 (IANS): The Ireland women's cricket team will go ahead with its maiden tour of Pakistan for the three One-day Internationals and as many T20I matches after an assessment of the situation arising out of the attack on former Pakistan Prime Minister and cricket captain Imran Khan suggested there was no threat to the team.
The first ODI of the series between Ireland Women and Pakistan Women on Friday will go ahead despite the incident taking place at Wazirabad, approximately 150km outside Lahore, venue of the three ODIs and three T20Is. As per the schedule, the series will go on till November 16 after the third T20I.
A gunman opened fire at a campaign truck carrying Imran Khan at Wazirabad in eastern Paksitan, wounding him in both his legs. The gunman was arrested at the scene and no group has claimed responsibility for the shooting.
The attack happened while Imran Khan, who led Pakistan to their first World Cup title in 1992, was leading a protest convoy of his political party, Pakistan Tehreek-e-Insaf (PTI), supporters in Wazirabad and heading towards the capital, Islamabad, as part of his campaign aimed at forcing the government to hold early elections. Imran is reported to be safe and admitted to a hospital. One person has reportedly died and seven have been wounded in the attack.
Cricket Ireland said according to the current advice provided to it, there was no change in threat level and it was liaising with Pakistan Cricket Board and security advisors to assess the situation.
"Current advice provided to Cricket Ireland is that there will be no change in the threat level as a result of this incident. The Ireland Women's squad has been briefed, while Cricket Ireland's security advisors will continue to review procedures and monitor the situation," it said.
"Cricket Ireland is currently liaising with the Pakistan Cricket Board, in-country security advisors and diplomatic services. The PCB Chief Executive Faisal Hasnain has spoken directly with Cricket Ireland Chief Executive Warren Deutrom and Team Manager Beth Healy, and provided them with an updated assessment of the on-ground situation," it added.
The Ireland Women's squad has been training at the Gaddafi Stadium ahead of the first match of their first-ever tour of Pakistan.
Source: DaijiWorld
https://www.daijiworld.com/news/newsDisplay?newsID=1016305
--------
URL: https://newageislam.com/islam-women-feminism/kerala-journalist-movie-women-isis/d/128359
New Age Islam, Islam Online, Islamic Website, African Muslim News, Arab World News, South Asia News, Indian Muslim News, World Muslim News, Women in Islam, Islamic Feminism, Arab Women, Women In Arab, Islamophobia in America, Muslim Women in West, Islam Women and Feminism