New Age Islam News Bureau
16 Jul 2017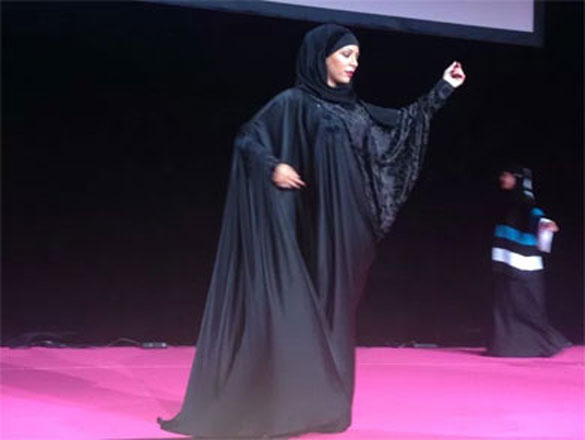 A fashion show in a French 'Muslim women' fair in Pontoise.' Credit: Carol Mann
-----
• Maryam Mirzakhani: Iranian Newspapers Break Hijab Taboo in Tributes
• 15 Women Kidnapped From Islamabad Limits in June
• Family Says No Communication with Dr Aafia Siddiqui
• Architect, 28, DENIES Trying To Pull Hijab Off Muslim Tube Passenger In Race Hate Attack Saying He Was Only Defending His Black Girlfriend
Compiled by New Age Islam News Bureau
URL: https://www.newageislam.com/islam-women-feminism/the-journey-hijab-–-afghan/d/111841
--------
The Journey Of The Hijab – From The Afghan Burqa To Fashion Magazines
BY CAROL MANN
16/07/2017
July 12 is National Hijab Day in Iran, a celebration that has been met by defiant protests by women driving headscarfless in their cars.
At the same time, the American glossy Allure has featured, for the first time, a hijab-wearing model on its cover. The Somali stunner Hamali Aden demonstrates just how beautiful and fashion-forward Islamic style can be.
How did this versatile piece of fabric get so controversial?
Global hijab
As an anthropologist who studies women's lives in the Middle East and Afghanistan, I have a particular interest in female dress. So I have closely followed Europe's ongoing debates over the hijab worn by young Muslim women.
In France, where I live, even the terminology remains confused: the term voile (veil) covers everything from the modest hijab or headscarf, to robes like the burqa.
Muslim female coverings, in fact, vary widely in size and origin. Afghanistan and the Pashtun areas of Pakistan feature the burqa, generally blue in colour, while the all-encompassing abaya is mandatory in the Gulf states, and the black niqab compulsory in Saudi Arabia.
Some version of the latter is increasingly worn by young Muslims and converts the world round who have adopted a strict, fundamentalist reading of Islamic texts.
These groups have adopted the all-in-one item called jilbab, which they have taken from Indonesia (where jilbab is a general term for hijab, or scarf, and is found there in various forms and colours).
Looser versions of this garment are also worn in former British colonies with considerable Muslim populations, such as Pakistan, Bangladesh and parts of India.
Cheerful, multicoloured hijabs are sported across the Middle East, although in Iran, the stern black tchador, which covers both body and head but (unlike the Sunni niqab) reveals the face and hands, is also common.
France has drowned out the diversity of these garments and their differing connotations with rigid legislation. And the public gets whipped into a frenzy over anything that could pass as Muslim clothing being a threat to the founding Republican principal of Laïcité, or secularism.
Last summer's "burkini" outrage is emblematic of the confusion governing the issue in France. Lebanon has also now forbidden the swimwear on its beaches.
Emblem of repression?
Like all clothing, Muslim women's garb has no singular or fixed meaning.
In many countries, among them Saudi Arabia and Afghanistan, it is emblematic of legally-condoned repression of women. In Malaysia, Iran and ISIS-dominated regions, a special vice squad controls how women dress. Where sharia norms prevail, women's appearance is never above the scrutiny of state, or of men.
As a result, attention to make-up – especially of the eyes and eyebrows – and plastic surgery is heightened in these countries.
And fashionistas in Tehran, of course, are famous for turning the mandatory clothing into a design statement.
But in much of Europe and some Muslim-dominated countries, such as Chechnya, Chad and Morocco, hijabs are not compulsory, and the full-face niqab may be outlawed, as it is in France.
The League of Human Rights and Amnesty International protested France's 2014 ban, saying that the law infringed on human rights. These are the same human rights organisations that decreed, post-9/11, that the burqa was emblematic of the Taliban's patriarchal repression of women.
These two contradictory meanings uneasily coexist in the same article of clothing.
Towards a 'globalised islam'
The unexpected surge of religious practice among young people in the Middle East and Europe may offer some answers to how this is possible, and why it's happening.
With the failure, some six years ago, of the Arab Spring revolts and ongoing distrust of Western interference in the Middle East, Muslim millennials appear be turning increasingly to religion, says French sociologist Gilles Kepel in his latest essay, La Fracture.
For them, faith fills an ideological void and, though digital consumerism is widely accepted, it helps young people express their contempt for hegemonic Western neoliberalism. This recalls historian Francis Fukuyama's 1992 book, The End Of History and the Last Man, which presented two bleak options for the future of the world: nationalism and religious fundamentalism.
Religion has emerged salient, but perhaps not quite as much as Fukuyama foresaw it a quarter of a century ago. Instead, in an exemplary case of what Marxist historian Eric Hobsbawm called "invented tradition", some forms of adherence to Islam have evolved into a uniform devoutness that excludes any reference to local culture. It is also increasingly political but includes a check on appearance.
The result is what Olivier Roy has dubbed Globalised Islam.
A comparable process has even swept through parts of Europe and North America where pockets of strong ethnically-based communities have long existed. But the US, UK and Canada tend to be more tolerant of such visible ethnic and religious wear than republican France.
Many of the five million or so self-identified Muslims in France feel targeted by the country's creeping paranoia, which has split French society into those who associate anything "Muslim" with terrorism and those who vigilantly defend against Islamophobia.
The rise of modest fashion
France's political hysteria may have reached its absurd peak when, in 2016, Women's Rights Minister Laurence Rossignol proclaimed "modest" fashion as the new evil.
An outgrowth of what was once a discreet American niche market for Mormons and Orthodox Jewish women, the market providing appropriately moral clothing for Muslim women has been booming for the past six years or so, largely online.
Modest-fashion vendors benefit from Instagram accounts and fashion sites that dispense advice to the younger generation of Muslims, which now includes a number of newly-converted shoppers.
As the upwardly mobile Muslim middle class grows in Indonesia, the Middle East, the UK and the US, these countries have seen a dynamic fashion trend among women who insist on being open about their religion.
According to a recent Thomson Reuters report, Muslims worldwide spent an estimated US$244 billion in 2015 on apparel, surpassing the US$221 billion layout of Chinese fashionistas.
Modest fashion is not just about piety; it's about looking great, embracing modernity and showing that women can have multiple identities, including a religious one. Major brands, including haute couture labels like Dolce and Gabbana, are now producing clothing for this expanding market.
But fearful France has, of course, excluded itself from a share of this profitable trend. What some French people and many other observers fail to realise is that hijab can be an accessory. Women choose to wear it for their own reasons, from tradition to habit to feminist social challenge or sheer vanity.
They also have the option to change who they want to be, at the drop of a scarf. In doing so, they are able to accommodate their beliefs in active public participation with others. And is this not, in many ways, the very opposite of fundamentalism?
https://thewire.in/158203/hijab-from-afghan-burqa-to-fashion-magazine/
--------
Maryam Mirzakhani: Iranian newspapers break hijab taboo in tributes
16 July 2017
Iran's state-run newspapers on Sunday broke with the country's strict rules on female dress to show the mathematician Maryam Mirzakhani with her head uncovered, as the country mourned the death at the age of 40 of the woman known as the queen of mathematics.
Tributes were led by the president, Hassan Rouhani, who posted a recent picture of Mirzakhani on Instagram without a hijab. "The grievous passing of Maryam Mirzakhani, the eminent Iranian and world-renowned mathematician, is very much heartrending," he wrote.
Mirzakhani, a Stanford University professor, died in hospital in California on Saturday after cancer in her breast spread to her bone marrow. The university president, Marc Tessier-Lavigne, said Mirzakhani's influence would live on in the "thousands of women she inspired" to pursue maths and science.
When in 2014 she became the first woman to win the Fields medal, often described as maths' Nobel prize, Iranian newspapers digitally retouched Mirzakhani's photograph to put a scarf over her head while others published a sketch showing only her face. Iran's strict laws on female dress require all women to be covered in public.
The front page of Hamshahri, a state newspaper, particularly stood out, winning praise for portraying her as she had lived. "Maths genius yielded to algebra of death", read its headline over a picture of Mirzakhani without a hijab. "The queen of mathematics' eternal departure", read the headline of Donya-e-Eqtesad's headline.
The Fields medal, first given in 1936, is awarded to exceptional talents under the age of 40 once every four years. Mirzakhani won the prize in 2014 for her "outstanding contributions to the dynamics and geometry of Riemann surfaces and their moduli spaces".
Christiane Rousseau, vice-president of the International Mathematics Union, said at the time it was "an extraordinary moment" and compared it to Marie Curie's Nobel prizes in physics and chemistry at the beginning of the 20th century.
In another sign that Mirzakhani was breaking more taboos even after her death, a group of parliamentarians in Iran on Sunday urged the speeding up of an amendment to a law that would allow children of Iranian mothers married to foreigners to be given Iranian nationality.
Mirzakhani is survived by her Czech scientist husband and her daughter but a marriage between an Iranian woman and a non-Muslim man was previously not recognised, complicating visits to Iran by their children. Fars news agency reported on Sunday that 60 MPs were pressing for the amendments so that Mirzakhani's daughter could visit Iran.
Mirzakhanai was born and raised in Iran. She studied at Tehran's prestigious Sharif university and later finished a PhD at Harvard in 2004.
She had survived a bus crash in February 1998 when a vehicle carrying the mathematical elite of Tehran's Sharif University back from a competition in the western city of Ahwaz skidded out of control and crashed into a ravine. Seven award-winning mathematicians and two drivers lost their lives in the crash.
Mirzakhani and at least two other survivors later left their country, underlying Iran's long-standing brain drain difficulties.
"A light was turned off today, it breaks my heart … Gone far too soon," said Firouz Naderi, an Iranian Nasa scientist. "A genius? Yes. But also a daughter, a mother and a wife."
Tessier-Lavigne, the Stanford president, described Mirzakhanai as "a brilliant mathematical theorist, and also a humble person who accepted honours only with the hope that it might encourage others to follow her path."
Edward Frenkel, University of California Berkeley professor and the author of the New York Times bestseller Love and Math, tweeted: "RIP #MaryamMirzakhani – a great mathematician and wonderful human being who broke a glass ceiling and inspired many, men and women alike."
Mirzakhani predominantly worked on geometric structures on surfaces and their deformations.
A statement from Stanford said she "specialised in theoretical mathematics that read like a foreign language by those outside of mathematics: moduli spaces, Teichmüller theory, hyperbolic geometry, Ergodic theory and symplectic geometry."
In a rare 2008 interview, with the Clay Mathematics Institute, Mirzakhani said as a child she dreamt of becoming a writer and did poorly at maths at school.
"I never thought I would pursue mathematics until my last year in high school," she said, crediting her older brother for getting her interested in maths and science.
"My older brother was the person who got me interested in science in general. He used to tell me what he learned in school. My first memory of mathematics is probably the time that he told me about the problem of adding numbers from 1 to 100." (The answer is 5,050 and the trick is to look at pairs that add up to 101.)
https://www.theguardian.com/world/2017/jul/16/maryam-mirzakhani-iranian-newspapers-break-hijab-taboo-in-tributes
--------
15 Women Kidnapped From Islamabad Limits in June
July 15, 2017
Islamabad - Around 15 cases of kidnapping of women were registered in various police stations of the capital city in the month of June this year besides two cases of kidnapping of male citizens, suggests the police data.
The kidnapped women included girls and married women who were abducted for various reasons, including the one 'in order to subject person to unnatural lust', the most heinous of the crimes against women.
Recovery of the women has had always been a problem which takes months in normal circumstances. On the other hand, police also took considerable time to register these cases. In some cases, police took more than a week to even register the case.
The data gathered from 21 police stations of the city revealed that women were more vulnerable to kidnapping in the capital, as compared to male segment of the society. The increasing incidents of female kidnappings indicate that women are not safe, even in the capital, and can easily fall prey to kidnappers. A senior police official said, on condition of anonymity, that in some registered FIRs pertaining to women's matters are labelled kidnapping cases, while the reality was much different.
"Parents lodge FIRs against the accused when women marry against the will of their parents, just to save their self respect. In other cases, when a girl elopes with her paramour, the parents approach police for criminal case against the accused," he said. The data shows that Shahzad Town police, Aabpara police, Noon police, Koral police, Secretariat police, Tarnol police, Lohi Bher police, Kohsar police, Golra police and Karachi Company police registered one such case during the said period while Shalimar police and Ramna police registered two such cases each in which a total of 15 women were kidnapped.
Majority of the cases have been registered under section 365-B and 496-A of the PPC. Ramna police registered a case on June 23 while the incident took place on April 28. Golra police registered a case on June 20 while the incident took place on May 29.
According to the official figures, in 2016, Islamabad saw a 160 per cent increase in rape cases. In a reply submitted to the National Assembly in March this year by Interior Minister Chaudhary Nisar Ali Khan, the interior ministry revealed that crimes against women had risen sharply in the federal capital. 15 cases of rape were reported in the federal capital in 2015, but the number jumped to 39 in 2016, the document said.
tahir niaz
http://nation.com.pk/islamabad/15-Jul-2017/15-women-kidnapped-from-ict-limits-in-june
--------
Family Says No Communication with Dr Aafia Siddiqui
July 16, 2017
KARACHI - The family members of Dr Aafia Siddiqui have said that they have not talked to her on telephone for the last two years, fearing this facility may have been withdrawn.
In a press release issued here on Saturday, Aafia Movement Pakistan leader Dr Fawzia Siddiqui said that she and other members of Aafia's family were extremely concerned about her health and wellbeing, as they had no telephonic communication with her for the last two years.
"Because of that we do not know how she is passing her days in detention in the American jail," she said.
She regretted that the family members could not talk to her even on the occasion of Eidul Fitr.
She said Pakistani embassy officials in the US had failed to take steps for the resumption of telephonic communication of Aafia with her family.
"They have also failed to take concrete steps to seek her release," she said, and added, "It is necessary that the government officials discharge their duties honestly so that the confidence of people is resorted in them."
Fowzia regretted that the Pakistani officers instead of performing duties had become salves of corrupt rulers.
She said that protection of citizens should be the top most responsibility of the government officers. Demanding appointments and postings of government officials on merit,
Fowzia said it was inevitable if they were to discharge their duties honestly for the wellbeing of citizens of Pakistan.
She said the nation needed honest and committed rulers.
"The rulers have been deceiving people on the issue of Aafia's release since 2003," she said, and added that betrayal of the cause of daughter of the nation could not give respect and honour to the rulers.
She said not only the Pakistani nation, but people of the whole world had been demanding the release and repatriation of Dr Aafia Siddiqui.
http://nation.com.pk/karachi/16-Jul-2017/family-says-no-communication-with-dr-aafia
--------
Architect, 28, DENIES trying to pull hijab off Muslim tube passenger in race hate attack saying he was only defending his black girlfriend
16 July 2017
An architect has denied trying to pull a Muslim teenager's hijab off, saying he was defending his black girlfriend.
His comments come after 18-year-old Aniso Abulkadir from Harrow, London, claimed she and her friends were racially assaulted at Baker Street Tube station yesterday morning.
The teenager shared a photo of the alleged attacker online and described how he attempted to remove her headscarf before hitting her.
Now the man in the image has identified himself on Twitter and is hitting back at the allegations after the picture went viral.
Pawel Uczciwek, 28, from London, claims he was sticking up for his girlfriend and attempting to defuse what he called a 'racist attack from three random females'.
Mr Uczciwek wrote: 'I would like to confirm I never hit or attacked anyone I simply defused the situation by separating them.
'The police is fully cooperating with me and will be able to obtain CCTV footage showing the three women attempting to attack my partner because we are in an interracial relationship.'
A spokesman for the British Transport Police said they were investigating the incident and had been sent the statement from Mr Uczciwek.
Police said the first call they received was in the early hours of Saturday morning after the episode from the victim.
Earlier today Luxi Rajeswaran, who was with her friend Miss Abulkadir, at the time of the alleged incident said an argument broke out after another friend was body-shamed by the woman in the photograph.
Speaking to MailOnline, Miss Rajeswaran claimed her friend was set upon by a man who attempted to pull off her headscarf shouting: 'Show me your hair!'
'The man said, "Show me your hair!" and tried to pull it off. Ania has never had a racial encounter like this before and has been left so upset by it,' the 18-year-old said.
'It's the worst thing that could happen to have it removed, she chooses to wear it and it's for her own reasons. It's stripping her of her dignity to do that,' she added.
Miss Rajeswaran then described how the thug turned on her after she called him racist for his behaviour.
She claimed: 'He almost pinned me up against the wall so I couldn't move then spat in my face. I tried to get help but the cleaner nearby ignored me. Everyone else on the platform ignored us and didn't try to help.
'I was trembling but I managed to take a picture, we didn't want to show them our fear but obviously afterwards we were shaking. It's quite a lot for an 18-year-old to go through something like this, we were just trying to get home. All our families were worried about us as we missed the last train back because of it.'
After reporting the incident to the police, Miss Abulkadir posted about the ordeal on Twitter, alongside a picture of the suspects.
In the post, Aniso Abdulkadir wrote: 'This man at Baker Street station forcefully attempted to pull my hijab off and when I instinctively grabbed a hold of my scarf he hit me.'
She posted: 'He proceeded to verbally abuse my friends and I, pinning one of them against the wall and spitting in her face.
'The woman was throwing out threats and was also verbally abusive.'
A spokesman for the British Transport Police said earlier today: 'Behaviour like this is totally unacceptable and will not be tolerated. This incident has been reported to is and we're investigating.'
Miss Rajewaran, who has just completed sixth form and is planning on attending university in the Autumn, also recounted the incident on Twitter.
She wrote: 'These two at Baker Street station were racially abusive, the man tried to pull my friends headscarf off and pushed me against a wall, find them.'
Writing on the social media platform, she described how there were up to 30 people on the platform who looked on but did nothing.
She said: 'Racism is a real thing people choose to ignore, we really do live in a pathetic society where people are all talk and completely useless
'I'd just like to take a moment to emphasise on my disgust on the people who witnessed a grown man pull an 18 year olds hijab and remain silent.
'Believe me, there were more than 20 to 30 people and not a single person helped. People just watched and filmed, ****** pathetic.'
http://www.dailymail.co.uk/news/article-4700658/Police-hunt-man-tried-pull-hijab-Muslim-woman.html
--------
URL: https://www.newageislam.com/islam-women-feminism/the-journey-hijab-–-afghan/d/111841
New Age Islam, Islam Online, Islamic Website, African Muslim News, Arab World News, South Asia News, Indian Muslim News, World Muslim News, Women in Islam, Islamic Feminism, Arab Women, Women In Arab, Islamophobia in America, Muslim Women in West, Islam Women and Feminism