New Age Islam News Bureau
4 Jan 2020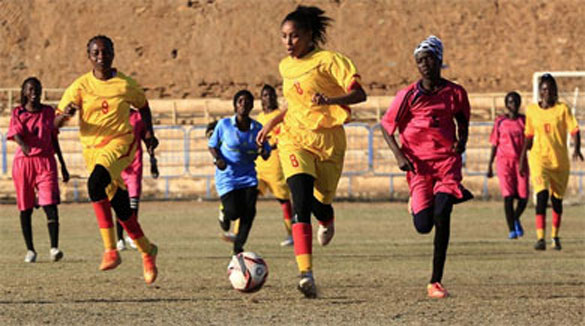 In this Wednesday, December 11, 2019 photo, Sudanese al-Difaa, in pink, and al-Sumood women teams play in Omdurman, Khartoum's twin city, Sudan. Photo: AP
-----
• The Horrifying Moment a Mob of Men Grope a Screaming Woman during New Year's Eve Celebrations in Egypt
• Woman 'Ripped Muslim Student's Hijab Off, Then Rubbed It All over Her Naked Body' In Portland, Oregon
• Sudanese Women Demand Govt to Sign CEDAW
• Ankara Raises Measures To Curb Violence Against Women
• Women Know Less about Politics than Men Worldwide
• Sudan's Women Pursue Soccer Dream, Challenging Conservatives
• Region's It Girls Make Stylecity an Addictive Game
• SUPP Women Slams Putrajaya for Appointing Non-Local As Unimas Chairman
Compiled By New Age Islam News Bureau
URL: https://www.newageislam.com/islam-women-feminism/the-horrifying-moment-mob-men/d/120707
------
The Horrifying Moment A Mob Of Men Grope A Screaming Woman During New Year's Eve Celebrations In Egypt
3 January 2020
Disturbing footage has emerged of a distressed woman trapped by a crowd of men and allegedly being sexually assaulted during New Year's Eve celebrations in Egypt.
Authorities are investigating after the video, filmed in Mansoura, about 75 miles northeast of Cairo, was widely shared on social media platforms and enraged people online.
The disturbing footage shows the woman screaming as she is surrounded by a large crowd of men.
The victim attempts to force her way into a nearby car as the men grab at her and appear to pull her back.
At one point a few of the men even stand on the roof of the car.
Some of the men appear as though they are trying to help her get into the vehicle.
She eventually manages to get into the car amid the chaos, where a driver is already waiting.
Her top appears to have been pulled down in the incident.
The incident has shone a spotlight on the sexual harassment endured by women in Egypt.
On Twitter, people drew attention to the fact that sex mob attacks have occurred before in the country and called for stricter legislation to protect women and combat sexual harassment.
'This is a result of the absence of law in Egypt,' one Twitter user wrote in Arabic.
Another outraged user wrote: 'They are animals, I swear they have no morals. They only think of women as tools of pleasure and seduction. If these animals saw a foreign woman they won't approach her regardless of what she could be wearing, because they know there will be harsh repercussions.
'Unfortunately, they know nobody cares about an Egyptian woman and that she'll be blamed at the end of the day.'
In Egypt, unwanted sexual contact is punished with a minimum of one year in prison and a fine, although there is speculation about how well the laws are enforced.
https://www.dailymail.co.uk/news/article-7849157/The-horrifying-moment-mob-men-sexually-assault-screaming-woman-Egypt.html
------
Woman 'Ripped Muslim Student's Hijab Off, Then Rubbed It All Over Her Naked Body' In Portland, Oregon
Jimmy McCloskey
Friday 3 Jan 2020
A woman faces hate crime charges over claims she ripped a Muslim student's Hijab off before rubbing it all over her naked body. Jasmine Rennee Campbell, 23, reportedly targeted her victim, who is from Saudi Arabia, at a Max light rail station in Portland, Oregon, on November 12. She was due to be arraigned in court Friday, but failed to show up for the hearing. The student, who was not named, is said to have been approached by Campbell, who grabbed her headscarf and tried to choke her with it, it is alleged. Campbell is then accused of yanking the Hijab off the student and taking all of her own clothes off so that she was only wearing a leather jacket. 'Too late to leave': Australian bushfires rage out of control as temperatures soar to 48C The alleged Islamophobe is then said to have rubbed the Hijab over her body in various ways in an apparent attempt to corrupt the religious head covering. She was reportedly stopped by a police officer who showed up and say what was happening. Court documents seen by Fox12 said Campbell claimed 'she was fighting and playing around, that she wanted to be a stripper, that she wanted to show the victim that she did not have to be a Muslim, that people don't have to be black or white, and the she wanted the victim to know that religion doesn't define her.' The Saudi student told police the incident left her too fearful to wear her Hijab in public. She also refused an offer to have the Hijab Campbell stole returned to her. Campbell faces charges of second-degree bias crime, attempted strangulation, harassment and third-degree criminal mischief.
https://metro.co.uk/2020/01/03/woman-ripped-muslim-students-Hijab-off-rubbed-naked-body-11998837/?ito=newsnow-feed
------
Sudanese women demand govt to sign CEDAW
January 3 - 2020
On Thursday, hundreds of women demonstrated in Khartoum demanding Sudan's new government to sign the Convention on the Elimination of All Forms of Discrimination against Women (CEDAW).
The rally, which was called for by 60 feminist organisations, moved from the Hadayeg El Shuhada in downtown Khartoum to the offices of the Council of Ministers.
The women raised banners calling on the government to accelerate the signing of the CEDAW agreement, and chanted "The entire world, except us. You make us feel ashamed."
The Convention on the Elimination of all Forms of Discrimination Against Women (CEDAW) is an international treaty adopted in 1979 by the UN General Assembly. Described as an international bill of rights for women, it was instituted on 3 September 1981 and has been ratified by 189 states.
The USA and Palau have signed, but not ratified CEDAW. The Holy See of Rome, Iran, Somalia, Sudan, and Tonga did not sign the treaty.
The regime of Omar Al Bashir, ousted in April 11 last year, was opposed to the equation of men and women. In February 2017, Islamist groups strongly opposed constitutional amendments that would give women more rights in marriage and inheritance affairs.
In post-Al Bashir's Sudan, feminists have appealed for more women participation in the government and in the peace negotiations more than once.
https://www.dabangasudan.org/en/all-news/article/sudanese-women-demand-govt-to-sign-cedaw
------
Ankara raises measures to curb violence against women
January 02 2020
Turkey will take new steps to root out violence against women from society, the Interior Ministry said on Jan. 1.
Some 500,000 security forces personnel will receive trainings to sensitize them to the crime as part of the initiative, according to a circular.
The personnel will be allowed to confiscate licensed guns of suspects under trial through a court order.
Special units within the police and gendarmerie forces will be established to fight violence against women.
Those convicted of the crime will have to wear electronic monitoring bracelets.
Representatives of public institutions will have a seat in the commissions founded in every district to monitor and coordinate efforts to prevent violence against women.
Academics, women's rights groups, bar associations and non-governmental organizations will also be invited to the commission meetings, which will take place at least four times a year.
Only some 20 percent of domestic violence incidents are reported to the police or judiciary because they often take place in private spaces, the circular recalled, encouraging governors to collaborate with local heads, teachers, family practitioners and religious affairs officials to detect those incidents even if the aggrieved person does not file a complaint.
The Emergency Support for Women (KADES) smartphone application will be improved and promoted to the public, according to the circular.
Meanwhile, Turkey's Board of Judges and Prosecutors (HSK) has assigned local courts specialized in cases of violence against women.
Those specialized courts will swiftly take protective and preventive measure decisions for women exposed to violence, according to the HSK decision published in the Official Gazette.
"We will not solely monitor the women by assigning a guard for them. We will also follow the men. We will monitor them [violence suspects] with an electronic bracelet," Interior Minister Süleyman Soylu had said last year.
Cases of violence against women are commonplace in Turkey.
According to the We Will Stop Femicides Platform, a women's rights organization that keeps a tally of murders of women, 474 women were killed at the hands of violent men in 2019.
They say authorities are failing to apply laws to protect them and demand the Istanbul Convention, a Council of Europe agreement to combat violence against women, is implemented.
http://www.hurriyetdailynews.com/ankara-raises-measures-to-curb-violence-against-women-150504
------
Women know less about politics than men worldwide
Thu 11 Jul 2013
Sorcha Pollak
Women know less about politics regardless of gender equality, according to a survey by the Economic and Social Research Council (ESRC).
The report focused on ten nations, both developed and developing, where men and women were asked questions about domestic and international news. Despite the diversity of the ten sample countries – Australia, Canada, Colombia, Greece, Italy, Japan, Korea, Norway, the UK, and the US – women answered fewer questions correctly than men in every country.
10,000 participants took part in the study, which tested their knowledge of broadcast, print and web journalism. They were asked a combination of questions based on hard and soft news reports including recent international events. The hard news questions pertained to topics such as national unemployment, while soft news related to sports personalities and celebrity scandals. The level of gender equality in the nations surveyed was based on the World Economic Forum's Global Gender Gap index ratings.
Professor James Curran, Director of the Goldsmiths Leverhulme Media Research Centre at the University of London, was surprised to find that gaps in political knowledge are wider in countries that have done the most to promote gender equality. These gender gaps in Norway, the UK and the US are as large, or larger than gaps in South Korea and Japan.
Women's scores in the UK, the US, and Canada were more than 30% lower on average than men, whereas in Greece, Italy and Korea, women's average score was only 20% lower. The UK is positioned at 18/135 in the WEF gender equality rankings, while Korea is placed at 108.
Academic studies have previously found that women have higher levels of risk aversion and so are afraid of being wrong. When faced with multiple-choice questions, women are more likely to give a 'don't know' response than men. Others argue that the questions used to gauge political knowledge tend not to be gender-neutral and that women's political knowledge is more concerned with a personal experience of local politics and government programmes relating to daily life.
ESRC researchers found that the frequency with which people watch the news on television plays a role in gender gaps. Apart from Colombia and the US, the more people watch TV news, the better informed they tend to be. However, watching, reading and listening to the news tend to be more male activities, particularly in Canada, Norway, UK and US.
Age is also a factor in women's interest in political affairs. The study found that women acquire political knowledge much later in their lives than men, regardless of a country's gender equality status. This could be because women have less time to keep up with current affairs in their 30s and 40s as they spend most of their leisure time looking after family and doing housework. Meanwhile, men in advanced democracies steadily acquire political knowledge as they grow older.
"It seems that gaps in exposure to media are related to the gaps of knowledge between men and women," says Professor Kaori Hayashi, co-researcher on the report. He found that the gender-bias of hard news content in all countries plays an important role in gender gaps and underlines the serious lack of visibility of women in TV and newspaper coverage. Journalist Cathy Newman, recently raised this issue in her blog where she wrote that all broadsheet newspaper editors in the UK are male, while female journalists have to fight to get their voices hear in the newsroom.
A 2012 report by the Guardian's Women's Editor, Jane Martinson, found that 78% of all broadsheet and tabloid front-page bylines are male, while only 22% are female. Martinson also found that within the content of the news story, 79% of women were referred to as 'victims' while three-quarters of men held the role of 'expert.'
Professor Hayashi concludes that the main reasons for the gender gap in political knowledge are a male bias of media content, a lack of leisure time because of unpaid work in the home, and social norms and expectations which carry over from the past. He believes the under-representation of women in the news "may curb women's motivation to acquire political knowledge actively, and discourage them from political participation," and worries it could prevent women from becoming engaged citizens in a democratic society.
https://www.theguardian.com/news/datablog/2013/jul/11/women-know-less-politics-than-men-worldwide
------
Sudan's women pursue soccer dream, challenging conservatives
January 04, 2020
OMDURMAN, SUDAN: All her life, Elham Balatone wanted to play soccer — like her brothers, like the boys on her street. But in the Sudan where she grew up, women could be flogged for wearing pants, let alone soccer shorts. She heard all the reasons why she had to give up her dream. It's a Muslim country; the uniform is inappropriate; the sport was meant for men.
She played anyway, wearing pants or putting on leggings underneath shorts.
"There's nothing in this world that I love more than soccer. Please let me play," she says she told her family. For years, she and other women played largely in the shadows, sometimes on dirt pitches they cleaned themselves, often bouncing from one spot to another. The women finally took center stage when the world watched them play at a Khartoum stadium as the youth and sports minister and others celebrated Sudan's new, officially recognized women's soccer league. Balatone even had her family's blessings. But it is more than just a game. The women's league became a field of contention as Sudan grapples with the transition from three decades of authoritarian rule that disenfranchised women in particular.
Transitional authorities have taken some steps to roll back the legacy of ousted President Omar Bashir. In November, they overturned a notorious "public order" law that the prime minister said had been used as a "tool of exploitation, humiliation," resulting in "atrocities" against women and youth. Rights defenders call it a step in the right direction, but say the fight is far from over.
Some ultraconservatives, however, have been pushing back. Preacher AbdulHay Yousif and others have painted soccer as part of a battle for Sudan's identity.
"What religion, what Shariah, what manhood would allow a Muslim woman to appear before men ... with her arms, legs and some of her thighs exposed and then run before them," Yousif told worshippers in October, shortly after the league, made up of 20 teams, started.
"By God, these people have not come ... for economic development or social prosperity or scientific elevation. They have come to destroy religion and morals."
He also denounced the youth and sports minister, a woman, saying she "doesn't believe in what we believe in" and is a follower of "an apostate" — comments that sparked a legal battle between him and the minister.
Critics argue some conservatives are using an old playbook in Sudan: Weaponizing stringent religious views to target political opponents, control women and thwart change.
"Clearly this is part of an effort by Yousif to undermine the new government by stimulating a 'moral panic' regarding the subversion of gender roles. Partly it's about his religious views, but it is predominantly a patriarchal form of gender politics," said Willow Berridge, a lecturer in history at Newcastle University who has written about Sudanese extremists. Yousif and his supporters "tend to occupy the most uncompromising end of the religious spectrum in Sudan."
https://www.arabnews.com/node/1608011/sport
------
Region's it girls make StyleCity an addictive game
KHAOULA GHANEM
January 04, 2020
DUBAI: Between endlessly checking Twitter timelines and scrolling through Instagram feeds, a new activity has taken over the region's phone time. Enter StyleCity, an IOS and Android game made by Dubai-based tech company Dubzplay, that features three of the Middle East's top influencers who go by The Real Fouz, Model Roz and Noha Style Icon on Instagram.
The new mobile game, which has been dubbed "the UAE's fastest downloaded game" by its makers — it has been downloaded over 200,000 times since its November launch — draws inspiration from "Kim Kardashian: Hollywood," a highly-addictive app that mythologizes Kardashian West's ladder climb to the A-list.
"We really wanted to create original content that targets the region," shared Mohannad Khallouf, CEO of Dubzplay, with Arab News.
Available in both Arabic and English, the free mobile app is a role-playing game that's set against the backdrop of Dubai. It allows players to create a customizable character that is "expected to attend different events throughout the city."
In order to advance, the character must mingle with the It crowd of Dubai while getting rated for their style. By completing these tasks, the player will unlock a series of shops, salons, events and wardrobe options — there are over 1,500 unique items — that will help them become the "next StyleCity star."
"Dubai has a strong nightlife and fashion culture. It's definitely the hub of fashion in the region, and so we felt it would be the perfect backdrop," shared the mobile game developer on the decision to set the new app, which was four years in the making, in the Emirati city.
The game's success can likely be attributed to two factors: The Middle East's growing desire for high-quality, localized content and the strategically-planned app roll-out, which involved The Real Fouz (Fouz Al-Fahad) Model Roz and Noha Style Icon (Noha Nabil) announcing the launch to their combined 22.4 million Instagram followers.
Khallouf notes that the influencers weren't heavily involved in the development of the app, but played a role in promoting it on their respective social media platforms.
"They have a very strong presence in the GCC," stated Khallouf of the three fashion influencers. "All three of them are very well respected in the market, so it just made sense to design them as characters in the game."
StyleCity is available on Android and IOS, and the game is free to download with in-game purchases available.
https://www.arabnews.com/node/1608111/lifestyle
------
SUPP Women slams Putrajaya for appointing non-local as Unimas chairman
Friday, 03 Jan 2020
KUCHING, Jan 3 — The Women wing of the Sarawak United People's Party (SUPP) today slammed the federal government for appointing a non-Sarawakian to be chairman of Universiti Malaysia Sarawak (Unimas) without consulting the state government.
Its chief Kho Teck Wan said the appointment of Malaysian Institute of Economic Research (MIER) chairman Tan Sri Kamal Mat Salih as the fourth Unimas chairman has come as a shock to people of Sarawak.
"Prior to this, all previous appointments have been filled by Sarawakians after consultation with the Sarawak government," Kho said when commenting on the appointment of Kamal for a three-year term, effective two days ago.
She expressed regret that the appointment was done abruptly since the term of the third board chairman Tan Sri Sulong Matjeraie will not expire until April 30, 2021.
She questioned the rationale of the federal government for appointing a non-Sarawakian as there are many Sarawakians who have the qualifications to hold the post.
"What is the reason to replace the current chairman in such a hurry?" she asked.
Kho also questioned if the interests of Sarawakians, especially in terms of priority entry to Unimas, will remain the same with a non- Sarawakian as the chairman.
Kho said Kamal's appointment is one of various "disturbing and conflicting stunts" against Sarawak made by the Pakatan Harapan (PH) federal government.
She said a month after the PH government took over Putrajaya, the national oil company Petronas filed a legal challenge against Sarawak government over the right to regulate oil and gas upstream activities in Sarawak.
"Soon after, the federal government announced the relocation of the Office of the Registrar of the High Court in Sabah and Sarawak from Kuching to Kota Kinabalu without the consultation of the state government.
Kho said in the case of Unimas, it has been the tradition that a Sarawakian is made the board chairman.
She said the first chairman was former state secretary Tan Sri Bujang Mohammed Nor, the second was former Sarawak Foundation deputy chairman and director of the Malaysian Centre for Development Studies, Dr Hatta Solhi, before the appointment of Sulong, a former federal court judge, on May 1, 2018.
https://www.malaymail.com/news/malaysia/2020/01/03/supp-women-slams-putrajaya-for-appointing-non-local-as-unimas-chairman/1824484
------
URL: https://www.newageislam.com/islam-women-feminism/the-horrifying-moment-mob-men/d/120707
New Age Islam, Islam Online, Islamic Website, African Muslim News, Arab World News, South Asia News, Indian Muslim News, World Muslim News, Women in Islam, Islamic Feminism, Arab Women, Women In Arab, Islamophobia in America, Muslim Women in West, Islam Women and Feminism