New Age Islam News Bureau
24 Oct 2016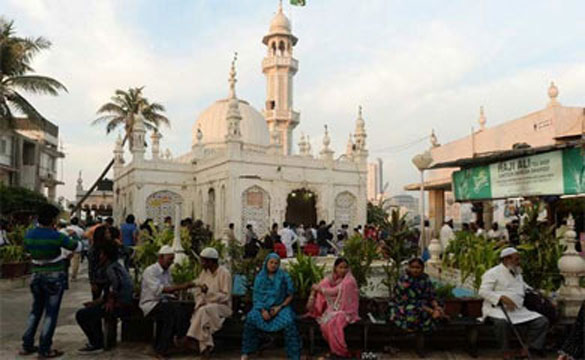 Indian Muslims and visitors are seen at the Haji Ali Dargah in Mumbai. AFP PHOTO
-------
• Swiss Court Rules against Employer for Firing Muslim Woman over Headscarf
• Women's Rights a Development Issue, Don't Politicise Triple Talaq: Modi
• Goa Governor Discusses UCC with Hindu, Muslim Women
• Tunisian Coalition Party Fights for Women's Rights with Gender Violence Bill
Compiled by New Age Islam News Bureau
URL: https://www.newageislam.com/islam,-women-and-feminism/new-age-islam-news-bureau/the-historic-haji-ali-dargah-agrees-to-lift-ban-on-women/d/108907
-----
The Historic Haji Ali Dargah Agrees To Lift Ban on Women
Oct 24, 2016
An historic mosque in India agreed Monday to scrap a ban on women entering its inner sanctum, after a bitter legal battle about the restriction in the deeply religious country.
The Haji Ali Dargah trust has barred women from the landmark mausoleum off the coast of Mumbai since 2011, insisting the presence of women near the tomb of a revered saint is a "grievous sin" in Islam.
The trustees had appealed to the Supreme Court against a lower court's decision in August to overturn the ban as a violation of constitutional rights of equality.
But the trust told the Supreme Court on Monday it would now admit women but needed several weeks to set up special entry areas to the tomb in the 15th-century building.
"The trust has decided to give women access to the sanctorum housing the saint's tomb," its lawyer Gopal Subramanium told the court.
A Muslim women's rights group hailed the decision as a victory which would likely put pressure on other places of worship that have gender restrictions.
"It is restoring the Islamic values of what we have always believed as Muslims, that Islam is a religion of equality, democracy and women's rights," Noorjehan Niaz, co-founder of Bharatiya Muslim Mahila Andolan which campaigns for the rights of Muslim women in India, told AFP.
Niaz was one of the petitioners who filed the case against the Haji Ali Dargah trust on constitutional grounds.
Women in India have been intensifying their campaigns to be allowed to enter a string of Hindu temples and other religious sites.
Hundreds of women staged a protest march to a temple in Maharashtra state in January, leading the high court in Mumbai to strike down a ban against women entering a shrine there.
The reasons for the trust's change of heart in the latest case were unclear. But the Supreme Court when taking up the appeal had expressed hopes of a "progressive" approach from it, according to the Press Trust of India.
Haji Ali Dargah is one of Mumbai's most recognisable landmarks and receives tens of thousands of not only Muslims but Hindu devotees and sightseeing tourists every week.
The mosque is located on an islet accessible via a causeway at low tide. It was built in memory of a wealthy Muslim who gave up his worldly possessions and went on a pilgrimage to Mecca.
http://www.worldbulletin.net/news/179070/historic-indian-mosque-agrees-to-lift-ban-on-women
--
Swiss Court Rules against Employer for Firing Muslim Woman over Headscarf
Oct 24, 2016
A Swiss court has made a ruling in favor of a Muslim woman who was fired by a company that she worked for a longtime after she started wearing the Islamic headscarf, also known as hijab, setting the first precedent of its kind in the country.
A regional court in Bern ruled last month that a 29-year-old Serbian woman was fired without just cause from a dry cleaning business, and ordered the company to dish out back-pay and damages to her, the Le Matin Dimanche weekly reported.
The woman, identified only as Abida, was fired in January 2015 from a job she had held for six years, after she began wearing the Muslim headscarf, it reported.
Her employer in Bern had told her the headscarf violated hygiene rules, and told her to remove it or be let go.
She reportedly offered to wash her headscarf daily or wear disposable headscarves, but her employer refused.
The Bern court ruled that the company had violated her constitutional right to freedom of expression, according to the paper.
It said wearing a headscarf can only be grounds for termination in cases where it makes it impossible to carry out duties described in the employment contract or if it "substantially affects" the working environment.
The case is one of the first of its kind in Switzerland, Le Matin Dimanche said, pointing to only one other known case dating back to 1990, when a machine manufacturer in the east of the country was also faulted for firing a woman for wearing a headscarf.
The ruling was hailed by several Muslim groups.
"It shouldn't matter if a woman wears a headscarf or a man wears the Jewish kippa. At work, competence should be the criteria and not the clothes that you wear," Onder Gunes of the Federation of Islamic Organisations in Switzerland told the paper.
Like in the rest of Europe, Islamophobia and anti-hijab sentiment is promoted by far right parties in Switzerland. Last month, Swiss People's Party (SVP) member Walter Wobmann claimed that Muslim women should not be allowed to wear headscarves in ID photos such as driver's licenses and passports.
http://www.dailysabah.com/europe/2016/10/24/swiss-court-rules-against-employer-for-firing-muslim-woman-over-headscarf
--
Women's Rights A Development Issue, Don't Politicise Triple Talaq: Modi
Oct 24, 2016
Modi's comments come weeks after the law commission circulated a questionnaire asking for comments on banning practices such as triple talaq and drafting of a uniform civil code (HT Photo)
Women's rights is a development issue and people shouldn't politicise a debate on triple talaq, Prime Minister Narendra Modi said on Monday, speaking for the first time on mounting calls to reform Islamic personal laws.
At a rally in Uttar Pradesh's Mahoba, Modi hit out at "some parties" who wanted to keep Muslim women bereft of natural rights for "vote-bank politics" – a possible reference to opposition parties that have countered the government's move to seek public opinion on banning triple talaq.
"I request people who participate in TV debates, don't make women rights into Muslim-Hindu issue. Women's right is a development issue," Modi said, according to ANI.
"Please don't make triple talaaq a political matter, let's take proper measures to give equal rights to women as well."
Modi's comments come weeks after the law commission circulated a questionnaire asking for comments on banning practices such as triple talaq and drafting of a uniform civil code, amid growing calls by women to outlaw codes that are gender discriminatory.
The influential All India Muslim Personal Law Board has criticized this move and accused the government of stoking an "internal war" but the Centre has rebuffed the charge, saying its only concern was gender justice.
"If a Hindu murders a girl child in the womb, he will go to jail. Similarly, is it fair that a man says talaq thrice and a Muslims woman's life is ruined?" Modi asked.
India has separate sets of personal laws for each religion governing marriage, divorce, succession, adoption and maintenance. While Hindu law overhaul began in the 1950s and continues, activists have long argued that Muslim personal law has remained mostly unchanged.
The key issues here are marriage and divorce norms. Under personal laws, such as the Shariat Act, a Muslim man can divorce his wife by uttering the Urdu word for divorce -- talaq – three times. The same laws also allow polygamy among Muslims. These emanate from the shariah, the Islamic legal code that varies widely from community to community.
Although the practice of so-called triple talaq is intended to prolong a divorce so that there is room for conciliation, it has often resulted in the opposite.
In recent years, Muslim women have increasingly spoken out against this and have approached the judiciary for redressal from what they say are unconstitutional codes that discriminate on gender. The Supreme Court is hearing three separate petitions by Muslim women on banning triple talaq.
http://www.hindustantimes.com/india-news/women-rights-is-a-development-issue-don-t-politicise-triple-talaq-pm-modi/story-VDaGsDF4isPDsOuOdM94YM.html
--
Goa Governor Discusses UCC with Hindu, Muslim Women
Oct 24, 2016
PANAJI: Pre-marital counselling should be made compulsory for Hindu couples to maintain harmony and avoid break-ups in the family, was a suggestion echoed by women, who had a meeting with Goa governor Mridula Sinha, at Raj Bhavan, on Sunday, to discuss issues related to the Uniform Civil Code (UCC). Sinha had a meeting with groups of Hindu women from different strata and professional set-ups, to elicit their views and ideas about uniform civil code being practiced in Goa.
Earlier, on Friday, Sinha had met with women from the Muslim community in the state for their opinion on the influence of the Uniform Civil Code on their lives.
"Muslim women do not find any hurdles or problems when it comes to the registration of their marriage in Goa," stated a delegation of 26 women belonging to the Muslim community.
Sinha inquired with the Muslim women about the practice of 'triple talaq' within the state's Muslim community. The delegation said that the 'triple talaq' system isn't practised in Goa and they enjoy equal rights in terms of education, property matters, etc, as per the code.
These interactions were aimed at seeking information about the positive impact of the Uniform Civil Code on women and understanding the benefits of the practice since the Portuguese era. Prior to these meetings, the governor also spoke to Catholic women for their suggestions.
Sinha will also interact with Sikh women and tribal women, before having a meeting with representatives of all these communities.
http://timesofindia.indiatimes.com/city/goa/Guv-Sinha-discusses-UCC-with-Hindu-Muslim-women/articleshow/55020356.cms
--
Tunisian Coalition Party Fights For Women's Rights With Gender Violence Bill
Oct 24, 2016
After 14 years of sexual harassment at work, Idihar Chaieb finally got her day in court. The widow had been repeatedly propositioned and groped by her boss, who was also a local official in her home town of Menzel Bouzelfa, an hour's drive from Tunis. When he finally got the message that Chaieb wasn't interested in his advances, he threatened to destroy her reputation.
"I was afraid to speak out. I thought I would be blamed," she said.
Finally, supported by a former teacher, women's organisations, and her son – and buoyed by the 2011 revolution in Tunisia – Chaieb gathered the courage to sue her tormentor. "I didn't want compensation, I just wanted him to leave me alone," she said.
To her dismay, however, in March 2015 the judge ruled against her. Chaieb was fired from the company where she had worked for 25 years; her former boss demanded a letter of apology. She was left devastated and destitute.
Chaieb's story is not untypical in Tunisia. Despite its reputation for being the most progressive country in the Arab world on women's rights, with almost one-third of parliament consisting of female MPs and more than 700 civil society organisations working on gender issues, violence against women and sexual harassment are endemic.
Almost half of women aged 18-64 – 47.6% – had experienced some form of violence, according to a 2010 survey. There is little evidence that the situation has improved since the uprising that ended the dictatorship of Zine al-Abidine Ben Ali and led to a democratically elected government.
However, this month Tunisia's parliament is debating a bill to strengthen legislation on violence against women. Championed by Ennahdha, a conservative reformist party with Islamic roots and a clutch of dynamic female MPs and officials, the bill is expected to be passed by the end of 2016.
The proposed law, which would be incorporated into other legislation and government policies, would introduce sweeping definitions of gender-based violence, covering psychological and economic harm in both the public and domestic spheres. Marital rape would be outlawed and there would be an end to impunity for rapists if their victims are under 20 and they subsequently marry them. Penalties for sexual harassment at work would be increased and police officers and hospital staff trained in gender issues.
The scope of the bill may challenge western stereotypes of Islam, but Mehrezia Labidi, an Ennahdha MP and chair of the parliamentary women's committee, said: "We see no contradiction between Islam and protecting women's rights. We have a progressive reading of Islam."
Sayida Ounissi, 29, another Ennahdha MP and secretary of state for entrepreneurship in the coalition government led by the secular Nidaa Tounes party, said: "It's good to have conservatives like us saying violence against women is not acceptable. Some conservatives might argue that the state should not interfere in the private space [of the family], but when a person's physical integrity is harmed, the state needs to step in."
Tunisia may have a better record on women's rights than other countries in the region, "but we compare ourselves to international standards", she added.
Tunisia is a country of contradictions when it comes to women's rights. Free abortion and contraception are available, and women have equal rights in marriage, divorce and property ownership. In 2010, one-third of judges and more than four in 10 lawyers were female; in 2013, 30% of Tunisia's engineers were women.
In 2014, three years after the revolution, equal opportunities were enshrined in a new constitution. Political parties were required by law to alternate men and women on electoral lists, ensuring substantial representation in parliament. In April 2014, Tunisia lifted its reservations to the UN Convention on the Elimination of All Forms of Discrimination Against Women.
But in socially conservative towns and villages, men and women continue to follow traditional roles. The word of a woman usually carries less weight than that of a man when accusations of sexual or domestic violence are evaluated, according to an Amnesty report.
Women who have been raped or sexually assaulted are often seen as bringing "dishonour" to their families. Victims of domestic violence are frequently pressed to drop complaints for the sake of family unity and reputation.
Though recognised as a specific crime since 1993, family violence is widely accepted as "normal". In 2012-13, two-thirds of the 5,575 complaints of marital violence lodged with the authorities were withdrawn or dismissed; only 10% resulted in convictions. The police may refuse to investigate complaints and allegations – and sometimes they are the perpetrators.
Siham Beji knows this all too well. The 51-year-old grandmother was attacked by three police officers on the street early one morning in May 2012. They beat her, breaking her jaw, and took her identity papers, a watch and a bracelet. Then they kept her in a police cell for three days. After a court appearance, in which the officers claimed she had been drunk and attacked them, Beji was fined and spent a further three days in prison. No medical attention was offered.
Eventually, with the help of the Association of Democratic Women, she brought a case against the men. A year after the attack, the officer who broke her jaw was sentenced to three months in jail; the other two got three days for their part. All three are still serving police officers.
"I became another person after the attack," said Beji. "I completely changed. I became aggressive, and I get upset and angry easily." She said her family blamed her for the episode. "I've tried to kill myself seven times."
Violence meted out to women by the police and security forces stretches back to the early days of the dictatorship. The Truth and Dignity Commission, established by the post-revolution government, has received 15,000 complaints from women who were raped, tortured and degraded under the regimes of Ben Ali and his predecessor, Habib Bourguiba.
According to Ibtihel Abdellatif, the body's commissioner for women, the number does not reflect the scale of violence against women. "For every man put in jail, be sure there were at least four women who were also victims – mothers, wives, sisters, daughters," she said.
"Men coming out of prison were seen as heroes, they were respected in their communities. But for women who were sexually abused, there was a terrible stigma. Many girls coming out of prison weren't accepted back into their families. There are women who have never told their husbands what happened.
"Many who have come to us say they don't want reparation, they just want a chance to say what happened, how it destroyed their lives, how they were rejected by society. The impact on women was much greater than the impact on men."
The commission is attempting to deal with the past; the violence against women bill aims to give greater protection in the future. But the politicians promoting it hope for something more than legislative change.
"We can't change people's lives simply by passing a law," said Labidi. "We change lives by education, raising awareness, changing the language around violence against women."
According to Ounissi: "Passing the law is the beginning of the process, not the end. You need the support of the education system; this starts at school. You need a training programme for the police. And you need to look at television shows that normalise violence. People are more influenced by what's on television than what's in a parliamentary bill."
Ounissi, the daughter of an imam added: "The mosques also play a major social role. These people are public servants, they are paid by the state – so we need to get the ministry of religion involved. If we can monitor imams for signs of radicalisation, we can monitor them for what they say on domestic violence. I don't think it will be difficult."
The Ennahdha party was historically labelled "Islamist", but six months ago it ditched that description in favour of "Muslim democrat". The move, which followed a three-year process, was overwhelmingly supported at Ennahdha's congress last spring. The movement draws comparisons with European Christian Democratic parties, saying its new label reflects a forward-looking democratic reformist party rooted in Islamic values.
Ennahdha – now a partner in the coalition government – expects the violence against women bill to win strong parliamentary support, although some compromises may be required before a final vote.
Amna Guellali, senior Tunisia researcher at Human Rights Watch, said the bill was a "comprehensive framework for fighting violence against women". All state institutions were mandated to incorporate it but "its practical impact will depend on a willingness of the state to provide the means of implementation. In Tunisia we have a tradition of passing good laws, but the reality on the ground is more complicated," she said.
For Chaieb, any move that strengthens the rights of women is to be welcomed. Her story has taken a turn for the better since she lost her case against her predatory boss.
Women's organisations helped her financially by investing in a small grocery shop she opened, and by finding her a lawyer prepared to act on a pro bono basis. In March, Chaieb returned to court, and this time her former boss was found guilty of sexual harassment and fined 25,000 dinars (£9,000).
A further appeal is yet to be heard, and Chaieb has not received any money. "But what happened to me has been recognised," she said. "I hope justice has been and will be done."
https://www.theguardian.com/global-development/2016/oct/24/tunisia-gender-violence-bill-substance-progressive-image
--
URL: https://www.newageislam.com/islam,-women-and-feminism/new-age-islam-news-bureau/the-historic-haji-ali-dargah-agrees-to-lift-ban-on-women/d/108907
New Age Islam, Islam Online, Islamic Website, African Muslim News, Arab World News, South Asia News, Indian Muslim News, World Muslim News, Women in Islam, Islamic Feminism, Arab Women, Women In Arab, Islamophobia in America, Muslim Women in West, Islam Women and Feminism