New Age Islam News Bureau
27 Nov 2016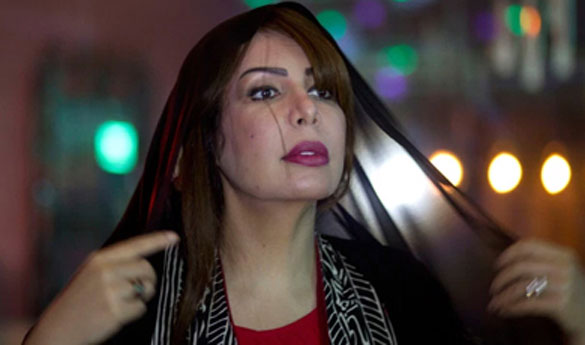 Photo: Souad al-Shammary, a twice-divorced mother and graduate of Islamic law, is taking on Saudi Arabia's powerful religious establishment.
------
• Muslim Women Entrepreneurs against 'Religious Extremism'
• Domestic Abuse Victim Describes 'Scary' IS Promises
• Women's Activist Nikhath Fathima Explains Why She Quit Muslim Personal Law Board
• 30 Years after Shah Bano, 'Islamic Feminists' Fight Back
• HuffPo: Muhammad Was 'History's First Feminist'
• Meet the Women Who See the Hijab as a Feminist Accessory
• Muslim Speaker Demystifies the Role of Women in Islam
• Why Do So Many Muslim Women Find It Hard To Integrate In Britain?
Compiled by New Age Islam News Bureau
URL: https://newageislam.com/islam,-women-and-feminism/new-age-islam-news-bureau/the-feminist-trying-to-change-saudi-arabia's-strict-islamic-law/d/109207
----------
The feminist trying to change Saudi Arabia's strict Islamic law
By Associated Press November 7, 2016 | 9:39am
Modal Trigger The feminist trying to change Saudi Arabia's strict Islamic law
Souad al-Shammary, a twice-divorced mother and graduate of Islamic law, is taking on Saudi Arabia's powerful religious establishment. Photo: AP
JIDDAH, Saudi Arabia — When Souad al-Shammary posted a series of tweets about the thick beards worn by Saudi clerics, she never imagined she would land in jail.
She put up images of several men with beards: An Orthodox Jew, a hipster, a communist, an Ottoman Caliph, a Sikh, and a Muslim. She wrote that having a beard was not what made a man holy or a Muslim. And she pointed out that one of Islam's staunchest critics during the time of Prophet Muhammad had an even longer beard than him.
The frank comments are typical of this twice-divorced mother of six and graduate of Islamic law, who is in many ways a walking challenge to taboos in deeply conservative Saudi Arabia. Raised a devout girl in a large tribe where she tended sheep, al-Shammary is now a 42-year-old liberal feminist who roots her arguments in Islam, taking on Saudi Arabia's powerful religious establishment.
She has paid a price for her opinions. She spent three months in prison without charge for "agitating public opinion." She has been barred by the government from traveling abroad. Her co-founder of the online forum Free Saudi Liberals Network, blogger Raif Badawi, is serving a 10-year prison sentence and was publicly lashed 50 times. Her father disowned her in public.
None of it was enough to keep her quiet.
"I have rights that I don't view as against my religion," says al-Shammary. "I want to ask for these rights, and I want those who make decisions to hear me and act."
Modal Trigger
Al-Shammary's advocacy has already sent her to prison for "agitating public opinion."Photo: AP
Across the Arab world, female Islamic scholars and activists have long been pushing for interpretations of Shariah law that allow women more freedom. They hold that Islam considers men and women as equals before God, but centuries of selective interpretation have twisted its spirit.
"Discrimination came from a reading of the religion, not the religion itself," says Olfa Youssef, a professor of Islamic studies in Tunisia and member of the Musawah global movement of Muslim feminists.
Al-Shammary is one of the most vocal and high-profile religious and women's rights activists within Saudi Arabia. Advocates here are demanding an end to so-called male guardianship rules that essentially treat women as minors, and recently sent a petition to King Salman that garnered about 14,700 signatures.
"She's very sure of what she's saying – she doesn't hesitate," says Sahar Nassief, a friend and fellow Saudi activist. "She literally comes from a Bedouin environment, a desert environment. She's very proud of her background, but this makes her a bit blunt with everyone and very blunt in what she says."
Modal Trigger
Saudi women in Holuf city. Al-Shammary asserts that discrimination against women has come from interpretation of Islam, not the religion itself.Photo: Getty Images
The boldness is evident in how she looks and carries herself.
At a little past 10 p.m., al-Shammary arrives at a relaxed rooftop restaurant in the coastal city of Jiddah in a multi-colored abaya, the loose robe all women in Saudi Arabia must wear in public. But unlike the black abayas of most, hers is a rainbow of gold, beige and bronze stripes. Her auburn-dyed hair, infused with subtle but trendy streaks of blue, purposefully and willfully peaks out from under a loosely wrapped tan headscarf. Her pink lip gloss is shiny, her nails painted dark red.
She counters what she calls the views of some women that all of life is just for "worship, worship, worship."
"You can wear lipstick and take care of your looks," she says. "I would say to them: This isn't forbidden."
Al-Shammary grew up the daughter of a peasant farmer in Ha'il, a landlocked province north of the capital, Riyadh. As the eldest of 12 children, she was in charge of the sheep.
She was not just religious but a practicing Salafi, a Muslim who adheres to a literalist interpretation of Shariah. She even had leanings toward Sayyid Qutb, whose books are banned across much of the Arab world because extremists use them to justify killing Muslims and non-Muslims alike.
She was deeply affected by the wars in Afghanistan and Bosnia, where Muslim men and boys were massacred. It was also at this time that the Sahwa Movement, or Islamic Awakening, was reaching its peak in Saudi Arabia. Conservatives demanded a bigger role for the clergy in government, and students no longer sang folk songs or performed traditional dance in schools. Women began wearing the full face veil even in communities where it wasn't the custom. Segregation of the sexes became more entrenched.
Modal Trigger
King of Saudi Arabia, Salman bin Abdulaziz Al Saud. Advocates recently sent him a petition of 14,700 signatures demanding an end to the kingdom's male guardianship rules.Photo: Getty Images
Al-Shammary had little exposure to the outside world in Ha'il. There were no malls, no satellite television receivers and no movie theaters in sight. Her hobby was listening to the news bulletin on the radio, writing it out and reading it back to her father. She also listened to conservative sermons on tapes shared among neighbors and friends.
"Around the world, stars are artists, actors, comedians, musicians. Our stars were religious men," she says.
She graduated from the University of Ha'il with a degree in Islamic studies and became a public school teacher. She spanked girls if she heard them singing, and worked closely with other women to raise money for Sunni jihadis in Afghanistan fighting Communist Soviet forces.
At 17, she married a man twice her age from the same tribe, who offered her financial stability. She had a girl, Yara, and was divorced at 20.
She re-married, to the chief judge in Ha'il who'd overseen her divorce proceedings, a man of prominence and religious stature as head of the Shariah courts there. He had other wives and children, even grandchildren. Most importantly, though, he had no objections to her daughter staying with her.
"He was older than my father," she says. "It wasn't love but a feeling of security."
In the end, it did not protect her.
Modal Trigger
Al-Shammary was raised in an ultra-conservative branch of Islam, saying that "around the world stars are artists, actors, comedians, musicians. Our stars were religious men."Photo: AP
Al-Shammary's journey to activism began on the day her daughter was taken from her.
Almost as soon as Yara turned seven, her ex-husband gained custody. Since al-Shammary had remarried, the court ruled that the girl should live with her father rather than in a house with another man.
"When they took her and said, 'this is Allah's will' and 'this is Islam', this is when my internal rebellion was sparked," says al-Shammary. "There is no way that there is a God in this universe that would accept this injustice and this pain on the basis that I am a woman."
Her ex-husband rejected tribal mediation as an alternative. Her husband, the judge, refused to interfere and wouldn't allow her to appeal, citing Shariah law. Her parents backed the court's decision and told her to be patient; it was the path to heaven.
During long walks in Ha'il's hills and farms, al-Shammary stood under the open sky, refusing to believe that God could want a mother separated from her child.
Modal Trigger
Muslim pilgrims pray outside the Prophet Muhammad mosque in Medina, Saudi Arabia. When Al-Shammary's daughter was taken from her, the court ruled that "this is Allah's will."Photo: Getty Images
For eight years, she fought her parents, her community and anyone who stood between her and Yara, whom she wasn't able to see. She talked about the case in television interviews. She tried several times to whisk her daughter away after school, but was always stopped by authorities. Her ex-husband moved Yara to a farm outside the city to live in isolation with her grandmother.
"I became crazy, but in front of my parents and my husband the judge, and the tribal community around him, and because of my position in the community and my name, I was expected to just sit like this and be a hero," she says, making an expressionless face and clasping her hands.
She had five children from her second marriage, but it wasn't long before she was divorced for a second time. And nothing made up for the loss of Yara.
"I prayed for a miracle to come down from the sky," she says. "I'd open the Quran. From the first verse on the first page to the last verse on the last page, there isn't a single thing that says, keep a daughter from her mother."
When Yara's father fell ill and the grandmother passed away, he finally allowed her, then 16, to live with her mother again. Al-Shammary relocated to the more liberal city of Jiddah with all her children finally under one roof.
She used her knowledge of Shariah by trying her hand at being a legal adviser for women in need, whom she had power of attorney to represent in court. She grew impatient with the judicial system, certain that it came down to personal connections or the whims of male judges.
Sometimes her advice was more Machiavellian than pious. Once she told a friend of hers to wear some make-up, find out which judge was slated to oversee her case, and then cry in front of him and plead for her court date to be moved up. It worked.
She shared her thoughts online on how Islam sees people, including women, as born free and equal. She began reading about liberalism. Although many in Saudi Arabia equate liberalism with heresy, al-Shammary began describing herself as a liberal, saying it was "a translation of the spirit of Islam."
So began a war of words – and of images.
After she posted the pictures of men with beards, she was called a hypocrite, a disbeliever, wicked and evil. Sheikh Abdullah al-Manee, a member of Saudi Arabia's highest religious council, described her as "malicious" and called for her speedy trial. He told the state-linked Sabq newspaper that "Souad al-Shammary is a criminal and she will be held accountable for her transgressions against the prophet."
Modal Trigger
Al-Shammary relocated to the much more liberal, seaport city of Jiddah after her daughter was allowed to live with her again.Photo: Getty Images
Her outspokenness and her appearances on television talk shows without a face veil were not easy on her family in Ha'il. Her younger brother, Fayez, recalls being told by a community elder: "You aren't a man. How can you allow your sister to behave like this?"
Fayez says he left Ha'il for about seven years because the comments became unbearable. His marriage proposal to a girl from another tribe was rejected because of his sister's reputation. He also came to blows with one of his younger brothers who cursed her flagrant disregard for social norms, with the two ending up in the hospital.
He describes the moment she posted pictures online with her hair showing.
"She opened a door that I couldn't defend," he said.
Even Yara opposed her at first.
"I was somehow against the idea. Like, mom, you are an activist? You are a human rights activist? You are women's activist? What does that even mean?" Yara asked. "I was so, so scared."
Kids at school would taunt her sons. In turn, they sometimes lashed out against their mother, says Fayez. Yara said they support their mother but also question how far she has taken her activism.
Despite prominent figures calling for al-Shammary's arrest and trial, she didn't think it could happen. She was sure she had not committed a crime.
"I hadn't crossed the line of Shariah," she says. "I am a graduate of Shariah."
The authorities thought otherwise.
After several rounds of interrogation, she was detained at the women's section of Jiddah's Briman prison on October 28, 2014. She was accused of agitating public opinion. She was never tried or convicted.
In prison, al-Shammary continued her advocacy behind bars, telling women that music is permissible and explaining their legal rights. She says female Muslim missionaries began appearing in prison more often, telling women their time there was the will of God. The television was always turned onto the religious Majd channel.
Al-Shammary wondered what would come first: Her reading the Quran front to back, or her release from prison.
She was released from detention on January 29, 2015 – before she could finish reading the Quran. She had to sign a pledge to reduce her activism. And a male relative, Fayez, had to sign for her release.
She continues to tweet to her more than 207,000 followers, though she says she weighs her words more carefully than before. She acknowledges being brash and unwavering by nature, first as a conservative Salafi and then as a liberal. Her brazenness, she says, is a part of her character.
It has also helped her succeed in her goals. Fayez notes that the right of women to have their own identity cards, for example, would not have happened without people like his sister speaking out, at a cost.
Yara supports her mother's activism, although she still wishes al-Shammary would not give others ammunition against her by arguing about the hijab or with influential religious figures.
"She is so encouraging to me," Yara says. "She survived stuff that you can't survive."
nypost.com/2016/11/07/the-feminist-trying-to-change-saudi-arabias-strict-islamic-law/
--------
Muslim women entrepreneurs against 'religious extremism'
By AREEBA FALAK | New Delhi | 27 November, 2016
Indian Muslim women, Muslim women entrepreneurs, religious extremism, Talat Ansari, Shehnai Marriage Bureau
'Islam does not ask women not to pursue their dreams'.
In an attempt to understand the pulse of how educated Indian Muslim women are dealing with the "rising extremism rhetoric", The Sunday Guardian approached some Muslim women entrepreneurs to know their success stories in the backdrop of "stereotypes" and their take on present day "Islamophobia".
Talat Ansari, a Delhi-based entrepreneur who started her luxury beauty salon chain "Donna" 18 years ago, said, "There are some typical challenges that almost every Muslim woman in India must have come across when she tries to give some serious thought to a career. There is an unending conflict between what your religion experts tell you to be and what you want to be. Since India is a country of vast cultures, Muslims have adopted certain practices that have become so normal for us that we cannot relate any longer to Muslim women in Saudi Arabia. This has resulted in serious choice crises between an ideal image of Muslim women as per the Shariah and an Indian Muslim woman in reality."
"Islam apparently does not favour beautification. Getting your eyebrows trimmed or make-up etc. are often said to be wrong practices that Muslim women should avoid as is preached by mosques. But here I am running a beauty parlour. I have never had any encounter with a priest who has tried to preach me on the subject but I know that some people find it wrong. I don't cover my head but I know that Shariah says that we should cover our heads, but the conflict is that we have been brought up in a society where hijab was never seen as a mandatory practice. This also leads to guilt that we are not doing something that our religion tells us to do," said Talat Ansari.
Dr Iram Siraj, a Delhi-NCR based pediatrician who runs her own clinic and is a mother of two sons, said, "Here in India, Muslims often find themselves caught between two extremes. We are neither absolute followers of the Shariah nor have we given up on it. We have subconsciously gone cherry-picking; adopting practices that we feel must be done and delaying those which seem inconvenient. But one thing on which most would agree is that the reason behind our backwardness is not Islam, but our lack of understanding the Quran, lack of modern education to the poorest of the poor and misinterpretation of Islamic texts."
Dr Siraj said: "Both my mother and father were university professors. I have a sister who studied MBA and worked in a multinational company. I married a doctor. The reason why none of us sisters ever had to fight to pursue our careers is because our parents always prioritised our education. People have prejudices about Muslim families that they do not allow their women any freedom. But those inhibitions are placed by men, not by Allah. Allah has allowed us to cross seven oceans if we have to in order to seek knowledge. Women in Islam have been given equal freedom to get education and work as men; the only condition is that women must not compromise with their modesty."
"For a doctor, religion, caste or class of a patient should not matter. However, with the changing global scenario, I, too, have come to realise that some people do not identify me only as a doctor, but as a Muslim doctor. This identity makes me uncomfortable because it is against the nature of my profession," said Dr Siraj.
"When I was studying to become a doctor in Aligarh Muslim University, I had two classmates who used to cover their whole bodies except eyes. Those two girls were gold medallists of our batch. Later, they went into different jobs. If you look beyond the restrictions to guard one's modesty, Islam does not ask women not to pursue their dreams, education, careers or knowledge."
Dr Rafat Fatima, founder of the Aligarh-based "Shehnai Marriage Bureau" (SMB), is an entrepreneur and mother of a three-year-old daughter who thinks marriage does not necessarily mean a speed-breaker for a women's career. She said, "I had started acting as a match-maker since I was in college. I am a nutritionist by profession and worked as one for a while. But after getting married, my husband and my mother suggested that I should make match-making a full-fledged business. That is how the 'Shehnai Marriage Bureau' came into existence. My strong belief is that any woman can achieve anything if she has her family's support."
sundayguardianlive.com/news/7482-muslim-women-entrepreneurs-against-religious-extremism
--------
Domestic abuse victim describes 'scary' IS promises
26 November 2016
Sophia attended the Tackling Terrorism Through Women course run by a Muslim women's group in Derby in a secret location
A woman who was almost lured to Syria by so-called Islamic State after seeking help over domestic violence has said the experience was "scary".
Extremists targeted the woman, whose identity is being kept secret, after she said she appealed on Facebook for help after being abused by her husband.
She said they offered her protection, gifts and a house if she went to Syria.
But Derby-based project, Tackling Terrorism Through Women, intervened and persuaded her to stay.
The woman, known as Sophia, said: "I was upset and miserable at the time, I was confused and did not know where to go."
The course helps make women aware of how people are groomed and radicalised online
After seeing publicity which mentioned the targeting of vulnerable women, Sophia asked about the course.
"The centre talked to me about women's rights in Islam and how this country can offer your rights," she said.
"I learnt about vulnerability and how isolated I was and I realised IS were painting a wrong picture.
"They [the extremists] would say to me come to Syria, come and get married...There won't be any domestic violence.
"It was convincing at the time. They were trying to lure me in to go abroad. They offered me gifts and money to go...I did consider going.
"But then I came to the centre and realised I'd been misled," she said.
'Had lucky escape'
Sophia, who is no longer with her husband but still lives in Derby, added: "I had a lucky escape.
"If I hadn't had the advice and direction from (the anti-extremism group), I would have been in a big mess.... It's really scary."
Tazim Fayaz, one of the women heading the scheme, said: "People are more aware now what's happening online, how people are groomed and lured into travelling.
"And women know we'd be able to guide them to the relevant agencies - if needed and if they wanted to go."
The project, which is part of the controversial Prevent programme, claims to have stopped several Derby people from travelling to Syria.
Share this story About sharing
bbc.com/news/uk-england-derbyshire-38096938
--------
Women's activist Nikhath Fathima explains why she quit Muslim personal law board
The member of the board's Chennai chapter resigned as a result of differences on triple talaq.
Women's activist Nikhath Fathima explains why she quit Muslim personal law board
Soon after she was made a member of the Chennai branch of the All India Muslim Personal Law Board in 2013, Nikhath Fathima started state-level coordination programmes with existing members. Coming from different professions and sects, speaking different languages – Tamil or Urdu – most of these men and women had never met one another. Thanks to her, they started sitting together to plan the activities of the board. These included talks by the board's secretary, Maulana Khalid Saifullah Rahmani, on women's rights under Islam and the need for education for women.
Last week, Fathima resigned as a result of differences with the board on triple talaq – whereby a husband can unilaterally divorce his wife just by pronouncing the word talaq thrice.
A number of petitions have been filed in the Supreme Court by Muslim divorcees and organisations challenging the constitutional validity of triple talaq. In October, the Bharatiya Janata Party-led government at the Centre filed an affidavit in the court seeking a ban on triple talaq, saying it "cannot be regarded as an essential or integral part of the religion". The Muslim law board has, in turn, filed an affidavit supporting the practice.
Instant talaq and halala
"The Quran has a definite procedure for talaq that requires mediation, followed by a single pronouncement of talaq, which allows you to reconcile. Even if you utter talaq three times, it must be treated as a single pronouncement, and the couple can marry again, even after two or three years," said Fathima "There is no need for halala (the practice where if a man wants his divorced wife back, she must first marry another man, consummate the marriage and be divorced by him). In North India, the practice of halala has become rampant and has led to the exploitation of women. No way can you use religion to justify it, nowhere in the Quran is halala mentioned. Why is the board facilitating something that is wrong?"
In the south though, she added, triple talaq and halala are not as widespread because Muslims there are educated. "They read the Quran," she said. "Also, jamaats such as the Jamaat-e-Islami and Ahle Hadees are very active, and both are very progressive on women's issues."
Fathima follows the Ahle Hadees school that holds a pronouncement of triple talaq equivalent to a single pronouncement, thereby giving the couple an opportunity to get back together.
"The board represents various sections of Muslims, including the Ahle Hadees and Shias, both of which do not recognise instant triple talaq," she said. "Why are their views not being accepted?"
Board members quote? the Prophet's companion?, the Caliph Umar, to justify triple talaq. Umar had made the pronouncing of triple talaq irrevocable, but as a warning to men making the pronouncement recklessly, divorcing their wives and then remarrying them. He had simultaneously prescribed lashes for any man who pronounced triple talaq.
"Who's giving the lashes today?" asked Fathima "If you endorse the validity of instant triple talaq on the basis of what Caliph Umar said, why are you not endorsing the punishment he gave too? I'm not comfortable with this attitude. My conscience does not allow me to continue in the board."
Fathima, however, feels instant talaq should not be completely done away with. "In exceptional circumstances, such as when the wife is suffering long-term abuse but does not have the guts to break away, instant talaq can be a boon."
Need for reform
She explained that the Muslim law board's rigidity on triple talaq arose out of fear of "appeasing the BJP". Party president Amit Shah had said in an election speech in Uttar Pradesh on November 8 that the BJP was not afraid of doing away with triple talaq. According to Fathima, the board feels that opening the door to reform would mean facilitating a BJP-imposed Uniform Civil Code – a common set of laws governing marriage, divorce, succession and adoption that would replace the various religious personal laws.
She asked, "But should the fear of a Uniform Civil Code mean there should be no reform? Even if some practices are being carried on in the name of tradition, it's time to change them."
Fathima is opposed to a Uniform Civil Code, which she believes goes against the secular character of the state, guaranteed by the Constitution. But according to her, a Uniform Civil Code has always been part of the BJP's goals. "It's not a hidden agenda that will come to light only if the board brings in reform in personal law," she said. "The BJP will try to enact a Uniform Civil Code anyway. It's the secular voice that must cry out against the government's attempt to use its powers to bring in a non-secular state."
Fathima feels that such a code will be difficult to enact, given the diversity in practices among Hindus, as well as Adivasis, some of whom allow polygamy.
Fathima is a well-known activist in Chennai, and is a former co-chair of the AHI Academy for Women and president of the alumni association of the Sacred Heart Church Park School, which has Tamil Nadu Chief Minister J Jayalalitaa and former Congress minister Jayanti Natarajan as members. "I come from a school where independent thought was encouraged," she said. "My mother worked alongside my father, who was a mining engineer. I have studied Islamic jurisprudence and can assert that triple talaq is not part of it."
Fathima said she believed women had the right to pray in mosques. While the Ahle Hadees recognises this right, other sects that are also part of the Muslim law board do not. Some of them, she pointed out, run businesses where 70% of the workforce is women. "They don't mind women going out of their homes to work, but will not allow them in the mosque. Why? Because they will start reading the Quran and learn of their rights under Islam," she added.
Prophet Mohammed's wives, she pointed out, were all independent women – one was an entrepreneur, the other an activist. "It's very simple, we should just follow the Prophet's example," she said. "That's what the Ahle Hadees does.''
Fathima's stand on women's rights was known to the Muslim law board when they recommended her name in August 2013. "I said yes because I thought I could work as a mediator on women's issues between Muslim women and religious bodies." she said. "I also wanted them to be proactive on women's issues."
She called her stint with the board's Tamil Nadu chapter a great experience, praising the other members as a "bunch of sincere workers".
While the board has not yet accepted her resignation, the Jamaat-e-Islami is urging her to stay on and fight from within. Despite their progressive stand on women, both the Jamaat-e-Islami and Ahle Hadees, however, are firmly backing the board today. Fathima said their stand was a bid to "show that the community is united against a Uniform Civil Code".
However, she said she could no longer let her name be associated with an organisation that endorses triple talaq. "The Uniform Civil Code must not happen," she insisted. "But reform must continue within and from outside every community that suffers the bane of injustice and oppression.''
We welcome your comments at letters@scroll.in.
scroll.in/article/822580/womens-activist-nikhath-fathima-explains-why-she-quit-muslim-personal-law-board?
--------
30 years after Shah Bano, 'Islamic feminists' fight back
Amulya Gopalakrishnan | Updated: Nov 3, 2016, 11.48 AM IST
NEW DELHI: We can't allow the lives of Muslim daughters, sisters and mothers to be ruined," said Prime Minister Narendra Modi, decrying triple talaq+ . Whether right-wing or liberal, the "plight" of the Muslim woman seems to touch a chord with everyone.
But apart from evoking on Orientalist stereotypes about the veiled and victimized Muslim woman, few have bothered to ask what they want. For instance, no Muslim women's organisation has asked for a Uniform Civil Code that erases personal laws, and yet their champions won't cease demanding one on their behalf.
In 1985, Shah Bano was caught in a pincer between her legal rights and her religion. But now, Muslim women are refusing to accept that false choice. Starting with the Mumbai-based Aawaz-e-Niswaan (the voice of women) that began work three decades ago, Muslim women across India have organized themselves through NGOs and coalitions. They offer support and legal aid, pressure institutions and speak out.
"This is not 1986, it is 2016, we are Muslim women demanding constitutional rights for ourselves," says Noorjehan Safia Naz of the Bharatiya Muslim Mahila Andolan (BMMA), set up in 2007 as a mass organisation for Muslim women. The BMMA, the Bebaak Collective and others are now petitioning the court on triple talaq, polygamy and halala marriage.
These efforts are not about rejecting religious belief, but about social practices that distort the faith, says Shaista Amber of the All India Muslim Women's Personal Law Board, set up in 2005. "Sudden divorce over the phone and internet is obviously not religion-sanctioned. But the problem is that even the police used to say, `oh, this is your personal law, you take it to the jamaat, or they only talk to husbands and brothers" says Sharifa Khanam, who started the Tamil Nadu Women's Jamaat. "We are cheated of constitutional rights and Islamic rights," she says.
Efforts at gender justice are cast as assaults on religion by the All India Muslim Personal Law Board (an unelected, non-statutory body that acts like the sole spokesman of the community). "But Muslim personal law is not divinely ordained, it was crafted in the colonial period," points out Shahida Lateef, author of the book Muslim Women in India. The three acts that govern Muslim families are zealously guarded as sacrosanct by patriarchal clerics. Political parties are wary of expanding women's rights (giving them shares in agricultural land, for instance) for fear of offending the maulanas, even when these rights are Shariat-sanctioned.
"We are cast as traitors to the fold by the AIMPLB, whom I consider a mafia rather than religious scholars," says Naz."Meanwhile, the Hindu right leaps in to save us and talks of rolling back personal law -fundamentalists on both sides feed each other," she says.
The BMMA seeks a codified personal law, with clearer rights for women, but is emphatic about its commitment to Islam. It refuses to be torn between faith and feminist freedom. "We are proud to call ourselves Islamic feminists," says Naz. It draws strength from the global Musawah movement of the last decade, which identifies feminist interpretations of the Koran, engages canonical traditions, articulates its aims within Islamic tradition.
"The Koran is progressive, it is revolutionary in its insistence on equality -it is a mukammal kanoon," says Amber. The AIMWPLB represents all schools of Islamic jurisprudence and yet, she says ruefully, it is the patriarchal AIMPLB that is asked to voice the community position.After the infamous Imrana rape case in 2005, Amber recounts an open debate with maulanas who accused her of being an RSS agent, and taking money from America and Israel, though her stand was ultimately vindicated by clerics from Medina.
This is not to say that Islamic feminism has all the answers, that all solutions must be Shariat-compliant. Muslim women can, and do, seek their rights without couching it in Koranic terms. The Awaaz-e-Niswaan and the Bebaak Collective do not concern themselves with theological debates, only about women's rights. "As a feminist activist, I see that all religions have a gender bias, they seek to control women and their sexuality," says Hasina Khan of the Bebaak Collective. These groups think of themselves as Muslim voices in the women's movement. Their concerns extend easily to LGBTQ rights and other forms of inequality. Their struggle is for property rights, matrimonial rights, greater room for negotiation in divorce and marriage.
The Sachar committee has revealed the real deprivations of the community, points out Naz. An earlier survey by Zoya Hasan and Ritu Menon showed how Muslim women suffer the cumulative disadvantages of being poor, female and of a religious minority. "The real problem, which governments and parties and other champions of our cause don't address, is economic and social security," says Sharifa Khanam.
Anyone who wants to ally with their cause must accept their many-sided humanity, not ask them to choose one loyalty over the other. "We all have multiple identities, and should not have to prioritise one over the other. We are Indian Muslim women, all in one go," says Naz.
timesofindia.indiatimes.com/india/30-years-after-Shah-Bano-Islamic-feminists-fight-back/articleshow/55217602.cms
--------
HuffPo: Muhammad Was 'History's First Feminist'
Palestinian supporters of the Islamic Jihad movement attend a rally in Gaza City on March 29, 2008 urging Arab leaders gathered in for the Arab Summit in Damascus to support a bid to bridge the rift between rival Palestinian factions. President Bashar al-Assad opened a boycott-hit Arab summit today in the absence of half of the region's leaders, many of whom blame Damascus for the political crisis in Lebanon. AFP PHOTO/MAHMUD HAMS (Photo credit should read MAHMUD HAMS/AFP/Getty Images)Getty
by THOMAS D. WILLIAMS, PH.D.31 Oct 2016
In an astonishing feat of mental legerdemain, the Huffington Post has made the claim that the prophet Muhammad—who married 13 wives and taught that women have an intellect inferior to men's—was actually an active promotor of women's rights, the world's "first feminist."
Of all the founders of the great religions, argues Banafsheh Sayyad in the Post, "Muhammad was easily the most radical and empowering in his treatment of women. Arguably he was history's first feminist."
Sayyad writes that the prophet Muhammad would be "appalled" by how current Islamic radicals are treating women, which "is certainly not consistent with anything we know about what Muhammad taught or how he treated women."
Yet Muhammad married a six-year-old girl named Aisha when he was in his fifties. According to the authoritative Sahih Bukhari, the consummation of their marriage occurred three years later. "The Prophet wrote the marriage contract with her when she was six years old and he consummated his marriage when she was nine years old."
The Qur'an also permits Muslims to have sex with their female captives and slaves, a disposition regularly exploited by fighters of the Islamic State. The Qur'an praises those men who abstain from sex "except from their wives or what their right hands possess (captives), for then they are not to be blamed."
Undaunted, Ms. Sayyad contends that Muhammad was "fundamentally different" from the founders of Buddhism, Judaism, Confucianism and Christianity, because he "explicitly taught the radical equality of women and men" and took "numerous concrete measures" to improve the status of women during his own lifetime.
In point of fact, Muhammad taught that in the absence of a male witness, two women had to be brought to testify. The witness of a woman is equal to half of that of a man, he taught, "because of the deficiency of her mind."
He also taught that women make up the majority of the damned in Hell because of their "lack of common sense" and their "failings in religion."
Sayyad claims that Muhammad was "sensitized to the plight of women" because he was born poor, orphaned at a very early age, and illiterate. There is little historical evidence, however, that poor, orphaned, illiterate men tend to be especially respectful of women. In fact, in many cases the contrary would seem to hold true.
To his credit, Muhammad did apparently abolish female infanticide in Arabia, which was undoubtedly a good thing. Nonetheless, this hardly establishes him as a champion of women's rights.
Ms. Sayyad says that it "is time for Islam to liberate women fully and do so upon the example of Muhammad and the authority of the Quran."
If that's the kind of liberation Muslim women are looking for, heaven help them.
breitbart.com/big-government/2016/10/31/huffpo-muhammad-historys-first-feminist/
--------
Meet the women who see the hijab as a feminist accessory
Every day millions of women around the world wear scarves and veils. But the hijab is more than just an item of clothing.
Journalist and hijab-wearing model Noor Tagouri was recently featured on the cover of Playboy. (Pic: Instagram)
For some it represents spirituality, modesty and the observance of religious customs codified in the Koran.
To others, it's a symbol of oppression, making the act of wearing it incompatible with feminism in modern society.
Most of us have never faced this particular dilemma in our lives and never will. That's one of the advantages of being a white Australian. It's even more advantageous for men, who aren't burdened by the expectations heaped on women regarding their appearance, especially women of colour.
Yet headscarves are becoming increasingly visible in mainstream media. Last month's edition of Playboy featured a hijab-wearing model, journalist Noor Tagouri, for the first time in the magazine's long history, while Muslim beauty blogger Nura Afia is set to become CoverGirl's newest ambassador.
Even H&M — the world's second largest retailer — has used a model in a headscarf in a recent campaign.
For the first time in CoverGirl history, the makeup line is featuring a woman wearing a hijab in its advertising, beauty blogger Nura Afia. (Pic: AP/Lacey Terrell/CoverGirl)
Though the reaction to these milestones has been mixed, women should be able to wear whatever empowers them, argues Mariam Veiszadeh, lawyer and president of the Islamophobia Register Australia.
"For me, exercising 'choice' to cover is what makes the wearing of the hijab very much a feminist act, especially in the face of fierce opposition from so many different angles," she tells RendezView.
But what about those who don't have a choice?
"There's no denying that my faith is used to justify the subjugation of women in many parts of the Muslim world and this is a reality that really troubles me," Veiszadeh says. "This is why we must ensure the voices of Australian Muslim women are not silenced in a manner that limits or ignores their individual agency."
For stand-up comedian Frida Deguise, adopting the hijab was a deeply personal decision. As the first member of her family to sport the scarf and Australia's only comic to take to the stage in a hijab, she's used to bucking the trend.
While she's joked that she wears the hijab to "hide her explosives", she's fully aware of people's preconceptions.
"The first thing that defines a Muslim woman is her scarf," Deguise says.
"Before I put the scarf on, I had 24 body piercings and blue hair. So I was always frowned upon anyway. You're never going to make people happy. They're going to judge you no matter what."
Mariah Idrissi was the first model to wear a hijab in an H&M campaign. (Pic: H&M)
One Melbourne fashion enterprise hopes to tap into this growing embrace of the hijab among Muslim women and expand the options from the plain, traditional styles to scarves with splashes of colour.
"I had some Islamic friends overseas who kept complaining that they had very few scarves that fit their eccentric and over-the-top personalities," MOGA founder Azahn Munas says.
She hopes to help normalise the headscarf in Australia and refute some of the misconceptions about those who wear them.
"When I went walking with a friend who wears the hijab, I noticed so many people staring or doing a double-take," Munas says. "It was sad to see something like that even in a cosmopolitan city like Melbourne, but I remember thinking to myself that if people are going to look, you may as well give them something to look at."
When Londoner Mariah Idrissi, 23, became the first model to wear a hijab in an H&M campaign, she was inundated with messages from Muslim women around the world thanking her for empowering them.
"I've had girls contact me online saying, 'I wanted to take my scarf off but now I've seen you I'm more confident'," she told the Independent.
With all of that being said, it may be time for hard line feminists and Islam bashers alike to ease up on the hijab.
Many modern Muslim women — those who are consenting headscarf wearers, at least — view it as much more than just a piece of fabric. It's a badge of their womanhood, representative of their resilience as females in a world determined to control every aspect of their being.
There's nothing veiled about that.
Seb Starcevic is a columnist and commentator
Twitter @BookshelfOfDoom
dailytelegraph.com.au/rendezview/meet-the-women-who-see-the-hijab-as-a-feminist-accessory/news-story/f8d9d068fe78db999e4395ad004c1baa
--------
Muslim speaker demystifies the role of women in Islam
Updated 13 hrs ago 0
STILLWATER — In light of the racial, religious and political tension that has taken the country by storm in the last few months, many Stillwater locals were ready to come together at the Stillwater Public Library last week to learn about one of the most touchy national topics — Islam, and the role women play within its religious doctrine.
The presentation, titled "Getting to Know the Role of Muslim Women Better," was hosted by the St. Croix chapter of the American Association of University Women or AAUW (whose mission is to create equity for women and girls through advocacy, education, philanthropy and research) in partnership with the Stillwater Public Library. The event attracted a sizable audience, whose members were eager to learn about Islam and asked many questions throughout the evening presentation.
The guest speaker was Hanadi Chehabbedine from the Islamic Resource Group in Minneapolis. Originally from Lebanon, Chehabbedine is now an American citizen and resident of Eden Prairie, where she has been involved in local activism, reaching out to educate others about Islam.
The number one thing to understand, Chehabbedine said, is that religion and culture are two very different things. Not every culture that identifies as Islamic follows the Qur'an or the Hadith (the sayings of the Prophet) in quite the same way. As a Lebanese Muslim, Chehabbedine grew up with many more rights than her sisters in Saudi Arabia, where even non-Muslim women are forced to wear a veil or scarf, or Afghanistan, where many female children are denied education.
During her presentation at the Stillwater library, she dispelled many of the myths that Americans have about Islam, and especially the myth that Islamic women live in oppression. She shared passages from the Qur'an that highlight the role of women. Many people don't realize, she said, that Muslim women keep their maiden names when they are married, and that education is a basic right for all children, male and female. Islam recognizes the right of women to own property (in fact, the first wife of the Prophet Muhammad was a businesswoman, and he was one of her employees). But Muslim women don't have to work if they don't want to — they are automatically assured financial security throughout their life.
"I'm 40 years old, and I never paid a bill," Chehabbedine said. "How does that work? Basically, the inheritance law that governs the system of Islam allows financial security throughout the life of a woman, specifically by giving the man double the amount of money by inheritance."
Male children inherit twice as much money from their parents, but all expenses for females are covered by the closest males in their lives. However, any money that she makes on her own belongs completely to her, and she is able to spend it as she wishes.
"If a woman wants to be responsible for her own expenses she can; it's not like she can't," Chehabbedine said. "But if she doesn't want to, she really doesn't have to."
Marriages are based on mutual love and understanding. Many Americans believe that Islam promotes polygamy, which is allowed by Islam, but Chehabbedine said that Islam's teachings on marriage serve to limit a man to four wives, rather than the limitless amount he could theoretically have outside of sharia. (The oft-repeated phrase "sharia law," Chehabbedine explained, is redundant, as "sharia" is a rough Arabic translation for "law.")
Monogamy is the norm;Chehabbedine couldn't think of anyone she knew of who was in a polygamous marriage, though she explained it sometimes happens when a couple is unable to conceive a child. The wife always has input in this decision. However, polyandry — a woman being married to multiple men — is prohibited, mostly because of lineage and inheritance rights.
The western world sometimes hears of forced marriages in Islam, but Chehabbedine said that consent is a requirement of marriage in Islam, and forced marriage is not an Islamic practice, but a cultural one.
Islam is especially reverent of mothers — in one story about the Prophet, a follower asks who among the people is most worthy of his companionship. When the Prophet says, "Your mother," the man asks who is next. The Prophet repeats that his mother is most worthy two more times before finally saying "Your father." Islam reveres many female figures, including Mary, mother of Jesus; Asiya, the wife of Pharaoh who rescued baby Moses; Khadijah, the first wife of the Prophet; and Fatima, the daughter of the Prophet.
One of the foremost topics of the presentation was the headwear worn by many Muslim women: the headscarf or hijab. This symbolic garment is not required for Muslim women, but many choose to wear it as a sign of their modesty and faith.
"It's a choice, and it's not something that can be forced," Chehabbedine said. "The main concept behind it is kind of moving away from the sexuality of a woman, and bringing about her femininity so that when she is talking, you're actually listening. Basically, eliminating the bodily distraction."
Susan Fletcher of the St. Croix AAUX was pleasantly surprised to have so many engaged audience members in attendance.
"I think people were looking for that kind of thing — being supportive of people who may face problems in the negativity we've been experiencing lately," she said.
CShehabbedine reflected briefly on her experience presenting in Stillwater. It was her first time visiting the community, and she said she was also pleasantly surprised.
"It was one of the most pleasant presentations I did," she said. "I have never been there, so I really didn't know what to expect. It was good to see people come together and express how much in solidarity they are with the Muslim community."
For more educational resources about Islam, visit the Islamic Resource Group website at irgmn.org. This event was only one in a series sponsored by the AAUW in partnership with the library. For more information about upcoming programs hosted by the St. Croix chapter of the American Association of University Women, visit stcroixvalley-mn.aauw.net.
presspubs.com/forest_lake/news/article_51fc5684-b42b-11e6-a975-8b6aeb4dbec9.html
--------
Why do so many Muslim women find it hard to integrate in Britain?
Sunday 27 November 2016
As gender politics go, it was unquestionably a modest step, but in Bradford's Carlisle business centre the development felt seismic.
For five years Haniya had been striving to secure a job in digital marketing. It seemed not to matter that the 28-year-old had the qualifications, the aptitude, the ambition. Friends watched her confidence drain away. Haniya considered removing her hijab, the Islamic headscarf. Burying the fact she was a Muslim became the final option.
In front of 50 women at the centre in Bradford's Manningham district, Haniya announced she'd finally entered the workplace. "That was great news, but for many discrimination within the labour market, along with a lack of opportunities, creates a fatigue that eventually erodes self-esteem," said Bana Gora, chief executive of Bradford's Muslim Women's Council .
Haniya had triumphed where most peers had failed. Being a Muslim woman in Brexit Britain offers few advantages but does guarantee membership to the most economically disadvantaged group in UK society. In Manningham, where the last census found three-quarters of its 20,000 population were Muslim, the prevailing concern is that emboldened bigotry and Islamophobia unleashed in the wake of the Brexit vote threatens to marginalise Muslim women to the point that they are effectively excluded.
Seven miles from the business centre, past Bradford's central mosque and south along the A651, lies the west Yorkshire market town of Birstall. Here, outside its library at 12:53pm on 16 June, Labour MP Jo Cox was fatally attacked by an extreme rightwing terrorist as the EU referendum campaign approached its finale.
Cox's murderer Thomas Mair was sentenced to prison for the rest of his life. The 53-year-old is a white supremacist who considers immigration anathema to British values and who hoped his crime would inflame multicultural tensions.
Bana Gora, right, chief executive of the Bradford Muslim Women's Council and chair Selina Ullah.
Bana Gora, right, chief executive of the Bradford Muslim Women's Council and chair Selina Ullah. Photograph: Gary Calton for the Observer
The government's forthcoming report into integration – the first state-backed exploration of the issue for 15 years – arrives against a febrile backdrop. Conceived in July 2015, the report's lead author, Louise Casey, appreciates that the debate on race, the self-identity of Britain itself, has shifted dramatically since its inception.
Casey's team are acutely sensitive to how the rightwing media will articulate its contents, particularly new Home Office research confirming that pockets of London, Birmingham and other cities are increasingly mono-ethnic with immigrant populations larger than 50%, confirming a steep rise over the last decade. "It'll be seized upon by Brexiters, who'll want to close the border, while the left aren't able to talk about it," said a source close to Casey's review.
But the report's main thrust remains unaltered, namely attempting to improve "opportunity and integration" for ethnic minorities who largely remain on the outside looking in. Issues of segregation and inequality remain, factors identified in the wake of the 2001 race riots that engulfed Manningham and prompted a Home Office report that identified parallel lives between ethnicities that "do not touch at any point, let alone overlap".
Gora says things have improved vastly in the period since, but the shift of Islamophobic rhetoric into the mainstream has perturbed Bradford's Muslim women.
"These are scary times, there's a heightened fear and anxiety over what the future holds. The Muslim community feels it's under a magnifying glass. The rhetoric in the media, constant negative messages being disseminated. It's unsettling," she said. Even in Manningham, racist attacks have happened. "We've had women with their headscarves ripped off," said Gora nodding to Carlisle Road, lined with charity stores and a green-domed masjid.
Casey's 17-month investigation across the UK, which included a visit to Manningham's business centre, found that Muslim women were being squeezed further from mainstream society. Many had given up trying to find a job. Acquiring economic independence, pursuing a career, meeting new people had become a pipe dream for the majority. A three-tiered system of discrimination was discovered: being a woman, being from an ethnic minority, and finally being a Muslim.
In a briefing note to Casey, the Runnymede Trust said that Pakistani and Bangladeshi women encountered "discrimination at every stage of the recruitment process".
Selina Ullah, chair of the MWC, said the cumulative rejection from prospective employers allied to horror stories from friends meant that many felt unable to land a job. "They don't really believe they can do things, they start automatically screening themselves out of certain positions, subsconciously thinking they are not worthy. They know they're not on a level playing field to start with."
She added: "If you have a CV fit for purpose and you've been rejected for similar jobs on many occasions, it affects you. Issues of low aspirations and confidence combined with a degree of racism start in the education sector." Various studies quantify the marginalisation of Muslim women. MPs in August revealed that white women are three times less likely to be unemployed (6.8%) than black women (17.7%). Bottom of the pile were Pakistani and Bangladeshi women (20.5%). Last year the Office for National Statistics found almost two-thirds of Muslim women aged 16-64 were out of work. By contrast 69% of British working-age women had a job. Numerous reasons are cited, including insufficient role models, along with cultural pressures on women to focus on their families rather than build careers.
Casey's research found that in some parts of the UK, particularly Birmingham, even when women turn to the local mosque they can be sidelined. "Many don't have a voice; when they go to volunteer at the mosques the men don't give them any opportunities. They're locked out," said Fiyaz Mughal, director of Faith Matters, which contributed to the integration review. He says the recruitment process itself can prove a tortuous affair riddled with bias. Women recount illegal forms of interrogation at job interviews like being asked if they are married or if they will contemplate removing their headscarf. "They keep saying: 'I can't get a job, I've applied hundreds of times.' Others tell us: 'When I turn up I get questions like would I wear that all the time?" In August the parliamentary women and equalities committee urged ministers to introduce "name-blind recruitment" to stop employers dismissing names that were not white-sounding.
"There's a subconscious bias against foreign-sounding names, names that are hard to read. Secondly, recruitment panels like to recruit people who look like themselves. If you are a Muslim woman wearing a headscarf it depends on whether the panel buy into it," said Ullah. Considerable evidence indicates that a minority are willing to "buy into" the hijab.
On Tuesday, Bradford's MWC will unveil a new book on the heritage of the hijab, noting its similarities to head coverings connected to Judaism and Christianity. More than 300 people have been invited to its launch at the city's National Media Museum, an event designed to strengthen bonds beween the Abrahamic faiths. Gora hopes the book's message might dampen hostility towards the hijab which has become deeply politicised over recent years.
Mughal says women are frequently targeted in the street for wearing the headscarf. New police figures obtained by the Observer reveal that incidents of anti-Muslim hate crime are eight times higher this year in Bradford than Rotherham, the South Yorkshire town where the grooming scandal has prompted racial tensions.
West Yorkshire police recorded 40 incidents in Bradford between January and September, the highest number for any town and city in the force area. Of the 137 cases recorded in West Yorskhire, 60 were violence against the person and 47 harassment.
The anti-Muslim hate crime hotline Tell Mama recorded another 23 incidents in the region during that period. a new national anti-hate crime campaign will be unveiled in parliament with a focus on ensuring ethnic minority communities feel more protected. Another welcome development, according to Gora, is if Casey's review helps precipitate a change in the language used: "There needs to be more positive language, the government's rhetoric needs to be looked at. We cannot continue with this language of Muslims as the enemy within."
Few are holding their breath. Critics say the principal word in Casey's review – integration – is clumsy and loaded, giving the impression that unless ethnic minorities commit to total assimilation they have failed.
Yet in this corner of West Yorkshire there is also hope. Concerned that the buoyant textile industry near Bradford was employing low levels of Muslim women, the council introduced initiatives to entice its local Pakistani and Bangladeshi workforce into a sewing academy. Mark Clayton of Bradford council said: "Women are by far the largest group adversely affected directly by inequality, which can be compounded by economic, social and cultural barriers."
It is a truth that affects most of the UK's estimated 1.5 million Muslim women, a societal bias that Casey's report hopes to start addressing.
theguardian.com/world/2016/nov/27/bradford-muslim-women-integration-casey-report
URL: https://newageislam.com/islam,-women-and-feminism/new-age-islam-news-bureau/the-feminist-trying-to-change-saudi-arabia's-strict-islamic-law/d/109207
New Age Islam, Islam Online, Islamic Website, African Muslim News, Arab World News, South Asia News, Indian Muslim News, World Muslim News, Womens in Islam, Islamic Feminism, Arab Women, Womens In Arab, Islamphobia in America, Muslim Women in West, Islam Women and Feminism