New Age Islam News Bureau
10 Oct 2014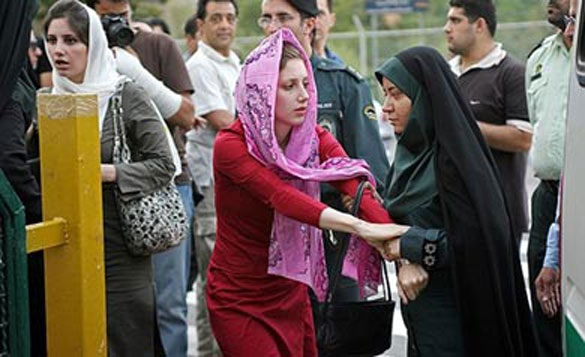 Photo: Iranian Women Do Not Have the Right to Control Their Bodies
----------
• Pakistan's Malala - Idol to the World, Outcast At Home
• Turkish Girl Wins International Prize in Physics
• Iranian Women Do Not Have the Right to Control Their Bodies
• 'Saudis' Rev Up Women's Right-To-Drive Campaign
• Development of Competent Saudi Sportswomen Will Not Happen By Itself
• Muslim Women Must Take the Lead in Fighting Extremists
• India: Martial Arts to Be Made Mandatory in U.P. Girl's Schools
• Women, Children, Mosques Targeted In Abusive Attacks in Australia
• Maitland Women Support Their Australian Muslim Sisters
Compiled by New Age Islam News Bureau
URL: https://www.newageislam.com/islam,-women-and-feminism/new-age-islam-news-bureau/the-female-football-fan-causing--moral-uproar--in-saudi-arabia/d/99463
-----------
The Female Football Fan Causing 'Moral Uproar' In Saudi Arabia
October 10, 2014
A video of a Saudi woman at a football match in the United Arab Emirates has caused a "moral uproar" in Saudi Arabia.
Women are banned from attending football matches in the conservative Muslim nation because their presence is said to promote "immoral and sinful behaviour". This forces many women to travel to other Gulf States where rules are more relaxed in order to watch football and other sporting events.
In the short clip, a fully veiled woman wearing a black abaya and Niqab is seen shouting at her team after a bad tackle. While shaking her fist in anger, her sleeve falls to expose much of her lower arm.
The clip has been viewed almost half a million times and the majority of the comments have been made by "angry men critical of the unidentified woman for being in a stadium filled with thousands of men", reports the BBC's Mai Noman.
"Does this woman not have a man? Her place is in the house," reads one comment underneath the video.
Another one says: "As a man I do not want to get married to a woman who, surrounded by men, shouts at stadiums."
Despite the reaction, some argue that attitudes towards women and sport are changing in Saudi Arabia.
Lina Al Maena, a former athlete and advocate for girls' sports in Saudi Arabia told the BBC: "There's a lot more acceptance of women's involvement in sports today than there used to be a decade ago."
Indeed, not all of the YouTube comments left by Saudi Arabian men were critical.
According to local reports, Saudi sporting officials are considering allowing women to enter stadiums, but only if they follow strict guidelines, including not mingling with men.
http://www.theweek.co.uk/middle-east/60797/the-female-football-fan-causing-moral-uproar-in-saudi-arabia-video#ixzz3FjooutIu
-----------
Pakistan's Malala - Idol to the World, Outcast At Home
October 10, 2014
ISLAMABAD, Oct 10 (Reuters) - Malala Yousafzai, who won the Nobel Peace Prize on Friday, is hailed around the world as a champion of women's rights who stood up bravely against the Taliban to defend her beliefs.
But in her deeply conservative homeland, many view her with suspicion as an outcast or even as a Western creation aimed at damaging Pakistan's image abroad.
Malala, now aged 17, became globally known in 2012 when Taliban gunmen almost killed her for her passionate advocacy of women's right to education.
She has since become a symbol of defiance in the fight against militants operating in Pashtun tribal areas in northwest Pakistan - a region where women are expected to keep their opinions to themselves and stay at home.
"The terrorists thought that they would change our aims and stop our ambitions but nothing changed in my life except this: Weakness, fear and hopelessness died. Strength, power and courage was born," she told the United Nations last year.
"I do not even hate the Talib who shot me. Even if there is a gun in my hand and he stands in front of me. I would not shoot him," she said in a speech which captivated the world.
Malala has also won the European Union's human rights award and was one of the favourites to win the Nobel Prize last year.
Now based in Britain, she is unable to return to her homeland because of Taliban threats to kill her and her family members. The current Taliban chief, Mullah Fazlullah, was the one who ordered the 2012 attack against her.
Yousafzai has enrolled in a school in Birmingham and become a global campaigner for women's right to education and other human rights issues, taking up issues such as the situation in Syria and Nigieria.
In her native Swat valley, however, many people view Malala - backed by a supportive family and a doting father who inspired her to keep up with her campaign - with a mixture of suspicion, fear and jealousy.
At the time of her Nobel nomination last year, social media sites were brimming with insulting messages. "We hate Malala Yousafzai, a CIA agent," said one Facebook page.
She was a young student in the Swati town of Mingora in Pakistan's northwestern Khyber Pakhtunkhwa province when she became interested in women's rights.
At the time, the Taliban were in power in the strategic valley after they took control over the region and imposed strict Islamic rules, including their opposition to women's education.
She wrote an anonymous blog describing her life under the Taliban controlled the region. In October 2012, after the Taliban were pushed out of Swat by the Pakistani army, she was shot in the head on her way to school by a Taliban gunman.
She survived after being airlifted to Britain for treatment and recovered from her life-threatening wounds.
"The wise saying, 'The pen is mightier than sword' was true. The extremists are afraid of books and pens," she told the United Nations. "The power of education frightens them. They are afraid of women. The power of the voice of women frightens them." (Writing by Maria Golovnina; Editing by Angus MacSwan)
http://www.dailymail.co.uk/wires/reuters/article-2787804/Pakistans-Malala--idol-world-outcast-home.html#ixzz3FjkHcUKG
----------
Turkish girl wins international prize in physics
October 10, 2014
A Turkish girl has won an international prize in physics, after competing with young people from around 70 countries.
İlayda Şamilgil won the an annual international competition in research projects in physics, which is awarded by an organization committee based in Poland.
Her project, related to determining the water level in any liquid by using magnetics, has came first among around 5,000 other projects. Şamilgil is a 12th grader and had previously sent her project to TÜBİTAK but was not able to receive any degree.
The competition targets high school students who are interested in physics and are willing to perform their own research works in physics.
The title of the "First Step to the Nobel Prize" expresses the dream of all young physicists, and the competition is completely independent of the Nobel institution in Sweden. The new president of the Organizing Committee of the competition is Prof. Dr. Maciej Kolwas and secretary is Dr. Dorota Klinger.
http://www.hurriyetdailynews.com/turkish-girl-wins-international-prize-in-physics.aspx?pageID=238&nID=72764&NewsCatID=374
----------
Iranian Women Do Not Have the Right to Control Their Bodies
October 10, 2014
Since President Hassan Rouhani assumed office in August 2013, there has been a marked increase in state policies by hardliners in the government directly infringing upon the most basic rights of Iranian women. These hardliners, who dominate Parliament and are ensconced in the security, intelligence, and judicial branches of government, have focused in particular on two issues, both of which concern women's bodies: the observance of "proper" hijab (Islamic dress) and the availability of family planning and women's reproductive health services.
Iranian women's observance of "proper" Hijab has been a focus of concern for the Iranian government in general and hardliners in particular since the 1979 Revolution. Indeed, hijab is one of the ideological pillars of the Islamic Republic of Iran, alongside its anti-American and anti-Israel sentiments. It was only one month after the Revolution, in March 1979, that the Islamic Republic's founder, Ayatollah Khomeini, made Hijab compulsory for all Iranian women. Khomeini's order, which faced protests by thousands of women, was uniformly enforced within three years.
When the centrist Hassan Rouhani won office last year by a large electoral margin, hardliners, anxious to assert their continued primacy in the domestic sphere, unleashed a wave of attacks on women with "loose" Hijab, citing the "immorality" and "lack of chastity" of such women and their participation in a "western plot" to corrupt Iranian youth.
In June 2014, conservative MPs summoned the Iranian Minister of Interior Affairs, Abdol Rahman Fazli for parliamentary hearings to question why the ministry did not take "appropriate actions" to confront women who wear leggings. While the photos of women in leggings were screened in Parliament on large monitors, Iranian MPs asked the minister to confront these "aberrations" more strictly.
A few weeks ago, Abdolhamid Mohtasham, head of Ansar-e Hezbollah, announced the launch of a street campaign to confront women who don't observe "proper" Islamic hijab. Ansar, a hardline militia group connected to the Revolutionary Guards and the Basij militias, is infamous for its role in suppressing popular anti-government student demonstrations and attacking reformist newspapers and journalists in the 1990s and the 2000s. The group, which usually operates without official government authorization and expresses direct loyalty to Supreme Leader Ali Khamenei, claims that they are the true protectors of Islamic values in society.
According to official statistics, during last year 2,917,000 women have been warned for their hijab by morality police, from which 205,052 were forced to sign a written statement promising not to violate the hijab law in the future, and 18,082 were referred to the Judiciary to be tried in courts. Moreover, there were numerous additional hijab "interventions" by other non-governmental organizations, such as the Basij militia and its affiliated groups, but there are no reliable statistics regarding their number.
Hijab enforcement actions are not limited to warnings by the morality police and daily arrests. Based on a report published in March 2014 by Justice for Iran, a human rights organization in London, Iranian women undergo various forms of harassment, abuse, and discrimination by authorities on a daily basis for not observing "proper" hijab. The report demonstrates that many Iranian women face "limitations and deprivations in relation to their careers, education, public services, and participation in cultural or recreational spaces," if they violate hijab laws.
Hijab, though, is not the only focus of hardliners' attempts to control the lives—and bodies—of Iranian women. Recently, women have been at the center of another governmental initiative: In the last few months, the hardline-dominated Iranian Parliament has been working on a national plan that restricts women's access to contraception and limits their reproductive rights.
If the bill is ratified, Iranian women will lose access to free birth control and reproductive health care. This is a dramatic change from state policy in the 1990s, when the Iranian government implemented a national family planning project. Family planning was a rational solution to the problem of a population boom in the first decade after the 1979 Revolution, and it led to the reduction of the population growth rate from 3.2 in 1986 to 1.29 in 2010. According to the United Nations, it was one of the most successful population policies in the world.
However, the current Supreme Leader Ali Khamenei had a different opinion. In October 2012, he called the family planning project a mistake and called instead for population growth. Following Khamenei's decree, the conservative government of Mahmoud Ahmadinejad (2005-2013) cut the birth control budget and the Iranian Parliament started the legislation process to implement Khamenei's edict.
The current population growth bill would significantly affect the lives of millions of Iranian women, especially those from the lower strata of society. Eliminating access to reproductive health care would leave vulnerable women to struggle with frequent pregnancies, more children, and unsafe abortions. It also effectively deprives them of education and full participation in the job market. Due to the underdeveloped economy, discriminatory laws, and cultural barriers, Iranian women's share of the job market is only 13%; the population growth bill would lower it further.
By imposing their view of proper hijab and reducing women's access to reproductive care, these authorities are effectively excluding women from full participation in society and relegating them to their homes. These policies are an explicit violation of women's basic rights and a clear indication that Iranian women are increasingly losing control over their own bodies.
President Rouhani promised repeatedly during his campaign to uphold the rights of women. He stated, on April 20, 2014 at an official gathering in Tehran on the occasion of Mother's Day and Women's Day in Iran, "It is not possible to push 50% of society into isolation or marginalize them. Women should have equal opportunity, equal protections and equal social rights."
Yet Rouhani has not delivered on these pledges. To date he has remained focused on foreign affairs, and has left domestic matters largely in the hands of hardliners who seek further restrictions on women's social, economic, and political participation. Rouhani's administration has neither pushed back against these initiatives, nor introduced policies to improve the state of women's rights in Iran. In light of these direct assaults on women's most basic rights—the right to control their own bodies—the Rouhani administration must end the impunity with which hardliners have advanced their misogynistic projects, and stand with Iranian women to protect their rights.
*Leila Mouri is an Iranian women's rights activist and journalist
http://www.iranhumanrights.org/2014/10/women-control/
----------
'Saudis' Rev Up Women's Right-To-Drive Campaign
October 10, 2014
RIYADH: Activists in Saudi Arabia said on Thursday they are revving up a right-to-drive campaign using social media in the world's only country that bans women from getting behind the wheel.
An online petition asking the Saudi government to "lift the ban on women driving" has attracted more than 2,400 signatures ahead of its culmination on October 26.
"The issue is not that of simply a vehicle driven by a woman, but the acknowledgement and recognition of the humanity of half of society and the God-given rights of women," the petition states.
It adds the ban is a result of tradition and custom because there is "no single Islamic text" or judicial ruling prohibiting women from taking to the kingdom's highways.
The petition website, www.oct26driving.com, includes short videos of women driving while clad in the head-to-toe black robes they are required to wear, with only their eyes exposed.
It features an "honour wall" naming 108 women whom it said have defied the kingdom's driving ban.
Activists are also encouraging women to post pictures of themselves driving using a Twitter hashtag, #IWillDriveMyself, as well as on Instagram and YouTube. "This year will be bigger," one Tweet vowed, following a similar campaign last year.
"We are trying to do something to refresh this demand" that women be allowed to drive, one activist, Nasima al-Sada, told AFP. "It doesn't stop," she said of the national campaign.
"We are asking the ladies to sit behind the wheel and take action" on October 26 "or any day", Sada said from the kingdom's Eastern Province, home to most of the country's oil reserves.
Saudi Arabia is OPEC's biggest oil exporter and the country's economy has been one of the best performing in the Group of 20 leading nations, according to the International Monetary Fund.
Several Saudi women holding corporate CEO and other senior management positions were included in this year's Forbes list of 200 most powerful Arab women, but they cannot drive in their own country.
Last year, activists also focused their demands on October 26 - which they simply call a "symbolic" date as part of efforts to press for women's right to drive.
At least 16 were fined for taking the wheel on that day. Sada said that if women are afraid of such reprisals from authorities, or from the men in their lives, activists hope they could still drive and post their actions, even anonymously. "We are trying to change women's thinking," she said. "We believe it's our right... and we don't want anyone to control our lives".
Saudi women still need permission from a male guardian to work and marry, while restaurants are divided into "family sections" and separate areas for single men.
Last November the kingdom's top cleric, Sheikh Abdul Aziz bin Abdullah al-Sheikh, said the female driving prohibition protects society from "evil" and should not be a major concern.
Hardline clerics protested when King Abdullah, in January last year, decided to give women a 20 percent quota in the previously all-male Shura Council of 150 members.
The Shura Council is appointed by the king and advises the monarch on policy, but cannot legislate.
http://nation.com.pk/international/10-Oct-2014/saudis-rev-up-women-s-right-to-drive-campaign
----------
Development of Competent Saudi Sportswomen Will Not Happen By Itself
October 10, 2014
Saudi Arabia's decision not to send female athletes to this year's Asian Games in South Korea is not new. We are accustomed to seeing a whirlwind of comments about the position of women on our teams ahead of every sporting competition.
But the justification of Saudi Arabia's Olympic Committee for not having females, which is that women are not "sufficiently competent" draws attention to what initiatives have been undertaken by our sporting committees to address this gap, and more generally, what support they have been giving to the role of women in sports in Saudi Arabia.
Two years ago, the Kingdom made a move to develop women's rights in sports when two young Saudi women – Sarah Attar, a track and field athlete, and Wojdan Shaherkani, a judo competitor - were allowed to compete officially in the London Olympics 2012. Yet, this step has not been followed up by other initiatives nor has it led to a policy development which could allow broader participation by Saudi women in sports.
The current environment in which millions of Saudi girls grow up actively discourages them from taking up any physical activity. Sports are still banned in girls' public schools, despite the fact that the schools are completely segregated from boys' schools. There was a recent debate over the possibility of introducing physical education in girls' private schools. However, even if such an action were to be carried out, it is surely not enough as further initiatives are clearly needed, most important of which is the introduction of laws that would recognize and defend women's rights to sports.
Existing rules do not seem to support or encourage women and girls to take up an active lifestyle. This gap can be seen in the lack of sufficient support for the development of women's sports. Previous governments designed sporting programs and financial resources that were not only restricted to males but also excluded women from sports as "fans". Sports venues ban females from entering to watch sporting events. Most entertainment venues in the Kingdom dedicate special sections for women. But not sporting venues. It is simply not allowed in order to prevent women from mixing with male audiences.
Additionally, the socially constructed gender stereotypes of women in Saudi society add layers of complication to the situation. Many Saudis refuse to let their women and girls engage in social activities away from home. This attitude is partly promoted by random religious fatwas (religious edicts issued by Islamic scholars) which consider sports as a sinful conflict with the Islamic concept of femininity, which limits a woman's role to her home and family.
These uncontrolled fatwas often influence society's acceptance of women in sports as well as a woman's freedom to practice sports. This could be seen during the London Olympics when many conservatives used social media to object to having Saudi women in a televised tournament and with some even calling them "prostitutes" on Twitter.
That being said, I do not believe that the level of competence of Saudi female athletes should be the main reason for not sending them to the Asian Games. Rather, it shows a reluctance by our sporting institutions to address the abovementioned challenges.
I understand that sporting institutions in the Kingdom are not legislated. Therefore, they have no authority to set or amend rules, but they could play a more active role in advising the government to adopt suitable policies that would aid in promoting sports among women. They should help in developing strategies to encourage the government to include sports for women systematically in their social development plans.
The development of competent sportswomen will not happen by itself. It is an evolving process which is primarily initiated by the government's recognition of the participation of women in sports, in addition to raising awareness about the importance of sports as a human development among the sporting committees in the Kingdom. Most especially, there is an essential need for a basic willingness to empower women in the country.
This will come only when women's issues begin to be addressed by our sporting committees. Perhaps the General Presidency of Youth Welfare (GPYW) should start this by establishing a department to develop women's sports in two aspects: Firstly, to increase their participation in sports within our community, which would raise the awareness of physical activities for health benefits in our society. Additionally, they should encourage the development of physical education in schools as well as the establishment of physical recreation centers. This could be done in coordination with the Ministry of Education, Ministry of Commerce and the Ministry of Culture and Information.
However, most importantly there is a need to allow access for women to many administrative positions. Having women represented on our sports boards and committees will have a positive impact on the process of advancing women's participation in sports. These representatives would provide a greater platform to support the needs and requirements of women, provided that they have access to these community services.
http://www.saudigazette.com.sa/index.cfm?method=home.regcon&contentid=20141010220730
----------
Muslim Women Must Take the Lead in Fighting Extremists
October 10, 2014
In the global debate on terrorism and the Islamic State – one voice has gone largely unheard, that of Muslim women. Yet we bear the brunt of extremists operating in our communities with the anguish and hatred they leave in their wake.
As radicals recruit vulnerable young people in the United States, Canada and Europe, families are left broken and grieving when teenagers vanish only to be found participating in mass killings.
Too often the voices of Muslim women are ignored, our concerns swept under the carpet. We are the eyes and ears in our communities and homes, acutely attuned to the first signs of extremist activity and behavior. But too often, statutory agencies and government have stared right past us.
This is no longer permissible. In September, the women's network I run in the United Kingdom – Inspire – began a national campaign to empower Muslim women to make a stand. We were determined to make a clear statement in public that Muslim women are not invisible, that we have a voice and we're prepared to take the lead in crushing the twisted theology of murder and bloodshed.
Last month, more than 100 British Muslim women gathered in London under a banner with the hashtag #makingastand. Our emblem has been a Muslim woman in a Union Jack hijab making the point that we are proud to hold the combined identity of being Muslim and British.
I was pleased to receive a supportive tweet from a young American Muslim on the day of our launch with an accompanying selfie in a Stars and Stripes hijab. She is one of the millions of Muslim women across the world for whom our message is long overdue: We are proud to be loyal to our country while at the same time peacefully observing our faith. And we are as sickened as any other right-thinking person at the sight of filmed beheadings, slave markets and stoning of women. It represents a hideous distortion of our religion.
Americans should jettison old mindsets about Islam. The real division on the global stage is between decent human beings and terrorists, irrespective of their faith. Muslim women are natural leaders in the fight against global extremism. It's our rights, after all, that are trodden underfoot by the so-called Islamic State and their supporters in the West. So the more Muslim women advance, the more the extremists are pushed back.
It is true that a small but significant number of Muslim women from the West have chosen to become perpetrators of violence alongside ISIS. But who have been their victims? More often than not, it's other Muslim women in Syria or Iraq that have been beaten over their dress, passed around as "jihadi brides" or stoned to death for alleged adultery.
Glance back at Islam's earliest history and you'll find powerful Muslim women who were preachers and political leaders – as well as being confidantes of the Prophet. Today, the terrorists have reduced us to covered-up, secluded slaves. Objects without voices. Please do not see us in the same light.
Sara Khan is the director of Inspire, which addresses inequality of Muslim women in Britain.
http://www.nytimes.com/roomfordebate/2014/10/09/do-muslims-need-to-defend-their-faith-against-extremists/muslim-women-must-take-the-lead-in-fighting-extremists
--------------
India: Martial Arts to Be Made Mandatory in U.P. Girl's Schools
SANDEEP JOSHI
October 10, 2014
In yet another initiative to help fight crime against women, the Uttar Pradesh government has decided to impart judo and karate training to girl students in the State.
An official order issued by the Secondary Education Department states that from the next academic session, training of these two martial arts would be made mandatory in all schools.
Over Lakh girl students, mainly studying in government and government-aided schools, would have to undergo self-defence training in judo and karate.
Principal Secretary (Secondary Education) Manoj Kumar Singh has directed all district education officials to promote self-defence among school girls.
The State government would also ask private schools and colleges to undertake similar initiative, sources added.
The move comes after Chief Minister Akhilesh Yadav recently gave instructions to the Education Department to introduce ways so that girls could defend themselves.
Recently, Mr. Yadav introduced a women's helpline to help check crime against women in the State.
http://www.thehindu.com/news/national/other-states/martial-arts-to-be-made-mandatory-in-up-schools/article6484432.ece
----------
Women, Children, Mosques Targeted In Abusive Attacks in Australia
October 10, 2014
There have been at least 30 attacks on Muslims - mainly against women wearing the Hijab - in the three weeks since the police anti-terrorism raids and threats by Islamic State put relations between the Islamic community and mainstream Australia on edge.
Muslim leaders are compiling a register of religiously motivated incidents, which includes reports of physical and verbal assaults, threats of violence against senior clerics and damage to mosques.
They claim ''mistrust'' with police had led to the real rate of anti-Islamic episodes going unreported, and the threat of segregation for women wearing the Niqab into Parliament had licensed a new wave of people willing to vent against Muslim women in public.
While national security agencies have been boosted with almost $650 million in new funding, Muslim leaders are critical of the level of police resources put into stopping hate crimes at street level.
Advertisement
Among recorded incidents, a woman was threatened with having her Hijab torn from her head and set alight, a cup of coffee was thrown through the car window of a woman driving in a Hijab, and a pig's head and cross were thrown into the grounds of a Brisbane mosque.
A mother in western Sydney was spat on and had the pram carrying her baby kicked, according to the list of incidents compiled by the western Sydney-based Muslim Legal Network and the recently launched Islamophobia Register.
A list of verbal attacks includes a Muslim mother in Melbourne who was told to remove her child from a group of non-Muslim children at a play park.
At least four mosques have been targeted with written threats, graffiti and thrown objects. Queensland is listed as having highest rate of personal assaults and threats to mosques.
http://www.smh.com.au/national/women-children-mosques-targeted-in-abusive-attacks-20141009-3ho36.html#ixzz3Fjj2wlgj
----------
Maitland Women Support Their Australian Muslim Sisters
October 10, 2014
Maitland women have joined an escalating anti-racism movement by donning the hijab in demonstration of their support for social harmony and opposition to race hate.
The group of non-Muslim women have introduced the Women in Solidarity with Hijabis (#WISH) social media campaign to the city ahead of Saturday's annual ­multicultural festival.
Jan McDonald, Marg Edwards, Marg Wallin and Helen Dunlop are wearing Hijabs in solidarity for Muslim women.
Jan McDonald, Marg Edwards, Marg Wallin and Helen Dunlop are wearing Hijabs in solidarity for Muslim women.
"By wearing a headscarf (Hijab) we are offering our support to Australian Muslim woman and saying that to demonise a highly visible group of the Australian community is not acceptable," Marg Wallin, of Raworth, said. "Law abiding freedom of expression is part of our way of life, we do not want to lose that tolerance because of political manipulation and scare tactics."
Inspired by a non-Muslim woman who put on a Hijab and posted her photo online, the campaign has attracted more than 20,000 Australians.
Among those who have shown their support is television journalist Jessica Rowe.
This staunch act of local support has been solidified after two female Muslim medical students were verbally abused in the Maitland Hospital car park earlier this month while another two Muslim women were ­verbally attacked while driving in Newcastle on Tuesday.
"Hearing about these attacks makes me sick on both a personal and professional level," Jan McDonald, manager of Carries Place Women's and Children's Services, said.
"Physical, verbal or any sort of emotional attack are a form of violence that is not acceptable in our community.
"This is all about drumming up fear and hate and when you get these two things together you get a nasty outcome which is ­usually some form of violence."
The women have also issued a challenge for Maitland residents to wear a hijab to the weekend's Riverlights Cultural Villages festival in central Maitland.
"It appears that moderation and tolerance are being pushed out the window and that's my greatest fear but this festival will give us the opportunity to celebrate the riches that have been brought to this country by so many different cultures.
"Wouldn't it be a really interesting thing if lots of women donned a hijab for the event?
" I hope it would be statement that showed support for all Muslim women."
http://www.maitlandmercury.com.au/story/2614603/maitland-women-support-their-muslim-sisters-video/?cs=171
----------
URL: https://www.newageislam.com/islam,-women-and-feminism/new-age-islam-news-bureau/the-female-football-fan-causing--moral-uproar--in-saudi-arabia/d/99463