New Age Islam News Bureau
22 Apr 2016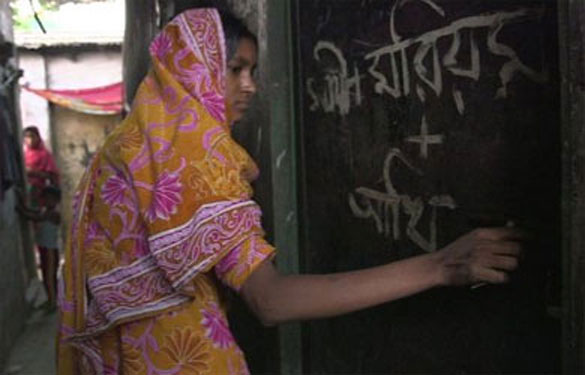 Aasma took a job on the factory floor as a thread cutter, working long hours for low pay
--------
• The Bangladesh Child Bride, Asma, Who is Glad Her Husband Abandoned Her
• Islamic State Training Female Recruits for Combat in Libya
• J&K, Handwara Girl Not Welcome In School by Her Classmates
• French Hijab Ban a Cover for Prejudice
• Indiana Muslim Women Speak About Representation
• Who Are Islamic 'Morality Police' Of Iran?
• Women Targeted In Anti Muslim Attacks in Austria
• Islamic Fashion Rattles French Nerves
• Islamism Is the World's War on Women
Compiled by New Age Islam News Bureau
URL: https://newageislam.com/islam-women-feminism/the-bangladesh-child-bride,-asma,/d/107073
------
The Bangladesh Child Bride, Asma, Who is Glad Her Husband Abandoned Her
21 April 2016
Asma was 16 when she was abandoned by her husband in a slum in Bangladesh. But rather than give up, she set about improving her life.
"If people ask me about my husband I tell them I don't have one. I tell them he is dead," says Asma.
"My life was hard before I was married but it didn't get any better afterwards. He used to hit me on the head with a knife, especially after he'd been drinking. I still have the marks."
Asma was born on the coast, in Bhola, but floods destroyed the family home and the land they farmed. Like many others in the same position, they moved to Dhaka to find work and ended up in the Duaripara slum on the northern outskirts of the city. The area is home to more than 40,000 people, its alleyways lined with small tin shacks.
Asma's father is deaf and couldn't find work in the city, so her mother turned to begging. "My parents are poor," she says. "I hoped that once I got married, their suffering would ease.
Then they'd only have my little brother to feed."
Not long after they arrived in Dhaka, a 27-year-old man proposed to Asma, who was just 15 at the time. Her parents reluctantly agreed to the marriage - girls are often seen as a burden in Bangladesh and are married off while they are still young.
But Asma's husband soon started attacking her, and a couple of months after the wedding demanded a dowry - 20,000 taka ($250, £180). No mention of a dowry had been made before
The ceremony and there was no way her family could raise the money.
After five months together, he announced that he was leaving and wouldn't come home until she produced the cash.
"I've not seen him since he left and he said, 'If we see each other in the street, I will not acknowledge you.' I don't know what he's doing, whether he's remarried.
"His friends told me if he saw me he'd hit me."
Her predicament is common. Bangladesh has one of the highest rates of child marriage in the world. Legally, girls here aren't allowed to wed until they are 18, but one in five is married before her 15th birthday.
"Child marriage puts women and girls at increased risk of violence throughout their lives," according to the organisation Girls Not Brides - and these girls are more likely to describe their first sexual experience as rape.
Asma moved back in with her family and straight away started looking for work. She had left school at the age of 10 so her options were limited. But within a month she was employed.
"I asked everyone and then I saw a new garments factory had opened."
She talked her way into a job on the factory floor as a thread cutter, working long hours for low pay.
Even so, her salary, about 3,000 taka ($38, £27), a month before overtime, is far more than her parents could earn and is enough to provide the family with three meals a day.
"My mother was so happy. I tell her to stay at home and look after my father and my little brother. I tell her that I'm a man now. I do the same job a man does, I run the household.
Getting a job and thinking of myself as a man means that when I speak, everyone listens. I think of myself as a person now.
"If Allah had made me a boy I would have been so happy and then I wouldn't have had to get married."
Before her wedding, Asma was seen as an eligible young woman but now, a couple of years later, men are less interested in her. The pressure to find a husband has gone and as a result
Asma feels liberated. She believes she has the freedom to choose her own future. "I never want to marry again in my life," she says.
And she has made friends through work. "They say, 'Think of us as your brothers and sisters.' If I get told off by the boss and cry, they comfort me and make me laugh." She is ambitious too. "I want to keep learning new things. I want to become a [factory] supervisor."
http://www.bbc.com/news/magazine-36028066
--
Islamic State Training Female Recruits for Combat in Libya
21 Apr 2016
"We estimate they are now 1,000 women, 300 of them Tunisian, with Isis in Libya, they have different roles including fighting," explained Badra Gaaloul, a women's researcher at the International Centre of Strategic, Security and Military Studies. "There are women from Egypt, Syria and Morocco and a lot from Sudan, but the most ruthless are thought to be from Tunisia."
Olfa Hamrouni has two daughters in the Islamic State. From The London Times:
Rahma, 17, a schoolgirl, ran away to marry an Isis commander, Noureddine Chouchane, who planned attacks in October last year on Tunisia's National Bardo Museum and Sousse beach
resort in which 60 tourists, including 30 Britons, died. He was killed in February by an US strike on a training camp in Libya.
Rahma and her sister Ghofran, 19, who had a four-month-old baby with another Isis leader, were rounded up in subsequent police raids.
Rahma has called her parents from prison. She told them the Islamic State has used "hundreds of women" in jihad.
"At first they wanted to use them for sex. But my daughter said there are hundreds of women that fight with men," recounted her mother. "Both Ghofran and Rahma received training in weapons. Rahma left Tunisia with the goal of executing a suicidal mission — she openly talked about wanting to blow herself up."
In March, The London Times reported that authorities arrested seven women while attacks killed three in Sabratha, located 50 miles from Tripoli.
"Several female operatives have been killed [this week], fighting alongside the men. One of them tried to blow herself up, wearing an explosive vest," explained Taher al-Gharabli, head of Libya's military council.
He believes the fighters come from Tunisia.
"The women mostly handle the logistics of the battle but they are also fighting," said Hussein al-Thwadi, mayor of Sabratha.
Women have joined the Islamic State in large numbers since the rise of the terrorist organization in Syria and Iraq. Until now, however, no evidence existed that the terrorist group allowed women to fight alongside male Jihadis on the battlefield because they are not allowed on the front lines of the holy war. Females have expressed their desire to participate in jihad and murders, especially after the Islamic State executed American journalist James Foley. One female Islamic State follower, for example, posted a picture of a Western woman and told her followers she wanted to chop off her head.
The Islamic State established the al-Khansaa Brigade as a way to enforce Sharia law without having jihadis touch women, which violates their own law. The group made headlines in
December 2014 when the group Raqqa is Being Slaughtered Silently reported that its women used torture devices on other women who disobey Sharia law. They use a bear trap called a
"biter" on women's breasts, which causes "severe pain and wounds [which] may lead women in some cases to be transported to the hospital." A woman told the group the terrorists
used it on her when they caught her breastfeeding her baby in public.
http://www.breitbart.com/national-security/2016/04/21/report-islamic-state-recruiting-females-jihad/
--
J&K, Handwara Girl Not Welcome In School by Her Classmates
Thursday, April 21, 2016
Srinagar: Even though scores of students on Wednesday staged a demonstration here demanding the release of a 16-year-old school girl who is at the centre of Handwara molestation row, her classmates are not too keen on welcoming her back.
Schools reopened in Handwara on Thursday.
Trouble had erupted in the town in north Kashmir, 70 km north of Srinagar, after rumours last Tuesday that a school girl had been molested by a soldier while she was using a public lavatory, near a security picket in a town square of Handwara.
Five people were killed in firing by security forces in the widespread violence that engulfed Handwara and adjacent areas in Kupwara district after the alleged molestation incident.
The girl later deposed before the chief judicial magistrate (CJM) of Handwara that she had not been molested by anybody and that some local youth were responsible for accusing her
and spreading the molestation rumour in the town.
Talking to news channel NDTV, classmates said that the school girl "suppressed reality, she should have spoken the truth". Most told the channel that they would not mingle with her if she returns.
The principal of the teen's school, however, said: "We will support her fully we would like her to continue her studies in this institution despite all the odds."
The girl is in preventive custody with her father and aunt.
http://zeenews.india.com/news/jammu-and-kashmir/handwara-molestation-row-girl-not-welcome-in-school-by-her-classmates_1878324.html
--
French Hijab Ban a Cover for Prejudice
21 Apr 2016
When you deny a religious covering, you are also denying religious liberty.
Student activists in France made a bold statement Wednesday by wearing headscarves and declaring it Hijab Day at one of France's top universities, the Paris Institute of Political Studies. The social project was meant to show solidarity with Muslim women who choose to wear the religious covering, and to help students better understand the experiences those women face on a daily basis.
The Hijab, a religious symbol for Muslim women, is often met with stigmatization and negative connotation in the secular country. Muslim women in foreign countries have repeatedly been made to feel like outsiders when people assume, based on their clothing, that they are oppressed or violent.
The activists were responding to a suggestion from Prime Minister Manuel Valls, who said last week that headscarves should be banned from universities. This isn't the first time France has called for a ban on religious coverings — former President Nicholas Sarkozy banned the full-face Muslim veil from all public places in 2011.
Freedom of religion is protected under the French law known as laïcité. The law separates church and state and asserts that religion remain out of the public sphere. Over the last
decade, the law has been pushing its limits by passing policies that target Muslims and keep them from expressing their religion through prayer or by wearing Burqas.
Despite having the largest Muslim population in Europe, France has failed to treat all religions equally and fairly address the rights of a major religious group.
France's prohibitive measures towards Hijabs demonstrate a lack of respect for Muslim culture, religious freedom and free will. Wearing a Hijab in a Western country is already a misconstrued gesture that leads to exclusion and harsh treatment — banning them at universities would completely deny access to a group of people simply for expressing their beliefs.
Students wearing a head cover for one day cannot truly understand the day-to-day pressures to conform that Muslim women face. But their efforts to stand with Muslim women in their
right to choose what they wear sends a strong message of solidarity and cultural acceptance.
At a time when many Muslims are facing blame for terrorist attacks they did not commit, these activists' efforts speak volumes about the importance of unification. The persistent efforts by the French government to get rid of all public acknowledgement of religion have become an infringement on basic individual rights. Allowing women to wear Hijabs does not mean any institution is endorsing the religion — it marginalizes Muslim communities even further in a blinded attempt to appear neutral. These types of statements only divide people at a time when they desperately need to be unified.
Due to the recent terror attacks in Paris and Brussels, anti-Muslim sentiment in western Europe is increasing. According to Tell MAMA, an NGO that tracks hate crimes against Muslims, the rate of hate crimes increased threefold in the UK after the Paris attacks in 2015. If it wants to defeat radical jihadists, France needs to collaborate with its Muslim allies in a united front.
Anti-Muslim sentiment only reinforces the "us" versus "them" mentality, when in reality, both the secular government and the majority of non-violent Muslims are fighting the same fight against acts of terrorism.
By indirectly excluding Muslims from public institutions and spurring a useless controversial debate, France is not helping to bridge its people together, it's further separating them.
The students on Wednesday were challenging these types of dangerous policies by wearing Hijabs and refusing to allow fear to alienate people based on their religions.
Instead of pushing Muslims away, it would best serve France's interest to treat its Muslim citizens equally and not blame their religion for disrupting the country's secular values.
A woman's clothing choice should not be politicized, especially when there is so much more at stake.
http://pittnews.com/article/107453/opinions/columns/french-Hijab-ban-covers-prejudice/
--
Indiana Muslim Women Speak About Representation
April 22, 2016
The black cloth covered her neck, her ears and the colour of her hair, but she said her Hijab doesn't restrict her freedom.
Katherine Barrus is an IU graduate student from Marion, Indiana, who converted to Islam five years ago. She is one of the many women involved in the local Islamic community, and she said women are treated equally in Islam.
Differently, but equally.
Women are allowed to serve in a variety of positions at the Islamic Center of Bloomington, but they are not allowed to lead in prayer or preach in sermons. Several women said this is
for more practical and traditional reasons rather than discriminatory ones.
"When it comes to men and women as people, I think they are different," Barrus said. "I like that my religion acknowledges that while also acknowledging that we both have rights and
responsibilities."
In the mosque during Friday prayers, the men pray upstairs while the women pray below. This separation is mostly because of the population issues that occur with Friday prayers popularity, Anna Maïdi, the mosque's Women's Committee President, said.
In addition, Maïdi and Barrus said they would feel uncomfortable praying in such close proximity to men because of the naturally prostrated position of their prayer.
Maïdi she said enjoys praying upstairs and, if space allowed, she would enjoy praying there at all times, but she is not against praying separately in the basement.
"There are certainly some sisters that feel more comfortable praying in their own space," Maïdi said. "It's nice really to have that place. It's very homey and comfy to have a special
place for you and your friends and God."
Sisters are allowed to pray upstairs when the opportunity is available on days that aren't as busy as Friday prayer.
There have been recent pushes from women around the world wanting permission to lead sermons and prayer, Maïdi said. She said it doesn't bother her because she is happy to have a brother lead. She said she sees it as tradition, rather than discrimination.
In other mosques, where the men and women pray in the same room, the women are typically gathered behind the men, Maïdi said. She said it's common sense and attributed to the compromising praying position.
"It's tough," Maïdi said. "All these issues are tough."
Women everywhere are oppressed, and it's not a problem inherent to Islam, Blomington resident and mosque attendee Erica Vagedes said. Some societies are oppressing women, and
different women have different interpretations of the word oppression, 
she said.
"Things have really changed a lot in the last 150 years," Vagedes said. "It's a big challenge to any traditional religion. It can be said for many different cultural things. Do they want to
draw fine, stark lines, or do people want to adapt?"
A lack of equality is an issue around the world, Maïdi said. However, all three women agreed their mosque handles the treatment of women well.
The mosque has a variety of boards, and the board of trustees requiring the presence of at least one woman at all times, Maïdi said. As president of the women's committee, Maïdi said
She handles any issues with women that occur in the mosque.
Outside the Bloomington mosque, another issue frequently brought up in the discussion of female representation in Islam is the Hijab. Whether it's the controversy in France over the
ban of full veils, or the views of some feminist groups against the Hijab, the head scarf is often a discussion in media.
The assumption that a Hijab is a form of oppression to Muslim women is incorrect because more clothes does not necessarily equate to lesser freedom, Barrus said. In fact, she said, a
Hijab is the opposite of 
oppressive.
"I like being able to choose, and when I wear the Hijab people look at me for me," she said. "I choose what I want to reveal. If I want to take this off, I could, and if I wanted to wear something skimpy, I could, but I choose to wear this."
Barrus said Islam does not force her to wear a Hijab, and if anyone did, he or she would be going against the teaching of Islam, because the intention of the wearer matters.
Women feel empowered when they wear a Hijab, Maïdi said. She has a blog series titled "The Hijabi Diaries," which tells the stories of local Muslim women. Barrus was one of the women featured in the series.
Maïdi said the Hijab has become a symbol of Islam even though there is no symbolic significance at all other than on a personal level. It often leads to people not knowing how to look at a woman wearing one on the street, she said.
"We talk about it as a women's rights issue, but I think it goes a little deeper than that," Maïdi said. "Whenever we're talking about women, we're talking about Hijabs, and women are not Hijabs."
Barrus lived in the United Arab Emirates for two years and taught English.
She said women there are treated with an immense amount of respect. She said women are actually far less respected in the United States than they are there.
Women's representation in Islam is misconstrued, Barrus said.
"I got treated with so much respect over there that I didn't want to leave," Barrus said. "That cat-calling stuff is not okay. Women are supposed to be respected, and that's part of Islam as well."
The media's poor portrayal of Muslim women is a major factor of a lack of understanding, Maïdi said.
"If we're only talking about these bad things that are happening like violence and barring of rights, then we're never going to get a broader picture," Maïdi said. "We're only getting a
focus on these particular 
issues."
It's easy to talk about theory and what it would be like, Maïdi said. Those issues are important, but actually talking to Muslim women is a better way of of finding out how they feel, she said.
The lessons of Islam push for qualities like generosity and love, Vagedes said, and that's something that can be shared with men and women.
"It's extremely equalized — no men, no women," Vagedes said. "Everyone can experience need, poverty or pain."
http://www.idsnews.com/article/2016/04/muslim-women-speak-about-representation
--
Who Are Islamic 'Morality Police' Of Iran?
April 22, 2016
News that Iran has deployed thousands of undercover agents to enforce rules on dress has cast the spotlight on an institution that is a major feature of daily life in several Muslim-majority countries.
Police forces tasked with implementing strict state interpretations of Islamic morality exist in several other states, including Saudi Arabia, Sudan and Malaysia.
Many - especially those with an affinity with Western lifestyles - chafe against such restrictions on daily life, but others support the idea, and growing religious conservatism has led to pressure for similar forces to be created in countries that do not have them.
Here are some places where "morality police" forces patrol:
IRAN
Name: Gasht-e Ershad (Persian for Guidance Patrols), supported by Basij militia
Who they are: Iran has had various forms of "morality police" since the 1979 Islamic Revolution, but the Gasht-e Ershad are currently the main agency tasked enforcing Iran's Islamic code of conduct in public.
Their focus is on ensuring observance of Hijab - mandatory rules requiring women to cover their hair and bodies and discouraging cosmetics.
They are empowered to admonish suspects, impose fines or arrest members of the public, but under reforms that come into force this year, will soon no longer be able to do any of
these things.
Instead, 7,000 undercover Gasht-e Ershad agents will be deployed to report suspected transgressions to the police, who will decide whether to take action.
The Gasht-e Ershad is thought to draw a lot of its personnel from the Basij, a hard-line paramilitary unit; it also includes many women.
What people think: They are mainly seen as a scourge for urban women - usually from wealthier social groups - who try to push the boundaries of the dress code.
This includes wearing the headscarf as far back on the head as possible, or by wearing looser clothing, especially in the heat of summer, although men sporting "Western" hairstyles are
also at risk.
Fear of encountering them has even prompted the creation of Android app that helps people avoid Gasht-e Ershad mobile checkpoints.
President Hassan Rouhani has expressed opposition to the Gasht-e Ershad, but Iran's constitution gives him little sway over the security forces.
http://www.bbc.com/news/world-middle-east-36101150
--
Women Targeted In Anti Muslim Attacks in Austria
April 22, 2016
There were 156 assaults against Muslims in Austria in 2015, with the vast majority of incidents targeting women, according to the first ever anti-Muslim racism report presented yesterday
in Vienna.
Around 95 percent of the incidents were aimed at women, according to the report presented by the Documentation Office for Muslims in Austria in partnership with the Islamic Faith
Community in Austria (IGGiÖ).
The organisation documented incidents from December 2014 up to the end of 2015 and said they expect the number of assaults to increase in the future.
Around 40 percent of the reports related to verbal attacks, 12 percent were physical attacks on people, five percent were related to discrimination and three percent graffiti. Further
incidents involved hate crimes or hate speech, and a quarter of the documented Islamophobia was aimed at Muslim institutions.
One incident involved a Muslim student being spat at the AKH hospital in Vienna by a pensioner and called a terrorist. In another, a five-year-old being picked up from kindergarten by her Muslim mother was spat at by a man who then imitated a machine gun with his hands.
The organisation said they have noticed a clear decline in the inhibition about attacking Muslims, which they framed in the context of the refugee movement.
Austria saw 90,000 asylum applications last year, with society divided over whether to welcome refugees and protest against accepting them. This year the country has set an upper limit of 37,500 applications they are prepared to accept and is now adopting a more hardline approach to its migrant policy.
The latest data follows statistics released by the Austrian Interior Ministry at the end of last year that confirmed the country saw a massive increase in xenophobic crimes in 2015.
Austria's police intelligence agency (Bundesamtes für Verfassungsschutz und Terrorismusbekämpfung) received 1,201 criminal complaints about racist and xenophobic crimes between
January and September, compared to 750 in the same period last year - a jump of 60 percent.
Recent weeks have seen incidents involving the anti-Muslim Identitarian movement, who stormed a theatres in Vienna where a play was being performed by refugees, a video of which
was shared by the leader of the mainstream right-wing Freedom Party (FPÖ) Heinz Christian-Strache.
An expert recently quoted in the Kurier said the growing support for Freedom Party (FPÖ), who have increased their percentage in recent elections, creates an atmosphere in which
more extreme right-wing groups can flourish.
"FPÖ and Identitarian movement are not in competition with one another, in fact the opposite: They compliment each other. The Identitarian activism on the street and in the social
media mobilises younger layers for freedom aims.," said Bernhard Weidinger, historian at the University of Vienna and the anti-fascism organisation Documentation Archive for Austrian
Resistance.
http://www.thelocal.at/20160422/women-targeted-in-anti-muslim-assaults-in-austria
--
Islamic Fashion Rattles French Nerves
Apr 21 2016
The kerfuffle in France over Western fashion designers producing Islamic clothing for women is one of the great non-issues of our time. But the kerfuffle itself is telling. It's another sign
of the stigma Islam carries today and the prejudice against it, couched, often, in the language of liberalism and, in France, laïcité.
A number of Western designers have started offering Islamic or "modest" fashions—loose, full-length-robes, or abayas, and long skirts—not just in Middle Eastern countries but in Western
countries too. Laurence Rossignol, the French minister for women's rights, recently decried this, saying in an interview on French TV, "What's at stake is social control over women's
bodies. When brands invest in this Islamic market, they are shirking their responsibilities and are promoting women's bodies being locked up."
The partner of the late designer Yves Saint Laurent and co-founder of his fashion house Pierre Bergé jumped into the fray. "Creators should have nothing to do with Islamic fashion,"
Bergé said. "Designers are there to make women more beautiful, to give them their freedom, not to collaborate with this dictatorship which imposes this abominable thing by which we
hide women and make them live a hidden life." He suggested that Western designers of Islamic clothing should have more principles than to cash in on misogyny.
"Bare is beautiful" seems to be the message. But of course, this message is not always correct. If bareness is not just about beauty, is it always about freedom? Are women who bare their bodies freer than women who cover them? That surely depends on the woman, her attitude, psychology and circumstances. Misogyny takes many forms, and is everywhere at home.
It was the French diplomat Talleyrand who said "Speech has been given man to conceal his thoughts." The relationship between clothing and the body can be just as paradoxical. Less is sometimes more, and sometimes way too little. But certainly what women choose to wear or not to wear should be left to them—not to their fathers, brothers, husbands and not to the
French state either. France's obsession with the veil, banning it in schools and other public places, is a strike at Muslims, conveniently channeled through its tradition of fierce laicism.
To Americans, the fixation seems peculiar. Yet clothing, hair and fashion often generate intense acrimony. Some of the debate in decades past (and perhaps present too) over Catholic sisters' habits seemed a war of words over symbols interpreted in different ways. While some Catholic sisters ceased wearing a habit because they felt it constrained their freedom, other younger sisters have since adopted it as a proud sign of their identity. The Islamic revival that has been going on for almost 50 years has now led many Muslim women to put on the veil that their mothers took off. Though the Koran says little about how women are to dress—contrary to popular belief, there is no requirement in Islam that women cover their head—the head scarf and, for some, the abaya have become emblems, sometimes of faith, sometimes of a politicized identity.
Rossignol's comparison of women wearing Islamic dress with pre-Emancipation American blacks who favoured slavery has ignited a firestorm of criticism, less because of her comments about Muslim women than because the word for black she used, negre, was perceived as racist. Both her and Bergé's remarks seem militantly ethnocentric, as does a call for a ban on brands selling Islamic fashion by French feminist, philosopher and businesswoman Élisabeth Badinter. For them, it appears, fashion has to be Western fashion that appeals to Western tastes and Western ideas, or it's enslavement to a primitive belief system. The parochialism of the point of view is striking. And what's ignored are all the ambiguities in our own culture related to the objectification of women. By condemning a religion they don't believe in or know much about, Rossignol, Badinter and Bergé become the voices of ignorant reaction, exemplars of the intolerance they decry in Muslims.
The designer Karl Lagerfeld once said, "I want everyone to wear what they want and mix it in their own way. That, to me, is what is modern." Rushing to the ramparts to attack the
Abayas seems to miss his point.
http://americamagazine.org/content/all-things/islamic-fashion-rattles-french-nerves
--
Islamism Is the World's War On Women
APRIL 21, 2016
A prominent conservative leader in Afghanistan's government threatened a female journalist when she questioned him about opposition to legislation that will protect Afghan women
from violence. His reaction shows what a real "war on women" looks like.
who is committed to a strict interpretation of the Quran, has opposed the Elimination of Violence Against Women Act, which would protect Afghan women against rape, not only from
strangers but also from their husbands—something Islam allows, according to fundamental interpretations.
VICE correspondent Isobel Yeung interviewed Hanafi as part of an HBO documentary investigating the rights of women in Afghanistan and the increasing threats they face.
"What if a husband rapes his wife, is that domestic abuse?" Yeung asks Hanafi. "Should the man be punished or should the woman be punished for that, in your opinion?"
Speaking through an interpreter, Hanafi replied, "There is a kind of rape you have and another we have in Islam." When Yeung begins to ask a follow-up question, she's cut off by Hanafi, who tells someone off-camera they should stop the interview. Hanafi then says, "Maybe I should give you to an Afghan man to take your nose off." Others who have heard the clip say
the actual translation is "Hand her over to an Afghan man so he can give it to so hard it'll come out her nose."
Others who have heard the clip say the actual translation is 'Hand her over to an Afghan man so he can give it to so hard it'll come out her nose.'
Radio Free Europe/Radio Liberty later confronted Hanafi about the comments, asking whether he was going to apologize to the journalist. Hanafi at first denied even talking to Yeung: "I haven't met such a person, I have no idea about this, and have not said anything," he said. "No one has spoken with me."
When pressed, he continued to deny having done the interview and accused the filmmakers of creating a fake video. "It's very simple to make a video," he said. "There are people who
put together a head, a beard, and a body in a video that would look more authentic than the real person."
After further questioning, Hanafi finally admitted to doing the interview but said he never threatened her. "When we were talking about marriage issues, I told her, 'If you want to know about it, you can marry an Afghan man.'" When asked if he would apologize, Hanafi became defiant and demanded an apology from the filmmakers. "Who should apologize? Me or those
who distributed [videos] against me? They are plotting against a person who is minding his own business."
'Things Are Very Gloomy for Women'
The producers of the HBO documentary set out to show how women are still denied basic rights in Afghanistan, despite hopeful signs that things had been changing for the better. In
2001, first lady Laura Bush highlighted the struggle for women's rights when she said in a national radio address, "Muslims around the world have condemned the brutal degradation of
women and children by the Taliban regime. The fight against terrorism is also a fight for the rights and dignity of women."
'Women are being killed, raped and harassed on a daily basis much more than before — and overtly.'
Since that time, there have been improvements, as millions of Afghan girls are now attending school. Women have served in government, business, and even the military. But despite
these advances, Afghanistan remains one of the most dangerous places in the world for women.
"Things are very gloomy for women, and it's getting worse," Wazhma Frogh, the head of Afghanistan's Women Peace and Security Research Institute, told NBC News. "There is much less space for women [in public life]."
"Women are being killed, raped and harassed on a daily basis much more than before — and overtly," she said. She blamed much of this on generalized lawlessness exacerbated by the dramatic drawdown in foreign troops, which leaves women and girls vulnerable to attack and abuse. In fact, the United Nations calls the rates of violence against women in Afghanistan "exceptionally high," with up to 87.2 percent of women having experienced some form of violence.
According to activists, the situation is getting worse, with a 31 percent rise in the cases of violence against women in 2015 compared to the year before. "This is a worrisome
development that should be addressed — all the gains women made could be lost," said Soraya Sobhrang, deputy chair of Afghanistan's Independent Human Rights Commission.
Execute the Infidels
Despite lawmakers trying to pass the Elimination of Violence Against Women Act, it has been blocked in parliament by conservative Islamists who believe it violates the teaching of the
Quran. Hanafi is one of the dominant voices opposing the act, which creates women's shelters for victims of domestic violence. According to Hanafi, who is from the western Herat
province, these shelters are actually "brothels" where revolution can ferment and spread, "killing millions."
If they step outside their homes without a burqa, they become victims of abuse or violence.
Women who are daring to speak out for their rights are being threatened. If they step outside their homes without a burqa, they become victims of abuse or violence. All the women
interviewed by NBC, whether they were politicians, teachers, or activists, said they believed their lives were in danger.
Women are not the only ones threatened. Christians are in danger as well. According to Mohabat News, an independent Iranian Christian news agency, Hanafi has stated that converts
from Islam to Christianity should be killed according to sharia law.
"Afghani citizens continue to convert to Christianity in India. Numerous Afghanis have become Christians in India," Hanafi said. "This is an offense to Islamic laws and according to the
Qur'an they need to be executed."
Hanafi heads the parliament's Legislative Commission and received the highest number of votes in the 2010 parliamentary election. Whether it has to do with women or Christians, the
lawmaker has outspokenly defended Islamic law and has pushed back against Western-influenced efforts to "secularize" it in any way.
Islamism's Public Opinion Problem
While secular and "liberal" Muslims have made strides throughout the world to elevate the status of women, the issue of women's rights remains a problem in the Muslim culture, as
various regions and sects interpret the Quran in different ways. Central to the conflict regarding the rights of women are passages that clearly say women are not equal to men:
In the United States, 51 percent of Muslims say 'Muslims in America should have the choice of being governed according to shariah.'
"Men have authority over women because God has made the one superior to the other, and because men spend their wealth to maintain them. Good women are obedient. They guard
their unseen parts because God has guarded them. As for those among you who fear disobedience, admonish them and send them to beds apart and beat them." Sura 4:34
"…Women shall with justice have rights similar to those exercised against them, although men have a status above women. God is mighty and wise." Sura 2:228
Liberal Muslims do not interpret these in a literal way and believe in separation of mosque and state. They don't want Islamic law to be integrated into state law, and they uphold the
rights of women. However, a majority of Muslims do not hold to this position, not only in Afghanistan but in other countries as well. A Pew survey found that "Muslims who want sharia to be the law of the land in their country often, though not uniformly, are less likely to support equal rights for women and more likely to favor traditional gender roles."
Nearly all Muslims in Afghanistan (99 percent) and most in Iraq (91 percent) and Pakistan (84 percent) support sharia law as official law. However, in other countries, especially in Eastern
Europe and Central Asia — including Turkey (12 percent), Kazakhstan (10 percent) and Azerbaijan (8 percent) — relatively few favor implementing sharia law.
In the United States, where Muslims are more secularized, 51 percent of Muslims still say "Muslims in America should have the choice of being governed according to shariah." Also
troubling is nearly a quarter of the Muslims polled said, "It is legitimate to use violence to punish those who give offense to Islam by, for example, portraying the prophet Mohammed."
What Sharia Often Means for Women
While Muslim feminists argue that interpretations of sharia that oppress women have no basis in Islam and are merely misinterpretations by men who want to hold onto power, this is not
everyone's opinion. As outlined by the Clarion Project, while there are various views regarding the rights of women and marriage laws, there are some constants among those committed to Sharia. These include:
A man is entitled to up to four wives, but a woman may only have one husband. In Western societies, a man typically only takes one wife.
The husband (or his family) pays a 'bride price' or 'dower' (mahr, which is money or property paid to the bride) which she is entitled to keep. This "mahr" is in exchange for sexual
submission (tamkin). Sexual submission is traditionally regarded as unconditional consent for the remainder of the marriage.
According to conservative interpretations of Sharia, a man can divorce his wife by making a declaration in front of an Islamic judge irrespective of the woman's consent. She isn't even
required to be there. But for a woman to divorce a man, his consent is required.
The husband is also completely responsible for the financial upkeep of the home, and "temporary marriage" (even for less than a half an hour) is allowed. The arrangement is basically
legalized prostitution. A report by the Gatestone Institute charts its development in Britain. Wife-beating is also permitted, according to some scholars. In addition, there is no joint
property—the man owns all property (except for what the woman owned before the marriage).
Particularly troubling: there's no specific minimum age for marriage, even though most agree a woman must have reached puberty before she can be wed. Marriage as young as 12 or 13
is not uncommon in Muslim-majority countries. In Yemen in 2013, there was a highly publicized case of an eight-year-old girl who died of internal injuries suffered on her wedding night.
According to Al Jazeera, "Nearly 14 percent of Yemeni girls [are] married before the age of 15 and 52 percent before the age of 18." The case prompted calls for Yemen to pass a law
setting a minimum age for marriage, although it has not yet done so.
Also, according to Clarion, "Even in the West, where Muslim women have the same legal rights as men, they have been prevented from exercising those rights by their male relatives."
Regarding modesty laws, many Muslim women respect the requirement to dress modestly and "freely choose" to conform. But in many Muslim-majority countries, women do not have the
choice. If they don't comply, they can be beaten by the police.
One of These Situations Is Not Like the Other
Violations of modesty laws frequently meet with violence in Muslim countries. Western women visiting Muslim-majority countries — for example, Saudi Arabia — are advised to dress
modestly and not to travel unaccompanied by a man. Dubai has notoriously strict public indecency laws. Many Western tourists have fallen foul of them in the past.
Additionally, male guardianship applies to all women under strict interpretations of sharia: "A woman becomes subservient to her husband and needs his permission to: 'leave the house,
take up employment, or to engage in fasting or forms of worship other than what is obligatory.' An unmarried woman is under the guardianship of her nearest male relative." Human Rights Watch has issued a 50-page report condemning the situation of women in Saudi Arabia alone.
Women are also at risk of genital mutilation. As I wrote in 2014, this is what the real war on women looks like—and it's not just in the Middle East:
Estimates from the Centers for Disease Control and Prevention indicate that at least 150,000 to 200,000 girls in the United States are at risk of being forced to undergo FGM. According to
census data from 2000, the number of girls and women in the United States at risk increased by 35 percent from 1990 to 2000. Activists say those numbers continue to rise, and more
current statistics need to be gathered. There is no 2010 data. In 2000, states with the highest number of affected girls included California, New York, New Jersey, Virginia, Maryland,
Minnesota, Texas, Georgia, Washington, and Pennsylvania.
In light of such horrors, the "war on women" we hear about today in America pales in comparison. Equal pay for unequal work, free birth control, free healthcare, and name-calling in the midst of political debates can hardly be classified as a squabble much less an outright war when compared to what's happening to Muslim women.
American women are living in the lap of luxury and whining about their "rights" while their sisters in Muslim countries—where the Quran is literally interpreted and applied in the political sphere—live in fear of oppression, violence, and death. Many have stopped going to school because they're afraid of being attacked on the streets.
The Dangerous Unity of Mosque and State
One of the fundamental problems with Islam in relation to a free society is the belief that there is no separation between mosque and state. The kingdom of God is one kingdom, and it is the duty of "good Muslims" to establish God's will and his law (Sharia) here on Earth. Secularized Muslims reject this interpretation of Islam and believe religion should be separate from the political sphere. However, this is not the case for most Muslims throughout the world.
This point is often ignored by Western feminists who don't want to appear politically incorrect by challenging abusive teachings regarding women. Whether the subjugation of women is
the "correct" interpretation of the Quran or not is irrelevant. Who's to decide which is right—the secularists and liberals or the fundamentalists? In the end, it doesn't really matter.
The disturbing reality is many Muslims believe in a conservative application of sharia to one degree or another, and they see it as having a place in political realm. Whether it's a man
being able to rape his wife, not letting women have inheritance or custody rights, or simply keeping her covered, the fact remains that this mindset stands in opposition to the principles
of liberty and equality that we hold in the United States.
Sharia is incompatible with the U.S. Constitution. Just read this comparison by the Center for Security Policy and you'll see why. Here's one example:
Constitution: Fourteenth Amendment: 'No State shall make or enforce any law which shall abridge the privileges or immunities of citizens of the United States; nor shall any State
deprive any person of life, liberty, or property, without due process of law; nor deny to any person within its jurisdiction the equal protection of the laws.
Shariah: Under dhimmi laws enforced in modern Shariah states, Jews, Christians and other non-Muslims are not equal to Muslims before the law. Under Shariah law, women, girls,
apostates, homosexuals and 'blasphemers' are all denied equality under the law.
It is the duty and responsibility of American women to make a stand and push back against any violation of our rights. This threat to women across the globe can't be ignored because
we're concerned about offending a religious sect or appearing to be politically incorrect. Lives are in danger. Women and girls (and Christians and homosexuals) are suffering, and it is
only getting worse, not only in places like Afghanistan, but in Europe as well.
We would all do well to heed the warning of ex-Muslim Sabatina James, author of "Only the Truth Sets Us Free": "Sharia is now finally with us. And the victims are primarily women. . . .
The religion that causes the most bloodshed is being protected the most. I find that totally paradoxical. And sometimes by those who carry the banner of gender equality, multiculturalism and the right to sexual self-determination. But if Islamists set the tone, freedom of expression, homosexuality and women's rights will soon be finished."
http://thefederalist.com/2016/04/21/islamism-is-the-worlds-war-on-women/
--
URL: https://newageislam.com/islam-women-feminism/the-bangladesh-child-bride,-asma,/d/107073