New Age Islam News Bureau
2 Jul 2014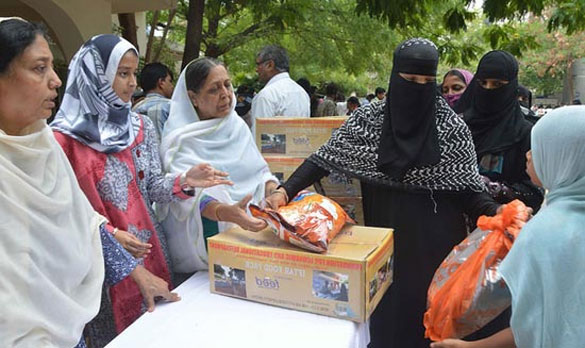 Shujath Babukhan, wife of Managing Trustee of FEED giving away food kits and essential commodities as Ramadan Aid to young Muslim widows in Hyderabad, India.
-----------
• What Links Hyenas, Shaved Heads and Child Marriage in Malawi?
• 'Blind Faith Demon' Claims Girl's Life in Pakistan
• Fearing Of Accusation Prevented People Helping Young Girl in Yemen
• French Ban on Face Veils Upheld by European Rights Court
• Even 10-year-olds Responsible for Anti-Muslim Abuse in United Kingdom
• $ 275,000 Project to Aid Young Widows and Orphans during Ramadan!
• Iraqi Militants Move Nurses to Hospital Basement
• QAU Ignores Harassment Law, Orders Probe under Old Rules
• UK: Uphill Battle in Fight against FGM
• Africa: Religious Women Have Stake in Conflict Resolution and Peace-Building
• Iraq Evacuation Impossible, Indian Nurses in Tikrit Trapped In Basement
Compiled by New Age Islam News Bureau
URL: https://www.newageislam.com/islam,-women-and-feminism/new-age-islam-news-bureau/the-abu-dhabi-fatwa-call-centre-where-women-have-the-answers/d/97855
------------
The Abu Dhabi fatwa call centre where women have the answers
2 July, 2014
ABU DHABI // The phone rings, the caller has a question about her Muslim faith, and an Islamic scholar provides the answer.
As the scholar offers advice, Shamma Al Thaheri listens intently: soon, she will be providing the answers herself.
Shamma, 26, is one of six young Emirati women being trained at the fatwa call centre in Abu Dhabi run by Awqaf, the General Authority of Islamic Affairs and Endowments.
They are all master's degree graduates from Mohammed V Agdal Abu Dhabi University, a branch of the Moroccan university.
Shamma was listening to a call from a woman whose Ramadan fasting had been inconsistent over the past seven years because of pregnancy and breastfeeding.
Dr Radia Al Waseef, a mufti who has worked at the centre since it was founded in 2008, told the caller she should count the days she missed and make them up during the year.
But the woman said she was diabetic and needed insulin injections, and therefore she could not observe the Ramadan fast.
Dr Al Waseef advised her she could compensate by donating Dh15 for each day she had missed, to feed the poor.
"After the trainees listen to the fatwa being issued, we discuss with them what we based our fatwa on," said Dr Al Waseef.
Shamma, Fatima Dahman and Shaikha Al Kaabi, all decided to specialise in Sharia after hearing of Awqaf scholarships at Mohammed V University.
Fatima, 25, and Shamma were among four young women chosen from 500 applicants in the first batch of recruits.
"We were interviewed on our general knowledge of Islamic studies, social skills, moderate opinions, speaking skills, confidence and the Arabic language," says Shamma. "They would give us a verse from the Quran and ask how we would interpret it."
During the interviews the applicants were also given theoretical situations and asked how they would apply their knowledge.
"They asked me if I was giving a lecture about wearing a hijab and a member of the audience was not wearing one, what would I do?" says Shaikha.
"I told them I would not attract attention to her, so I wouldn't embarrass her, I would just address the issue generally."
Fatima said her family was delighted for her to train to become a mufti.
"They always tell me, you will educate us and bring blessings to the family," she said.
Dr Al Waseef explained that although the graduates had the required education, it was entirely different to know how to apply that knowledge in real life.
Shaikha said one of the more challenging questions concerned a new type of nail polish.
Under Islamic law, when worshippers perform wudu, or ablution before prayer, the water must touch all of their hands.
As nail polish is impermeable to water, if women are wearing it their hands cannot be fully washed. So, technically, they must remove the polish before each ablution.
But recently make-up companies have started selling "breathable" nail polish that supposedly can be worn during ablution as it allows water to penetrate to the nail.
Every Wednesday all the muftis meet to discuss fatwas about contemporary issues that are not directly mentioned in the Quran or the Sunnah.
"If we receive a second call asking the same question we immediately consider it urgent and address it before Wednesday arrives," Dr Al Waseef said.
When the issue of the breathable nail polish arose, the fatwa centre carried out its own experiment.
"Some of the male muftis are specialists in chemistry, so after the experiment they discovered that it allows water to enter the nail 30 minutes after washing," she said.
The rules for ablution mean that all the cleansing must take place at the same time: if water only reaches the nail 30 minutes after the rest of the hand it is not acceptable.
Of the 50 muftis who work at the fatwa centre, three are female. There are plans to have 100 muftis working there by 2016.
Khalid Al Hassani, head of the fatwa department, said the UAE leadership believed it "vital to qualify nationals in the field of Sharia and especially the fatwa aspect, because of its great importance in directing society and imposing moderation and balance.
"It is equally important that women nationals qualify in fatwa so that Emirati women will have a role in religious awareness in the female society."
hdajani@thenational.ae
http://www.thenational.ae/uae/heritage/the-abu-dhabi-fatwa-call-centre-where-women-have-the-answers#ixzz36LMNVkyD
------------
What Links Hyenas, Shaved Heads and Child Marriage in Malawi?
2 July, 2014
London — In parts of Malawi, when a girl reaches puberty she may receive a night-time visit from a "hyena" - the name given to an older man who has sex with girls to "clean out the dust" of childhood and prepare them for marriage.
The ritual is one of several traditional practices that campaigners against child marriage are trying to eradicate in Malawi, where half the girls wed before their 18th birthday and one in 10 is married by 15.
Brussels Mughogho, country director of international development charity EveryChild, urged Malawi's new president, Peter Mutharika, to speed up a proposed law which would ban marriage before 18, in line with international treaties.
"We need effective action to tackle child marriage. We need leadership from him," Mughogho told Thomson Reuters Foundation.
Early marriage deprives girls of education and opportunities, trapping them and their children in poverty. It also increases the risk of serious injury or death if girls have babies before their bodies are ready.
Malawi has the world's 10th highest rate of child marriage and one of the worst maternal mortality rates, with teenage pregnancies estimated to account for 20-30 percent of all maternal deaths.
Mughogho said it was vital to work with traditional leaders to end harmful practices including early sexual initiation which fuels child marriage. In some cases girls are also left with HIV-AIDS. In others they are burdened with unwanted pregnancies, forcing them to quit school.
"Traditional leaders in Malawi are the custodians of culture," Mughogho said. "If you want to change a cultural practice you have to talk to the traditional leaders and convince them so that they are agents of change."
Some members of the Tumbuka and Sena ethnic groups pull a girl out of school for a week when she has her first period and shave part of her head - a sign she is ready to marry, Mughogho said. In some areas of Malawi it is also customary for a family to give a visiting community leader one of their daughters for the night.
Mughogho said his team was working with tribal leaders to introduce by-laws banning such traditions. But he said laws alone could not end child marriage unless Malawi also tackled basic problems such as poverty and hunger.
BRIDE PRICE
More than half Malawi's population lives below the national poverty line. In many cases parents marry off their daughters so they have one less mouth to feed and to get a "bride price" - or dowry - often in the form of cattle. Girls themselves may be keen to marry if they aren't getting enough food at home.
Mughogho said solutions could be as simple as teaching farmers how to make manure for their crops to boost harvests. If farmers can feed their families they are less likely to marry off their daughters.
Another initiative he said was paying off was the creation of community banks which give people loans to start businesses, helping them to keep their daughters in school.
Mughogho said child marriage not only destroyed a girl's future but also perpetuated intergenerational poverty - children of parents with no education or skills are very unlikely to break out of the poverty trap.
"At an individual level (child marriage) means that girl's future is likely to be miserable. But at the country level it's affecting development," he added.
"If we are to end poverty in Africa, if we are to break out of this vicious circle of poverty, we have to make a meaningful investment in children, now."
Mughogho said he had been particularly affected by a girl called Maggie who was married at 15, but is now back in secondary school.
When Maggie told him her ambition was to be country director of an international organisation like him, Mughogho was so inspired he dug into his own pocket to pay for her schooling for a term.
"We have to help girl children realise their ambitions," he said.
http://allafrica.com/stories/201407011631.html?viewall=1
------------
'Blind Faith Demon' Claims Girl's Life in Pakistan
Jul 2, 2014
FAISALABAD: A girl brutally tortured by a fake spiritual healer three days ago at D-Type Colony breathed her last at the General Hospital, Samanabad, on Tuesday.
Zeenat Bibi, a resident of Lahore's Mughalpura area, was ill and her family sent her to her uncle's home at Muradabad, D-Type Colony.
Riaz, brother of Zeenat, told reporters that self-acclaimed spiritual healer Afzal clubbed his sister "to rid her of the possession."
He said Zeenat was shifted to the General Hospital with critical wounds where she died.
The D-Type Colony SHO said Shahbaz Ahmad, a disciple of the suspect, had been taken into custody and raids were being conducted to arrest him.
COMMITTEE: City Police Officer (CPO) Dr Haider Ashraf has constituted a three-member committee to arrest suspects who gunned down two women in Jaranwala on Monday evening.
Parveen Bibi and her two daughters were on their way home on a rickshaw when three armed suspects signalled the driver to stop near railway crossing. The driver did not pay heed and kept driving at which the suspects opened fire and fled.
Parveen Bibi and one of her daughters died on the spot while the rickshaw driver and the other child remained unhurt.
Police registered a case under sections 302 and 392 of the Pakistan Penal Code.
The CPO directed Jaranwala DSP Muhammad Akhtar, head of the committee, to trace the culprits within a week.
http://www.dawn.com/news/1116479/blind-faith-demon-claims-girls-life
------------
Fearing Of Accusation Prevented People Helping Young Girl in Yemen
2 July, 2014
It was 9:30 pm when Yusra, 12 years-old, decided to run away from her home. Yusra walked about 3km looking for the house of her best friend in school, Nada. It was a late, quiet, and dark night, with only the barking of dogs. She spent three hours trying to recognize the house but it was too dark. Finally, she found it around 12:30 PM.
Happily, Yusra knocked the door strongly. The family wondered who would come at this late hour. The father went to see. He opened the door to find a young girl with a smiling face and crying eyes, she was shivering from cold and fear. From the gate of the house, the father started asking Yusra about her name and what happened to her.
"My dad beat me cruelly. Many times, he burned my hands. Today he swore he would kill me because I'm a girl and he hates girls. I came to help me because Nada told me you are good," Yusra explained.
Directly, Nada's father told Yusra to return her home. "It is impossible that your father kill you. He said that because he is just angry, you should go back home."
Actually, Nada's father was afraid for her. He knew well that she was in real danger, but that was the first solution to come to his mind at the time.
Yusra refused to return home. She contained begging Nada's father to stay in their home until the morning only. Eventually, he let her enter the home.
He started discussing with his wife about the good solution for Yusra. There were a lot of concerns that prevented him from letting her stay with them until the morning. "The problem is that she is a girl and this is a big responsibility," Nada's father said.
The parents asked Yusra if she knew a house of relatives or a phone number of any person to contact with him. But the poor girl didn't know any house or have any number.
The parents decided to wake up their neighbor Talal to tell him about the story in order to be a witness about everything in case something bad happened.
"What do you think if we take her to the police station and tell them everything?" That was the first thing Tala thought to do after he heard the story, but Nada's father refused the idea strongly. "You know police station means long procedures."
Nada's father had bad experience with police stations. According to him, the police don't resolve problems, only make them bigger. "Once, I was imprisoned for a month because I helped a wounded person who was unconscious in the street, and they didn't know the attacker so they accused me," Nada's father said.
Talal was convinced quickly by Nada's father's opinion. He also didn't trust police stations. He knew well there wasn't a system, accurate procedures, or strong laws to protect people.
After a long discussion, both Nada's father and Talal questioned Yusra about any person who she or her family knows.
"I know family lives nearby your house. They are from our village. One time, my mother and I went to their home." From her village means she can stay with them or they can talk with her father because they know each other, but Nada's father and Talal were considered strangers who couldn't keep the girl or even try to resolve the problem with her unjust father.
Nada's father and Talal took Yusra to that family; the wife also went with them because in Yemeni traditions, girl shouldn't be alone with two men.
They arrived to the house and told the householder who was named Kassim everything. "Actually we don't know them well, and this is a girl so I can't let her stay in our house. If she was a boy there wouldn't be any problem."
Kassim and his wife refused to save her because there wasn't strong relationship between Yusra's father and them. No one wanted to help Yusra's, fearing accusation.
"In my opinion, we should return her back to her father. Neither the police, nor society can save her. Her father is is the only responsible for her life. He can do whatever he wants. This what everybody will say at the end," Kassim said.
They continued discussing trying to save themselves from the problem instead of saving Yusra from her problem.
Yusra was hearing everything. She realized that no one could help her. She opened the car door and ran out fast. The wife couldn't catch her. The men couldn't follow her. She disappeared among the dark.
http://nationalyemen.com/2014/06/29/fearing-of-accusation-prevented-people-helping-young-girl/
------------
French Ban on Face Veils Upheld by European Rights Court
2 July, 2014
LONDON — The European Court of Human Rights has upheld a ban imposed by France on the wearing of face-covering veils in public, rejecting arguments that the measure violates religious freedoms and bolstering opponents of strict Islamic dress in other parts of Europe.
The ban, which went into effect three years ago in France, has been contentious because it set the authorities on a collision course with Muslims who said the wearing of such veils by women was an obligation of their faith.
The ban, imposed by the former conservative government of Nicolas Sarkozy, was also depicted by its critics as exploiting anti-Muslim and anti-immigrant sentiments in a country with a Muslim minority estimated at up to six million — Europe's largest.
At the European Court of Human Rights in Strasbourg, France, judges said on Tuesday that the ban was a legitimate attempt to preserve the norms of France's diverse society and that it did not infringe on Europe's Convention on Human Rights. The court was ruling on a case brought by an unidentified Frenchwoman who said the law was discriminatory and violated her freedom of conscience. The 24-year-old woman, a college graduate, had requested anonymity for fear of reprisals if her identity became known.
France was the first country in Europe to enact such a ban, followed by Belgium. The law evoked an array of issues, including France's vaunted secularism and the question of whether women are degraded when they wear full-face veil, and it was debated for years.
Proponents of the ban said it was needed to preserve French culture and ward off Islamic separatism. Officials also said the veil presented a security risk because it cloaked the identity of the wearer. But opponents called the ban extreme.
At the time it was enacted, the Interior Ministry in Paris estimated that only about 2,000 women in France wore the face-covering veil, known as the niqab, which leaves the eyes exposed. It is often confused with the head-to-toe covering called the burqa.
Hundreds of women have been fined up to 150 euros, or about $215, for defying the ban, but the police have said it is rarely enforced.
The court said in a statement that the "ban was not expressly based on the religious connotation of the clothing in question but solely on the fact that it concealed the face." The 17 judges said the applicant had not been a victim of discrimination.
In a statement summarizing the ruling on its website, the court said the woman "is a devout Muslim and in her submissions she said that she wore the burqa and niqab in accordance with her religious faith, culture and personal convictions."
"The applicant also emphasized that neither her husband nor any other member of her family put pressure on her to dress in this manner," the statement said. She added that she wore the niqab in public and in private, but not systematically. She was thus content not to wear the niqab in certain circumstances but wished to be able to wear it when she chose to do so. Lastly, her aim was not to annoy others but to feel at inner peace with herself."
It continued: "While the court was aware that the disputed ban mainly affected certain Muslim women, it nevertheless noted that there was no restriction on the freedom to wear in public any item of clothing which did not have the effect of concealing the face and that the ban was not expressly based on the religious connotation of the clothing in question but solely on the fact that it concealed the face."
The court also said it was "able to understand the view" that, in the interests of social cohabitation, the wearing of such face-covering veils might be perceived as thwarting "open interpersonal relationships, which, by virtue of an established consensus, formed an indispensable element of community life within the society in question."
While opponents of the ban complained that it could exacerbate social tensions, the court's statement concluded that the prohibition could "be regarded as proportionate to the aim pursued, namely the preservation of the conditions of 'living together' " in French society.
http://www.nytimes.com/2014/07/02/world/europe/european-rights-court-upholds-frances-ban-on-full-face-veils.html?_r=0
------------
Even 10-year-olds Responsible For Anti-Muslim Abuse in United Kingdom
2 July, 2014
The Muslim community is experiencing frequent abuse in the United Kingdom with perpetrators being as young as 10 years of age, according to a new study by Teesside University.
The finding is based on the data collected over a period of 10 months by the Tell MAMA (Measuring Anti-Muslim Attacks) project.
Researchers found that about 734 self-reported cases of anti-Islamic abuse between May 2013 and February 2014. The figure is equivalent to more than two a day on an average.
The study also found that around two fifths of the cases registered by Tell MAMA had a link to far-right groups, over half (54 percent) of the victims were women and approximately less than one in every six victims filed a complaint with the police.
Out of 734 self-reported cases, 599 were connected to incidents of online abuse and threats.
While the rest of them were carried out "offline" like violence and distribution of anti-Muslim literature, threats and assaults. Around three fifths (60 percent) of these "offline" attacks are alleged to have been executed by individuals aged between 10-30 years.
"Muslims remain among the most likely minority group in Britain to be targeted for a hate crime. 'Trigger' events like the murder of Drummer Lee Rigby clearly magnify the possibility of far-right groups and others victimising Muslims simply for who they are and what they believe," Study author Dr Matthew Feldman, co-director of the Centre for Fascist, Anti-Fascist and Post-Fascist Studies, said in a statement.
The study observed a spike in reported incidents following the aftermath of soldier Fusilier Rigby's murder in Woolwich, south-east London May 22, 2013.
The finding is published by the Centre for Fascist, Anti-Fascist and Post-Fascist Studies at the University.
http://www.universityherald.com/articles/10174/20140701/children-muslim-abuse-united-kingdom-teesside-perpetrator.htm
------------
$ 275,000 Project to Aid Young Widows and Orphans during Ramadan!
2 July, 2014
Hyderabad: About 18,000 families mostly comprising young widows in Andhra Pradesh and Telangana states of India had their moment of their relief with the onset of Ramadan. Widows, some as young as 20 years old, most of whom now work as maids were in tears on receiving a month's essential commodities distributed as Ramzan Aid.
Widow of one Shaik Jahangir, 26 year old Nasreen Begum explains "it is difficult to manage our monthly expense of nearly 4500 rupees while I earn only 2000 rupees a month by exercising menial chores at four different places."
She painfully expresses that the death of her husband Jahangir has not only risked their survival but also the education and future of her children. Despite all odds, this tough lady is unwilling to give up on their education and somehow manages to send her son Abdul Rahman (13) to an Islamic seminary while her daughter Raheema Begum (11) goes to an English medium school and her school fee is paid by Nasreen's brother Khadeer (22) who works at a local pharmacy store.
Ziauddin Nayyar, Trustee of Foundation for Education and Economic Development (FEED) while addressing the beneficiaries advised them to exercise maximum efforts to educate their children assuring them that the Trust will support the cause of their education.
Shujath Babukhan, wife of Ghiasuddin Babukhan – managing trustee of FEED, who also volunteers for the Hyderabad Zakat and Charitable Trust, said "these widows are young and helpless and more deserving as they have no body to look up to after their husband's death since they come from weaker sections of the society". For the last 21 years, the trust has been thriving to realize the dreams of these weaker sections and underprivileged to step up their social and financial stature.
The trust has altruistically commissioned nearly 1.45 crore rupees (US$ 275,000) to aid beneficiaries as a part of their Ramadan Project 2014. Iftar Food packs weighing 18kg each, 25 kg fidya packs in lieu of missed fastings due to ill health or any other reason permitted in Shariah, Fitra pakcs of 5Kg each, Eid clothes for orphan children and widow sisters and bedsheets were distributed to each family.
The beneficiaries who gathered at Unity Centre, Begumpet, Hyderabad to receive the aid also included physically challenged children and adults who cannot earn their bread and butter.
Zohra Begum, a widow mother of physically challenged 20 year old Ayesha says this relief aid is a blessing in disguise. Her 12 year old son Siraj earns 50 rupees a day for their living which is barely sufficient for her 3 daughters and two sons with the house rent consuming away 1200 rupees from their monthly earning.
"Aids like these add mileage to our life", she exclaimed while praising the trust for aiding their livelihood.
The trust is gradually rolling out aid kits comprising wheat flour, tamarind, turmeric, chilly powder, Bengal gram, dates, tea powder, sugar, edible oil and 900 rupees in cash among other essentials in batches identified by geographical boundaries in these states as per provisional planning.
The lady Volunteer of the trust Aliya Vikhar also attended the distribution programme.
http://twocircles.net/2014jun30/275000_project_aid_young_widows_orphans_during_ramadan.html?utm_source=feedburner&utm_medium=email&utm_campaign=Feed%3A+Twocirclesnet-IndianMuslim+%28TwoCircles.net+-+Indian+Muslim+News%29#.U7RjaJRdU4V
------------
Iraqi militants move nurses to hospital basement
Suresh Pattali (KT Exclusive) / 2 July, 2014
The militants occupied the buildings and fired guns to celebrate the declaration of the caliphate of a new Islamic state.
The 46 Indian nurses trapped in Iraq were evacuated on Monday night to the basement of their hospital as Iraqi helicopter gunships chasing militants rained bombs in one of the most fierce battles to control the city of Tikrit.
Ironically, the nurses were moved to the basement kitchen by none other than the militants, when the hospital compound and surroundings came under heavy bombardment after sunset.
The Tikrit Teaching Hospital, where the nurses are holed up, has become the latest theatre of war after the militants occupied the buildings and fired guns to celebrate the militants' declaration of the caliphate of a new Islamic State in lands seized this month across a large swathe of Iraq and Syria.
After bombs hit portable houses occupied by Bangladeshi workers outside the hospital and flames spread, a couple of militants came into the nursing quarters and sat with them.
'He promised we will not be harmed and moved us to the basement,' said Marina M Jose, who made a desperate call to Khaleej Times from the hideout.
She said she talked to Ambassador Ajay Kumar who told them to remain in the basement till the bombing is over. She said the ambassador, with the aid of Google map, was asking Iraqi officials to stop targeting the building where the nurses are lodged.
Reality has begun to bite as the nurses are also faced with near-starvation in an enclave in the wilderness of Iraq's civil war.
Amid questions who is in charge of Saddam Hussein's hometown of Tikrit, the nurses who came to Iraq chasing their dreams, spent two consecutive days minus breakfast. They managed with a few pieces of biscuits and water and cooked some kanji (rice soup) with the last grains they had, for dinner on Sunday night.
"We were not sure about another bite for the rest of the day and were desperately calling the PR boy, who came past 2pm with some rice, rajma beans, chickpeas, milk powder and tea powder," one of the nurses told Khaleej Times.
Asked about dinner and breakfast, she said the boy had given "two pieces of thick quboos, one for dinner and one for tomorrow's breakfast".
The boy also told them to be "very, very careful with food" as markets are mostly closed and life remains grim in the besieged city.
Tikrit, which had been witnessing fierce battles between government forces and the Islamic State of Iraq and the Levant (Isil), mostly remained without power and water.
"We do not have drinking water anymore. The boy had managed to salvage some bottles of water from another building and this is the last drop of potable water available inside the hospital compound," the nurse said.
"Nights are sleepless with no air-conditioning and the summer temperatures touching extreme degrees. To beat the heat, we lie down on wet bed linen and wear wet cloths at night. When the cloths dry up after a while, we soak them again," she explained.
With the crisis worsening with each passing day, she fears that the frustration would gradually explode in anger and hysteria. "On Sunday night, scores of militants fired in the air for hours from nearby buildings. We desperately called the PR boy who said these are celebratory gunfire. He wouldn't explain further."
"We were unsure who occupied the hospital terraces. Were they government forces celebrating a recapture of the city? Were they the militants or their sympathisers celebrating the Isil's declaration of the caliphate?' she had initially wondered.
'With the latest round of bombings, it has become clear that we are now in the hands of the militants.'
When Khaleej Times last spoke to them, the nurses were moved back to their quarters as the militants wanted to break fast and pray in the basement.
Marina said that as reported in the media, the embassy has delivered some financial assistance on Sunday. "Each of us received 10,000 Iraqi dinars with instructions to safe-keep and not to tell anyone."
She said it's equivalent to Rs500, just enough for onetime top-up of the phone credit. The embassy also topped up credits for 10 needy nurses on Monday.
http://www.khaleejtimes.com/kt-article-display-1.asp?xfile=data/middleeast/2014/July/middleeast_July4.xml&section=middleeast
------------
QAU ignores harassment law, orders probe under old rules
2 July, 2014
SLAMABAD: A Quaid-i-Azam University (QAU) student, who levelled allegations of sexual harassment against a senior teacher in her department, has asked that the accused man be removed from his post until the inquiry into his conduct reaches a decision.
The university's administration has also decided to initiate the inquiry against the accused teacher under the Efficiency and Discipline (E&D) Rules 1973, rather than the Protection against Harassment of Women at Workplace Act, 2010, the QAU vice chancellor told Dawn on Tuesday.
A three-member committee has been formed to probe the case. Chaired by Professor Gul Majeed of the Pharmacy Department, it includes Prof Kashif Sabeh from the Physics faculty and Prof Rahat Naseem of the Environmental Sciences faculty. Prof Naseem is the only woman on the committee.
In the application submitted to the Vice Chancellor's office on Tuesday, a copy of which is available with Dawn, the alleged victim maintains that the accused should not be allowed to continue working as the head of the QAU School of Management Sciences because he could then pressure witnesses who are currently working on probation and can be dismissed on his instructions.
"No staff members or students can dare to speak against the in-charge as long as he is head of the School of Management Sciences," the application states.
Copies of the application have been sent to President Mamnoon Hussain, in his capacity as chancellor of QAU; the state minister for Education and Professional Training; the federal ombudsman and other key officials.
Prof Gul Majeed, who is heading the committee to probe the harassment charges, told Dawn he found out he had been named committee head when he saw the notification on Tuesday.
"I will meet with the other members and then we'll decide how to deal with the issue," he said. Prof Majeed admitted that it was possible for the accused teacher to exert pressure on witnesses from the School of Management Sciences.
"I will discuss that matter with the committee members we will take appropriate action," he said.
Talking to Dawn, QAU VC Dr Etazaz Ahmad said, "If any member of the investigating committee feels that the suspect can use his influence to affect the investigation and should not continue working as department in-charge, the committee can remove him".
Dr Etazaz also said that the investigation will proceed under the E&D Rules 1973 instead of the Protection against Harassment of Women at Workplace Act, 2010.
http://www.dawn.com/news/1116471/cvc
------------
UK: Uphill Battle in Fight against FGM
2 July, 2014
Three million girls between infancy and age fifteen are subject to FGM every year, and it is believed that 140 million women worldwide are suffering from the lifelong consequences of the practice.
The Muslim Council of Britain [MCB], the most prominent Muslim council in Britain, has declared that female genital mutilation is contrary to Islam: "FGM is not an Islamic requirement. There is no reference to it in the holy Qur'an that states girls must be circumcised. Nor is there any authentic reference to this in the Sunnah, the sayings or traditions of our prophet."
"This is a terrible situation for young girls. So our strategy is to target the cutters. They are hurting a lot of people and making a profit from it." — Sir Bernard Hogan-Howe, Commissioner, Metropolitan Police Service.
Thousands of schoolgirls in the United Kingdom are at high risk of undergoing female genital mutilation [FGM] during this year's summer break, according to the British government, which is actively promoting several nationwide campaigns aimed at raising awareness of the spiraling problem.
The summer holiday—often referred to as the "cutting season"—is an especially dangerous time for at-risk girls, anti-FGM activists warn. Many families consider the summer to be a convenient time to carry out the procedure because there is time for the girls to heal before they return to school in the fall.
British girls are often sent abroad during the summer to be mutilated by "house doctors" in their ancestral countries. Others are being sent to Dubai and Singapore for a more "medicalized" form of FGM. But equally large numbers of girls are being cut in Britain, according to London's Metropolitan Police Service.
More than 20,000 girls under the age of 15 are believed to be at high risk of FGM in England and Wales this year alone, according to government estimates.
Britain's FGM problem is massive and growing, and observers say the solutions implemented so far to reverse the trend have been largely ineffective. Despite years of private and public sector efforts aimed at stopping the practice, there is now a very real sense that the UK's fight against FGM is failing to gain traction.
FGM—which involves the removal of the clitoris and part of the labia minora under the pretext that this will protect a girl's chastity—is endemic in Muslim-majority countries across Africa, Asia and the Middle East.
Three million girls between infancy and age fifteen are subject to FGM every year, and it is believed that 140 million women worldwide are suffering from the lifelong consequences of the practice.
FGM has emerged as a major problem in Europe due to mass immigration. The European Parliament estimates that 500,000 girls and women in the European Union are living with FGM, and every year another 180,000 girls in Europe are at risk of being "cut."
Britain has the highest levels of FGM in Europe. According to a government-funded study published in 2007, at least 66,000 women and girls in Britain have had the procedure performed on them, and more than 23,000 girls under the age of 15 are currently at risk.
These figures, however, may be only the tip of the iceberg. A 2011 Department of Health policy paper warns that "it is possible that, due to population growth and immigration from practicing countries…FGM is significantly more prevalent than these figures suggest."
FGM is thought to be common in Britain among immigrant groups from Egypt, Eritrea, Ethiopia, Gambia, Indonesia, Iraq, Kenya, Kurdistan, Liberia, Mali, Nigeria, Northern Sudan, Pakistan, Sierra Leone, Somalia and Yemen.
Although FGM has been illegal in the UK since 1985—anyone convicted of carrying out FGM or helping it to take place faces a maximum sentence of 14 years in prison—there has yet to be a successful prosecution in British courts.
Britain's first-ever FGM-related trial was held at the Westminster Magistrates' Court on April 15 and a ruling is expected soon. But the case has been mired in controversy.
Public prosecutors allege that after an unidentified patient gave birth at the Whittington Hospital in London in November 2012, a 31-year-old doctor in obstetrics and gynecology named Dhanuson Dharmasena "repaired FGM that had previously been performed on the patient" years earlier, thus allegedly carrying out the same crime himself.
Dharmasena is alleged to have been encouraged to perform the FGM by a 40-year-old London man named Hasan Mohamed, believed to be a relative of the patient. If they are found guilty, both men face up to 14 years in prison.
Anti-FGM campaigners say the prosecution represents an important step forward in eliminating FGM in Britain, but doctors and other medical staff who specialize in treating women who are victims of FGM claim that Dharmasena is an innocent victim of political pressure to get a first conviction at any cost.
In any event, public prosecutors admit they have discontinued work on four other allegations of FGM after determining there is "insufficient evidence to demonstrate a realistic prospect of conviction."
The director of public prosecutions, Alison Saunders, told the Guardian that the Crown Prosecution Service had received only 11 referrals—involving a total of just five FGM cases, four of which have been dismissed—during the past several years.
Saunders said the lack of prosecutions is due to a lack of evidence rather than flaws in the legislation. Underage victims of FGM are, more often than not, afraid to speak out against family members. As a result, the abuse usually remains hidden until the children become adults.
The Metropolitan Police Service [Met] is now pursuing an alternative strategy by going after the cutters rather than the parents. In an interview with the London Evening Standard, Met Commissioner Sir Bernard Hogan-Howe said:
"This is a terrible situation for young girls. So our strategy is to target the cutters. They are hurting a lot of people and making profit from it. We realize why sometimes people don't want to complain against parents, but I think there's no excuse for them to fail to give information about cutters."
Hogan-Howe failed, however, to reveal how many cutters have actually been arrested.
In early May, the Met also launched a one-week anti-FGM campaign—dubbed Operation Limelight—at London's Heathrow Airport and six other major airports in the UK. Police focused on flights to and from countries where FGM is widespread in the hopes of intercepting families who might be taking their children abroad for the practice. But after seven days of baggage searches and other "intelligence-led" checks, police made only one arrest, after the FGM had been carried out.
Meanwhile, the Secretary of State for Education, Michael Gove, has been urging teachers to be vigilant in protecting female students against possible FGM ahead of the summer holidays. On May 25 he sent out an email to all schools in England and Wales with "guidance" that tells teachers how to identify girls who are at risk or who have suffered mutilation.
Gove's email was his second on the subject in as many months because very few head teachers in the UK even bothered to read his first email.
On May 22, the London Evening Standard published data based on a Freedom of Information request which showed that Gove's guidance on FGM was sent to 2,922 head teachers in London. Of these, 1,534 opened the email, but only 1,198 "clicked through" to actually read it.
The revelation prompted renewed warnings from MPs and anti-FGM campaigners that schools are failing to take sufficient action to protect girls from mutilation.
Keith Vaz, chairman of the Commons Home Affairs Select Committee, which is conducting an inquiry into FGM, described the response of London head teachers as "dreadful" and called on Gove to ensure that the guidance was read by all staff. He said:
"I am deeply concerned by how few head teachers have even opened the email from Michael Gove. A second email must be sent which is marked urgent and shows that it includes information on possible child abuse in their schools. It is imperative that this guidance reaches the frontline."
The founder of the anti-FGM campaign group Daughters of Eve, Nimco Ali, who is herself a victim of FGM, said the data showed that head teachers were ignoring the problem of mutilation and adding to the risks that girls faced. She said:
"These figures are disappointing and again show the reality that head teachers see the protection of girls as someone else's issue. For protection to become a reality, head teachers need to take the issue seriously."
Amid the apparent apathy vis-à-vis FGM, the National Society for the Prevention of Cruelty to Children (NSPCC) in early June launched a nationwide poster campaign aimed at mothers and care-givers who suspect a girl is at risk of FGM.
The posters—placed in 17 London boroughs, in Birmingham, Manchester, Leicester, Bristol, Sheffield, Liverpool and Cardiff—urge women, particularly those in Somali, Kenyan and Nigerian communities which have a high prevalence of FGM, to call an NSPCC-dedicated helpline (0800 028 3550) to report suspicions anonymously, or to ask for help and advice if their own daughter is at risk.
The posters are being placed in public restrooms and also in schools, police stations and hospitals until August to reach communities during the school holidays when most girls are at risk.
For now, anti-FGM organizations say the greatest success in the fight against FGM so far has been a purported decision by the Muslim Council of Britain [MCB], the most prominent Muslim organization in Britain, to declare that female genital mutilation is contrary to Islam.
The MCB—which is closely linked to the Muslim Brotherhood—has promised to distribute leaflets in 500 mosques and community centers across the UK in an effort to end FGM. It said that it was "not true" that mutilation was a Muslim requirement and that instead one of the "basic principles" of Islam was that followers should not harm themselves or others.
The MCB leaflet states:
"FGM is not an Islamic requirement. There is no reference to it in the holy Qur'an that states girls must be circumcised. Nor is there any authentic reference to this in the Sunnah, the sayings or traditions of our prophet."
According to the MCB, FGM could cause severe pain, bleeding, and problems in pregnancy and even death, as well leaving some victims with lasting psychological torment. Above all, however, the MCB says, FGM is bringing Islam "into disrepute."
If genuine, the MCB's about-face on FGM should be commended. Up until now, however, the group has not published any statement rejecting the practice on its website.
Moreover, the fact remains that FGM is doctrinally, historically, geographically and juridically linked to Islam.
The intellectual leader of the Muslim Brotherhood, Yusuf al-Qaradawi, wrote in a fatwa [Islamic legal opinion] dated February 15, 2014 that: "whoever finds it serving the interest of his daughters should do it, and I personally support this under the current circumstances in the modern world."
http://www.gatestoneinstitute.org/4381/uk-fgm
------------
Africa: Religious Women Have Stake in Conflict Resolution and Peace-Building
2 July, 2014
Justice and peace are not possible without the involvement and participation of women. To accomplish this vision the United Nations Security Council resolution (UNSCR) 1325 can be an important negotiation tool for religious women's on-going work for conflict resolution and peace-building around the world.
Such was a premise of a weeklong seminar entitled "Women's Pilgrimage of Justice and Peace" which took place from 9 to13 June as part of the continuing education programme of the Ecumenical Institute in Bossey, Switzerland.
The workshop seminar was an initiative of the Just Community of Women and Men, formerly known as Women in Church and Society, a programme of the World Council of Churches (WCC) in collaboration with the Ecumenical Institute in Bossey.
With acknowledgment that sexual and gender-based violence figures prominently in crimes against humanity, especially the use of rape as a weapon of war, the WCC programmes are exploring ways of empowering religious women to take their places in strengthening efforts at conflict resolution and peace-building.
"We are exploring the accessibility of some existing gender justice instruments, like UNSCR1325, so that church women can be empowered to use them for their own negotiations," explained Dr Fulata Mbano-Moyo, organizer of the seminar and programme executive for the WCC's Just Community of Women and Men.
UNSCR1325 is the landmark resolution, passed in 2000, which "reaffirms the important role of women in the prevention and resolution of conflicts, peace negotiations, peace-building, peacekeeping, humanitarian response and in post-conflict reconstruction and stresses the importance of their equal participation and full involvement in all efforts for the maintenance and promotion of peace and security."
The seminar facilitators included Dr Susan St. Ville from Joan B. Kroc Institute of the University of Notre Dame, United States, and Dr Zilka Siljak, Bosnian scholar and a visiting lecturer in Women's Studies and Islamic Studies at Harvard Divinity School. They encouraged and enabled participants to draw from their own experiences of conflict resolution to compose possible plans of action for their own personal, local and regional activities.
The seminar brought together 25 women from diverse backgrounds. They shared narratives of their own experiences and those of others, who had survived sexual violence in conflict, post-conflict or even non-armed conflict situations. The participants came from Bosnia and Herzegovina, Canada, Palestine, Israel, Jordan, Nigeria, Democratic Republic of Congo, Sri Lanka, India, Australia, Korea, Cameroon, Sweden, the Netherlands, Germany, Scotland, Ireland and the United States.
Dr Marina Ngursangzeli Behera of the Ecumenical Institute in Bossey and Dr Maria Van Heemstra of the WCC were among the organizers of the seminar. The Lutheran World Federation and the United Methodist Women also supported the event with other ecumenical organizations and churches.
http://allafrica.com/stories/201407011101.html
------------
Iraq evacuation impossible, Indian nurses in Tikrit trapped in basement
TNN | Jul 2, 2014
NEW DELHI: As war intensified in Iraq's ISIS-controlled Tikrit, the 46 Indian nurses trapped in a hospital were forced to take shelter in the basement of the building. With Iraqi forces launching strikes against ISIS to wrest control of the city, there were fresh bombings and gunfire in the hospital vicinity on Tuesday.
The nurses, many of whom are from Kerala, told Indian officials over phone that they had been asked by a gunman to move to the basement of the hospital.
One of the nurses, Marina Jose, told BBC that they were in the hospital kitchen located in the basement of the building. "We are scared. We don't know how to stay here," said Jose.
Indian officials have found their hands tied in dealing with the situation in Tikrit as the city remains under ISIS' control, making evacuation by road impossible for now. The nurses have been advised repeatedly to remain indoors, like all other Indians caught in the conflict zone.
The nurses were initially not sure if they wanted to leave Iraq as most of them had not received their salaries for the past few months. They are said to have taken loan back home and needed money to repay.
"There has been bombing and firing in the vicinity of the building. They have sought refuge in basement. We have informed the Iraqi government about them and remain hopeful that we will be able to extricate them from a difficult situation," said foreign ministry spokesperson Syed Akbaruddin.
He said the nurses were "safe and unharmed" and in touch with the Indian mission. The official said that the 39 Indian construction workers kidnapped by ISIS from Mosul too were unharmed.
While there are over 10,000 Indians living in Iraq, only about 100 are caught in the conflict zone. The Indians are mostly concentrated either in autonomous Kurdistan region in the northeast or in cities south of Baghdad like Najaf, Karbala and Basra. While about 1000 Indians in these cities have told Indian authorities that they want to return to India, an equal number spread across Najaf, Karbala and Basra have said they want to stay put in Iraq. These Shia-dominated cities are far away from the conflict zone.
Around 600 Indians are expected to be back in India from Iraq by the end of this week. According to government figures, 230 have already left. The government is not calling it an evacuation saying its role, as of now, is just to facilitate the return of those who want to leave. It is providing free air tickets to those who couldn't afford.
The government also said it had received requests from Iraqi authorities and Red Crescent/ Red Cross to ask the Indian media to exercise restraint in reporting about the nurses as irresponsible reporting could endanger their lives.
Meanwhile, Nepal, which has no embassy in Iraq, has sought India's help in facilitating the departure of its nationals, to which India has agreed.
http://timesofindia.indiatimes.com/india/Iraq-evacuation-impossible-Indian-nurses-in-Tikrit-trapped-in-basement/articleshow/37601148.cms
-----------
URL: https://www.newageislam.com/islam,-women-and-feminism/new-age-islam-news-bureau/the-abu-dhabi-fatwa-call-centre-where-women-have-the-answers/d/97855