New Age Islam News Bureau
25 Apr 2015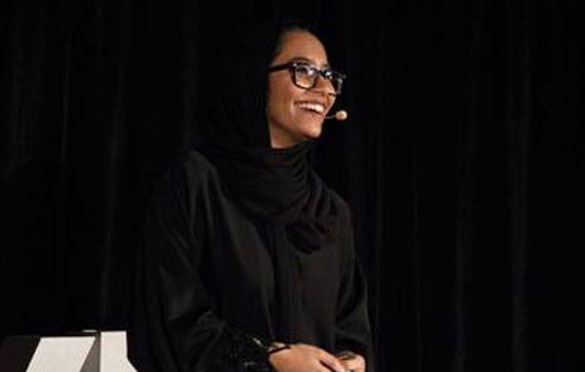 The Abaya Unifies and Liberates Women, Says Emirati Student
-------------
• 'Women of Achievement' Honours Faith Perspectives Blogger Ghazala Hayat
• Belly Dancer Draws Criticism for Performing At Egyptian School Prom
• No 'Halal' Sex Shop in Mecca, Story Fabricated By Moroccan Media
• When Women Are Exploited By Saudi Men In The Name Of Love
• No Pak Woman Contestant Has a Party Ticket
• Human Rights: Missing Measures in the Push to Empower Women and Girls
• Action on Sanitary Wear for Girls in Poverty Stricken Parts of Africa
• First ever UN resolution passed on School-Related Gender Based Violence
• The Spreading Militancy and Islamic Salafism Threatens Women's Dignity
'• Time for Revolution' On School's Oppression of Women: Former Al-Taqwa Student
• Ferrer Calls for End to Discrimination against Muslims, Women in PH during Clinton Awards
Compiled by New Age Islam News Bureau
URL: https://www.newageislam.com/islam,-women-and-feminism/new-age-islam-news-bureau/the-abaya-unifies-and-liberates-women,-says-emirati-student/d/102670
---------
The Abaya Unifies and Liberates Women, Says Emirati Student
25 April 2015
Emirati student breaks down stereotypes about traditional dress
Empowerment, culture, and a sense of belonging are some of the reasons why Maitha Al Memari wears the traditional Abaya, not because she is forced to.
Delivering a lecture as part of New York Abu Dhabi's (NYUAD) TEDx event, Maitha, an Emirati female student at NYUAD addressed some of the misconceptions surrounding the Abaya and why Emirati women wear it.
Maitha acknowledged some of the negative perceptions that come with wearing an Abaya, but was insistent that when it comes to the Emirati context, wearing the Abaya has nothing to do with oppression or being forced to do so.
"Abayas represented adulthood for me, I only started wearing the Abaya on a daily basis around three years ago, and it made me feel like a grown elegant Emirati woman. The Abaya gives me a sense of home, and a sense of belonging. A meaning many people associate the Abaya with is a form of oppression; it oppresses women, and disables their freedom of speech. The Abaya is also seen as limiting an individual's expression of personality. Although that might be the truth in some cases, it is not the case in every context, and in the Emirates the Abaya liberates and unifies women."
She also went on to explain that the Abayas are a major part of the Emirati fashion industry, with several different styles of Abayas worn for special occasions, and in different seasons.
"The Abaya fashion industry is so huge in the emirates; we have special Abayas for special occasions, including weddings. We also have the casual day-to-day Abayas, and winter Abayas which are a little bit thicker. Of course there are many other forms of Abayas that women can choose from, and they can pick whatever they feel comfortable with."
"Abayas have maintained their historical significance, they've also acquired a new significance, and today they are a combination of self-expression with a fashion statement. Unlike the popular conception that the sole purpose of Abayas is to hide women's bodies from men, they are a huge part of Emirati fashion, and they represent many different things." she added.
Going beyond barriers
Wearing the Abaya is also a form of remaining true to the roots of the UAE, and not forgetting the local culture and tradition according to Maitha. "Wearing the Abaya is a choice that many Emiratis make, just like wearing your favourite T-shirt is a choice you made. Abayas represent loyalty and patriotism, and the idea that even through all this development that we will never forget our culture and heritage," she said.
Maitha also touched on the Global Social Progress Index that puts the UAE at number one in treating women with respect, and how this result runs contrary to many preconceived ideas people have about Muslims due to Islamophobia.
"I imagine this came as a shock to some people, because of ideas many people my have about Muslim women, an idea that casts us all, 1.6 billion Muslims under a single label. This label is partly advanced because of Islamophobia. Although some Muslim women are oppressed, just as some Jewish women are oppressed, just as some Christian women are oppressed, the unfortunate truth is that women all over the world are oppressed because of and regardless of their religion."
She emphasised that in order to remove these negative misconceptions, people have to talk and learn about each other, to ask questions to understand the other person's culture, moving away from overgeneralisations and stereotyping.
"It is not fair to categorise all those who are Muslim, or all those who wear Abayas as oppressed just because of their choice of clothing or their choice of religion. One needs to go beyond these barriers in order to fully understand and grasp the culture. We shouldn't let misconceptions build walls between cultures, instead we should use them to start a conversation with each other, ask questions and do not be afraid. And not only ask others questions, but also ask ourselves questions that will help us grow and gain knowledge."
https://en-maktoob.news.yahoo.com/Abaya-unifies-liberates-women-says-emirati-student-040307903.html
---------
'Women of Achievement' Honours Faith Perspectives Blogger Ghazala Hayat
25 April 2015
Women of Achievement, an organization that recognizes the volunteer service of women in the St. Louis area, is honouring Faith Perspectives contributor Dr. Ghazala Hayat.
Hayat, who was chosen from a pool of more than 100 nominations, is being honoured along with nine other women this year.
Nanci A. Bobrow, a professor at St. Louis University and president of Women of Achievement, said Hayat was chosen because she strives to combat religious intolerance.
"She strives for the inclusion of diversity in our community so that all voices are at the table ... Ghazala has also represented her Muslim faith in several of her volunteer capacities and has also sought to introduce her Pakistani culture to the community at large," Bobrow said.
Among the achievements highlighted by the organization are Hayat's help in establishing JAM, a Jewish and Muslim youth group, as well as a Muslim and Jewish adult dialogue group, in an effort to improve relationships among the faith communities.
Hayat has worked closely with the Islamic Foundation of Greater St. Louis. She currently serves as chair of the public relations committee for the organization. Hayat is also professor of neurology and psychiatry at St. Louis University.
Women of Achievement, which was founded in 1955, will recognize this year's class of women at the 2015 Women of Achievement Luncheon on Tuesday, May 5 at the Ritz-Carlton, St. Louis.
Doors open at 11:15 a.m. and the luncheon runs until 1:30 p.m. Reservations are $60 per person and can be made by contacting Tiffanie Fleschert at MAC Meetings & Events at 314.421.2005 or tfleschert@macmeetings.com.
http://www.stltoday.com/lifestyles/faith-and-values/divine-dispatches/women-of-achievement-honors-faith-perspectives-blogger-ghazala-hayat/article_af4a2a6c-8fd2-5bcb-865a-329bbfb59b48.html
---------
Belly Dancer Draws Criticism for Performing At Egyptian School Prom
25 April 2015
Egyptian teenage private school students reportedly hired a belly dancer to perform at their prom party at a five-star hotel, sparking a media storm in the country.
Local media outlets that picked up the incident published pictures of the students and a belly dancer named Ghazal, who took to the floor to entertain the party guests.
The pupils allegedly arranged the entertainment without the knowledge of the school administration, according to Egypt Independent newspaper.
The newspaper said the payments for the hotel reservation and the belly dancer were covered by the students.
The story drew criticism from internet users who expressed their shock over the uncommon incident.
While belly dancing is considered a type of Egyptian traditional dancing, it is still frowned upon by conservatives due to its perceivably sexual nature.
But belly dancing remains a popular form of entertainment during parties and weddings.
http://english.alarabiya.net/en/variety/2015/04/24/Belly-dancer-draws-criticism-for-performing-at-Egyptian-school-prom-.html
---------
No 'Halal' sex shop in Mecca, story fabricated by Moroccan media
25 April 2015
An unsubstantiated story which alleged that a "Halal" sex shop would soon open in the Muslim holy city of Makkah has gone viral in recent days. But, the story has been labelled as fabricated after being propagated via an Arabic-language Moroccan website which seems to have deliberately used a sensational – yet slightly misleading - headline.
In a story dated April 12, 2015, Moroccan news website Alyaoum24 carried a story with the headline "Moroccan intends to open a Halal sex shop in Makkah."
The story, which was partly rewritten using a separate interview that Moroccan businessman Abdelaziz Aouragh - who owns a sex products business - gave AFP, says that Aouragh is "willing to open a sex shop in Makkah;" a statement which doesn't correlate with what the story headline suggests.
However, the story only gained momentum ten days later, when British daily The Independent claimed that the sex shop will actually open in Makkah and attributed the inaccurate information to Alyaoum24, which has not published a clarification or corrected its misleading headline as of the time this article was published.
The story, given its obvious sensationalist nature, was further propagated when several Arab bloggers and social media users retweeted or shared it extensively.
On Twitter, Saudi blogger and Wall Street Journal reporter Ahmed al-Omran slammed the tens of international media outlets that republished the story without verifying the information.
"Just because some guy_wants_to open a halal sex store in mecca doesn't mean he_will_or even_can_open it #ProTip," tweeted al-Omran yesterday.
This is the second story this month originating from Moroccan media outlets to make false assumptions with regard to religious issues in Saudi Arabia.
Earlier this month, a fabricated story claiming that the Saudi Grand Mufti Sheikh Abdulaziz al-Sheikh had issued a fatwa (religious edict) allowing men to eat their wives also originated from a Moroccan online news site called "Code."
After several pro-Iranian news outlets – such as Lebanon Tayyar.org and Tehran-funded Al-Allam news channel – took the unsubstantiated edict story, the Saudi grand mufti responded by giving a statement to the Saudi Press Agency (SPA) and categorically denied having ever issued such a fatwa.
In an interview with CNN Arabic, the Moroccan site's editor, Ahmad Nujaim, said that the wife-eating fatwa was meant as political satire and was published in a satirical column carrying the name "Akhbar al-Tanz," which in Moroccan dialect means "sarcastic news."
"We have no (anti) position towards Saudi Arabia, and we are not targeting its establishments, we just make fun out of everyone," Nujaim said.
http://english.alarabiya.net/en/media/print/2015/04/24/No-Halal-sex-shop-in-Makkah-story-fabricated-by-Moroccan-media.html
---------
When women are exploited by Saudi men in the name of love
25 April 2015
Saudi men who seek to win favors from their girlfriends in the Kingdom are known as "lambs." They give expensive presents and spend lavishly on the girls and some girls exploit this and increase their demands on such men.
On the other hand, there are girls who allow themselves to be exploited by young men. They do not hesitate to spend any amount of money to satisfy the young males.
Recent studies show that the social networking sites have removed many barriers to relationships between men and women.
Sabah Zohar, an educational and family counselor at the Saudi German Hospital in Asir, said the reasons women are preyed upon include the naivete of women while men are prompted by their desires to better their economic conditions especially if they are unemployed.
Mahmoud Al-Rajeh, a family relations consultant, rejected this dangerous shift in values for the sake of material gains as the shift will lead to a loss of trust and credibility between men and women in addition to the disappearance of proper moral values and genuine love.
He stressed the need for spreading awareness to combat the phenomena. He fears that a woman looking for material gains will miss the warmth of love and the spirit of an honest and balanced relationship.
"Before we put the blame on women, we must ask the competent social authorities what the authorities have done to address such behavior," he said.
Psychologist Abdul Aziz Al-Ghamdi said some women are driven to exploit men financially because of their desire for luxury items so that they can impress other women.
Attributing the phenomenon to the absence of proper family supervision, he called for seminars in secondary schools and universities to educate girls about this behavior, which looks simple and easy but in fact involves unimagined perils.
Suad Ali, 24, a victim of exploitation, said she passionately loved a young man five years her senior.
"I sacrificed everything for love. I bought him mobile phone cards because he said he did not have money to call me. He did not work and he demanded money for food and cigarettes. I also gave him presents worth SR300 every month besides spending on average SR2,000 monthly," she said, adding that it took four years for her to realize that he did not love her and was just using her.
According to Salwa Al-Zahrani, the majority of men are not looking for a good woman to marry. "They go for women who are rich or employed so they can enjoy their money," she said. "For instance, the first man I met always talked about his insufficient income which meant he was after my money."
Turkiyah Al-Amri, 22, who worked in a bank, said that over a number of years she spent more than SR100,000 on a young man. It was only after several years that she realized that his love for her was nothing but avarice and greed.
http://www.arabnews.com/saudi-arabia/news/737026
---------
No Pak woman contestant has a party ticket
25 April 2015
LAHORE: There were only five women, all contesting as independents, in the final list of candidates issued by the Election Commission of Pakistan on April 11 for the Lahore and Walton Cantonment Boards elections scheduled for Saturday (today).
However, two of them later withdrew their candidacy.
Azra Parveen stood down in support of a neighbor in the ward 2 of the LCB on a Pakistan Tehrik Insaf (PTI) ticket.
Talking to The Express Tribune, Parveen said she had been a worker of both the Nawaz and Quaid-i-Azam factions of the Pakistan Muslim League during her 20 years political career. She said she felt that women workers were not valued by the parties as much as men.
"I have decided to withdraw my candidacy in support of Ikhlaq Hussain [PTI candidate] because I feel he deserves it more than any other candidate," she said.
She said she was now canvassing for Hussain in the Diggi Mohalla area of Saddar Bazaar.
Shahnaz Tariq Khan is the other woman candidate who withdrew her candidacy after the announcement of the final list. She had filed her nomination papers in the LCB Ward 4 as a PTI candidate but was not given the ticket by the party. "I fought till the end. But I hold the party's decision supreme" she said. She lamented that there was no woman amongst the party's candidates.
With Khan's withdrawal from the race, Asia Firdous is the sole woman contestant in the Ward 4. She is contesting as an independent candidate with the symbol of an electric power transformer. She said she had several PML-N workers in her immediate family but she did not need a party tag.
Fouzia Ameer, an independent candidate in WCB Ward 3, said she would focus singularly on the issues of Charar and Keer villages if she was elected to represent the ward in the Cantonment Board.
She said it was important for women to participate in elections, even if they had to do so as independent candidates.
Of the 153,510 voters in the 10 LCB wards, 67,000 are women. In WCB wards, 136,737 of 307,482 voters are women.
Pakistan Awaami Tehreek deputy information secretary Ayesha Shabbir told the Tribune that she believed that the short time allowed by the ECP for preparations was to blame for the lack of women participation from party platforms.
PTI Lahore information secretary Farrukh Javed said with seats reserved on the Cantt Board for them, women themselves were not very keen on contesting general seats. He said the PTI had allotted tickets without regard to gender.
Faisal Mir of the Pakistan Peoples Party Lahore chapter said his party's campaign was led mostly by women. However, he said, only a few senior women party workers had showed interest in contesting the election. "They, too, backed out at the last minute," he said.
http://tribune.com.pk/story/875502/no-woman-contestant-has-a-party-ticket/
---------
Human Rights: Missing measures in the push to empower women and girls
25 April 2015
Twenty years ago, female leaders from around the globe gathered in Beijing to map out a strategy for advancing women's rights. What's missing is the information needed to accurately assess the success of that strategy.
The Beijing Declaration and Platform for Action set specific targets and timelines for countries to enhance the social, political, and economic empowerment of women – and to improve women's health, access to education, and legal protections.
To mark the 20th anniversary of the Beijing Summit, the Bill & Melinda Gates Foundation partnered with the Clinton Foundation to release the Full Participation Report, a comprehensive look at progress in gender equality in the last two decades.
The No Ceilings project, which accompanies the report, includes an interactive map and a database that contains data on more than 1,000 indicators. It is a powerful source of data on issues faced by women and girls worldwide, letting users explore global contraceptive coverage, female enrollment in secondary school, and the number of firms with female leadership, all in one place.
Legislation explicitly addressing domestic violence around the world
One ongoing theme of No Ceilings project, however, is the challenge of lack of data about the status of women and girls. Methodical data collection is lacking in many countries, and many questions about progress were impossible to answer in a systematic way.
A critical data gap highlighted in the Full Participation Report relates to civil registration and vital statistics. It is estimated that 35% of children under 5 have not had their births registered – that's 230 million children. Birth certificates are the foundation for identity documents, which allow people to fully participate as citizens of their country.
Almost three-quarters of all deaths go unreported every year due to lacking or limited vital registration tracking systems.
Probability of dying from interpersonal violence among 15- to 49-year-old females, 2013
The Global Burden of Disease study estimates that about 75,000 females died as a result of interpersonal violence in 2013 – but the actual number could be anywhere from 54,000 to 94,000 women and girls. There are many sources of data that go into calculating these estimates (an interactive data visualization shows them all) but some countries have such gaps in data that it is hard to be sure of the exact numbers.
In an effort to help determine and begin to resolve these data gaps, two important initiatives are underway. Data2X, in collaboration with several UN bodies, has been mapping what gender data gaps exist; and the Data for Health initiative is working to expand access to vital registration systems across Africa, Asia, and Latin America.
High-quality data provide enormous insight into progress – or lack of it. While data gaps remain, they are narrowing, and the information assembled in the No Ceilings project is of formidable value.
http://www.humanosphere.org/human-rights/2015/04/missing-measures-in-the-push-to-empower-women-and-girls/
---------
Action On Sanitary Wear For Girls In Poverty Stricken Parts Of Africa
25 April 2015
The local branch of a charity is looking for everyday items to provide hygienic sanitary wear for young girls in poverty stricken parts of Africa.
Australian charity Days for Girls is hosting a free brunch this morning (Sat) from 10.30 at the Philip Christian Centre in Peel for anyone who'd like to help.
The charity is hoping for old bed sheets, flannelette, cotton or good quality underwear to turn into reusable sanitary products.
http://www.manxradio.com/newsread.aspx?id=76342
---------
First ever UN resolution passed on School-Related Gender Based Violence
25 April 2015
Paris – For immediate Release - Fifty-eight countries have signed up to the first ever UN resolution on school-related gender-based violence (SRGBV), "Learning without fear", during UNESCO's Executive Board meeting on 16 April.
The new resolution invites UNESCO and its Member States to condemn gender-based violence in all its forms and manifestations; to design and implement national policies and action plans; and to promote the creation of safe, non-violent, inclusive and effective learning environments for all boys and girls. The decision also invites the Director-General to submit to the next Executive Board a roadmap to better combat school-related gender-based violence.
This resolution was proposed by the French Ministry of Foreign affairs and International development. The Ministry, along with UNESCO and the United Nations Girls' Education Initiative (UNGEI), set up an International Working Group of 30 UN agencies, governments, development agencies, civil society and research organisations to address the issue in April 2014, with funding from the U.S. Agency for International Development (USAID).
In March, for International Women's Day, UNGEI, UNESCO and the EFA Global Monitoring Report produced a new paper showing that SRGBV has serious consequences for children's health and well-being and negatively impacts learning, school attendance and school completion. The paper called for a consensus on how SRGBV should be understood and addressed. It formed the basis of a call by H.E. Ms Annick Girardin, Secretary of State for Development and the Francophonie of France for a decision on school-related gender-based violence during the Executive Board of UNESCO.
The joint paper showed that adolescent girls are particularly vulnerable to sexual violence, harassment and exploitation, including in and around school settings. Data shows that 10% of adolescent girls in low and middle income countries reported incidences of forced sexual intercourse or other sexual acts in the previous year. And a national survey in South Africa showed that almost 8% of all secondary school girls have experienced severe sexual assault or rape while at school.
SRGBV is a global phenomenon. A study in the Netherlands found that 27% of students had been sexually harassed by school personnel. A study in the United Kingdom showed a third of 16-18 year olds face unwanted sexual touching in school.
While studies on sexual violence show a greater prevalence among girls, recent research into SRGBV reveals that boys are also at risk. One study in Thailand showed that 12% of both girls and boys reported experiencing sexual violence whilst at school.
Children in conflict and emergency settings, and those from marginalized groups are particularly at risk of SRGBV.
French Secretary of State for Development and the Francophonie, Ms Annick Girardin said: "France has been mobilising efforts around school-related gender based violence in accordance with its commitments to gender equality and education for all. UNESCO has a key role to play in ensuring learning spaces that are free of violence and gender friendly. We are delighted in the large support base for this new resolution, which marks an important step in the recognition of this unknown global phenomenon and will be actively following up on the commitments made."
http://www.scoop.co.nz/stories/WO1504/S00302/resolution-passed-on-school-related-gender-based-violence.htm
---------
The Spreading Militancy and Islamic Salafism Threatens Women's Dignity
25 April, 2015
Caught Between Militant Ideology And Terror: Women In The Horn Of Africa Face Growing Threats And Degradation Of Their Dignity As A Result Of Fast Spreading Militancy And Islamic Salafism.
By: The Strategic Initiative For Women In The Horn Of Africa (Siha) Network
Banjul, April, 2015
Honourable Chairperson, Commissioners, the Secretary of the African Commission on Human and Peoples' Rights and distinguished participants,
The Strategic Initiative for Women in the Horn of Africa (SIHA) is highly concerned about the rapid spread of religious militancy and Salafism in the Horn of Africa, and specifically for the plight of women, who suffer on a daily basis as a result of lashings, stoning and discriminatory laws and acts. Religious militancy and fundamentalism remain the biggest challenges women and men in the Horn of Africa face. As they attempt to live and access basic human rights, they are faced with constant threats and are subjected to laws that dictate all aspects of their lives.
SIHA is specifically aware that subjugation of women and the undermining of their humanity have been central components of religious militancy ideology. Salafi groups have shown a tendency to exclude women, have exhibited extreme intolerance to other religious beliefs and ideologies and have generally refused to co-exist peacefully with others. Thus, militant ideologies around the Horn of Africa are accelerating ongoing wars and civil conflicts.
In this statement, SIHA will show how the Sudanese legal framework has been largely influenced by militant ideologies, particularly when it comes to women's human rights. This influence seems to go against the country's international and regional obligations. Fanatical ideologies have instead led to situations of women being detained and flogged and their human dignity compromised. In this environment, women's ability to prosper is hindered and their well-being is constantly under threat.
Similarly in Somalia, the fragile state is struggling to protect its citizens as it is under constant attack by militants. Women are therefore unable to secure government protection and continue to experience physical threat such as sexual violence and undue persecution such as death by stoning.
Sexual violence, impunity and criminalization of women are shared elements for women in Sudan and Somalia.
SUDAN
In Sudan, women who are charged with adultery (Zina), a crime often tied up with legal definitions and understandings of rape are arrested by the public order police (now known as the community security police) which has the right to raid houses and arrest women at random from the streets. These women often find themselves sentenced to 100 lashes and if they are married, they are regularly sentenced to stoning.
Lashing and stoning remain the most common forms of punishments used to intimidate, control and subjugate women in Sudan. Thousands of women are lashed every year under laws that criminalize their personal behaviour, most importantly, their dress-code, as a result of vague laws that disfavour women and give the state the power to control their existence and lessen their feeling of security in the public sphere.
We are also concerned about the ongoing crackdown on religious freedom evident in many cases of prosecution for both women and men. These cases are often charged as apostasy and justified by Articles 125 and 126 of the Criminal Act of 1991 (on offending religious beliefs and apostasy). As a result, many individuals will find themselves facing the death penalty if they oppose the fundamentalist interpretations of religion.
SOMALIA
In Somalia, sexual violence and death by stoning or by firing squad remain a daily ordeal, especially for women. Women remain at the mercy of militia groups and especially of Al-Shabab who act with total impunity. Women subjected to sexual violence are stigmatized, suffer criminalization and are unable to access justice in the court of law while their perpetrators are often set free. Worse, these victims are frequently accused of committing adultery and are in turn stoned to death without a fair trial. These trials are conducted by militant groups in the name of religion to impose their political will onto the population.
The Somali government is exercising little political control to end this impunity and the horrific sexual violence and stoning punishment imposed on Somali women in Al-Shabab-controlled areas.
Any strong women who challenge religious militancy are sure to be silenced, such as was the case of Saado Ali Warsame, a parliamentarian who was shot dead in July 2014.This brutality is a daily reality for Somalis living in Al-Shabab controlled areas and in areas where Al-Shabab has influence.
As a coalition of civil society organizations working on women's rights, we are extremely troubled about the impact and growing influence of militant ideology on the women and girls in the region. We have seen Salafi extremism spread to other countries as the kidnapping of female students by Boko Haram and the killings of innocent students at Garissa highlight.
We call on the African Commission to consider the following recommendations and urge the said Commission to:
-Call upon the Sudanese Government to abolish the punishment of lashing and stoning which are incompatible with Article 5 of the African Charter on Human and People's Rights on the Prohibition of Torture and Cruel, Inhuman and Degrading Treatment.
-Call upon Sudan to reform the Public Order Articles of the Criminal Act of 1991 and revise the recent amendment of the Articles related to offending religious beliefs and apostasy.
-Advise the Government of Sudan and the Government of Somalia to give space to Civil Society Organizations to function and implement projects that fight militant religious ideology.
-Call upon the Sudanese and the Somali Governments to ratify the Protocol to the African Charter on Human and Peoples' Rights on the Rights of Women in Africa.
-Call upon Somalia Government to revise their national gender policy to include provisions on Gender-Based Violence.
-Call upon the Government of Somalia to establish the Human Rights Commission mandated by the Constitution of Somalia, and ensure that it receives the necessary parliamentary support to become an effective body that investigates all cases of brutality and violence and brings perpetrators of human rights violations before relevant judiciary bodies.
Copyright © 2015 Strategic Initiative for Women in the Horn of Africa, All rights reserved.
Our mailing address is:
Strategic Initiative for Women in the Horn of Africa
Plot 15 Upper East Naguru Road
P.O.Box 5, Ntinda
Kampala
Uganda
http://sihanet.org/news/spreading-militancy-and-islamic-salafism-horn-africa-threatens-womens-dignity-statement-achpr
http://www.somalilandpress.com/somaliathe-spreading-militancy-and-islamic-salafism-in-the-horn-of-africa-threatens-womens-dignity/
----------
'Time for revolution' on school's oppression of women: former Al-Taqwa student
25 April 2015
A former Al-Taqwa College student has accused embattled principal Omar Hallak of enforcing a "patriarchal system of oppression" at Victoria's largest Islamic school.
Lamisse Hamouda, a 26-year-old youth worker, backed claims by former teachers that Mr Hallak prevented girls from playing certain sports, such as soccer, because he believed it could compromise their virginity and fertility.
In a strongly worded opinion piece published by Fairfax Media, Ms Hamouda said her father met Mr Hallak to ask if he could promote a new soccer club for Muslim youth at the school.
"He was told that he could, only if he agreed not to recruit girls," she said. "According to Mr Hallak, girls could not play soccer, as it would compromise their virginity and fertility, somehow causing damage to essential baby-making internal organs."
Ms Hamouda still remembers her father's disbelief when he told her about the conversation.
"It shaped a crucial part of developing my awareness into the very real injustices played out against women's participation in public spaces and the perverted beliefs that underlie it."
Her comments followed revelations in Fairfax Media on Thursday that the Victorian Registration and Qualifications Authority was investigating a former teacher's claims that Mr Hallak banned girls from running in sporting events.
In a handwritten letter to Mr Hallak, female primary school students complained about the unfairness of a cross-country event being cancelled because "girls can't run". Mr Hallak denied the claims and said girls at the school were encouraged to participate in all activities.
Ms Hamouda said her time at the Truganina school from 2003 to 2006 was "a rollercoaster of frustrations, battles and internalising a lot of resentment".
"If it wasn't the insidious racism, it was the oppressive preaching of faith that rendered critical thinking lost to obedience and authoritarianism."
While participation in sports for girls was never forbidden outright, "it was just ignored wherever possible", she said
The schoolyard was segregated according to gender, "with female students relegated to spaces of concrete and picnic tables".
"We cannot and should not subscribe to marginalising women from sports activities, especially when faced with such absurd rationales. However, it is more than just sports; it is about an entire system that continually relegates the needs of women as secondary. This system is not Islamic and it is not Islam."
Ms Hamouda said the Muslim community was developing, "aware of our shortcomings" and Islamic schools played an important role in this process.
She said by ignoring the concerns raised by girls banned from taking part in a cross-country event, Mr Hallak was "teaching these young women that their voices will not be heard, that their needs and wants do not matter in the presence of male authority".
"What we see here is the lived reality of patriarchal systems of oppressions in practice, systems influenced by culture and personal beliefs that are then filtered through the lens of Islam."
The former student, who is now studying international relations at the University of Sydney, said she would joke that the school was like "a mini Arab dictatorship."
"I think it is time for a revolution."
http://www.theage.com.au/victoria/time-for-revolution-on-schools-oppression-of-women-former-altaqwa-student-20150424-1msctm.html
---------
Ferrer calls for end to discrimination against Muslims, women in PH during Clinton awards
25 April 2015
WASHINGTON, D.C., April 25 –Philippine government peace panel chair Prof. Miriam Coronel-Ferrer called for an end to discrimination against Muslims and women in the Philippines in a speech accepting this year's Hillary Clinton Award for Advancing Women in Peace and Security at Georgetown University in Washington, D.C.
In her gratitude speech for receiving the award, Coronel-Ferrer said that the Philippine peace process is "informed by the very goals of this award: to protect women against all forms of violence and advance the role of women in attaining peace and security in and outside of their homes."
She shared that she "speaks especially of the women in the Bangsamoro, who have endured the burden of strife, and who must now secure their places in the public sphere as equal partners in peace and development. "
The award, personally handed by Clinton and Georgetown University president John De Gioia in a luncheon ceremony on Wednesday, honored Coronel-Ferrer, the Philippine government's chief negotiator in talks with the Moro Islamic Liberation Front.
The award highlighted her "indefatigable work to bring about peace in the Philippines and for [her] historic role as the first female chief negotiator to sign a comprehensive peace agreement," said Ambassador Melanne Verveer, Executive Director of the Georgetown Institute for Women, Peace and Security, and former US Ambassador for Global Women's Issues.
Coronel-Ferrer negotiated and signed on behalf of the Philippine government the Comprehensive Agreement on the Bangsamoro (CAB) signed with the MILF on March 27, 2014.
Coronel-Ferrer shared the challenges faced by the Bangsamoro peace process after the Mamasapano incident lastJanuary 25, which she said included an increase in discrimination against Muslims and women in the Philippines.
"The public discourse slid into bigotry against the Moros, the MILF as well as Muslims in general. Centuries of distrust and hatred resurfaced," Coronel-Ferrer said.
"As I speak right now, the ceasefire remains in place. But the vision of lasting peace is being shut out by the narrow horizons of certain political elites, and by a public fed with misinformation and driven by prejudices bordering on Islamophobia," Coronel-Ferrer said.
"And misogyny too," she added, noting that the tragedy in Mamasapano saw increased discrimination not only against Muslims but also against women.
"If former secretary Hillary Rodham Clinton had been called a 'funny lady' in the course of her drive to find peaceful solutions and creative compromises in one area of conflict, I in turn had been called a "dumb bitch," a traitor and a weak negotiator who bartered away the country to the Muslims/Moros," Coronel-Ferrer recounted.
Coronel-Ferrer said she does not want her grandchildren "to inherit a country divided by prejudice, dishonored by sexism, and stunted by the narrow vision of members of its political class."
No turning back on peace
"Ms Clinton wrote in her book, Hard Choices: "It is the unfortunate reality that women in public life still face an unfair double standard…an outrageous sexism, which shouldn't be tolerated in any country,"" Coronel-Ferrer said.
"I know only too well how true this is," she added. "Yet we have gone this far in our peace process. There should be no turning back."
Implementing the signed CAB
Coronel-Ferrer underscored the importance of continuing the implementation of the signed CAB, part of which is the passage of the Bangsamoro Basic Law (BBL) which aims to establish the Bangsamoro region to replace the Autonomous Region in Muslim Mindanao (ARMM).
"This Agreement will enable MILF combatants and other disenfranchised segments of the Moro population to participate in meaningful autonomous governance," Ferrer explained.
"It provides a road map for a new set of more democratic, representative and accountable political institutions. It taps diverse modes for delivering socioeconomic programs to decommissioned combatants, the internally displaced and communities long affected by the conflict," she added.
Ferrer also explained that the CAB, the product of 17 years of negotiations, seeks to "carry out transitional justice," and "thread together the tattered fabric of social life and heal the wounds of centuries of conflict."
"The CAB acknowledges a different narrative of our national being, one that would bridge our majority-minority divide toward a shared future where fellow-Filipinos live in peace under one flag in an undivided territory," she added.
"We hope it will reconcile families, political groups, tribes and communities alienated from each other by prejudice, vendetta and injustice," Ferrer said.
Coronel-Ferrer is sharing this year's award with Ambassador Staffan de Mistura, who was appointed in July 2014 by UN secretary-general Ban Ki Moon as Special Envoy to the Syria Crisis. De Mistura, a long-time Italian-Swedish diplomat who once served the Italian government, had also served as special envoy to Lebanon, Afghanistan and Iraq.(OPAPP)
http://news.pia.gov.ph/article/view/1781429863993/ferrer-calls-for-end-to-discrimination-against-muslims-women-in-ph-during-clinton-awards#sthash.6BcDKxye.dpuf
---------
URL: https://www.newageislam.com/islam,-women-and-feminism/new-age-islam-news-bureau/the-abaya-unifies-and-liberates-women,-says-emirati-student/d/102670