New Age Islam News Bureau
14 Dec 2018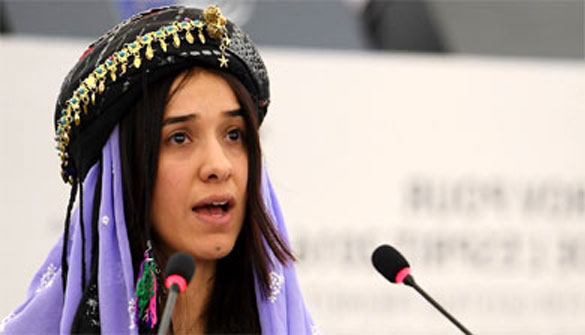 Iraqi activist Nadia Murad
-----
• Muslim Student Said College in Tennessee Expelled Her for Wearing a Hijab
• Court Ruling Brings Indonesia Closer To Ending Child Marriage
• Nigeria: Amasa, Others to Address Isi Muslim Girls in Ibadan
• E!'s 'Generation M.E.' To Shine Light On Arab Woman
• Saudi Women Honoured At the Fashion Awards 2018 In London
• Unemployment Rate Of Iranian Women Rises From 17 To 32 Percent
• Nadia Murad Dedicates Nobel Peace Prize to Iraqis
• Domestic Violence Victim Lawyer Trained To Consult Victimized Women
Compiled by New Age Islam News Bureau
URL: https://www.newageislam.com/islam-women-feminism/thailand-islamic-council-bans-marriage/d/117159
--------
Thailand's Islamic Council Bans Marriage of Children Under 17
December 14, 2018
BANGKOK (THE NATION/ASIA NEWS NETWORK) - Thailand's Islamic Council has, for the first time, issued a ban on child marriage nationwide, following public anger sparked by the marriage earlier this year of an 11-year-old girl to a man four times her age.
The Central Islamic Council of Thailand's (CICOT) new regulation bans children under the age of 17 from marriage.
The regulation would be announced to all mosques on Friday (Dec 14), Mr Wisut Binlateh, director of the coordination centre for the Sheikhul Islam Office and a senior member of the Islamic Council, told the online Benar News.
Mr Wisut also said that Thailand's chief Islamic leader Aziz Phitakkumpon, who chairs CICOT, had given his approval for the new regulation in late November.
Mr Panadda Isho, legal specialist at the Southern Border Provinces Administrative Centre (SBPAC), also told Benar News that SBPAC would translate the new regulation into Bahasa Melayu and publicise the information through seminars.
The new regulation ensures local mosques cannot grant permission for marriages involving anyone aged under 17 unless an Islamic court gives permission or the parents sign a document approving the marriage at the provincial Islamic committee office or at the local police station, Mr Panadda told Benar.
A special sub-committee also has to be set up to consider marriages involving children younger than 17, and give the green light if the marriage benefits the spouses.
One of the three committee members must be a woman with knowledge of Islamic laws and she must be in charge of questioning and interviewing the girl.
The historic move ends a widespread practice in the southern Muslim-majority provinces where girls are married off by poor parents with the permission of the local mosque once the girl starts menstruating.
In the southern provinces of Pattani, Yala, Narathiwat and Satun, Islamic law were used in place of the Civil Code for family matters and inheritance.
The Islamic law does not specify the minimum age for marriage unlike the Civil Code, applied elsewhere in the Kingdom, which has set the minimum age at 17.
The loophole allowed many Malaysian men to take much younger girls from Thailand as wives, and local imams benefited monetarily from the loopholes, activist Sanphasit Koompraphant previously told The Nation.
National Human Rights Commissioner Angkhana Neelapai-jit, meanwhile, said the Islamic Council's move was not enough. Without penalties set for violators, the regulation is more like "asking for cooperation", she told The Nation.
https://www.straitstimes.com/asia/se-asia/thailands-islamic-council-bans-marriage-of-children-under-17
--------
Muslim Student Said College in Tennessee Expelled Her for Wearing a Hijab
14/12/2018
A young Muslim college student in Tennessee has been expelled from school simply for wearing a hijab, a civil rights organization said.
On Tuesday, Muslim Advocates and a local law firm sent a letter to the Georgia Career Institute, demanding the college refund Linde McAvoy's tuition and amend its dress code.
According to the letter, staff had told McAvoy that her hijab didn't adhere to the college's dress code. McAvoy said staff members repeatedly harassed her and told her she was not allowed to wear her covering even after she explained to school's administrators that she wore it as a part of her religious beliefs.
"It's incredibly important for Muslim women to wear the hijab and get educated. We don't think those things are antithetical. We don't think that wearing the hijab is inherently unprofessional," Nimra Azmi, a staff attorney at Muslim Advocates told HuffPost.
The school's dress code policy does not prohibit religious head coverings; the only specified requirement is that students dressed "professionally" and wore solid black attire according to the student handbook.
McAvoy said that she still dressed professionally, wearing black slacks, black shirt and a neatly-tied black hijab.
The 21-year-old also said that the college president Joyce Meadows forcibly removed her from classes and sent her home. Meadows told McAvoy that if she wanted to continue to finish her studies at the school with the hijab - she needed to provide a note of external confirmation that she wore the hijab for religious reasons.
But McAvoy refused to provide confirmation, she said, because she believed she was adhering to the dress code, which did not state students had to present any letter.
"I was expelled in a public space. It made the environment feel very hostile. It was pretty intimidating to have to choose [between] the career I'm trying to pursue and do for the rest of my life versus the religion that I'm following and hold dear to me and want to do well in," said McAvoy. "I definitely felt targeted."
Meadows told HuffPost the allegations were "unfounded" in a statement and said the school's "staff, students and graduates represent every possible cultural, racial and religious group. No one has ever been expelled from the Institute for requirements of a religion."
She said she could not elaborate further due to the Family Educational Rights and Privacy Act - a federal law that protects the privacy of student records.
GCI is a for-profit school. The letter alleged the school violated federal civil rights law because it receives federal funding; specifically in the form of federal loans from McAvoy and other students. Receiving those funds, the letter said, makes the school bound to Title IX, which is a civil rights law prohibits educational programs from discrimination on the basis of sex.
McAvoy was excited to jumpstart her studies at the institute that trains students in cosmetology and other areas. A year after McAvoy began studying at the school, she converted to Islam and decided to wear the hijab. She said she was nervous about becoming a hijab-wearing student. She specifically worried that some students would taunt her for new religious beliefs. But it turned out her peers didn't give her any issues. It was the staff.
"Immediately there were problems on day one," McAvoy told HuffPost over the phone. "I was expecting more problems maybe from the students but definitely not from the teachers. That definitely came as a shock to me."
McAvoy's lawyers are now seeking a full-tuition refund on her behalf and implementation of anti-discrimination training for all the staff and its owner.
"It is illegal to discriminate against Muslim women who want to wear the hijab. It is unjust to do so. Wearing the hijab isn't somehow in opposition to receiving an education or growing your career," said Azmi. "All women should have the opportunities regardless of how they dress themselves in accordance to their faith."
https://www.huffingtonpost.in/entry/college-hijab-expelled-muslim_us_5c1283d8e4b002a46c152aee
--------
Court Ruling Brings Indonesia Closer To Ending Child Marriage
December 13, 2018
JAKARTA: Indonesian groups pushing for an increase in the minimum age for girls to marry, from 16, said on Thursday it was encouraged by a Constitutional Court order that legislators should work on a change.
Indonesia, the world's biggest Muslim-majority country, is among the top 10 countries in the world with the highest number of child brides, according to campaign group Girls Not Brides.
"We now have the legitimacy, that the decision of the Constitutional Court today strengthens and agrees with our reasoning," said Lia Anggie, a legal representative for the coalition of campaigners against child marriage.
The coalition had petitioned the court on the grounds that the law discriminated against girls, who can marry at 16, while the legal age for men is 19.
Indonesia's top court ruled that the government must change the minimum age at which a girl can get married. It did not specify an increase, and gave legislators three years to decide what the new minimum age should be.
Anggie told Reuters the court decision was "a clear step" in its push for ending child marriage.
While girls are legally allowed to get married at 16, it is common, particularly in rural areas for girls, to become brides at much younger ages.
One in four girls marry before they turn 18 in Indonesia, according to the UN Children's Fund. On average, more than 3,500 Indonesian girls are married every day.
In its verdict, the court agreed that the marriage law discriminated against girls, a court spokesman said, adding that the law was also seen as out of line with rules on child protection.
The court had therefore found the law "unconstitutional", spokesman Fajar Laksono said.
The court gave legislators three years to come up with a change, and in their deliberations, they should "take into consideration and see changing times", Laksono told Reuters.
Erasmus Napitupulu, another legal representative of the group that filed the petition, which includes women who were child brides, said he welcomed the ruling but was disappointed the court "was not brave enough" to take a clear stand.
"Now the ball is in the hands of President Jokowi," he said, referring to President Joko Widodo by his nickname.
"We will continue to push until women in Indonesia get protection and guaranteed rights from the state."
https://www.freemalaysiatoday.com/category/world/2018/12/13/court-ruling-brings-indonesia-closer-to-ending-child-marriage/
--------
Nigeria: Amasa, Others to Address Isi Muslim Girls in Ibadan
14 DECEMBER 2018
By Shakirah Adunola
Nigerian Law School Hijab heroine, Barr. Firdaus Amasa will join other prominent Muslim professional women to address the Muslim girls of International School Ibadan (ISI) on Sunday in Ibadan.
In a statement by the Chairman of ISI Muslim Parents Forum, Abdur-Rahman Balogun, stated that the one-day sensitization programme entitled: "Be Firm" will hold at the Islamic Centre, Bodija Estates and environs, Housing, Old Bodija Ibadan.
Speakers at the programme jointly organized by the Education Committee of UIMSSN Brotherhood and ISI Muslim Parents Forum include Barr. Mutiat Orolu Balogun of Hijab Advocacy Initiative, Engr. Sherifat Adeleye and Dr. Fatima Rabiu.
The programme is specially organised in honour of young Hijabis of ISI and other Muslim girls within Ibadan metropolis is geared towards educating them on the importance and significance of adorning hijab by Muslim girls.
It will be recalled that the International School Ibadan (ISI) has been embroiled in hijab controversy in the last one month following the resolve of some Muslim girls to adorn hijab to school.
The controversy has led to the closing and reopening of the school by the ISI authorities, who barred the willing Muslim girls from wearing hijab to the school and this has culminated in the Muslim parents taking the school authorities to court.
https://allafrica.com/stories/201812140094.html
--------
E!'s 'Generation M.E.' To Shine Light On Arab Woman
December 13, 2018
E! channel will premiere its latest locally produced show, 'Generation M.E.', exclusively on OSN this December 23, shining a light on nine game-changing women from the region.
Host Dana Al Tuwarish, a Kuwaiti influencer who boasts 2 million followers on Instagram, will interview trailblazing Arab women from the worlds of fashion, entertainment, beauty, culinary arts and sports.
Featured women include Lebanese beauty mogul Joelle Mardinian, Kuwaiti actress-director Haya Abdel Salem, Saudi Arabian fashion designer Arwa Al Banawi, Egyptian marathon runner and mountaineer Manal Rostom, and Lebanese chef Tara Khatter.
Hanan Mazouzi, the Algerian founder the UAE's first women-only supercar club, Arabian Gazelles, will also be featured as she and her fellow drivers take a ride to raise funds for breast cancer research.
'Generation M.E.' will consist of three half-hour episodes, featuring three guests each. The episodes will air back-to-back on December 23, starting from 10pm in the UAE.
https://gulfnews.com/entertainment/tv/es-generation-me-to-shine-light-on-arab-woman-1.60919243
--------
Saudi Women Honoured At the Fashion Awards 2018 in London
December 13, 2018
The Fashion Awards 2018 took place in London this week and were a celebration of the best and brightest talents in the global fashion industry, with a star-studded guest list.
While the biggest winners were the likes of Pierpaolo Piccioli at Valentino, who bagged the Designer of the Year award, and Clare Waight Keller at Givenchy, who was named British Designer of the Year – Womenswear, the British Fashion Council did take time to place the spotlight on lesser-known names.
For the first time, in partnership with Swarovski, The Fashion Awards included a category entitled New Wave: Creatives, to acknowledge new and emerging talents. Included as part of that list were two Saudi women, singled out for their role in shaping the future of fashion. Saudi Arabia's first international runway model, Taleedah Tamer, and Marriam Mossalli, founder and senior consultant of Saudi's luxury communications firm, Niche Arabia, were on the list of 100 names singled out as rising stars.
"I'm honoured to be part of the Fashion Awards list," says Mossalli. "Having 2,000 members of the Fashion Awards voting panel nominate me to be considered an international young creative talent of today is truly a benchmark in my decade-long career."
A huge endorsement in this region, the announcement will hopefully encourage more emerging talents and, with any luck, there might be more GCC names on the list next year.
https://www.thenational.ae/lifestyle/saudi-women-honoured-at-the-fashion-awards-2018-in-london-1.802379
--------
Unemployment Rate Of Iranian Women Rises From 17 To 32 Percent
13 December 2018
The unemployment rate of women in Iran is considered just another example of violence against women. Some experts refer to this type of violence as "economic violence."
According to the statistics released by the Statistics Center in Iran, the number of unemployed women is higher than men.
The average annual unemployment rate in Iran is 1.8%. With an annual growth rate of 3.8%, the population of unemployed women reached 37,000,516 in 2017. That means that Iranian women's unemployment rate reached a peak of 32.3% in 2017.
The state-run ISNA news agency reported on November 30, 2018, that the unemployment rate of women had increased from 17% in 2005 to more than 20% in 2016. The unemployment rate for graduate students in the same period increased from 15.7 percent to 20.4 percent. (The state-run ISNA news agency - November 30, 2018)
In a report on November 21, 2018, the Special Commission for the Protection of National Production and Monitoring of the Implementation of Article 44 of the Constitution announced, "The unemployment rate of educated young people is between 50% and 63%; the unemployment rate for young educated women reaches 78%. These are disturbing figures that indicate a very bad situation in the job market." (The state-run ISNA news agency - November 21, 2018)
Sociologists believe that most of the challenges and problems of women in the economic sphere are due to gender discrimination, and its destructive effects have caused discrimination, inequality, and, in general, some sort of economic violence.
Ali Khamenei, the supreme leader of the clerical regime, explicitly outlines the attitude governing these laws. He said, "God has created women for a particular area of life... employment is not among the major issues that concern women." (Khamenei's official website - April 19, 2014)
According to the regime's Constitution, having a decent job is not among the fundamental rights of women in Iran. (Preamble to the regime's Constitution, section on women)
https://women.ncr-iran.org/iran-women-news/5632-unemployment-rate-of-iranian-women-rises-from-17-to-32-percent
--------
Nadia Murad Dedicates Nobel Peace Prize to Iraqis
13 December, 2018
Iraqi activist Nadia Murad, who received the Nobel Peace Prize for her advocacy on behalf of victims of wartime sexual violence, has called on the Iraqi government and the US-led coalition to search for Yazidi women who were kidnapped by ISIS in 2014.
Murad, 25, spoke in Baghdad after arriving from Stockholm.
"I'm very happy because three years ago I left Iraq physically and mentally exhausted. Today I've returned with a Nobel Peace Prize hoping it brings peace to Iraq," she said during a meeting with President Barham Salih.
Murad urged the Iraqi government and the US-led coalition to form a specialized team to search for Yazidis taken by ISIS to Syria.
Murad, a Yazidi, was among thousands of women and girls who were captured in Sinjar and forced into sexual slavery by ISIS militants in 2014. She became an activist on behalf of women and girls after escaping and finding refuge in Germany.
More than 80 percent of Yazidis are still living in displacement camps, she said.
"I'm wearing my Nobel Peace Prize in Baghdad to say to all Iraqis 'you are the most worthy of peace, so be peaceful to Iraq and to each other, and to the Yazidis and other Iraqi minorities who illustrate Iraq's rich cultural heritage'," she said.
Salih told Murad that "the rebuilding of Sinjar, delivering justice to the victims and examining the fate of the kidnapped are priorities".
"The time has come for the Iraqi parliament to pass a law considering the crime of Sinjar as a genocide against the Yazidis," he said.
In her Nobel speech on Monday, Murad urged world leaders to put an end to sexual violence, saying "the only prize in the world that can restore our dignity is justice and the prosecution of criminals."
She was jointly awarded the Nobel prize in Oslo with Congolese doctor Denis Mukwege.
https://aawsat.com/english/home/article/1502971/nadia-murad-dedicates-nobel-peace-prize-iraqis
--------
Domestic Violence Victim Lawyer Trained To Consult Victimized Women
December 14 2018
Günçe Çetin is a lawyer and a victim of violence against women. She had been exposed to violence that gradually increased by time by her boyfriend in the Aegean district of Bodrum.
Although a lawyer, she couldn't do anything; she didn't even think of going to the police. But the final act of violence weighed heavily. Having defied all the violence, Çetin now gives legal consultancy to other female victims.
Çetin initially always blamed herself, for not being tolerant enough or not being able to make her abusive boyfriend happy. But Çetin now stands firmly and says she was subjected to "systematic, psychological, physical and economic violence."
"It got to a point where I was being exposed to a level of violence that I was unable to hide. My right eardrum burst. I had cuts in my mouth that needed stiches," she said. Escaping the violence, she sought refuge at a law office where her friends work. They urged her to file a complaint.
What led her to offer legal counseling to victims of domestic violence was a question she got asked at the police station where she filed her complaint. "Even you, Ms. Attorney? Did you get beaten up, too?" a police officer had asked her, having recognized Çetin.
"I kept hearing this voice in my head. How could I? With the false perceptions we have, we think that we will not be subjects of violence because we are educated, we make our own money, we were brought up by good families, and we were not traumatized as children. So why should we be subjected to violence?" said Çetin.
Her violent boyfriend's sentence was postponed, Çetin said. "These offences do not have prison sentences. But the violence was recorded as actual bodily harm."
In 2006, she applied for a training announced by the Foundation of Women's Solidarity for lawyers who would work in the foundation voluntarily. "As a woman that had been subjected to violence, I had to stand up for this right," she said.
'I blamed myself until the trainings'
"Until these trainings, I kept thinking: 'I did this to myself. I allowed this to happen to me. I ruined my life.' Yet I saw that it was very hard for me to realize that the vicious circle of violence was multifaceted," she said.
In the trainings, Çetin was informed about international agreements which she now uses widely but are non-existent in local laws. "The agreements Turkey has signed, such as the Convention on the Elimination of All Forms of Discrimination against Women (CEDAW), the Universal Declaration of Human Rights and the Istanbul Convention, are hierarchically higher than the law," she said.
61 women attorneys trained
"Implementing norms, changing minds" is a U.N. Women regional program that aims to support a reduction in discrimination and violence against women and girls. With the support of this program, rights group KAGED is implementing a project with the partnership of the Foundation for Women's Solidarity (FWS) to strengthen the capacities of women lawyers to provide better service to women victims of violence and increase their access to the justice system. Sixty-one women from 43 provinces attended the Capacity Building Trainings to work as volunteers in women's NGOs.
http://www.hurriyetdailynews.com/domestic-violence-victim-lawyer-trained-to-consult-victimized-women-139705
--------
URL: https://www.newageislam.com/islam-women-feminism/thailand-islamic-council-bans-marriage/d/117159
New Age Islam, Islam Online, Islamic Website, African Muslim News, Arab World News, South Asia News, Indian Muslim News, World Muslim News, Women in Islam, Islamic Feminism, Arab Women, Women In Arab, Islamophobia in America, Muslim Women in West, Islam Women and Feminism