New Age Islam News Bureau
24 Jan 2017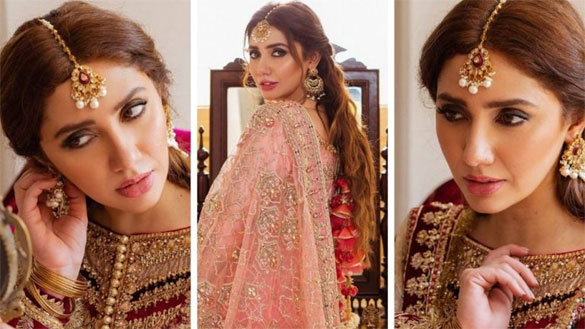 I do respect another country's decision, whatever it may be. If there is a ban, I respect it says Pakistani Film actress.
-----
• Triple Talaq: Law Panel Studies Practices of Muslim Nations
• Munira Ahmed: The Woman Who Became the Face of the Trump Resistance
• If There Is a Ban in India, I Respect It: Mahira Khan
• Gambia's New President Names Woman as Vice President
• 5 Facts about Saudi Arabia's Male Guardianship System
• Under Sharia Law, These Women Are Immoral
• Women Marching Worldwide Revive a Long-Sought Dream: Global Feminism
• Roman Catholic School in Birmingham Bans 4-Year-Old Muslim Girl from Wearing Hijab, Sparks Row
Compiled by New Age Islam News Bureau
URL: https://www.newageislam.com/islam,-women-and-feminism/new-age-islam-news-bureau/terrorists-using-women-for-their-heinous-crimes/d/109834
--------
Terrorists Using Women for Their Heinous Crimes
Jan 24, 2017
By Ibrahim Aalawi
JEDDAH — The apprehension of Fatima Ramadan Balochi Murad, a Pakistani woman married to wanted Saudi terrorist Hussam Al-Johani, in Al-Naseem district in Jeddah on Saturday, is a further proof that terrorist organizations are still recruiting women to use them in terror operations.
Terrorists, hit by preemptive security operations, had no other option but to recruit women to help them carry out their heinous crimes, according to security sources.
They took advantage of the respect given to the privacy of women by the Saudi government and its security forces.
Spokesman of the Interior Ministry Maj. Gen Mansour Al-Turki said terrorists were exploiting the respect for the privacy of women especially at security checkpoints.
"The recruitment of women by terrorists is not a new phenomenon, but the number of such women is still very little," he said.
According to the ministry's statements, the exploitation of women has remarkably dropped and has come down to terrorists recruiting their own wives.
The first Saudi woman terrorist was Haila Al-Qaseer, nicknamed Um Al-Rabab, who was married to Mohammed Al-Wakeel, a terrorist who was killed during confrontation with the security forces about 13 years ago.
After the death of her husband, she started collecting donations for Al-Qaeda in Yemen under the pretext of building mosques and orphanages there. She was also harboring terrorists ensuring safe hideouts for them.
Al-Qasser has been detained and is currently receiving religious counseling at Prince Muhammad Bin Naif Counseling and Care Center.
Wafa Al-Shihri, nicknamed Um Hajir, was the second most dangerous female terrorist. She was married to two terrorists, the first was Abdul Rahman Al-Ghamdi who had a daughter from her who is now four years old. He was killed during an armed confrontation with the security forces in Taif.
She later married Saeed Al-Shihri, a wanted terrorist. Her brother, Youssef Al-Shihri, who was a prisoner in Guantanamo, gave his consent to the marriage. The brother fled to Yemen where he became the second man in the terrorist organization.
Abeer Mohammed Abdullah Al-Harbe, the wife of Fahd Falah Al-Harbe, was among the Saudi women who had joined terrorist organizations.
She hid an explosive belt under her feet in the front seat of a car all the way from Riyadh to Abha. The explosive belt was used in the bombing of the mosque of the emergency forces in Asir.
Three Saudi women, who tried to sneak into Syria with their children, were caught in Beirut and sent home.
A citizen had informed the security authorities that his wife had taken their three children and left the Kingdom for Syria with her two other sisters, one of whom was accompanied by four chidden.
Banan Issa Hilal was the first Saudi woman terrorist who was killed during an exchange of fire with the security forces. She was married to a Saudi who was fighting in Syria.
The recent incident of Al-Yasmin district in Riyadh where two terrorists were killed revealed that they were wearing abayas (full body cloaks worn by women) to escape the police.
Abayas have also come in handy for some terrorists trying to dodge security men.
http://saudigazette.com.sa/saudi-arabia/terrorists-using-women-heinous-crimes/
--------
Triple Talaq: Law panel studies practices of Muslim nations
Pradeep Thakur
Jan 24, 2017
NEW DELHI: The issue of triple talaq among Muslims is not in consonance and uniformity with Islamic laws, law commission chairman Justice BS Chauhan told TOI in the context of an ongoing debate on its constitutional validity.
The law commission is currently preparing its views on the issue on a reference made by the Kerala high court.
The Supreme Court, too, is looking into the constitutional validity of triple talaq and polygamy after several women's groups challenged the Muslim practice.
The petitioners had demanded scrapping of Section 2 of the Muslim Personal Law (Shariat) Application Act, 1937 as they said it was unconstitutional and violated the fundamental rights guaranteed under Article 14 of the Constitution.
Justice Chauhan said as many as 18 Islamic countries, including Pakistan and Turkey, have regulated triple talaq and some have even banned it. Many others have reformed personal laws requiring a 90-day waiting period after utterance of first talaq, in addition to a scrutiny by a quasi-judicial authority.
"In these countries, triple talaq is no ground for automatic divorce. A person has to approach the court to validate it. We are studying if this can be done in India," Justice Chauhan said.
His observations are significant considering that the law panel is currently preparing a report on uniform civil code (UCC) where triple talaq is one of the issues under study.
Various stakeholders, including All India Muslim Personal Law Board and political parties have been asked to give their response. The law commission has received 40,000 responses on UCC.
"We are examining and analysing the responses before initiating discussions with various stakeholders," Justice Chauhan said, clarifying that the report on UCC was not on triple talaq, but it was just one of the issues under the consideration of the commission as part of recommendations on UCC.
The law commission is likely to review the 80-year-old Muslim Personal Law (Shariat) Application Act and a judgment of the Bombay high court by Justice M C Chagla that had upheld the validity of the Act giving freedom to Muslims to be governed by personal law and the practice of polygamy.
Section 3 of the Shariat Act prescribes that a person willing to avail the benefit of being governed by the Muslim personal law and the provisions of Section 2 on marriage, dissolution of marriage and talaq, etc should declare in a prescribed form before a prescribed authority that he wants to obtain the benefits of Section 2 of the Act. Mere utterance of talaq thrice is not sufficient ground for divorce even under the Shariat law, as it reads.
The government, which had earlier submitted an affidavit before the apex court opposing triple talaq, had argued that the issue of triple talaq deals with only gender justice and thus it is a question of protection of fundamental rights of Muslim women. It said that practices that are discriminatory should be regulated under the law. The plea of sanctity under Shariat is totally misplaced, it had said.
http://timesofindia.indiatimes.com/india/triple-talaq-law-panel-studies-practices-of-muslim-nations/articleshow/56745076.cms
--------
Munira Ahmed: the woman who became the face of the Trump resistance
23 January 2017
Munira Ahmed, a 32-year-old freelancer from Queens, has become the face of resistance to the Trump administration, her image carried by thousands of protesters in Saturday's massed marches in opposition to the newly elected president.
The image, which shows the Bangladeshi American wearing a striking look of defiance and a hijab made from the Stars and Stripes, is by Shepard Fairey, an artist best known for his portrait of Barack Obama that came to symbolise the 44th president's original message of hope.
"It's about saying, 'I am American just as you are,'" Ahmed told the Guardian after returning to New York from Washington, where she took part in Saturday's huge protest march. "I am American and I am Muslim, and I am very proud of both."
Fairey's work is part of a group project coordinated by the Amplifier Foundation under the title We the People. Work by Ernesto Yerena and Jessica Sabogal also features.
Fairey's contributions are in the same simple ink block style as his Obama portrait, and include a black boy and a Latina accompanied by slogans: "Women are Perfect" and "Defend Dignity". The portrait of Ahmed, however, has had the greatest cultural impact.
In marches in many major US cities on Saturday, posters of the image were prominent. Fairey's portrait also featured in full-page ads in several national newspapers, including the New York Times and the Washington Post, on inauguration day itself.
"It's an honor because of what the picture represents," Ahmed said. "It's not anti-anything. It's about inclusion. It's about saying, 'I am American just as you are.'"
At the march in Washington, Ahmed said, "one congresswoman came up to me and said she knew immediately that the woman in the picture was me. I was surprised because I assumed people would think it was someone who covered [with a hijab] and I actually don't.
"One group of girls asked me when I stopped covering, and I told them I never did."
The photograph that Fairey used for his portrait is a decade old, Ahmed said. It was taken by Ridwan Adhami, a New York-based photographer who is also from Queens. He and Ahmed traveled to the New York stock exchange to compose the shot, anticipating that proximity to the site of the 9/11 terrorist attacks would add symbolic poignancy to their message.
"The photo has had second and third lives," said Ahmed, a freelance travel photographer. "It went viral before viral was really a thing when it was posted on Muslim blogs by people thinking it was kinda cool. Now it's getting a third life that's way bigger than it ever was previously."
Fairey's portrait and Adhami's photograph pose the same question: what does it mean to be Muslim and American when the US is engaged in conflicts in many Muslim countries?
"The intent was to make a strong statement," Adhami told the Guardian. "So we made it down at Ground Zero to heighten the sense of: 'We're here, we're Muslim, we are New Yorkers and we belong here.'"
As it happens, he added, greater poignancy may lie in the fact that a building owned by Trump – 40 Wall Street – can be seen in the background.
Ahmed grew up in Jamaica, Queens, close to where Trump was raised in the gated Jamaica Estates. Her parents settled in the neighborhood after leaving Bangladesh in the late 1970s. Munira was born there. Family members also settled in Michigan.
Ahmed and Adhami have both been drawn into the subject of American racial identity and the challenges to it that have surfaced in the years since 9/11.
"There's so much that's disappointing about so many people in agreement with the rhetoric that got this person, Donald Trump, elected," Ahmed said, adding that she deliberately avoided watching Trump's inauguration on Friday.
"It's unfortunate that there are still people who feel America is about excluding people of different origin. That to me is not what the core values of America are about.
"A lot of the progress of this nation takes places because of immigrants so the idea [floated by Trump on the campaign trail] of a ban on Muslims or a Muslim registry is absurd. What makes this country great is pluralism. Our diversity is the envy of the world."
Adhami said he, like his subject, has felt the need to resist the rise in anti-Muslim sentiment in the years since 9/11. He has experienced implications that the terror attacks were his fault as a Muslim, he said, and contentious discussion about the Muslim community.
"So I started working with many other Muslim artists who were creating work that represented and spoke to us artists who happen to be Muslim," he said.
Each time the question of Muslim patriotism resurfaced, Adhami said, he reposted the image of his friend. With each turn, the picture became more deeply embedded, shared and posted again. Late last year, he was approached by the Amplifier Foundation.
Publicising the We the People project, Fairey told Middle East Eye it was important to create images of attacked and excluded communities, especially over positions held by Trump that are "in my opinion, fear-mongering and totally un-American".
"The image of American flag hijab is very powerful," Fairey said, "because it reminds people that freedom of religion is a founding principle of the United States and that there is a history of welcoming people to the United States who have faced religious persecution in their homelands."
For Adhami, his image of Ahmed is linked to some frustration. "I was over the image, and I was over having to make the statement: 'I'm American,'" he said.
"I was saddened that the conversation kept coming up. But when Donald Trump and this election season came up it was, unfortunately, once again relevant and once again necessary."
Ahmed said the groundswell of racism that accompanied the rise of Trump had not blinded her to far worse conditions elsewhere, for instance the persecution of Muslims in Myanmar.
"As much as I can focus on everything that's happening here in the US," she said, "my worldview is a little bit broader. I know that we're going to get through this.
"We've been through tough things before and [the march on Saturday] was testament to the fact that things are not as despondent as they may appear."
The experience of the march, she said, would stay with her forever. "I felt love. I felt inclusiveness," she said. "It's going to take me a while to see what it really means when the dust settles."
On her return to New York, she found something she had left behind – and not by accident.
"I had a ticket to the inauguration," she said. "People were like: 'If you want it you can have it.' I didn't.
"It's sitting on my kitchen counter like a beer coaster."
https://www.theguardian.com/us-news/2017/jan/23/womens-march-poster-munira-ahmed-shepard-fairey-interview
--------
If there is a ban in India, I respect it: Mahira Khan
Arti Dani/Dubai
January 23, 2017
WHAT A DREAM debut this would have been for Pakistani actress Mahira Khan, if there were no tension between India and Pakistan. It felt strange to see Shah Rukh and Mahira promoting Raees in Dubai at the same hotel but different floors. It was made sure that they were not clicked together, forget about a combined interview.
Shah Rukh Khan almost completed Raees with Mahira before the India-Pakistan tension began. Also a ban by the Film and Television Producers Guild of India on Pakistan artists didn't help. This means that Mahira cannot promote the movie in India. The actress also plans to watch the movie in Dubai itself. We met with Mahira in Dubai for a quick tete-e-tete.
How does it feel to finally promote your debut Bollywood film?
I am really excited and nervous as well. I am very grateful that I got to work with Shah Rukh for several reasons. He is someone who is such a big star. He is so hard working that it is unbelievable and I have taken that back home with me. I have learnt that the bigger you are, the harder you have to work.
Do you have a strong role in the movie because back in Pakistan, you have always done hard hitting roles and never limited yourself as a prop?
I actually believe there is no such things as a prop. I think even if you have five minutes in a film - it could be a dance or a line in a scene - as long as you do it with honesty, you will shine. When I got the first call for Raees, I was numb and I did not know how to react. Because it was too quick. I didn't know anybody in Bollywood. I have never given my portfolio or met anyone, so it was very random. Someone saw my work, called for an audition and then said, come. All of this happened within a matter of a week. I couldn't digest it then and I am not able to understand it even now. My character is that of a strong woman who is in love. She is kind and Raees's (played by SRK) conscience. She is the lighter side of Raees's life.
How was it shooting Zaalima?
The making of Zaalima is probably the most fun that I have had on screen. It was a song so it was easier to do. It was a bit tougher for me because we are not used to song and dance in our films even though we do it, but this kind of romance and slow speed was new for me. Zaalima was added at the last minute. I am happy that now I have a romantic song with Shah Rukh Khan. There were a lot of hours of working and we were hardly sleeping. We would sleep for an hour and run back to shoot. But it was fun. The entire cast and crew were chilling together.
Considering the sentiments of Indians and Pakistanis right now, what's going in your mind?
I would just like to tell everybody to go and watch the film. So many people come together and work hard on a movie.
Obviously, politics is not a place I would like to get into at all. I never have, but this is something that everyone talks about and of course, this has affected us. I would love it if we can just be peaceful and it has to happen from both countries. But actors don't understand these things. We make films in India or Pakistan or any part of the world. When we are put in this situation, we don't know how to react. All I can say is I do respect another country's decision, whatever it may be. If there is a ban, I respect it because it's their government and rules. I would always respect it, just like I respect my own country.
What's keeping you busy in Pakistan now?
I am doing a film with Shoaib Mansoor who made Khuda Ke Liye. He makes a film every six years. Last movie that he made was my debut film, Bol. Because he takes so much time to write it and that's why he is very protective about it. I had to beg him to give me the scripts. It is a hard-hitting film.
Take four with Mahira
Favourite SRK movies
Dil Se, Dilwale Dulhaniya Le Jayenge, Kuch Kuch Hota Hai, Yes Boss, Chak De India
Favourite SRK Songs
All the songs of Dil Se, Kuch Kuch Hota Hai and Dilwale Dulhaniya Le Jayenge.
Last Bollywood movies seen Udta Punjab, Kapoor & Sons, I am yet to see Dangal. I might catch it soon in Dubai.
Mahira's diet regime
I have a very good diet regime. I eat everything and I never sleep. I have to thank my parents and my good genes. Before coming, I was like I have to get my nails polished, forget about manicure and pedicure. I went to the salon after six months to get my nails done. This is all for you guys, if it was for me, I would come in my pajamas!
http://khaleejtimes.com/20170123/45/no-title
--------
Gambia's new president names woman as vice president
24 January 2017
The newly-elected President of Gambia Adama Barrow, who is scheduled to arrive in the country from Senegal where he was sworn in, has appointed a woman as his vice President.
The rest of the cabinet appointees are due to be announced later on Monday.
Fatoumata Tambajang Jallow is a former UN diplomat who has served former President Yahya Jammeh as a health minister.
"President Barrow is preparing to come tomorrow. There will be a celebration at the Independence stadium as planned before," Barrow's Spokesperson Halifa Sallah told reporters.
On late Sunday, the regional military forces took over Gambia's State House and disarmed all the soldiers ahead of the new president's arrival and are currently patrolling the city with heavy armored tanks.
Earlier, President Barrow told journalists in Senegal that he would be back after a "security sweep" was done.
Barrow was inaugurated Thursday at the Gambian embassy in Dakar, Senegal, where forces mobilized by the Economic Community of West African States regional bloc prepared to oust Yahya Jammeh if he refused to step down.
On Monday, thousands of Gambians also started arriving from Senegal via the River Gambia that separates Banjul from the northern side of the country.
Omar Ndow, the head of Banjul Red who is coordinating the transportation of returnees, told Anadolu Agency: "Thousands of people have come back so far."
"My colleagues at the other side of the river have been overwhelmed and they had to ask me to send them some volunteers. They said they have about 10, 000 people yet to cross."
About 45,000 have fled the country fearing turmoil because of the crisis.
http://www.worldbulletin.net/africa/183625/indonesia-denies-peacekeepers-tried-to-leave-sudan-with-arms
--------
5 Facts About Saudi Arabia's Male Guardianship System
Jan 24, 2017
Saudi Arabia's male guardianship system is the biggest factor keeping women from being able to live full lives.
Every woman in Saudi Arabia must have a male guardian. A woman's "guardian" is typically her father or, husband, but it can even be her brother or son. In order to travel abroad, marry and sometimes to work or access health care, a woman must have her guardian's permission.
A Human Rights Watch report called the male-guardianship system in Saudi Arabia "the most significant impediment to realizing women's rights in the country."
What having a male guardian essentially means is that a woman in Saudi Arabia is never recognized by the Saudi government as full legal adults. She is treated as though she is a minor unable to make many important decisions in her life on her own.
Many affluent Saudi women are choosing to secretly leave their homes and apply for asylum in other countries, particularly the United States. Between 2005 and 2011, 111 applications for asylum were made to the United States by Saudi nationals, 29 of which were approved. For those that are not affluent, or who are not approved for asylum, things are changing too slowly in Saudi Arabia.
Despite the heavy resistance to change in Saudi Arabia with regards to women's rights, Saudi women (and some men) are fighting the guardian system. Recently, a social media campaign was started to raise awareness of the injustices caused by such a system in hopes of sparking a more organized opposition. The campaign caught the eye of Saudi Arabia's Grand Mufti, the country's most senior religious authority, who called it a "crime targeting the Saudi and Muslim society."
A Saudi man was recently sentenced to a year in jail for his activism against the guardianship law. The man, who was also fined 30,000 riyals ($8,000), was arrested putting up posters in mosques calling for an end to the law. He was also found to be behind a wide-spread online campaign to repeal the law.
While Saudis keep posting and raising awareness about this issue, significant change has yet to happen.
http://www.clarionproject.org/news/5-facts-about-saudi-arabia%E2%80%99s-male-guardianship-system
--------
Under Sharia Law, These Women Are Immoral
January 22, 2017
A female Iranian bodybuilder was arrested for publishing photos of herself in her work-out clothes, reportedShirin Nobahari (Photo: Instagram)
Shirin Nobahari (Photo: Instagram)
the Daily Mail. She was charged with violating the Islamic Republic's laws on nudity and thrown in jail after being unable to post bail.
The identity of the body builder was not published but media speculated that the photos were of Shirin Nobahari, who, along with another Iranian woman, participated in an international competition last September.
After the women initially posted pictures of themselves online, they were issued a warning by Iranian authorities.
"Nude" in Iran is any body part that is not covered by the mandatory Islamic clothing – i.e., arms, legs or hair.
Prince Mutaib bin Abdullah bin Abdulaziz Al Saud is a member of royal family who has served as Saudi Arabia's minister of the national guard since May 2013. He is also chairman of the board of directors of the riding club in Saudi Arabia.
Mutaib objects to Saudi women forming equestrian clubs, which would make it easier for them to compete in competitions. In a recent press conference, he sarcastically answered those who object to this policy, saying, "There are horses jumping competitions and clubs and women can participate in Prince Mutaib bin Abdullah bin Abdulaziz Al Saud (Photo: Wikimedia Commens)
Prince Mutaib bin Abdullah bin Abdulaziz Al Saud (Photo: Wikimedia Commens)
them in the capital Riyadh and other cities, but they [the women] need to lose weight to participate."
Finding no humor in his comments, Saudi women reacted angrily to Mutaib's insult and demanded that special riding clubs for women be established.
One woman, identified in social media only as Yasra said to Mutaib, who is quite overweight himself, "Like your ideal body … you should live and be well."
Another woman, Rared, expressed her dissatisfaction with the repressive Saudi society, saying, "We are women, we don't have clubs like the men, and we don't have places where we walk without being harassed, but all they do is take care of men with fat bellies."
Amina Suliman had enough of the Amina Suliman (Photo: video screenshot)
Amina Suliman (Photo: video screenshot)
conservative culture in the Gaza Strip – not to mention all the years she spent as a child in Damascus. So, she went for a bike ride in the wee hours of the morning one day in the Jabalia refugee camp.
Not satisfied with this small amount of "liberation," Suliman wanted to share the experience with her friends. She and her friends now ride through Gaza's streets, but not without the condemnation of the conservative crowd who the activity shameful behavior that damages Islamic cultural traditions.
The group, however, refuses to look back and have continued riding through what is often a tense atmosphere.
https://www.clarionproject.org/news/under-sharia-law-these-women-are-immoral
--------
Women marching worldwide revive a long-sought dream: Global feminism
January 24, 2017
The day after the inauguration of Donald Trump as 45th president of the United States, almost three million women and men marched on the streets nationwide to show their rejection to the demonstrated sexism, xenophobia and Islamophobia of the new American president.
Americans and immigrants in the US were joined in their dissent by citizens on every continent. Thousands of Latin American marchers showed their solidarity across the region, from Mexico to Argentina. Africa and even Antarctica also showed their support. This international march is a major achievement for the feminist movement. Feminists have finally achieved something the movement has struggled to do for decades: bring together Black, Latino and Indigenous women, the LGBT community, environmental activists, and many others groups under one umbrella.
And in adopting tactics from foreign human rights movements, American organizers and participants demonstrated a rare global and historical awareness.
This diverse coalition came out not just to protest Trump's agenda but to state that women's rights are human rights, and that the president of the United States is obliged to respect the rights of migrants, Muslims, Latinas and Latinos, people with disabilities and the LGBT community – under domestic and international law.
In Latin America, it was natural that women would take to the streets on this occasion. Women across the region are systematically killed and sexually abused with impunity under the same misogynistic culture that underpinned President Trump's comments about sexual assault.
The Women's March adds to the recent women's movements in Latin America – Ni Una Menos and Paro Nacional De Mujeres (National Women's Strike) among them – representing what the feminist movement has long aspired to: women's unity around the world.
Rarely have women's movements and feminists managed to appeal to other identities. The most visible part of movement has, both intentionally and unintentionally, often excluded those with less privilege, like Latina, Muslim and Black feminists, by championing causes seen as narrow and concerning only white women.
Ditching the 'nice white lady' agenda
During the early stages of planning, the organisers of the Women's March on Washington were accused of forwarding a "nice white lady" agenda that neglected the class, race, gender and religious issues facing non-white women.
But by the end, the march's list of speakers included not only white feminist activists like Gloria Steinem and celebrities such as Scarlett Johansson and Madonna, but also a long list of Latina, Black and Muslim feminists. Legendary Black feminist Angela Davis, Latina actor America Ferrera, singer Alicia Keys, the Mothers of the Movement representing Black Lives Matter, and Pakistani Muslim activist Hina Naveed all spoke.
Black feminist Angela Davis speaking at the Women's March on Washington on January 21, 2017.
The Women's March on Washington was the first time in history that US women have helped launch an intersectional movement incorporating not only American citizens but also people around the world who are affected by US foreign policy. American women with their pink pussy hats are a symbol of meaningful unity against misogyny, racism, xenophobia and Islamophobia worldwide.
The discourse that minority and women's rights are human rights framed the movement. Trump has spoken openly against women's reproductive rights – seeking to restrict abortion access at home and abroad – and seems keen to dismantle the civil rights protecting minorities and migrants.
Despite his background living in liberal, gay-friendly New York City, has has also threatened to appoint Supreme Court justices that oppose the rights of gay, lesbian and transsexual people to marry.
The world did not observe the rise of Trump quietly: it marched along with American women and other minorities. This recalls the way that the world – headed by Americans – in the 1980s and 1990s marched to demand the end of Apartheid in South Africa, and to protest genocide in Argentina, Chile and Guatemala.
Learning from the experts
The global nature and historical roots of the Women's March were also evident in its tactics. Participants employed human rights strategies well-known in Latin America and Africa, such as naming and shaming.
Boomerangs and spirals – tactics used to mobilize international pressure against states that are violating human rights – were also at play in Washington.
Traditionally these strategies have focused on weak states, on the assumption that Western democracies have the authority to judge the human rights performance of other nations. Today, under Trump, the US is more akin to the rogue state that American scholars have previously described.
The US has long seen itself as exceptional, but Trump's election has forced Americans to look toward other countries with experience confronting the brand of right-wing populism that Donald Trump now threatens to unleash on the US public.
It is invigorating and inspiring: if these strategies have worked in Latin America and Africa, why shouldn't they work in the US? The feminist movement is finally going global. That's good news for Americans, and for people of all genders, all over the world.
http://www.thejakartapost.com/academia/2017/01/24/women-marching-worldwide-revive-a-long-sought-dream-global-feminism.html
--------
Roman Catholic school in Birmingham bans 4-year-old Muslim girl from wearing hijab, sparks row
January 24, 2017
A Roman Catholic school in Birmingham is at the centre of a row after it banned a four-year-old Muslim girl from wearing the traditional Islamic headscarf, or hijab, to school.
The controversy involving St Clare's School in Handsworth erupted after the girl's father took the matter to Birmingham City Council's Labour cabinet member for equalities Coun Waseem Zaffar.
The school reportedly asked the parents of the girl to stop sending her in the traditional headscarf to lessons as the school has strict uniform rules. But Zaffar, following the father's complaint, insisted that the school change its policy and allow the girl to wear hijab to school.
In a Facebook post, Zaffar wrote that he had met with the head teacher at St Clare's and conveyed his objection to the ban. He also told her that their move was against the equalities act.
"I'm insisting this matter is addressed asap with a change of policy," he wrote.
However, his cabinet colleague Coun Majid Mahmood backed the school's decision, saying that the ban maybe within the school's rights "to insist upon a particular dress code" just as a Muslim faith school "may require girls to wear headscarves".
Dr Mashuq Ally, a former head of equalities for Birmingham City Council, echoed Mahmood's views noting that a faith school has the right to set its own uniform policy and is also legally exempted from discrimination charges.
He also said that the Muslim parents "would have thought very carefully about sending their child to a Roman Catholic school and considered the uniform policy" and that they should have cleared the matter with the school instead of dragging it in the "public and political arena".
Fuelling the row on social media, campaigner Gina Khan accused Zaffar of backing male parents who use dress codes as a means to control their children, especially girls, the Birmingham Mail reported.
"Hijab isn't compulsory for a child in Islam, but patriarchal biraadari power used to control Muslim school girls," Khan wrote on Twitter.
Councillor Brigid Jones, cabinet member for children, families and schools, also spoke on the issue and assured that they are working with school authorities with regard to setting dress codes for schools.
"Each school's governing body is responsible for the creation and implementation of its own uniform policy. However, the local authority is supporting the school to ensure its policy is appropriate, in line with legal requirements, and we are engaging with all schools to remind them of their responsibilities when it comes to setting school uniform policies," Jones reportedly said.
http://www.ibtimes.co.uk/roman-catholic-school-birmingham-bans-4-year-old-muslim-girl-wearing-hijab-sparks-row-1602713
--------
URL: https://www.newageislam.com/islam,-women-and-feminism/new-age-islam-news-bureau/terrorists-using-women-for-their-heinous-crimes/d/109834
New Age Islam, Islam Online, Islamic Website, African Muslim News, Arab World News, South Asia News, Indian Muslim News, World Muslim News, Womens in Islam, Islamic Feminism, Arab Women, Womens In Arab, Islamphobia in America, Muslim Women in West, Islam Women and Feminism, Moderate Islam, Moderate Muslims, Progressive Islam, Progressive Muslims, Liberal Islam