New Age Islam News Bureau
2 Nov 2019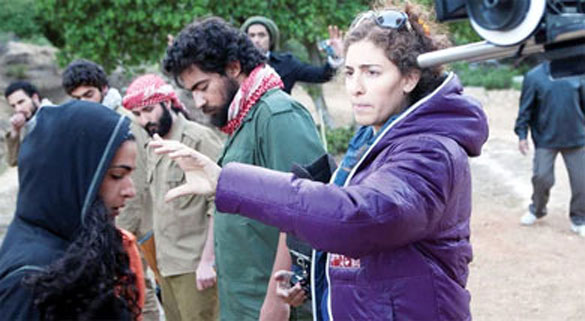 From post-revolutionary settings to personal struggles, women have told stories from the region that would have otherwise remained unheard. (Supplied)
-----
• Iranian Teen, Seized Walking In Public Hijab-Free, Was Thrown To the Ground by the Cop
• JUI-F Allows Female Journos to Cover Protests After Uproar
• Saudi Girls' School Launches Pioneering Project To Produce Business Entrepreneurs Of Future
• Muslim Woman Made To 'Swear To Allah' By Police Officer during Traffic Stop in Sydney
• Muslim, Female Ex-Prisoners Help Bradford School Children through Creative Project
• Coimbatore Man Booked For Giving Instant Triple Talaq To Wife Days After Wedding
• Pakistan Azadi March: Women Absent From Anti-Imran Khan Protest
• 95pc Women Journalists Say Online Violence Impacts Their Work: Report
• Egypt Plays Host as Women's World Champion to Earn More Prize Money Than Men's
• Migrants Endure Rape and Torture on Route through Yemen
Compiled by New Age Islam News Bureau
URL: https://www.newageislam.com/islam-women-feminism/ten-female-arab-filmmakers-telling/d/120158
--------
Ten Female Arab Filmmakers, Who Are Telling the Stories of Middle East's Women
JETHU ABRAHAM
November 01, 2019
CAIRO: In a first for the region, the Cairo International Film Festival has signed the 5050x2020 gender parity charter, joining 60 other film festivals worldwide to ensure equality and improve transparency in the entertainment business.
Women in the Arab world have worked behind the camera long before the charter. From post-revolutionary settings to personal struggles, they have told stories from the region that would have otherwise remained unheard. Here are 10 of the most accomplished female Arab filmmakers.
1. Annemarie Jacir
Jacir has written, produced and directed award-winning films such as "A Post Oslo History" (2001). Her short film "Like Twenty Impossibles" (2003) was the first Arab cinematic work in this category to enter an official selection at the Cannes International Film Festival. The Palestinian director's most recent film, the dramedy "Wajib" (2017), won her 18 international awards.
2. Nujoom Al-Ghanem
The Emirati filmmaker, writer and poet had to overcome societal stigma, family disapproval, and the responsibilities of a wife and mother. She defied the odds to study TV production and filmmaking, later producing films such as "Amal" (2011) and "Sounds of the Sea" (2015).
3. Nadine Labaki
Labaki, who spent the first 17 years of her life in a war-torn area in Lebanon, made her debut with "Caramel" (2006). This female-centric comedy premiered at Cannes, and won the actress and director widespread recognition.
4. Haifaa Al-Mansour
The movies of Saudi Arabia's first female filmmaker explored women's issues in the country as well as other taboo topics. Her three shorts "Who" (1997), "The Bitter Journey" (2000) and "The Only Way Out" (2001) won awards in the UAE and the Netherlands.
5. Hala Khalil
Beginning her career in the post-patriarchal era in Egypt, Khalil represented the new generation who made films exploring bold themes and featuring strong female characters. Works such as "The Best of Times" (2004) and "The Kite" (1997) won Khalil several awards and global acclaim.
6. Mai Masri
Living close to the Shatila refugee camp in Lebanon, Masri witnessed what would become known as the Sabra and Shatila massacre. A theme in her movies is life in Palestine and the Middle East, especially in films such as "Beirut Diaries: Truth, Lies and Videos" (2006), "3000" (2006) and "Layla" (2015).
7. Nayla Al-Khaja
Al-Khaja began her career with the comedy "Sweet Sixteen" in 1996, going on to produce award-winning films and documentaries. She has been lauded for presenting social issues in a realistic setting, especially in films such as "Arabana" (2007) and "Animal" (2017).
8. Kaouther ben Hania
The Tunisian-born director shot to fame with her bold themes and characters in movies such as "Le Challat de Tunis" (2013) and "Beauty and the Dogs" (2017), which had a post-Arab Spring background with strong women fighting for justice.
9. Sofia Djama
Starting out in advertising and short story-writing, Djama turned to directing when one of her short stories, "Mollement un Samedi Matin" (2012), was made into a film. In this picture, the Algerian director explores the parallel existence of social morality and legal actions.
10. Shahad Ameen
This Saudi writer and director caused ripples with her debut film "Scales" (2019), the story of a young girl on a path of self-discovery in a dystopian setting. Ameen explores the personal journey of a woman who ends up being in the shadows in a male-dominated society.
• This report is being published by Arab News as a partner of the Middle East Exchange, which was launched by the Mohammed bin Rashid Al Maktoum Global Initiatives and the Bill and Melinda Gates Foundation to reflect the vision of the UAE prime minister and ruler of Dubai to explore the possibility of changing the status of the Arab region.
https://www.arabnews.com/node/1577731/lifestyle
--------
Iranian Teen, Seized Walking In Public Hijab-Free, Was Thrown To the Ground by the Cop
Debbie White
1 Nov 2019
AN ANGRY Iranian cop roughly grabbed an unsuspecting teenage girl and forcefully flung her on to the ground - because she wasn't wearing a hijab.
Video shows the girl being grabbed and shoved by the large, male officer while walking along a street, in broad daylight.
Mobile footage shows the burly cop seizing the short, young girl in front of bystanders, and he's immediately very physical with her.
He appears to shove away a man who tries to come to her aid, knocking the girl across her head in the process.
Clutching her left arm, he swings out at the Good Samaritan, to stop him intervening.
All the while, the girl is flailing, trying to stop herself from tripping over while being shoved by the rough cop.
Still in a rage, the cop trips over the kerb, falling to his right knee – but refuses to let her go, and deliberately pulls her to the ground with him.
IGNORED COP
He then shoves her head towards the grass and slams her against the ground.
The Metro reports that the teen had been walking through Shahr-e-Rey, south of Tehran.
She was reportedly ordered to stop by the cop, but ignored him.
It's the latest in a string of incidences aimed at preventing women in Iran from going hijab-free.
In July last year, the Sun reported brave anti-hijab protester Shapark Shajarizadeh being caged for daring to take off her headscarf and wave it from a stick in protest.
Many Muslim women cover their heads in public with the hijab as a sign of modesty, however some critics see it as a sign of female oppression, including in Iran.
https://www.thesun.co.uk/news/10257683/shocking-teenage-girl-thrown-ground-iranian-cops-she-wasnt-wearing-hijab/
--------
JUI-F Allows Female Journos to Cover Protests After Uproar
November 02, 2019
After barring women from participating in the Azadi March, Jamiat Ulema-e-Islam-Fazl (JUI-F) has announced that there is no ban on female journalists from covering the Azadi March and has directed the participants of the march to treat all women with respect.
"Senator Maulana Abdul Ghafoor Haideri announced from Azadi March stage that women journalists should not be stopped from covering the march and treat all women with respect no ban on entry of women in dharna," said anchorperson Hamid Mir in a tweet on Friday.
Previously, women appeared to be absent from the march. Earlier in October, reports had claimed that JUI-F chief Maulana Fazlur Rehman had imposed a ban on the participation of women in Azadi March but as the march reached Lahore on October 30, JUI-F Senator Maulana Abdul Ghafoor Haideri had said that only female party members have been banned from participating in the 'Azadi March'.
"Other parties may call in their female members if they wish. There is no restriction on them," he had added.
He had further said that female journalists wishing to cover the march are allowed to do so and denied knowledge of a female reporter in Karachi being prevented from reporting on it.
When a journalist asked a marcher about the absence of women from the march, he said that what distinguished JUI-F from other political parties was the way men in the party stood of for the rights of their women. "Our women, who are sitting at home, will agree that the men represent them," he said.
On Twitter, female journalists complained about the ill-treatment they suffered at the hands of the marchers. Nadia Suleman from BBC Urdu said that a volunteer in the march harassed and insulted her. Another female reporter from Independent Urdu said that the security personnel of JUI-F asked her to leave because she is a woman.
Another journalist, Shiffa Z Yousafzai tweeted that not only was she barred from the march but she was yelled at and insulted as well.
"While giving the intro a man came and started saying women aren't allowed, women CANNOT be here. Leave! Slowly but in a minute's time a crowd of men encircled us and started chanting the slogans, we had to leave but they kept coming after us in huge crowds making sure that I leave," she tweeted.
Following these incidents, government ministers also criticised JUI-F for exluding women from the march. They lashed out at the marchers for restricting space for women in the country.
https://www.pakistantoday.com.pk/2019/11/01/jui-f-allows-female-journos-to-cover-protests-after-uproar/
--------
Saudi Girls' School Launches Pioneering Project To Produce Business Entrepreneurs Of Future
NADA HAMEED
November 02, 2019
JEDDAH: Students at a top Saudi school for girls are being given the chance to become the Kingdom's entrepreneurs of the future by running their own business venture.
Dar Al-Fikr School, in Jeddah, has launched an innovative educational and community initiative aimed at arming students with the vital skills required to succeed in the workplace environment.
The Dar Al-Fikr Intrapreneur Program (DIP) will see an area of the school set aside for the "20 Formation" event management company, which will be managed and staffed by students.
Majdah Afandi, director of Dar Al-Fikr Schools and DIP founder, told Arab News: "I believe that grade 12 students should be exposed to the practical part of the world before they reach college level, but it is often hard to take them outside of school to do that.
"Therefore, we decided to build our own space and cover all the knowledge and skills needed in any employee by offering students the full experience of soft skills in a three-courses program.
"No matter how much knowledge lectures are delivering to students, if soft skills are not practiced and experienced by them it will never occur through theoretical teaching. So, we will apply all the skills that the country is calling for during this era of growth," she added.
DIP project manager, Lujain Al-Sarahi, said the school had an annual graduation project for grade 12 students but wanted to make this year more challenging.
"DIP offers internal training that will enable students to open a company within the school, the core business of it being event management. It will include all the departments necessary to serve the company," added Al-Sarahi.
The initiative is believed to be the first pre-college graduation program of its kind to be set up in the Kingdom and will involve students in theoretical and practical course work along with action research, to give them the independent know-how and leadership skills to run a modern business.
The program will culminate with the young intrapreneurs making a presentation about their business project to a school conference attended by outside industry experts who will assess their work.
Scheme organizers have established a training company with its own capital funds and 44 students have been enrolled in the program as interns for two days a week, holding positions in the enterprise and planning actual events.
In order to join the company, students had to go through a professional recruitment process involving them attending workshops, an internal job fair, and creating CVs and portfolios to fit their roles.
Laila Shaaban, 17, a student and 20 Formation company employee, hoped the initiative would help define her future career path.
"In this company, I am employed as a graphic designer. I will be exposed to many different fields of experience so I can focus on what I want to be and do after graduation, either in college or in business.
"The company will help us anywhere we go whether its part of a workforce, at home or university," she added.
Highlights
Mission of DIP: To deliver extraordinary events from inside and outside the school and to make a difference in the event planning sector in Jeddah.
The company will include human resources, finance and accounting departments and will have social media, public relations, and graphic design committees.
44 students are already enrolled in the company and will be working on action research during the year.
The main focuses of the program are communication, negotiation skills, time management, and creative thinking.
https://www.arabnews.com/node/1577871/saudi-arabia
--------
Muslim Woman Made To 'Swear To Allah' By Police Officer during Traffic Stop in Sydney
November 02, 2019
A Muslim woman was made to "swear to Allah" by a police officer during a traffic stop in Sydney.
Details of the incident have emerged as two officers were found to have committed serious misconduct.
On April 20, the pair stopped a 24-year-old student and her stepmother. They are both members of the Muslim Afghan community.
They said this was due to the stepmother not wearing a seatbelt, while they then criticised the driver for not stopping swiftly when they pursued: bringing multiple driving violations against her.
When the car was stopped, one of the policemen, named only as "Officer 1", told the driver: "You have to be the most stupidest [sic] person I've met as a driver of a motor vehicle with a police vehicle all the way since Church Street to here."
In the exchange, which was caught on bodycam footage, he then turned his attention to the stepmother, named as "Mrs R", and asked for her ID.
When her daughter, named as "Ms Y", explained she did not have any on her, the officers insisted both women get out of the car.
Officer 1 shouted at Officer 2, asking him to "whack the cuffs on Ms Y", a report detailed.
Officer 2, speaking to Ms Y, said: "If you don't know how to drive on Australian roads, hand your licence back."
She had said she did not know where to stop and responded: "No, I swear."
Officer 2 asked "what's your religion?" and then said: "OK, swear to Allah."
The woman replied: "I swear to Allah, I didn't know."
Officer 2 said: "Yeah, right."
The pair then tried to instruct the daughter to try and get her stepmother's passport, while her visa status was questioned.
Officer 1 went on to say: "Don't take advantage of our system."
He also told the woman: "Don't get aggro with me or you'll be in the back of a divvy van going back to the gaol."
In submissions to the report, Officer 1 said he was "embarrassed" by the exchange, the report said.
But it added he "made no effort to apologise".
He said he "could see how" his behaviour "could be seen as bullying" but denied he had attempted to do so.
Officer 2 said he would like the opportunity to apologise to the women and said: "I was rude."
He said PTSD in his line of work had affected him.
Australia's Law Enforcement Conduct Commission determined both officers should not be on frontline duty where they interact with the public.
On Officer 1, it said: "Officer 1 is presently unfit for purpose as a police officer who has any contact with members of the public in his present mode of operation."
Officer 2 was also deemed "unfit for purpose" in his role.
It said: "He is ignorant of his duties and responsibilities. He admits to being rude and arrogant in the ordinary course of his duties when he decides a person may not be truthful.
"He should not be in further contact with members of public in the meantime."
https://www.standard.co.uk/news/world/muslim-woman-made-to-swear-to-allah-by-police-officer-during-traffic-stop-in-sydney-a4276341.html
--------
Muslim, Female Ex-Prisoners Help Bradford School Children through Creative Project
By Yusef Alam
November 02, 2019
BRADFORD'S Muslim Women in Prison Project teamed up with Community Rail Lancashire and Northern yesterday to create story sacks for primary school children in the city.
The session took place yesterday at Kala Sangam, Bradford's inter-cultural arts hub, and was the launch of the 'Seats to Sacks' project.
Muslim Women in Prison supports Muslim, female ex-offenders across the UK who may have been ostracised from their families and communities upon their release.
Story sacks are bags which contain children's books as well as supporting materials, such as puppets, designed to enhance children's reading experiences.
Through Seats to Sacks, the women made story sacks out of old Northern train seats.
The project is being run by Community Rail Lancashire, which has also expressed plans to take the women on train trips to boost their confidence and independence.
Steve O'Connell, Commercial Manager at Kala Sangam, said, "It was great to be involved and see different communities engage and come together."
https://www.thetelegraphandargus.co.uk/news/18009295.muslim-female-ex-prisoners-help-bradford-school-children-creative-project/
--------
Coimbatore Man Booked For Giving Instant Triple Talaq To Wife Days After Wedding
October 31, 2019
In a first of its kind case in Coimbatore, the city police have booked a 26-year-old Muslim man and his six relatives, after he allegedly gave instant triple talaq to his 24-year-old wife. In addition to booking him under the The Muslim Women (Protection of Rights on Marriage) Act, 2019, the police have also filed a case of cruelty against him.
According to investigating officials, Mohammed Ali got married on July 4 this year. On the very day of their wedding Ali allegedly harassed his wife over dowry. While the groom's family had asked for 80 sovereigns of gold, the woman's family could only manage 40.
"He demanded that she bring the rest of the gold, and when she expressed her inability to, he and his family were cruel to her," says the investigating official, "They verbally abused her and treated her badly in the house. The husband also refused to be intimate with her."
Three days after the wedding, when Ali and his wife went to Aluva in Kerala for their honeymoon, he allegedly showed her the picture of another woman and said that he was interested in marrying her. When his wife protested this, he countered her by chanting 'Talaq' thrice.
The practice, popularly called 'instant triple talaq', allows a Muslim man to legally divorce his wife by pronouncing talaq (the Arabic word for divorce) three times. However in 2019, the union government passed a law banning instant triple talaq. The law makes the practice illegal and void, with up to three years in jail for the husband.
Despite what the husband said, the two families attempted to get them to reconcile. However in September, Ali allegedly sent his wife a notice claiming that he divorced her because she asked him to.
"So now we have filed an FIR against Ali, his two sisters, a brother, brother-in-law, uncle and aunt for triple talaq and cruelty," says the police official.
While Ali has been booked under Sections 3 (Any pronouncement of talaq by a Muslim husband upon his wife, by words, either spoken or written or in electronic form or in any other manner whatsoever, shall be void and illegal) read with 4 (Any Muslim husband who pronounces talaq referred to in Section 3 upon his wife shall be punished with imprisonment for a term which may extend to three years, and shall also be liable to fine) of the 2019 act, his relatives have been booked under section 498A (Husband or relative of husband of a woman subjecting her to cruelty).
This is the second such case to be registered in Tamil Nadu, the first being in Pudukkottai.
"We had to get legal opinion and speak to other police officers in order to invoke the right sections," says the officer, "As the investigation continues, we will look into slapping dowry harassment charges as well.
https://www.thenewsminute.com/article/coimbatore-man-booked-giving-instant-triple-talaq-wife-days-after-wedding-111503
--------
Pakistan Azadi March: Women Absent From Anti-Imran Khan Protest
November 02, 2019
The convoy of bearded protesters, waving black and white flags and dressed in mustard yellow, descended on Pakistan's capital Islamabad hoping to force Prime Minister Imran Khan from office less than 18 months into the job.
The vast majority were members of Jamiat Ulema-e Islam Fazal-ur-Rehman (JUI-F), one of Pakistan's largest Islamist parties, travelling from all over the country to try to oust the cricketer-turned-politician.
But as eye-catching as they were, there was something else more noticeable: the lack of any women.
Their absence, however, was not a mistake: pamphlets released before the Azadi (freedom) march set off last Sunday told women to stay at home to "fast and pray".
It worked. BBC Urdu reporters say not a single woman was part of the JUI-F convoy as it wound its way around Pakistan over the course of the next five days.
Then, as it reached the capital for a mass rally alongside other opposition parties on Friday, another command was rumoured to have been sent out: female reporters were reportedly banned from covering the event.
Some found themselves blocked from entering, while others said they were harassed to the point where they had no choice but to leave.
"A man came and started saying women aren't allowed, women CANNOT be here. Leave! Slowly but in a minute's time a crowd of men encircled us and started chanting the slogans, we had to leave," tweeted journalist Shiffa Z Yousafzai..
JUI-F leader Maulana Fazlur Rehman was quick to say they had a "lot of respect for our women" and that female journalists could attend the rally in "full dress code", APP news agency reported.
Meanwhile, Naeema Kishwar Khan, who represents JUI-F in the Provincial Assembly of Khyber Pakhtunkhwa, denied women had been formally banned and defended the lack of female representation.
"If you look in the army, there are men in the front, and women provide medical help behind," she told BBC Urdu. "Our movement is like a war, the situation is deteriorating. If not, women would not be behind."
According to BBC Urdu reporters, the women who did attend - some of whom were linked to the other opposition parties taking part - kept a low profile.
On social media, the outcry began to grow. But journalist Benazir Shah shrugged it off. "I see this is for the better," she told BBC Urdu.
"The women of this country do not need to be part of a battle between two men and their egos, which is what this march is, a power play between two men.
"This march is not a movement for social change, as the one the world is witnessing in Lebanon, which has the equal participation of women and men. JUI-F aims to remove a democratically elected government and it uses whatever foul play it can to do so, such as religion.
"The women of this country should not be on the wrong side of history."
What is the march actually about?
This is the first major challenge to Mr Khan, led by his long-term rival, Maulana Fazlur Rehman and backed by other prominent opposition parties. On Friday, they gave the PM 48 hours to step down.
Mr Khan has been hit by claims his election win in 2018 was unfair. An EU observer mission overseeing Pakistan's election in 2018 found no evidence of vote rigging but a "lack of equality of opportunity" for each party in the run up to the election.
Marchers are also angry with Mr Khan over the state of the economy, which is putting a financial strain on the people he promised to help.
"They have not come to power on the public's mandate but on someone else's direction... they won't work for the public, rather they will only please their selectors," Mr Rehman told supporters.
However, some analysts have suggested Mr Rehman has different reasons for the march.
A canny political operator, he has played a role in government for years - until he lost his seat last year.
He is also no stranger to the headlines - publicly doubting the shooting of Nobel Prize winner Malala Yousafzai back in 2012, and then calling for a "people's court" to retry Asia Bibi, the Christian woman wrongly sentenced to death for blasphemy, after she was freed from jail.
Columnist Arifa Noor told AFP: "He's been left out of a game and he thinks he's been cheated out of his rightful place."
What does the lack of female participation suggest?
On the surface, it doesn't look good. But the JUI-F is a very particular case.
"I wouldn't say that because women have been asked to sit out a march by a right-wing party, it means that they have been excluded from politics altogether," Ms Shah told the BBC.
"The JUI-F has never been a pro-women party. They have opposed the honour killing bill, the women protection act and more recently a bill against child marriages.
"We should be more worried about what the other three political parties are doing to include women and especially the ruling party. The federal cabinet has a paltry representation of women. In Punjab, there are only two women in the provincial cabinet."
https://www.bbc.com/news/world-asia-50246861
--------
95pc Women Journalists Say Online Violence Impacts Their Work: Report
November 02, 2019
ISLAMABAD: Ninety-five per cent of the country's women journalists feel online violence has an impact on their professional work, according to a Media Matters for Democracy (MMfD) report.
The report titled 'Hostile Bytes — a study of online violence against women journalists' was launched on Friday to coincide with the Inter­national Day to End Impunity against Journalists falling on Nov 2 (today).
According to the report, 77pc of Pakistani women journalists self-censor as a way to counter online violence.
The MMfD noted that while most of the conversation focused on the violence that journalists face in physical spaces, virtual spaces could also be vicious, especially for women journalists without any real repercussion for those who threatened and made these spaces toxic.
The abuse female journalists faced in online spaces was often not taken seriously, but had real repercussions for them, it said. The results showed that 105 out of 110 women believed online violence impacted their mental health.
"The sexualised and personal nature of abuse directed towards them not only affects them on a personal level, but also affects journalism in general that is heavily occupied by men leaving no room for women's voices. In times when their voices should be amplified, hate campaigns against women journalists is a very well-thought out strategy to ensure systemic oppression of women in professional spaces," said Hija Kamran, programmes manager at the MMfD and author of the study.
The research found that three out of 10 women journalists were victim of serious online crime such as blackmail and incitement to violence against them. The participants were not satisfied with the response they got from social media platforms and law enforcement agencies when they reported online violence. There was also reluctance to report to law enforcement agencies, showing that there was a need to improve the way these agencies handle online violence.
Online spaces were increasingly becoming important for journalists to not only promote their work but also reach wider audiences. The form of the survey conducted for the research was filled out by 110 women journalists, from different parts of the country, in addition to in-depth interviews with nine prominent journalists. They agreed that social media and digital spaces were an important online component that impacted their professional choices.
The journalists also spoke of the importance of having networks of women journalists which could become a vital support system that would help them deal with online violence. In the interviews, women journalists said that in instances where they had been specifically targeted online, speaking to colleagues who had faced the same, helped them deal with the online violence they were facing.
https://www.dawn.com/news/1514358/95pc-women-journalists-say-online-violence-impacts-their-work-report
--------
Egypt Plays Host as Women's World Champion to Earn More Prize Money Than Men's
Yousef Saba
OCTOBER 31, 2019
CAIRO (Reuters) - The female world squash champion will receive more prize money than the male equivalent for the first time at the CIB PSA Women's World Championship in Egypt this month as the sport takes gender equality to a new level.
The tournament, taking place against the backdrop of the pyramids of Giza, is awarding the women's champion $48,640 out of a purse of $430,000. The men's champion will get $45,600 from a pot of $335,000 in their concurrent event in Qatar.
"With the prize money of the women's being so high, even higher than the men's world champs this year, it is great for our sport to actually have the women appreciated," said Raneem El Welily, the female world number one.
"As a player, I feel very lucky to be part of such a strong era in squash history."
El Welily is one of four Egyptian women vying for the record fund, as she takes on Nouran Gohar in the semi-finals while Hania El Hammamy faces Nour El Sherbini for a place in Friday's final.
The increase in prize money was enabled by sponsor CIB pledging an additional $100,000 into the pot.
Aside from the unique location, Egypt is a fertile market for squash as the top four men in the game are from the North African nation, including world champion and number one Ali Farag, as well as four out of the five top women.
"The pyramids championship that began in the late 90s, of course, we all hoped to play on such a big stage one day," said Farag.
The top junior players are also Egyptian for both genders, helped by the fact the country has the world's biggest squash academy. Egypt is also world champion in the teams categories for men and women, as is the case with juniors for both genders.
"There are countries that are just talented at particular sports, like China is talented at ping pong, Brazil is talented at football - we are talented at squash," former world number one Karim Darwish said.
"In squash, there are constantly champions who children always look to and want be like, so people believe that they can reach that status."
https://www.reuters.com/article/us-egypt-sports-squash/egypt-plays-host-as-womens-world-champion-to-earn-more-prize-money-than-mens-idUSKBN1XA20L
--------
Migrants Endure Rape and Torture on Route through Yemen
By MAGGIE MICHAEL
November 02, 2019
RAS AL-ARA, Yemen (AP) — Zahra struggled in the blue waters of the Gulf of Aden, grasping for the hands of fellow migrants. Hundreds of men, women and teenagers clambered out of a boat and through the surf, emerging, exhausted, on the shores of Yemen.
The 20-year-old Ethiopian saw men armed with automatic rifles waiting for them on the beach and she clenched in terror. She had heard migrants' stories of brutal traffickers, lurking like monsters in a nightmare. They are known by the Arabic nickname Abdul-Qawi — which means Worshipper of the Strong.
"What will they do to us?" Zahra thought.
This story is part of an occasional series, "Outsourcing Migrants," produced with the support of the Pulitzer Center on Crisis Reporting.
___
She and 300 other Africans had just endured six hours crammed in a wooden smuggling boat to cross the narrow strait between the Red Sea and the gulf. When they landed, the traffickers loaded them into trucks and drove them to ramshackle compounds in the desert outside the coastal village of Ras al-Ara.
There was Zahra's answer. She was imprisoned for a month in a tin-roofed hut, broiling and hungry, ordered to call home each day to beseech her family to wire $2,000. She said she did not have family to ask for money and pleaded for her freedom.
Instead, her captors raped her. And they raped the 20 other women with her — for weeks, different men all the time.
"They used each of the girls," she told The Associated Press. "Every night there was rape."
With its systematic torture, Ras al-Ara is a particular hell on the arduous, 900-mile (1,400 kilometer) journey from the Horn of Africa to oil-rich Saudi Arabia. Migrants leave home on sandaled feet with dreams of escaping poverty. They trek through mountains and deserts, sandstorms and 113-degree temperatures, surviving on crumbs of bread and salty water from ancient wells.
Full Coverage: Weekend Reads
In Djibouti, long lines of migrants descend single file down mountain slopes to the rocky coastal plain, where many lay eyes on the sea for first time and eventually board the boats. Some find their way safely across war-torn Yemen to Saudi Arabia, only to be caught and tossed back over the border. The lucky ones make it into the kingdom to earn their livings as a servants and laborers.
But others are stranded in Yemen's nightmare — in some measure because Europe has been shutting its doors, outsourcing migrants to other countries.
The European Union began paying Libyan coast guards and militias to stop migrants there, blocking the other main route out of East Africa, through Libya and across the Mediterranean to Europe. The number of Mediterranean crossings plummeted — from 370,000 in 2016 to just over 56,000 so far this year.
Meanwhile, more than 150,000 migrants landed in Yemen in 2018, a 50% increase from the year before, according to the International Organization for Migration.
This year, more than 107,000 had arrived by the end of September, along with perhaps tens of thousands more the organization was unable to track — or who were buried in graves along the trail.
And European policies may be making the Yemen route more dangerous. Funded by the EU, Ethiopia has cracked down on migrant smugglers and intensified border controls. Arrests of known brokers have prompted migrants to turn to unreliable traffickers, taking more dangerous paths and increasing the risk of abuses.
Many of those migrants end up in Ras al-Ara.
Nearly every migrant who lands here is imprisoned in hidden compounds while their families are shaken down for money. Like Zahra, they are subjected to daily torments ranging from beatings and rapes to starvation, their screams drowned out by the noise of generators or cars or simply lost in the desert.
"Out of every thousand, 800 disappear in the lockups," said a humanitarian worker monitoring the flow of migrants.
Traffickers who torture are a mix of Yemenis and Ethiopians of different ethnic groups. So victims cannot appeal to tribal loyalties, they are tortured by men from other groups: If the migrants are Oromia, the torturers are Tigrinya.
At the same time, because the three main ethnic groups don't speak each others' languages, Yemeni smugglers need translators to convey orders to the migrants and monitor their phone conversations with their families.
The AP spoke to more than two dozen Ethiopians who survived torture at Ras al-Ara. Nearly all of them reported witnessing deaths, and one man died of starvation hours after the AP saw him.
The imprisonment and torture are largely ignored by Yemeni authorities. The AP saw trucks full of migrants passing unhindered through military checkpoints as they went from the beaches to drop their human cargo at each desert compound, known in Arabic as a "hosh."
"The traffickers move freely, in public, giving bribes at the checkpoints," said Mohammed Said, a former coast guard officer who now runs a gas station in the center of town.
From Ras al-Ara, it's nearly 50 miles in any direction to the next town. Around 8,000 families live in a collection of decaying, one-story stone houses beside dirt roads, a lone hotel and two eateries. The fish market is the center of activity when the daily catch is brought in.
Nearly the entire population profits from the human trade. Some rent land to traffickers for the holding cells, or work as guards, drivers or translators. For others, traffickers flush with cash are a lucrative market for their food, fuel or the mildly stimulant leaves of qat, which Yemenis and Ethiopians chew daily.
Locals can rattle off the traffickers' names. One of them, a Yemeni named Mohammed al-Usili, runs more than 20 hosh. He's famous for the red Nissan SUV he drives through town.
Others belong to Sabaha, one of the biggest tribes in southern Yemen, some of whom are famous for their involvement in illicit businesses. Yemenis call the Sabaha "bandits" who have no political loyalties to any of the warring parties..
Many traffickers speak openly of their activities, but deny they torture, blaming others.
Yemeni smuggler Ali Hawash was a farmer who went into the human smuggling business a year ago. He disparaged smugglers who prey on poor migrants, torturing them and holding them hostage until relatives pay ransom.
"I thought we need to have a different way," he said, "I will help you go to Saudi, you just pay the transit and the transportation. Deal."
The flow of migrants to the beach is unending. On a single day, July 24, the AP witnessed seven boats pull into Ras al-Ara, one after the other, starting at 3 a.m., each carrying more than 100 people.
The migrants climbed out of the boats into the turquoise water. One young man collapsed on the beach, his feet swollen. A woman stepped on something sharp in the water and fell screeching in pain. Others washed their clothes in the waves to get out the vomit, urine and feces from the rugged journey.
The migrants were lined up and loaded onto trucks. They gripped the iron bars in the truck bed as they were driven along the highway. At each compound, the truck unloaded a group of migrants, like a school bus dropping off students. The migrants disappeared inside..
From time to time, Ethiopians escape their imprisonment or are released and stagger out of the desert into town. Eman Idrees, 27, and her husband were held for eight months by an Ethiopian smuggler. She recalled the savage beatings they endured, which left a scar on her shoulder; the smuggler received $700 to take her to Saudi Arabia, but wouldn't let her go, because "he wanted me."
Said, the gas station owner, is horrified by the evidence of torture he has seen, so he has made his station and a nearby mosque into a refuge for migrants. But locals say Said, too, profits from the trafficking, selling fuel for the smugglers' boats and trucks. But that means the traffickers need him and leave him alone.
On a day when the AP team was visiting, several young men just out of a compound arrived at the gas station. They showed deep gashes in their arms from ropes that had bound them. One who had bruises from being lashed with a cable said the women imprisoned with him were all raped and that three men had died.
Another, Ibrahim Hassan, trembled as he showed how he was tied up in a ball, arms behind his back, knees bound against his chest. The 24-year-old said he was bound like that for 11 days and frequently beaten. His torturer, he said, was a fellow Ethiopian but from a rival ethnic group, Tigray, while he is Oromo.
Hassan said he was freed after his father went door to door in their hometown to borrow money and gather the $2,600 that the smugglers demanded.
"My family is extremely poor," Hassan said, breaking down in tears. "My father is a farmer and I have five siblings."
Starvation is another punishment used by the traffickers to wear down their victims.
At Ras al-Ara hospital, four men who looked like living skeletons sat on the floor, picking rice from a bowl with their thin fingers. Their bones protruded from their backs, their rib cages stood out sharply. With no fat on their bodies, they sat on rolled-up cloth because it was too painful to sit directly on bone. They had been imprisoned by traffickers for months, fed once a day with scraps of bread and a sip of water, they said.
One of them, 23-year-old Abdu Yassin, said he had agreed with smugglers in Ethiopia to pay around $600 for the trip through Yemen to the Saudi border. But when he landed at Ras al-Ara, he was brought to a compound with 71 others, and the traffickers demanded $1,600.
He cried as he described how he was held for five months and beaten constantly in different positions. He showed the marks from lashings on his back, the scars on his legs where they pressed hot steel into his skin. His finger was crooked after they smashed it with a rock, he said. One day, they tied his legs and dangled him upside down, "like a slaughtered sheep."
But the worst was starvation.
"From hunger, my knees can't carry my body," he said. "I haven't changed my clothes for six months. I haven't washed. I have nothing."
Near the four men, another emaciated man lay on a gurney, his stomach concave, his eyes open but unseeing. Nurses gave him fluids but he died several hours later.
The torment that leaves the young men and women physically and mentally shattered also leaves them stranded.
Zahra said she traveled to Yemen "because I wanted to change my life."
She came from a broken home. She was a child when her parents divorced. Her mother disappeared, and her father — an engineer — remarried and wanted little to do with Zahra or her sisters. Zahra dropped out of school after the third grade. She worked for years in Djibouti as a servant, sending most of her earnings to her youngest sister back in Ethiopia.
Unable to save any money, she decided to try her luck elsewhere.
She spoke in a quiet voice as she described the torments she suffered at the compound.
"I couldn't sleep at all throughout these days," as she suffered from headaches, she said.
She and the other women were locked in three rooms of the hut, sleeping on the dirt floor, suffocating in the summer heat. They were constantly famished. Zahra suffered from rashes, diarrhea and vomiting.
One group tried to flee when they were allowed to wash at a well outside. The traffickers used dogs to hunt them down, brought them back and beat them.
"You can't imagine," Zahra said. "We could hear the screams." After that, they could only wash at gunpoint.
Finally, early one morning, their captors opened the gates and told Zahra and some of the other women to leave. Apparently, the traffickers gave up on getting money out of them and wanted to make room for others.
Now Zahra lives in Basateen, a slum on the outskirts of southern Yemen's main city, Aden, where she shares a room with three other women who also were tortured. .
Among them is a 17-year-old who fidgets with her hands and avoiding eye contact. She said she had been raped more times than she can count.
The first time was during the boat crossing from Djibouti, where she was packed in with more than 150 other migrants. Fearing the smugglers, no one dared raise a word of protest as the captain and his crew raped her and the other nine women on board during the eight-hour journey.
"I am speechless about what happened in the boat," the 17-year-old said.
Upon landing, she and the others were taken to a compound, where again she was raped — every day for the next two weeks.
"We lived 15 days in pain," she said.
Zahra said she's worried she could be pregnant, and the 17-year old said she has pains in her abdomen and back she believes were caused by the rapes — but neither has money to go to a doctor.
Nor do they have money to continue their travels.
"I have nothing but the clothes on me," the 17-year old said. She lost everything, including her only photos of her family.
Now, she is too afraid to even leave her room in Basateen.
"If we get out of here," she said, "we don't know what would happen to us."
Basateen is filled with migrants living in squalid shacks. Some work, trying to earn enough to continue their journey.
Others, like Abdul-Rahman Taha, languish without hope.
The son of a dirt-poor farmer, Taha had heard stories of Ethiopians returning from Saudi Arabia with enough money to buy a car or build a house. So he sneaked away from home and began walking. When he reached Djibouti, he called home asking for $400 for smugglers to arrange his trip across Yemen. His father was angry but sold a bull and some goats and sent the money.
When Taha landed at Ras al-Ara, traffickers took him and 50 other migrants to a holding cell, lined them up and demanded phone numbers. Taha couldn't ask his father for more money so he told them he didn't have a number. Over the next days and weeks, he was beaten and left without food and water.
One night, he gave them a wrong number. The traffickers flew into a rage. One, a beefy, bearded Yemeni, beat Taha's right leg to a bloody pulp with a steel rod. Taha passed out.
When he opened his eyes, he saw the sky. He was outdoors, lying on the ground. The traffickers had dumped him and three other migrants in the desert. Taha tried to jostle the others, but they didn't move — they were dead.
A passing driver took him to a hospital. There, his leg was amputated.
Now 17, Taha is stranded. His father died in a car crash a few months ago, leaving Taha's sister and four younger brothers to fend for themselves back home.
Taha choked back tears. In one of their phone calls, he remembered, his father had asked him: "Why did you leave?"
"Without work or money," Taha told him, "life is unbearable."
And so it is still.
https://apnews.com/876ff7882fd3433b818580896c4f3ad0
--------
URL: https://www.newageislam.com/islam-women-feminism/ten-female-arab-filmmakers-telling/d/120158
New Age Islam, Islam Online, Islamic Website, African Muslim News, Arab World News, South Asia News, Indian Muslim News, World Muslim News, Women in Islam, Islamic Feminism, Arab Women, Women In Arab, Islamophobia in America, Muslim Women in West, Islam Women and Feminism