New Age Islam News Bureau
16 Jan 2013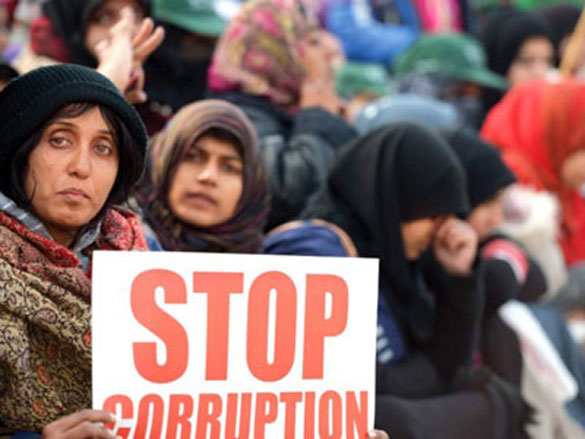 • Women supporters come to Dr Tahirul Qadri's rescue
• "Big Boss" Celebrity Veena Malik does not want to become Pakistan PM!
• Fatwa Banning Marriage to Terrorists 'Has Borne Fruit'
• Women Must Prove They Are Capable Of Contributing To Shoura
• Journalist Arrested After Interviewing Reported Rape Victim in Somalia
• Arrest and Detention of a Woman Human Rights Defender in Wau, South Sudan
• 'Access to Internet Is Life,' Say Women around the World
• Iranian Single Women Might Need Father's Permission to Go Abroad
• Woman Suffers From Deformities after Cosmetic Surgery in Abu Dhabi
• Women Inspectors to Implement Women-Only Sales Assistants in Lingerie Shops in Saudi Arabia
• UNESCO Lauds Liberian Women Non-Violent Role
• Abu Dhabi Court Has Two Cases of Adult Sons Entitling Them to Meet Their Mothers
• Where There Is Power, There Is Development: UAE Queen
• Hone Children At Home: Speakers at a Seminar
• Adwa Al-Dakheel: A New Kind Of Saudi Woman
• Lebanese Designers Outfit Red Carpet Stars
• Islamic Students Rap Audience for Not Coming to the Girl's Defence Who Had Been Publicly Insulted
• Dubai: Fashion at Your Fingertips
Compiled by New Age Islam News Bureau
Photo: Women supporters of Dr Tahirul Qadri hold placards during the protest march in Islamabad
URL: https://www.newageislam.com/islam,-women-and-feminism/new-age-islam-news-bureau/teenage-olympian-flees-team-for-the-fear-of-being--sold--into-an-arranged-marriage,-jailed/d/10026
----------------
Teenage Olympian Flees Team for the Fear of Being 'Sold' Into an Arranged Marriage, Jailed
Paul Hooper
16th January 2013
A teenage Olympian who fled the London 2012 games and lived as an illegal immigrant to avoid being 'sold' into an arranged marriage in her home country has been jailed.
Swimmer Ayouba-Ali Sihame, 18, was one of only seven people to represent her country Comoros - the third smallest African island.
But after failing to progress beyond the heats of the women's 100 metre freestyle she vanished from the Olympic village and lived rough on the streets of London.
A court heard Sihame had effectively been 'sold' her to a man 42 years her senior - who already has two wives - by her parents, who wanted to cash in on her celebrity status.
The swimmer, who also represents her tiny French-speaking Indian Ocean island in volleyball, claimed her only chance of freedom was to live rough.
She arranged a fake French passport in the name of Mouniate Mhoussini in preparation for a new life in Paris.
But her false documents were spotted by UK border officials as she tried to cross the channel to France and she was arrested.
Had the athlete applied for asylum through the usual channels she would likely have been granted leave to stay in Britain because of the persecution she claimed to face at home.
But Sihame's lawyer told the court she had not realised she was entitled to apply for asylum as soon as she entered the UK legally.
Sihame admitted trying to leave Britain using false documents at Canterbury Crown Court and was jailed for eight months.
Sentencing her on January 9, Judge Adele Williams told the sportswoman: "Identity theft in the world which we live now is a serious matter. That is why the courts in the UK take such a serious view of this offence.
"You will be jailed for eight months. You will serve at least half of this."
Records show Sihame came last in the 100m freestyle heats on August 1 with a time of 1.14.40, more than 20 seconds behind the fastest competitor.
She spent weeks living rough in the capital before travelling to Dover and attempting to hitch a lift and cross the Channel with a fake French passport.
But she was caught by French border control officers who spotted that she was not a woman named Mouniate Mhoussini.
Sihame is currently being held in category A women's prison HMP Bronzefield, in Surrey, where she has already served half her tariff.
Within less than a week she is expected to be transferred to an immigration detention centre where she will face deportation proceedings.
However, her lawyer has now confirmed the Olympian had applied for asylum, claiming she now faces death for shaming her family.
Ian Foinette, prosecuting, told the court: "When examined it was realised it was what is colloquially called a lookalike - a document with a photograph which resembles the person with the document.
"She was arrested for trying to leave the UK, cautioned but gave no reply.
"Later on, during the course of her interview, she revealed she had been in the UK from Comoros, representing the country in the Olympics.
"She had then absconded from the Olympic village because she feared that if she were to return to her country she would be required to take part in an arranged marriage."
Andrew Gurney, defending, told the court: "She had been told she had been in effect sold into an arranged marriage to a man 42 years her senior.
"She says she was told that if she didn't take part in the marriage she would suffer serious harm.
"She comes from a very strict religious background and suffered regular beatings and she had every reason to believe that if she didn't take part in that marriage she would suffer serious harm."
Mr Foinette added that the swimmer claimed that her main concern was having to marry a man who is considerably older at the age of 60.
Sihame was stopped by French Border Control officers at Dover on October 5 last year after producing false identification documents as she tried to cross the channel.
The court heard Sihame had tried to hitch a lift in a car to cross the channel to France.
The athlete told officials that she believed her "celebrity" status in her devout-Muslim country had inflated the 'price' her poor parents could get from her husband for her.
Sihame admitted one charge of possessing false identification on Monday at Canterbury Crown Court.
Under UK immigration laws foreign nationals facing persecution in their home countries are entitled to apply for leave to stay in Britain and can expect their applications to be looked on favourably.
Speaking after the case Sihame's solicitor Mr Gurney said: "Before Sihame left Comoros to come to the Olympics her mother informed her that she would marry a 60-year-old man who already had two wives.
"Comoros is a strict Muslim country. Sihame was beaten from time to time.
"Sihame was allowed to practice swimming, but she had to wear a full swimming costume and always be supervised by her brother.
"She had gained celebrity status in Comoros - she was one of just seven athletes to come over for London 2012.
"Her high profile meant her parents could get a higher price for her in marriage.
"She was told if she did not take part in the marriage there would be violence or death. And she was told that she would have to give up her swimming career when she was married.
"She could not confide in anyone about what was happening, but she managed to speak to a friend and get false French documents.
"Since the Olympics she has spoken to her brother. He has told Sihame that if she returns to Comoros she will be killed because of the shame she has brought on the family.
"We deal with this sort of offence all the time, but I have never dealt with a case like Sihame 's."
A UK Border Agency spokesman said: "We do not routinely comment on individual cases."
Sihame will be held in a detention centre while her asylum application is considered.
Comoros, which is situated between Mozambique and Madagascar in the Indian Ocean, has a hardline Muslim population of around 754,000.
The country, which is among the poorest in Africa, is heavily dependent on foreign aid and allows multiple marriages.
http://www.kentonline.co.uk/kentonline/home/2013/january/16/olympic_swimmer_flees.aspx
----------------
Women supporters come to Dr Tahirul Qadri's rescue
January 16, 2013
ISLAMABAD: Dr Tahirul Qadri's long march and the subsequent sit-in could have seen its end before even taking off if he was locked up Tuesday morning.
However, unarmed women supporters of the Minhaj-ul-Quran International (MQI) chief saved him from getting arrested by police commandos who stormed his bullet-proof container soon after he ordered his followers to shift the venue to D-Chowk from Jinnah Avenue.
The die-hard supporters not only stood between the container and the advancing police contingent, some of them even chased the cops out of the area, said a member of Dr Qadri's security staff. He added that some men were standing close by but it took them time to reach the place after police's surprise move.
"A group of police commandos surrounded Dr Qadri's cabin and resorted to heavy aerial firing. They emptied their guns' clips and then pulled out their pistols but nothing could deter the brave women," said the security volunteer. Witnesses said only a handful of men and around a hundred women were present near the MQI chief's cabin when the police carried out their raid.
Some of the women actually suffered minor injuries in their effort to save their leader from the police, said a witness.
"Tahir, Tahir, Tahir," chanted the women, standing to one side of Dr Qadri's cabin, on seeing him appearing behind the glass wall for his Maghrib prayers. Their slogans overpowered their male counterparts', who were standing on the other side.
"Dare not even think of arresting our leader while we are alive," a supporter, Shazia Mansoor warned the authorities. She said all women who accompanied Dr Qadri to Islamabad were determined to stay with him till the end and none of them could be deterred by any threats.
Dr Qadri's "million-man march" was one of its kinds in the country for having a record breaking number of women participating in it.
http://tribune.com.pk/story/494650/qadris-angels-women-supporters-come-to-mqi-chiefs-rescue/
----------------
"Big Boss" Celebrity Veena Malik does not want to become Pakistan PM!
January 15, 2013
When micro-blogging website Twitter exploded on Tuesday evening in the wake of the apex court's decision to issue an arrest warrant for Prime Minister Raja Pervaiz Ashraf, a user tweeted to singer-actor Veena Malik: "We want you as the next prime minister."
The artist's response was a witty "But PM gets arrest warrants in Pak….confused."
Veena later told The Express Tribune, "I follow Pakistani politics. I am a part of Pakistan so mujhe bhi bohot temptation hoti hai to keep up with the news. I follow everything on Twitter."
When asked to share her views on the current political scenario, she said: "The arrest warrant for the prime minister came as a shock to me. Okay, log corrupt hotay hain or corruption hoti hai but, if the prime minister is involved it is shameful and shocking."
Veena also said that she finds the current state of Pakistani politics amusing. "We had no idea who Tahirul Qadri is! All of a sudden he's on the scene; he's standing up for the nation against corruption, electricity shortage etc, but where was he before? His slogans seem so funny to me."
At the end, Veena joked about the state of our entertainment industry, saying "No wonder Pakistan's entertainment industry is not big – politics is entertainment! It's comedic, political drama."
http://tribune.com.pk/story/494344/veena-does-not-want-to-become-prime-minister/
----------------
Fatwa Banning Marriage to Terrorists 'Has Borne Fruit'
2013-01-15
By Mohammad al-Qaisi in Anbar
A 2011 fatwa prohibiting marriage to or association with terrorists in Anbar province has been widely successful, Iraqi officials and religious leaders say.
The fatwa, issued by the Anbar Scholars Council, followed a similar religious edict issued by the Council of Iraqi Scholars in 2010, which was read in mosques across Iraqi cities and called for "blocking financial and moral support to terrorists".
Deputy Prime Minister Saleh al-Mutlaq said the Anbar fatwa was supported by religious and tribal groups in several Iraqi provinces and "has so far borne fruit".
Immediately following the issue of the fatwa, 17 gunmen surrendered in Anbar after being isolated due to the people's refusal to mix with them, he said.
Anbar Scholars Council general secretary Sheikh Khalid al-Dulaimi said the ruling was unanimously endorsed by the province's scholars.
"We saw parents declining to accept marrying their daughters to terrorists, and moreover the girls themselves shunned such a marriage as well," al-Dulaimi said.
"The Scholars Council recorded the annulment of about 50 common-law marriages in the past three months of girls who became involved with gunmen accused of committing terrorist crimes," he said.
"This by itself is an accomplishment and a rescue of the girls, as some men accused of terrorist crimes had tried to mislead them and their parents by proposing marriage on the premise that they were carrying out jihad in the cause of God," he said.
Rather, he said, the men seeking to marry "were terrorists involved in shedding the blood of dozens of innocent people," and would soon abandon their brides, ending up as fugitives from the law, prisoners or even dead.
The fatwa is based on an Islamic ruling that prohibits people from entering into marriage with murderers, thieves or liars, al-Dulaimi said, noting that "all these characteristics are found in the terrorists who are still carrying on bombings and killings".
But the fatwa's success was not limited to marriage, he said, noting that it "extended to any association with terrorists, such as socialising or trading with them, or offering them houses for rent, which they used as headquarters to kill people and plan strikes against the people's security".
"We did not come up with anything new, because this is found in the essence of our faith, which calls for peace, orders us not to treat the killer and his victim equally, and commands that we do not help those who kill," al-Dulaimi said.
INNOCENT VICTIMS
"The fatwa was born out of necessity, and we thank God that the citizens have abided by it," Sheikh Sameer al-Qaisi, imam at the Old Mosque of Heet, west of Ramadi, told Mawtani.
"Today, we are struggling with the problem of a full generation of children, estimated at hundreds, who are homeless, without citizenship papers, education or care," he said. "Their only fault is that their mothers accepted to marry, or the mothers' parents married them off, to some wanted gunmen in an illegal manner outside the courts."
"This by itself is considered a religiously forbidden, harmful, useless marriage," al-Qaisi said. "Here lies the reason why we forbade this type of marriage."
"Those who kill children in the streets are capable of killing their own wives inside their homes for the most trivial reason," he said. "Therefore, boycotting and shunning them is a duty, because with many of them, neither advice nor preaching would work, and the only solution is to get rid of them, or at least stay away from them and their evil."
Gunmen usually resort to common-law marriage because they do not acknowledge the authority of the Iraqi courts, said Judge Saadi al-Wakeel of the Personal Status Court in Anbar province.
They view these courts as illegitimate and see it as their duty to target court judges and clerks, he added.
Additionally, he told Mawtani, gunmen are wary of registering their names, which the authorities could then use to track them down and arrest them.
Statistics compiled by the Ministry of Human Rights and the parliamentary committee on human rights indicate that 521 children have been fathered by foreign terrorists who used false names in their common-law marriages, committee member Waleed Abboud told Mawtani.
These children, scattered around the country, are victims who have committed no wrong, he said.
"The government agreed to grant them the right to register for school and receive education and healthcare, but they have no citizenship," he said. "We are trying to resolve this legally or through a special legislation specific to them."
http://mawtani.al-shorfa.com/en_GB/articles/iii/features/2013/01/15/feature-01
----------------
Women must prove they are capable of contributing to Shoura
Thuraya Obaid
16 January 2013
The 30 newly appointed women on the Shoura Council must work hard to prove that women have the right to serve in such top positions and can serve the nation, said Dr. Thuraya Obaid, one of the new members.
Obaid served as Executive Director of the United Nations Population Fund and an Under-Secretary General of the United Nations from 2000 to 2010.
In an interview with Asharq Al-Awsat, Arab News' sister publication, Obaid said that all the women appointees are highly educated and have represented the country internationally.
Full report at:
http://www.arabnews.com/obaid-women-must-prove-they-are-capable-contributing-shoura
----------------
Journalist Arrested After Interviewing Reported Rape Victim in Somalia
BY CARO ROLANDO
15 JANUARY 2013
A Somali freelance journalist has been detained without charge since 10 January after interviewing a woman who says she was raped by state security forces. The Committee to Protect Journalists (CPJ) reports that Abdiaziz Abdinur was summoned by the Central Investigations Department (CID) last Thursday, in connection with the interview he conducted with the woman.
According to Human Rights Watch, the CID detained the reported victim, along with an acquaintance who had put her in contact with journalists. Police allegedly used the woman's cell phone to call Abdiaziz Abdinuur in for questioning.
Full report at:
http://allafrica.com/stories/201301160262.html
----------------
Arrest and Detention of a Woman Human Rights Defender in Wau, South Sudan
15th January 2013
On 6th January, Rabha Elis Bandas Bilal was arrested and detained by plain clothed security personnel at the Wau Criminal Investigation section. This followed a statement that she made live on Radio Mariah regarding the demonstrations on 9th December 2012. She was later released on 11th January 2013. Rabha is a woman human rights defender and Director of Women Development Group (WDG).
Full report at:
http://www.sudantribune.com/spip.php?article45190
----------------
'Access to Internet Is Life,' Say Women Around the World
01/15/2013
Jensine Larsen Founder and CEO, World Pulse, social media entrepreneur, global women's empowerment activist
For women globally, the Internet has become a lifeline to information, opportunities and newfound power. New data in a report released this week, called "Women and the Web," reveals how we can bridge the digital divide for women and unlock a massive wave of human potential.
Full report at:
http://www.huffingtonpost.com/jensine-larsen/access-to-internet-is-lif_b_2458490.html
----------------
Iranian single women might need father's permission to go abroad
Parliamentary bill proposes requirement for single women to obtain official consent from their guardian to leave country
Saeed Kamali Dehghan
15 January 2013
Single women in Iran will need the permission of their guardians to be able to leave the country if a new bill secures enough votes in parliament.
At the moment, unmarried women and men above the age of 18 can leave the country if they have a passport but, according to the new bill, single women would need official consent from their guardian, usually their father.
Full report at:
http://www.guardian.co.uk/world/2013/jan/15/iranian-women-fathers-permission-abroad
----------------
Woman Suffers From Deformities after Cosmetic Surgery in Abu Dhabi
By Nada Al Tahe
January 15, 2013
Abu Dhabi: Women have been warned against resorting to cosmetic surgery, unless deemed necessary, due to the rise in cases being filed regarding botched operations, the Abu Dhabi Judicial Department said on Tuesday.
Men were also advised not to go for plastic surgery if not required. The official warning came following a case filed by a woman who claimed psychological, physical and financial damages inflicted on her resulting from an unsuccessful liposuction operation, the Judicial Department urged future patients to be sure of their doctors' credentials, and their medical institutions' reputability.
Full report at:
http://gulfnews.com/news/gulf/uae/health/woman-suffers-from-deformities-after-cosmetic-surgery-1.1132879
----------------
Women Inspectors to Implement Women-Only Sales Assistants in Lingerie Shops in Saudi Arabia
By Habib Toumi
January 16, 2013
Manama: Saudi Arabia's labour ministry is to recruit 45 women inspectors to help monitor compliance with a decision to allow only women to work in lingerie shops.
"Their work will be to ensure that the shops are committed to implementing the decision and that the working environment is adequate for the Saudi women who want to work there," Ahmad Al Humaidan, the ministry undersecretary for labour affairs, said.
Full report at:
http://gulfnews.com/news/gulf/saudi-arabia/inspectors-to-implement-women-only-sales-assistants-in-lingerie-shops-1.1133044
----------------
UNESCO Lauds Liberian Women Non-Violent Role
15 JANUARY 2013
The Assistant Director-General for Africa Development of the United Nations Educational, Scientific and Cultural Organization (UNESCO), Madam Lalla Aicha Ben Barka, has praised Liberian women essential role in peace building, while the Minister of Foreign Affairs of Liberia, Mr. Augustine Kpehe Ngafuan has spoken of the meaningful contributions of Liberian in the peace process.
Full report at:
http://allafrica.com/stories/201301150988.html?viewall=1
----------------
Abu Dhabi Court Has Two Cases of Adult Sons Entitling Them to Meet Their Mothers
Mother of mine, you gave to me...
16 January 2013
It doesn't matter how old a person gets, when the chips are down they will always want their mum — even if they have to go through the courts to make it happen.
The Abu Dhabi Court has two cases before it where adult sons have sought a court order entitling them to meet their mothers.
The first story involves a man in his 40s who says his youngest brother has barred him from seeing their mother.
Full report at:
http://www.khaleejtimes.com/kt-article-display-
----------------
Where There Is Power, There Is Development: UAE Queen
16 January 2013
Abu Dhabi's bold vision for sustainable energy is transforming this nation and inspiring our region at a time when the Arab world is at a critical juncture, said Queen Rania Al Abdullah of Jordan.
"No one can predict the future, but this much is true that energy requirements will play a vital role in determining it," she told the World Future Energy Summit, which was inaugurated on Tuesday in Abu Dhabi by General Shaikh Mohammed bin Zayed Al Nahyan, Crown Prince of Abu Dhabi and Deputy Supreme Commander of the UAE Armed Forces, in the attendance of a distinguished and talented audience of politicians, business leaders, innovators, scientists, engineers and entrepreneurs.
Full report at:
http://www.khaleejtimes.com/kt-article-display-
----------------
Hone Children At Home: Speakers at a Seminar
January 15, 2013
Seminar on security of women in Islam a big draw
Speakers at a seminar stressed on the importance of teaching good manners and conduct to children and insisted that proper upbringing of children at home by instilling the core values was the only way-out to rectify the situation.
Full report at:
http://www.thehindu.com/news/cities/Hyderabad/experts-mantra-hone-children-at-home/article4310080.ece
----------------
Adwa Al-Dakheel: A New Kind Of Saudi Woman
RIMA AL-MUKHTAR
16 January 2013
"I am a competitive person that is driven by overachievement," says 20-year-old Adwa Al-Dakheel, an undergraduate studying business management, entrepreneurship, and psychology (three majors) in Boston, United States. She is not joking. Al-Dakheel is also a stock analyst, a professional guitarist, a poet, and a squash champion, who will soon publish her first book.
When did you first discover your love for music and how?
I was raised in a house that greatly appreciates music and art in general. We had a piano so I would experiment with it (and I have to be fair and tell you, it was far from beautiful). I had a piano teacher when I was about 7, but the instrument and I did not click. I diverted my attention to guitars, and that was when my true passion for music grew. In a music industry dominated by Backstreet Boys and Britney Spears, I would listen to instrumental music and try to play along.
Full report at:
http://www.arabnews.com/adwa-al-dakheel-new-kind-saudi-woman
----------------
Lebanese designers outfit red carpet stars
January 16, 2013
By Beckie Strum
BEIRUT: Lebanese designers have made a splash on the red carpets in recent weeks. Fashion news lauded several Hollywood celebrities from Jennifer Lopez to Lea Michele decked out in gowns by such Lebanese designers as Zuhair Murad, Elie Saab, George Hobeika and Georges Chakra.
Lopez wore a silk, long-sleeve gown by Murad to the Golden Globe Awards Sunday night. The flesh-colored dress featured ivory lace overlay, and the 43-year-old Lopez was accompanied to the event by her boyfriend Casper Smart, and she also presented an award alongside British actor Jason Statham.
Full report at:
http://www.dailystar.com.lb/Entertainment/Celebrities/2013/Jan-16/202435-lebanese-designers-outfit-red-carpet-stars.ashx#ixzz2I7etk1KK
----------------
Islamic Students Rap Audience for Not Coming to the Girl's Defence Who Had Been Publicly Insulted
16 January 2013
Two influential varsity students associations as well as PAS Youth and Muslimat wings have praised a student for her courage in speaking out against government policies during a Barisan Nasional-backed event in Sintok, Kedah.
University of Malaya's outspoken Islamic Undergraduates Association (PMIUM) gave the thumbs-up to law student K.S. Bawani in the face of insults publicly hurled at her last month by the head of a pro-UMNO outfit during a forum in Universiti Utara Malaysia.
Full report at:
http://www.malaysia-hronicle.com/index.php?option=com_k2&view=item&id=46571:islamic-students-rap-
----------------
Dubai: Fashion at Your Fingertips
With online retail set to hit $2 billion in the UAE by 2016, Khulekani Madlela goes behind the scenes at one of the Dubai-based companies paving the way, to discover why more of us will become more stylish – with the click of a mouse
By Khulekani Madlela
January 15, 2013
Browsing the shops has taken on a whole new meaning thanks to technology – what used to be window shopping at the mall now begins at home with your internet browser.
Just a few years ago people were still wary of the click-to-buy process, but today the ease of simply clicking a mouse to have an item delivered to your door is now the normal way of shopping for millions of people around the globe. Internet retail sales are forecast to reach $327 billion by 2016 in the US, according to market research firm Forrester, while people in the UK spent £68.2 billion on the internet in 2011, an increase of almost £10 billion on the year before.
Full report at:
http://gulfnews.com/life-style/beauty-fashion/beauty/fashion-at-your-fingertips-1.1132755
----------------
URL: https://www.newageislam.com/islam,-women-and-feminism/new-age-islam-news-bureau/teenage-olympian-flees-team-for-the-fear-of-being--sold--into-an-arranged-marriage,-jailed/d/10026