New Age Islam News Bureau
18 Oct 2012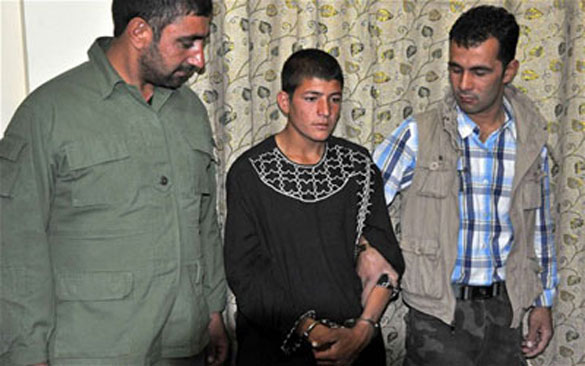 • Afghan Girl Beheaded For Refusing Prostitution: Police
• Egyptian Teacher 'Cut Hair of Schoolgirls Who Refused To Cover Heads'
• Fighting Female Genital Mutilation, One Kurdish Village At A Time
• Indian Woman Fights Powerful Jewish Religious Body
• Shot Pakistani Girl Malala Yousufzai Moving Her Limbs: Official
• Pennsylvania Woman, Jihad Jane, Faces Life Term in Terror Plot
• Interior Ministry to Install Cameras in Cairo to Detect Sexual Harassment
• Qatar Pledges To Protect and Promote Women's Rights
• Women Stand Up Against the Hijacking of the Arab Spring
• Saudi religious police to recruit women: Report
• Poverty a crushing load on 113-yr-old dwarf, Zeenat Bi
• Call To Bring UAE Maternity Leave Up To Global Standards
• Female Integration Key Element in UAE's Knowledge Economy
• More Arab Women Scientists Needed, Abu Dhabi Report Shows
Compiled by New Age Islam News Bureau
Photo: Najibullah confessed to murdering Mah Gul
URL: https://newageislam.com/islam-women-feminism/teenage-girl,-timbuktu,-lashed-60/d/9026
----------------
Teenage girl, in Timbuktu, lashed 60 times for 'speaking to men on street'
Oct 18 2012
London: A 15-year-old girl in Timbuktu received 60 lashes after Islamist extremists convicted her of speaking to men on the street.
The girl was allegedly caught speaking with men by Ansar Dine, the militant Islamist group, which controls Timbuktu and much of northern Mali.
One resident claimed the girl was warned repeatedly by the Islamists to stop what she was doing, but persisted in talking to men in public.
"The Islamists said that the girl was warned five times by Islamist police but she continued to speak to men in the street," the Daily Mail quoted the Timbuktu resident, as saying.
"After the hearing, the Islamists gave 60 lashes to the girl. The population did not turn out in large numbers to attend this flogging," the resident added.
According to the paper, Ansar Dine is the most prevalent of a number of Al-Qaeda-linked groups that have seized northern Mali after a power vacuum opened by a military coup in March.
The groups have since been imposing Sharia law throughout the territory and intend on imposing the strict Islamic laws across Mali.
http://www.indianexpress.com/news/teenage-girl-lashed-60-times-for-speaking-to-men-on-street/1018578/
--------
Afghan Girl Beheaded For Refusing Prostitution: Police
Oct 1 8, 2012
HERAT: Afghan police have arrested four people who allegedly tried to force a woman into prostitution in western Afghanistan and beheaded her when she refused, officials said on Wednesday.
Mah Gul, 20, was beheaded after her mother-in-law attempted to make her sleep with a man in her house in Herat province last week, provincial police chief Abdul Ghaffar Sayedzada said. "We have arrested her mother-in-law, father-in-law, her husband and the man who killed her," he said. Gul was married to her husband four months ago and her mother-in-law had tried to force her into prostitution several times in the past, Sayedzada said.
The suspect, Najibullah, was paraded by police at a press conference where he said the mother-in-law lured him into killing Gul by telling him that she was a prostitute. "It was around 2am when Gul's husband left for his bakery. I came down and with the help of her mother-in-law killed her with a knife," he said. Abdul Qader Rahimi, the regional director of the government-backed human rights commission in western Afghanistan, said violence against women had dramatically increased in the region recently.
"There is no doubt violence against women has increased. So far this year we have registered 100 cases of violence against women in the western region," he said, adding that many cases go unreported. "But at least in Gul's case, we are glad the murderer has been arrested and brought to justice," he said. Last year, in a case that made international headlines, police rescued a teenage girl, Sahar Gul, who was beaten and locked up in a toilet for five months after she defied her in-laws who tried to force her into prostitution.
http://www.dailytimes.com.pk/default.asp?page=2012\10\18\story_18-10-2012_pg7_22
----------------
Egyptian Teacher 'Cut Hair of Schoolgirls Who Refused To Cover Heads'
17 October 2012
Teacher in Luxor province accused of punishing two pupils for not wearing Muslim headscarf
A teacher in southern Egypt punished two 12-year-old schoolgirls for not wearing the Muslim headscarf by cutting their hair, the father of one girl said on Wednesday.
The governor of Luxor province – where the incident occurred – called the teacher's actions shameful and said she had been transferred to another school. But rights groups say that some Islamic conservatives have been emboldened by the success of groups like Muslim Brotherhood and the ultraconservative Salafi trend in parliamentary and presidential elections and have been increasingly brazen about forcing their standards on other Egyptians.
The incident follows a surge in legal cases against Egyptians, mostly Christians, who allegedly showed contempt for religion.
It also comes amid a fierce debate over how the role of religion will be defined in the country's new constitution. The preponderance of Islamists on the panel drafting the document has alarmed liberals and religious minorities.
In the village of Qurna in Luxor province, 300 miles south of Cairo, father Berbesh Khairi el-Rawi said the teacher forced the two girls to stand with their hands above their heads for two hours and then cut their hair in their school.
He said he filed a complaint after the incident with the prosecutor's office in Luxor.
The prosecutor's office declined to comment on the case. Provincial governor Ezzat Saad confirmed the teacher had been transferred for a "shameful" act but did not otherwise comment.
The teacher told the Egyptian semi-official newspaper al-Ahram that the amount of hair she cut off of the girls' heads "did not exceed two centimetres".
Abu Bakar was quoted as saying she only resorted to cutting her students' hair after warning them repeatedly to cover their heads. After these repeated warnings, a student handed her scissors from his bag, and that he and other students asked her to "implement" her threats.Ziad Abdel Tawab of the Cairo Institute for Human Rights said the incident was alarming but not surprising.
"Whether in schools or outside schools, the general sentiment is that any abusive action, if it is justified as protection of Islam, is tolerable," he said.
http://www.guardian.co.uk/world/2012/oct/17/egyptian-teacher-hair-schoolgirls
----------------
Fighting female genital mutilation, one Kurdish village at a time
Oct 17 2012
Tutakal, Iraq : Amena Omer Mirhan practised female genital mutilation in her remote village in Iraqi Kurdistan for so many years that she struggles to recall how many girls passed through her hands.
I couldn't count them, said the midwife, sitting in a garden in Tutakal, her hair in a black headscarf and her chin marked by a faded traditional blue tattoo.
Ten children, a hundred children, a thousand children, I just can't count how many.
More than a year after lawmakers in Iraq's self-governed Kurdistan region passed a law banning FGM - also known as female circumcision - activists say the practice still goes on.
Autonomous from Baghdad since 1991, Kurdistan has its own government and enjoys an oil boom that has helped make it one of Iraq's safest areas, enjoying modern services, glitzy hotels and shopping malls unavailable in the rest of the country.
In remote rural areas, however, ancient traditions often rule. Honour killings, where women are murdered to protect the family's honour, still occur, and FGM is widespread, in part because it is supported by some clerics who say it is part of sharia or traditional Islamic law.
This could be changing, however.
In Tutakal, the donation of basic school services and a small classroom by a German-funded non-governmental organisation called WADI has helped convince residents to stop the practice.
It is a promising model, activists involved in the campaign to stop FGM say, one they hope will spread to other Kurdish villages. The activists work to convince villagers the practice has no basis in Islam and spread the word that it is now against the law.
More people understand this is a crime, and they can't practice it any more, but we still need to implement the law, said Suaad Sharif, a field worker with WADI. They say their grandmothers did it, their mothers did it, it was a habit that they had to carry on.
ACROSS AFRICA, MIDDLE EAST
According to the World Health Organization, female genital mutilation -- the partial or total removal of external female genitalia -- is practised in countries across Africa and in Asia and the Middle East for cultural, religious and social reasons.
Some practitioners believe FGM will prevent sex before marriage and promiscuity afterward; others say it is part of preparing a girl for womanhood and is hygienic.
It can cause bleeding, shock, cysts and infertility, but also severe psychological effects which campaigners say is similar to those suffered by rape victims.
As many as 40 percent of women and girls in Kurdistan have been subjected to the procedure, according to New York-based Human Rights Watch, citing government reports and activists. A survey by WADI found up to 70 percent of women had suffered from FGM in some Kurdish areas.
The roots of the practice in Kurdistan are unclear.
Beyond the ethnically mixed city of Kirkuk, the practice is less common in other parts of Iraq and in Kurdish areas in neighbouring Turkey.
But where illiteracy and poverty are high in Kurdistan, so too is the number of woman who are circumcised, and the prevalence of conservative Islam in these areas also appears to play a role.
They related this to sharia practice, and this is how they educated these communities about this, Suzan Aref, head of WEO, a woman's empowerment group in Kurdistan.
Kurdistan's parliament won praise from rights organisations when the law criminalizing the practice went into effect in August last year. But in a statement earlier this year, Human Rights Watch criticized the government for not doing enough to enforce the ban, including by making sure police and government officials were educated and on board.
Pakhshan Zangana, secretary general for the Kurdistan's High Council on Women's Affairs, said the law had succeeded in reducing the numbers of female circumcisions but acknowledged that some of the practice was going underground.
They do it secretly because it is against the law, she said.
A WELCOME CHANGE FOR SOME
In Tutakal, three hours from the Kurdish capital Arbil reached only by dusty tracks weaving through the mountains, FGM has been practiced for generations.
All but two of the women and girls from about 17 families in the farming hamlet have been circumcised, most at as young as four years old.
For many of the families, it was simply a tradition passed down from grandmother to mother to daughter in the belief that girls who failed to go through the ritual were unclean.
For women like Golchen Aubed, 50, social pressure also played its part. Like many of the mothers in Tutakal, she felt the practice was wrong but allowed her daughters to be circumcised by the community midwife just as she had been herself.
In our culture when you don't do this, everyone else asks why, she said sitting on a carpet in her home with her youngest daughter, Sharaban. Why should I stand out? I knew it was bad, I knew it hurt the child, but even so I went ahead.
Her son refused to allow his own daughter to suffer the same way -- she is one of the two small girls in the village to escape FGM. No girls have been circumcised since Tutakal's elders signed the agreement with WADI in September last year.
He says now that if he finds out about anyone doing this he will go and report them to the police, Aubed said.
The decision to stop the practice was a pragmatic one for village elders in Tutakal after the campaigners volunteered the school services and new classrooms.
Prefabricated facilities have replaced the ramshackle mud-brick and wood room that used to serve as a school. Older children are provided with transport to a nearby town where they can attend middle school.
Amena now lives without the work that brought her meagre income from her village, from nearby towns and even Kurdish communities in neighbouring Iran.
They should find me some alternative, she said. Everyone knows I am alone that I don't have a husband, a father or a brother or son to look after me.
But the elders have no regrets about their decision.
When they do this, they cut a piece of flesh from a woman, said headman Sarhad Ajeb, sitting on the floor of Tutakal's simple mosque. There is no mention of this practice in the holy Koran.
http://www.indianexpress.com/news/fighting-female-genital-mutilation-one-kurdish-village-at-a-time/1018167/
-----------
Indian woman fights powerful Jewish religious body
Oct 18 2012
Jerusalem : An Indian woman, owner of a restaurant here, has stood up against the dictates of the powerful Jewish rabbinate and decided to give up the kashrut certification for her restaurant after she was forced to buy vegetables in specific stores.
Lehava Silman Herman, 50, who runs Ichak Dana Indian restaurant in Jerusalem's Mahane Yehuda market gave up kashrut certification for her restaurant following "impossible demands" made by the Rabbinate.
Mahane Yehuda has an overwhelming religious Jewish population which only dines out at Kosher restaurants.
Full report at:
http://www.indianexpress.com/news/indian-woman-take-on-powerful-jewish-religious-body/1018508/
--------
Shot Pakistani girl Malala Yousufzai moving her limbs: Official
Oct 18 2012
London : A 14-year-old girl shot in the head by the Taliban for promoting female education has been doing better since she was airlifted to England for specialized treatment and has been moving her limbs, a Pakistani official said.
Although it's difficult to gauge what such an improvement might mean given that the exact nature of Malala Yousufzai's brain injuries have yet to be made public, one expert said the news was good.
"Any progress is hopeful," Dr Jonathan Fellus, chief scientific officer at the New Jersey-based International Brain Research Foundation, said. "This is the natural course of recovery that we would expect."
Full report at:
http://www.indianexpress.com/news/shot-pakistani-girl-malala-yousufzai-moving-her-limbs-official/1018511/
--------
Pennsylvania Woman, Jihad Jane, Faces Life Term in Terror Plot
17 October 2012
PHILADELPHIA (AP) — A Pennsylvania woman who called herself Jihad Jane and admitted she plotted to kill a Swedish artist who offended Muslims faces a life sentence in December.
Pennsburg resident Colleen LaRose has been in custody since she returned from Ireland to surrender to the FBI in 2009.
Her arrest was kept secret until several other people were rounded up months later. A Maryland teenager has been charged.
Full report at: Copyright © 2012 The Associated Press.
----------------
Interior ministry to install cameras in Cairo to detect sexual harassment
17 Oct 2012
After the launching of the National Women Council's campaign against sexual harassment, Egypt's Ministry of Interior plans to install cameras in Cairo streets
The Ministry of Interior announced on Wednesday that surveillance cameras will be installed in streets and squares in Cairo to detect incidents of sexual harassment.
This step is to catch the harassers and display their photos on public television and the Internet, explained a ministry representative.
This statement came after the National Women Council started a national campaign, "Patrols Against Sexual Harassment," in August 2012 to combat sexual harassment in Cairo, specifically during Eid. This decision is to fight the wide-spread harassment increase.
Full report at:
http://english.ahram.org.eg/NewsContent/1/64/55867/Egypt/Politics-/Interior-ministry-to-install-cameras-in-Cairo-to-d.aspx
----------------
Qatar pledges to protect and promote women's rights
18/10/2012
Qatar stressed its full commitment to the Beijing Declaration and Platform for Action in accordance with the Islamic Shariah and social values; noting that enhancing the rights of women is a part of promoting the family as the natural unit and basis of society.
The remarks came during a speech by Asma Neji al-Amri, the First Secretary of the US Affairs Department at the Ministry of Foreign Affairs, and member of Qatar's delegation to 67th UN General Assembly before the Social, Humanitarian Cultural Affairs Committee (Third Committee).
Full report at:
http://www.gulf-times.com/site/topics/article.asp?cu_ _id=16
----------------
Women stand up against the hijacking of the Arab Spring
18 October 2012
Half of Arab society is screaming at the other half: "I am just as good as you are!" The 'Uprising of women in the Arab world' has launched a Facebook campaign. It's urging Arab women to rise up against what they call 'male dictatorship' in order to complete the Arab spring.
By: Janet Nammur
Students, teenagers and mothers quickly began posting their pictures on the Facebook page. Each photo features a participant, carrying a poster explaining why she supports the uprising. Or he, because large numbers of young Arab men are also backing the campaign.
Full report at:
http://www.rnw.nl/english/article/women-stand-against-hijacking-arab-spring
----------------
Saudi religious police to recruit women: Report
October 18, 2012
Saudi Arabia, for the first time, is planning to recruit women in its religious police ending a long-standing ban on hiring women, the police chief was quoted by Emirates 24/7 on Thursday.
According to the newspaper, women have been barred from joining the religious police called the Commission for the Promotion of Virtue and Prevention of Vice – a department which has often triggered controversy because of its strict ways of dealing with people.
Police Chief Abdul Lateef al Shaikh told Okaz newspaper, "We now need women to work for the commission… Our vision is that they will work separately from men under the direct supervision of an autonomous division."
Full report at:
http://tribune.com.pk/story/453324/saudi-religious-police-to-recruit-women-report/
----------
Poverty a crushing load on 113-yr-old dwarf, Zeenat Bi
Shahroz Afridi
October 17, 2012
A pair of baby slippers in a corner, a table-fan on a tiny stool, and a tiny bed gifted by Uma Bharati when she was the chief minister of Madhya Pradesh — Zeenat Bi's wants are simple. She eats little and makes her own clothes. But even so, at the age of 113 years, the woman who is possibly the world's oldest, tiniest human, has been driven to penury.
Zeenat, who is just 3 ft tall, does not know her date of birth. Her age certificate, issued by Bhopal's JP Government Hospital on March 29, 2004, mentioned her age as 105 years.
"I have no means of income except the government's old-age pension of Rs. 275 a month. But even that is paid every four months," said Zeenat. "I have to spend at least R150 on an auto-rickshaw to visit the bank."
Full report at:
http://www.hindustantimes.com/India-news/Bhopal/Poverty-a-crushing-load-on-113-yr-old-dwarf/Article1-946299.aspx
---------
Call to bring UAE maternity leave up to global standards
Vivian Nereim
Oct 17, 2012
DUBAI // A women's organisation is lobbying the Government to support working mothers with more flexible maternity leave.
The Dubai Women Establishment (DWE) prepared a draft policy on maternity leave and breastfeeding in 2009 after researching conditions in other countries, said Shamsa Saleh, chief executive of the local government body.
They submitted the draft to federal authorities and have pushed for its consideration since then, Ms Saleh said.
"It is there now under discussion," she said. "We hope the Government will announce something soon."
Full report at:
http://www.thenational.ae/news/uae-news/call-to-bring-uae-maternity-leave-up-to-global-standards
----------------
Female Integration Key Element in UAE's Knowledge Economy
17 October 2012
ABU DHABI—The Economist Intelligence Unit (EIU) today announced the findings of their report Fast forward: Women in science and technology in the Arab Middle East at the Abu Dhabi headquarters of the Advanced Technology Investment Company ( ATIC ). The ATIC -sponsored report examines the role of women scientists among Arab nations; the state of science education in the region; and the prospects for women scientists in the workplace.
"Our main goals in commissioning the Economist Intelligence Unit are to better understand the R&D environment in the region and key contributing factors to a knowledge economy," said Laurie Doyle Kelly, Head of Communications at ATIC . "The report's findings are tremendously significant in this regard, underlining female integration as a necessary element for any nation seeking to maximize returns on their human capital investment."
Full report at:
http://www.khaleejtimes.com/Displayarticle09.asp?todaysfeatures&xfile=data/
----------------
More Arab women scientists needed, Abu Dhabi report shows
Tom Arnold
Oct 18, 2012
ABU DHABI // Arab women studying science and technology in the region are less likely to pursue careers in those fields than males, a report has found.
The lack of female scientists and technology experts was a lost opportunity in advancing the knowledge economy, the report released yesterday by the Economist Intelligence Unit concluded.
The Advanced Technology Investment Company (Atic) in Abu Dhabi commissioned the report to better understand what role women played in the region's industry.
"The report's findings are tremendously significant in this regard, underlining female integration as a necessary element for any nation seeking to maximise returns on their human capital investment," it said.
Full report at:
http://www.thenational.ae/news/uae-news/education/more-arab-women-scientists-needed-abu-dhabi-report-shows
----------------
URL: https://newageislam.com/islam-women-feminism/teenage-girl,-timbuktu,-lashed-60/d/9026