New Age Islam News Bureau
8 Jun 2014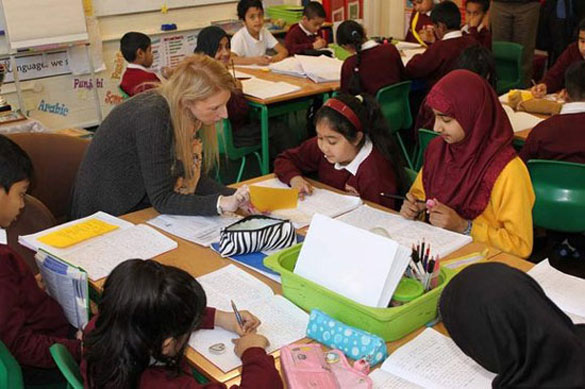 A picture on Oldknow School's website. White women were demonised
------------
• Afghan girl victim of kidnap and sexual abuse wants to be a rights activist
• Princess Zahra Celebrates Aga Khan School's Silver Jubilee
• Afghan lawmaker, Naderi Calls for Decisive Role of Youth in Election
• First Woman to Own a Bakery in Asir
• 'Thousands' Of Women Abused In Syrian War
• Investment in Midwifery Can Save Lives of Millions of Women, Newborns
• Bahrain PM awarded for women's empowerment
Compiled by New Age Islam News Bureau
URL: https://newageislam.com/islam-women-feminism/teacher-spoke-'white-prostitutes'-children/d/87418
----------
Teacher Spoke Of 'White Prostitutes' To Children in Assembly in UK School
08 June, 2014
CHILDREN as young as six were told that white women were "prostitutes" and urged to join in anti-Christian chants at a school embroiled in the Trojan Horse controversy.
A report by the Education Funding Agency (EFA) into the Oldknow Academy primary school in Birmingham, obtained by The Sunday Times, says the school is "taking on the practices of an Islamic faith school and in this regard is not promoting community cohesion".
The document reveals that non-Muslim staff was banned from taking Friday assemblies so that pupils could be "preached at".
Staff told inspectors "that during Friday assembly occasionally words have been used such as 'white prostitute' and 'hellfire' which they felt were inappropriate for young children".
Full report at:
http://www.thesundaytimes.co.uk/sto/news/uk_news/Education/article1420173.ece?CMP=OTH-gnws-standard-2014_06_07
----------
Afghan girl victim of kidnap and sexual abuse wants to be a rights activist
8 June 2014
Sarah kidnapped by a regional warlord commander in northern Baghlan province of Afghanistan, when she was just 13 years old.
Sarah (name changed) had no means of escape from the bush where she was being held captive.
At her early 14 she fell pregnant after being forced to become the 'wife' of commander Abdullah Khan.
Abdullah Khan is in power in their area after the fall of Taliban in 2001.
In a conservative society like Afghanistan, girls and boys are not allowed to fall in love with each other, if one is caught in a province like Baghlan she or he should be killed by the tribal elders or by regional warlord commanders.
But for Abdullah Khan everything is deferent.
He had a history of abducting girls in that province, since he was young fighter during the soviet envision in 1980s in Afghanistan.
Sarah said, when she was 6 years old, her mother told her the stories of commander Abdullah Khan, a killer, rapist and the well-known thief of the area.
"He is not caring for any one in our area, he is the king, he do whatever he wants, this is why I was abducted by him and he sexually abused me", she said.
"He is still against the afghan government and he has his own group of fighters and they are abusing ghe human rights, planting IEDs and other explosives in the area" Sarah said.
During captivity, she was forced to walk for miles as the rebels tried to evade the Afghan army and international forces. The journey caused her son to die before he was even born. So Sarah had to endure an agonizing operation in a distract hospital to remove the baby.
According to Sarah, there was no an aesthetic, just a local nurse and a razor blade on that night.
"If your baby dies you are not supposed to mourn for it. If you do, they will kill you. You have just to go somewhere secretly and cry. When you return, you should look like nothing has happened". She said.
After the crude operation by a poor educated nurse Sarah's health rapidly deteriorated. However, during presidential election last month, ceasefire between the warlord commander fighters' and the provincial governor of afghan government in Baghlan province, she was given the chance to get hospital treatment in neighboring Mazar-e-Sharif city in Balkh province.
While in hospital Sarah befriended a nurse who heard her story and helped her to escape.
"When I was packing my bags I felt no fear, all I knew is that I was not going back to that dark place, where I suffer a lot." she said.
Sarah was, with the assistance of the nurse from the same tribe which she was related too, was then able to board a flight back to the Afghan capital, Kabul.
Sarah family members were relocated from their won village soon after she was grubbed by a local warlord commander in early 2013.
Soon after arrival to Kabul, Sarah fined her family in that city and she was brought to a governmental women's shelter (safe house) to get her voice heard.
To help Sarah get her voice heard and her plight understood, a Kabul based human rights group sends her to London for a week.
"We supported her to campaign on behalf of the thousands of girls in Afghanistan who are still being denied an education", Maria a member of Afghan women support association (AWSA) said.
She delivered a personal letter and video message to the world, appeared on local and international TVs and radios, lobbied politicians and inspired school students with her incredible story and compassionate, positive outlook.
Sarah now attends a school in Kabul, created especially for girls who have missed out on education because of the conflict and cultural related problems. She is working hard to catch up on the years of schooling she missed whilst in captivity with the warlord commander.
"When I came back I really wanted to go back to school. Although a terrible thing happened to me when my baby died, it led me to get the chance to escape. It shows that something positive can come from something terrible" she said in interview with us.
"If you are not well educated, your are noting in this world" Sarah said while the tears rolled up in his innocent blue eyes.
She is now hopes to continue her studies at school and qualify as a defiance lawyer so that she can bring those who have recruited and abused girls in his country to justice. As she covers her tearful eyes with two fingers, points out: "Many girls have been through hardship like me, they are denied an education."
Sarah hopes her journey – from abducted child to country wide campaigner – will demonstrate the power of education not only in transforming the lives of individuals in Afghanistan but also conflict-affected countries as a whole.
As Sarah says, "children who experience terrible things can also achieve great things in life – if they are given an education".
http://www.khaama.com/afghan-girl-victim-of-kidnap-and-sexual-abuse-wants-to-be-a-rights-activist-8229
-----------
Princess Zahra celebrates Aga Khan School's silver jubilee
08 June, 2014
Princess Zahra Aga Khan visited the Aga Khan School, Dhaka yesterday on the occasion of the school's 25th anniversary. The ceremony was attended by students and teachers of the school as well as officials of the Aga Khan Development Network (AKDN) and the Ismaili Council.
During her visit to the school, Princess Zahra toured all three sections of the school and visited the classrooms, laboratories and other facilities where she spoke with the students, teachers and the authorities about the importance of education and upcoming developments.
Later in the day, she met the AKDN leaders in Bangladesh at the Ismaili Jamatkhana and Centre, Dhaka to discuss their work.
In the evening, Princess Zahra addressed the youth of the Ismaili community and attended a dinner with the Bangladeshi Ismaili leadership.
The eldest child of His Highness the Aga Khan IV, Princess Zahra heads the social welfare department of the AKDN.
The Aga Khan School, Dhaka is part of Aga Khan Educational Services, one of the nine agencies operating under the AKDN.
The AKDN has had a historic presence in Bangladesh, working for over three decades in the areas of early childhood development, pre-tertiary education and financial services.
In 2013, a protocol agreement was signed by The Aga Khan IV and the then foreign minister Dr Dipu Moni in the presence of Prime Minister Sheikh Hasina, which established and enhanced the framework for collaboration in the areas of social, cultural and economic development in the country.
http://www.dhakatribune.com/bangladesh/2014/jun/07/princess-zahra-celebrates-aga-khan-school%E2%80%99s-silver-jubilee#sthash.7ZMfX8kD.dpuf
----------
Afghan lawmaker, Naderi Calls for Decisive Role of Youth in Election
08 June, 2014
Afghan lawmaker, Farkhunda Zahra Naderi called for decisive role of Afghan youth in election as Afghanistan is preparing for the historic election runoff.
Ms. Naderi said the youth should play a key and decisive role by taking right decision in electing the country's next leader, as no attention has been paid to consider the issues of the young generation of Afghanistan.
She also insisted that election is the time for the youth to take proper decision and they must understand this properly.
While speaking during an interview with a private radio station, Ms. Naderi, said it is disturbing to see that certain people are encouraging the youth towards nepotism which prevents them from making promotions in their lives and used as a tool by conservatives.
She said the commitments are made easily, but it is the duty of the Afghan youth to differentiate on who can serve them better and their force is used in a proper and efficient manner.
Ms. Naderi said the election is a major challenge and test for the young generation of Afghanistan.
She insisted that the youth should be precise and must not act emotionally towards smaller circumstances and should not become victims of limited groups and individuals.
Ms. Naderi also urged the youth to vote for a candidate who can bring considerable change in their lives take proper decision in this regard after proper analysis and assessment.
She said the Afghan youth should demonstrate that there is enough strength in their fingers to form a government which will be in control of the youth by majority in the future.
http://www.khaama.com/farkhunda-zahra-naderi-calls-for-decisive-role-of-youth-in-election-8224
----------
First woman to own a bakery in Asir
08 June, 2014
Jamila Asiri first fell in love with the smell of bread when she was a young girl working in her mother's kitchen. Now she has become the first woman to own a bakery in Asir.
Asiri learned to make bread as a 12-year-old. She now produces some of the most popular and traditional types including Al-Tanoora, Al-Mifah, Al-Ber and various others with margarine, brown flour, and red corn at Bakery House, the first female-run bakery in Asir.
Her margarine bread is made mostly of margarine, flour and milk, while Al-Ber consists of wheat, barley or corn flour, water and salt, she said.
Al-Tanoora has become a staple food in the region and locals believe it is part of their heritage. It is also one of the most popular types in the Kingdom.
Asiri said that when she first started out as an unemployed person, she did not want to put up banners or distribute fliers because she was shy. Her business has grown since then and many people in the local community buy her products on a daily basis. She also supplies schools and colleges.
She can bake over 100 loaves a day, but is reluctant to take on too many orders because she is short on workers.
Asiri said she spent a considerable time studying the business before opening up her bakery. She has overcome various hurdles including getting a license from the Abha Municipality. She set up the business last year on Al-Taif Road, where she also sells sambusaks, salads and other popular dishes.
Asiri hopes to have a factory one day to make bread and pastries. She is now looking for workers and financing from the youth business committee of the Abha Chamber of Commerce and Industry.
http://www.arabnews.com/node/583072
----------
'Thousands' of women abused in Syrian war
World Bulletin / News Desk
08 June, 2014
A prominent member of Syrian opposition has claimed there have been 7,500 confirmed cases of women being raped during the country's three-year-old conflict.
Noura al-Ameer, vice president of the Syrian National Coalition was speaking on Friday in Istanbul during a press conference on women's rights violations in Syria. Al-Ameer said that the true number was likely to be much higher since many cases went unreported.
"The experience that many women have lived is beyond imagination. They cannot even forget those things. The Syrian regime has endorsed a terrible tactic of torturing women and children," al-Ameer said, citing a number of cases where detained women died as a result of sexual violence by Syrian regime officers.
She said the number of confirmed cases of women being raped was 7,500 claiming that number had been confirmed by the SNC and various human rights associations.
Alaa Homsi, a human rights activist who was detained for six months in one military prison in Damascus, said no one can ask a Syrian woman whether she was raped or not in prison: "That is a delicate issue," she underlined.
Homsi claimed to have been tortured systemically by Syrian regime officers: "I was electrified, hanged from the ceiling by hands and left in that position for hours and beaten." She said women are hanged in this position without any clothes.
Asma Faraj, who was jailed for one year and a month at the same prison, said she heard the sounds of women being raped. She said she knew of cases where officials at prison distributed birth control pills.
Faraj was detained because she had a satellite phone. The Syrian regime has blocked international calls and access to the Internet to restrict information going out from the country. "Investigators beat me every day. I was tortured systemically," Faraj said.
She also noted that sick prisoners were denied treatment. "Syrian guards yell at them: 'Die, we do not care'" Faraj said many people are aware of torture in prison, adding: "We are not here to say how they tortured us but we want those files sent to the International Criminal Court and the international community to stop this calamity."
The court is intended to prosecute individuals for crimes against humanity, war crimes and genocide but UN Security Council permanent members Russia and China have blocked efforts to refer Syria to the ICC.
Alaa Tabbab, SNC media director and researcher, called on the international community to act against violations against Syrian women, adding that workshops are being organized to raise awareness of rapes in the country. "Some raped women were killed by their families because they consider that as a shame to their families. So, women experience double suffering," Tabbab stated.
Syria has been gripped in an ongoing civil war since 2011, which has killed over 100,000 people and displaced almost half of the population, according to the U.N.
http://www.worldbulletin.net/headlines/138447/thousands-of-women-abused-in-syrian-war
----------
Investment in midwifery can save lives of millions of women, newborns
08 June, 2014
KARACHI: A report by United Nations Population Fund (NFPA), the United Nations Population Fund together with the International Confederation of Midwives (ICM), World Health Organisation (WHO) and partners revealed major deficits in the midwifery workforce occur in 73 countries where these services were most desperately needed. The report recommends new strategies to address these deficits and save millions of lives of women and newborns.The 73 African, Asian and Latin American countries represented in the 'State of the Worlds Midwifery 2014: A Universal Pathway A Woman's Right to Health' suffer 96 percent of the global burden of maternal deaths, 91 percent of stillbirths and 93 percent of newborn deaths, but have only 42 percent of the worlds midwives, nurses and doctors. The report urges countries to invest in midwifery education and training to contribute to closing the glaring gaps that exist. Investments in midwifery education and training at agreed international standards can yield as a study from Bangladesh shows a 1,600 percent return on investment.Midwives make enormous contributions to the health of mothers and newborns and the well-being of entire communities. Access to quality health care is a basic human right. Greater investment in midwifery is key to making this right a reality for women everywhere, said Dr Babatunde Osotimehin UNFPA Executive Director.Midwives have a crucial role to play in the achievement of the Millennium Development Goals (MDGs) 4 (decrease child death) and 5 (increase maternal health). When educated to international standards and within a fully functional health system, they can provide about 90 percent of the essential care to women and newborns and can potentially reduce maternal and newborn deaths by two thirds. Despite a steady decline in maternal deaths in the 73 countries that are covered in the report dropping yearly by 3 percent since 1990 and newborn deaths decreasing by 1.9 percent per year since 1990 there is more these countries need to do to address the severe shortage of midwifery care.Midwives are central to midwifery care and the lives of women and newborn babies. The report precedes the Lancet Special Series on Midwifery, which together with the report will provide the evidence to guide all policymakers in their quest to end preventable maternal and newborn deaths, said ICM President Frances Day-Stirk.The report launched at the 30th ICM Triennial Congress in Prague, Czech Republic highlighted the progress made since the inaugural 2011 report and solutions to the barriers outlined in four key areas, availability, accessibility, acceptability and quality of midwifery services. A number of countries have effectively strengthened midwifery and improved access: Nearly half (45%) of the 73 countries have implemented measures to retain midwives in remote areas and 28 percent are increasing the recruitment and deployment of midwives, while 20 percent have implemented new codes of practice and 71 percent have improved information collection enabling countries to address shortages and education standards.Despite progress, inequities such as lack of access to services and poverty have increased within and among countries. There are still not enough adequately educated midwives to support the health of women and newborns, and this contributes to hundreds of thousands of preventable deaths annually. Today, only 22 percent of countries have potentially enough midwives to provide life-saving interventions to meet the needs of women and newborns, which leaves over three-fourths (78%) of the countries with severe shortages in proper care. As the population grows, so does the gap in critical resources and infrastructure, unless urgent action is taken.The 2014 report includes recommendations to close these gaps and to ensure all women have access to sexual, reproductive, maternal and newborn services. These include issues such as preventive and supportive care from a collaborative midwifery team, immediate access to emergency services when needed, and completing post-secondary education. From a broader perspective, women should delay marriage, have access to healthy nutrition and receive four pre-birth care visits.This report, like the Every Newborn Action Plan recently adopted by the World Health Assembly, sets a clear way forward. Both aim to encourage governments to allocate adequate resources for maternal and newborn health services within national health sector plans.
http://www.dailytimes.com.pk/sindh/06-Jun-2014/investment-in-midwifery-can-save-lives-of-millions-of-women-newborns
----------
Bahrain PM awarded for women's empowerment
8 June 2014
Manama: Jurors from the International Federation of Business and Professional Women (BPW International) President's Gold Award said that the award was attributed to Prime Minister Prince Khalifa Bin Salman Al Khalifa in recognition of his outstanding achievements to elevate the status of women in Bahrain.
"Your Prime Minister has done a great job to promote your women's status, to empower capable women economically, politically and socially," Annette Lu Hsiu-lien, the former Vice-President of Taiwan, told the media at a conference in the Bahraini capital Manama. "He definitely deserves a Gold Award," she said as she highlighted the great speed at which women have been able to seize equal rights and opportunities at all levels, economically, politically and socially.
The BPW International President's Gold Award recognises a male leader who has been instrumental in the empowerment of women, within his sphere of influence.
Princess Fay Jahan Ara, a businesswoman and philanthropist, expressed her appreciation that Prince Khalifa has had "to navigate strong traditions and culture with great sensitivity in order to reach this point of enlightened development, making him a role model on the world stage." She encouraged all women to educate themselves, in order to continue the trend of increased representation at the highest levels.
"The legacy of behaviour and the way that you are empowered, this is important... leave something behind yourself that your family, your children, they are going to be proud of," she said in remarks carried by Bahrain News Agency (BNA).
Dr. Dong-Sung Cho, Professor of Strategy at Chueng Kong Graduate School of Business in Beijing and head of the committee, highlighted the significance and implications of female empowerment for national competitiveness.
"Women's empowerment is a decision of the government to deal with women resources," he said. "Women [have] a kind of sensitivity, a discerning power and sophistication... As a nation becomes more advanced, the products and services need to be more sophisticated, more refined … It is almost impossible for a nation to become an advanced nation without women playing a very important role, not only as a supplier of labour but also as a consumer," he said on Friday afternoon.
He added that rather than conferring the Gold Award based on absolute levels of performance, it was much more meaningful to consider improvements across a period of time as the main criteria.
In announcing Prince Khalifa as the winner last month, Freda Miriklis, BPW International President, paid tribute to his achievements.
"The BPW International President's Gold Award acknowledges that to achieve a just and equal status for women, decisions need to be made in true partnership with men, and based on mutual respect," she said in remarks published on the BPW website. ""HRH Al Khalifa has ensured an increase in the number of women in decision-making roles, including parliament, with the National Action Charter, which is reflected in the constitutional amendments of 2002 and included the right of women to vote. The establishment of The Supreme Council for Women during HRH Al Khalifa's tenure and their work with the Bahrain's Economic Development board in producing the number of reports on 'Women in Bahrain' is most impressive.
"While there is still so much more to be done, Bahrain is making progress towards the empowerment of women in a way that is inspiring other countries in the Middle East to follow their lead.
"We acknowledge the concerted efforts that the Prime Minister and his team are taking, through implementing the necessary steps for the economic empowerment of women.
"We believe that the economic empowerment of all women is vital to the sustainable success of the global economy at all levels; financial, environmental and social," she said.
The award will be presented to Prince Khalifa on Sunday.
The International Federation of Business and Professional Women was founded in 1930, and today has affiliates in 95 countries including Bahrain, with consultative status on numerous United Nations bodies and participatory status on the Council of Europe. It advocates the economic empowerment of all women, as vital to the sustainable success of the global economy at all levels; financial, environmental and social.
http://gulfnews.com/news/gulf/bahrain/bahrain-pm-awarded-for-women-s-empowerment-1.1344035
-----------
URL: https://newageislam.com/islam-women-feminism/teacher-spoke-'white-prostitutes'-children/d/87418