New Age Islam News Bureau
18 Feb 2016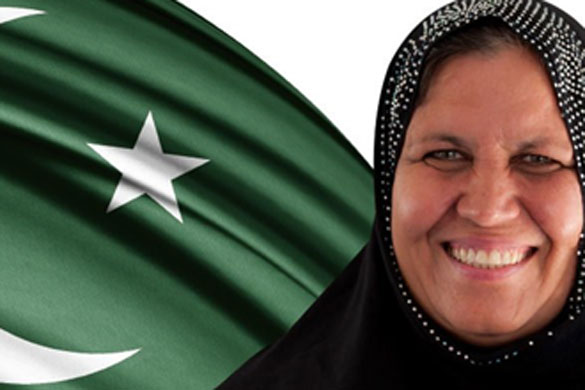 Photo: Aqeela's School has produced over 1,000 graduated which include Afghan refugee girls and local children.- Photo courtesy Varkey Foundation
-------
• Jewish School Teaching Pupils 'Women's Only Role Is To Clean and Cook' In North London, Ofsted Says
• Tan Sri Rafidah Aziz Wants Ban on 'Feminism' Word, Says Women Work Quotas Degrading
• Violence 'Rife' Against Bangladesh's Indigenous Women
• WE CAN and Daffodil University on Women's Rights
• The Pakistani Women Risking All to Fight For Their Rights
• Arab Women Master Fancy Winter Looks
Compiled by New Age Islam News Bureau
URL:
https://newageislam.com/islam-women-feminism/teacher-afghan-refugee-girls,-aqeela/d/106390
------
Teacher of Afghan Refugee Girls, Aqeela Asifi, 49, Nominated For $1m Global Award from Pakistan
Feb 18, 2016
MUMBAI: A woman providing education to Afghan refugee girls in Pakistan has been short-listed for a $1 million global award for teaching.
Aqeela Asifi, 49, who battled the conservative mindset and taught a number of female Afghan refugees and local children has been nominated for the Global Teacher Prize given annually by the Varkey Foundation.
She was a qualified teacher in Afghanistan when education there was free for all but was forced to leave the country when the Taliban took over in 1992.
She arrived as a refugee at the Kot Chandana camp in Pakistan where there were no operational schools in the locality.
Currently there are nine schools in the camp with many female teachers and over 1,500 students including 900 girls.
Aqeela's school has produced over 1,000 graduates (mainly Afghan refugee girls). Some of them have went on to become doctors, engineers, government officials and teachers in Afghanistan.
She was presented with the UNHCR's Nansen Refugee Award in 2015.
dawn.com/news/1240138/teacher-of-afghan-refugee-girls-nominated-for-1m-global-award-from-pakistan
------
Jewish School Teaching Pupils 'Women's Only Role Is To Clean and Cook' In North London, Ofsted Says
The Independent | Feb 18, 2016
Beis Aharon School in Stamford Hill where pupils are taught women's only role is to 'look after children, clean the house and cook'.
A Jewish boys' school has been criticised by Ofsted after it discovered pupils share a "universal view" that a woman's only role is to "look after children, clean the house and cook".
Beis Aharon School in Stamford Hill, north London was visited by inspectors from the education watchdog who found it did not meet the required standards for an independent school.
The school, which charges annual fees of £2,860, was found to be prioritising the "ethos of its faith" over educational standards and not preparing children for life in modern British society.
The report said: "In discussions, the majority of pupils still express views about the roles of women and men that indicate that the school does not prepare them for the reality of life in modern British society.
"Pupils universally consider that the role of women is to 'look after children, clean the house and cook', while men 'go to work'."
Inspectors said pupils were also unable to show mutual respect and tolerance to people of different faiths and found their knowledge of different religions and cultures was "very limited".
The report also found that the school continues to allocate just one hour a day to secular education, which fails to conform to the school's own policy of a "broad and balanced curriculum".
Inspectors also reportedly found a reading book used in a Year Four lesson with the word "Christmas" crossed out, the London Evening Standard reported.
The school was given a list of 34 points from The Education (Independent School Standards) Regulation 2014 to make sure they improve.
timesofindia.indiatimes.com/world/uk/Jewish-school-teaching-pupils-womens-only-role-is-to-clean-and-cook-in-north-London-Ofsted-says/articleshow/51034580.cms
------
Tan Sri Rafidah Aziz Wants Ban on 'Feminism' Word, Says Women Work Quotas Degrading
February 18, 2016
LUMPUR, Feb 18 — Tan Sri Rafidah Aziz denounced feminism today as she repeated her criticism of gender quotas.
The former international trade and industry minister in the Mahathir administration, known as Malaysia's "Iron Lady", claimed that Malaysia has been doing more than other countries to promote women's development and told women to improve themselves.
"For God's sakes, ban that word 'feminism' from the vocabulary. The men never talk about masculinism," Rafidah said in a talk at UCSI University here today titled "Staying ahead in the competitive world: How Malaysia should align itself with the 21st century".
"I hate this 30 per cent quota. Women are not quota fillers. Don't degrade us just to fill quotas. Women should be considered for their competence and abilities. Don't talk about numbers. Numbers don't matter. Quality matters," she added.
Rafidah also said women's performance should not be measured by the number of female MPs, CEOs or board directors.
"What does it matter? One woman on the board can out-talk 10 men. That's important. Numbers don't matter, quality does," she added.
Prime Minister Datuk Seri Najib Razak announced in 2011 that Putrajaya would implement a 30 per cent quota for women in corporate boardrooms, but it has yet to be made law.
Women, Family and Community Development Minister Datuk Rohani Abdul Karim said in 2013 that a "persuasive" approach would be more effective than enforcing gender quotas.
themalaymailonline.com/malaysia/article/rafidah-wants-ban-on-feminism-word-says-women-work-quotas-degrading
------
Violence 'rife' against Bangladesh's indigenous women
February 18, 2016
There is no justice for indigenous women and girls in Bangladesh who suffer physical and sexual violence, says a new report. More than 400 indigenous women and girls were victims of violence in the South Asian nation during 2007—2015, says a report by indigenous rights groups Kapaeeng Foundation and Indigenous Women Network. Included among 434 reported acts of violence were physical attacks, rapes and gang rapes.
The perpetrators in none of these cases were held accountable, activists say. "Numerically, the figure might seem low but in proportion of the indigenous population it is very high," said Shaheen Anam, executive director of Manusher Jonno Foundation, a Dhaka-based development group. "No justice in those cases of violence raises big questions about the treatment of minorities and the government must answer why culprits were not punished," she said.
"The vested quarters target them to grab land of the minorities. But the government does not take any proper measure to stop that despite civil society's repeated call for action, she said.
Almost all of Bangladesh's 160 million people belong to the Bengali ethnic group of which the majority are Muslims. A collection of 45 ethnic indigenous groups make up 3 million of the population. Most of them are Buddhist or animist and some are Christian.
Indigenous people are neglected and face violence because they are weak, said Theophil Nokrek, secretary of Catholic Bishops' Justice and Peace Commission.
"The church, Caritas and development groups are working to help and unite indigenous people against repression and violence, but their resources are limited," said Nokrek who is from the indigenous Garo group.
"Things can only change if the state takes initiatives to ensure rights and justice for indigenous people," he said. However, oppressors of the indigenous population are often backed by political leaders and financially influential people, he added.
Violence against indigenous women shows there is a failure in the rule of law in Bangladesh, said Catholic rights activist Rosaline Costa who is the coordinator of Hotline Human Rights Trust. "In indigenous areas, there is no rule of law and indigenous people are often neglected by administration and law enforcement. Police often refuse to take and investigate cases, so these women don't see justice and the crimes often go unreported," said Costa.
"The government needs to take effective steps to resolve land disputes which is a major cause of violence, and also treat indigenous people equally to deliver justice and to punish culprits," she said. "Otherwise, violence against indigenous women would continue unabated."
Initially, women repression in the hills was used as a "weapon of war" against the indigenous people but it has now turned into a tool for land grabbing, said Kapaeeng's research coordinator, Bipasha Chakma.
She points out that in most cases, medical tests gave a negative report denying any sign of rape, as police and other government officials were Bengalee, and they tried to save the perpetrators. In the last four months, 19 indigenous women suffered sexual violence and 12 of them including children were raped. Of the victims, two were killed after rape in Khagrachhari.
Barrister Sara Hossain, director of Bangladesh Legal Aid and Services Trust (BLAST), has said it had been almost two decades since the abduction of indigenous women's leader Kalpana Chakma in 1996 but a full investigation report never came up. If the abductors of Kalpana are tried, it would be possible to try such other crimes since the root causes of the denial of justice in these cases are the same, she said.
Sanjeeb Drong, secretary general of Bangladesh Adivasi Forum, says Bangladesh as a state is not friendly for women and for ethnic and religious minorities.
en.radiovaticana.va/news/2016/02/17/violence_rife_against_bangladeshs_indigenous_women_/1209407
------
WE CAN and Daffodil University on Women's Rights
Feb 18, 2016
The first grooming session for WE CAN-Daffodil Apps Fellowship 2016 took place on February 15 at the Banquet Hall of Daffodil International University. This is an apps competition regarding women's rights issues, organised by WE CAN Bangladesh and hosted by Daffodil International University.
The session was divided into two periods. In the first period, Jinat Ara Haque, national coordinator of WE CAN, Bangladesh discussed about women's rights issues and violence against women in Bangladesh. In the second session, Dr Touhid Bhuiyan, head of Software Engineering Department and Professor Dr Syed Akhter Hossain, head of Computer Science and Engineering Department from DIU discussed on the technical part like programming, user interface design, developing apps, etc.
The next grooming session will be held on February 25 and 26 with five selected teams. The winner of the competition will win a prize money of Tk500,000.
dhakatribune.com/arts-culture/2016/feb/18/we-can-and-daffodil-university-womens-rights
------
The Pakistani Women Risking All to Fight For Their Rights
February 18, 2016
KARACHI, Pakistan -- Kainat Soomro was 13 years old and on her way to buy a toy for her newborn niece when three men kidnapped her, held her for several days and repeatedly raped her.
Eight years later, she is still battling for justice. She sits on a steel-framed bed in her parents' three-bedroom home, and holds her blue shawl tight around her body. When she describes the horror of her captivity her voice is barely a whisper, but it gains strength when she talks of the fight she has been waging: going to Pakistan's courts, holding protests, rejecting the rulings of the traditional Jirga council, taking on the powerful landlord and politician who she says are protecting her attackers.
The Associated Press does not usually identify victims of sexual abuse, but Kainat has gone public with her case. Her battle for justice has inspired an award-winning 2014 movie, "Outlawed in Pakistan." Malala Yousefzai, the Pakistani teenage Nobel Peace Prize winner who was shot by the Taliban, invited Kainat to the Nobel award ceremony, and her fund has given Kainat financial help.
Yet Kainat's family has paid a high price for her bravery. One sister remains unmarried and another was divorced because her in-laws were ashamed to be associated with Kainat. In 2010, her brother was killed over his sister's refusal to stay silent.
Clutching a gold-framed picture of his son, Ghulam Nabi Soomro spat out words of condemnation. "They know about our troubles thousands of miles away but here in the next street no-one is helping us get justice," he said.
In Pakistan, women are often too fearful to report sexual violence, yet the independent Human Rights Commission of Pakistan recorded 423 rapes and 304 gang rapes last year. It also said that last year at least one woman a day was killed in the name of honour -- murdered for allegedly bringing shame on the family.
"Each year a gamut of promises is made for the protection and development of women, but (they) remain unfulfilled by the year-end," the commission wrote in its 2014 annual report.
Attackers are rarely jailed. Human rights workers say the police often refuse to even register a case involving attacks against women, and the powerful and rich are immune.
The groups trying to advance women's rights in Pakistan's deeply traditional patriarchal society suffered a painful blow last month when the national parliament refused to pass laws banning child marriage. The parliament buckled to the dictates of the Islamic Ideology Council, a religiously right-wing advisory group with no legal authority. The same body has also said that taking DNA tests to identify a suspected rapist is against Islam.
"Women's groups have been demanding that the Islamic Ideology Council be disbanded," says Uzma Noorani, an activist who also operates a women's shelter in Pakistan's port city of Karachi.
She says rights advocates are fighting a war for change and occasionally battles are won. Southern Sindh province, of which Karachi is the capital, has passed legislation aimed at protecting women and banning underage marriages. But then the war begins again as they fight to convince police and judges to register cases and implement the laws, and to take authority away from the Islamic Ideology Council and other hard-line groups.
"When you have a law it is like a weapon, when you need it you can use it," says one outspoken member of Sindh's legislature, Mahtab Akbar Rashdi.
She says that the national government is pandering to those who adhere to a narrow and restrictive view of Islam, which mostly targets women. "It's as if women for them are the biggest problem in Islam," she says of the Islamic Ideology Council.
One women's shelter in Karachi, surrounded by two walls and protected by guards, is home to around 40 women. Some have fled abusive husbands, some have been raped, others are being hunted down by families for choosing love.
When Azra was 18, her family sold her for $5000 to an older man who passed her around to strangers. She ran away, and now she is fighting for a divorce and too afraid to leave the shelter's walls. The court have yet to decide on her case and mostly Azra -- who is just 20 -- wonders where she will go when the time comes to leave the shelter.
Sidra Kanwal had left her abusive husband and moved back in with her mother when another man proposed to her. The man refused to take no for an answer. He pestered her and harassed her. And then one day he told her that if couldn't have her, no one could, and threw acid in her face.
The months afterward were horrific. Her poverty meant doctors paid her little heed. One sent her home with only burn cream, but the pain and swelling were unbearable. Her nostrils had seared together. She returned to hospital and again, after three days, they sent her home.
Her four-year-old son refused to come to her after her attack. "He didn't recognize me. My face scared him," she says, pulling her headscarf over her twisted mouth and nose.
Nightmares haunt her sleep. Each time she closes her eyes his face appears. Sometimes he is hitting her, throwing more acid, pounding her. If her terror does not waken her, the small tube that runs between her burnt nostrils does. Without it, she struggles to breathe.
It was not until she went to court that Noorani, the women's rights activist, saw her and she received treatment. According to the Human Rights Commission, 55 acid attacks took place in Pakistan last year. To date, only 17 arrests have been made.
Unlike Kainat or Azra, Sidra's attacker is in jail, but his family has been embraced by the neighbours. The family jeers at her, and the neighbours applaud. Sidra, with her painfully disfigured face, is the outcast.
ctvnews.ca/world/the-pakistani-women-risking-all-to-fight-for-their-rights-1.2782757
------
Arab women master fancy winter looks
February 18, 2016
Ex-fashion editor and film director, Yalda Golsharifi, masters a dressy, girly look with a two piece number involving sequin, lace, and chiffon.
Arab women have evolved tremendously when it comes to fashion and style. They're no longer following in the footsteps of Western ladies, but coming up with their own stylish ways. In this gallery, we look at seven ways Arab women have mastered fancy winter style.
It's no wonder Cynthia Abou Nassar knows how to dress – she's a fashion designer and stylist. She proves thigh high boots can be classy if paired with the right pieces i.e. a cape coat.
We had to include another look from Abou Nassar. She couples her thigh high boots with a playful blazer dress for a smart yet edgy look.
This is our favourite look on the list because it's fairly unique. It's also hard to pull off, but Joelle Laoun, social influencer, wore it perfectly.
Fashion blogger Mayada Solaiman opts for a feminine look and contrasts it with sharp accessories like boot heels, Chanel boy bag, and mirrored shades.
We think this outfit is genius. Model and TV personality Nadine Abdel Aziz kept it modest yet sensual with a hint of leg.
Few people can make blue thigh high boots work, but actress Nesreen Tafesh does.Ex-fashion editor and film director, Yalda Golsharifi, masters a dressy, girly look with a two piece number involving sequin, lace, and chiffon.
Arab women have evolved tremendously when it comes to fashion and style. They're no longer following in the footsteps of Western ladies, but coming up with their own stylish ways. In this gallery, we look at seven ways Arab women have mastered fancy winter style.
arabianbusiness.com/photos/arab-women-master-fancy-winter-looks-622049.html
URL: https://newageislam.com/islam-women-feminism/teacher-afghan-refugee-girls,-aqeela/d/106390
New Age Islam, Islam Online, Islamic Website, African Muslim News, Arab World News, South Asia News, Indian Muslim News, World Muslim News, Womens in Islam, Islamic Feminism, Arab Women, Womens In Arab, Islamphobia in America, Muslim Women in West, Islam Women and Feminism