New Age Islam News Bureau
2 Aug 2016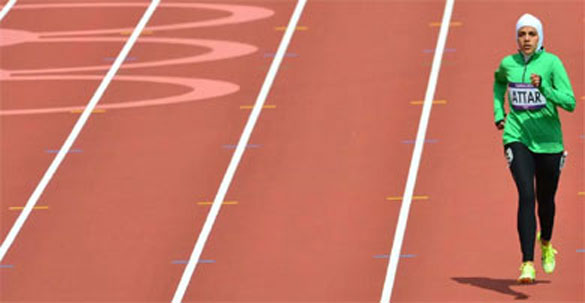 Saudi Arabia's Sarah Attar competes in the women's 800m heats at the athletics event of the London 2012 Olympic Games on Aug. 8, 2012.
---------
• Teach Muslim Girls About Sex To Stop The Next Wave Of Radicalisation
• Police Arrests Suspected Kerala ISIS Recruiter's Wife
• Iran's Rouhani Shelves Civil Service Exam Over Female Discrimination
• Saudi Arabia Just Created a Division for Women in Sports
• Four Saudi Women To Compete In Rio
• NRI Girl's Open Letter To Indian PM: Listen To Voices Of Agitating Kashmiris
Compiled by New Age Islam News Bureau
URL: https://newageislam.com/islam-women-feminism/teach-muslim-girls-sex-stop/d/108154
---
Teach Muslim Girls About Sex To Stop The Next Wave Of Radicalisation
02/08/2016
As an isolated Muslim teenager growing up in Oldham, near Manchester, the highlight of my life was going into my bedroom, closing the door, turning on the radio and reading a Mills & Boon.
I wasn't allowed out, like my brothers, so the only time I had away from family was in this world. I'd read my selection of Mills & Boon books and fantasise that one day a doctor would come into my parents' kebab shop (where I worked) and a romance would erupt between us.
He'd steady his gaze with mine as I asked if he'd like his kebab with hot or mild sauce and then our fingers would touch when I passed him the paper bag with his wrapped-up kebab. I would have done anything for that doctor.
Today's teenagers aren't just flicking through the pages of fiction in their bedroom - they are looking at Facebook and other social media platforms on their phones as they talk to their parents or work in the shop. They are finding live versions of their Mills & Boon heroes online and are talking directly to them.
These heroes are telling them how beautiful they are and sending pictures of themselves - tall, lean, ripped biceps - true warriors.
These warriors are telling girls they want them, need them, want to marry them - day in, day out, the attention, the messages, the pictures - all for me.
They understand the oppressive parents, the boring routines, the rules and regulations - you're better than that, they say. It's intoxicating, addictive and the stuff of teenage dreams.
"Let's get married, you are my perfect wife to give me warrior sons," he says. What an honour.
The teenager's family don't know about him, nor would they understand anyway.
"Don't worry," he replies, "I'll arrange for some sisters to meet you after school in a cafe and they will have a passport made for you."
Jihadi Joannas are the new wave of radicals hitting the West. Many have gone unseen, only a handful reach the media because only a selection of parents come forward filled with shock, dismay, anger over these external influencers who have stolen their babies. They beg the police to find their daughters but many fall silent because they are worried about the shame it might bring on their family.
People would point their fingers at the parents and say: "Where were you when she was talking to these boys? In the same room? Call yourself a fit parent?"
I recall one of the first group of Jihadi Joannas to get media coverage heading to Syria from east London. They looked so much like me when I was their age - evolving into women, having a sense of themselves, their femininity, their hormones ready to explode - and yet they couldn't express any of this. They weren't allowed to.
No one asked or cared, except these warriors, their heroes.
Little wonder they went one night with a plan, holding a small bag in one hand and their passports in the other, heading to 'freedom' on a coach.
But little did they know this 'freedom' was not quite what was sold to them online. Where was that chap I spoke to for many weeks online? My husband to be, the one who said I would have his babies and we would live a happy life together.
The Jihadi Joannas' journey was not as expected. In their first months in the city, the girls were not trusted by Raqqa's Isil rulers and were forbidden to leave their apartment without their chaperone. They were all forced to wear face-covering niqab and black. They probably never even met their 'warriors'.
Was this better than the life they had in Europe? Now they can't return to Europe: their families may not accept them and the UK government is coming down heavily on citizens who go out to Syria and Iraq to fight.
But they went out there for love, not to fight. They're just confused teenagers.
The biggest fear for any parent whose daughter has gone out there is that they might become sexual jihadis.
'Sexual jihad' is the controversial practice where women within some Wahhabist groups provide sexual comfort roles to men fighting for the establishment of Islamic rule.
In Europe, we would call it kidnap, abuse and rape.
How do we stop this terrifying practice becoming the norm?
European politicians, community leaders and imams should come forward and address these issues openly with parents and children.
They should be going into schools, community centres and mosques and talking to teenage girls who are coming of age and may be vulnerable and isolated.
They need to talk frankly about the world the girls think they are getting and the reality of what they actually get.
Perhaps allowing the girls back into their home country after their dreams have been shattered could be a good idea - how does it help to keep them out?
We can rescue our children back and they can help deter other potential victims.
The worst thing we can do as a community is sit tight, button up and say nothing. That gives those online, radicalising, presences the power.
Let's take back that power, and start talking.
http://www.independent.ie/opinion/comment/teach-muslim-girls-about-sex-to-stop-the-next-wave-of-radicalisation-34931032.html
--
Police Arrests Suspected Kerala ISIS Recruiter's Wife
August 2, 2016
Kerala police arrested a woman from Delhi who helped 21 missing persons from Kerala leave for Islamic State destinations.
WIFE OF KINGPIN
Police identified her as Yasmin, a native of Bihar and second wife of Abdul Rasheed, a computer engineer who went missing with his family. 35-year-old Abdul Rasheed who hails from Thrikkaripur in Kasargod district is considered to be the kingpin who recruited the missing persons from Kerala for Islamic State.
WAS TRYING TO REACH KABUL
According to a top official in Kerala, Yasmin was trying to go to Kabul from New Delhi when police detained her. "She was taken to Kasargod and interrogations are progressing," the official told India Today.
Kasargod police has slapped Unlawful Activities Prevention Act against the 17 missing persons from the district. "Her arrest is an important breakthrough in the case. She has close links with Islamic State network operating in India," said the police official.
Police suspects that the missing persons and families have reached Afghanistan and Yasmin was planning to join them by reaching Kabul. The police has declined to reveal any more details on this.
According to a senior police official, while tracking the call details of Abdul Rasheed, police tracked her mobile number and location.
ARRESTS SO FAR
Earlier Kerala police arrested Arshid Qureshi, Guest Relationship Officer in Zakir Naik's Islamic Research Foundation and Rizwan from Mumbai on July 28 on the basis of FIR lodged in Palarivattom Police station in Kochi.
Ebin Jacob, brother of Merin Jacob alias Mariyam who was missing along with her husband Yahya, filed a petition before the police stating Merin while working in Mumbai was converted to Islam forcefully by Arshid Qureshi and her husband Bestin Vincent alias Yahya.
According to the remand report, the first accused Arshid Qureshi and second accused Yahya converted Merin to Islam in 2014 September and recruited her to Islamic State. Ebin has alleged that his brother-in law tried to radicalise him and took him to Mumbai to meet Qureshi.
The third accused 53-year-old Rizwan extended his support for conversion and marriage between Yahya and Mariam. Kochi police also registered case against the third accused under Unlawful Activities Prevention Act.
http://indiatoday.intoday.in/story/isis-kerala-isis-recruits-india-islamic-state-kabul-kerala-police/1/729769.html
--
Iran's Rouhani shelves civil service exam over female discrimination
August 2, 2016
Mr Rouhani ordered a review of all 3,000 jobs on offer, and a rethink if they were found to be biased to men.
Some departments, such as the Judiciary Organisation of Military Forces, which is controlled by hardliners, are open almost exclusively to men.
Mr Rouhani has a track record of speaking out on women's rights.
He has appointed a number of women to prominent posts - including Masoumeh Ebtekar as vice-president and head of the Environmental Protection Organisation, and Marzieh Afkham, who was foreign ministry spokesperson, before being appointed ambassador to Malaysia last year.
Ms Afkham was the first woman to be made a foreign envoy.
French Foreign Minister Laurent Fabius (right), Iranian vice-president and head of the Environmental Protection Organisation Masoumeh Ebtekar (left), Iranian President Hassan Rouhani (back left)
Masoumeh Ebtekar (front left) was among women given prominent posts by Mr Rouhani
After Iran's parliamentary elections in May, Mr Rouhani hailed the record number of women who won seats.
But civil society groups say he could have done much more to tackle the overall problem of female unemployment.
Iranian women have made big progress in education in the decades since the Islamic Revolution in 1979, and now make up 60% of all university graduates. However, they are still significantly under-represented in the workplace.
The most recent figures from the Iranian National Statistics Organisation in 2013 revealed that just 12.4% cent of Iranian women were in active employment.
Young Iranian women are five times more likely to be unemployed than young men, and twice as many women than men have lost their jobs as a result of the economic downturn caused by international sanctions.
'Systemic' inequality
Women face the double challenge of deeply entrenched conservative values plus discrimination enshrined in a legal system, which disadvantages them in many areas including marriage, maternity provisions, custody rights, and even the right to travel.
In the past 12 months a number of high-profile scandals have highlighted the very real problems many women face in their everyday working lives.
In September 2015 the captain of the Iranian women's football team, Niloufar Ardalan, was reportedly unable to take part in a key international match because her husband had refused to give her permission to leave the country.
Mr Rouhani has spoken out on women's issues but critics say he has not gone far enough
And in February secret recordings of a senior manager at the state broadcaster making suggestive phone calls to a junior, female employee put the spotlight on sexual harassment in the workplace.
President Rouhani's championing of women's rights has sometimes put him at odds with Iran's Supreme Leader, Ayatollah Khamenei, and the conservative establishment, which favours a more traditional and restricted role for women, with the emphasis on motherhood and home.
The government has invested in job creation schemes in recent years, but critics say much of the money has been channelled into male-dominated sectors of the workforce, resulting in even greater shortages of jobs for women.
http://www.bbc.com/news/world-middle-east-36950783
--
Saudi Arabia Just Created a Division for Women in Sports
Aug. 1, 2016 4:25 PM
Bager is a multimedia journalist and one of the first two Saudi women to graduate from the Columbia Journalism School
Princess Reema will head it
In what is already shaping to be a monumental summer for Arab women in sports, Princess Reema bint Bandar Al-Saud has been officially appointed as the Vice President for Women's Affairs of the General Sports Authority in Saudi Arabia Monday, according to the Saudi Council of Ministers.
Four years ago, two Saudi women athletes, Sarah Attar and Wojdan Shahrkhani, had the feat of competing as the first Saudi women in the history of the games. Prior to that, only Saudi men participated.
This time, Saudi will be better prepared for the women athletes by appointing Princess Reema in this inaugural position. The 41-year-old member of the Saudi royal family has been paving the way for Saudi women for decades.
She was born in Riyadh and spent much of her childhood in the U.S., where her father was the Saudi ambassador for the U.S. for 22 years. She earned a degree in Museum Studies from George Washington University and now resides in the Saudi capital. In addition to being an ambitious businesswoman and one of Fast Company Magazine's Most Creative People, she breaks records. One of her initiatives, 10KSA, was verified by the Guinness Book of World Records in 2015, when 8,264 women in pink scarfs formed the World's Largest Humanitarian Ribbon to raise awareness for breast cancer prevention. She is a supporter of empowering Saudi women in the workplace and in the community. Now, she'll do that in sports, too.
An early leak stated that four Saudi women would be competing this year, potentially doubling the numbers from the 2012 London games. The Saudi Olympic Committee has stated that those names weren't authorized to be published, and the official statement with the names is expected to be released Tuesday.
http://time.com/4433992/saudi-women-olympics/
----
Four Saudi women to compete in Rio
August 02, 2016
RIO DE JANEIRO, Brazil (AFP) — Saudi Arabia's pioneer sportswoman Sarah al-Attar will move up to the marathon at the Rio Olympics from the 800 metres in London as the conservative Gulf kingdom doubles its female team.
The four women and seven men competing for Saudi Arabia arrived in Rio yesterday, but were kept away from prying media.
Just two women became the first Saudi female Olympians in London four years ago.
Attar, now 23, finished last in her 800 metres heat in London, more than half a minute behind her nearest rival. She still got a standing ovation when she crossed the line clothed from head to foot in line with the conservative tradition.
She can expect a similar acclaim in the women's marathon, which a member of the Saudi delegation said Attar would race in.
The other women are judoka Wujud Fahmi, fencer Lubna al-Omair and 100m runner Cariman Abu al-Jadail.
None qualified directly for their competition but will take part with special invitations from the International Olympic Committee.
The Saudi Olympic Committee said there would be male and female competitors at the Games. But the women's identities were not officially given.
Women face significant obstacles to competing in sport, as other sectors of society, in Saudi Arabia. They must wear head-to-toe garments in public.
http://www.jamaicaobserver.com/sport/Four-Saudi-women-to-compete-in-Rio_69207
-----
NRI Girl's Open Letter To Indian PM: Listen To Voices Of Agitating Kashmiris
August 2, 2016
Srinagar: A 17-year-old NRI girl of Kashmiri origin has written an open letter to Prime Minister Narendra Modi pleading that the voices of agitating Kashmiris be heard.
"Dear Mr PM, if we cared for Kashmir people, we wouldn't find ways to turn off all communications in the Valley only to further deprive them of freedom, we'd open up all means for their voices to be heard. Because isn't that all Kashmir people are asking for? (sic)" Fatima Shaheen, based in Georgia state of the US, wrote.
She said she arrived in Kashmir on July 10 for a visit to her relatives only to find the Valley in a situation which she had never heard of.
"Mr PM, I see the newsflash, the attack in Nice, France, is screened followed by the attempted military coup in Turkey, along with the report on the monsoon rains in southern India. But where is the news on Kashmir? Is this why I never knew what was going on in my hometown for such a long time, Sir? (sic)" she asked.
She claimed no cared about people of Kashmir but everyone wanted its land.
"Everyone wants Kashmir, but no one cares for the people of the land. Because if we cared for Kashmir people, we wouldn't care of people's opinion on whether Burhan Wani was a militant or a martyr, we'd try to understand why an ace student chose to continue his career holding a gun rather than a pen (sic)," she wrote.
http://www.siasat.com/news/nri-girls-open-letter-pm-listen-voices-agitating-kashmiris-995174/
--
URL: https://newageislam.com/islam-women-feminism/teach-muslim-girls-sex-stop/d/108154