New Age Islam News Bureau
10 Dec 2019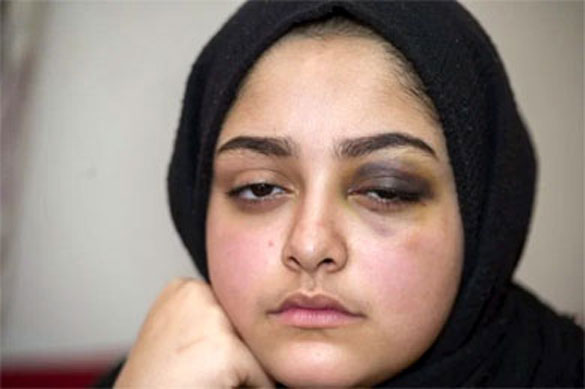 Redana Al-Hadi, 14, says she was strangled with her own hijabCredit: SWNS:South West News Service
-----
• Taxi Fatwa Prompts Debate on Women's Freedom of Movement in Kurdistan
• UK Muslim Girl, Redana Al-Hadi, 14, 'Strangled With Hijab and Beaten By Woman in Racist Attack'
• Bangladeshi Girl Who Escaped Being Married At The Age Of 12 Wins Archery Gold
• Tory Chairwoman 'Tells Muslim Shopper Her Hijab Is "Offensive" Outside Asda'
• 'Racist' Southwest Airlines Flight Attendant Threatens To Kick Muslim Woman off Plane
• Sisterhood of Travelling Cyclists! Muslim Women's Cycling Group Awarded Tfl Grant To Expand Into Redbridge
• 'Citizenship Bill Validates Two-Nation Theory': Muslim Women's Body Urges MPs to Reject Legislation
Compiled By New Age Islam News Bureau
URL: https://www.newageislam.com/islam-women-feminism/taxi-fatwa-prompts-debate-women/d/120487
------
Taxi Fatwa Prompts Debate on Women's Freedom of Movement in Kurdistan
Mohammed Rwanduzy
ERBIL, Kurdistan Region - A fatwa issued by a Kurdistan Region Islamic body earlier this week that decreed unaccompanied women should not take taxis driven by male drivers they don't know has sparked social debate on women's freedom of movement.
In a ruling dated December 4, the Supreme Fatwa Council of Kurdistan Union of Islamic Scholars gave its opinion on women taking taxis alone.
According to the fatwa, women can only take taxis if accompanied by someone they know, or if they travel in a group. Unaccompanied women are permitted to take taxis if driven by women, or if they know and trust the male driver.
The Council claimed its fatwa is to "preserve high Muslim morals, beautiful Kurdish traditions, and to avoid this permissible profession [taxi driving] being exploited by some irresponsible individuals."
"Whenever the woman, the driver, or both fear falling into the trap of sin and irreligious acts for whatever reason, then the woman, even after getting into the car, should get out, or the driver should ask her to get out. If the woman doesn't leave, then the driver should get out of the car and not drive her," the fatwa ruled.
Although issued by an official body, the fatwa is not legally binding.
Adherence to the fatwa on these terms would heavily constrain women's movement in the Region, where a public transport infrastructure is near inexistent and there are few alternative means of transport available.
'Defenders of women's rights' against the fatwa
Niyaz Abdullah is a journalist, activist and member of the Azabwn (Liberation) Organization. Azabwn are inviting women's councils, civil society organizations, the KRG's head of gender affairs, and MPs from Iraqi and Kurdistan parliament to take "a unified stance as defenders of women's rights," she told Rudaw English on Sunday evening.
The organization hosted a Monday meeting to discuss the steps it could take to fight the fatwa.
Its main demand is for the Council to withdraw its ruling.
"The aim is to fully and officially reject this fatwa," she said. "We believe this fatwa is incompatible with the Iraqi constitution, which stipulates equality between women and men."
The fatwa also violates international law and local laws, Abdullah said, adding that Azabwn are even considering a lawsuit against the Council.
"Irreligious, criminal, and social crimes" on the up
The Fatwa Council said it issued its ruling "due to an increase in irreligious, criminal, and social crimes."
Activists, lawyers and government officials have been warning of a rise in incidences of sexual violence by taxi drivers. Female passengers have been subject to sexual assault, abduction, and even rape – once conducted at gunpoint.
However, Abdullah argues that the solution is not to restrict women's movement, or to vilify all taxi drivers. She believes the onus should instead fall on the Region's institutions of law and order.
"We believe that it is the job of security agencies and courts to provide the atmosphere to prevent violations against women," Abdullah said.
In response to incidences of sexual violence in taxis, various Kurdistan Regional Government (KRG) ministries have launched measures aimed at improving taxi passenger safety.
As part of the Ministry of Transport and Communication's Taxi Service Organization project, the KRG's Department of Information Technology has already begun registering taxi drivers under a biometric system.
In January, the interior ministry introduced regulations that were to ensure all taxis displayed both their personal information and emergency contact details in their vehicles. All taxi drivers were to register with the Transport Labourers Syndicate and obtain security authorization.
Drivers were supposed to adhere to the regulations by June. While some taxis now display the required information, it is far from universally applied.
Public opinion split
News of the fatwa has polarized public opinion.
Rudaw conducted a social media poll regarding the fatwa on December 6. Collating over 30,000 votes by Sunday night, 51 percent of respondents said they supported the fatwa.
"The fatwa is right and appropriate, but I won't be exercising it. Don't reject something that is sound and right," read a comment left by Sahngar J. Salih on Rudaw's poll.
Salih conceded the fatwa may not always be applicable for women travelers.
"You don't always have someone accompanying you when you go out. You then have no choice but to take a taxi alone," she said.
Some voters proposed women be provided with their own, private means of transport.
"I suggest the Ministry of Endowment [and Religious Affairs of KRG] allocate one car per every girl. By Allah no woman will alone hop into any taxi again," Facebook user Zhalla Sidqe said.
Other commenters believe that relative to other issues plaguing Kurdish society, the issue of women taking taxis is trivial.
"There were no other worries and problems in Kurdistan for the Union to take issue with besides taxis?" Rebaz Wahid commented.
"80 percent of customers are women"
Rudaw English asked Kurdistan Region taxi drivers about the fatwa.
Sarhad Karim, a taxi driver from Qushtapa, Erbil province, is in favor of the ruling.
"There are good and bad people from both genders. I think this fatwa is very good because it is protecting the honor of both sides and preventing them from falling into sin," Karim said.
Awat Majeed, 27 expressed support for the fatwa, saying the number of "bad taxi drivers is rising, and measures do need to be taken against them."
"Any fatwa issued on Islamic foundations to avoid sexual harassment in the society should be supported and implemented," he added.
Taxi driver Ali Ahmed, 41, says he provides for six people with his income. He slammed the fatwa, saying adherence to it would be financially damaging not just for taxi drivers, but those who rely on its income.
"Look, 80 percent of my customers are women on a daily basis. I am sure this fatwa will harm my business," Ahmed lamented.
"Women must be allowed to practice their personal freedoms. I do not even care if women hop into the front seat of my taxi."
Ahmed mirrored comments about the fatwa casting all taxi drivers with the same brush.
"This fatwa insults men and tarnishes their image in the eyes of society," Ahmed said, "because this fatwa is implemented against all drivers."
"There are 43,000 taxis in Erbil, as far as I know. And each taxi is the source of income for five people. With just one fatwa, all these people are affected," he added.
Ali says the KRG's recent regulations are enough to stop sexual assault against women passengers.
"I do not think there is a taxi driver who did not want to comply with these regulations," he said.
For Azabwn's Abdullah, the fatwa speaks to a wider mission by the Council to limit civil freedoms.
"What does the Fatwa Council want besides sedition in the society?" she asked.
"A Council cannot tell five million people in this Region how to lead their lives."
Additional reporting by Zhelwan Z. Wali
https://www.rudaw.net/english/kurdistan/09122019
------
UK Muslim Girl, Redana Al-Hadi, 14, 'Strangled With Hijab and Beaten By Woman in Racist Attack'
9 DEC 2019
BySolen Le Net
A Muslim schoolgirl was strangled with her own Hijab and punched during a horrific racial attack while she was travelling on a bus, according to reports.
Redana Al-Hadi, 14, was rushed to hospital with a suspected fractured eye socket after she was allegedly punched multiple times by a woman shouting racial slurs at her.
The victim was travelling home from school with the 13-year-old sister Wadaad, when a woman, accompanied by a man, started openly "mocking" their accent and making sly comments about their headwear on December 4.
The verbal attack is believed to have intensified as the girl got off the bus, where the woman knocked Redana to the ground and started beating her.
Redana, reliving the horrific ordeal, said"As we were getting off the bus he stood up and screamed the N-word towards my friend.
The woman then allegedly turned to Redena and began shouting racial slurs before throwing herself at her, and dragging her off the bus.
Redana added: "She dragged me to the floor and strangled me with my Hijab.
"My little sister tried to stop it, but the man grabbed her by the waist and threw her into oncoming traffic.
"(The woman) kicked me in the neck and knocked me out with her fist and started smashing my head and stamping on me while my arm was over my face.
"My face is all swollen and it's a mess.
The solicitor representing the Al-Hadi family, Arshaid Bashir, has said Redena was subjected to a racially aggravated assault.
He said: "There was serious harm to a child who was attacked due to her appearance.
"At the very least, the perpetrator should be charged with affray as part of joint enterprise with the co-accused, as unlawful violence was used towards another which caused other persons to fear for their safety."
The girls' mother, Racheda Ali, 51, did not know what to do when she received a phonecall from her youngest, explaining what had happened.
She said: "When my daughters returned get were crying because they were all scare and shaking.
"My daughter was having a panic attack; it's ridiculous what they did to her."
Redana says she is traumatised by the incident, and is too scared to leave the house.
A 40-year-woman, and 44-year-old man were arrested by South Yorkshire Police, who said the incident "remains under investigation".
https://www.dailystar.co.uk/news/latest-news/Muslim-girl-14-strangled-Hijab-21060034
------
Bangladeshi Girl Who Escaped Being Married At The Age Of 12 Wins Archery Gold
Dec 10, 2019
DHAKA: A Bangladeshi girl who escaped being married at the age of 12 and went on to win an international athletics competition said on Monday that girls in the conservative country could "achieve anything" if they overcame their fears.
Ety Khatun, 14, the daughter of a sweet-seller, defied her parents attempts to marry her in 2016 as they struggled to get by in a remote village in western Bangladesh.
On Monday, Khatun won a third gold medal in archery at the South Asian games in Nepal, a rare sporting success for Bangladesh which has yet to land an Olympic medal.
"My parents wanted me to get married. I cried a lot and didn't eat for two days. I forced them to send me to Dhaka to take part in an archery training camp," Khatun said.
Muslim-majority Bangladesh has one of the world's highest rates of child marriage, according to the United Nations.
The country has banned the practise and in 2018 launched a phone app to digitally verify the ages of brides and grooms.
Still, more than half of all girls are married before they are 18.
Khatun may have become one of them had she not been spotted by scouts from the Bangladesh Archery Federation.
"We had selected about 60 potential archers from various regions and she was one of them," said national coach Ziaul Hoque.
Smaller in stature than her peers, many underestimated Khatun.
"Not much was expected from her," Hoque said.
But she proved mentally strong, and, in 2018, won bronze at a national archery competition.
"That's when my parents stopped pressurising me to get married," said Khatun.
Today her parents back her and revel in her achievements.
Her father remains the family's sole breadwinner, something Khatun hopes to change.
"(He) has allergy issues and can't work in winters. If something happens to him we don't know what we will do. I hope archery can help me support my family and bring peace to them," she said.
Urging young girls from her village to follow her path she said: "If you work hard, anything is possible. If you are scared and sit back, nothing will work."
https://timesofindia.indiatimes.com/sports/more-sports/others/bangladesh-teen-wins-archery-gold-after-defying-child-marriage/articleshow/72450170.cms
------
Tory chairwoman 'tells Muslim shopper her Hijab is "offensive" outside Asda'
A Tory party chairwoman has resigned after she allegedly told a Muslim mum her Hijab was "offensive" outside Asda.
Barnet Conservatives chairwoman Fiona Bulmer stepped down following complaints from the mum, who was with her two young children at the time of the encounter.
Sidrah Mohammed was allegedly accosted by Ms Bulmer at an Asda in Southgate, north London.
Ms Bulmer was a veteran councillor in the borough of Barnet, but left the post after a failed bid to become leader of the council in 2010.
Sidrah, who was wearing trousers, a raincoat and a "small pink headscarf", was with her two children, aged three and one, when she was approached by a group of Conservative supporters canvassing support ahead of the general election on Thursday, reports My London .
The mum, who described herself as having no political affiliations, says she asked the Tory chairwoman about the widely reported Islamophobic comments made by Prime Minister Boris Johnson over a number of years.
The issue is one commonly raised on the campaign trail by people from minority ethnic backgrounds.
Ms Bulmer said the Prime Minister had her full support and allegedly added that she found what Sidrah was wearing "offensive".
Sidrah, who wrote about the incident on Facebook , added: "When I tried to film her she darted off with the rest of her group, leaving a 20-something year old Tory member to speak to me.
"The Young Tory was getting really upset about the video and cried - I ended up hugging her and calming her down while her Tory colleagues left her.
"I'm part of no party. I'm just a British mum getting on with being an active and positive member of society. But apparently my wearing trousers, a rain coat and a small pink headscarf is offensive."
Sidrah's post was shared on Facebook and WhatsApp, leading the local Conservative association to ask its chairwoman to step down.
"We apologise for what was said and for the offence caused," the Chipping Barnet Conservative Association posted on Facebook.
"We recognise that those holding office in a political party must take the greatest care to avoid anything which might be viewed as derogatory to any faith or minority community.
"That is why we asked Fiona to stand down as chairman of our local party, with immediate effect, and she will take no further part in the general election.
"The Conservative Party, both nationally and locally here in Chipping Barnet, condemns prejudice and discrimination and will always promote the values of equality and mutual respect between people of different faith and ethnic backgrounds.
"This view is shared by our candidate, Theresa Villiers."
The incident came after Sidrah challenged the Tory activists about the Prime Minister's history of offensive remarks.
These include comparing Muslim women who wear the niqab to "letterboxes" and describing Islamophobia as a "natural reaction" to the Quran.
He also said in the aftermath of the 7/7 bombings that "Islam is the problem", a statement many Muslims both condemned and found worrying.
As well as these comments, he wrote an article describing Africans as "piccaninnies" and said they had "watermelon smiles".
Cabinet member Theresa Villers, who is the Secretary of State for Environment, Food and Rural Affairs (Defra), was elected to the Chipping Barnet seat in 2017 with a majority of just 353 votes.
She slid into power with just 0.6 per cent more votes than Labour rival Emma Whysall, who is standing against her against her again in one of the most marginal seats in the country.
The Conservatives have faced calls from within the party and from outsiders to carry out a specific inquiry into Islamopobia within their party, but have denied there is a specific issue within the party.
Instead they have promised to launch an inquiry into all forms of hate, with Boris Johnson and his Chancellor Sajid Javid both denying the party has a problem with Islamophobia.
This is despite a dossier being released last month naming 25 councillors, former councillors and local party chairs responsible for Islamophobic posts on social media.
https://www.mirror.co.uk/news/politics/tory-chairwoman-tells-Muslim-shopper-21055649
------
'Racist' Southwest Airlines Flight Attendant Threatens To Kick Muslim Woman Off Plane
Helen Coffey
A Muslim woman was threatened with being kicked off a flight after she asked to sit with her family, her husband claims.
Mehdi Hasan, a British journalist based in the US, said his wife was "in tears" after a Southwest Airlines flight attendant told her she'd be escorted off the plane for asking if another passenger would be willing to swap seats.
He claimed the incident, which occurred during a flight from Houston and Washington DC on 1 December, was racially motivated.
Southwest operates an open seat policy, whereby passengers can sit where they like on a first-come, first-served basis.
"Hey @SouthwestAir: not a good look for your flight attendant on SW5539 to DC last night to loudly tell a brown woman in a headscarf she'll be 'escorted off the plane' for making people feel 'uncomfortable' – because she wanted to sit with her husband and kids," Mr Hasan tweeted in a Twitter thread that quickly went viral.
"The flight attendant called ground staff onto the plane, complained about the Muslim woman – my wife! – to them, and escalated rather than de-escalated the situation – simply because my wife politely asked a guy if he'd give up his seat for our family (which he was fine with!)."
According to Mr Hasan, fellow passengers supported the family, with one asking aloud, "Why is [the flight attendant] escalating this?" and another telling them the crew member "treated you like a venomous snake".
"Thanks for ruining the end of our Thanksgiving trip and leaving my wife in tears – because she wanted us all to sit together as a family while your flight attendant wanted to single her out and humiliate her," he wrote, adding that he doesn't plan on flying with the airline again.
In a later string of tweets, the journalist said he was even more angry having received a response from Southwest.
He claimed the airline had offered a private apology but refused to say sorry publicly and offered travel vouchers that didn't cover the costs of their flights.
"I'm now more furious than I was on Sunday," he wrote. "Then it was a rude and racist flight attendant. Now it's an entire airline, an entire company, that seems unconcerned by, even maybe covering up, racism and harassment onboard. Shame on you.
"Southwest Airlines just haven't taken what happened to my wife, or other POC in similar situations, seriously. No recognition of racism, or targeting; no pledge of anti-bias training, no public apology."
An airline spokesperson told The Sun: "Once we learned about the customer's social media message, we began to research the flight and gather information internally.
"We also reached out to the customer directly to discuss his family's experience prior to departure.
"From our initial discussions, we understand that some passengers on Flight 5539 were involved in a disagreement over seat selection near the end of boarding. (Southwest does not assign seats; customers select their seats as they board the aircraft.)
"The flight crew requested a customer service supervisor come onboard to help address the situation and the conversation was resolved before the plane left the gate.
"The family was able to sit together and the flight arrived safely in Washington, D.C. on Sunday night. We remain in communication with the customer who sent the tweet and are working to address his concerns directly."
The Independent has contacted Southwest Airlines and Mr Hasan for further comment.
https://www.independent.co.uk/travel/news-and-advice/southwest-airline-Muslim-woman-kicked-off-flight-swap-seats-sit-family-a9238691.html
------
Sisterhood of travelling cyclists! Muslim women's cycling group awarded TfL grant to expand into Redbridge
December 2019
A Muslim women's cycle group which connects cyclists for social rides was awarded a TfL grant to expand into Redbridge.
Cycle Sisters started in Walthamstow in 2017 as an informal group where members meet for a weekly social ride every Wednesday morning during term time for a two-hour ride.
Last month the group was awarded funding by TfL as part of its £400,000 Walking and Cycling Grant, which rewards community and not-for-profit groups that encourage local people to walk and cycle more.
Cycle Sister's founder Sarah Javaid said: "The funding will enable us to set up a new Muslim women's 'Cycle Sisters' group in Redbridge and offer culturally sensitive social led rides alongside cycle skills training.
"With our community-based approach we are able to break down many barriers to cycling for Muslim women and by extension enable and inspire whole families to get cycling."
Sarah said: "This is important as we are helping to make cycling more inclusive and ensure the life-changing benefits of cycling reach across communities."
The TfL Walking and Cycling Grant aims to address the barriers that prevent people from getting active with the winning projects targeting traditionally underrepresented groups.
Will Norman, TfL's Walking and Cycling Commissioner said: "There are so many benefits to walking and cycling from keeping fit to improving wellbeing and we want everyone in London to experience these benefits regardless of their age, ethnicity or physical or mental health."
The Cycle Sisters have cycled all over London starting from their Walthamstow base but the grant money will allow them to focus on a dedicated Redbridge group that will start in January.
The rides start at 9.15am every Wednesday morning during term time and end between 11.30-12pm.
There is always a snack break at a local cafe at some point during the ride and they have a limited number of bikes available to hire for those who don't own one.
For more information go to https://www.facebook.com/CycleSistersWalthamstow.
https://www.ilfordrecorder.co.uk/news/health/cycle-sisters-gets-grant-to-expand-to-redbridge-1-6416036
------
'Citizenship Bill Validates Two-Nation Theory': Muslim Women's Body Urges MPs to Reject Legislation
December 9, 2019
New Delhi: Members of the Bharatiya Muslim Mahila Andolan have urged parliamentarians to reject the Citizenship (Amendment) Bill 2019 as they believe it divides citizens on the grounds of religion, and would validate the two-nation theory that had led to the country's partition in the first place.
The group that was at the forefront of a legal battle for a law against triple talaq calls itself an autonomous, secular and rights-based mass organisation led by Muslim women. Formed in January, 2007, its founding members were Zakia Soman and Noorjehan Safia Niaz.
In a statement issued on Monday, the group said, "Victims of persecution should be given protection, support or citizenship without further discriminating them on account of religion, gender or ethnicity. Religion cannot be a criterion for citizenship or nationality as such a premise violates the Constitution of India. Discrimination on account of religion is antithetical to the idea of India as envisaged by our founders and articulated through the Constitution."
Union Home Minister Amit Shah tabled the Bill in the Lok Sabha with 293 members voting in favour of its introduction amid protests from the Opposition which labelled the legislation as "regressive". Shah said the bill was "not even 0.001% against the minorities of the country".
The women's body said that if passed, the citizenship bill would validate the two-nation theory under which India was divided. "The birth of Bangladesh in 1971 provides evidence that religion cannot be the basis of a nation and nationality. The passage of this Bill will make us resemble Pakistan where the governments and army are struggling to forge a religion-based nation even 70 years after its formation," said the statement.
The group further said the liberal democratic society of India has opened doors and hearts to different persecuted people who sought refuge here without enquiring about their religious backgrounds. "This fact about the large-heartedness of Indian people was highlighted by Swami Vivekananda in the World conference on Religions in Chicago."
The openhearted spirit of India's people has led to the richness and diversity of the country getting further strengthened. It is a hallmark of Indian civilisation which should not be suppressed by such a divisive move, it said.
"The Cabinet (it had the Bill last week) is mistaken in its assessment of what ordinary citizens want. We want sound economy, jobs, education, farmers' well-being, women's safety and security, social harmony and peace. We do not want more division and polarisation in the name of religion," the group said.
"The Cabinet must review and revise the Citizenship Amendment Bill to remove the selective mention of religious communities. We must open our doors to all persecuted people in our neighbourhood — Sri Lankan Tamils, Rohingyas, Shias, Hazaras, Ahmediyas, secular bloggers and all others who identify with our plural democratic ethos and seek refuge in our multi-cultural multi-faith nation," the group said.
https://www.news18.com/news/india/if-passed-citizenship-bill-would-validate-two-nation-theory-says-Muslim-womens-body-2418019.html
------
URL: https://www.newageislam.com/islam-women-feminism/taxi-fatwa-prompts-debate-women/d/120487
New Age Islam, Islam Online, Islamic Website, African Muslim News, Arab World News, South Asia News, Indian Muslim News, World Muslim News, Women in Islam, Islamic Feminism, Arab Women, Women In Arab, Islamophobia in America, Muslim Women in West, Islam Women and Feminism