New Age Islam News Bureau
17 Feb 2020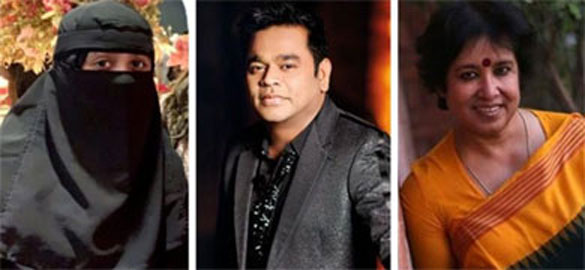 Khatija Rahman, AR Rahman and Taslima Nasreen
------
• Ivanka Trump Lauds Saudi Arabia, UAE on Women's Rights Reforms
• Two Indian Women Granted Bail Following Arrest Over School Play
• India's Top Court Grants Equal Rights to Women in Army
• 'Hijabi Clout': The Women of Colour Unknowingly Used By 2020 Campaigns
• Hyatt Regency Riyadh Olaya Unveils Program to Empower Young Saudi Women
• NAMA Signs MoU on Women's Projects with Sharjah Media City
• Women Can Make World $172 Trillion Richer: Kristalina Georgieva
• 586 Women among 1,287 Committed Suicides during Five Years In Sindh: Study
• Lebanese Woman Calls Out Shia Political Leaders in Lebanon
Compiled By New Age Islam News Bureau
URL: https://www.newageislam.com/islam-women-feminism/taslima-nasreen-ar-rahmans-daughter/d/121084
--------
Taslima Nasreen, AR Rahman's Daughter, Khatija, Spar over Burqa
Feb 17, 2020
Author Taslima Nasreen and composer AR Rahman's daughter, Khatija, engaged in a sharp exchange over social media after the writer commented on the latter choosing to wear a burqa.
On February 11, Nasreen shared a picture of Khatija in a black veil on Twitter and wrote around 11am, "I absolutely love A R Rahman's music. But whenever i see his dear daughter, i feel suffocated. It is really depressing to learn that even educated women in a cultural family can get brainwashed very easily!" The tweet was shared over 1700 times and received nearly 6,000 likes.
Khatija, who is not on Twitter, took to Instagram -- on which she has over 33,000 followers -- to reply to Nasreen on February 14. She shared a screenshot of Nasreen's tweet and wrote, "There's so much happening in the country and all people are concerned about is the piece of attire a woman wants to wear."
She also addressed the exiled Bangladeshi author directly towards the end of her post, writing, "Dear Taslima Nasreen, I'm sorry you feel suffocated by my attire. Please get some fresh air, cause I don't get suffocated rather I am proud and empowered for what I stand for. I suggest you google up what true feminism means because it isn't bashing other women down nor bringing their fathers into the issue."
"I also don't recall sending my photos to you for your perusal," Khatija added. She also shared several stories on her Instagram profile around Nasreen's tweet and her own response to it. Several of them revolve around the freedom of choice.
Nasreen did not mention Khatija in her tweets again, but took an indirect dig at her. "Burqawalis are empowered. War is peace. Freedom is slavery. Ignorance is strength," she wrote.
https://timesofindia.indiatimes.com/india/taslima-nasreen-ar-rahmans-daughter-spar-over-burqa/articleshow/74166452.cms
--------
Ivanka Trump Lauds Saudi Arabia, UAE on Women's Rights Reforms
16 February 2020
Ivanka Trump lauded close US allies Saudi Arabia and the United Arab Emirates on Sunday, for embarking on "significant reforms" to advance women's rights, while speaking at a gathering of women entrepreneurs and regional leaders in Dubai.
Trump congratulated Saudi Arabia for recent changes in the law that allow women to travel abroad and obtain a passport without the permission of a male relative. In 2018, a ban on women driving cars was lifted. The changes are part of Saudi Arabia's Vision 2030, which aims to diversify Saudi Arabia's economy beyond oil and gas and to promote private sector growth and entrepreneurship. It includes the goal of increasing women's labor force participation from 22 percent to 30 percent.
Trump pointed to changes in other Mideast countries, as well. She said Bahrain had introduced legislation against discrimination in the workplace; Jordan had eliminated legal restrictions on women's ability to work at night; Morocco had expanded women's land rights; and Tunisia had introduced laws to combat domestic violence.
Al Arabiya English
✔
@AlArabiya_Eng
"We know that when women are free to succeed, families thrive, communities flourish and nations are stronger," says @IvankaTrump at the #GlobalWomensForum in Dubai.https://english.alarabiya.net/en/News/gulf/2020/02/16/Ivanka-Trump-lauds-Saudi-Arabia-UAE-on-women-s-rights-reforms.html …
Embedded video
10
4:29 AM - Feb 17, 2020
Twitter Ads info and privacy
See Al Arabiya English's other Tweets
She said, though, more work needed to be done. She noted that across the region, women on average still have only half the legal rights of men.
Trump, adviser to US President Donald Trump, was delivering the keynote address at the two-day Global Women's Forum.
"We know that when women are free to succeed, families thrive, communities flourish and nations are stronger," Trump said.
The 38-year-old mother of three has positioned herself as an Oval Office confidante while spearheading initiatives that broadly back women's empowerment. Her husband Jared Kushner has become a top adviser on US Mideast policy.
Once the owner of an eponymous fashion line, Ivanka Trump has wielded her proximity to the president to promote policies affecting women and deliver speeches around the world about women's economic empowerment. She meets with world leaders as a key White House official.
The audience for her speech in the UAE included Dubai ruler Sheikh Mohammed bin Rashid Al Maktoum, Dubai Crown Prince Hamdan bin Mohammed Al Maktoum, World Bank President David Malpass and International Monetary Fund chief Kristalina Georgieva.
During her two-day visit to the UAE, Trump met with women entrepreneurs and discussed a US government project she's leading that's aimed at helping women in developing countries. The Women's Global Development and Prosperity Initiative was launched last year with backing by her father.
https://english.alarabiya.net/en/News/gulf/2020/02/16/Ivanka-Trump-lauds-Saudi-Arabia-UAE-on-women-s-rights-reforms.html
--------
Two Indian Women Granted Bail Following Arrest Over School Play
16 February 2020
Two women held for two weeks by Indian police on sedition charges over a school play which allegedly criticized a contentious citizenship law have been granted bail, officials said Sunday.
Teacher Fareeda Begum, 50, and parent Nazbunnisa, 36, were arrested on January 30 for helping the children stage the play at Shaheen Public School in Karnataka state.
The play depicted a worried family talking about how they feared the government would ask millions of Muslims to prove their nationality or be expelled from India.
They were detained under a British colonial-era law after a member of Prime Minister Narendra Modi's party claimed the children insulted the Hindu-nationalist leader in the play.
India has been gripped by widespread street demonstrations against the law that grants citizenship to religious groups from three neighboring countries, but excludes Muslims.
Nearly 30 people died in the months-long protests, including two in Karnataka, which is ruled by Modi's Bharatiya Janata Party.
The women were denied bail multiple times before a court set them free late Saturday on a personal bond of $1,400 each.
"The accused have been released on bail but we will continue with our investigations," an officer told AFP.
Officers visited the school at least five times to quiz children about the play and gather evidence against the accused.
Critics accuse the police of misusing the law amid a public outcry and several protests after videos showing officers interrogating the children -- aged between nine and 11 years -- went viral on social media.
The citizenship law, combined with a mooted national register of citizens, has stoked fears that India's 200 million Muslims will be marginalized.
The British-era sedition law enacted in 1860 carries a maximum penalty of life in prison.
Prosecutions are rare but it has frequently been used against critics of the government of the day.
Activists say authorities use it to stifle dissent.
https://english.alarabiya.net/en/News/world/2020/02/16/Two-Indian-women-granted-bail-following-arrest-over-school-play.html
--------
India's Top Court Grants Equal Rights to Women in Army
February 17, 2020
NEW DELHI: India's top court on Monday ordered the federal government to grant permanent commission and command positions to female officers in the army on par with men, asserting that the government's arguments against the policy were based on gender stereotypes.
The court's decision, seen as a watershed moment for the Indian military, would mean that women can extend their short service roles in noncombat support units such as education, law and logistics until they want to retire and rise to the rank of Colonel, based on merit.
Currently, female officers can serve for only 10 to 14 years in the army.
"This is a historic decision and a significant day for not only those who are serving in the army but for also those who are desirers of joining forces," said Lt. Col. Anjali Bisht.
The Supreme Court's decision, however, does not mean that female officers will serve in army combat units such as the infantry, artillery or armored corps.
Monday's decision comes days after the government told the court that women were not suitable for commanding posts in the army, saying male troops were not prepared yet to accept female officers. It also said that male and female officers could not be treated equally when it came to postings because the "physical capacity of women officers remains a challenge for command of units."
The court said in its order that such arguments were against the concept of equality.
Previously, former army Chief of Staff and current Chief of Defense Staff Gen. Bipin Rawat raked up a controversy when he said in an interview with a news channel that women were not ready for combat roles because they were responsible for raising children and would accuse male officers of peeping into their quarters.
"She will say somebody is peeping, so we will have to give a sheet around her," Rawat had told CNN-News18.
The petitioners in the case demanding equal rights for female officers welcomed the court's decision.
"This is very, very significant," said Meenakshi Lekhi, a lawyer. "A denial of particular progression was something which is inherently unequal and unjust."
https://www.arabnews.com/node/1629016/world
--------
'Hijabi Clout': The Women of Colour Unknowingly Used By 2020 Campaigns
Erum Salam
8 Feb 2020
With the 2020 election well under way in the US, political advertisements with messages of hope and inclusivity have been flooding social media feeds and inboxes all across the country.
Sabirah Mahmud, a high school student and the national logistics director for the US Youth Climate Strike was surprised on 2 February when she came across footage of herself in a video ad for Joe Biden's presidential campaign, after a friend texted her. But the main shock was that it happened despite the fact she is a vocal Bernie Sanders supporter.
"Initially I was surprised but now I feel very uncomfortable. Of all the [Democratic] candidates, [Biden] is the one I would be most alarmed about," Mahmud said. "This is a national campaign ad and my face is being put out to uplift his campaign. People will look at me and think 'Biden has young Muslim followers', but that's not true because I'm not one of them."
Mahmud tweeted a screenshot of herself from the ad, adding: "was just used as hijabi clout for the @JoeBiden campaign, too bad i'm #hotgirIsforbernie"
sabirah ☾
@sabirahmahmud
was just used as hijabi clout for the @JoeBiden campaign, too bad i'm #hotgirIsforbernie 🥵😌
View image on Twitter
15.1K
8:37 AM - Feb 3, 2020
Twitter Ads info and privacy
1,939 people are talking about this
Mahmud attended campaign events for several of the 2020 presidential candidates including Biden's kickoff rally in Philadelphia back in May of 2019. Mahmud went in order to question him on his policy regarding the climate crisis, but she never expected to be a prop for diversity.
Mahmud said she recalled being very nervous talking to the former vice-president.
"Before I could even ask him the question, he interrupted me mid sentence, mansplaining the entire climate crisis," Mahmud said. "He went on to the next people to take pictures and shake hands."
The Biden campaign did not return a request for comment.
Ayanna Lee, another Sanders supporter, protested with friends at an Elizabeth Warren rally in Milwaukee. She later discovered her photo was featured in an ad for Warren 2020.
"My friend sent a screenshot in the group chat," Lee said. "I clicked on it and was like 'No way.'"
"Not even 10 minutes into us walking in the door, her team was asking us what we were doing and trying to bargain with us to not make a statement," Lee said. "We talked to her. Each of us took 10-20 seconds to give a statement about what we cared about like agriculture, indigenous rights or water."
Lee said the Warren campaign was aware she was not at the rally in support of Warren. The Warren campaign also did not return a request for comment.
"I honestly didn't know what to do. I felt weird because I knew I took myself to that rally but they took advantage of who I am," Lee said. "It made me upset that I was being used for a campaign that didn't support what I support."
Nida Allam found herself in a similar situation in 2016. The Hillary for America twitter account, @HFA, supporting Clinton's election campaign, tweeted: "We made history." It featured a picture of Allam , who wears the hijab, crying. Like Mahmud and Lee, Allam was also supporting another candidate.
Hillary for America
✔
@HFA
We made history.
View image on Twitter
6,979
4:51 AM - Jul 27, 2016
Twitter Ads info and privacy
2,825 people are talking about this
"I was at the DNC convention on the delegate floor and it was the moment Senator Sanders had conceded. I was crying because I was working on the Sanders campaign," Allam said. "It was obviously really raw, hearing the stories of marginalized voices across the country who found hope in the message of the [Sanders] campaign.
Allam discovered the tweet from the Hillary for America twitter account after friends texted the link to her.
"As a visibly Muslim American woman, it felt like my hijab was being used in a manner that I didn't approve of," Allam said.
The loss of a loved one influenced Allam's decision to pursue working on Sanders' 2016 presidential campaign.
"I had gotten involved in the campaign after losing my best friend."
The best friend was Yusor Mohammad Abu-Salha, one of the three victims of the 2015 Chapel Hill shooting at the University of North Carolina.
"Our community was hit with such a huge tragedy," Allam said. "That's what really motivated me to become politically active, to uplift marginalized voices."
Allam pointed out the Clinton campaign's error at the time by replying to the original tweet with "Guess you didn't get the memo…#StillSanders".
"@HFA responded eventually and said 'Sorry for the mix up. Thanks for everything you do'," Allam said. "But they never took it down."
This election cycle, Allam urges candidates to listen closely to different communities about what they want from their elected officials.
"Speak to the moms, the kids, the Imams. You can't just use our image to garner support," Allam said. "You have to speak to the issues that affect us on a day to day basis. We have to have equitable access to education and other resources through policy." Allam is now vice-chair of North Carolina's Democratic party, the first Muslim woman to hold this position. She's also running for county commissioner in her local election in Durham. If Allam wins, she will be the first Muslim woman ever elected in the state of North Carolina.
"My entire campaign is about continuing to uplift marginalized voices and engage people who haven't been involved in the electoral process," Allam said. "If there is representation across every level of government, you're less likely to fall into these tokenisms of people."
https://www.theguardian.com/us-news/2020/feb/08/hijabi-clout-women-unknowingly-pictured-campaign-ads-biden-warren-clinton
--------
Hyatt Regency Riyadh Olaya Unveils Program to Empower Young Saudi Women
February 16, 2020
RIYADH — Hyatt Regency Riyadh Olaya announced on Saturday partnership with the Hotel and Tourism Management Institute Switzerland — Saudi Arabia (HTMi), and the international non-profit Education for Employment (EFE), in an effort to support the Kingdom's Vision 2030.
With the help of EFE and HTMi, Hyatt Regency Riyadh Olaya will sponsor various groups of women throughout the year, each for four months of training at HTMi, Riyadh. The hotel will then recruit them in various departments where they will be able to contribute to the best of their abilities.
"I'm thrilled to be here today to celebrate with the team of Hyatt Regency Riyadh Olaya their new initiative to support Hyatt's global program RiseHY, which is designed to introduce youth to hospitality and provide needed employment opportunities," said Giuseppina Bavasso Hyatt's director of human resources — Middle East, Africa and South West Asia.
"The RiseHY program builds on our long-standing commitment with our existing or new relationships with community-based organizations across the world to provide vocational training and career readiness programs. We understand the challenges young people face and we believe that hospitality is one of the few industries where entry-level opportunities can lead to long-life career chances."
RiseHY is a global program designed to pair the hospitality industry's career opportunities with young people who need them. As part of the initiative, Hyatt hotels around the world commit to hiring 10,000 Opportunity Youth — people ages 16 to 24 who are neither in school nor working — by 2025.
"The Kingdom's Vision 2030 aims to boost women's participation in the local labor market and provide equal and rewarding opportunities for everyone, so that they may use their talents and abilities to contribute to the Kingdom's economy," Said Walid El Awadly, Hyatt Regency Riyadh Olaya's general manager.
"Building an inclusive and diverse workforce has always been an integral part of Hyatt's DNA and our commitment toward RiseHY is a chance to bring employment opportunities to the members of the communities in which we operate. This commitment brings Hyatt's purpose — to care for people so they can be their best — to life in the Riyadh community."
http://saudigazette.com.sa/article/589068
--------
NAMA Signs MoU on Women's Projects with Sharjah Media City
February 16, 2020
Sharjah: NAMA Women Advancement Establishment (NAMA) has signed a Memorandum of Understanding (MoU) with Sharjah Media City (Shams) to support women-owned businesses across Sharjah through focused data collection that will aid in studies to advance women's economic activities in the emirate.
The data, thus collected, will contribute to the development of tools, processes and systems to bolster the business sector, in general, with special emphasis on women-led projects, in line with Sharjah's commitment to make the best use of its resources and ensure women's full participation in the economy. Reem BinKaram, Director of NAMA, and Dr Khalid Omar Al Midfa, Chairperson of Shams, signed the MoU which stipulates the commitment of both parties in supporting women's businesses in Sharjah and develop mutual plans to promote the emirate's economic activities at the national and international levels. NAMA and Shams will support economic projects through incentives such as reduced charges on trade permits in a bid to attract businesswomen to invest in the emirate. They will also conduct studies on women's economic activities to develop the tools, systems and processes to drive investment efforts.
https://gulfnews.com/uae/nama-signs-mou-on-womens-projects-with-sharjah-media-city-1.69750877
--------
Women can make world $172 trillion richer: Kristalina Georgieva
February 17, 2020
Georgieva noted that "big chunks of the world don't know that the tide is turning for women in the Middle East".
One of the most engaging sessions at the Global Women's Forum Dubai (GWFD 2020) was of Kristalina Georgieva, managing director and chairwoman of the International Monetary Fund (IMF), talking to John Defterios of CNN on Sunday.
Georgieva noted that "big chunks of the world don't know that the tide is turning for women in the Middle East". "We owe the UAE a debt of gratitude for its achievements in women's empowerment," she said.
Speaking about the impact of greater gender equality, she added: "If tomorrow we woke up in a world with 100 per cent gender equality, the wealth of the world would be, according to the most recent data, $172 trillion bigger. We would be a much richer world. If we are to bring the Middle East on par with the more advanced economies, over the next years, there would be $1 trillion more in output."
Georgieva also met with His Highness Sheikh Mohammed bin Rashid Al Maktoum, Vice-President and Prime Minister of the UAE and Ruler of Dubai, and Sheikh Hamdan bin Mohammed bin Rashid Al Maktoum, Crown Prince of Dubai and Chairman of the Dubai Executive Council, on the sidelines of the event.
The two leaders discussed the UAE's development model, which is based on building partnerships with regional and global companies.
She appreciated the UAE's economic resilience, reflected in the growth of domestic credit, increase of tourists and high foreign trade flows at a time when the global market is facing serious challenges.
https://www.khaleejtimes.com/uae/dubai/women-can-make-world-172-trillion-richer-kristalina-georgieva-
--------
586 Women among 1,287 Committed Suicides during Five Years In Sindh: Study
Imtiaz Ali
February 17, 2020
KARACHI: As many as 1,287 persons, including 586 females, committed suicide in over last five years across the province.
Data compiled by the Sindh police for a study about suicides in the province said that 681 Muslims and 606 Hindus ended their life between Jan 1, 2014 and June 30, 2019.
It said 702 of them aged between 21 and 40.
Inspector General of Police Dr Syed Kaleem Imam told Dawn that the study was carried out by a newly established research wing of the police.
This research was needed in the wake of growing incidents of suicide, particularly in lower Sindh. Its purpose was partly to sensitise the police and identify triggering factors behind suicides, the IGP said.
He said that the police had taken the Sindh government on board about this study as well as other studies regarding crimes, human rights violations, etc, so that collective efforts could be made to address the challenges.
The IGP pointed out that the police had taken cognizance of the suicides and launched a proper investigation particularly in lower Sindh where suicides had become a cause of concern.
According to the data, 646 persons, including 356 females, ended their life in Mirpurkhas range/division with 324 of them aged between 21 and 40 years. Among the deceased, 449 were Hindus and 197 Muslims.
In Hyderabad division, a total of 299 people, including 116 females, committed suicide with 191 victims aged between 21 and 40. Some 187 were Muslims and 112 Hindus.
In Shaheed Benazirabad range, 181 persons, including 75 females, ended their life and 91 of them aged between 21 and 40. Among the victims, 139 were Muslims and 42 Hindus.
In Karachi range, 107 people, including 25 females, committed suicide and 68 of them aged between 21 and 40.
In Larkana range, 48 people, including 12 females, committed suicide with 25 aged between 21 and 40. Among the deceased, 47 were Muslims and one was Hindu.
In Sukkur, only six persons, including two women, committed suicide during the period and three of them aged between 21 and 40. Five of them were Muslims and one was Hindu.
A total of 1,287 persons also attempted to end their life across the province during the given period.
The study said people used different methods to end their life, including hanging, administering poison (drinking pesticides), drowning (jumping into a well), self-immolation, fenestration (jumping from high places), gunshot and sharp blade/knife have been cited in the police's research work.
Poverty, unemployment, falling socio-economic status, marital issues, domestic violence, addiction of drugs and psychological issues have been cited as some of the major reasons behind the suicides.
The study proposed 'reforms' in the police to properly study and investigate suicide incidents reported under Section 174 of criminal procedure code.
Besides, the affected families should be persuaded to come forward for proper investigation of the cases. Moreover, a toll-free number for counselling should be launched.
Involvement of religious scholars, civil society, NGOs, lady health visitors, family welfare workers and launching of mass awareness campaigns have also been proposed in the police's research work as some other measures to prevent or control rising suicides in Sindh.
It also wanted the government to initiate poverty alleviation programmes.
A senior police officer familiar with this development told Dawn that there was a need to pay special attention to those women whose marriages took place at an early age to lower the rate of suicides in that group of people.
https://www.dawn.com/news/1534949/586-women-among-1287-committed-suicide-during-five-years-in-sindh-study
--------
Lebanese Woman Calls Out Shia Political Leaders in Lebanon
13 February 2020
Video of a Lebanese woman criticizing Shia political leaders in Beirut has gone viral on Twitter, in the latest example of the change in mood in the country since the outbreak of popular protests in October 2019.
The woman, named on Twitter as Faten Fadlallah by George Washington University Professor Firas Maksad, accused Lebanese leaders of being corrupt and prioritizing Syria and Palestine over the Lebanese people. Although she did not name the parties outright, she referred to Mousa Sadr, the Shia leader who is venerated by the Hezbollah-allied Amal party. Both Amal and Hezbollah have ties to the Iranian and Syrian regimes.
"Your country [should be] your priority. More of a priority than, Syria and Palestine, and the deal of the century," Fadlallah said.
"Lebanon needs you. Lebanon needs you to stand up to every corrupt person," she added.
She also called out Lebanese people who have defended their party leaders rather than embracing the cross-sectarian popular protests.
"You should be ashamed of yourselves. You were defending your leaders, and we didn't say anything, we shut our mouth," she said.
While the leaders of several major political parties in Lebanon have voiced their support for the protests, even if doing little to realize protesters' demands, Hezbollah and Amal have criticized the demonstrations as a threat to the status quo.
Hezbollah and Amal thugs have also repeatedly attacked protesters in Beirut, Tyre, and Nabatieh.
The woman criticized the new government of Hassan Diab, which is supported by Hezbollah and Amal but opposed by the parties that made up the "March 14" coalition.
"I hope they eat poison, to every person who went to the government meetings to vote in favor of the new corrupt government, supported by the corrupt," she said.
"Corona[virus] shouldn't be in China, it should come to Lebanon. [I swear] on my father's dead soul, it should come to Lebanon," she added, accusing Lebanese people of being ignorant.
https://english.alarabiya.net/en/News/middle-east/2020/02/13/Lebanese-woman-calls-out-Shia-political-leaders-for-prioritizing-Syria-corruption.html
--------
URL: https://www.newageislam.com/islam-women-feminism/taslima-nasreen-ar-rahmans-daughter/d/121084
New Age Islam, Islam Online, Islamic Website, African Muslim News, Arab World News, South Asia News, Indian Muslim News, World Muslim News, Women in Islam, Islamic Feminism, Arab Women, Women In Arab, Islamophobia in America, Muslim Women in West, Islam Women and Feminism