New Age Islam News Bureau
30 Jul 2013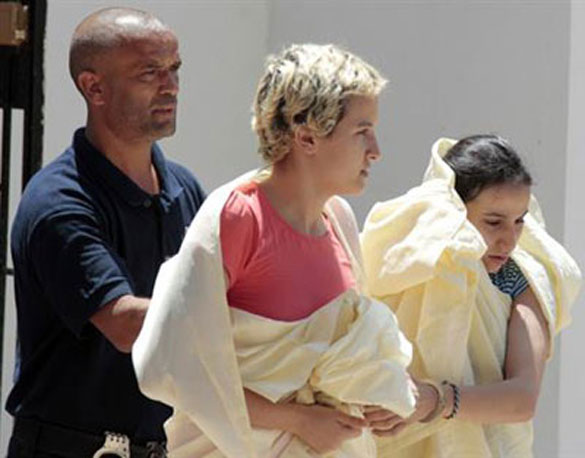 Photo: Tunisia Dismisses Charge Against Femen Activist Sboui
------
• UK school bans skirts for girls as young as 9
• Tunisia Dismisses Charge against Femen Activist Sboui
• Female Asylum Seekers at Risk of Rape in PNG: Afghan MP
• Fear, Inertia Keep Women's Protection Law Under Wraps in Pakistan
• Dubai Women Association Donates To Clothe 1 Million Children Campaign
• Afghan Man Brings Activism for Women to Norwich University
• Sara Comes To Terms with Fatwa (Edict) Banning Participation in Pageant
• Pakistan's Superhero Burka Avenger Becomes A Role Model For Female Empowerment
• Malian Women Press for Peaceful, Fair Elections
• Nigeria: UN Agency Backs Project to Save Funds for Women's Health
• Saudi Female Managers Lag behind Males in Number
• Woman Buries Her Newborn at Dubai Beach after Being Turned Away From Hospital
Compiled by New Age Islam News Bureau
URL: https://newageislam.com/islam-women-feminism/tamil-nadu-police-force-cancel/d/12815
----------
Tamil Nadu Police Force to Cancel Islamic Feminist Amina Wadud's Lecture
Arun Janardhanan, TNN | Jul 30, 2013
CHENNAI: A scheduled lecture by an Islamic scholar from the US was on Monday scuttled by police who cited possible law and order problems in view of opposition by Muslim groups. Amina Wadud, considered an Islamic feminist, was to deliver a lecture on 'Gender and Reform in Islam' at the University of Madras.
On Sunday night, while Wadud was waiting to fly from Kozhikode to Chennai, vice chancellor R Thandavan hastened to call off the programme, following a text message from city police officer who said: "Police cannot allow this (the lecture) considering law and order (sic). Please take action to suspend / cancel the programme."
PK Abdul Rahiman, head of the Centre for Islamic Studies, said it was frustrating to be "dictated" by people from outside the university. "This has set a wrong precedent of police interfering in university programmes. We've lost an opportunity to host an internationally renowned scholar," said Rahiman. Wadud's books are part of the Islamic Centre's curriculum.
A senior police officer said the decision to stop the lecture was taken at "a higher level."
Sixty-year-old Wadud, born to an Afro-American Methodist family in Maryland, embraced Islam at 20. She is one of the founding members of Sisters in Islam, a women group for gender equality and justice. A consultant to MUSAWA, a global women's movement, she made news in 2005 by leading a prayer of congregation of men and women - something which only male imams are allowed to do - in New York.
Early on Monday, she reacted to the university's decision by tweeting from Kozhikode: "I have announced my intention to leave India for good as soon as I have completed some commitments in the region already scheduled."
Those looking forward to listening to Wadud were disappointed at the turn of events. Former judge of the Madras high court K Chandru said the incident was similar to the ban on Taslima Nasrin. "When a battalion of police is camping before the US Consulate in the city for several months, why don't they give protection to an Indian university," he asked.
University sources said the police officer who spoke to them said that an earlier speech by Wadud in Karur in Tamil Nadu had created problems. However, according to Wadud, she had never been to Tamil Nadu before. "She considers it as an assault on her dignity," said a source.
The vice-chancellor was not available for comment. The Madras University Teachers Union (MUTA) and the Professors Forum, too, refused to talk about the incident. A police officer said, "On Sunday night we were told to inform the university. We are also looking at whether her visa conditions permit her to give such lectures."
http://timesofindia.indiatimes.com/india/Police-force-Madras-University-to-cancel-Islamic-feminists-lecture/articleshow/21473157.cms
----------
UK school bans skirts for girls as young as 9
PTI | Jul 30, 2013
LONDON: A UK school has banned skirts for girls as young as nine citing concerns over shrinking hemlines and the pupils appearing very "unladylike".
Girls from Walkwood Church of England Middle School in Redditch, Worcestershire, have been told to wear trousers from September amid concerns over shrinking hemlines.
The school will also ban female pupils from donning blouses from 2014 to ensure boys and girls wear the same uniform, The Telegraph reported.
But the move has been branded "crazy" by parents who warned that denying young girls the chance to wear skirts would leave them confused.
One campaign group said 63 schools currently banned children from wearing skirts. Most are secondaries but at least one other middle school, teaching nine- to 13-year-olds- have launched a similar crackdown.
David Doubtfire, the head teacher, said the ban was necessary because pupils were wearing increasingly shorter skirts.
"Some of the older girls were beginning to wear extremely short skirts. It was becoming difficult, especially when it came to them sitting down in the school hall. It was very unladylike," Doubtfire was quoted by the daily as saying.
"We would ask them to make their skirts longer, but they would just roll them up again when we turned away. We want to simplify the uniform. It was getting complicated and this should make it cheaper for parents. Some of the blouses were expensive," he said.
"Girls may be allowed to wear dresses in the summer. We are going to have a consultation on this," he added.
Walkwood, which is currently rated as "satisfactory" by Ofsted, teaches 723 boys and girls aged nine to 13.
A group of 20 parents have now written to the school to complain over the skirt ban.
One parent, who did not want to be named, said: "You hear so much about the over sexualisation of children these days but to call a nine-year-old girl unladylike is absurd".
"They aren't ladies, they are young girls. And to stop them from wearing skirts is just going to confuse them. I've always been against skirt bans, but I understand there has to be a limit for teenagers as they are turning into young women," the parent said.
"But not for girls as young as nine, that's just crazy," the parent added.
The move comes after a group of boys from a secondary school in Cardiff launched a campaign earlier this month against teachers' refusal to allow them to wear shorts during the heatwave.
The Year 10 boys at Whitchurch High School turned up dressed in skirts at protest over the ban.
http://timesofindia.indiatimes.com/world/uk/UK-school-bans-skirts-for-girls-as-young-as-9/articleshow/21474823.cms
----------
Tunisia Dismisses Charge Against Femen Activist Sboui
July 30th, 2013
A court in Tunisia has dismissed one charge against a member of the women's activist group Femen. However, Amina Sboui remains in prison pending trial on the charge of desecrating a cemetery.
Defense attorney Leila Ben Debba said Monday that the court in Tunis had tossed out a charge of insulting and defaming a public servant brought against her client, who also goes by Amina Tyler.
Police had arrested Sboui on May 19 for allegedly scrawling Femen on a cemetery wall in the city of Kairouan to protest a planned conference of conservative Muslims. While awaiting trial on that charge, Sboui alleged that guards mistreated and even tortured inmates at her prisoner - and suddenly found herself on trial for the now-dismissed defamation charge.
"The court decided to dismiss the case against Amina," Ben Debba said. "It is a victory: The judiciary has begun to understand that she has been unfairly prosecuted."
Sboui still faces charges for possessing pepper spray, which police caught her with when they arrested her for desecrating the cemetery. She says she carried the pepper spray for self-defense after threats against her followed her posting on Facebook a picture of her bare breasts and the words "My body belongs to me and is not the source of anyone's honor" in March. Despite her claim, Sboui faces a prison sentence of between six months and five years for the pepper spray.
Continuing struggles
The court could also charge Sboui with desecrating the cemetery for writing the word Femen, which derives its name from a Ukrainian rights organization known best for protesting with bared breasts. She faces up to two years if found guilty. She says she wrote the word to protest an annual Salafist conference held in the city of Kairouan.
Sboui's family said that she suffered from chronic depression and had suicidal tendencies, and they prevented her from going out, claiming they feared for her safety. However, Sboui, born in 1993, accused her relatives of holding her in captivity and beating her and ran away from home in April. She regularly appeared in public before her detention in May, although never again topless.
At the end of May police arrested three Femen activists, two French and one German, after they beared their breasts outside the main Tunis courthouse, in a demonstration of support for Sboui. After international condemnation followed the arrest, Tunisia released those three women.
http://allafrica.com/stories/201307300359.html
----------
Female Asylum Seekers at Risk of Rape in PNG: Afghan MP
July 30th, 2013
A prominent Afghan politician has warned that female asylum seekers will be at risk of further violence and sexual abuse if they are sent to Papua New Guinea.
Shukria Barakzai, the president of Afghanistan's parliamentary defence committee and founder of the nation's women's caucus, said Australia must re-think its policy of resettling asylum seekers in PNG.
She said many Afghan women had already experienced violence in their homeland, and warned that any decision to follow through in sending refugees to PNG could damage Australia's international reputation.
I understand that it is dangerous for the people who are travelling far away from Asia to Australia. But, in the meantime, I believe Papua New Guinea is not the right place for them," she said.
Ms Barakzai said women and children should be exempted from being resettled in PNG, saying there were not enough facilities or safeguards to protect them.
"It's a big concern about psychology, it's a big concern security-wise, it's a big concern violence-wise, particularly against women and children," she said.
Ms Barakzai said female Afghan asylum seekers could find themselves caught between Afghanistan and PNG, two of the most dangerous countries in the world for women.
Aid group Médecins Sans Frontières has established clinics in PNG to address the widespread sexual and domestic violence, which it has described as an "epidemic" and a "humanitarian crisis".
The group has estimated that 70 per cent of PNG women will be raped or assaulted in their lifetime, mirroring the levels of violence found during times of war or civil unrest.
Ms Barakzai has survived several assassination attempts by the Taliban and continues to campaign for women's rights.
She also knows first-hand what it is like to experience violence and discrimination, having been beaten in public during the Taliban era.
In 2004, her husband married a second wife without telling her, and decided to run for a seat in parliament.
Ms Barakzai ran against him, and won.
She will be a candidate in next year's presidential election in Afghanistan, despite ongoing death threats from the Taliban.
http://www.abc.net.au/news/2013-07-30/afghan-mp-says-png-not-safe-for-women-or-children/4851864
----------
Fear, Inertia Keep Women's Protection Law Under Wraps in Pakistan
July 30, 2013
ISLAMABAD: What does a student do at a crossroads when her two options are either to allow herself to be sexually harassed or to fail in her exams if she refuses to cooperate? Sara*, a management sciences student of Federal Urdu University of Arts, Sciences and Technology, Islamabad, is facing this dilemma, and doesn't know whom to report to as there is no sexual harassment committee at the university.
Sara is one of thousands of women who are daily harassed at different institutions, government and private offices. There is currently no platform to report these advances, nor is there enough awareness about related laws.
Three years have passed since the passage of the Protection against Harassment of Women at the Workplace Act 2010 by parliament. As per rules, it has to be acted upon with the help of ombudsmen offices in provinces. Khyber-Pakhtunkhwa and Balochistan do not have ombudsmen yet.
Most of the public and private organisations' employees and bosses remain unaware of regarding the act. They also don't know which forums to approach in case of harassment-related issues.
As per the legislation, all organisations, including federal and provincial government ministries, departments, corporations, educational institutions, private commercial organisations and registered civil society associations, will be required to form inquiry committees of at least three members each – one of them a woman – to probe complaints and give their findings within 30 days to the competent authority concerned, that will award recommended penalties.
No action at the provinces
"Here, we are dealing with the federal capital area, and we facilitate offices in provinces which are connected with the centre," said Aziz Iqbal, an official at the Federal Ombudsman for sexual harassment office in Islamabad.
Aziz said that so far, their office has received only 139 applications and appeals since its inception, of which 130 have been disposed of and nine are under process.
The situation is no better at the provincial level. K-P's organisations and institutions have not as yet followed the orders as per the Act and establish three-member committees.
Balochistan's situation is similar, where the Women's Development Department is looking to enact its own law. The law is currently with the law ministry for vetting.
Salma Qureshi, the focal person and additional secretary at the Department, Quetta, said that as the law is yet to be passed by the provincial assembly.
"People can go to the district court against any department and person violating the act or not implementing the provisions," she said, adding that they have not received any application of harassment since constitution of the body. In Qureshi's opinion, the environment in the province is generally respectful for women and incidences of harassment are isolated.
The province of Sindh does have an ombudsman while Kinnaird College Lahore's former principal, Dr Mira Phailbus, has been appointed the Punjab ombudswoman.
Another official at the office, on condition of anonymity, said they receive dozens of complaints from females about sexual harassment but don't want to be named for fear of action.
Member, Alliance Against Sexual Harassment at Workplace (AASHA), Maleeha Hussain said that "if people see any violation of law, they should report to lower courts, as the offices of ombudsperson have not been formed by some provinces."
http://tribune.com.pk/story/583814/harassment-at-the-workplace-fear-inertia-keep-womens-protection-law-under-wraps/
----------
Dubai Women Association donates to Clothe 1 Million Children campaign
July 30th, 2013
WAM DUBAI, 29th July, 2013 (WAM) -- The Dubai Women's Association is to donate AED 50,000 from the proceeds of Charities Association projects for the benefit of the campaign to clothe 1 million underprivileged children, which was launched by His Highness Sheikh Mohammed bin Rashid Al Maktoum, UAE Vice President and Prime Minister and Ruler of Dubai, during the Holy Month of Ramadan.
The donation is to be made on the directives of Sheikha Amina bint Humaid Al Tayer, President of Dubai Women Association and Chairperson of the Board of Directors.
Dr. Fatima Mohammed Al Falasi, Director-General of the Dubai Women Association, stated that the Dubai Women Association is keen to strengthen humanitarian action to help the young and the needy, in line with the strategy of the United Arab Emirates to give aid to humanitarian and charity sectors.
"The Association will donate the AED 50,000 in solidarity with the humanitarian campaign, which coincides with the month of goodness and mercy and blessings, the Holy Month of Ramadan, which aims to clothe one million deprived children around the world. This step stems from venerable Islamic values, especially as we are in the Holy Month of Ramadan", she said.
http://www.wam.org.ae/servlet/Satellite?c=WamLocEnews&cid=1290005844227&p=1135099400124&pagename=WAM%2FWamLocEnews%2FW-T-LEN-FullNews
----------
Afghan man brings activism for women to Norwich University
By Stefan Hard
July 30,2013
Ali Shahidy is coming to America, and to Norwich University.
Shahidy, an Afghan native and 24-year-old women's rights activist living in Kabul, said he has been dreaming of coming to the U.S. to attend college so he can return to Afghanistan and be a more effective advocate for women's rights in a country where women remain second-class citizens.
It has, at times, seemed like an impossible dream for Shahidy, who outlined his background and plans during a phone interview from Kabul in mid-July. For the past 10 years, he said, he has been the primary breadwinner for his family of seven siblings and his parents; his father became disabled as an adult, and a younger brother has been disabled from birth. His family, with whom he lives in a modest apartment, includes a younger sister he said he helped rescue from an abusive arranged marriage that she was thrust into at age 17.
Despite his challenges, Shahidy earned good grades in school while weaving rugs at home in a family business, then landed a series of jobs that have broadened his skills, including interpreting for English-speaking Portuguese forces in Afghanistan under the International Security Assistance Forces mandate, helping Afghan companies review project proposals and developing mobile apps and marketing tools as a social media specialist.
Shahidy is active online with social media, where he discusses human rights problems and possible solutions, particularly in the area of women's rights, as an independent activist. He recently was awarded a grant to train and oversee a small staff of mentors who will work on Internet chat spaces and the streets of Kabul. They will offer education and support with a goal of reducing bullying, most of which he said involves Muslim religious zealots harassing women who dare to try to go about their daily business in public with some degree of freedom.
Shahidy said he will continue to oversee the three-month anti-bullying project in Kabul even while studying in Vermont. He has secured two Norwich University scholarships that will fund most of his tuition expenses for four years of study. Other academic and living expenses will be provided initially through a private fund established for his education and by a host family in Northfield that has stepped forward for his first year. Shahidy hopes to earn a bachelor's degree in psychology.
I spoke to Shahidy by phone on the day he got his plane ticket to America. Despite a poor connection, it was clear he was excited and beginning to believe his dream was coming true.
"I think getting an academic degree in the U.S. will help a lot," Shahidy said. "I think it will help me to find more effective ways to go back and fight for women's rights in my country. I personally witness a lot of youth (in Afghanistan) engaged a lot of the time in trying to exercise their rights, and I want to help them also be more effective."
Shahidy said his experience helping his younger sister in her abusive marriage solidified his determination to help women enjoy more equal status with men in Afghan society. Shahidy and his family were eventually successful in helping his sister divorce, and she now lives again with her siblings and is starting her adult life over again, he said.
Learning from his sister's experience, Shahidy has become increasingly competent in social media. Shahidy started and manages a Facebook page in Afghanistan, Daughters of Afghanistan, which he describes as "a platform to celebrate the strength and accomplishments of the daughters of Afghanistan — ordinary women doing extraordinary things."
Kara Lozier, of Pownal, a facilitator for international students hoping to study in the U.S., helped establish and manage a private fund on Indiegogo.com called Support Ali's Education. Lozier worked for a Department of State scholarship program established after the Sept. 11 terrorist attacks, but she said she found Shahidy by chance online after reading a paper on street harassment that he had submitted to a human rights forum Lozier had offered to assist.
"He was only a handful of men from Afghanistan writing, and I was determined to meet him," said Lozier.
Lozier contacted Shahidy about his paper on bullying and learned that for two years, Shahidy had been applying unsuccessfully for scholarships to study in the U.S. "He'd run into a lot of rejections and obstacles," she said.
Lozier agreed to become his college counselor, search out remaining scholarship possibilities, and start a fundraising effort for him. She discovered Norwich grants that had later application deadlines and helped him successfully apply.
Shahidy also already has a Northfield connection. Jonathan Hoffman, founder of Direct Aid International in Northfield, has met Shahidy twice in Kabul, where Hoffman travels annually in the summer to begin school-building and well-digging projects in the Afghan countryside.
"Shahidy should make quite an impression on the Norwich campus," said Hoffman on Monday, having just returned Friday from Kabul and having just met with Shahidy. "He's bright, calm, patient, well-educated and I.T.-savvy. He won't be defensive about his country. He's what I meet a lot in Afghanistan — I don't meet a lot of angry young men sympathetic to the Taliban. He'll change perceptions here of what a young Afghan man can be."
Hoffman said his nonprofit organization will also establish a fund to support Shahidy long term in Northfield.
http://rutlandherald.com/article/20130730/NEWS03/707309903
----------
Sara Comes To Terms with Fatwa (Edict) Banning Participation in Pageant
VICTORIA BROWN
July 30th, 2013
KUALA LUMPUR: One of the four Muslim girls who were forced to drop out of the Miss Malaysia World 2013 contest has come to terms with the fatwa banning their participation.
One of the finalists, Sara Amelia Bernard, said she was prepared for the decision, which was conveyed by the Federal Territories Islamic Religious Department (Jawi) director Datuk Che Mat Ali to pageant organiser Datuk Anna Lim.
"I'm disappointed, of course. But the bright side is that I get to come and give moral support to my friends. One of them may be the new Miss Malaysia World," said Sara.
Asked about the probe by Federal Territories Islamic Religious Department against them, Sara said that the investigation was still ongoing.
She said she also had to disable her Facebook account because of the large number of negative comments.
"The note I wrote on Facebook has received more than 3,000 shares. I didn't expect it to go viral," she said yesterday.
The other three girls are Wafa Johanna De Korte, Miera Sheikh and Kathrina Ridzuan.
Earlier, Lim said she had been informed by Che Mat that Muslim girls would not be able to take part in beauty pageants.
Che Mat, she said, had called her to express how the fatwa had been enforced and implemented.
"It's sad to know that the girls cannot participate.
"They are beautiful and have a lot of the right attributes. They stand the chance of being the ambassadors of our country," said Lim, adding that the other contestants had already started off on their Miss Malaysia World programme.
"I hope that they (Jawi) will look into it again if there's a possibility that there's anything that can be done," she said.
The disqualified finalists, she said, had been invited to the Miss Malaysia World programme as guests.
At another function, Minister in Prime Minister's Department Datuk Seri Jamil Khir Baharom said Muslim women were banned from taking part in beauty pageants because of the fatwa prohibiting it.
"This is not about the rule of no bikinis. The fatwa clearly states that Muslim women cannot join beauty pageants," he told reporters here yesterday.
http://www.thestar.com.my/News/Nation/2013/07/30/Exfinalist-accepts-decision-Sara-comes-to-terms-with-edict-banning-participation-in-pageant.aspx
----------
Pakistan's superhero Burka Avenger becomes a role model for female empowerment
30 Jul, 2013
Cartoon fans in Pakistan have been excited by the arrival of the country's first caped crusader, in the form of a female superhero who flies through the air, battling villains using pens and books.
The heroine, Burka Avenger, is certainly an unusual role model for female empowerment in Pakistan: a woman who uses martial arts to battle colourful villains such as Baba Bandooq, a Taliban-esque figure who tries to shut down her school, and Vadero Pajero, a corrupt politician.
But the cartoon, in which a demure schoolteacher, Jiya, transforms into the action heroine by donning a burqa, or traditional cloak, has also triggered an awkward debate about her costume. "Is it right to take the burqa and make it look 'cool' for children, to brainwash girls into thinking that a burqa gives you power instead of taking it away from you?" asked the novelist and commentator Bina Shah in a blog post.
The criticism has not overshadowed the broader welcome that Burka Avenger has received. With slick computer animation, fast-paced action and flashes of humour that even adults can appreciate, the character could offer Pakistanis a new cultural icon akin to Wonder Woman in the US.
The burqa debate centres on whether her use of the all-covering cloak - albeit a more streamlined version of the one usually seen in Pakistani villages - is subverting a traditional symbol of segregation and oppression or reinforcing it.
Sherry Rehman, a former Pakistani ambassador to the US, said she also disliked the use of the burqa in a children's show. "A dupatta could have done the job," she said on Twitter, referring to the head scarf that some women wear in Pakistan.
The show's maker, Aaron Haroon Rashid, said the criticism was misplaced because the heroine uses a burqa only when in disguise. (As Jiya, she does not wear a head scarf). "She wears it to hide her identity," he said.
While most Pakistanis have little difficulty relating to burqas, he said, he understood they were controversial in the West. "Sometimes there are extremes when the authorities ban hijab in public or in schools," he said, referring to efforts to restrict Islamic head scarves in some European countries. "That does not make sense to people in Pakistan."
The Burka Avenger character has obvious parallels with Malala Yousufzai, the 16-year-old Pakistani schoolgirl who was shot by Taliban gunmen last year for advocating education for girls and who recently addressed a seminar at the UN headquarters in New York
Rashid, who is a pop star in Pakistan, said work on the show had already started when Yousufzai was shot. But the attack on her only highlighted the importance of protecting girls' education, a major theme of the show. "Malala is a very brave girl, and her speech at the UN was spectacular and wonderful," he said. "There has been a lot of criticism of her in Pakistan which I can't understand."
Rashid, who studied business at George Washington University, said he first had an idea for an iPhone game. Then, after working with cartoon animators and musicians in Islamabad, he developed it into a cartoon series.
The storylines often centre on social issues with relevance to adults as well as children, such as access to education and corruption. The use of cartoon characters to impart positive messages is not new. Last year, a Lahore puppet company produced a local version of Sesame Street, using US government financing.
Despite the criticism, some viewers said the images did not bother them. "It is a new take on purdah and a strong message of womanhood," said Kulsume Hai, 35, after watching the show on Sunday evening. Purdah is the tradition of veiling women to separate them from men who are not close relatives. "The burqa is shown as a strength rather than weakness," Hai added. "The idea is to show that a burqa -clad woman can be tough, too."
http://economictimes.indiatimes.com/news/news-by-industry/et-cetera/pakistans-superhero-burka-avenger-becomes-a-role-model-for-female-empowerment/articleshow/21474277.cms
----------
Malian Women Press for Peaceful, Fair Elections
By UN Women
July 30th, 2013
"Women's organizations have been powerless in the face of everything our sisters have suffered. We are now in a process of national reform; I think that this should be done in a participative, inclusive manner that motivates us to become involved in the electoral process," says Traoré Nana Sissako, lawyer and chair of the Malian Women's Rights and Citizenship Group (GP/DCF), which seeks to promote the political participation of women in Mali.
Since March 2012, Mali has undergone one of the most serious security and political crises in its history, marked by the occupation of three of its main regions (Kidal, Timbuktu and Gao) and a coup d'état. Collaborative efforts at the national, sub-regional, regional and international levels have enabled the gradual recovery of all the regions under occupation and the gradual return of displaced populations and local government.
The presidential election on July 28 will enable Mali to start the reconciliation and reconstruction process. A total of 27 candidates, including one woman, are running for the presidency. The dominant themes of the campaigns are the consolidation of peace; the re-establishment of the State; economic revival and employment, particularly youth employment; the establishment of good governance; reform of the education sector; development of the micro-finance sector; and the implementation of a health policy for all. Equality and the empowerment of women are addressed through proposals for the creation of specific women's funds, attention to rural women and women's strategic positioning in governance.
Malian women represent only 10 per cent of Parliament and make up a mere 8 percent of elected members to local government. During the last presidential elections in 2007, Mali's first-ever woman candidate received less than 1 per cent of the votes cast.
For the upcoming elections, UN Women has supported the Malian Government in the creation of a "Gender and Election" strategy and action plan. Launched by the Prime Minster in May 2013, this strategy focuses on increased participation and representation of women in general elections from 2012-2015 and improving women's representation in national political bodies.
As part of these efforts, with support of UN Women and its partners the Netherlands, UNDP and the European Union, four initiatives are being implemented by civil society women's organizations and the Ministry of Gender with a view to stronger women's participation in the electoral process. They aim to encourage women to go to the ballot and vote on the basis of a "gender" analysis of the candidates' programmes. It is estimated that nearly 2 million women and young people would be reached by these initiatives prior to elections either directly or through media coverage.
UN Women supported the creation of a women's oversight platform for fair and violence-free elections in Mali, inspired by similar women's electoral "situation rooms" in Senegal and Sierra Leone. Active in Mali since mid-July 2013, the platform is a space where Malian women voters can exchange views and information. Every day, speakers come and debate side-by-side on a series of crucial issues, such as the importance of women's vote, the impact of electoral violence on their vote, the role of young people in elections, the role of the media in preserving peace, etc. The practical aspects of voting are also covered, such as the distribution of National Identification Number voter cards as well as the different stages of vote-counting.
The platform has had 2,500 women and youth visitors, so far. To expand the platform's reach, a website specifically dedicated to the platform's activities was launched on July 23. Updated daily, it will include a discussion board, allowing Internet users to engage in debates.
Nana Sissako, the platform's president, says this initiative gives women the opportunity for the first time to voice their concerns and to understand the different candidates: "This is something that just wasn't done before. Women are going to be able to express their concerns to the candidates so that they can possibly review their programmes in light of the concerns expressed. Women are no longer going to vote for T-shirts or tea, but for programmes. They are going to vote for meaningfulness and accountability."
All the presidential candidates have been invited to the platform to present their programme, and outline their gender equity and women's empowerment mandates. Moussa Mara, of the "Yelama" party, was the first candidate to appear on the oversight platform and said, "If I am elected, 30 per cent of my Government will be women."
Mrs. Djourté Fatimata Dembélé, a platform participant, says: "For me, voting is important because I want someone who cares about this country's future and its sustainable development. Sustainable development cannot be conceived without taking account of women's concerns, women's active participation in political life and at every level. That is why I shall be voting!"
Alongside the oversight platform, the National Women's and Young People's Caravan for Peace will also enrich the electoral dialogues… During the two rounds of the presidential election, the Caravan will tour the entire country, calling for peaceful elections in the post-election period. Supported by public figures, including celebrities and artistes, as well as women from neighbouring countries such as Ivory Coast, Guinea and Senegal, the Caravan will facilitate community debates around the need for fair and peaceful elections and also aim to prevent post-electoral violence.
The pan-African network "Women in Law and Development in Africa" (WILDAF), a UN Women partner, is mobilizing support for the the sole woman candidate for the Malian presidential election, Haïdara Aïchata Cissé, known as "Chato." An elected Member of Parliament for Bourem in the Gao region, as well as a businesswoman and trade unionist, Mrs. Haïdara is featuring women strongly in her programme. She wants to facilitate rural communities' access to finance and resources for economic activities, along with providing support to the most disadvantaged mothers for their children's education, and improve social security.
"There is nothing inevitable about gender inequality," she said. "It's a matter of political priorities … for without women it is impossible to steadfastly follow the road to prosperity. When all's said and done, it is women who reflect a country's development. My central theme is around the development and place of women. These two aspects are linked. It is the same challenge to be highlighted."
In the lead up to the elections, supported by UN Women, the "Woman: It is Your Primary Right to Vote" campaign was also launched in early July by the Minister for the Promotion of Women, Children and Families, Alwata Ichata Sahi. The campaign which started in two regions of Mali, involving more than 5,000 women and young people, is being rolled out across Mali.
According to Rachelle Mian, Country Director of UN Women in Mali, the engagement of women throughout this electoral process is encouraging: "I was pleasantly surprised by the platform's success with women and by their enthusiasm for taking part in the debates. … The debates have left me certain of one thing: women's vote will be thought through and will reflect their practical and strategic needs. In a word, a woman's vote will be 'tactical,' for her and for her family."
http://www.care2.com/causes/malian-women-press-for-peaceful-fair-elections-2.html#ixzz2aWJLz54O
----------
Nigeria: UN Agency Backs Project to Save Funds for Women's Health
BY JUDD-LEONARD OKAFOR
July 30th, 2013
The United Nations Entity for Gender Equality and Empowerment of Women (UN Women) and health maintenance organisation, Novo Health, have signed up to a new initiative to economically empower women and protect them and their families from catastrophic financial effects of ill-health.
"We want to influence women economically, particularly in rural areas, to see that any money they make in whatever businesses, helps them in improving their health," said UN Women country representative for Nigeria and ECOWAS, Grace Ongile.
She said the target at the end of the pilot project to commence shortly, would ensure empowerment activities that can make a difference.
"Most times we talk on behalf of women, but we want the women to come out and really say exactly how their livelihoods have changed."
A pilot project, to commence after both agencies signed a memorandum of understanding last week in Abuja, will seek funding from banks in return for opening up to rural unbanked populations estimated at nearly 60 million, most of them women, and lacking access to regular health insurance and increasing their out-of-pocket spending on health.
"This partnership will provide that healthcare cover, teach them to take charge of their health, provide a health system delivery mechanism that will allow them to budget in advance for their ill-health," said chief executive officer of Novo Health Africa, Dorothy Jeff-Nnamani.
In the pilot, which is hoped to be funded by banks, are plans to screen beneficiaries and open bank accounts in their names individually or in groups to guarantee their finances are protected.
It will enable them "come together as a group to pool their resources and protect themselves as a group [the absence of which] exposes women to a lot of financial challenges," said Jeff-Nnamani.
http://allafrica.com/stories/201307291360.html
----------
Saudi female managers lag behind males in number
30 July 2013
An estimated 71,616 Saudi men hold the position of manager in the private sector, while the number of women holding the same position is 21,000, according to the Ministry of Labor.
The number of female managers is only a fraction of the 215,840 Saudi women working in the private sector. In all, there are 918,793 Saudi men working in the private sector.
The Ministry of Labor also reported that 477 Saudi women are involved in rearing birds and animals. They also work in the fishing and farming industry.
Statistics released by the Ministry of Labor show the number of Saudi women who work in the scientific, artistic and humanitarian fields in the private sector in 2012 are 14,196. Those who work as technicians are 34,873; in clerical 83,32; and in sales 30,562. Women working in the service sector are 17,802, and those in chemical, industrial processing, and food manufacturing are 4,409.
The number of Saudi males working in farming and animal and bird rearing, as well as fishing is 2,569.
The Ministry disclosed the number of working women in different Saudi cities as 81,667 in Riyadh, 53,717 in Makkah, 40,746 in Eastern Province, 11,859 in Qassim and 8,729 in Najran.
http://www.arabnews.com/news/459639
-----------
Woman buries her newborn at Dubai beach after being turned away from hospital
July 30th, 2013
By Bassam Za'za'
Dubai: A woman was given a one-year jail sentence in a retrial on Monday for having sex outside marriage that resulted in her burying her baby at the beach.
The baby died one day after birth when 30-year-old Filipina, J.A., failed to provide her with proper medical care, the Dubai Court of First Instance heard.
Last week, the court sentenced J.A. in absentia to two years in jail after she was convicted of having sex with a fellow countryman, endangering the life of her baby then burying the child in a shoebox at the Jumeirah Open Beach.
The woman contested the ruling in absentia and a retrial was arranged for Monday.
"I did have consensual sex with my boyfriend and I conceded. After I gave birth to a baby girl, she fell very ill. My boyfriend and I took her to the hospital where we were asked to pay Dh26,000 for her to be admitted to hospital. We could not afford that amount of money… so we left. Her situation worsened the next day and so we put her in a shoebox and buried her at the beachside. I did not endanger her life and never meant to do so," J.A. told presiding judge Ali Attiyah Sa'ad during the retrial.
On Monday, judge Sa'ad sentenced the Filipina to one year in jail followed by deportation.
J.A. had claimed she was forced to dispose of her baby, who died a day after delivery. The woman's boyfriend, R.B., remains at large.
Prosecutors argued that the woman endangered the life of her baby, which was around 30, to 32-weeks-old, when she failed to provide her with proper medical care.
A lifeguard discovered the baby's body around 11:30am on January 11.
The verdict is subject to appeal within 15 days.
http://www.albawaba.com/editorchoice/woman-buries-her-newborn-dubai-beach-after-denied-medical-treatment-510524
----------
URL: https://newageislam.com/islam-women-feminism/tamil-nadu-police-force-cancel/d/12815