New Age Islam News Bureau
13 Jul 2012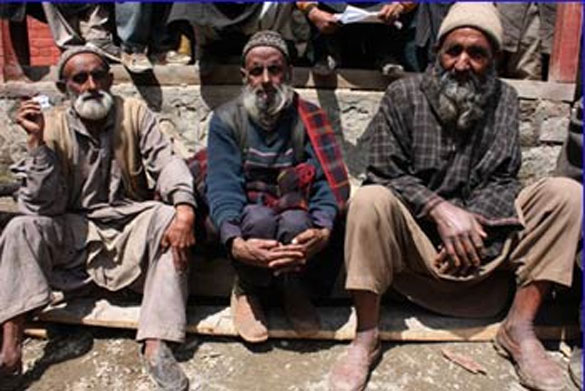 • 'Talibani' Panchayat 40 Kms from Delhi in A Village of 70-30 Muslim, Hindu Ratio
• UK Court Convicts Family Of "Honour Killing" Pakistani Woman's Murder
• Qatari Female Athlete to Be Flag-Bearer
• Separating Women from Men Is Done To Prevent Both Parties from Sinning
• Women Condemn Polygamy Advice of Melbourne Mosque's Cleric
• Can Women Change The Face Of North American Mosques?
• Saudi women in 'breakthrough' Olympics
• Egyptian Women Fight On, and Discover New Allies
• Turkish Fashion Magazine Targets Female Islamic Professionals
• UAE Weightlifter Khadija's Progress an Inspiration
• The Modest Victory That Is Saudi's Two Female Olympians
Compiled by New Age Islam News Bureau
Photo: 'Talibani' Panchayat
URL: https://newageislam.com/islam-women-feminism/'talibani'-panchayat-40-kms-delhi/d/7902
----------
'Talibani' Panchayat 40 Kms from Delhi in A Village of 70-30 Muslim, Hindu Ratio
UP panchayat bans love marriage, forbids girls from using cell phone
THE self- styled guardians of morality and social values in India are getting more brazen day- by- day.
In a Talibani diktat slapping several restrictions on women, a village panchayat in Baghpat district of Uttar Pradesh — around 40 km from the national Capital — banned girls from using mobile phones when out on roads and women less than 40 years old from going out shopping.
The panchayat of Asara village also banned love marriages and ordered girls to cover their heads while stepping out of their houses.
The decisions were taken by the panchayat in February this year. It met on Wednesday to ensure strict enforcement of its decisions.
"We noticed that some girls and their parents were not taking our order seriously. So, we held a meeting on Wednesday in which we resolved that those who defy the order would be first ostracised and then expelled from the village.
There are other ways also to make them follow the instructions. But that would be decided when such a situation arises," Mohammed Mohkam (50), a member of the panchayat, said.
While 70 per cent villagers are Muslims, 30 per cent are Hindus, most of them Jats. The meeting on Wednesday was attended by 200 people, representing the two communities in proportion to their population.
To be sure, there were some welcome decisions also as the panchayat ruled that taking or giving dowry would be a punishable offence. Besides, it barred boys from using headphones/ earphones on roads and in by lanes.
"We also want even our boys to stop using earphone because they fail to listen horn on the roads and meet with accidents. Our women are also expected to cover their heads in the village. They can remove it once out of the boundary of the village," Mohkam said.
But most of the fatwas were aimed at curbing the freedom of girls. The panchayat slammed love birds planning to enter into wedlock. "Love marriages are a shame for society. It is very painful for the parents, specially the girl's family, because such marriages dent their respectability. Anyone who goes for love marriage will not be allowed to live in the village," Sattar Ahmed, another member of the panchayat, said.
Justifying the bizarre decision to ban women below 40 from going to the market, Ahmed said: "It gives rise to crime." Defending the fatwa on girls covering their heads: " This is for their safety." Most villagers welcomed the orders.
Vijendra Kashyap, a local, said: "Women must follow them." " I would have been more happy had the panchayat imposed a complete ban on girls using mobiles," Tarun Chaudhary, another villager, said.
Mohammed Islamuddin ( 62), another panchayat member, said: " We are of the view that our immature daughters and sisters shouldn't carry a mobile phone because it leads to various complications.
You know well how mobile phone has been misused to make MMS clips. We want to prevent them from any wrongdoing and protect them from bad elements." Even women appeared to support the panchayat's diktats.
Geeta Devi, 40, said: "Whatever they have decided would be followed.
There shouldn't be arguments." However, Neetu Singh, a 23- year- old MA student in Baghpat who belongs to the same village, said: " I agree with the order that women should cover their heads in the village. But using a mobile is necessary to be in touch with our parents. The panchayat must know that women are no less than men in any walk of life." Baghpat's superintendent of police V. K. Shekhar said: " A deputy superintendent of police is probing the matter and suitable action will be taken once I receive the report." State Congress president Rita Bahuguna Joshis said: "We will take up this Talibani order with the National Women's Rights Commission. Such bizarre orders can't be accepted at any cost."
THE FEUDAL DIKTATS
A teacher in Dausa district of Rajasthan sought police protection in mid- June alleging that the caste panchayat was forcing her to accept child marriage. Santra Meena of Manpuria village was married to Dinesh Meena when she was 13 years old. As she refused to return to her husband, who was not even a matriculate, the local Meena caste panchayat ordered her abduction
In May, the Thua village panchayat in Haryana's Jind district banned married women from seeking a share of parental property, but retracted the diktat under pressure from the administration
In April, a 13- year- old gang- rape victim committed suicide in Ghaziabad after she was not allowed to file a police complaint by the local panchayat. The rapists were let off by the panchayat with a mere warning
In Jan 2011, a khap panchayat in Bhenswal village of Muzaffarnagar in UP banned girls from wearing jeans, blaming the attire for provoking eve- teasing and encouraging young couples to elope
In April- May 2010, khaps across Haryana, Rajasthan and Uttar Pradesh threatened to launch a stir if Hindu Marriage Act was not amended to same gotra marriage. Their threat came in the wake of a court awarding death sentence to some of the accused in the Manoj- Babli honour killing case A khap mahapanchayat in Haryana even blamed same gotra marriages for the skewed sex ratio in the state
In August 2010, a khap mahapanchayat in Haryana sought legal recognition for the caste councils and laws against homosexuality, embryo transplant and surrogacy
Mail Today.
----------
UK Court Convicts Family Of "Honour Killing" Pakistani Woman's Murder
Farah Hyder
13 July 2012
The family, including the husband of a Pakistani woman in the United Kingdom, has been held after being found guilty of killing wife Naila Mumtaz.
The Birmingham court is to deliberate on sentencing, the Daily Mail reported, in a case that has highlighted "honour killings" in the country after the family believed Mumtaz was possessed by "evil spirits."
Mumtaz's husband, Mohammed Tauseef Mumtaz, 25, his parents, Zia Ul-Haq and Salma Aslam, both aged 51, and his brother-in-law, Hammad Hussan, 24, were all found guilty murder earlier this week.
Following the 12-week trial at the Birmingham Crown Court, jurors heard that Mohammed Tauseef, who was accused of smothering his 6-month pregnant wife, told police she tried to strangle herself and may have been "possessed" by an evil spirit.
The court was told that he claimed his wife's death was "like a suicide" and that he had been "similarly possessed" at the city's coroner's court after her death, INSA reported.
All four defendants denied murdering Mumtaz at her home in Craythorne Avenue, Handsworth Wood, Birmingham, in the early hours of July 8, 2009.
Wendy Bounds, a lawyer from the West Midlands Crown Prosecution Service complex casework unit, was quoted by INSA as saying, "Naila Mumtaz, a kind-hearted and beautiful young woman living in Pakistan with her parents, agreed to enter into an arranged marriage with the defendant, Mohammed Tauseef Mumtaz.
"She was aware that he suffered from a physical disability, but she was not put off by his appearance, taking the kind-hearted view that all living things had the same value.
"However, the jury today found that her husband and his family did not share her values."
The case has left much of the UK frustrated and concerned over reported increases in violence toward minority women, but Islamic leaders were quick to point out that this killing was "un-Islamic" and across all Muslim groups widespread condemnation of Mumtaz's murder was strong.
One Birmingham Muslim resident, Aamir Tarek, who followed the case, told Bikyamasr.com that he hoped "this would not be seen as Muslim violence.
"This is a bunch of crazy people who did something so terrible and wrong, but it has nothing to do with Islam. Islam doesn't teach about spirits and evil like this," he added.
http://www.bikyamasr.com/72582/uk-court-convicts-family-of-possessed-pakistani-womans-murder/
----------
Qatari female athlete to be flag-bearer
July 13, 2012
Share on facebookShare on tumblrShare on twitterShare on emailMore Sharing Services2
Doha: Qatar's Olympic Committee says one of the Gulf nation's first female athletes to compete at the games will be the flag-bearer for the opening ceremony in London.
The committee said late Wednesday on Twitter that shooter Bahiya Al Hamad has been chosen to "raise the Qatar flag at London 2012."
Along with Saudi Arabia and Brunei, Qatar has never previously sent female athletes to the Olympics. It is not yet clear if the other two countries will send women to the London Games.
Al Hamad is one of three Qatari women set to compete in London. She received a wild-card invitation after winning three gold and two silver medals at the 2011 Arab Games.
Article continues below
Swimmer Nada Arkaji and sprinter Noor Al Malki had also been given wild cards. Earlier in July, under pressure from the International Olympic Committee to end the tradition of sending men-only teams to the Olympics, Saudi Arabia has said it would allow women who qualify to compete at the London Games. The announcement came as the leadership's favoured candidate, equestrian Dalma Rushdi Malhas, was ruled out of the Olympics — sending officials on a hunt for other female athletes they could include on the Saudi team and avoid IOC sanctions a month before the start of the games.
While Qatari women face less restrictions than in Saudi Arabia, the concept of women athletes competing in international competitions is still foreign and it is an uphill battle to change the mindset in the country.
http://gulfnews.com/news/gulf/qatar/qatari-female-athlete-to-be-flag-bearer-1.1047945
----------
Separating Women From Men Is Done To Prevent Both Parties From Sinning.
Jul 13, 2012
In an Islamic setting, men lead prayers, which is why they take the front seats in the mosque, says Yahaya Kakungulu, the deputy director of Shariah at the Uganda Muslim Supreme Council.
He says separating women from men is not a case of discrimination, adding that Islam glorifies women more than men.
But just like the saying goes 'prevention is better than cure', Kakungulu notes that separating women from men is done to prevent both parties from sinning.
''It is common that in any other public place where there are women and men, there are some distractions. One side usually takes up the other's attention. This should not happen in a place of worship,'' says Kakungulu.
http://www.newvision.co.ug/news/632953-why-women-sit-behind-in-mosques.html
----------
Women Condemn Polygamy Advice of Melbourne Mosque's Cleric
Samantha Donovan
July 11, 2012
MARK COLVIN: A Muslim women's group has condemned a Melbourne mosque's advice that polygamy is better than divorce. The advice was given to a troubled married woman who had sought help through the mosque's Facebook page.
The Muslim Women's Centre for Human Rights believes polygamy is very rare among Australian Muslims. But it is calling on governments to do more to stamp out the practice where it does exist.
Samantha Donovan reports.
SAMANTHA DONOVAN: The advice was posted on the Facebook page of Melbourne's Preston Mosque. It appeared to be in response to a query from a Muslim woman seeking help with her marriage.
FACEBOOK PAGE EXTRACT (voiceover): If a man is saying to his wife I will marry another woman this is far better than saying you are divorced, every time he is upset. So if your husband is telling you that he wants to take another wife and you are not doing the right thing by him then know that he is thinking straight and using a weapon that doesn't have severe consequences.
SAMANTHA DONOVAN: But the Muslim Women's Centre for Human Rights says polygamy does have severe consequences.
Joumanah El Matrah is the centre's executive director.
JOUMANAH EL MATRAH: The recommendation or the advice given in this posting is explicitly encouraging the woman to be accepting of a polygamist marriage but I think more implicitly is the request to the woman to basically stay in the marriage that is unhappy and not to put her needs forward as being important.
SAMANTHA DONOVAN: Ms El Matrah believes the practice of polygamy among Muslim Australians is extremely rare.
Full report at:
http://www.abc.net.au/pm/content/2012/s3543827.htm
----------
Can Women Change The Face Of North American Mosques?
Daood Hamdani
Jul 11, 2012
By Daood Hamdani
Ottawa - The North American mosque is evolving and redefining its purpose and practices. A recently-released report by a group of mainly Muslim organisations, The American Mosque 2011, provides the first factual glimpse into changes in North American mosques. Initially serving primarily as a place to perform religious rituals, mosques are developing into community building institutions.
Mosques have established programs geared towards youth, take part in volunteer and community service activities, and mosque leaders have made strides in interfaith outreach. Despite these developments, mosques still struggle with fully embracing one-half of their own community: women.
There is historical precedent for women's full inclusion in mosque life, however. Early Muslim settlers in the United States and Canada were quick to establish roots in their adopted homelands. They found opportunity for a new beginning – a privilege and responsibility possible for few generations – and set up accepting and inclusive religious institutions.
Al-Rashid Mosque, built in 1938 in Edmonton, Canada and founded by both men and women, was one of the first North American institutions of its kind. It created an inclusive community where young men and women met their future life partners, social issues were discussed and leaders were nurtured. Women played a key role in establishing this community, which valued their voices equally with men's.
Women have been increasingly integrated into the religious life of the community, as exemplified by the Noor Cultural Centre in Toronto which has been managed by women since it opened in 2003. A children's playroom, a private room for breastfeeding and separate washrooms cater to the needs of women and mothers and ensure that women have the opportunity to join congregational prayers. Male and female worshippers stand side by side in columns, following the protocol observed in Islam's holiest site, the Ka'aba in Mecca.
Full report at:
http://theamericanmuslim.org/tam.php/features/articles/can-women-change-the-face-of-north-american-mosques/0019242
----------
Saudi women in 'breakthrough' Olympics
By Mohamed Hasni (AFP) – 15 hours ago
DUBAI — Saudi Arabia's decision to allow two female athletes to compete at the Olympic Games overturns a decades-old taboo imposed by the conservative Muslim monarchy which still bars women from sports at home.
Thursday's announcement by the International Olympic Committee was the fruit of negotiations between the Lausanne-based organisation and the kingdom's sports chief and has been hailed as a "breakthrough."
It capped weeks of suspense and won praise for Saudi Arabia from IOC President Jacques Rogge.
The women who will make history for Saudi Arabia are Wodjan Ali Seraj Abdulrahim Shahrkhani (judo) and Sarah Attar (800m).
"This is very positive news and we will be delighted to welcome these two athletes in London in a few weeks' time," Rogge said.
"The IOC has been working very closely with the Saudi Arabian Olympic Committee and I am pleased to see that our continued dialogue has come to fruition."
Saudi sports authorities have refrained from promoting the participation of women athletes in the London Games, apparently to avoid run-ins with ultra-conservative forces opposed to such an initiative.
In early July the Saudi Olympic committee chairman and sports minister, Prince Nawaf bin Faisal, set out the rules of the game.
All women competitors must dress modestly, be accompanied by a male guardian and not mix with men during the Games, he told Al-Jazirah newspaper.
Saudi sportswomen may only take part if they do so "wearing suitable clothing that complies with sharia" (Islamic law) and "the athlete's guardian agrees and attends with her," he said.
Full report at:
http://www.google.com/hostednews/afp/article/ALeqM5g_dbVuA0U1mqv2-gP4ZaDimJblXA?docId=CNG.d1f22836e28c14f40f45d4a6d97635a4.31
----------
Egyptian Women Fight On, and Discover New Allies
By Randa El Tahawy
July 13, 2012
One of the iconic images of Egypt's revolution was that of men and women standing together, united for positive change. But since then, women have struggled with sexual harassment and have been side-lined in the political transition. Egyptian women, however, have never stopped fighting – and today they are finding many new allies.
Some Egyptians argue that democracy needs to come first, before worrying about women's rights. Overcoming women's marginalization first, though, is actually essential to creating a truly democratic Egypt. The core issue not only concerns women's equality with men, but also the matter of justice.
All too often, women have been treated as second class citizens and subject to injustice – they face harassment on the street, have been victims of virginity tests by the military, and are shut out of many opportunities to be involved in politics. For instance, women's rights activists are not being consulted in the constitutional drafting process. Even though women can legally hold positions as judges or high-ranking political offices, social pressure often means women are unable to attain them.
However, women's rights activists have not been silent in the face of hurdles like these. Take Bothaina Kamel, who exercised her right to run for president, and was Egypt's first female candidate for the office. Although she ultimately failed to gather enough signatures to be on the ballot, she demonstrated to other Egyptian women that they, too, should be able to participate in politics.
When it comes to civil society, many existing feminist organizations have grown in membership, and new feminist organizations have been founded. For instance, the Feminist Union, originally founded in 1923 by activist Hoda Shaarawy, was re-launched in October 2011, bringing together more than 1,000 organizations under its umbrella to focus on supporting women running in the parliamentary elections, as well as encouraging women to vote.
Full report at:
http://www.dailystar.com.lb/Opinion/Commentary/2012/Jul-13/180422-egyptian-women-fight-on-and-discover-new-allies.ashx#axzz20V93vgqe
----------
Turkish Fashion Magazine Targets Female Islamic Professionals
Jul 13, 2012
STANBUL — The fashion industry is booming in Turkey as a result of a youthful population and strong economy. And with that trend has come the emergence of a new fashion magazine called Ala, whose target audience is the young Islamic professional woman.
In a swanky five-star hotel in old Istanbul a fashion shoot is taking place. But it is not for your typical fashion publication. It's for Ala, a magazine catering to pious head-scarf-wearing, working woman.
Within a year it has shaken the Turkish fashion world, attracting a number of subscribers rivaling its secular counterparts.
The woman behind Ala, 24-year-old Hulya Aslan, said "This magazine is aimed at conservative women who need a magazine to offer alternatives in their lifestyles, she says. The other magazines did not represent them, they could not find things that corresponded to their needs and desires. They did not offer them a lifestyle they aspired to. They were in search of something and at that moment we offered them Ala magazine and filled a gap in Turkey."
The magazine has tapped into the growing Islamic middle class in Turkey that has prospered under the Islam-inspired Justice and Development Party of Prime Minister Recep Tayyip Erdogan.
The party eased a ban on the wearing of religious dress for women in universities, a ban that forced Aslan to forgo her education.
Full report at:
http://www.voanews.com/content/turkish-fashion-magazine-targets-female-islamic-professionals/1404001.html
----------
UAE Weightlifter Khadija's Progress an Inspiration
By Alaric Gomes,
July 13, 2012
Dubai: The president of the UAE Weightlifting Federation (UAEWF) has predicted that the participation of Khadija Mohammad at the London Games will inspire other women to get involved in sport in this country and the Gulf region as a whole.
"The significance of such an event can never be understated. Sultan Bin Mejren told Gulf News.
"The qualification of Khadija Mohammad is a statement on behalf of sportswomen, not just in the UAE but in the entire Gulf region and beyond.
"This qualification gained by a woman weightlifter is just the beginning for us. This will motivate us to do even better for the future, and it will not be only in weightlifting, but in other sports as well."
Article continues below
Khadija became only the second UAE woman to qualify for an Olympics after the UAE squad of six lifters came fifth at the 2012 Asian Weightlifting Championships held in Pyeongtaek, South Korea, earlier this summer.
As per the rules, that team effort was enough for the UAE to bag one of the six individual qualifying slots for the Games.
Full report at:
http://gulfnews.com/sport/athletics/weightlifter-khadija-s-progress-an-inspiration-1.1048100
----------
The Modest Victory That Is Saudi's Two Female Olympians
By Nahlah Ayed
Jul 12, 2012
For weeks now, Saudi Arabia has sent mixed signals about whether it would include women, for the first time, on its Olympic team. Just days ago, a Saudi paper report seemed definitive: no female athletes made the cut.
As the deadline drew closer for making a decision, human rights groups pressured the International Olympic Committee to ban Saudi Arabia for failing again to comply with the Olympic charter, which explicitly demands gender equality.
IOC officials, meanwhile, continued negotiating with Saudi officials on how, or even if, women might be included.
Then on Thursday, the IOC finally announced a "breakthrough." Wojdan Ali Seraj Abdulrahim Shahrkhani and Sarah Attar would be added to the Saudi team, participating in judo and the 800-metre track event, respectively.
With Qatar and Brunei also sending their own female Olympic athletes for the first time, London 2012 will be the very first Games at which every member nation will be represented by at least one woman. (Qatar is sending four female athletes, including a swimmer, and Brunei is sending a lone hurdler.)
It is, admittedly, historic, but less than ideal. The Saudi women were "invited" by the IOC to participate. In other words, they did not qualify the way they would have if Saudi actually nurtured women's sports and allowed the development of exceptional female athletes.
"Without policy changes to allow women and girls to play sports and compete within the kingdom, little can change for millions of women and girls deprived of sporting opportunities," Human Rights Watch researcher Christoph Wilcke said in a statement.
"Women's sports," he added, "have a long way to go in Saudi Arabia."
Driving change
ndeed they do. Saudi is, after all, one of the most conservative countries on Earth. Women are effectively second-class citizens, with lesser rights in just about every arena — including sports.
Full report at:
http://www.cbc.ca/news/world/story/2012/07/12/f-vp-ayed-saudi-olympics.html
URL: https://newageislam.com/islam-women-feminism/'talibani'-panchayat-40-kms-delhi/d/7902