New Age Islam News Bureau
8 Aug 2013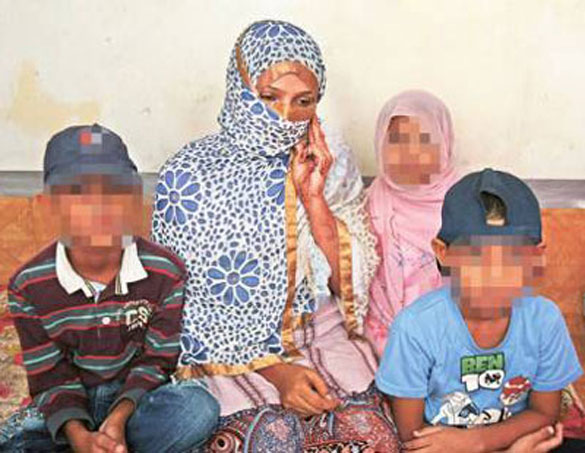 Fouzia and her three children are surviving on handouts
-----
• Eid Gift: Indian Court Releases Pakistan's Nuzhat Jahan
• Beauty Salons Overbooked Before Eid in Jeddah
• Acid Attack on Two British Women in Zanzibar: Police
• Are Pakistani Women Ready To Go For Eid Namaz?
• Mother of Three Pleads For Safe Return to Pakistan from Dubai
• Egypt: The Struggle to Connect Female Arab Scientists
• Syrian Refugees Struggle To Protect Daughters from Exploitation
• Woman, Two Children Killed In Mastung Market Blast
• Couple in Dubai Caught Kissing Sentenced To One Month in Jail
• A lone woman Jazeera's crusade against the sand mafia
Compiled by New Age Islam News Bureau
URL: https://www.newageislam.com/islam,-women-and-feminism/new-age-islam-news-bureau/taliban-wound-afghan-female-senator-in-ambush/d/12951
----------
Taliban Wound Afghan Female Senator in Ambush
August 08, 2013
KABUL - The Taliban ambushed the convoy of a female senator on a main highway in eastern Afghanistan, wounding the woman and killing her daughter and a bodyguard, reported ABC News. The senator's husband, son and another daughter were also wounded in the attack on Wednesday. The deputy governor of Gazni province, Mohammad Ali Ahmadi, says insurgents ambushed Senator Rouh Gul Khirzad as she was travelling from Kabul to her home in Nimroz province.
http://www.nation.com.pk/pakistan-news-newspaper-daily-english-online/national/08-Aug-2013/taliban-wound-afghan-female-senator-in-ambush
----------
Eid gift: Indian court releases Pakistan's Nuzhat Jahan
August 8, 2013
NEW DELHI - The New Delhi High Court has ordered for the release of Nuzhat Jahan, a Pakistani national who married an Indian national Gulfam in 1983 and was living in India without a visa on Thursday.
According to Indian media reports, Nuzhat was lodged in a beggar's home since May because of visa violation.
In 1996, Nuzhat had applied for Indian citizenship however no decision was given.
Gulfam said the court's decision to allow his wife to stay and seek citizenship is the best gift this Eid.
'The Court has restored my faith in my country, its judicial system and in humanity. My wife has been allowed to stay in India. Having her back at home is the best gift ever,' Gulfam said.
Earlier, the chairman of the Ansar Burney Trust has requested the Indian government to release and allow stay in India or send Mrs Nuzhat Jahan back to Pakistan, who has been living in New Delhi for the past 30 years and is now awaiting her deportation to Pakistan for overstaying in India after 30 long years.
Ansar Burney, in his letter to Indian Prime Minister Dr Manmohan Singh and Indian high commissioner in Islamabad, said that Pakistani national, Nuzhat Jahan, was married at the age of 17 and stayed with her husband in India for the last 30 years, eversince in their small house in Sitaram Bazar, Old Delhi.
The letter to the Indian government said that in 2002, Nuzhat Jahan was picked up for overstaying in India without a valid visa and in early May this year she was sentenced to six days' imprisonment, awarded a fine of 7,000 Indian rupees and ordered to be sent back to Pakistan.
http://www.thefrontierpost.com/article/32506/
----------
Beauty Salons Overbooked Before Eid In Jeddah
August 8, 2013
Beauty salons in Jeddah are operating at full capacity to accommodate the large numbers of Saudi women lining up for various treatments. Customers are not happy with the Eid rush, while beauticians are overworked with no overtime compensation.
"I booked a salon and spa appointment two weeks in advance just to secure a place. I arrived 30 minutes before the appointment to avoid the receptionist pushing someone else before me and I ended up waiting two hours before my treatment began," said Amal Jamal, a stay-at-home mother. "I was very upset but I didn't have another choice, so I had to wait. I stayed six hours at the salon just to get my hair and nails done."
Quantity over quality is the motto for most salons and spas during the Eid festivities. "Salon management encourages us to book as many appointments as possible because they know women are desperate to look their best during the holiday season," said salon receptionist Dareen Al-Ghamdi. "When customers arrive, we are instructed to calm them down and offer them other services to hit two birds with one stone; this way we can profit by offering them more treatments and distract them with other treatments."
Al-Ghamdi said she does not approve of this system of over-booking clients because it exhausts the entire staff on board. "During the last ten days of Ramadan, we don't go back home until fajr prayer; we are tired and on top of this all, we don't receive any bonus or over-time money for all the work we do," she said. "This is the high season for salons and spas and you find many new beauticians in different salons because they sometimes hire people just to fill demand and accept new costumers," she added.
During the high season rush, accidents also occur more frequently, as staff members are requested to work faster to accommodate clients.
"When we are swamped with work, customers begin to get more irritated and receptionists in turn put more pressure on beauticians to finish quickly.
However, when work is rushed and staff is stressed, the quality of work is compromised and sometimes accidents occur.
This is what we fear the most, because it shows that we cannot work under pressure," explains Ashwag Rashid, a salon manager in Jeddah.
http://www.arabnews.com/news/460614
----------
Acid attack on two British women in Zanzibar: Police
AFP | Aug 8, 2013
ZANZIBAR, Tanzania: Attackers in the east African island of Zanzibar threw acid into the faces of two young British women late Wednesday night, the first such assault against foreigners in the popular tourist destination, police said on Thursday.
Two men on a moped threw the acid at the 18-year-old women as they strolled through the streets of Stone Town, the historical centre of the capital of the semi-autonomous Tanzanian archipelago, splashing their faces, chests and hands.
"Police in Zanzibar have launched a manhunt, and we ask for public assistance in identifying the attackers," deputy police commissioner Mkadam Khamis said.
The attack on the women, both working as charity volunteers on the island, came at the end of the Muslim holy month of fasting of Ramzan, and as people began to celebrate the Eid holiday.
"The motive for the attack on the volunteers aged 18 years, has not been established. Investigations are on until we apprehend the criminals," Khamis said.
The women were flown to Tanzania's economic capital Dar es Salaam for treatment, where their wounds were said to be "not life threatening", said Saleh Mohammed Jidawi, a senior health ministry official.
Tourism is the main foreign currency earner for Zanzibar, famed for its white-sand beaches and historical buildings in Stone Town, listed as a world heritage site by UNESCO.
"It may threaten tourists," said Abdul Samad, chairman of the Zanzibar Association for Tourism Investors.
There have been a series of attacks in the archipelago, including an acid attack on a Muslim cleric in November, and the shooting dead of a Catholic priest in February. Another priest was shot and wounded in December.
The islands are mainly Muslim, with some three percent of the 1.2 million people Christian.
http://timesofindia.indiatimes.com/world/uk/Acid-attack-on-two-British-women-in-Zanzibar-Police/articleshow/21701584.cms
----------
Are Pakistani Women Ready To Go For Eid Namaz?
By Farahnaz Zahidi
August 8, 2013
Once upon a time, Ammi used to have a list of exciting chores ready for her girls when Eid day arrived. This was the drill: Abba and brothers go for Eid Namaz, and while they are gone, we, the women, had to make taaza (fresh) sheer Quorma, change bed linen and table cloths (it was some family ritual, I think), get ready, pray the short Eid Namaz at home, and be happily ready for the guys to return and give us Eidi.
On Bari Eid (Eid ul Azha), a slight modification would be to get ready after the meat was distributed and done with; however, the rest remained the same.
It was all lovely. I am thankful that my mother made sure Eid was splendidly exciting for our family, and that we didn't spend Eid morning catching up on sleep.
Just one thing was sorely missing in these otherwise lovely, fun family mornings of this most important festival. Like a majority of Pakistani women, we never went for Eid namaz.
We, culturally, do not think about traditions; we just follow them. Often, we don't even know why we are doing a certain thing. We just do it because everyone else does. And so for the longest time, I never really questioned why we celebrated Eid. The emphasis was on the festivity and celebration, not on why it was such a big deal, just like we prepare for months and years for the wedding, not the marriage. Somewhere, the essence dwindles away.
That's what my Eid was like for a long time.
Years later, a friend randomly invited me to come along with her on Eid namaz.
I could not say no because I knew by then through authentic prophetic traditions that the Holy Prophet (pbuh) had in fact strongly advised women to go for Eid namaz and join in the collective prayers of the festival.
And so I went.
It wasn't easy the first time, in all honesty. My daughter was still young and it was winter time. Dragging a little child out of bed, getting her and myself ready early on Eid morning when your body is already sleep-deprived after a month of interrupted sleep – it wasn't easy. Also, till then my family wasn't so convinced this was something very important, which meant I had to drive down myself and find a parking outside a crowded mosque. However, am I glad I went. Since that day, I have never missed the opportunity unless there's been a serious reason.
I found out what men enjoy there and women miss out on. Raising your hands multiple times till your ears and saying "Allahu Akbar" reminds one of why we are celebrating Eid in the first place. It is a celebration of the fact that this past month, we may have inched closer to our Creator. We may have become better human beings; we may have been forgiven this Ramadan; we may be starting with a clean slate and for that, we thank God and rejoice.
Women who go for Eid Namaz regularly know that it is not just a spiritual but also a wonderful social experience. The feeling of togetherness and of a community that is swiftly fading in our fast-paced lives is revived. We greet those we know and we greet those we don't know, and we don't really care who makes the first move. We congratulate each other and set out with our families after that to eat, meet, greet and enjoy the blessings God has showered on us.
If you take away the Eid namaz from Eid, there is honestly a sense of disconnect between Ramadan and the rest of the year, starting on Chand Raat. We have this 30-day crash course in connection with the Divine, in charity, in prayers and in goodness, and suddenly, we switch all of that off on Eid morning.
Interestingly, many Pakistani women who have been going for taraweeh throughout Ramadan do not go for Eid Namaz. More intriguing is how the same women who regularly go for Eid prayers when abroad do not do so when back home in Pakistan.
While a small but increasing number of Pakistani women are going for Eid namaz to mosques, a majority still don't. The reasons are predictable; for one, not many mosques have that arrangement. Organisers of mosques will be more open to women's wings in mosques if more women want to go.
Another reason is simple laziness and time management skills that need improvement. Women who don't want to miss Eid namaz still make the sheer khorma and still change the linen in a ritualistic manner, but they do it a day before. It also boils down to a lack of awareness about the fact that yes, women are supposed to say their Eid namaz too, just like the men.
Talking of the men – they are often not used to the idea. They don't mind if their lady was out shopping on Chand Raat till midnight, but will raise their brows quizzically if she says "I want to go for Eid Namaz".
Maybe it's time for the men to rethink; maybe it's time Pakistani women head for Eid namaz in Pakistan.
If you are a woman and do decide to go for Eid Namaz this time, here are some of the places it will be held at:
Faisal Mosque, Islamabad
Jamia Masjid DHA, Sector J, Masjid Chowk, Lahore
Khalid masjid, Cavalry grounds, Lahore
Imambargah Yathrab, Phase 4, DHA, Karachi (For Fiqh-e-Jafria)
Ayesha Masjid, Khayaban-e-Ittehad, Karachi
Masjid Saad bin Abi Waqqas, Phase 4, DHA, Karachi
Quran Academy masjid, Seaview, Karachi
Gulistan-e-Anis, off Shaheed-e-Millat road, Karachi
Sada bahaar lawn, off Shaheed-e-Millat road, Karachi
Masjid Bait-us-Salam, Commercial Avenue, phase 4, DHA, Karach
http://blogs.tribune.com.pk/story/18465/are-pakistani-women-ready-to-go-for-eid-namaz/
----------
Mother of Three Pleads For Safe Return to Pakistan from Dubai
August 8, 2013
Dubai: A troubled Pakistani mother is pleading with the authorities that she and her three children be allowed to return home after her husband allegedly abandoned them.
"We have overstayed for more than an year as our residence visas expired last July. The first direct consequence of that was me losing my job and then my children being ousted from school, one by one. But worse was to come this year when my husband left us all of a sudden," said Fouzia Shahid. The 29-year-old last worked as an office assistant-cum-bus conductor at the Little Flower English school in Hor Al Anz for a monthly salary of Dh1,200.
"Even when we were together, my husband only took care of the accommodation. He would hand me just Dh10 a day for household expenses. My entire salary would go towards footing my children's school fees which was discounted as I was a staff [at the school]," said Fouzia, surviving on handouts and confined for the last two months with her children, Hussain, 10, Aroosa, 9 and Hassan, 7, to a small room in a shared, rundown villa in Satwa.
The family apparently fell on hard times when Fouzia's Dubai-born and raised husband of close to 16 years, allegedly locked them out of their Hor Al Anz home and disappeared. "We were forced to stay at a friend's house before moving to the place where we are currently staying, but not once has he [the husband] cared to take us back or done anything to sort out our papers," said the lady from Pakistan's Sialkot district.
"I knocked on several doors to get our visas cancelled or amended but nothing came out of my efforts as we are on my husband's sponsorship." Fouzia's husband works in a maintenance firm and lives with his parents in Hamriya. When XPRESS contacted him, he claimed that Fouzia left on her own.
Dr Riaz Hussain Laang, the Community Welfare Attache at the Pakistan Consulate in Dubai, whom Fouzia contacted recently, told XPRESS, "After understanding the whole situation, I had, in consultation with the Consul General, written a letter, citing to the officials that she needs help and assistance in being transferred back to Pakistan."
http://gulfnews.com/news/gulf/uae/society/mother-of-three-pleads-for-safe-return-to-pakistan-1.1217958
----------
Egypt: The Struggle to Connect Female Arab Scientists
August 8, 2013
Regional networks help female scientists, but two flops show it is hard to set them up, reports Rehab Abd Almohsen.
In September 2003, the Cairo office of the UN Educational, Scientific and Cultural Organization (UNESCO) organised a meeting to discuss establishing a network of professional Arab women in science and technology.
As a result, the creation of the Arab Network of Women in Science and Technology (ANWST) in Bahrain, was announced during a meeting at the country's Arabian Gulf University in 2005.
In 2010, ANWST transferred its secretariat to the Bibliotheca Alexandrina, a library and cultural centre in Egypt. And a year later, the library organised the 2nd Women in Science Conference in collaboration with the network.
Since then, however, nothing seems to have happened, and the network has been silent on any steps it may have been taking to enhance Arab women's role in science and technology.
The ANWST website, for example, is virtually empty of content. Attempts by SciDev.Net to contact the network's office in Alexandria by telephone and email went unanswered.
Rokhsana Ismail, a chemistry professor at Aden University in Yemen, expresses frustration that regional networks for female scientists have failed to deliver on their promises.
This is despite more Arab women than men now enrolling for and completing science degrees. In Saudi Arabia, for example, women received 73 per cent of the bachelor's degrees awarded in science in 2010.
Ismail is a former vice-president for the Arab region of the Organization for Women in Science for the Developing World (OWSD) and is also the founder of Yemeni Women Association for Science and Technology Development, the OWSD's Yemeni branch.
She suggests that forming national branches of regional networks, and then making sure that they are run properly, is an essential step towards effective cooperation between women scientists on the issues they face.
Unmet ambitions
ANWST was intended to foster young women's participation in science and technology. It aimed to do this by strengthening collaboration among women scientists through providing training, workshops, seminars, round-tables and fellowships, and by establishing effective channels for communication and information sharing.
Farouk El-Baz, director of the Center for Remote Sensing at Boston University in the United States and a member of ANWST's board of directors, agrees that the network needs more life injected into it.
Despite verbal support for the network at the 2003 meeting in Cairo, backing for the network once it was operational was meagre and short term, he says. "After its headquarters moved to Bahrain, very little was done in the next four years due to budget constraints and lack of leadership," he explains.
El-Baz says that societies for female Arab scientists and engineers are needed to encourage women to venture into science and technology. Most scientific organisations, for example, have few female members.
But he says that the lack of support for ANWST has left it too weak to change the situation.
It has been a similar story with another regional network for female scientists, the Arab Women Network for Research and Development, which was set up by the Arab Science and Technology Foundation in 2008.
But the network has never organised any activities and now it and its website have vanished, leaving little information behind.
After multiple attempts by SciDev.Net to contact Ghada Amer, one of the Arab Science and Technology Foundation's vice-presidents, she gave a brief comment on the network's situation.
"As long as such networks are moderated by volunteers and not full-time employees they will not function well," she said.
She said that one of the reasons behind the network's disappearance is the recent situation in the Arab spring countries and some funding problems. "Most of the researchers were busy with what was going on in their countries and had stopped reacting to online discussions," she added.
According to Amer, the foundation is working to revive the network during its next conference, which will be held in Septemper 2013 in Khartoum, Sudan.
Pointers for success
Nagwa Abdel Meguid, professor of human genetics at the National Research Center in Egypt and a member of both of the inoperative networks, is disappointed that neither is now functioning.
"Networks need to work like organisations and to have a well-chosen coordinator to activate them and work on achieving specific tasks," she says.
Meguid believes that setting up a number of small networks, each specialising in no more than a few related scientific fields, may be a better way to enhance communication between female researchers.
As an example, she points to the online Bioethics Network on Women's Issues in the Arab Region that UNESCO's Cairo office set up in 2010 to discuss ethical issues around women's health and welfare.
This is one of the region's few successful networks, seeking solutions from ethical perspectives for the problems that women face related to healthcare and research.
Orio Ikebe, the network secretary- and officer for human and social science in UNESCO's Cairo office - says the key to its success are the "many active members who are willing to contribute".
The network makes good use of electronic communication. For example, members share useful information through the network's blog.
"This is a new and unique approach in this region," says Ikebe. "Many experts want to contribute to this network using their expertise to make changes to the lives of suffering women."
Local networks
Others agree that forming a local or national network is a good way to mobilise female scientists and encourage them to work together.
Ebtesam Al-Olayan, assistant director of the zoology department of King Saud University in Saudi Arabia, is a member of a local network of female scientists from various disciplines called Future Scientist.
"This network has helped me get in touch with a number of female scientists who work in my field, communicating with them through a smartphone app," she says.
Female Saudi scientists can use the network to discuss mutual difficulties and possible research collaborations "to prove that women can find a scientific solution for their communities' problems".
But Al-Olayan says that such networks must overcome mutual wariness. "Most of the time, scientists fear the potential theft of their research ideas by another researcher, and this often hinders cooperative arrangements," she says.
Building ties
Bodies such as the OWSD can help to strengthen national and international research ties. One of its focuses is to form and support national branches, such as those in Egypt and Yemen.
The organisation brings together female scientists from the developing and developed worlds, with the objective of bolstering their role in development and promoting their representation in scientific and technological leadership.
Fang Xin, the OWSD's president, says that hosting a strong national branch can help to boost a nation's research as well as international links.
"Certainly, if we have active, energised national chapters, that can make OWSD stronger as an international organisation," she says.
Fang points out that, in many Arab countries, there are accomplished female researchers, women helping to run universities and women in prominent government posts.
"We must hope that the countries in the region see the value of international networks and devote energy to helping to build them," she says.
Fang adds that the Arab region, like many other developing regions, lacks a strong tradition among its researchers - male or female - of working across borders and building regional ties.
"This is not something that will change overnight and it is not something that one organisation or one policy will change," she says. "But if there is a network that is positive, energetic and creative, and if it is having an impact, others will be attracted to that organisation and add to its reach and its vitality."
Male input
Both Fang and Ismail agree on the importance of having male members in female science networks in the Arab region - something that is relatively unusual in other parts of the world.
"Men and women need to work together on major research questions and they should be able to work together constructively on gender issues that shape the effectiveness of science and engineering," Fang says.
She cites the OWSD as an example. "We have more than 4,000 members, out of which more than 500 are men," she says. The men and women work together to convey to political and educational leaders the idea that we need the best science and engineering minds available, both men and women, Fang says.
The same point is made by El-Baz, who says that, since men outnumber women in the workforce in the Arab world and tend to hold most of the influential positions in science in this region, they need to be included in this discussion to help boost women's role in society.
"If Arab countries wish to catch up with the rest of the world, they must make use of the ability and ingenuity of all their people - not just half of the population," he says.
"Supporting women in science, engineering and technology is therefore a prerequisite of proper and sustainable development."
Network debate
Fatima Qafud, head of clinical services at medical research institute Qatar Biobank, and a member of the International Society for Advancement of Cytometry for researchers involved in cell measurement, says it is more important for female scientists to be part of networks based on specialist areas rather than on gender issues.
"A women-only network does not add any real value," she says. "The true value of a science network is determined by the number of participants involved and their level of experience, rather than whether it is gender specific."
But others, such as Ismail, still argue that it is useful to create women-only networks to redress the imbalance between male and female researchers.
"Those networks should be directed toward filling the gap between men and women, helping women to stay on the career track and persuading more women to become scientists," she says.
Ismail suggests that one reason for the slow progress in establishing networks for female scientists may be because the region's current political instability is keeping policymakers occupied with broader political issues.
But she argues that these must not be allowed to distract attention from other important topics, such as promoting women's role in science and breathing life into the networks set up to achieve this.
"Choosing some passionate young female scientists to work on reviving the networks would definitely make a difference," she says.
http://allafrica.com/stories/201308080299.html?viewall=1
----------
Syrian Refugees Struggle To Protect Daughters from Exploitation
August 8, 2013
Hillary Margolis
When I met them in early June, Abu Nizar, his wife and their three daughters — aged 22, 18 and 14 — were perched on threadbare mattresses in a rundown house in Ramtha, Jordan, where they survive on charity from the local community. Blankets covered the windows to keep out the mid-afternoon heat. Inside, a musty darkness hovered.
Abu Nazir pays almost 300 Jordanian dinars per month — nearly $424 — for rent and utilities. Alone, he and his wife could rent a room for 70 dinars. He said to me, only half-joking, "Of course my daughters need to get married — it will lift the burden off of me!"
A doctor from Dubai asked to marry Abu Nizar's 22-year-old daughter, Rima, and he seriously considered the proposal. "He's related to people who live upstairs. He's a doctor, he has studied," Abu Nizar told me.
Ultimately, Abu Nizar refused the offer. With her identity documents left behind during their flight from Syria, Rima would not be granted the passport and authorization to accompany her new husband to Dubai, leaving her vulnerable to becoming a so-called "pleasure" wife, abandoned after a short stint of marriage.
"A lot of women ask us here in Jordan if we want to marry our daughters," Abu Nizar said. "We say no because we can't guarantee her rights here."
The focus on Syrian refugee women and girls has largely centered on accounts of forced and early marriage as a coping mechanism. Yet during investigative missions to Lebanon and Jordan by Human Rights Watch in March and June, I found that many Syrian families remain determined to protect their daughters from violence and exploitation.
While there are some reported cases of early or forced marriage, we have not found evidence that marriage patterns differ substantially from those in pre-conflict Syria. However, inadequate international assistance and the threat of ongoing poverty could eventually lead refugees to desperate measures, including exploitative marriages.
In early July, the UN Refugee Agency (UNHCR) reported that over 1.7 million registered Syrian refugees are living in neighboring countries; more than three quarters are women and children. UNHCR estimates that urban and rural host communities — rather than camps — house 77 percent of Syrian refugees in Jordan, Lebanon, Iraq and Turkey.
Refugee sites I visited are overcrowded, lack resources and are underserved. The expanding refugee population is straining already scarce water, food, housing and employment in receiving countries, causing rising tensions with host communities.
Refugees reported apprehension about seeking assistance from local police and security forces, some of whom, they believe, may be corrupt, abusive or unwilling to help. Scant support for generating income or rent and insufficient humanitarian assistance are creating heightened desperation as refugees seek to sustain their families and escape long-term dependence.
Women and girls are particularly vulnerable. Aid agencies say reports of domestic violence have increased since the refugee crisis began, a common outcome amid the stress, disruption and idleness of refugee settings and poor access to resources and services for women and girls. Social constraints and fear limit their mobility, restricting their access to income-generating activities or health and other critical services.
Whether based in fact or rumor, refugees' belief that women and girls face danger outside the home creates a very real barrier to using facilities, from clinics and schools to latrines. Yasmin, in her thirties and living in Jordan's Zaatari camp, said: "We make a bathroom in our tent to use at night." A new UN Women assessment says that male relatives restrict women's movement in Jordan's urban refugee areas to protect them from harm.
In interviews in Lebanon and Jordan, aid agencies and refugees confirmed that refugees remain largely unaware of available services, especially outside of camps. Services are often out of easy reach, and women must secure transportation or child care to use them.
Aliyah, 20, described trying to register for humanitarian aid when I met her in Beirut in March: "I would have to go [to UNHCR] all day, take the children with me, wait three months for an interview. That's what happened to my sister-in-law." Aliyah said the cost of a shared taxi prohibited her from going to the local branch of an international non-governmental organization to seek assistance.
The inability to sustain a household and access key resources makes women — in particular, those who head households — vulnerable to high-risk situations, including exploitative work or housing arrangements, dependence on others for food and other necessities, and early or forced marriage.
The international community needs to bolster protection for displaced women and girls by increasing their economic well being and developing and improving access to services.
Women need rent subsidies in non-camp settings, opportunities to increase their skills, cash for work assistance programs, and income-generating activities. Ensuring greater access to services requires not only outreach to increase awareness, but also creative solutions such as programs that meet multiple needs in one location, mobile services, transportation and child care, and group assistance for safety and security.
To respond to the many needs of women and girls, United Nations member states and other donors should fund the $2 billion-plus gap that remains in response to the United Nations appeal for Syrian refugee response.
Donor countries that value rights for Syria's women and girls should ensure that this includes significant investment in concrete measures to reduce their vulnerability.
http://www.hrw.org/news/2013/08/07/syrian-refugees-struggle-protect-daughters-exploitation
----------
Woman, two children killed in Mastung market blast
August 8, 2013
QUETTA: A woman and two children were killed and 21 others sustained wounds on Wednesday when explosives planted in a shopping centre exploded in Mastung, some 60 kilometres from Quetta. According to police, unidentified people had planted explosives in Owais Shoping Centre, which is famous for shopping among women and children. "The explosives went off with a huge blast when the shopping centre was crowded with women and children who were busy in Eid shopping," a police official told Daily Times, adding that a woman and two children were killed and over 21 others sustained injuries. The shopping centre was destroyed and the injured and deceased were trapped in the debris. They were later pulled by residents of the area and local administration. The injured and deceased were shifted to Nawab Ghous Bakhsh Memorial Hospital and District Headquarters Hospital. The two dead children were identified as Rukhsana and Ali Jan.
http://www.dailytimes.com.pk/default.asp?page=2013\08\08\story_8-8-2013_pg1_2
----------
Couple in Dubai Caught Kissing Sentenced To One Month in Jail
August 8, 2013
A couple in Dubai has been slapped with a one-month jail sentence for being caught kissing in public, Gulf News reports.
In January, a man found a 31-year-old banker and her 19-year-old co-worker in a tinted car behind a mosque and, suspecting the car was transforming into a den of sin but still doubtful of whether they were having sex, decided to call the police.
When the cops showed up, the couple continued kissing, according to The National.
"We chatted for a while before we started kissing," the woman said to Gulf News.
"I admit that we kissed inside my car but we did not have consensual sex anytime... I've known him for one year now because we are work colleagues."
Prosecutors formally charged the couple — both citizens of the United Arab Emirates — on January 21.
At the police station where they were being interrogated, the two said they were in a relationship. But in court, they denied the charges of kissing in public. They were later found guilty, The National reports.
Stories like this aren't rare in Dubai, with its code of conduct banning public displays of affection — even between married couples. In 2010, a similar case culminated in a British man and woman being sentenced to one month in jail as well as getting deported, according to the BBC.
In July, Marte Deborah Dalelv, a Norwegian woman on business in the Gulf city, was sentenced to 16 months in jail for having sex outside of marriage after she reported rape. She was pardoned after the story made international headlines and Norwegian officials intervened.
http://www.huffingtonpost.ca/2013/08/07/dubai-kissing-couple-jail-sentences_n_3721980.html
----------
A lone woman Jazeera's crusade against the sand mafia
August 08, 2013
Jazeera is on a silent campaign, in defence of the Neerozhukkumchal beach in Kannur
The so-called sand mafia of a little taluk in Kannur rues the day Jazeera returned home. Dismissed as an insignificant voice of protest against the rampant exploitation of a stretch of shoreline near Pazhayangadi town, this woman has soon come to be known as a force to be reckoned with. All the way from the northern district of Kannur, she has brought her silent campaign to the State capital, as she sits in front of the Secretariat with her three children — protesting without loud sloganeering or politically coloured flags or leaflets.
Entering the fifth day, Jazeera's protest has thus far been eclipsed by a far more populous Left protest.
Now that they have left, the presence of this family has become more conspicuous, leading the Chief Minister to meet them briefly on Monday afternoon on the issue of sand-mining in her hometown. For Jazeera, the cause is intensely personal, as the Neerozhukkumchal beach is the canvas all her childhood memories are painted upon.
She is an autorickshaw driver, a profession she has struggled to be part of, in a conservative society. She does not let herself to be affected by such taboos and continued working until after her marriage in 2004, when she moved to Kottayam with her husband.
She has found the new district far more accepting. It was only one and a half years ago, when she returned home during the final month of her third pregnancy, did she see to her shock the daylight robbery of a natural landscape.
Countless visits to the Kannur collectorate and police stations have proved futile.
And for the past one and a half years, her silent protest has involved a sit-in, along with her daughters Rizwana, Shifana and her son Mohammed. The two girls, aged 12 and 10, know everything about the case and have flanked their mother every step. Her husband, Abdul Salaam, is a teacher at a madrasa in Kochi.
While he has not been a visible part of Jazeera's protest, his support, despite pressure various quarters, has been a huge boon for her.
She is clear about her objective despite the obstacles strewn before her in terms of muscle and money power. Even the police, she says, have pleaded with her to give up. "Their greed is despicable. In broad daylight they commit this heinous crime of emptying our lands, oblivious to the fact that there are so many creatures that depend on it. The sudden depth of water is dangerous as well," she says.
She is glad to have met the Chief Minister personally and she said he assured her that he would ensure that the vehicles carting away the sand would be immediately dealt with.
She will leave once she obtains something in print promising a complete halt of the activities.
http://www.thehindu.com/news/national/kerala/a-lone-womans-crusade-against-the-sand-mafia/article4995947.ece
----------
URL: https://www.newageislam.com/islam,-women-and-feminism/new-age-islam-news-bureau/taliban-wound-afghan-female-senator-in-ambush/d/12951