New Age Islam News Bureau
15 Oct 2015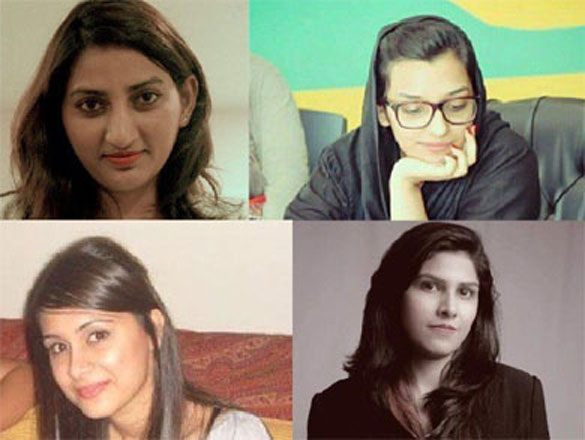 4 promising female tech entrepreneurs from Pakistan PHOTO: TECH IN ASIA
----------
• UNSC Favours Doubling Number of Women in Peacekeeping Operations
• Stranded Geeta Has Identified Family in India: Edhi Spokesman
• Shocking Videos Call For Women Anti-Harassment Laws
• Saudi Women Offered Free Rides for Breast Cancer Checkups
• Pakistani Christian Woman Convicted Of Blasphemy Placed In Solitary Confinement
• 4 Promising Female Tech Entrepreneurs from Pakistan
• Pakistani Woman Self-Immolates After Police Deny Gang-Rape Claim
• Pakistan Proud Of Women Serving In Peacekeeping Missions: Lodhi
• Ladyjek Launches in Indonesia Only For Women Drivers, Passengers
• Indonesia Denies Domestic Worker Recall from MENA
Compiled By New Age Islam News Bureau
URL: https://www.newageislam.com/islam,-women-and-feminism/new-age-islam-news-bureau/taliban-waged-a-calculated-campaign-against-women-in-kunduz/d/104931
----------
Taliban waged a calculated campaign against women in Kunduz
OCTOBER 15, 2015
KABUL — The Taliban occupation of Kunduz may have been temporary, but what they did to Afghan women's rights could prove to be lasting.
In a methodical campaign, the Taliban relentlessly hounded women with any sort of public profile, looted a high school, and destroyed the offices of many of the organizations that protected and supported women in Kunduz.
Among those who have fled are the women who ran a shelter for female victims of violence, who Taliban commanders say are "immoral."
Gone are educated women who worked for the government or international organizations; gone are some women who were school administrators and women who were activists for peace and democracy. They left, mostly at night, on foot or in run-down taxis, hiding under burqas, running for their lives.
"I won't go back — I will never go back," said Dr. Hassina Sarwari, the Kunduz province director of Women for Afghan Women, which ran a shelter for abused women, a family guidance center, and a center for the children of women in the Kunduz prison.
After the Taliban completed their campaign of burning and looting women's organizations, they continued their attacks verbally, by text message and phone calls, threatening women and their relatives, making it clear that the women would remain in their sights. The Taliban's message, based on interviews with a half-dozen women who received the warnings after fleeing Kunduz, was that they escaped this time, but that next time they would not be so lucky.
"Before we managed to take control of the shelter, Hassina Sarwari, the head of the shelter house along with all the runaway sluts and immoral girls, had already left Kunduz city," said Abdul Wali Raghi, a Taliban commander in Kunduz.
"Hassina Sarwari herself is an immoral slut and if we had captured her, she would be hanged in the main circle in Kunduz city," he added.
If in their publicity statements in recent years the Taliban had sounded moderate, their behavior in Kunduz left little doubt where they stand.
Within the first three days of Taliban occupation, women who ran groups aimed at helping women had their homes and offices looted, their computers stolen, their furniture, televisions, and appliances smashed. Then, the Taliban left messages on their phones, or with relatives, saying, "Return and you will be killed."
Among the organizations destroyed by the Taliban were three radio stations run by women: One was burned, the other two looted. The Fatima Zahra girls' high school and the Women's Empowerment Center, which held social and political awareness sessions and taught women to sew, were also looted.
Women for Afghan Women's office and children's center were looted, its computers and cars were stolen, and the organization's shelter for abused women was completely burned; it also appeared to have been attacked with sledgehammers, the windows shattered, the walls and door frames smashed.
Even amid the broader destruction in Kunduz in the past few days, including dozens of casualties and building damage, the threat against women there was particularly chilling. That is in part because of how rare, and how recent, improvements for Afghan women have been in territories beyond Kabul, the national capital.
"There is psychological damage," Fiona Gall, chief of Acbar, an umbrella group representing nongovernmental organizations in Afghanistan, said of effects on both women's organizations and smaller groups working in Kunduz.
https://www.bostonglobe.com/news/world/2015/10/14/taliban-waged-calculated-campaign-against-women-kunduz/lkeWJzifNuhUuK6S16IWYP/story.html
----------
UNSC Favours Doubling Number of Women in Peacekeeping Operations
World | Press Trust of India
October 15, 2015
UNITED NATIONS: The UN Security Council has favoured doubling the number of women in peacekeeping operations over the next five years as it emphasised the need for peacekeeping missions to take into account gender considerations and the rights of women.
The 15-nation Council adopted a revamped version of a 15- year-old resolution yesterday by which it decided to integrate women, peace and security concerns across all country-specific situations on its agenda, within relevant contexts.
The resolution called on Secretary-General Ban Ki-moon to initiate a revised strategy, within existing resources, to double the numbers of women in peacekeeping operations over the next five years.
"Fifteen years ago, Security Council resolution 1325 underscored the pivotal link between gender and international peace and security," Mr Ban said in his remarks to the Council.
"Since then, this Council has adopted several resolutions on women, peace and security each of them a call to action for the international community," he added.
In the new resolution, the body expressed its intention to dedicate periodic Council consultations on country situations, as necessary, to the topic of women, peace and security implementation, as well as the intention to ensure that Security Council missions take into account gender considerations and the rights of women.
The Council urged the Department of Peacekeeping Operations and the Department of Political Affairs to ensure that gender analysis and technical gender expertise were included throughout all stages of mission planning, mandate development, implementation, review and mission drawdown.
Mr Ban said implementation of the resolution "must be aligned with the vision of the Sustainable Development Goals".
He added that particular attention should be given to women who are the most vulnerable, particularly indigenous.
"We must also do much more to combat the growing spread of violent extremism," he continued.
"Groups such as Da'esh (also known as the Islamic State) and Boko Haram have mercilessly targeted women and girls," said the Secretary-General, noting, for example, the systematic killings, torture, rape and sexual slavery by ISIS against the Yazidi community may amount to war crimes, crimes against humanity and genocide.
"We must ensure accountability," he said.
http://www.ndtv.com/world-news/unsc-favours-doubling-number-of-women-in-peacekeeping-operations-1232356
------
Stranded Geeta has identified family in India: Edhi spokesman
15 October 2015
KARACHI: Geeta, a 23-year-old deaf and mute Indian woman stranded in Pakistan and adopted by the Edhi Foundation's Bilquees Edhi, has identified her family in Bihar, Edhi Foundation spokesman Anwar Kazmi confirmed.
Geeta identified her father, step-mother and step-siblings in a photograph sent to her by the Indian High Commission in Islamabad, NDTV reported.
She is likely to be flown home once her documents are sorted out.
Geeta was found by the Lahore police 13 years ago, sitting alone and disorientated on the Samjhota Express that had travelled across the border.
Officers took the girl to the Edhi Foundation in Lahore, where she remained while the charity tried to track down her family, but met with no success.
After she tried to escape several times and quarrelled with staff, Bilquees Edhi, who always had an easy relationship with her, brought her to Karachi six months ago and welcomed her into her own home.
Speaking through sign language, Geeta told AFP that one day she became annoyed after being told off by her parents, left the house and kept walking for hours.
"Then", she swings her hands back and forth in a loop, a sign for a moving train, "I boarded the train and slept."
Through sign language, she said her home is next to a river, set in fields with the house behind a hospital and a restaurant.
Geeta gets treated like a special inmate at the shelter, Dawn Newspaper reported. She has a private temple, her favorite space in the building – a spick and span room with posters of Hindu gods: Lord Krishna, Lord Rama and Sita, goddess Durga, Shiva and Parvati and a small statue of Lord Ganesha resting on a table, alongside with earthen lamps and incense. She likes to keep the doors of the temple locked and doesn't let other children enter the room.
Bilquees Edhi thinks of herself as Geeta's guardian. "Here in Pakistan, she is an amaanat of her parents with us," meaning that she is keeping her in trust for her parents as a custodian.
"She wants to go back because she misses them. And we want her wish to come true. But it has been more than 10 years. She is 23 years old now. I don't know how much more she has to wait."
In August, the Indian High Commissioner Dr T.C.A. Raghavan and his wife, Mrs Raghavan, visited Geeta.
Dr Raghavan showed her pictures and maps of India too but she was unable to pinpoint the location from where she had come.
Geeta also scribbled in Sanskrit for him but he couldn't decipher what she had written as it didn't seem like the usual script to him.
The High Commissioner had said that he would try everything within his power to find Geeta's parents or relatives.
"Geeta has made many friends at the Edhi Centre but she misses home. She makes hand signals to show that she wants to go home which, according to her, is surrounded by agriculture fields somewhere near a flowing river. She also makes signs to show an aeroplane flying high in which she wants to go back home," Mrs Edhi had earlier said.
"She misses home badly, even after so many years. She tells me she has four sisters and two brothers who are all normal, not deaf and mute like her. She also talks about her father and describes him as a very frail old man, who walked with a stick. God only knows if her parents are even alive now if they were that old 12 years ago. I have often encouraged her to move on with life. I have told her that I can find her a good husband, a Hindu boy if she likes, as she is of marriageable age now and no family has shown up looking for her until now but she doesn't want that so for now I have let her be," Mrs Edhi had said.
Also read: Will 'Bajrangi Bhaijaan' help this girl stranded in Pakistan?
The Foreign Office in September said Pakistan is "fully cooperating" with the Indian High Commission for Geeta's return.
The FO had said that no condition had been set for Geeta to report to the foreign ministry for obtaining permission to travel back to her birthplace.
The Foreign Office is in contact with the Indian High Commission in this regard, a FO statement said.
But it went on to say it was the responsibility of the Indian side to prepare travel documents for the girl.
http://www.dawn.com/news/1213233/stranded-geeta-has-identified-family-in-india-edhi-spokesman
----------
Shocking Videos Call For Women Anti-Harassment Laws
15 October 2015
ABHA: Saudis have expressed shock and annoyance at recent videos showing women being subjected to harassment. While some believe that harassment is an individual case that hasn't evolved into a phenomenon, others see that there is a need to draft legislations to fight the problem.
Advocates of having an anti-harassment law base their position on data showing that harassment is on the rise in the Kingdom.
Ninety-two percent of women polled by a recent Saudi study say that the increased harassment has been caused by the lack of a proper punishment.
Twenty-seven percent of women in a local poll said they been subjected to verbal harassment; 26 percent said that harnessers threw their phone numbers at them; 24 percent said that they were harassed by looks while 15 percent had experienced physical harassment. Women said the majority (59.5 percent) of harassers are Saudi.
Last year, media outlets criticized the delay in passing an anti-harassment law that was drafted by eight Shoura Council members. Opponents slammed the draft law saying it encouraged mixing between men and women which resulted in the Shoura's delaying discussions on the topic for five months. The proposed law would punish harassers with sentences of up to one year in prison and fines of SR100,000. The law states that "any uncalled for words, act, position or signal that suggests the perpetrators desire to sexually deal with, provoke or humiliate the other party is considered harassment."
Lawyer and legal counselor Dr. Hadi Al-Yami said that all crimes have punishments. He explained that harassment crimes can lead to court sentences depending on the judge's assessment of the situation in each case.
He explained that harassment is a general term and needs to be specified in court cases, such as relatives' harassment or harassment happening in public or in workplaces.
"In some cases, harassment happens in front of everybody or it may happen in secret," Al-Yami said stressing that each case is individual and calls for various punishments. Based on these details, Al-Yami highlighted the need for a general law that has a clear definition of harassment and indicates punishments for different types of harassment.
http://www.arabnews.com/saudi-arabia/news/820561
----------
Saudi Women Offered Free Rides for Breast Cancer Checkups
Oct 15, 2015
RIYADH — As part of efforts to raise breast cancer awareness in society, Easy Taxi has partnered with the Zahra Breast Cancer Association to give away all its female customers free rides to do breast cancer check-ups in different hospitals in Jeddah and Riyadh.
The association has made arrangements for free screening for breast cancer in selected hospitals in the two cities.
Eugen Brikcius, general manager of Easy Taxi Saudi Arabia, said: "We are honored to partner with a foundation as impactful and inspiring as Zahra Breast Cancer Association that gives women a fighting chance by providing early detection, education and support services. This is a worthwhile cause we should shed the lights on in admiration to every patient who lost once the battle or is still fighting".
The offer is valid till the end of October and covers hospitals in Riyadh such as the National Program for Early Cancer Detection and Abdullatif Center for Early Detection and Sheikh Mohammed Hussein Al Amoudi Center of Excellence in Breast Cancer in Jeddah.
October is Breast Cancer Awareness Month, which is an annual campaign to increase awareness about the disease. While most people are aware of breast cancer, many ignore to take the steps to have a plan to detect the disease in its early stages.
Female users can benefit from this offer by printing out the free ticket they will receive on their Easy Taxi registered email.
Easy Taxi has announced in September that the company will offer free rides to female voters to voting centers in four Saudi cities during the municipal council elections in December.
It said the company will send free ride vouchers to their female customers "in hopes that it will help women's first vote be as hassle-free and smooth as possible".
The customers can use the vouchers to head to any of the voting centers in Riyadh, Jeddah, Dammam and Al-Khobar.
http://saudigazette.com.sa/saudi-arabia/women-offered-free-rides-for-breast-cancer-checkups/
----------
Pakistani Christian Woman Convicted Of Blasphemy Placed In Solitary Confinement
October 14, 2015
A Christian woman on death row in Pakistan for blasphemy has been put in solitary confinement over fears of attacks by vigilantes enraged over a high-profile ruling in a separate blasphemy case that moderates said struck a blow against religious extremism in the country.
Prison officials and rights activists said this week that they were concerned for Asia Bibi's life due to the security threat and her worsening health. The mother-of-five, whose plight has prompted prayers from the Vatican, has been on death row since she was convicted in 2010 of committing blasphemy.
Bibi's lawyer Sardar Mushtaq has said his client was arrested after Muslim women told a cleric in a village in the eastern Punjab province that she had made "derogatory remarks" about the Prophet Muhammad. He said the trouble began when the women objected to Bibi using their drinking glass because she was not a Muslim, setting off a heated verbal exchange.
Bibi denies the charges against her. The Supreme Court agreed in July to hear an appeal against her sentence, but no date has yet been set. She was placed in solitary confinement last week at the women's prison in the city of Multan, an official there told Agence France-Presse.
The move came after "genuine" threats to her life were issued in the wake of a Supreme Court ruling that upheld the death sentence for Mumtaz Qadri, the killer of Punjab province governor Salmaan Taseer, who sought blasphemy law reform in a separate, high-profile case.
Qadri, who allegedly shot Taseer 28 times, later admitted to the killing, saying he objected to the politician's calls to reform blasphemy laws. Taseer had also been vocal in his support of Bibi.
Blasphemy is a hugely sensitive issue in Pakistan. The country has never executed anyone on the charge — but anyone convicted, or even accused, of insulting Islam risks a violent and bloody death at the hands of vigilantes. Critics including European governments say Pakistan's blasphemy laws are often misused to settle personal scores.
Christians, who make up around 1.6 percent of the country's 200 million people, are often discriminated against and marginalized by the Muslim majority.
Last year a British-Pakistani citizen who had been sentenced to death for blasphemy was shot and wounded by a guard at Rawalpindi's Adiala jail. And a Christian laborer and his wife were burned alive last November after being accused of throwing pages of the Koran in the garbage.
"She (Bibi) could be killed by any inmate or even a prison guard, so we have to be careful," a prison official told AFP. A second official confirmed that Bibi had been isolated, adding: "We are concerned for her life."
The second official, who spoke to AFP on condition of anonymity, said Bibi's health had deteriorated.
"She was vomiting blood last month and was having difficulty walking," the official said, adding that Bibi had been diagnosed with hepatitis B, a claim other officers did not confirm.
Rights activists and family sources also voiced concerns for Bibi's health and said she suffers from asthma.
"Her life is in danger because of her health and the filthy prison conditions, and from fundamentalist elements within the prison," Shamaun Alfred Gill, a Christian activist and spokesman for the All Pakistan Minorities Alliance (APMA), told AFP.
He said the group had repeatedly requested Bibi be transferred to a hospital, but the requests had been rejected.
"Asia has a history of asthma and we were told that her health condition had worsened at one time but she was recovering now," a source close to the prisoner's family told AFP.
Bibi is being held in a cramped, windowless cell in a high security zone of the prison, where other death row inmates are confined, the prison official told AFP this week. The official, who said she has come into contact with Bibi several times while serving her food, said she appears withdrawn.
"I found her either staring at the floor or coughing," she said, adding prison officials were reluctant to come into contact with the dishes Bibi used for fear of contracting her illness.
At one point, she said, Bibi was temporarily allowed to prepare her own food after she refused to eat prison meals fearing that officials would try to poison her.
Bibi's husband has written to Pakistan's President Mamnoon Hussain to ask for her to be pardoned and allowed to move to France.
http://america.aljazeera.com/articles/2015/10/14/pakistan-isolates-christian-woman-on-death-row.html
----------
4 promising female tech entrepreneurs from Pakistan
Oct 15, 2015
There's a lot of debate about the disproportionate representation of women in tech and what needs to be done for a more diverse workplace. You know there's a problem when only 5 percent of Fortune 500 companies are led by women and it's an issue constantly highlighted by the Western press.
While Pakistan is by no means a vanguard for women's rights across the world, it has to be said that the country has a long tradition of women leading from the front. Pakistan was the first Muslim nation to have a democratically-elected female head of state (eat your heart out, America!). Its constitution guarantees a fixed number of seats for women in parliament, and many important ambassadorial positions are currently staffed by women. Women are active in corporate circles, advocacy and rights groups, and increasingly, tech startups.
In no particular order, here are four women who are building innovative companies in Pakistan.
1. Madeeha Hassan Madeeha-Hassan-Savaree-co-founder-350x350
Madeeha is co-founder of Savaree, a ride-sharing and taxi app startup that was borne out of a civic hackathon. At the time Madeeha was employed as a graphic designer, but quit her job to work full-time on the idea. Savaree has had its ups and downs, but it's solving a glaring problem – traffic in Pakistan is notoriously bad, and public transport lags behind. Savaree has been through various stages of incubation and acceleration. As mainstream Pakistani consumers warm up to the idea of transacting online, it seems poised to take off.
2. Sidra Qasimsidra
Sidra is co-founder of Markhor, the first Pakistani startup to be accepted into Y Combinator. Markhor, which makes luxury handcrafted shoes, burst on to the scene when it flew past its Kickstarter funding target by US$92,000, attracting backers from 32 different countries. The startup's value proposition lies in its ethical commitment to empower the craftsmen it employs – wages are much higher than existing market rates and they're treated as part of the team. Still a long way to go for the company, but all signs paint a positive picture.
3. Arusha Imtiaz arusha
Arusha is the co-founder of MySmacEd, a communication platform which enables real-time sharing between parents, teachers, students, and administrators. The edtech startup raised seed funding earlier this year, valuing the company at US$2 million. Arusha says they work on a freemium model – and have already expanded into the Middle Eastern market, where they have a few schools running a pilot program.
4. Sahr Saidsahr
Sahr is the founder and CEO of BeautyHooked, a marketplace for beauty services and professionals. The potential in this space is huge – the market is highly fragmented and ripe for disruption. Women in Pakistan are no different from others across the world – they like to take care of themselves. Sahr, a former banker and Cornell business school graduate, plans to eventually move away from the marketplace model and also introduce a white-label ecommerce platform, selling beauty and fashion products.
https://www.techinasia.com/4-promising-female-tech-entrepreneurs-pakistan/
----------
Pakistani woman self-immolates after police deny gang-rape claim
OCT 14, 2015
MULTAN, Pakistan (AFP) - A young Pakistani woman self-immolated after police refused to act on her claim she was gang-raped by their colleagues, officials and activists said Wednesday (Oct 14).
Two officers have been arrested after Sonia Bibi, who was in her late teens, burnt herself Tuesday outside a police station in the Muzaffargarh district of central Punjab province.
She was rushed to a hospital in the central city of Multan, but died of her injuries.
"We can confirm that Sonia has committed suicide by setting herself on fire. She had accused some policemen of raping her and that nobody was listening to her complaint," police spokeswoman Nabila Ghazanfar told AFP from Lahore.
"We have constituted a committee to investigate this matter," she said.
Awais Malik, a senior police official in Muzaffargarh, said that two policemen have been arrested and that the chief of the police station has been suspended for his inaction.
"Sonia had alleged that she was kidnapped and raped by two policemen but nobody registered this case despite her complaints. We have arrested the alleged rapists," said Malik.
Muzaffargarh is the same district as the village where a woman named Mukhtaran Mai was horrifically gang-raped in 2002 in an attack that made headlines around the world.
Mai, who became a women's rights advocate after her attack, told AFP Wednesday she was aware of Sonia Bibi's death and said she believed the girl had been "denied justice".
Muzaffargarh district is also where 18-year-old Amina Bibi, who was not related to Sonia, doused herself with petrol and set herself alight in March last year in front of a police station in the village of Beet Meer Hazar.
A local court had dropped her rape claim after a police report said she had not been sexually assaulted.
Physical and sexual violence against women are widespread in Pakistan, a deeply conservative, patriarchal Muslim country.
http://www.straitstimes.com/asia/south-asia/pakistani-teen-self-immolates-after-police-deny-gang-rape-claim
----------
Pakistan proud of women serving in peacekeeping missions: Lodhi
Oct 15, 2015
Pakistan's Permanent Representative to United Nations Dr Maleeha Lodhi on Wednesday while highlighting the role of Pakistani women in international peacekeeping efforts said that the country is proud that one of its women police officer, Shahzadi Gulfam, received the International Female Police Peacekeeper Award.
In debate on women and peace in UN Security Council, Dr Lodhi maintained that Pakistan's commitment to empowering women is rooted in faith, Constitution and vision of country's founding fathers.
She said that women from Pakistan have served on the front lines of international peacekeeping as police officers, doctors and nurses and one of its female police officers even received the International Female Police Peacekeeper Award in 2011.
Pakistani woman police officer, Shahzadi Gulfam, working for a UN peacekeeping operation, received the 2011 International Female Police Peacekeeper Award in recognition of her outstanding performance.
She was deployed with the United Nations Mission in Timor-Leste (UNMIT) as the UN Police (UNPOL) team leader posted in the Timor-Leste National Police Vulnerable Persons Unit in Dili, the capital.
"Pakistan holds the distinction of electing the first female head of government in the entire Muslim world," said Dr Lodhi while referring to former premier Benazir Bhutto.
Benazir Bhutto became Pakistan's first female prime minister as her party Pakistan Peoples Party (PPP) gained 93 out of the 207 general seats in the 1988 general elections.
Apart from citing examples, the ambassador also reminded the UNSC about country's founding father Muhammad Ali Jinnah's famous statement, "No nation can rise to glory unless women are side by side by men."
http://www.pakistantoday.com.pk/2015/10/15/national/pakistan-proud-of-women-serving-in-peacekeeping-missions-lodhi/
----------
LadyJek launches in Indonesia only for women drivers, passengers
15 Oct, 2015
LadyJek, another ride-hailing service whose exclusivity is based on hiring only female drivers was officially launched last week.
LadyJek's main focus is safety, both for its drivers and users. In this case, it provides two features, namely a panic button and live tracking.
LadyJek is currently available on Google Play. The iOS version of the app will soon be available.
LadyJek emerged from the founders' concern of the lack of safety and security offered by existing players in the public transportation sector for female users.
"LadyJek was born because we want to present something that can be used by female users in Indonesia," said Brian Mulyadi, LadyJek's CEO, at the press conference.
To avoid unwanted problems, drivers are suggested not to work till late night. LadyJek also applies an assessment system to set the satisfaction standard for of all its drivers and users.
How it works
The service is equipped with ETA information, distance and price, for user convenience. The tariff set is Rp 25,000 (US$1.86) for the first six kilometres, and IDR 4,000 (US$0.30) for each kilometre thereafter.
LadyJek supports various payment methods, from cash to XL Tunai and Mandiri E-Cash. The team has partnered with XL for XL starter packs for the drivers and AXA Mandiri for insurance service for both drivers and users.
LadyJek is currently still recruiting new drivers. There are three locations — Cengkareng, Bekasi and Tangerang — for those who are interested in being one.
To be a LadyJek driver, you have to pass a physical and a driving test held by the team. During the launching, the company claimed that it already has 200 drivers who're ready to serve.
To encourage business growth, LadyJek is offering a free ride to first-time users for the whole month.
For the time being, LadyJek only serves Jabodetabek.
"By focussing on safety and security, we believe that LadyJek is the right solution for females [in the country]," Mulyadi concluded.
http://e27.co/ladyjek-launches-indonesia-women-drivers-passengers-20151015/
----------
Indonesia denies domestic worker recall from MENA
October 15th, 2015
An Indonesian source has refuted rumors that Indonesian expatriates are banned from returning to their sponsors after their vacation in Indonesia.
The Indonesian government in May this year decided to stop Indonesian housemaids from going for work to 21 countries in the Middle East, the source said.
The decision reflects an order by President Joko Widodo in February to set a road map to eventually stop sending Indonesian women abroad to work as all-purpose maids.
However, the decision does not apply to those who already have a contract with their sponsors and have gone to Indonesia for holiday. It only applies to new applicants, said the source.
The Indonesian Expatriates Union and the Saudi National Recruitment Committee also reportedly disagreed on a number of points while negotiating new contracts conditions for Indonesian expatriates in Saudi Arabia, the source said, adding that the Indonesian Expatriate Union demanded a fixed salary of SR1,500 for Indonesian expatriates.
"The union also demanded a weekly day-off for housemaids and fixed working hours of six hours a day. The union also demanded that there should only be one Indonesian recruitment office dealing with Saudi recruitment companies," said the source.
The source added the committee agreed on a minimum wage for Indonesian expatriates of SR1,000 and a maximum wage of SR1,900. But the committee refused to close recruitment offices.
The source also said the Indonesian government is studying the religious issues on women leaving their household and children behind to work in another country.
"The government asked its religious scholars if Indonesian women are allowed to travel without a megrim (male guardian) and without the permission of their husbands. The government is still studying the issue and will announce its decision soon," said the source.
Out of a total of around 4.02 million Indonesian migrant workers in 2013, around 1.33 million were based in the Middle East and around 1.06 million of those were in Saudi Arabia, according to Indonesian government data. In that year, out of around $7.42 billion in remittances, around $2.18 billion came from the Middle East, the data show.
But while Indonesia is cutting off the flow of fresh workers to the region, it isn't recalling the ones already there, essentially letting the numbers decline slowly by attrition.
http://www.albawaba.com/business/indonesia-denies-domestic-worker-recall-mena-755346
----------
URL: https://www.newageislam.com/islam,-women-and-feminism/new-age-islam-news-bureau/taliban-waged-a-calculated-campaign-against-women-in-kunduz/d/104931