New Age Islam News Bureau
19 July 2022
• Taliban Tells Women Govt Employees to Send Their Male Relatives as Their Replacements
• Muslim Girls in Vadodara Apply Henna to Hindu Girls on Gauri Vrat
• Siti Nuramira Abdullah, the Malaysian Woman in Comedy Club Fiasco to Face Shariah Charge
• How Saudi Artist Sarah Brahim Combines Dance with Visual Art
• Confrontations and Conflict Continue Over Forced Hijab in Iran
• New Sexual Harassment Bill Edges Closer To Law In Malaysia
Compiled by New Age Islam News Bureau
URL: https://newageislam.com/islam-women-feminism/taliban-women-afghanistan/d/127517
------
Taliban Tells Women Govt Employees to Send Their Male Relatives as Their Replacements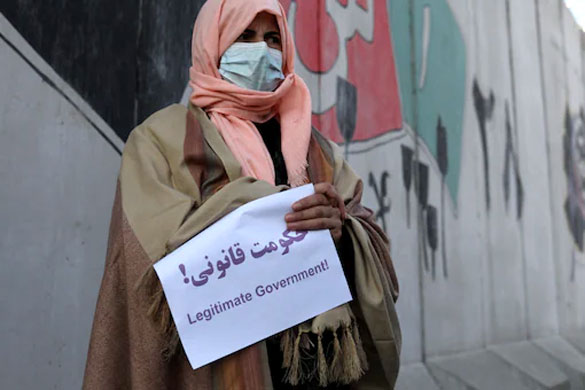 An Afghan woman stands in front of the former Ministry of Women's Affairs during a protest against Taliban restrictions on women (Image: Reuters)
-----
JULY 18, 2022
Taliban officials who now run Afghanistan's highest offices have asked women employees to send male relatives as replacements to take over their jobs.
They have been asked to stop working and remain at home. According to a report by the Guardian, women workers of Afghanistan's finance ministry called up female government officials and asked them to recommend male relatives who could take up those positions.
"I was asked to introduce a male family member to replace me at the ministry, so I could be dismissed from the job," an employee was quoted as saying by the news agency.
The employee received a call from the finance ministry's HR department who asked her to recommend a replacement for her post for which she worked her way up for 15 years.
The woman, who is the head of department in the ministry and holds a master's degree in business management, questioned the ability of the person if she were to recommend him as her replacement, since she has mastered the skills over a long period of time.
"How can I easily introduce someone else to replace me? Would he be able to work as efficiently as I have for so many years?" the woman asked.
She also questioned the official and said that she wants to know what would happen to her and her job. She countered the Taliban official and said to him that since she has been demoted after their takeover she barely manages to pay her son's school fees. "When I questioned this, an official rudely told me to get out of his office and said that my demotion was not negotiable," she told the Guardian.
Women have been subjected to medieval-era restrictions after the Taliban came to power in Afghanistan. The terrorists follow a strict interpretation of Islamic laws and prevent women from attending schools, colleges, offices.
The laws also promote moral policing and objectification of women. Sahar Fetrat, assistant researcher with the women's rights division at Human Rights Watch (HRW), said that male relatives of women are punished if the Taliban finds the body language and conduct of those women offensive.
Many women told the Guardian that they received similar calls from the Taliban officials. However, the female official of the finance ministry said she and her female colleagues from the finance department who had received similar calls will mobilize against the diktat.
"We have created a group of female employees of the ministry. We are negotiating now, and we will demonstrate if they don't hear us," the woman was quoted as saying by the Guardian.
Sourse: News 18
https://www.news18.com/news/world/taliban-tells-women-govt-employees-to-send-their-male-relatives-as-their-replacements-5578087.html
------
Muslim girls in Vadodara apply henna to Hindu girls on Gauri Vrat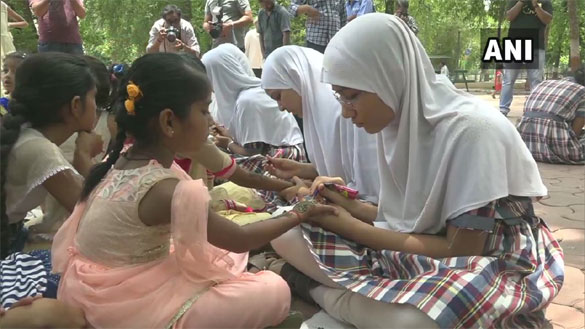 On the occasion of Gauri Vrat, Muslim girls applied henna (mehendi) on hands of Hindu girls in Vadodara
-----
Vadodara (Gujarat), July 18 (ANI): -
A number of girls participated in this event, which was organized by a trust run by a father-daughter duo, Gulab and Nishita Rajput, who have been working for the education of women for the last many years. In a unique gesture, dry fruits were also distributed among girls observing Gauri Vrat or fast. The trust keeps on organizing such events with an aim to sow seeds of harmony among the students at a young age. Legend has it that Goddess Parvati observed this fast to get Lord Shiva as her husband and therefore it is a widespread belief that those who observe 'GauriVrat' get an idle husband.
Sourse: ANI News
https://www.aninews.in/videos/national/muslim-girls-vadodara-apply-henna-hindu-girls-gauri-vrat/
------
Siti Nuramira Abdullah, the Malaysian Woman in Comedy Club Fiasco to Face Shariah Charge For Insulting Islam
July 19, 2022
KUALA LUMPUR: Soon after posting bail today, a woman who courted controversy during a stand-up comedy performance was arrested by the Federal Territories Islamic religious department (Jawi).
Siti Nuramira Abdullah will face a new charge of insulting Islam before the Shariah High Court tomorrow.
Lawyer Ramesh Chandran said this to reporters after Siti Nuramira, 26, settled her RM20,000 bail for her earlier charge under Section 298A of the Penal Code.
He said Siti Nuramira will face a charge under Section 7 of the Shariah Criminal Offences (Federal Territories) Act.
The provision states that "anyone who insults or brings into contempt the religion of Islam shall be guilty of an offence".
The offence is punishable by a fine of up to RM3, 000 or two years' imprisonment upon conviction.
Eight Jawi officers were seen at the court complex here to take Siti Nuramira into custody.
Last week, she claimed trial before the Sessions court to causing disharmony among the Muslim community during her performance at the Crackhouse Comedy Club in Taman Tun Dr Ismail on June 4.
The court granted her bail of RM20, 000 and warned her not to comment on the case.
She and her partner, Alexander Navin Vijayachandran, managed to raise around RM40,000 through crowd funding to post bail.
Navin was charged separately at the Petaling Jaya sessions court with uploading insulting content on social media.
On the first count, he was accused of sharing a posting on his Instagram account on June 5 with the intention of insulting others.
The second charge said he shared content via his YouTube account on June 16 with the intention of insulting others.
The court also imposed a RM20,000 bail for Navin, which he posted.
Sourse: Free Malaysia Today
https://www.freemalaysiatoday.com/category/nation/2022/07/19/woman-in-comedy-club-fiasco-to-face-shariah-charge-for-insulting-islam/
------
How Saudi artist Sarah Brahim combines dance with visual art
July 18, 2022
DUBAI: Saudi artist Sarah Brahim is making waves with her multidisciplinary collaborative work — ahead of her showing at the Lyon Biennale in September, the Riyadh-based choreographer, dancer and artist discussed her contemporary art.
Brahim, 30, has studied dance since she was just three years old, an education that she says was a fundamental preparation for her career as visual artist.
"My background in dance allowed me to study the body in space, the body in motion and experiences of the body — how the body fits into architecture, into music and into silence," she explained. "All of these experiences prepared me for my current modality of expression. My practice now is both experimental and research-based. I tend to find something that is powerful or strong or really important and then work with it within whatever medium is best fit to express it."
Brahim, who calls herself a performance and visual artist, studied, choreographed, performed, and taught jazz, contemporary, ballet, and tap dance. She attended the San Francisco Conservatory of Dance and in 2016 she graduated from the London Contemporary Dance School with a bachelor's degree in contemporary dance.
Since then, she has collaborated with professional performers across the US, Europe and the Middle East, exploring various themes through her performances, film and installation work.
The artist has explored themes of loss, identity, borders, veiling, migration, the experiences of women of color and those of individuals living a transnational existence. Brahim has shown her work around the world, including in Italy, Saudi Arabia, the US, and the UK.
In her most recent work, "Soft Machines/Far Away Engines" in 2021, commissioned for the first Diriyah Contemporary Biennale in Riyadh, screens showed individuals interacting with each other, moving, intertwining and embracing. Small gestures, says the artist, are "amplified through repetition and layering, conjuring up multi-faceted images of beauty."
The way Brahim worked with the technological framework that brought her work to the viewer, in addition to her sensitivity to how the body is used to present ideas, thoughts and emotion, revealed a singular vision of a world that is both intimately and ethereally interconnected.
In September, Brahim will show the same work at the Lyon Biennale, taking place from Sept. 14 until Dec. 31, which was originally slated to open in 2021. The pandemic-postponed edition, curated this year by duo Sam Bardaouil and Till Fellrath, who have long worked with artists from the Arab world, tackles the idea of fragility.
"The installation will be changed slightly to be site-specific to the factory I am working in in Lyon," Brahim told Arab News. "I am working to make certain elements of the piece more immersive through sound and visuals and for the overall experience. I want guests to feel that they are inside the performance that is being projected."
Brahim is also showing 10 works in cyanotype print on cotton from her series "Who We Are Out of the Dark," which she began in 2020 and is ongoing. Her dreamy, abstract and suggestive series explores the concept of generational grief through the idea of epigenetics, the study of how your behaviors and environment can cause changes that affect the way one's genes work.
"The works reflect different symbols for grief,' she said. "Because I wasn't finding symbols that resonated with the grief I was experiencing and I thought to research and make new symbols and externalize them so that I could better understand my pain and the subject with more depth."
Brahim's cyanotypes will be displayed at different museums in Lyon.
Sourse: Arab News
https://www.arabnews.com/node/2124461/lifestyle
------
Confrontations And Conflict Continue Over Forced Hijab In Iran
Iran's government continues its intense campaign to force women to wear the hijab, as public debate on the issue flares up each day with fresh news of confrontations.
A woman who was arrested because of an acrimonious dispute with a hijab enforcer in a city bus was identified as SepidehRashno, an educated person with a good public profile, Iran International has learned.
Rashno – a 28-year-old artist, writer and editor – was arrested on Saturday evening, July 16, after a video of her quarrel with a woman enforcing hijab rules – identified as RayehehRabi'i -- went viral.
In the video Rabi'i, who was fully covered by a long, black 'chador' – which is typical of the supporters of the Islamic Republic – is seen shouting at Rashno who had unveiled in the transit bus. The quarrel became so frantic that other passengers intervened and kicked the hijab enforcer out of the bus.
Rabi'i was also recording the incident and threatening the hijab-protester to send it to the Revolutionary Guards. There are unconfirmed reports on social media that Rabi'i's father is a member of the Revolutionary Guard's Basij paramilitary force and was involved in the crackdown of popular protests in 2009.
Some government officials, including the head of the Islamic Development Organization, have praised Rabi'i and called on people to confront women who unveil in public.
IRGC affiliated Fars news broke the news which could frighten people whose support for anti-hijab protests are growing, adding that several other anti-hijab activists had also been arrested since Iranian women launched a campaign against the compulsory Islamic dress code on July 12.
In another video released this week, a man started berating a few teenage girls who had removed their hijab at a subway station in Tehran, but other people came to help and sent the angry man away. The number of videos of confrontations between anti-hijab protesters and hijab enforcers are growing in social media.
In a statement released on Sunday, Iran's exiled queen Farah Pahlavi condemned the widespread arrests of civil and human rights activists in Iran, particularly the anti-hijab activists.
Denouncing the violent behavior of the morality – or hijab – police while arresting the protesters, she said that "not a day goes by without news and images of attacks on women and violation of their rights, disturbing the souls of noble Iranians, but the news of the civil struggle of women and men of my land against any kind of coercion and discrimination is a source of pride and honor."
Iranians deserve peaceful coexistence no matter their beliefs, clothing or lifestyle as it was like this before the Islamic Revolution and will become so thanks to people, she said.
She noted that the will and civil courage of Iranian men and women is greater and stronger "than the oppressors' power."
On July 12, following a call by women's rights activists for civil disobedience with the hashtag of 'No2Hijab' social media exploded with dozens of videos and photos of women unveiling in public.
Iran has started arresting women who participated in the nationwide campaign against the compulsory Islamic dress code this week.
For the past few weeks, the government has increased harassment of women for their insufficient hijab and many have been detained by special police patrols.
Sourse: Irani Ntl
https://www.iranintl.com/en/202207184350
------
New sexual harassment bill edges closer to law in Malaysia
By Emily Ding
19 Jul 2022
Kuala Lumpur, Malaysia – At university, three years ago Esma* felt a persistent pain along her arm and went to the campus clinic.
When she lay on the examination bed, the medic asked her to unbutton the top of her dress. He said that a lump on her chest could be causing the pain and told her to lower her bra.
"I did what he asked me to do because there was nothing suspicious at first. I thought he was doing his job," she told Al Jazeera.
She soon discovered otherwise.
The medic told her she had beautiful breasts, kissing one and squeezing her nipples. It took about 30 seconds for her to fully comprehend what was happening.
"I didn't say anything. I was too shocked," Esma said. "I just sat up and dressed myself, and he sat back in his chair to write me a medical prescription for my arm – it didn't mention the lumps. Then I left."
Reports of sexual harassment are not uncommon in Malaysia, but despite the existence of various legal mechanisms, many women say effective redress is still lacking.
They hope the long-awaited Anti-Sexual Harassment Bill, which had its first parliamentary reading in December last year, will soon become law. A second reading will take place this month.
"This bill would apply to any person, in any context," said Daniella Zulkifili, from the Association of Women Lawyers, who had a hand in the bill's drafting.
The legislation would broaden the current, piecemeal application of sexual harassment laws – going beyond the workplace to cover occurrences in any setting, such as educational institutions, clinics, public transport, sports clubs, even online.
Sourse: Al Jazeera
https://www.aljazeera.com/news/2022/7/19/sexual-assault
------
URL: https://newageislam.com/islam-women-feminism/taliban-women-afghanistan/d/127517
New Age Islam, Islam Online, Islamic Website, African Muslim News, Arab World News, South Asia News, Indian Muslim News, World Muslim News, Women in Islam, Islamic Feminism, Arab Women, Women In Arab, Islamophobia in America, Muslim Women in West, Islam Women and Feminism