New Age Islam News Bureau
6 Sept 2013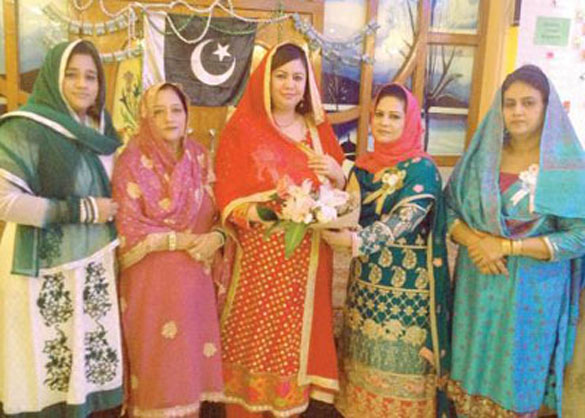 Photo: Anila Naeem Khan with Paksitan Ladies Club "Humnawa's" office bearers
-----------
• Nigerian Islamic Scholar Warns On Ban of Early Marriage
• Jeddah: Women's Forum in Eastern Region Warns of Dangers Posed by Drugs
• Indian Cops Rescue Bangladeshi Girl Forced Into Prostitution, Arrest 3
• A Pakistani wife who now wants a wife for 'himself'
• Schools Are Exempted From Laws Concerning Sexual Discrimination.
• Syria's First Lady Shows Peace and Love on Instagram
• Guardians' Agreement for Saudi Women's Employment Finds Few Takers
• ATC Rejects Bail for the Wife of the Accused in the Jinnah Avenue Stand-Off
• Tunisian Women Claim Discriminatory Security Procedures
• Domestic Violence against Palestinian Women on Rise in Gaza
• No Priority for Women in Employment, Says Saudi Ministry
• Pakistan Ladies Club Hosts Grand Ladies Get-Together
• Rapist Imam Gets Life Term
Compiled by New Age Islam News Bureau
URL: https://newageislam.com/islam-women-feminism/taliban-killed-sushmita-banerjee-wearing/d/13388
------------
Taliban killed Sushmita Banerjee for not wearing Burqa?
Zee Media Bureau
September 6, 2013
Kabul: Sushmita Banerjee, the woman whose memoir about life under Taliban rule was turned into a Bollywood movie, was shot dead in Afghanistan's Paktika province on Thursday by suspected members of the Islamist militia.
Banerjee's killing was the latest in a string of attacks on prominent women in Afghanistan, adding to fears women's rights in a country, where many are barely allowed outside the house, will face setbacks after US-led foreign forces fully withdraw in 2014.
Eighteen years after militant leaders sentenced her to death after she refused to wear a Burqa in public, the attackers on Thursday dragged the 49-year-old Banerjee outside her home, took her to Al Jihad madrasa in Sarrai Kala village and was shot 25 times, reported the New York Times.
Dawlat Khan Zadran, the provincial police chief in Paktika, however, denied knowing the reason behind her killing.
The Taliban have, however, have denied responsibility for her death. Notably, they are often reluctant to own up women's killing.
In an interview, Banerjee, also known as Sayed Kamala, had described trying to flee Afghanistan multiple times to get away from the Taliban, and how she was ordered executed as a result of her attempts. She made it back to Kolkata in August 1995. Banerjee had recently moved back to Afghanistan to live with her husband.
Her book "A Kabuliwala's Bengali Wife" was published in 1997, about nine years after she got married. It later became the basis for the 2003 film "Escape from Taliban", which starred Manisha Koirala.
Sushmita Banerjee, who was from Kolkata, met Afghan businessman Jaanbaz Khan in India and got married to him despite her parents' disapproval and the fact that he was Muslim while she was Hindu. She then moved to Afghanistan in 1989.
According to summaries of the book online, Banerjee moved to Afghanistan as Jaanbaz's second wife, only to find that life would become unbearable with the Taliban increasing their hold over the country.
She lived in Daygan Sorqala village, and was well-known as a medical worker in the area, with special training in gynaecology.
In another interview, she had mentioned that the Taliban militia, which rose to prominence in 1994 and officially ruled the country from 1996-2001, had made several visits to her house when she ran a dispensary from her house. She had even cooked for them.
The Taliban militia, during its rule, had placed severe restrictions on women. It forced them to wear all-encompassing burqas, banned them from working and prohibited girls from attending schools. The Islamist rulers' harsh interpretation of their religion meant many women could not get proper medical care because the only physicians available were men who in most hospitals were allowed to examine women only if they were fully clothed.
http://zeenews.india.com/news/south-asia/why-sushmita-banerjee-was-killed-by-taliban_874532.html
------------
Nigerian Islamic Scholar Warns On Ban of Early Marriage
BY AHMED MOHAMMED
6 September 2013
Bauchi — Islamic scholar Sheikh Dahiru Usman Bauchi has advised the National Assembly not to peg marriage age at 18 years, saying this would contradict Islamic laws, international laws and the constitution.
Speaking to reporters in Baucchi yesterday, Sheikh Dahiru said pegging the marriage age "will affect Muslims fundamental rights. It also violates freedom of religion, because every Muslim has a right to live and exist and to practice his religion without hindrance".
The scholar added, "Islamic laws do not stipulate age for marriage and no one has the authority to peg marriage age for girls. Prophet Mohammed (SAW) married a six-year-old girl and she was taken to his house when she was nine. One of the prophet's companions, Caliph Umar, married a girl at the age of nine, so pegging marriage age violates freedom of religion as enshrined in the Nigerian constitution".
Sheikh Dahiru also condemned same-sex marriage, and advised that it should not be encouraged.
"Whoever supports same-sex marriage is imp-lying that humans should stop reproduction because without marriage between a man and a woman, people will not come into the world", he said.
http://allafrica.com/stories/201309050799.html
------------
Jeddah: Women's Forum in Eastern Region Warns of Dangers Posed by Drugs
JEDDAH: ARAB NEWS
6 September 2013
The General Directorate for Drug Control in the Eastern Region confirmed that it has monitored 30 cases of drug abuse among women at the 12th Women's Forum of the Charity Convoy Association exhibition.
Metha Al-Qahtani, supervisor of the Directorate's booth at the exhibition, said, "The cases are strictly confidential and dealt with on an individual basis, then directed to the women's department at the Directorate." She pointed out that marijuana use represented the largest proportion of drug addiction cases.
Al-Qahtani said that the booth aims to educate visitors about the dangers posed by drugs. It also highlights the importance of education, raises awareness on health hazards and stresses upon religious and social risks resulting from abuse through educational leaflets and brochures.
"There are various methods of outreach, such as audio, visual and printed materials. There are also ongoing partnerships in all sectors of governmental and private charities working to educate young people," she said.
About 22,000 visitors attended the Dhahran International Exhibition.
Activities included a series of lectures, courses and competitions designed to enhance and develop the principles of social and Islamic values in a creative and highly professional environment.
According to Al-Qahtani, government sectors extensively engaged with activities that aim to promote family values within society.
She said that the forum also worked to educate non-Arabic speaking women by conducting activities in different languages. Since the beginning of the forum, 11 people have converted to Islam.
The "Oasis of Inner Peace" booth reported over 350 consultations, most of them health-related.
A total of 636 visitors attended the "Mercy Society" booth.
Dr. Wafa Al-Haylaa, a physician, said that 26 diabetes cases, 31 cases of high blood pressure and 121 obesity cases were detected.
She pointed out that the aim of the booth was to promote health awareness through educational materials for the early detection of diseases.
A booth with the slogan "Harmony Society for Family Care" recorded 140 requests for marriages over the course of the seven days of the forum. Around 100 cases sought to discuss their family situation, while 40 requested immediate reconciliation. The women, aged between 24 and 35 years, were single, divorced or widowed. Around 80 women requested to attend courses and programs.
http://www.arabnews.com/news/463701
------------
Indian Cops Rescue Bangladeshi Girl Forced Into Prostitution, Arrest 3
Sep 06 2013
Surat: The Udhna police had arrested three persons and rescued a teenage girl, who was reportedly forced into prostitution by them.
Police have also declared as wanted six youths, who had allegedly been involved in bringing the girl from Bangladesh to Mumbai and then to Surat.
As per their details, the 17-year-old girl, who was a resident of Faridpur village in Dhaka, Bangladesh, had an affair with a youth named Anwar. The girls' parents were against her marrying Anwar. So, she eloped with him on August 10. The couple then crossed the international border and reached Howrah illegally, after which they caught a train to Mumbai. Anwar stayed with her at a guest house for a few days and later sold her to a pimp, identified as Misbah, in Mumbai Central area, introducing him to her as his friend. Anwar left her with him and did not return. During the time, she was with Misbah, he raped her thrice and later tried to introduce her into prostitution. But she fought back, which even led to conflicts with "customers".
On failing to push the girl into prostitution in Mumbai, he took her to Surat and sold her to Dadabhai, another pimp whose full name is yet not known to the police.
Dadabhai kept the girl at a rented accommodation for a few days, where he and another person raped her repeatedly. Dadabhai later sold her to another pimp, identified as Sagar, who kept her at the house of one Ashok Tarai in Satyanagar, Udhna. Here, the girl was raped by both Ashok and Sagar, who finally forced her into prostitution. Sagar would send customers to Ashok house.
Acting on a tip-off, Udhna police went to Ashok's house on Wednesday night and rescued the girl. They arrested Ashok, his wife Tulsi and pimp Sagar, while six others, including Anwar, Misbah, Dadabhai and his three associates who had raped her, have been declared wanted.
The arrested persons were on Thursday produced in court and remanded in six days' police custody.
Police inspector A H Rajput said, "The victim does not know Hindi or English. She only speaks Bengali. We found out that girl was having an affair with Anwar and they eloped. She had studied till class VII. She will be charged with illegally crossing the border with Anwar and entering India at Howrah.
We are still looking for the other perpetrators. We are also trying to contact the girl's parents who live in Faridpur. For now, we have sent the girl to a women's protection home at Ghoddod road," he added.
http://www.indianexpress.com/news/cops-rescue-bangladeshi-girl-forced-into-prostitution-arrest-3/1165436/
------------
Schools Are Exempted From Laws Concerning Sexual Discrimination.
Beatrice Siu
September 06, 2013
Schools are exempted from laws concerning sexual discrimination.
The assurance by the Equal Opportunities Commission was aimed at easing concerns by some schools that segregating boys and girls, mainly Muslims, could see principals accused of breaching the law.
The schools mainly affected are the Islamic Kasim Tuet Memorial College and CMA Choi Cheung Kok Secondary School.
The Education Bureau said it understood that CMA Choi Cheung Kok had set up classes specifically for girls based on the demands of parents.
However, the students are mixed when attending activities such as picnics or sporting events.
It said the school had expressed concern that the measures to separate the boys and girls, including in using the staircases, might find them in breach of the ordinance. The Islamic Kasim Tuet Memorial College separated boys and girls from Secondary One to Three but allowed them to mix in the upper classes.
The bureau said it had advised the schools to avoid discriminating between the sexes and that parents should be consulted should this be necessary.
Hong Kong Unison, an ethnic minority concern group, welcomed the development, as some female students are unhappy with mixed classes.
"For religious reasons, girls should not be mixed with boys so they can discuss sensitive topics freely," a girl said.
A commission spokeswoman said policies that prevent the ethnic minorities from receiving a proper education must be discouraged.
At Daughters of Mary Help of Christians Siu Ming Catholic Secondary School, a traditional girls' school, principal Chan Yeung Mei-hay said students and their parents were fully aware of its exclusion of boys when they decided to enroll.
"If running boys' or girls' school is breaching the law, the EOC should conduct a public consultation since some of these schools have been exclusive to one sex or the other for over a hundred years."
http://www.thestandard.com.hk/news_detail.asp?we_cat=11&art_id=137300&sid=40317831&con_type=1&d_str=20130906&fc=7
------------
A Pakistani wife who now wants a wife for 'himself'
PTI | Sep 6, 2013
ISLAMABAD: About eight months ago, Nagina Akram was a happily married woman but is now running a tyre shop and is looking for a suitable girl for "himself".
Born as a girl to a family in Ghaziabad in Pakistan's Sindh province, Akram's father was a trader named Haji Akram was a trader.
As Nagina, she married an expatriate named Khalid who worked in Spain in 2011. Khalid and Akram spent two years as a happily married couple.
He would visit Pakistan every six months or so to see his wife. When the couple had no children even after two years of their marriage, Khalid asked his wife to consult a doctor.
That casual visit to gynaecologist Tahira Khalid changed everything for the couple, especially the wife, Dawn newspaper reported today.
The gynaecologist, after observing some changes occurring in Akram's body, advised her to undergo tests at Karachi's Agha Khan Hospital.
The tests confirmed that Akram was undergoing a sex change and needed surgery, which was conducted at a private hospital, turning her into a man who was named Usman Akram, the report said.
At that time, Khalid was in Spain, busy trying to get documents to bring his "wife" to the European country.
Akram told Dawn that initially he felt very shy about the change he had gone through.
"For at least eight months, I shaved my face to grow facial hair so that I looked like a man," he said.
Soon after the medical tests confirmed signs of a sex change, he had informed Khalid about the development. Since then, they had not contacted each other.
Khalid's family had amicably returned the dowry, he said. He said that since he needed some means to earn a livelihood, he started running a tyre shop at a bus stand.
Akram, who has been issued a new national computerised ID card with male status, is now looking for a suitable girl to marry, the report said
http://timesofindia.indiatimes.com/world/mad-mad-world/A-Pakistani-wife-who-now-wants-a-wife-for-himself/articleshow/22368025.cms
----------
Syria's First Lady Shows Peace and Love on Instagram
6 September 2013
Affectionately embracing a young girl, serving soup at a mobile kitchen, proffering a doll, Syria's first lady Asma al-Assad is giving it her all representing a contrasting image of the war-torn country.
Syria is in the grip of an unrelenting conflict, yet the image portrayed by Assad's wife in her Instagram account shows an atmosphere of peace and love, reported the Daily Mail on Thursday.
The presidential account on the social media platform is seemingly being used as a propaganda tool to try and mask the horrific atrocities carried out by the regime.
More than 110,000 people have died in Syria since March 2011, the Syrian Observatory for Human Rights said Sunday.
The PR stunt is doing little to mask pictures, videos and reports leaving Syria.
Asma's lifestyle has been under intense scrutiny over the last two years, with stories of her outrageous spending and extravagant wardrobe circling.
Syria's first lady has repeatedly been portrayed as a modern-day Marie Antoinette, completely out of touch with the reality of her country on social media platforms.
"I love ur designer clothes and shoes... paid for by the blood of your people! Seriously, u make Marie Antoinette look like an angel compared to you!," wrote one Instagram user.
However, reactions to the pictures on other social media sites varied with many criticizing her efforts as "fake."
"Look at the devil in disguise" wrote an anti-Assad user on Twitter. Another tweeted saying "nothing Bashar or Asma can do will wash the bloods covering their hands"
As millions have fled Syria for neighboring Jordan, Lebanon and Turkey, the regime has stepped up its attempts to show life-as-normal for the President and his family.
The Instagram account displaying the images of Asma was opened in July this year.
http://english.alarabiya.net/en/variety/2013/09/05/Devil-in-disguise-Syria-s-first-lady-shows-peace-and-love-on-Instagram.html
------------
Guardians' agreement for Saudi women's employment finds few takers
JEDDAH: FADIA JIFFRY
6 September 2013
Public sector companies have the right to request an approval letter from legal guardians at the time of employing Saudi women to ensure their financial rights, Ministry of Labor sources have stressed.
There is no current clause in the labor law that requests business owners to obtain a female's legal guardian consent at the time of her employment, sources say.
However, according to old labor laws, no woman can be employed without the prior agreement of her guardian.
The ministry said it is the company's right to seek prior agreement of the guardian, especially for saleswomen, which requires them to conduct financial dealings with customers.
"The company has to make sure females have guarantors, which is the case in companies that specialize in ticket sales. If, for example, a female employee were to breach her custody and the case is taken to the police, her guardian would be held accountable to the employer," a ministry official said in a statement.
The statement came after local press obtained a copy of a document signed by a group of women who work at a retail facility, which required the guardians' approval for their female kin as a precondition for their work.
"I don't support the idea of companies having to obtain an approval letter from the guardian of a Saudi woman in order to employ her," says Aisha Natto, a member of the Jeddah Chamber of Commerce and Industry.
According to the guardian consent clause, those applying for employment are required to sign a declaration, which obliges the guardians to bind their women to comply with Shariah rules. The declaration requires women to keep away from all matters that tarnish their reputation or the reputation of the companies they work for.
The article, which requires the guardian's consent for women's employment, is still operational in the public and private sectors. "It is applied by the Ministry of Civil Service, which requires the guardian's agreement at the time of women's employment," said legal advisor and former judge, Faisal Al-Ashwan.
He said this is to protect the rights of women and ensure they are not exploited by employers because they can be weak in demanding their financial rights. "The article doesn't mean a woman can only work if she obtains her guardian's approval; it means she should have a guardian to protect her rights."
Saudi universities dropped the requirement for guardian approval five years ago. Proof of identity from the Civil Status Department is deemed enough.
http://www.arabnews.com/news/463720
------------
ATC Rejects Bail for the Wife of the Accused in the Jinnah Avenue Stand-Off
September 6, 2013
ISLAMABAD: An Anti Terrorism Court (ATC) on Thursday rejected the bail application of Kanwal, wife of Sikandar, accused in the Jinnah Avenue stand-off.
ATC Judge Atiqur Rehman rejected the bail application filed by Kanwal. She has been kept in custody in the Adiala Jail since August 31, 2013. The couple had been booked by police on charges of terrorism and attempted murder among other counts.
During the course of hearing, Advocate Kalsoom Khaliq, representing the defendant, argued that her client had no involvement in this case and that she was completely unaware of the incident. She argued that Kanwal was acting upon her husband's instructions in order to protect her children who were present at the site of the incident. She requested the court to accept her bail application and pass orders for her release.
However Investigation Officer Abdur Rehman, opposed the arguments and maintained that the accused was involved in this case. Along with submitting video footage of the incident the prosecution argued that during the entire episode, Kanwal was assisting her husband, which was clear indication of her awareness about the plan. Rehman requested the court to reject her bail application.
Earlier police had submitted an incomplete report which declared Kanwal as an accused. The report was based on 13 witness statements which included police officers deputed at the site, driver of Sikandar, and the arms dealer Akhtar, who had provided the culprit with weapons.
After hearing arguments from both sides, the court reserved its judgments and after deliberating during the break, it rejected the bail request. Kanwal's counsel, while talking to reporters, said the accused will challenge the decision in the Islamabad High Court.
Earlier, in a statement to the police, Kanwal said the couple had stayed at an Aabpara hotel in Islamabad for two days, and her husband had been a drug addict up until 2009, after which he sought treatment.
http://tribune.com.pk/story/600565/lost-cause-atc-rejects-bail-for-sikanders-wife/
------------
Tunisian Women Claim Discriminatory Security Procedures
6 September 2013
Tunisian women allege border security officials are demanding proof of travel authorization from their fathers or husbands before traveling to certain countries in the region from Tunisia.
The government, however, has denied that any policy restricting the travel of Tunisian women is in place.
During a recent trip to Morocco, a security officer at Tunis airport asked a female blogger known as Jolanare, for proof of her father's permission to travel. The female officer told her this was "the way it works," Jolanare said.
When Jolanare told the female officer she was married, the officer let her proceed without any authorization. Requesting proof of authorization, the officer explained to Jolanare, is to prevent women from traveling for "sexual jihad," or providing sexual services to men fighting for a cause deemed religious, most recently in the Syrian civil war.
These measures, the officer added to Jolanare, were not new but had been reintroduced for security reasons.
Hundreds of Tunisians have gone to Syria to fight with the rebels against the Bashar Assad government, despite ongoing government efforts to prevent the flow of would-be militants.
A blog post written by Jolanare about her experience caused widespread discussion of the issue in the media and on social media outlets.
Sana Ghanima, a journalist and blogger, told Tunisia Live that during an April trip to Libya, she was asked in the airport for proof of her husband's permission. She was upset by the request, she said, but the officials at the airport eventually apologized and allowed her to travel.
The investigative journalism blog Nawaat published an article last week making similar allegations. It did not, however, demonstrate that anyone has been prevented from traveling by this procedure.
The government denies that any policy requiring parental or spousal permission to travel is in place.
While over 4,000 Tunisian citizens have been prevented from leaving the country, according to Ministry of Interior spokesperson Mohamed Ali Aroui, they were all men between 20 and 30 years old and stopped on suspicion of being en route to Syria.
The men's parents were called, and when they did not know why their sons were leaving Tunisia, authorities prevented their travel, Aroui said, adding that no women had been forbidden travel.
Measures to prevent travel are legal, Aroui said, because Tunisian passports are the property of the state and can be confiscated. He said that the current procedures are temporary.
The men stopped were not subject to a blanket policy, but because specific information suggested they would "cause tensions" if allowed to their destinations, according to Ministry of Interior spokesperson Lofti Hidouri.
The ministry dismissed what it called "rumors" of a policy preventing women under 35 from leaving the country in a one-sentence statement on Facebook on Tuesday.
Tunisian women replied to the post with criticism.
"It happened to me twice now and I had to get a parental authorization to leave the territory, so it's true," a woman named Imen Foutri commented. "These aren't rumors, why deny them when they're true!!!"
Some also called the statement misleading, saying that it mentioned "preventing" women from traveling when the question really concerned requests for proof of permission.
"The text says 'a ban against leaving.' It's wrong, no one talked about a ban. It's about an authorization," commented Wafa Driss.
Bochra Belhaj Hmida, a lawyer active in women's rights issues, said that while increased security measures to stop the flow of Tunisians to Syria were necessary, civil rights must be taken into account.
Ministry of Interior and border control authorities need to develop a better solution that does not interfere with personal freedoms, she said, but for now the security policies in place address the problem of Tunisians going to fight in Syria.
Tunisian women expressed their anger over social media, citing that after age 18, the age of majority in Tunisia, women should not be asked for proof of anyone's permission.
"The majority age in Tunisia for women has now become 35 years old," said Twitter user PaNoAIMi.
"Tunisian women under the age of 35, if you are 'clean' and 'correct' you can leave the Tunisian territory without permission," Twitter user Nessryne J said.
http://www.tunisia-live.net/2013/09/04/tunisian-women-claim-discriminatory-security-procedures-authorities-deny/#sthash.DZLsoaoS.dpuf
------------
Domestic Violence against Palestinian Women on Rise in Gaza
By: Rasha Abou Jalal
6 September 2013
GAZA — "Ibtissam," a 27-year-old woman from the town of Beit Hanoun in the northern Gaza Strip, asked for a number of guarantees before beginning to talk, among them that her real name not be used and that her story not be relayed to organizations assisting battered women. Despite attempts to reassure her when she met with Al-Monitor in public, she kept looking behind her for fear that her husband or one of his relatives might see her.
She had a gauze patch over one eye, stemming from a punch by her husband. Yet, that was not her motivation for meeting with Al-Monitor. Rather, what compelled her to be interviewed was her desire to make a change in her life. Thus, she recounted the details of her story, full of constant violence, including beatings and death threats, at the hands of her husband.
Ibtissam is not the only battered wife in Gaza. Some 37% of married women in the Palestinian territories have been subjected to domestic violence by their husbands. Of these, 51% live in Gaza according to a 2012 study by the Palestinian Central Bureau of Statistics. Speaking in hushed tones for fear that passersby might hear, Ibtissam recounted her story.
"My husband did not like what I cooked for dinner, so he punched me in the face, injuring my eye. I often get severely beaten for trivial reasons. I am cruelly insulted, but cannot find anyone to listen to my plight or help me overcome my predicament."
Despite the hoarseness evident in Ibtissam's voice as she spoke, her uncovered eye remained dry, as if turned to stone in its socket. Trying to remain calm, she continued speaking.
"No one cares about me, and this increased the frequency of my husband's physical assaults and verbal insults. He even allows his mother and sisters to hit me during familial disagreements."
The young woman explained that two things had prevented her from talking about her ordeal: first, her family did not care about what she was being subjected to, and second, fear of the death threats by her husband if she dared to talk. She even told the doctor who treated her eye that she had "fell off a ladder."
Ibtissam takes her husband's death threats seriously. She recalled an incident in which a man stabbed his 62-year-old wife to death in the southern Gaza town of al-Qarara, north of Khan Yunis, on July 16.
Husbands are not the only perpetrators of violence against women. There are documented cases in which the aggressors have been people from a husband's family. For example, in a May 25 incident, 26-year-old Nawal Qdeih, six months' pregnant in the town of Khazaa, east of Khan Yunis, was assaulted, stabbed in the head and back and then choked by her husband's mother and sisters. They killed her and her unborn child.
The Palestinian Center for Democracy and Conflict Resolution has recorded more than 400 cases of severe acts of violence against women. These include 16 murders during the past year in the Palestinian territories, a fact disclosed at the center's Aug. 27 symposium, "The Role of the Media in Cases When Women Are Murdered."
The frequency of these attacks is increasing because women prefer to remain silent. About 66% of battered women chose to remain quiet, while 37.7% of them leave their husbands and flee to their families. Only 0.7% approach women's centers, according to the Bureau of Statistics study.
Amal Siam, director of the Center for Women's Affairs, elaborated on the statistics. "Given the patriarchal and conservative nature of our society, battered women have very limited avenues for expression. Customs and mores frown upon women who accuse their husbands of such acts, considering their accusations rude and unacceptable," she said.
In an interview with Al-Monitor, Siam explained that this societal view increases women's vulnerability to corporal and other forms of violence. She pointed out that since the beginning of 2012, her center's legal office had received 100 cases and dealt with approximately half of them. In 50 cases, the women had chosen to file grievances with the appropriate courts to defend their rights. Such rights relate to ethical considerations, divorce costs and inheritances.
The Bureau of Statistics report indicated that Palestinian women face many forms of violence, with 76.4% of Gazan women being subjected to emotional violence, 34.8% to physical violence, 14.9% to sexual violence, 78.9% to social violence and 88.3% to economic violence.
Siam affirmed every woman's right to file charges when subjected to any form of violence, but added that only a "very small number of women talk or resort to the police and file grievances against their husbands, because society deprives them of their rights and considers their grievances to be shameful."
She asserted, nonetheless, "Society must hold men who hurt and beat their wives responsible for their reprehensible actions." She described the police response to such cases as "reticent."
Gaza police spokesman Ayyoub Abu Shaar said that the police force deals with such cases according to pertinent laws if a woman is hurt or beaten and presents a medical report that proves it. In cases where no physical harm results from the violence, the complaint is transferred to the public relations department, which tries to find an amicable solution for the husband and wife to prevent them from divorcing.
"We do not want couples to divorce. That is why we try to reach an amicable solution without filing a complaint. But in cases where the wife insists upon doing so, we record her grievance, summon the aggressor, interrogate him and hand him over to the prosecutor general's office as the law demands," Abu Shaar said in an interview with Al-Monitor.
Abu Shaar said the police force refrains from publishing statistics about the number of women who file complaints against their husbands, as well as the number of those subjected to violence, so as not to encourage more women to speak up, as it is not socially acceptable.
Rasha Abou Jalal is a writer and freelance journalist from Gaza specializing in the political news, humanitarian and social issues linked to current events.
http://www.al-monitor.com/pulse/originals/2013/09/palestinian-domestic-violence-women-rights.html#ixzz2e6gTvQ5z
Domestic Violence Against Palestinian Women on Rise in Gaza
------------
No Priority for Women in Employment, Says Saudi Ministry
6 September 2013
RIYADH — A senior Labor Ministry official has said recent decisions aimed at creating more job opportunities for women do not mean the authorities are giving women priority over men in employment.
"The number of the Saudi males employed through the Nitaqat program was five times that of women, though they represented 86 percent of job seekers," said Fahd Al-Tikhaifi, assistant undersecretary at the Ministry of Labor (MOL).
Citing figures issued by the Central Department for Statistics and Information, Al-Tikhaifi said the rate of unemployment among women was 35.7 percent last year while it was 6.1 percent for men. "Men can work anywhere contrary to women who need a special work environment," he said.
He denied reports that the ministry was facing an acute shortage of inspectors to follow up the implementation of its decision to feminize lingerie and women's accessory shops and said the ministry has other mechanisms of inspection.
He did not specify the mechanisms but said the ministry is monitoring shops through "various tools".
Al-Tikhaifi said the number of the inspection teams is sufficient and that these teams collect enough information before going out to do their job.
"I believe that the number of the inspection teams is good and that the field inspection plans are formulated by each labor office according to its resources and potentials," he said.
On a proposal to have the women lingerie and accessory shops in secluded and closed areas in the markets and shopping centers, Al-Tikhaifi said this is something to be decided by the owners of the shops themselves.
"The ministry will support the decision of the shop owners but will not decide on their behalf," he said.
The ministry on Tuesday closed down 28 shops selling abayas, women's costumes and accessories for violating the labor law.
The total number of the violating shops that were closed down during the past three weeks reached 72.
The punishment against the violating shops starts by warning them of being put on the red Nitaqat level, preventing them from the ministry's services and finally closing them down and canceling their licenses
http://www.saudigazette.com.sa/index.cfm?method=home.regcon&contentid=20130906179425
------------
Pakistan Ladies Club hosts grand ladies get-together
6 September 2013
JEDDAH — Pakistan Ladies Club (PLC) also known as "Humnawa" hosted a ladies get-together to celebrate Pakistan's Independence Day and Eid at Red Onion Hotel in Riyadh.
This event was attended by more than 100 women from all walks of life, including working ladies, social workers, writers/poets, academicians and housewives.
A member of PLC, Yasmeen Aslam, had decorated the banquet hall of the restaurant with green and white crescents, ribbons and Pakistani flags.
Anila Naeem Khan, the chief patron of PLC-Humnawa and wife of the Pakistani Ambassador Muhammad Naeem Khan attended the occasion as chief guest, while Rana Khalid was the special guest.
Anila delivered her speeches and helmed the cake cutting ceremony as guests sang the famous patriotic song "Dil Dil Pakistan, Jaan Jaan Pakistan (My heart and my soul is Pakistan)."
President of PLC Bilkees Safdar also spoke on the occasion and Hira Talha sang a national song for the attendees.
Dr. Wardah Qureshi, a medical doctor working at King Faisal Specialist Hospital in Riyadh, a writer and a social worker, conducted the proceedings of the event.
Following the recitation of a few verses from the Qur'an, Shahnaz Akhter, an academician and writer/poet, recited a Naat penned by her.
Ambreen Faiz Ahmed, a writer, made a presentation on "Shukran Ya Abu Miteb" campaign, which was initiated by the Pakistan Writers Club-Riyadh to extend thanks and gratitude to Custodian of the Two Holy Mosques King Abdullah for his kindness, consideration and compassion toward the expatriate Pakistanis in Saudi Arabia.
She told the audience that messages of appreciation of over 400 Pakistanis and photos of 100 people who had actively participated in the campaign was published in Saudi Gazette's Pakistan Independence Day supplement on August 14.
The efforts of Saudi Gazette's team, helmed by its Editor-in-Chief Khaled Almaeena, in making the campaign a great success was also acknowledged.
Mona Qureshi, Fareeha Mirza and Amna Rabeel presented a skit on the issue of generation gap and garnered appraisal for its content and their performances from the audience. The plot of the story and the dialogues were written by Wardah.
A "Best Dress competition" was held for the young girls who sashayed down the makeshift ramp to showoff their outfits of the day.
First three winners of the competition were given prizes by Asghar Qureshi. A "Best Dress competition" for ladies was also held, the winner of which was announced by Anila.
In the end, the ladies respectfully stood up to sang the national anthem of Pakistan.
PLC, founded 20 years ago, brings together women of the Pakistani community to socialize, promote and enhance talents, participate in social works among others. It hosts eight events annually.
It awards scholarships and financially supports six students of Pakistan International School at Nasiriyah in Riyadh.
Current office-bearers of PLC are Bilkees Safdar, president; Shahnaz Akhtar, vice president; Dr. Wardah Qureshi, general secretary; Asiya Mehtab, treasurer; Imrana, membership assistant.
http://www.saudigazette.com.sa/index.cfm?method=home.regcon&contentid=20130906179412
------------
Rapist Imam gets life term
6 September 2013
A Shariatpur court has sentenced an Imam to life imprisonment for raping a minor girl three years ago.
Judge Md Sajedul Karim of the Women and Children Repression Prevention Tribunal also fined Yasin Sikdar Tk 40,000 on Thursday.
Sikdar, an Imam at the Sadar Upazila's Tetulia mosque and Nurani Hafezia Madrasa, will have to serve an additional year in prison if he fails to pay the fine.
Prosecutor Mirza Hazrat Ali said the convict had raped a 10-year-old girl who had come to take lessons on Quran from him on Jul 24, 2010.
The victim's father had filed a case over the rape.
http://bdnews24.com/bangladesh/2013/09/05/rapist-imam-gets-life-term
------------
URL: https://newageislam.com/islam-women-feminism/taliban-killed-sushmita-banerjee-wearing/d/13388