New Age Islam News Bureau
20 Oct 2017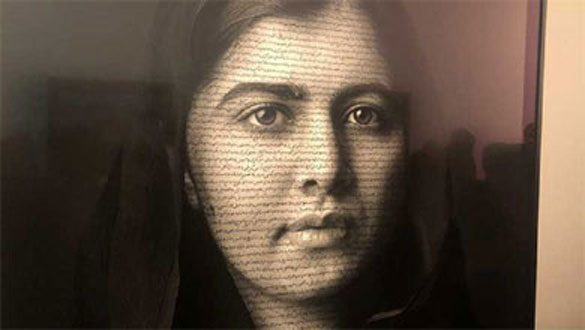 Malala Yousafzai acknowledges the crowd at a press conference at the Library of Birmingham after being announced as a recipient of the Nobel Peace Prize in Birmingham, England, on October 10, 2014
------
• 44 Women Killed In The Name Of 'Honour' In Swat during the Current Year
• Nisa Homes Provides a Safe Haven for Muslim Women in Need
• Rojda Felat, Female Commander Who Led Raqqa Battle
• Rohana Creates History as First Woman Malaysian Naval Captain
• Cherie Blair: Lifting Of Saudi Ban on Women Driving 'Superb — But More To Be Done'
• I Am a Proud American-Muslim Woman, and Arizona Is Ready To Send Me to the Senate
• Iran: Women Teachers Stage Protest in Soldouz And Kerman
• Kurdish Women's Militia Vows to Keep Fighting Islamic State
Compiled by New Age Islam News Bureau
URL: https://www.newageislam.com/islam-women-feminism/taliban-pakistan-attacks-malala-latest/d/112958
--------
Taliban In Pakistan Attacks Malala In Latest Issue Of Women's Magazine
By Jack Moore
10/19/17
The Pakistani Taliban has critized Malala Yousafzai, the 20-year-old girl the group who was shot for promoting education for girls, in the latest release of its magazine for women.
The militant group responsible for a series of attacks in Pakistan condemned the world's youngest Nobel Peace Prize laureate in its English-language magazine entitled Sunnat-e-Khaula, or the Way of Khaula, named after a female Muslim fighter from the 7th century.
"The one you call education is not right education because you got it from kuffar," says an open letter published in the magazine by a writer whose name is given as Hafsa Khurasani.
"I ask you how your education can the right one when it takes a person away from Allah and away from the purpose of our creation," the article, provided to Newsweek by jihadi monitoring site Jihadoscope, adds.
"The education you are promoting is producing men and women who are destroying the world."
The Pakistani national is from the Swat Valley where the Taliban once dominated. Malala tried to affect change in the region, bringing attention to women's rights and the education of women, alongside her father who ran a girl's school. As a teenage activist, she won awards, such as the Pakistani National Youth Peace Prize, in her home country.
She was shot by a Taliban gunman on a school bus in October 2012, but survived.
Malala began her studies at the University of Oxford, one of the most decorated education institutions in the world, earlier this month. She will study a degree in Politics, Philosophy and Economics (PPE).
"5 years ago, I was shot in an attempt to stop me from speaking out for girls' education," she wrote on Twitter. "Today, I attend my first lectures at Oxford."
The latest issue again calls for women to join the group's cause. An article by a purported female militant is titled "Why Did I Join Mujahideen."
In that article it says that "today jihad is obligatory on men and women," using attacks in Muslim countries as a justification, appearing to allude to Western military action in the Middle East. The U.S. military, in some cases with other members of a wider military coalition, is bombing the Islamic State militant group (ISIS) in Iraq, Syria, Yemen and Afghanistan, as well as Al-Qaeda affiliates in Yemen, Syria and Afghanistan.
The first issue, published in August, included an interview with the unidentified wife of the group's leader, Fazlullah Khorasani, that called for "women of Islam to come forward and join the ranks of mujahideen," or holy warriors.
"Organize secret gatherings at home and invite like-minded jihadi sisters," an editorial in the magazine suggested. "Distribute literature reflecting on the obligation of jihad, arrange physical training classes for sisters. Learn how to operate simple weapons. Learn the use of grenades."
http://www.newsweek.com/taliban-pakistan-condemns-malala-new-release-womens-magazine-688252
--------
44 Women Killed In The Name Of 'Honour' In Swat during the Current Year
October 20, 2017
SWAT: Swat has witnessed the murder of 44 women in the name of "honour" during the current year, many of which have been concealed under the name of suicide, non-government organisation Awakening has revealed in a study.
Speaking with Pakistan Today, the NGO's director Irfan Hussain Babak said that the rate at which "honour killings" were being carried out this year had increased sharply from last year. The year 2016 had seen 53 cases of honour killings in Swat. The NGO, which works for women's rights in Swat and provides legal aid to families of the victims, has revealed that a lot of these cases are disguised as suicides.
Swat police have denied the reliability of these reports. Figures taken by Mingora superintendent of police (SP) claim that there had been 11 instances of honour killings this year, while there had been 6 cases in 2016.
Mingora Deputy Superintendent of Police (DSP) Habibullah told Pakistan Today that Swat police were working hard to tackle the issue of honour killings in the district. He said that cases of honour killings would be filed by the state now, expressing his hopes that this would deter the evil practice and bring the perpetrators of the crime to justice. According to the police, three cases have been filed by the state and are all under hearing at court.
The police said that members of the victims' families were usually involved in honour killings and to prevent themselves from disgrace, the other aggrieved family members did not bring the cases to the police, preferring the local jirgas to resolve the matter instead. If the police did make arrests, people did not appear before court to testify. This allowed criminals to escape readily from punishment, they said.
Swat bar senior lawyer Sohail Sultan observed that Swat came under the provincially administered tribal areas and therefore many laws which safeguarded women's rights had not been extended to the area, which was a direct cause of the growing number of honour killings in Swat.
According to the Swat's women jirga head Tabassum Adnan, the main reason for the rise of honour killings in Swat was the lack of effective legislation, which allowed criminals to run free without fear of punishment.
According to a woman social worker, the strong grip of traditions over the people was the main cause of such practices in the district, since the traditions barred women from gaining higher education and practising their choice in marriage. When a woman tries to marry by her own choice, she becomes a victim of honour killing, she said.
The civil society of Swat has expressed concerns and recorded protests against the rising incidents of honour killings in the district, subjecting NGOs, government policies and law enforcement agencies to sharp criticism for failing to prevent such events from happening.
https://www.pakistantoday.com.pk/2017/10/19/44-women-killed-in-the-name-of-honour-in-swat/
--------
Nisa Homes Provides a Safe Haven For Muslim Women In Need
By NOOR JAVED
Oct. 19, 2017
A few toys and children's books are scattered around the family room. A half-filled coffee pot sits on the kitchen counter. A little girl plays on a tricycle in the backyard as her mom watches.
This could be any house on any street in the GTA, and that's exactly the point.
Every day, the small house in Mississauga opens its doors and its heart to women in need. And for up to three months a year, 14 women and children from across the GTA, make it their home.
Nisa Homes is the GTA's first transitional shelter specifically geared to serving Muslim women. The Mississauga location of Nisa — which means women in Arabic — opened its doors three years ago. There is also a location in Surrey, B.C., and plans are underway to launch one in Windsor by the end of the year.
The home is open to any woman in need, but most of the clientele identify as Muslim. Many are recent immigrants, or refugees. Some are homeless, others are trying to leave behind abusive homes and start afresh.
"For a lot of the women here, they are not looking for a shelter in a traditional sense," said Yasmine Youssef, program manager for Nisa Homes. Many have recently left their partners, have been staying with friends or family members and are trying to figure out what to do.
"They are now looking for a place where they can get their lives in order," Youssef said.
The project was started by an organization called the National Zakat Foundation, created to help Muslims in Canada distribute charity and alms — a requirement of the faith — to the needy across Canada.
Zubair Qasim, executive director with NZF, said Nisa Homes was born out of conversations with community members about the fact Muslim women were underserved when it came to safe housing or shelter.
Qasim said a quick needs assessment in 2012 found that while many mainstream shelters serve a diverse population, there were few centres that had the resources to address the specific cultural and religious needs of Muslim women, including the notion of stigma.
"Data on current shelters in the Greater Toronto Area reveal a limited amount of resources geared towards assisting Muslim women. Of the total of 21 shelters analyzed, one Muslim shelter was identified in the East Toronto area to have suitable arrangements for religious accommodations," researchers wrote in a feasibility report on the need for a Muslim shelter. "Other shelters lack adequate immigration resources, prayer facilities … and sometimes even language interpretation."
Among the shelters they looked at were Anduhyaun, which serves Indigenous women and children, Jewish Family and Child, and the Muslim Welfare Home for Needy Women and Children in Durham, which serves a broader population and is the only emergency women's shelter in the municipality.
Youssef says Nisa Homes is not an emergency shelter — but serves as a place for women to figure out how to transition to safety.
According to a Statistics Canada snapshot from 2014, of the nearly 8,000 women and children who accessed shelter facilities across the country, half went to transition homes, with 78 per cent fleeing abuse.
"Most of the women here don't have the immediate needs," said Youssef. "A lot of them are looking for more long-term options."
They are also looking for resources like mental health support, immigration advice, and legal and housing support, she said. "We try to help them put these pieces into place." And they continue to follow-up for three months after the women move out.
Many turn to Nisa Homes in hopes of finding cultural and religious sensitive supports.
"A lot of women are not reaching out for assistance because they are worried about experiencing drugs, alcohol … to the point that some women stay in abusive situations for years because they would rather stay than access shelters," said Youssef. She said she has heard stories of women who had gone to other shelters having difficulty getting food during Ramadan, facing Islamophobic comments, or in one case, a woman who talked about her Hijab getting pulled off her head, and in another, a woman who was horrified when an abusive client urinated on her prayer mat.
"Lots of situations where there is no understanding, it makes many women feel like, here I am leaving everything I know, and now I am being marginalized even further," she said. "And studies show that using community and cultural supports are the best way to help women overcome trauma."
Maryam, who stayed at Nisa Homes in 2015 after fleeing an abusive marriage, says she experienced a familiarity at the shelter she did not expect.
"I was reluctant to go to a shelter, and scared to be homeless," said Maryam, who asked that her real name not be used. "But I was in distress. I didn't have family here, or much of a social circle. But when I arrived at the house, I felt immediately at ease."
She said staff at the home checked in with her to make sure she was sleeping and eating, and gave her spiritual guidance when she needed it. Over the three months she was there, she wrote her final university exams, and completed her master's degree.
Two years later, she's now living in Montreal, managed to secure an internship with the UN, and has a successful career. She says she can't imagine where she would have ended up without Nisa Homes.
"I can't even express what Nisa Homes did for me. They helped me look forward, instead of looking back," she said.
Since 2014, the organization has helped more than 150 women across the country, said Youssef. But for every woman they help, there are "400 calls that we have gotten so far that we can't help … mainly because we are full on any given day." And on any given day, there is a waitlist of at least five families trying to get in.
The current home in Mississauga is a rental with six rooms. Some women have roommates. Others come with their families and take up half of the house. There are other limitations: The homes aren't accessibility friendly. The organization doesn't yet have resources to support those with severe mental illness, or those who are fleeing dangerous situations.
Youssef says telling women there is no space for them is as hard as hearing their stories. She recalls one recent phone call from an elderly woman, who said she was kicked out of her home by her adult children because she had severe depression and anxiety and had nowhere to go.
But for every disappointment, there are happy stories too.
During the recent influx of refugees from the U.S., the Surrey location was called upon by local agencies to take in families coming across the border. One day, the centre got a call to take in a family of nine — including eight kids.
"They were the sweetest kids, they wouldn't even have lunch unless I sat with them," said Youssef.
Months later when she checked in with the family, she was happy to hear they are thriving. "The kids are all in school," she said. "The eldest son has a job now. That family is doing so well now."
https://www.thestar.com/news/gta/2017/10/19/nisa-homes-provides-a-safe-haven-for-muslim-women-in-need.html
--------
Rojda Felat, Female Commander Who Led Raqqa Battle
October 20, 2017
A viral photo shows her celebrating the capture of Raqa, but Rojda Felat is more than a poster girl: she commanded thousands of fighters who clinched a defining victory against jihadists.
Her jet black hair plaited and sometimes covered by a black-and-white keffiyeh, the Kurdish woman cuts an unmistakeable figure on Syria's northern battlefields.
Pictures of her fixing the Syrian Democratic Forces' yellow flag on an infamous traffic circle where the Islamic State group used to carry out public executions were beamed around the world Tuesday.
The Syrian Kurdish rebel group she belongs to, the Marxist-inspired People's Protection Units (YPG), forms the backbone of the SDF, which battled for over four months to capture Raqa.
The YPG prides itself on its promotion of gender equality and includes many women among its commanders.
As a top commander in its female branch -- the Women's Protection Units (YPJ) -- she rose through the ranks and found herself commanding one of the biggest operations ever against IS.
"Comrade Rojda is one of the main YPJ commanders," said YPJ spokeswoman Nesrin Abdullah, a founding member of the all-female unit, who fought alongside Felat in Raqa and elsewhere.
"Her character is shaped by her determination to fight for women's freedom," Abdullah told AFP in a phone interview.
"During this campaign she had a real impact: she raised the victory flag in Daesh's capital," she said, using an Arab acronym for IS.
Felat, who according to fellow SDF officers is 37 years old, assumed overall command of the first phase of the Raqa operation.
Command of later phases was then shared with others, including another YPJ female officer.
The jihadists, who ruled over large parts of Syria and Iraq for more than three years, "carried out the worst atrocities against women, they made them slaves and machines meant to satisfy their every desire," Abdullah said.
One of the worst crimes perpetrated by the ultra-violent jihadist group was the genocide against the Yazidi minority in northern Iraq which saw IS kidnap and enslave thousands of women and girls.
In various interviews Felat, who is from the Kurdish-majority city of Qamishli in northeast Syria, has spoken of the importance of promoting women in war.
She cites a diverse range of heroes, including early 20th century German philosopher and activist Rosa Luxemburg, but also Napoleon and Kurdish fighter Saladin.
"Whether as fighters or commanders, the Women's Protection Units always embody a spirit of camaraderie, a group spirit, there is always an awareness of our responsibility," said Jihad Sheikh Ahmed, spokeswoman for the SDF's Raqa operation.
"All the commanders, particularly Rojda, embody this."
On Tuesday, Felat grinned broadly, her weapon hanging from her shoulder, as she waved a massive SDF flag at Al-Naim roundabout.
"It's a historical moment and we know it will change many things," she said, in a video posted by the YPG.
http://nation.com.pk/international/19-Oct-2017/rojda-felat-female-commander-who-led-raqa-battle
--------
Rohana Creates History as First Woman Malaysian Naval Captain
October 20, 2017
KUALA LUMPUR: Malaysian women continue to prove they are up to the challenge and can perform equally well tasks traditionally undertaken by men.
The latest to put her name in the history books is Rohana Jupri. She is the first woman in the navy's 83-year history to be appointed captain.
She received her appointment at a ceremony at KD Sri Gombak from navy chief Admiral Ahmad Kamarulzaman Ahmad Badaruddin yesterday.
The Star quoted Rohana, 54, who joined the Royal Malaysian Navy 33 years ago, as saying: "This is a proud moment for me and indeed a grand recognition from my superiors. I am thankful for this."
The mother of four had even earlier scored a first when she became the first woman commanding officer at the Western Naval Supply Depot in Lumut, Perak, where she oversees food rations, fuel and other naval needs.
Saying any miscalculation in rationing could affect a mission, Rohana added that her skills in handling her own household matters had helped her in this.
Not one to rest on her laurels, Rohana now hopes to be the navy's first woman admiral.
She told The Star: "I think both men and women can achieve anything if we put our minds to it. After all, we received the same training and ate the same rations. We just need to prove ourselves."
Rohana hoped her promotion would inspire other women officers to believe in their capabilities and rise up the ranks.
Rohana, from Tanjung Karang, attributed her promotion to her husband Anuar Yahya's support and navy chief Ahmad Kamarulzaman's recognition of her competency and skill.
The report said Ahmad Kamarulzaman also promoted nine naval athletes who had won gold medals at the recent SEA Games.
http://www.freemalaysiatoday.com/category/nation/2017/10/20/rohana-creates-history-as-first-woman-naval-captain/
--------
Cherie Blair: Lifting of Saudi ban on women driving 'superb — but more to be done'
20 October 2017
SVETI STEFAN, Montenegro: British QC Cherie Blair, in an exclusive interview with Arab News, has said the removal of the Saudi women's driving ban is "superb news."
Blair, a prominent human-rights lawyer and founder of the Cherie Blair Foundation for Women, said she believes the lifting of the ban will unleash new potential for women, but that "there is more to be done."
In a rare interview with the press, the wife of former British Prime Minister Tony Blair said, "While it is a positive step, it's not really just a question of driving — it needs to be about women being able to engage in every level of society."
Speaking from the islet of Sveti Stefan, Montenegro, where she hosted a talk at The Global Citizen Forum, Blair said that "small changes lead to big changes."
She added: "When it comes to change, most people are pragmatists — men and women alike.
"Even with men, if you can illustrate that women driving will somehow make their lives better or easier, they think 'oh, this is good' and then eventually they even become proud of their wife's new achievements.
"I've seen it happen in other countries. This is how small changes lead to big changes. Step by step."
Blair added that "leadership is lacking in the world."
"A diverse range of leadership is very important because the problems we see in the world are just people repeating the same mistakes; people are very frightened about taking a chance," she said.
The QC and philanthropist bemoaned the fact that just 10 percent of the world's leaders are female. "It matters because it gives people an image of what a leader looks like," she said. "When women see other women leading, then we start seeing visible changes and we allow that vision to manifest in women."
Speaking at the same event, Patrick Basham, head of the Washington-based Democracy Institute think tank told Arab News, "The Saudi economy will benefit from literally empowering women in a physical sense because women will be more mobile in all kinds of ways.
"The rest of world sees this as a small step, a tangible one, but it's a good example of how you don't have to change the whole of society overnight. If it's perceived, particularly by Saudi men, as not having brought the roof down they will be relieved and then it's a question of 'what's the next step?"
Basham said one of the first "small steps" would be allowing women to have more of a voice so that their participation "if not encouraged, is at least accepted, so that the repression of Saudi women will be viewed as something from yesterday but not necessarily of tomorrow."
A host of thinkers, experts, professionals, and world leaders are gathering for a two-day forum at Sveti Stefan on Oct. 19 and 20 to discuss "Global Citizenship in the Age of Uncertainty."
The forum was established by businessman and philanthropist Armand Arton in 2012 to advocate for a better understanding of global citizenship, to promote discussion around issues of global significance, and to drive philanthropic activities.
http://www.arabnews.com/node/1180441/saudi-arabia
--------
I Am A Proud American-Muslim Woman, And Arizona Is Ready To Send Me To The Senate
10/19/2017
It is a strange time to be a minority in America. The past decade has seen unprecedented gains for women, immigrants, the LGBTQ community and other minority groups. Yet the same 10 years have been pockmarked by unjust police violence, simmering racial tensions and, in recent months, increasingly divisive policies being codified into law. Inspired by how far we have come and motivated by how far we need to go, I decided to run for the U.S. Senate.
While perhaps another female candidate would have to endure endless comments about her shrillness or appearance, a Latino candidate might be grilled about his legal status or a black candidate might be bombarded with images of nooses, for me it is always about my religion.
I am a proud American-Muslim woman.
My religion is not something I can hide, nor is it something I would choose to hide. Much like a Catholic wearing a crucifix, a Jew donning a kippa or a Sikh wearing a turban, I display my religion openly. My scarf does not define me, but it is a part of my story. And that story is a complex one, especially in today's political climate.
I knew when I entered politics many would see me as "The Muslim Candidate" and nothing else. I am not the Muslim candidate. I am an American candidate, a Democratic candidate, a grassroots candidate and, yes, I happen to be Muslim. I also happen to believe in the separation of religion and state and that my religious beliefs must and shall remain entirely separate from any political office I am lucky enough to earn. Many politicians of many faiths would do well to remember this themselves.
When I decided to run for U.S Senate, I knew I would face hurdles other candidates do not. Out of fear for my safety, my husband told me it would be okay with him if I removed my scarf. I replied that I didn't put the scarf on for him, and I didn't need his permission to take it off.
Ultimately, this is what being Muslim in America is about. Being Muslim is about the American story, because being Muslim in America is about being free.
Being Muslim in America means having the right to wear the scarf or not wear the scarf, because here, no one can tell us how we must worship or dress.
Being Muslim in America means the freedom to protest unjust travel bans while being surrounded by Jews who protect us when we pause to pray, because here we have a voice, and here we have allies.
Being Muslim in America means the freedom to marry who we choose, regardless of that person's race, religion or gender, because here, love is love.
Being Muslim in America means the freedom to join our military to defend our country. It means the freedom to fight ISIS, who are not Muslims, as well as others who commit terror in the name of Islam. We will not allow them to spread their false message of hatred, intolerance and oppression.
Because being Muslim in America is about being free.
And it is this freedom that America has guaranteed me that makes me want to give back to my country. To ensure that all Americans are treated with dignity and compassion. To fight for universal health care and better education, for our environment and social justice. Here, even as a religious minority, I am free to lead.
When my husband told me that he'd be fine with my removing my scarf if it would make me safer, I chose not to, but what a luxury it is that I have that choice! With a simple change of wardrobe, I can remove what instantly labels me as different.
But what if what makes you different is your skin color? Your immigration status? Your bank balance? Who you love? How do we work together to create an America where differences are embraced instead of feared? Being a Muslim woman in the public eye has shown me we still have far to go to live up to the ideals on which this country was founded. I have experienced harassment, ridicule and threats. But while Muslims may be the flavor of the month, we are not the only flavor on the menu.
As a candidate for U.S. Senate, I have vowed to have the tough conversations. I believe wholeheartedly it's the only way we can heal and move forward as a nation. And the toughest question we can ask is, "What have I done to help?"
For many of us, without any direct skin in the game, it's easy to express outrage at a specific policy or to commiserate with our friends about the current political landscape. We isolate ourselves more and more, and we become surrounded by people who share our views. In doing so, we drift farther away from any kind of meaningful change.
I have spent the last several months crisscrossing the state of Arizona. My state is as purple as they come, and I have met many people you might assume would view me with hostility. But while a scarf-wearing, fast-talking candidate with an Arkansian drawl might be met with surprise, almost everyone greeted me warmly and spoke to me earnestly. Beneath the partisan differences, I found we are all so similar. We want the best lives possible for ourselves and our children. We want education, clean air, good jobs with fair pay and the ability to access health care without fear of bankruptcy.
So how do we all work together toward our shared goals instead of getting weighed down by that which divides us?
Now is the time for intersectionality. To lean on each other. To learn lessons from communities who have battled oppression. Our friends who are African-American, our family who are LGBTQ and our neighbors who are immigrants are on this journey with us. We have to take up their causes as our own and fight for their rights as if it's personal to us.
Because freedom is personal to us.
Limiting the rights and freedoms of others ultimately limits those same rights and freedoms for ourselves, our families, our friends and future generations.
Now is the time to talk to our neighbors, even if we disagree. If I can find common ground with a self-professed Muslim-hater at a gas station in the middle of nowhere at 11 p.m., then maybe you can find a way to reach out to that family member who made last Thanksgiving so unbearable. We certainly don't have to condone or accept views we disagree with, but we must show up for the conversations. Hearts and minds are changed when dialogue happens and preconceived notions fall away.
Dr. Martin Luther King said, "People fail to get along because they fear each other; they fear each other because they don't know each other; they don't know each other because they have not communicated with each other."
So now, let's communicate. Let us open our homes and our hearts, even to those who may initially look at us with suspicion. Let's listen to their fears and dispel those fears by being friends, neighbors and allies.
Let's work together. We have major problems to solve, and we need leaders with character and strength to solve them. We need leaders who don't target or label groups for political points and who call out those in position of power who do.
Now is the time to support those targeted communities, no matter who tries to label them. You'll notice that when they're handing out the labels, they never say "White-American, Heterosexual-American, or Able-Bodied-American." Instead they try to label people as "other."
But no matter what label they try to stick on them, to stick on you, to stick on me, thanks to the wisdom of our Founding Fathers, we all wear the label "American."
https://www.huffingtonpost.com/entry/i-am-a-proud-american-muslim-woman-and-arizona-is-ready-to-send-me-to-the-senate_us_59e7b88ee4b00905bdae8db4
--------
Iran: Women teachers stage protest in Soldouz and Kerman
19 October 2017
Teachers have been protesting continuously over the past seven weeks in cities across Iran.
On Tuesday, October 17, 2017, a group of women, literacy teachers, staged a protest outside the governor's office in Soldouz, West Azerbaijan Province, in northwest Iran. They demand to be officially employed by the Department of Education. They say, 25 relatives of government officials have been employed in their stead.
On Monday, October 16, 2017, a group of teachers and staff working for the Department of Education in Kerman, staged their second consecutive day of protest outside the Department of Education. They are protesting the process of their own employment, saying their positions do not correspond with their work experience.
http://www.women.ncr-iran.org/iran-women-news/4411-iran-women-teachers-stage-protest-in-soldouz-and-kerman
--------
Kurdish Women's Militia Vows to Keep Fighting Islamic State
October 19, 2017
Beirut (AP) -- A Kurdish female militia that took part in freeing the northern Syrian city of Raqqa from the Islamic State group said on Thursday it will continue the fight to liberate women from the extremists' brutal rule.
In a highly symbolic gesture, Nisreen Abdullah of the Women's Protection Units, or YPJ, made the statement in Raqqa's Paradise Square — the same place where IS fighters once carried out public killings.
She said the all-women force, which is part of the U.S.-backed Syrian Democratic Forces battling IS, lost 30 fighters in the four-month battle to liberate Raqqa.
Under the rule of the Islamic State group, women were forced to wear all-encompassing veils and could be stoned to death for adultery. Hundreds of women and girls from Iraq's Yazidi minority were captured and forced into sexual slavery.
Raqqa was center stage of IS' brutality, the de facto capital of the militants self-proclaimed "caliphate."
"We have achieved our goal, which was to pound the strongholds of terrorism in its capital, liberate women and restore honor to Yazidi women by liberating dozens of slaves," Abdullah said.
The Syrian Democratic Forces, a coalition of several factions including the YPJ, said on Tuesday that military operations in Raqqa have ended and that their fighters have taken full control of the city.
The spokesman for the U.S.-led coalition, Col. Ryan Dillon, tweeted on Thursday that the SDF has cleared 98 percent of the city, adding that some militants remain holed up in a small pocket east of the stadium. Dillon added that buildings and tunnels are being checked for holdouts.
Even as the guns have gone quiet, preparations for a reconstruction are underway.
In Saudi Arabia, a state-linked news website said a high-level Saudi official was in Raqqa to discuss the kingdom's "prominent role in reconstruction" efforts. The Okaz site quoted unnamed Saudi sources as saying that Thamer al-Sabhan met with members of Raqqa's city civil. The website said the United Arab Emirates will also play a role in rebuilding.
The report included a photograph of al-Sabhan, apparently in Raqqa with Brett McGurk, the top U.S. envoy for the coalition battling the IS. Saudi Arabia is a member of the coalition. Al-Sabhan was previously ambassador to Iraq, but left amid threats from Iranian-backed militias.
The SDF is expected to hold a news conference in Raqqa on Friday during which the city will be declared free of extremists, for the first time in nearly four years.
The fall of Raqqa marks a major defeat for IS, which has seen its territories steadily shrink since last year. IS took over Raqqa, located on the Euphrates River, in January 2014, and transformed it into the epicenter of its brutal rule.
Meanwhile, Syrian President Bashar Assad met with a visiting Iranian army commander on Thursday to discuss bilateral relations, the state news agency SANA said. The Iranian general also conveyed a message from Iran's supreme leader, Ayatollah Ali Khamenei.
SANA said Assad and Maj. Gen. Mohammad Bagheri focused on military cooperation, "which has witnessed a qualitative development during the war that Syria and its allies, mainly Iran, are waging against terrorism" in Syria.
Iran has been one of Assad's strongest supporters since the country's crisis began more than six years ago and has sent thousands of Iranian-backed militiamen to boost his troops against opponents.
SANA quoted Bagheri as saying that the aim of his visit is to "put a joint strategy on continuing coordination and cooperation at the military level." He also stressed Iran's commitment to help in the reconstruction process in Syria.
Bagheri met with several Syrian officials on Wednesday, including Defense Minister Fahd Jasem al-Freij, and Syrian army commander, Maj. Gen. Ali Ayyoub.
Meanwhile the al-Qaida linked Levant Liberation Committee released a rare video of its leader Abu Mohammed al-Golani, showing him speaking with his fighters. The release comes two weeks after Russia said it seriously wounded him in an airstrike.
The video appears to have been shot before an al-Qaida offensive on a central government-controlled village on Oct. 6. Two days before the attack, Russia's military claimed that al-Golani was wounded in a Russian airstrike and had fallen into a coma. The military offered no evidence of al-Golani's purported condition.
The al-Qaida-linked group subsequently denied al-Golani was hurt, insisting he is in excellent health.
https://www.bloomberg.com/news/articles/2017-10-19/kurdish-female-militia-vows-to-keep-fighting-islamic-state
--------
URL: https://www.newageislam.com/islam-women-feminism/taliban-pakistan-attacks-malala-latest/d/112958
New Age Islam, Islam Online, Islamic Website, African Muslim News, Arab World News, South Asia News, Indian Muslim News, World Muslim News, Women in Islam, Islamic Feminism, Arab Women, Women In Arab, Islamophobia in America, Muslim Women in West, Islam Women and Feminism