New Age Islam News Bureau
8 Feb 2016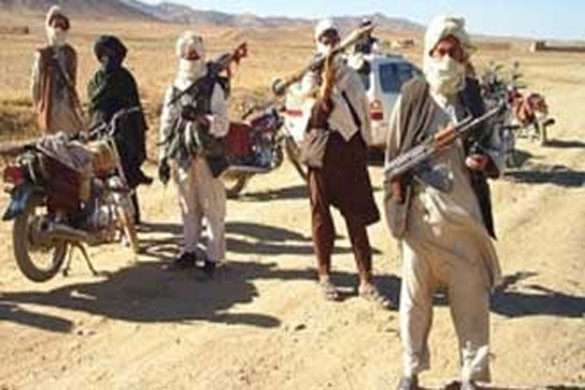 Photo: Taliban Execute Woman on Adultery Charges in Ghor, Afghanistan
----------
• Call for Female Departments At Islamic University In Madinah
• Bosnian Women Protest against Hijab Ban in Judiciary
• Female Prof Who Wore Headscarf to Leave Christian College in Chicago
• Female Writer Perihan Mağden Faces Up To 4 Years in Jail for 'Insulting' Erdoğan
• More Haredi Men Working, As Arab Women Drop Out Of Labour Force
• Nada Al Naqbi Made Head of Women's Committee of Arab Basketball Union
• Young Muslim Women Help Feed Homeless Community in Canterbury
• Non-Muslim Women Don Hijab To Express Solidarity in Minnesota, United States
• Some 2,000 Bosnian Muslim Women Protest Ban of Hijabs in Legal Institutions
Compiled by New Age Islam News Bureau
URL: https://newageislam.com/islam,-women-and-feminism/new-age-islam-news-bureau/taliban-execute-woman-on-adultery-charges-in-ghor,-afghanistan/d/106270
---------
Taliban Execute Woman On Adultery Charges In Ghor, Afghanistan
By KHAAMA PRESS - Mon Feb 08 2016
Taliban militants have executed a woman on adultery charges in Dolina District of central Ghor province.
Spokesperson for the governor of Ghor province said the execution was carried out based on the order of a desert-court of Taliban in Zanu village yesterday.
According to Abdul Hai Khatibi, the man who is accused of the immoral relationship with deceased Zahra is also detained by Taliban.
The accused is waiting for his sentence in the custody of Taliban.
The militant group has not yet commented on the report.
Ghor is one of the provinces of Afghanistan where some remote areas are either under the control of Taliban or not in government control.
People in those areas refer to Taliban or local Shuras (councils) for their matters instead of government.
In April last year, three civilians were shot dead in another remote area of Ghor province by the orders of a local Shura (council).
They were allegedly responsible for the killing two civilians. Among them, one was son of the director of the education department of Ghor province.
http://www.khaama.com/taliban-execute-woman-on-adultery-charges-in-ghor-4559
---------
Call for female departments at Islamic University in Madinah
ARAB NEWS — Monday 8 February 2016
MADINAH: A member of the Senior Scholars Council, Dr. Abdullah Al-Manieh, has called for the establishment of women's departments at the Islamic University in Madinah in line with other universities in the Kingdom.
"The Muslim woman has had her own status and value since the Prophet Muhammad's (peace be upon him) time. Ayesha (may Allah be pleased with her) and her sisters had a great role in the transfer of the Prophet's fatawas," he said.
We also need to give women what they deserve like taking their care, their education and rehabilitation.
Our educated sisters as well as the Islamic University have played a significant role in this regard and provided a lot of resources to make it possible for women to get the same share of university resources as men. He hoped this could be done through Custodian of the Two Holy Mosques King Salman.
"The Madinah university is Islamic in its policies and directions, and Islam doesn't cut away the woman from public and educational life," he said in support of his argument.
The university was established by a royal order on Sept. 6, 1961
http://www.arabnews.com/saudi-arabia/news/877201
-----
Bosnian women protest against hijab ban in judiciary
AFP— Monday 8 February 2016
SARAJEVO: Some 2,000 people, mostly women, protested on Sunday in downtown Sarajevo against a recent ban on wearing a hijab head scarf in the majority Muslim country's judicial institutions.
"We gathered to protest against prejudices, discrimination and marginalization," Samira Zunic Velagic, one of the protest organizers, told the crowd.
"The ban of wearing hijab in judicial institutions is a serious attack against Muslim honor, personality and identity, a violation ... aimed at depriving them of their right to work," she added.
The protest was sparked by a recent decision of Bosnia's high judicial council, a body tasked with supervising the functioning of the judiciary, to ban "religious signs" in judicial institutions.
The decision, which concerns judges and other employees in the sector, but does explicitly mention hijab, was strongly condemned by Bosnia's Muslim political and religious leaders as well as numerous local Muslim associations.
The protestors marched for around an hour through the capital's center carrying banners that read "Hijab is my Daily Choice," "Hijab is my Right" or "Hijab is my Life."
"We came here to say that we are not the victims of this scarf. We came to defend our rights. It is our crown, our liberty, our honor," Elisa Hamovac, a 33-year-old stay-at-home mother, wearing a light blue hijab, told AFP.
Muslims make up around 40 percent of Bosnia's population of 3.8 million and are mostly moderates. The others are mostly Christians.
Hijab was banned by the communist authorities while Bosnia was still part of the former Yugoslavia until 1992 when it proclaimed independence.
Today many Muslim women wear hijab, with some being completely veiled. However, most are not veiled.
http://www.arabnews.com/featured/news/877106
-----
Female Prof Who Wore Headscarf to Leave Christian College in Chicago
February 07, 2016
A Christian college near Chicago and a political science professor who wore a headscarf to show solidarity with Muslims have agreed to part ways.
Wheaton College said in a statement on its website over the weekend that the college and Dr. Larycia Hawkins "have reached a confidential agreement under which they will part ways."
Hawkins, who's Christian, was placed on leave in December when she posted on Facebook that Christians and Muslims worship the same God. College officials said at the time that her views were inconsistent with their "doctrinal convictions."
Hawkins wrote on the social media site on Dec. 10 that she was donning the hijab head scarf during the period of advent before Christmas as a sign of solidarity with Muslims.
After that statement drew criticism, the school said Hawkins was on administrative leave.
Hawkins is joined by Rev. Jesse Jackson during the news conference. (Photo: AP)
"In response to significant questions regarding the theological implications of statements that Associate Professor of Political Science Dr. Larycia Hawkins has made about the relationship of Christianity to Islam, Wheaton College has placed her on administrative leave, pending the full review to which she is entitled as a tenured faculty member," said the statement.
The college said that when they participate in causes, faculty and staff must faithfully represent the school's evangelical statement of faith.
On her Facebook page on Dec. 10, Hawkins said she would wear the hijab in solidarity with Muslim neighbors. "I stand in religious solidarity with Muslims because they, like me, a Christian, are people of the book."
Hawkins, who has written on race, religion and American politics, said she had consulted with the local chapter of the Council on American Islamic Relations, an advocacy group, to make sure that it would not be seen as offensive for a non-Muslim woman to wear the headscarf.
The solidarity gesture comes as Muslims around the United States report worries of a backlash and growing Islamophobia after a couple who had pledged allegiance to the extremist group Islamic State in Iraq and the Levant (ISIL) killed 14 people in California in early December.
After she was criticized for saying Christians and Muslims worship the same God, Hawkins said on her Facebook page that there are convincing arguments for expressing religious solidarity with Muslims and Jews and asked people who do not agree with her to accept her love and her offering of peace.
http://www.todayszaman.com/life_prof-who-wore-headscarf-to-leave-christian-college_411640.html
---------
Female Writer Perihan Mağden faces up to 4 years in jail for 'insulting' Erdoğan
February 07, 2016
Turkish novelist and columnist Perihan Mağden is facing one to four years in prison on the charge of insulting President Recep Tayyip Erdoğan.
A recent indictment prepared by the İstanbul Chief Prosecutor's Office argued that Mağden insulted Erdoğan during an interview with news portal diken.com.tr when she criticized the Nokta weekly news magazine being pulled from shelves on Nov. 3, 2015 due to a cover that depicted the president.
Mağden will appear before the İstanbul 2nd Criminal Court of First Instance in the coming days.
In her statement to the prosecutor overseeing the investigation, Mağden denied the claim of libel against Erdoğan and said she just shared her opinions with Diken reporter Tunca İlker Öğreten.
However, the prosecutor said Mağden's remarks exceeded the limits of criticism and that her expressions are obviously insulting.
In 2015 hundreds of people including prominent intellectuals, journalists and citizens were compelled to appear in court on charges of violating Article 299 of the Turkish Penal Code (TCK), frequently used as the basis for cases alleging insult of the president. This unprecedented development reflects the worrying trend of the limiting of free speech and free expression in Turkey.
http://www.todayszaman.com/national_writer-perihan-magden-faces-up-to-4-years-in-jail-for-insulting-erdogan_411630.html
---------
More Haredi men working, as Arab women drop out of labor force
02/07/2016
The percentage of working-age haredi men who were working increased 3 percentage points, reaching 52%. At the same time, the labor participation of Arab women fell roughly 1 percentage point.
The two main groups that economists say Israel must integrate into the labor market are heading in opposite directions, according to a report released on Sunday by the Finance Ministry chief economist.
The report found that in 2015, the percentage of working-age haredi (ultra-Orthodox) men who were working increased three percentage points over the previous year, reaching 52 percent.
At the same time, the labor participation of Arab women fell roughly 1 percentage point.
Bank of Israel Gov. Karnit Flug warned in late January that integrating those two populations was crucial for Israel's mediumand long-term economic health.
"I think it's a strategic challenge; we don't have the option of not succeeding," Flug said. "Their integration is crucial for them and for the Israeli economy."
Overall, the report found that Israel's labor participation rate dropped 0.1 percentage points to 64.1% in 2015, although the entirety of the decline came from non-Jewish Israelis. Overall Jewish labor participation increased 0.1 percentage points.
The high participation, which increased from 59.4% in 2002 to 64.2% in 2014, was accompanied by a falling unemployment rate, which hit 5.3% in 2015. Both trends showed signs of slowing, the report said, as the improvements to the market were becoming "exhausted."
The increase in haredi men's participation, the report speculated, could have resulted from cuts to child allotments orchestrated by then-finance minister Yair Lapid in 2013-2014. Haredi women's participation stood high – in the mid-70% range.
Among Arab women, however, participation in the labor force dropped to 32.3%, moving further away from the 41% participation rate goal the government had set for the group to reach by 2020. The participation rate of Arab men was 76.1%.
Participation rates among non-haredi Jews in Israel tend to be well above 80%, significantly higher than the OECD average.
http://www.jpost.com/Business-and-Innovation/More-Haredi-men-working-as-Arab-women-drop-out-of-labor-force-444176
---------
Nada Al Naqbi made Head of Women's Committee of Arab Basketball Union
February 7th, 2016
Nada Al Naqbi, Manager of the Women Sports Department at Sharjah Ladies Club, SLC, has been selected as a member of the Executive Committee and Head of the Women's Committee at the Arab Basketball Union.
Al Naqbi selection was made during the Arab Basketball Union's two-day meeting being held on the sidelines of the 3rd Arab Women Sports Tournament in Sharjah.
Major General Abdullah Ismail Al Gergawi, President of the Arab Basketball Union said, "We are proud of Al Naqbi who was appointed to this post due to her hard work and dedication in the sports field, and her active role in promoting women's sports. She has vast experience in Arab sports and is Head of the Women's Committee at the Arab Karate Association, and has been instrumental in supporting Arab basketball activities. Her achievements speak for themselves." He added, "The UAE Basketball Association supports Arab basketball tournaments, especially those held in the UAE. Arab basketball is witnessing an impressive development, and the Arab Basketball Union will support Arab basketball teams which will compete in the Asian and African championships."
Al Gergawi extended his thanks to H.H. Sheikha Jawaher bint Mohammed Al Qasimi, Wife of H.H. the Ruler of Sharjah and Chairperson of the Supreme Council for Family Affairs, for her support for sports activities, specifically women's sports, as well as for hosting the Arab Women Sports Tournament every two years. He lauded the exceptional success of the tournament that is currently taking place in Sharjah until February 12th and its continuous development, as seen in the excellent organisation of the tournament.
Nada Al Naqbi expressed her pride at being selected by the Arab Basketball Union to become a member of the Union's Executive Committee and Head of the Women's Committee at both the UAE Basketball Association and the Arab Basketball Union. She pledged to live up to the trust bestowed upon her, and praised the Union's role in being the first supporter of Arab sports.
http://www.albawaba.com/sport/nada-al-naqbi-made-head-womens-committee-arab-basketball-union-802610
---------
Young Muslim Women Help Feed Homeless Community In Canterbury
February 8th, 2016
Young Muslim women are helping to feed the homeless and in turn, crush negative perceptions of their faith.
Members of Nisa – a group focused on women helping and empowering other women – volunteer their time to Christchurch charity Help for the Homeless once a month.
University students Addeana Husaini, 19, Asayal Almutairi, 17 and Rabia Mofassir, 18, are among those who dishing out food and lunch packs to those in need.
"As a group we've been demonised, so it's nice for people to see what we're actually like and what our faith is actually about, rather than something that a very small minority has picked up on," Mofassir said.
They were nervous when they joined the initiative last year, thinking they would be judge for being "chicks in scarves", she said.
Husaini and Almutairi both wore head scarves and were sometimes confronted on the streets by strangers who questioned or insulted their appearance.
In Latimer Square, they were made to "feel really welcome".
"Now we come, and they don't see us as a chick in a scarf, but as people and almost friends, but there is no active converting people," said Denise Jaeger, who helped co-ordinate the younger women.
"We want to show we value them as human beings and I think a lot of people don't see the homeless as human beings. We want to say 'it could be us so easily'."
Men, young mothers and teens were among those they met. They laughed together and shared stories and knowledge.
"Driving home, you wonder what they are going to do now . . . or you watch them go sit on a bench and it can be really hard," Almutairi said.
Help for the Homeless founder Amy Burke said their deep fried chicken was a hit and voted to be better than KFC.
"They've really warmed up and come a long way," Burke said.
Najah Mohammed, 24, helped rally the muslim community to get involved.
"It's made me more grateful for the basic things," she said.
On Sunday, she was caught off guard with a light-hearted proposal from one of the diners.
The monthly dinner had become very much a part of the young women's routine.
"It's our duty. It feels wrong if we don't do it," Mohammed said.
Henare 'Uncle' Mclean, who was a familiar face on the streets, said the group's involvement made "everybody happy".
"They're amazing. They're taking time out of their day to feed us lot."
With "happy tums", some headed to abandoned buildings for the night, while others, like Michael Jemmett, 31, were off to the City Mission.
Jemmett had spent the last six years living on the street, after his family's New Brighton home was wrecked in Canterbury's earthquakes.
"This is something we can hopefully keep doing," Jaeger said.
http://www.stuff.co.nz/the-press/christchurch-life/76292918/Young-Muslim-women-help-feed-homeless-community
---------
Non-Muslim Women Don Hijab To Express Solidarity in Minnesota, United States
February 8, 2016
A global event termed, 'World Hijab Day' has taken the media by storm, inviting women of all faiths to post pictures of themselves wearing a Hijab.
Founded three years ago by New York resident, Nazma Khan, the event has encouraged many women from around the world to wear the Hijab to understand the experiences Muslim women have.
"I was called 'batman' and 'ninja' by classmates at my New York City high school because I wore the Hijab. I realised this has to be the result of ignorance," Khan recalled, saying that "It is ignorance that makes us hate."
Muslim girl dreams of becoming first Hijab-wearing ballerina
Nazma invited people to wear the Hijab for one day to better understand what it was about. Mothers, children, lawmakers and others from all over participated in the event, posting photos of themselves in a Hijab and sharing their experiences.
"Insha Allah (God-willing), my daughter or niece will not go through what I went through," Khan said. "This time is worse than 9/11. I'm more scared now than before," she added.
Amina Sanchez, president of the Muslim Student Association at Normandale, is among those who welcomed the Hijab solidarity acts.
"We want others to understand who we are and what we stand for," she said. "Even though there are a lot of Muslims in Minnesota, there are still misconceptions about why we wear it. We're a peaceful people and we would like to be able to walk down the street and not be afraid," she explained.
However, the event has also been criticised by some Muslim women, who think it amounts to "Hijab tourism" as it does not offer an authentic understanding of the struggle faced by hijabed.
On the other hand, some non-Muslims argue that it endorses a monolithic view of a faith community whose members don't agree that women should wear head coverings. And for some western feminists, the Hijab goes against their idea of liberation.
Despite this, such acts of "Hijab solidarity" are on the rise.
Minneapolis Mayor Betsy Hodges has worn a head scarf when meeting with leaders of the city's Somali-American community. And a professor at a Christian college in Illinois just resigned after a backlash over her choice to wear the scarf.
William O Beeman, director of the anthropology department at the University of Minnesota, isn't surprised that people are taking a public stand defending Muslims.
"Any time that it is perceived that people are facing discrimination, there will be sympathetic people who will do their best to show solidarity with them," he said.
He compared the hijab solidarity movement to a young cancer patient who loses his hair after chemotherapy. His friends may shave their heads to show him that he is not alone in his fight. "That's a very natural human tendency," Beeman said
http://tribune.com.pk/story/1042517/non-muslim-women-don-hijab-to-express-solidarity/
---------
Some 2,000 Bosnian Muslim Women Protest Ban of Hijabs in Legal Institutions
08.02.2016
MOSCOW (Sputnik) — According to the BBC, the women marched Sunday for 30 minutes in the country's capital of Sarajevo.
The ban is a "serious attack against Muslim honour, personality and identity" seeking to deprive Muslim women of their right to work, one of the organizers of the protest said, as quoted by the British broadcaster.
The protest comes after the country's high judicial council banned religious symbols, explicitly mentioning hijabs, earlier this month.
http://sputniknews.com/europe/20160208/1034383365/bosnia-women-protest-hijabs.html#ixzz3za4As1Yl
URL: https://newageislam.com/islam,-women-and-feminism/new-age-islam-news-bureau/taliban-execute-woman-on-adultery-charges-in-ghor,-afghanistan/d/106270
New Age Islam, Islam Online, Islamic Website, African Muslim News, Arab World News, South Asia News, Indian Muslim News, World Muslim News, Womens in Islam, Islamic Feminism, Arab Women, Womens In Arab, Islamphobia in America, Muslim Women in West, Islam Women and Feminism