New Age Islam News Bureau
20 October 2021
• Iranian Cops Use A Dog-Catcher's Pole to Haul A Woman into A Police Van After She Was Accused Of Being 'Insulting'
• Palestinian American Female Muslim Police Officer, Maha Ayesh, Breaking Barriers in Bartlett
• Nearly 100 Women Were Sworn In To Join Egypt's State Council Becoming the First Female Judges to Join One of the Country's Main Judicial Bodies
• Gaza's 1st Woman Basketball Referee Takes to the Basketball Courts in the Gaza Strip
• Saudi Female Soldier Helps Arab Coalition Pilot in Targeting Houthis
• Malaysian Transgender Entrepreneur Accused of Insulting Islam Says 'Safe and Free' In Australia
• Women Speak About Gender Issues in Islamic Communities in "The Islamic World Today: Issues and Perspectives" Conference
• Tunisia: Club Africain to Partake in 4th Arab Women's Handball Club Championship
• Saudi Haia Chief Unveils Plan To Hire Women Staff
• Turkey Nabs 32 Women Members Of FETÖ Across 5 Cities
Compiled by New Age Islam News Bureau
URL: https://www.newageislam.com/islam-women-feminism/mahjabin-hakimi-volleyball-afghan/d/125612
--------
Taliban Behead Junior Volleyball Player, Mahjabin Hakimi, Who Was Part of Afghan Women's National Team: Report
October 20, 2021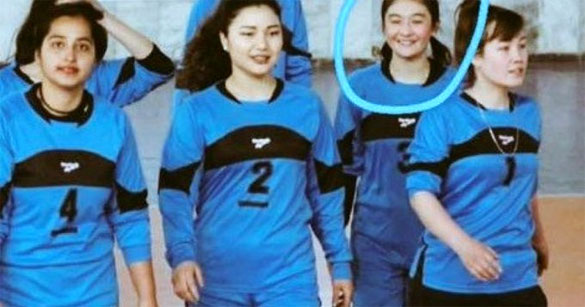 Photo tweeted by @sahraakarimi
----
Taliban militants allegedly beheaded a member of the Afghan junior women's national volleyball team, a coach told the Persian Independent.
In an interview, Coach Suraya Afzali (name changed) said a woman player named Mahjabin Hakimi was killed by the Taliban earlier in October, but nobody learnt about the gruesome murder as the insurgents had threatened her family not to talk about it.
Mahjabin played for the Kabul Municipality Volleyball Club before the collapse of the Ashraf Ghani government, and was one of the club's star players. Then, a few days ago, pictures of what seemed to be her severed head and bloodied neck turned up on social media.
The coach of the Afghan women's national volleyball team said that only two of the team's players was able to escape from the country before the Taliban wrested complete control in August. Mahjabin Hakimi was among the many other unfortunate women sportspersons who were left behind.
Since their takeover, the Taliban have tried to identify and hunt down women athletes; the militants have been even more keenly on the look-out for members of the Afghan women's volleyball team, who competed in foreign and domestic competitions and appeared in media programs in the past, claimed Afzali.
"All the players of the volleyball team and the rest of the women athletes are in a bad situation and in despair and fear," Afzali told the Persian Independent. "Everyone has been forced to flee and live underground."
The Afghan national women's volleyball team was established in 1978 and has long been a beacon of hope and empowerment for young girls in the country. However, Mahjabin's death has fuelled fears of being targeted by the Taliban. Efforts by members of the team to gain the support of foreign organisations and countries to leave Afghanistan have so far been unsuccessful.
Last week, FIFA and the Qatar government successfully evacuated as many as 100 women footballers, including members of the national football team, and their family members from Afghanistan.
With the Taliban taking control of Afghanistan, all women's activities in the sports, political and social spheres have ceased. The vast majority of Afghan girls continue to be barred from attending secondary school.
Source: India Today
https://www.indiatoday.in/world/story/mahjabin-hakimi-taliban-behead-volleyball-player-afghan-women-national-team-1866985-2021-10-20
--------
Iranian Cops Use A Dog-Catcher's Pole to Haul A Woman into A Police Van After She Was Accused Of Being 'Insulting'
20 October 2021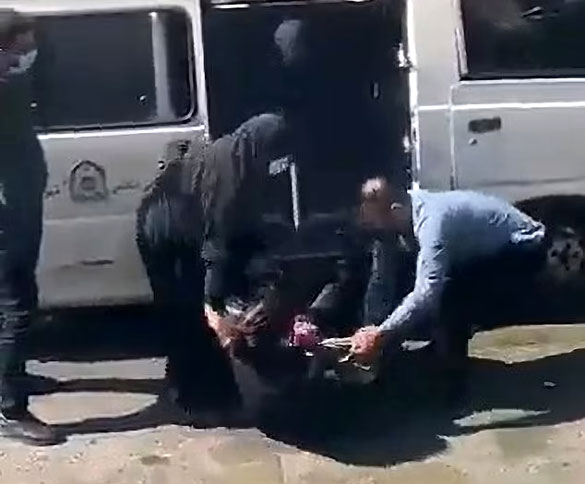 Iranian police in Tehran were filmed violently arresting a woman using what appears to be a dog-catching pole (circled above)
------
This is the moment a woman was violently arrested on the streets of Tehran using what appears to be a dog-catching pole.
Video of the arrest posted online last week shows the woman being dragged by her hair while seemingly snared by the catch pole before being bundled into a van.
Colonel Morad Moradi, deputy of the Tehran police forces, confirmed the woman was arrested for being 'insulting' and said the footage is being investigated.
He told semi-official news agency ISNA that the woman was also being 'aggressive' towards officers before she was restrained.
Further charges have been brought by a 'local businessman', Moradi added, though declined to say what these are.
The woman was shown in the footage without a headscarf on - which is a crime in Iran - but Moradi denied this was the reason for her arrest.
He also declined to say whether the woman was injured, after the footage showed her being dragged by her hair and hitting her head on the van's door.
It is not clear precisely where or when the footage was taken, though it was widely shared on social media by Masih Alinejad - an Iranian women's rights campaigner based in the UK and US.
'Today in Iran', she wrote alongside the video. 'Soon enough Taliban would do the same again to the women of Afghanistan.
'Taliban And Islamic Republic will never be really reformed.'
She then followed that up with a second tweet, after Moradi announced his investigation, calling promises of action against the officers a 'big lie'.
'Last time when morality police savagely beat women, police showed the same reaction,' she said,
'But as soon as the atmosphere calmed down, they prosecuted the woman who filmed it.'
Iran's 'morality police' were established in the wake of the 1979 Islamic Revolution and tasked with enforcing strict social codes on the country's civilians.
Their exact duties and powers have changed over the years, though they largest exist to enforce codes of dress and behaviour that violate the Islamic Republic's interpretation of Islam.
They are often tasked with enforcing laws which state women must wear headscarves in public - a rule that has faced backlash in recent years.
Ms Alinejad has been a prominent voice in a campaign called 'White Wednesdays' which encourages women to remove their headscarves in public.
In 2019, Iran introduced 2,000 more morality officers to the streets specifically to tackle the campaign.
While women have commonly been employed as morality officers, the new recruits included rare all-female squads.
Source: Daily Mail
https://www.dailymail.co.uk/news/article-10110999/Iranian-cops-use-dog-catching-pole-arrest-woman-insulting.html
--------
Palestinian American Female Muslim Police Officer, Maha Ayesh, Breaking Barriers in Bartlett
10/19/2021
Maha Ayesh is the first in her extended Palestinian American family to become a police officer, joining the Bartlett Police Department last October.
The Lombard resident also is a trailblazer in another area. Ayesh is the suburbs' first Muslim female police officer who wears a hijab -- an Islamic head covering.
"I am the first hijabi officer in Illinois," said Ayesh, who turns 31 on Tuesday. "One of my biggest inspirations was I really wanted to challenge cultural barriers."
Though people are not used to seeing a "hijabi" police officer, there are more Muslim officers, male and female, in the suburbs today, she added.
"It's so critical because we bring a background that a lot of people are not used to working with," Ayesh said. "I want to bring difference, more of my culture and values to show that we work with people just like me in our communities."
Ayesh previously worked as a forensic therapist evaluating inmates at the Kane County jail and as a juvenile justice liaison in Kane County.
When patrolling the streets of Bartlett, Ayesh said she turns heads, but her interactions have been mostly positive.
Ayesh said she hopes to help the police department provide culturally competent services, not only to the Muslim community. Bartlett has a growing ethnic and immigrant population -- 16% Asian and nearly 13% Latino.
"I want to show the Muslim females out there that they can do this ... they can break those barriers and walls," Ayesh said.
Latino Catholics
Benedictine University in Lisle will host Catholic theologian Natalia Imperatori-Lee for two virtual lectures exploring the diversity of global Catholicism and the challenges faced by women in today's church.
She will give both talks via Zoom. The topics are: "Oye: The Role of Latinx Communities in Our Storied Church," 7 p.m. Wednesday; and "Listen: What #MeToo and #ChurchToo Can Teach the Catholic Church," 12:20 p.m. Thursday.
They are open to the public. To register for the Wednesday lecture, visit bit.ly/2YUSIWS. To register for the Thursday lecture, visit bit.ly/30n6pOB.
Imperatori-Lee is Benedictine University's visiting scholar in Catholic thought for 2021-2022. She is a professor of religious studies and director of the Catholic Studies program at Manhattan College in New York. Her research focuses on Catholic ecclesiology, popular religion, theological trends in the Spanish-speaking world and the relationship of women, the poor and other marginalized groups with the church.
Child poverty
Elgin-area community leaders and experts will host a discussion Tuesday raising awareness about the effects of poverty on women and its impact on the community, especially children.
The event begins at 6:30 p.m. in the Meadows Community Rooms at Gail Borden Public Library, 270 N. Grove, Elgin. It is copresented by Women On The Brink.
Panelists include: Nancy Coleman, Alignment Collaborative for Education; Lea Conrad, Gretchen S. Vapnar Community Crisis Center; Kristi Dahlquist, One Hope United; Deb Dempsey, Kane County Regional Office of Education; Elgin City Councilman Corey Dixon; Pilar Garcia, More at 4; Karla Jimenez, Elgin Area School District U-46; Amber Peters, Elgin Partnership for Early Learning; and Madeleine Villalobos, digital equity coordinator for Gail Borden.
College education
Aneesh Sohoni has been named the new CEO of One Million Degrees, a Chicago-based leader in increasing community college enrollment and persistence among underrepresented students.
Sohoni has been executive director of Teach For America's greater Chicago and Northwest Indiana region for nearly six years. He starts in his new role Oct. 29.
One Million Degrees partners with 10 Chicago-area community colleges, including Harper College in Palatine, and employers across a range of industries. It provides a system of wraparound student support services, such as tutoring, coaching, mentorship, financial assistance, personal advisement and professional development for colleges. The goal is to expand those services to more colleges.
"It's really an exciting opportunity and challenge," said Sohoni, 32, of Oak Park.
A second-generation Indian American, Sohoni said education was the No. 1 priority in his family. The former high school English teacher aims to break down systemic and structural barriers to education for students of color and those from low-income backgrounds.
"Our students are capable of boundless things, immense untapped potential when given access to opportunities, resources and support," he said.
Inclusive cities
Chicago placed No. 1 on the New American Economy's national ranking of the 100 largest U.S. cities, which measures how effectively they are integrating immigrants and their policies to improve socioeconomic outcomes.
NAE is a bipartisan immigration research and advocacy organization. Its 2021 Cities Index was developed with the help of 10 of the nation's leading experts on immigration and integration. It uses 59 metrics to assess how immigrants compare to native-born residents economically, civically, socially and politically.
Chicago received the highest score in each policy category -- government leadership, economic empowerment, inclusivity, community, legal support and emergency management. The city also received distinction for the highest socioeconomic scores in economic prosperity and livability.
Speaker series
Carmel Catholic High School's annual Spiritus Series returns this month featuring several notable speakers, including two alumni.
The series kicks off with a talk by Timone Davis, an assistant professor of pastoral theology with an emphasis in Black Catholic theology at Loyola University in Chicago, 6:30 p.m. Oct. 28. Davis is treasurer of the Black Catholic Theological Symposium, has worked for the Archdiocese of Chicago as the coordinator of Reclaiming Christ in Life Young Adult Ministry and launched PEACE centered WHOLENESS, blending clinical counseling and spiritual companioning.
Other speakers include Linda Couri, director of the Institute for Pastoral Leadership and assistant professor of pastoral care and counseling at the University of Saint Mary of the Lake in Mundelein. A former abortion advocate and Planned Parenthood employee, Couri will examine and defend the anti-abortion stance through a Catholic lens on Jan. 20.
February's speaker is Dr. Samer Attar, attending surgeon at Ann & Robert H. Lurie Children's Hospital of Chicago and an associate professor of orthopedic surgery at Northwestern University Feinberg School of Medicine. In 2016, Attar was honored as Chicago Magazine's Chicagoan of the Year and an American Red Cross Global Citizenship Hero in recognition of his humanitarian work in Syria and advocacy for Syrian medical workers.
The talks will be hosted inside the newly opened Kathy A. Nemmers Welcome Center at Carmel's Mundelein campus. The events are free and open to the public and will be broadcast live on the Carmel Digital Network YouTube channel.
Source: Daily Herald
https://www.dailyherald.com/news/20211018/muslim-police-officer-is-breaking-barriers-in-bartlett
--------
Nearly 100 Women Were Sworn In To Join Egypt's State Council Becoming the First Female Judges to Join One of the Country's Main Judicial Bodies
By Joseph Choi
10/19/21
Nearly 100 women were sworn in to join Egypt's State Council on Tuesday, becoming the first female judges to join one of the country's main judicial bodies.
The State Council's chief judge, Mohammed Hossam el-Din, swore in 98 women to the judicial body at an event in Cairo, according to The Associated Press.
"They are an important addition to the State Council," Hossam el-Din said of the new judges.
"This is a memorable day. It is a dream for us and for past generations as well," said newly sworn-in judge Radwa Helmy. "Being a woman in one of the chief judiciary institutions in Egypt and the Arab world was a dream."
Egypt's State Council is an independent judicial body that largely handles administrative disputes, disciplinary cases and appeals.
The council routinely rejected female applicants in the past, but on International Women's Day in March, Egyptian President Abdel Fattah al-Sisi ordered the country's Ministry of Justice to allow women to hold positions in the State Council, as well as the public prosecution office earlier this year.
Al-Sisi announced the appointment of the new female judges at the beginning of October, Egyptian Streets reported. The news outlet noted that Egypt has only had 66 female judges out of more than 16,000 at the time of al-Sisi's order.
Source: The Hill
https://thehill.com/policy/international/africa/577414-egypt-installs-nearly-100-women-on-key-judicial-body
--------
Gaza's 1st Woman Basketball Referee Takes to the Basketball Courts in the Gaza Strip
19 October 2021
At a recent basketball match in the Gaza Strip, the spectators were transfixed, less so by the action on the court than the fact the referee was a young woman.
Amira Ismail, 23, who officiated the Gaza City-Nuseirat match, has been making history in the enclave ruled by the Islamist terror group Hamas since 2007.
"Everyone looks at me in amazement on the basketball court, wondering, 'Who is she? Is she a foreigner or an Arab? What is she doing here?'" Ismail told AFP.
Her passion for basketball motivated Ismail to seek a refereeing license from the the International Basketball Federation (FIBA), which she earned three years ago after passing online exams.
But due to social pressures, and then a long pause forced by the COVID-19 pandemic, Ismail had yet to officiate a match — until this year.
"This time around, I was determined to get out there and use my international license on the field, because I deserve it," she said.
So far this year, Ismail, who works day shifts in a hospital after completing her bachelor's degree in pharmacology, has refereed five men's matches, each time attracting curious glances.
Crowd sizes are still limited due to pandemic-linked restrictions. But Ismail said she is bracing for the post-coronavirus world, when more people will attend games and more eyes will be on her.
'No longer afraid'
Reactions have so far been positive.
Gaza City player Ramzi Saba, wiping sweat off his face with a towel at the end of the match, said he was excited to see a female referee.
"I know it's a normal thing outside Gaza, but I've never seen it before," he said.
In the stands, Ibrahim Mahmoud, 43, followed the match, like the rest of the spectators, occasionally glancing at the table where Ismail was counting points and fouls.
"I was surprised that there was a girl on the court," he said.
"It's something new, but I hope that this culture will develop, and that young boys will learn to accept more women referees."
There are 15 FIBA-certified referees in Gaza, Ismail and 14 men, and they officiate the matches of the four women's teams and 12 men's teams, said Ramzi al-Borai, an official at the Palestinian basketball federation.
Ismail said she hopes to encourage broader women's participation in sports in Gaza.
"I hope that the mere idea of seeing girls do sports becomes a normal thing here, so that girls are no longer afraid of the eyes of the rest of society."
Source: Times of Israel
https://www.timesofisrael.com/gazas-1st-woman-basketball-referee-takes-to-the-courts/
--------
Saudi Female Soldier Helps Arab Coalition Pilot in Targeting Houthis
19 October, 2021
A recent video clip revealed the participation of a Saudi military woman in crushing Houthi militants in Yemen. She did so from the operations command room for ongoing missions in support of Yemen's official state.
She gave instructions to an Arab Coalition pilot on a mission to determine a hostile target of the Iranian-backed Houthi militia. Her guidance has aided the pilot in hitting the target with high accuracy.
The video shows that the operation was among those carried out by the Arab Coalition to protect Yemen's Marib Governorate and its surroundings from the brutal attacks of the terrorist Houthi militia, which caused the death and displacement of thousands of Yemenis from their cities and villages.
The Saudi-led Arab Coalition air forces have been backing the Yemeni National Army in its operations against Iran-backed Houthi militias that seized the Yemeni capital, Sanaa, in September 2014 by force of arms plunging the country into a war that caused the largest humanitarian crisis in the world.
Source: Aawsat
https://english.aawsat.com/home/article/3254821/saudi-female-soldier-helps-arab-coalition-pilot-targeting-houthis
--------
Malaysian Transgender Entrepreneur Accused of Insulting Islam Says 'Safe and Free' In Australia
October 20, 2021
A prominent Malaysian transgender entrepreneur accused of insulting Islam in the Muslim majority country said Wednesday she was "safe, happy and free" in Australia.
Nur Sajat, a millionaire who runs a cosmetics business, said officials promised to help her settle in the country.
"Australia chose me... due to my case. So I did not apply (for asylum) to any other country," she told AFP in a video interview from an undisclosed location.
"I was intimidated and abused (in Malaysia). The Australian government realised this," she said.
Sajat's case has highlighted concerns about the worsening climate for LGBT people in Muslim-majority Malaysia, where officials are increasingly cracking down against the community and seeking to toughen related laws.
She was charged earlier this year after attending a 2018 religious event dressed in women's clothes, and faces up to three years in jail or a fine if convicted.
She is also facing separate charges of obstructing and threatening a public servant, which she denies.
The entrepreneur said Australian officials have kept in constant communication with her, but did not reveal how she travelled to the country from Thailand early this month.
Canberra's department of home affairs said it does not comment on individual cases because of privacy concerns.
The 36-year-old said she fled to Thailand earlier this year because she "was abused and treated inhumanely" by religious officials in Malaysia.
She was arrested by Thai authorities in September over an invalid passport and later released on bail.
"The decision to run away was my last decision for me, because I did not feel happiness. (I was) not free," she said.
"There is freedom and gender equality in Australia," Sajat added.
While she did not reveal the conditions of her stay -- or her exact location in Sydney -- she did confirm she was in coronavirus quarantine.
Sajat said she would continue working in Australia, with a focus on gold and cosmetics.
"I want to rebuild my business empire here," she said.
Sajat also said she will not return to Malaysia because "people like me are abused and intimidated" there.
Thilaga Sulathireh, co-founder of Malaysian transgender activist group Justice for Sisters, told AFP that Sajat's was not an isolated case.
"Many LGBTIQ people have migrated and uprooted their lives because of the increasingly repressive environment in Malaysia," she said.
The country is home to some 32 million people, with ethnic Malay Muslims making up more than half of the population.
It also has a dual legal system, with Islamic criminal and family laws running alongside civil laws.
Source: Yahoo
https://news.yahoo.com/malaysian-trans-woman-says-safe-090703044.html
--------
Women Speak About Gender Issues in Islamic Communities in "The Islamic World Today: Issues and Perspectives" Conference
By Brittany Allen
October 19, 2021
The second session of the "The Islamic World Today: Issues and Perspectives" conference featured two female speakers, both members of the Islamic community, on Monday. Each of them has studied and conducted extensive research on gender issues in Islamic culture.
Sherine Hafez spoke first during the session titled "Women and Gender in the Islamic World: Continuities and Transformations." Hafez is the author and editor of many books and articles about Middle Eastern women and their roles in Islamic movements. She is also a professor and the department chair of gender and sexuality studies at the University of California, Riverside.
During her speech, Hafez drew from experiences she had while working with female activists in Egypt.
In reference to women in Islamic culture, Hafez said various forms of empowerment are born out of activism. Many women she worked with were concerned with "the self" and building it up.
While many women experience empowerment in the areas she worked in by "remaking" themselves, some of them expressed uncomfortability addressing their activist efforts. One woman shared her thoughts with Hafez.
The female activist said that being empowered could be looked at as a direct contradiction to her religion because it can be seen as being against the spirit of Islam. However, this woman's opinion is different. She said, "When you follow God in your heart and you know what He wants and you aspire to do it, everything falls in place."
Hafez recited the words from another activist she worked with. This woman said that if she did not perform acts of kindness in empowering women in her faith, her relationship with God would be harmed. She said her "link to God would be severed."
For the activists Hafez worked with, empowering Islamic women is an act of faith.
The session's second speaker, Jamillah Karim, spoke to the audience over Zoom, from Senegal in West Africa. Karim has a Ph.D. in Islamic studies from Duke University and is an author as well. She drew from her experiences as the daughter of African American Islamic convert parents.
Karim spoke about what it is like to be a Black, Muslim, American woman. She explained what feminism means to Muslim women and how their activist goals are often different than those of white, Christian women.
"Whose definition of feminism are we using the judge Islam?" Karim asked the audience. This question led into her explanation about Western feminism not having a very big role in Islamic activism.
Black women in her community do not always align with the goals of American feminism, Karim said. While white women fought to have the right to work in American history, Black women have always worked beside men.
Slavery in America contributed greatly to this reality, Karim explained. She said that from "dawn to midnight" Black women would work during such times. She used this example to explain why white women's feminism does not always fit Black women's liberation.
Karim also spoke about how she enjoys seeing more fluid gender boundaries arising in Islamic communities. She said she loves to see women and men sit intermingled during religious services.
Both women brought unique perspectives to campus during the conference. Those interested in hearing from additional speakers on Tuesday can attend at the Hinckley Center. Sessions can be accessed online as well on the Islam conference website.
Source: The Daily Universe
https://universe.byu.edu/2021/10/19/women-speak-about-gender-issues-in-islamic-communities/
--------
Tunisia: Club Africain to Partake in 4th Arab Women's Handball Club Championship
20 OCTOBER 2021
Tunis/Tunisia — The Arab Handball Federation approved the Club Africain team's request to partake in the 4th Arab Women's Handball Club Championship, to be hosted by Hammamet on October 26-November 2.
As such, Club Africain will be Tunisia's second representative along with Ezzahra Sport.
Here follows the final list of the participating teams in the 36th Arab Men's Handball Club Championship and the 4th Arab Women's Handball Club Championship:
Men's:
AS Hammamet (Tunisia), Esperance de Tunis (Tunisia), EM Mahdia (Tunisia), CM Raja Agadir (Morocco), JSE Skikda (Algeria), JS Saoura (Algeria), Al-Gharafa (Qatar), Al-Wakra (Qatar), Al-Jazira (UAE) and Al-Ain (UAE).
Women's:
Club Africain (Tunisia), Ezzahra sport (Tunisia), Erbil SC (Iraq), El Biar (Algeria) and CSF Boumerdes (Algeria).
Source: All Africa
https://allafrica.com/stories/202110200318.html
--------
Saudi Haia chief unveils plan to hire women staff
October 19, 2021
RIYADH - Dr. Abdul Rahman Al-Sanad, president of the Commission for the Promotion of Virtue and the Prevention of Vice (Haia), unveiled the commission's plan to appoint women as its staff members in the near future.
"The commission has drawn up a strategic plan to take advantage of the female component to carry out its functions and tasks comprehensively in the fields of guidance, counseling and awareness," he said.
The Haia chief made the remarks while attending a program on Al-Ekhbaria channel on Sunday. While disclosing details of the plan to hire women staff, Al-Sanad said that the Shoura Council made a recommendation in this regard during its deliberations on the report of the commission.
"The Shoura Council favored the proposal contained in the report in this regard and submitted its recommendation to the higher authorities for the approval. The Haia is currently working with the Ministry of Human Resources and Social Development regarding the procedures of allocating adequate number of jobs for the female staff," he said while emphasizing that the commission will hire female staff in the near future at the commission's headquarters in Riyadh and offices in various regions of the Kingdom, and that will be based on their specializations in various disciplines.
Al-Sanad emphasized that it is not within the powers of the commission to detain and arrest anyone. "But rather, this is within the jurisdiction of the concerned security authorities who are entrusted to deal with such matters. If the commission detects any violation in the field, it will formally alert the concerned authorities that handle detention and arrest," he said.
The Haia chief highlighted the role of the Haia, saying that it is keen on preserving public order and maintaining the system of values and morals in the society, with a total focus on awareness and guidance aspects with persuading people to do virtuous things and warning them against committing evil.
Al-Sanad said the commission had been working in a specific field earlier but at present its activities cover all fields to promote virtue and prevent vice. He also warned against any deviation from the original concept of promoting virtue and prevention of vice.
"It is strange that the Kharijites of the present era who hail from the deviant parties such as Muslim Brotherhood and ISIS and those who followed their path set their bases on the approach that forbidding evil means removing evil.
When they notice vice from a ruler in any Muslim country, they start with peaceful protest and criticism in the media, and if it does not work, then they try to resist by hand, and if it also does not work, they would resort to killing and going out of the righteous path," he said while pointing to the clashes and confrontations as well as the revolutions that took place a few years ago.
Source: Saudi Gazette
https://saudigazette.com.sa/article/612433/SAUDI-ARABIA/Saudi-Haia-chief-unveils-nbspplan-to-hire-women-staff-nbsp
--------
Turkey nabs 32 women members of FETÖ across 5 cities
OCT 20, 2021
Turkish police have nabbed 32 suspects in simultaneous operations across five cities as result of an investigation of the Gülenist Terror Group (FETÖ) that focused on a secret network exclusive to women members of the shady organization.
In five cities, with western Turkey's Izmir taking the center stage, 32 suspects – out of the 39 that prosecutors issued warrants for – were detained in a simultaneous operation.
The police conducted simultaneous operations in Izmir, Istanbul, Bursa, Zonguldak and Manisa against 39 suspects, with witness statements saying that they were operating a secret network of FETÖ exclusive to women members, and were also implicated by the digital data gathered from the secret witness codenamed "Garson" (Waiter).
Five of the 39 suspects were revealed to be users of the terrorist group's encrypted messaging app ByLock, and all were determined to have contacts with the terrorist organization through an examination of Historical Traffic Search (HTS), which reveals a persons cell phone records.
In the operation carried out by security teams, 32 of the suspects were taken into custody.
It was revealed that among the 39 suspects, one was titled "general manager" and the others were called "teacher," according to the so-called distribution of duties within the terrorist organization.
Among the suspects there were 1 teacher, 3 midwives and 1 Quran course instructor.
Efforts to apprehend the remaining suspects are underway.
Source: Daily Sabah
https://www.dailysabah.com/turkey/investigations/turkey-nabs-32-women-members-of-feto-across-5-cities
--------
URL: https://www.newageislam.com/islam-women-feminism/mahjabin-hakimi-volleyball-afghan/d/125612
New Age Islam, Islam Online, Islamic Website, African Muslim News, Arab World News, South Asia News, Indian Muslim News, World Muslim News, Women in Islam, Islamic Feminism, Arab Women, Women In Arab, Islamophobia in America, Muslim Women in West, Islam Women and Feminism